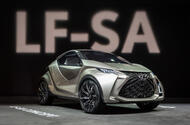 The LF-SA is said to preview a new Mini and Audi A1 rival
Lexus's designs are polarising opinion. As European boss Alain Uyttenhoven reveals, that's exactly what they should be doing

Can a car manufacturer come of age? Lexus's European boss seems to think so.

"We're 25 years old now," says Alain Uyttenhoven, "and I'd call that the end of puberty. We're about to become a grown-up company."

That new-found maturity manifested itself at the recent Geneva motor show with the LF-SA, a diminutive small crossover concept that drew as much criticism for its overt, complex, fussy styling as it did praise for boldness. 

Lexus sources, Uyttenhoven included, are at pains to state that the show car, a four-seater smaller than a Mini, is not about to appear in a showroom any time soon. And yet its very existence gives a pointer to Lexus's new approach, particularly to the European market. 

Whisper it, but Toyota's luxury arm has realised not merely that it can take risks, but that it really ought to.

"When we started 25 years ago, the references were all about status in the luxury car market, and we have tried for some time to somehow be like the others," says Uyttenhoven, who brought product management experience with Daimler and Opel to Toyota Europe before rising up to Lexus's top European post just over a year ago.

"What we've decided is that because we are the challenger, we have to be different. We have to be distinctive, be bold and produce cars that don't look like the other offerings in the segment. What we know, from customer clinics, is that our design polarises at the moment. And we want that.

"Take the NX. It's probably our most polarising model, but we have 80% conquest with it, and people say they're coming to the car because of the design. And that's the point: design is one of the main reasons why people switch from one brand to another.

"In the past we have been the champions of loyalty, but if we want to grow – and we have this objective of 100,000 sales in Europe – then we'll have to get customers from other people. That's why we're happy with the new design direction. In customer clinics, we see that 60% of the people say, 'Wow!' and 30% to 40% of them say, 'That's not for me'. And we're fine with that. We're not chasing 50% market share; our aspirations at the moment are in single-digit percentages of the premium market. We have time to grow."

There's certainly plenty of scope for sales gains. Lexus should sell just over 60,000 cars in Europe in 2015, a third of them the new NX crossover, so that 100,000 goal is still some way off. Even if the target is reached, it'll still be less than a fifth of the brand's total output – proof of how firmly its roots are cemented in the US market. Further Europe-focused models, such as the NX, will be required.

That's likely to mean that even if a production car based on the LF-SA does arrive (and it would be safe to assume that it will happen by 2020), it is unlikely to be the only addition to the range. A range-topping GT is just as likely and considerably more advanced in planning. "I believe there will always be a group of people who are looking at gran turismo types of cars," says Uyttenhoven. 

"And I believe it can fit into the Lexus range. If you look at the price of the LFA [Lexus's V10 supercar], it was at the high end of the market. We were happy to have the car, of course, but while we sold every one we produced, we only made 500 units. I would say there are other segments where you can go with halo cars, with aspirational cars, and they don't need to cost as much."

What is clear is that the deliberately controversial design language is going to continue. Uyttenhoven won't actually say which Lexus is coming next, but he does promise that it will have "the same polarising elements" as the NX.

"The danger is a design that is trying to please everybody," he argues. "For some brands, not displeasing people is becoming more important than really pleasing a smaller group of people. We'd like to think that's to our advantage."

Get the latest car news, reviews and galleries from Autocar direct to your inbox every week. Enter your email address below:



This Autocar image shows how the new sports car could look
A new sports car, even more extreme than last year's GT3-R, is in the offering and should go on sale next year for around £300,000

Bentley seems certain to build its first rear-wheel-drive sports car of the modern era and put it on sale next year. The car will be based on the current Continental GT and will be a far more extreme offering than the four-wheel-drive GT3-R, which was launched last year.

"A lot of people expected the GT3-R to be a proper rear-wheel-drive sports car," Bentley engineering boss Rolf Frech told Autocar, "but the problem was timing. We needed the car at the end of the first season of our GT3 racing car, and to do a proper change of the complete powertrain needed longer than we had. But we have the concept in our mind, so why not?"

The new car will have a version of the twin-turbo 4.0-litre V8 used by both road and race Continentals, but it is likely to be boosted beyond even the 572bhp of the £237,500 GT3-R.

However, the main focus will be on weight reduction. The aim is to make this the first sub-2000kg Bentley in a generation, a 200kg saving over the GT3-R of which less than half will come from the conversion to rear drive.

Expect fairly sparse levels of standard equipment, therefore, and unprecedented use of lightweight materials for the brand. There is no word on how much the car will cost or how many will be built, but the run is likely to be limited to even fewer than the 300 GT3-Rs that are to be made, and at a price sure to be close to £300,000.

Get the latest car news, reviews and galleries from Autocar direct to your inbox every week. Enter your email address below: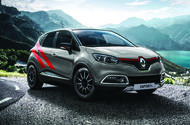 This Autocar image shows how a hot version of the Renault Captur could look
Renault will follow the example set by Nissan and offer performance-oriented versions of its growing SUV line-up

Hot versions of Renault's latest crossovers, the Captur and Kadjar, could be on sale within a couple of years if investigations under way at Renaultsport prove them viable for production. Renault bosses are said to be interested in the success and strong sales of Nissan's Juke Nismo. 

Patrice Ratti, CEO of Renault's independently minded performance division, which last year generated a £500 million turnover from production of 35,000 cars, said the company is investigating the idea now.

Ratti cited three "areas for investigation". Renaultsport must discover whether production of faster crossovers would be feasible where the standard cars are made. It must find out if appropriate performance changes could be made within a reasonable budget. It must also work out whether Renaultsport customers would want such models.

Ratti added that the company is proud of its reputation for building top performance hatchbacks and has just launched a sportier, RS 220 version of its fast-selling Clio RS 200 to counter criticism of 'softness'. As a result, any go-faster RS crossover would have to meet buyers' expectations. 

Renaultsport opened in 2002 and has grown its volume from 5000 to 35,000 cars in just five years. "Our twin challenges are to stay on top in Europe, where competition is growing and to expand outside Europe," said Ratti. "We want to reach 50,000 cars by the end of the decade, 50% of which are sold in emerging markets such as China."

Get the latest car news, reviews and galleries from Autocar direct to your inbox every week. Enter your email address below: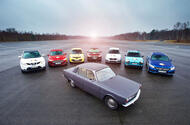 The Rover 2000 was named European Car of the Year in 1964
The first European Car of the Year was the Rover 2000. Today, 51 years on, can it still teach the current crop a thing or two?

Mortefontaine, just north of Paris, 17 February. It's the annual European Car of the Year (COTY) test event, with nearly every member of the 58-strong jury, representing 22 countries, gathered at the CERAM motor industry test facility to try out this year's seven-car ranges shortlisted for COTY 2015 and pick a winner.

This year, however, there's an eighth model, a car that doesn't have to beat any rivals, because it already has. It's a Rover 2000, the first car to be crowned Car of the Year, and it has returned to demonstrate just how much has changed – and how little – since the award began in 1964.

In the 11 October 1963 issue, Autocar in its road test rated the Rover 2000 as "one of the outstanding cars of the decade". There were many reasons for this, mostly centred around technical innovation, plentiful safety features (including four-wheel disc brakes), a feeling of quality, tenacious roadholding and a remarkable ride.

Such attributes are just as important today, although the new-century emphasis on fuel economy and emissions didn't worry the judges so much back in 1964. Nor did panel gaps as wide as your little finger, the result of cladding a rigid base unit with entirely bolt-on skin panels.

The idea was to drive a Rover 2000 to CERAM, get several judges from several countries to make some sage observations about the state of half a century's progress, remind myself of the attributes of this year's crop (I, like Messrs Prior and Frankel, am among the UK's six judges) and drive it home again. With luck, the Rover would continue to function for the full 750-mile round trip.

First, though, I needed a Rover, preferably a Series One, single-carburettor, manual-transmission version as per the 1964 winner. P6-model Rovers in this primordial form are scarce nowadays. The obvious thing would be to find a keen owners' club member, but where's the commitment in that? So I found myself buying one, taking the view that at least one British COTY judge should own the first winner, given that it was British.

I found it in Leyland, Lancashire, which seemed a good omen. It was bought new in April 1967 by a retired aeronautical engineer in Gerrard's Cross, Bucks, and he sold it 15 years later to his Lancs-based nephew. Sadly, the nephew died last year, so the family, with heavy hearts, put the Rover up for sale.

It has had paint but has seemingly never been restored, nor even welded, during its 76,000 miles, and it came with an impressive stash of spares. After a few weekends' pleasurable fettling, it was ready for its cross-Channel adventure. Via P&O ferry, of course. The tunnel would have been quite wrong for the 1960s vibe.

You daren't cruise beyond the legal 81mph limit in France nowadays, a speed at which the 48-year-old Rover seems quite happy. The Autocar test said the engine becomes busy if pressed hard above 4000rpm, and nothing has changed there, but "on the high top gear it hums along easily and contentedly at anything up to 90mph or so".

Top whack was 102.5mph, with 60mph arriving 15.1sec after a standing start. By today's standards, the acceleration is very gentle despite the overhead-camshaft engine's healthy 90bhp.

At the test event, 52 judges (six couldn't make it) have 51 cars to test, including the Rover. First to take the backward time travel is Tony Verhelle from AutoGids magazine in Belgium. I'll luxuriate in one of the Rover's two individual, leather-trimmed rear seats while Verhelle drives the track and photographer Matt snaps from the front passenger seat. We're heading for the first chicane of several.

"This is a big steering wheel," he observes. "It makes it feel like an old car, but the gearchange is good and so are the brakes." More bends. "Yes, the handling is good. It inspires confidence." And how does it cope with the cobblestoned section? "What cobblestones? I didn't feel them."

Back at base, Verhelle considers what 50 years of development have achieved. "There's much less in the way of assistance and driver aids here, but this car drives more comfortably than most modern cars. I have a 1954 Citroën 2CV and today I'm angry with Citroën. They have lost their big attribute: a comfortable ride."

Next up, Zsolt Csikos from Hungarian website Totalcar.hu. "It has a good turning circle," he remarks as we thread our way past a sea of shortlisters. Into the first bend, with enthusiasm. "There's a lot of body roll, but the steering is nice and fluid and it weights up the right amount. I love the gearbox with its very short movements, and there's lots of torque."

A few corners later, we're at the cobbles again. "There are no rattles at all. This suspension is incredible, and the seats are comfortable in the way French ones used to be. I'm really overwhelmed."

There's a theme developing here: somewhere along the way, car makers have forgotten about true comfort while chasing 'sportier' handling. Yet the Rover, for all its body roll, is beautifully damped and very grippy. Now it's the turn of Hakan Matson from Sweden. He writes for Dagens Industri and is the COTY president.

"It's amazing how they fit the airbag into that small space," he observes, pointing at the centre of the slender, almost skeletal steering wheel. "I love this wheel, andthere's plenty of room. I'm sitting very comfortably.

"So much has happened since this car, but the new ones are still just a box on four wheels, still recognisably the same idea. Look at the wide, open dashboard on the Citroën Cactus, and the rectangular design motifs. It's the same as in this Rover, really. I like the comfort of this car, and the details such as the markers on the sidelights, illuminated at night, so you can see the corners of the car."

Peter Ruch from Switzerland is next. He masterminds Automobil Revue, that indispensable catalogue of all the world's cars published at every Geneva motor show. He knows the Rover P6 a little, having driven a 3500 V8 version, and he takes to this 2000 straight away with impressive smoothness and flow. A BMW 2-series Active Tourer passes us. "So now we're going to chase him," says Ruch with a worrying grin.

"This steering is more like a ship's, and there's a little bit of body roll and lots of understeer, but it's comfortable and a good cruiser. It doesn't feel 50 years old. This dashboard is much more charismatic than a modern car's. There was much more creativity back then.

"Today you are driven. In this you are driving, so you concentrate much more."

Finally, it's Jaco Bijlsma from Auto Visie in the Netherlands, the magazine that came up with the original COTY idea. "It has proper steering feel, and it's less loose than I expected. And it's a very nice design visually. Obviously, the safety, refinement and ergonomics aren't as good as they are now, but this was very technically advanced for its time and the visibility is much better than in a new car. I like it."

Comfort, driving involvement, the view out… not all progress over the past 50 years has been in a forward direction, it seems. And if history had taken a slightly different course, maybe Rover would still be in the top league of premium car makers.

Get the latest car news, reviews and galleries from Autocar direct to your inbox every week. Enter your email address below: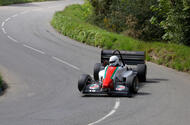 Racing on closed roads could become a reality
UK government approves legislation that makes closed road racing a realistic prospect

The prospect of motor racing on closed roads in the UK has moved a step closer after the approval of a piece of legislation that will make it cheaper and easier to organise such events.

The government has approved a piece of primary legislation, called the Deregulation Bill, which contains a framework that eliminates the need for an expensive act of parliament to suspend the Road Traffic Act for each individual event.

Rob Jones, the chief executive of the Motor Sports Association, hailed the development. ""This landmark development is the result of a lot of hard work by a small handful of people behind the scenes, with vital backing from thousands of supporters within the British motor sport community," he said.

The UK motorsport governing body has been campaigning for several years for such a change.

The primary legislation still requires a final legislation to be passed before it becomes law, but the Motor Sports Association says it will work hard to ensure this happens as soon as possible following May's general election.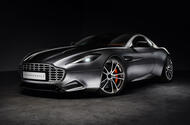 Fisker showed off the Thunderbolt in March 2015
Aston Martin takes issue with Henrik Fisker's Thunderbolt and issues legal proceedings against the designer

Aston Martin is suing Fisker over its Thunderbolt prototype, saying it is an unauthorised copy of Aston's designs.

Aston has described Fisker's conduct as "wholly unacceptable" and has taken issue with several elements of the Thunderbolt's styling, including its logo.

"This lawsuit centres on Henrik Fisker's creation and promotion of automobiles that Aston Martin contends infringes Aston Martin's rights, by an improper and unauthorised attempt to exploit and free-ride off them. Aston Martin regards such conduct as wholly unacceptable and reserves all rights available at law to challenge it."

Denmark-born Henrik Fisker is a former Aston Martin design boss and was responsible for the DB9 and the V8 Vantage. He left in 2004 to form Fisker Automotive, which was responsible for the Fisker Karma, a plug-hybrid that was launched in 2011. Fisker Automotive filed for bankruptcy in November 2013.

Fisker revealed the Thunderbolt at the Concours d'Elegance in Florida in March this year. The car is described as a concept and is based on the Aston Martin V12 Vanquish but did not have Aston Martin's official endorsement. Despite this, Fisker said he would build the car to order if the demand was there.

He also said that some elements of the car's design would not make it to production if it were to be made. Production cars would not feature the 11.6in curved infotainment screen of the concept, and it would get minor styling adjustments.

"I wanted to create an elegant, beautiful GT sports coupé, with pure emotional sculpture that would stay timeless," said Fisker at the time of the Thunderbolt's launch.

The lack of endorsement has now caused issues. Fisker has not yet been available for comment.

 

Get the latest car news, reviews and galleries from Autocar direct to your inbox every week. Enter your email address below: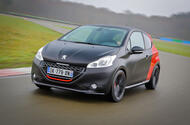 The Peugeot 208 GTi 30th Anniversary edition gets 205bhp from its four-cylinder 1.6-litre turbocharged engine
Peugeot's hot new 208 GTi 30th Anniversary special acts as a homage to the triumphant original, but does it live up to expectations?

Did you see the recent TV ad for the 208 GTi 30th anniversary edition? The one where the little car outguns an aeroplane, conquers frozen lakes and snowy mountains and throws itself around and even over the top of a pursuing helicopter before arriving at its destination with the driver unruffled and ready for other types of conquest?

It's based on the original promo for the 205 GTi, an example of which features in it, being overtaken by this new special edition 208.

It's undeniable of course that this 208 would overtake the 205. Yes it's a only a little shopping car with a tiny steering wheel and a curious colour scheme, but in this version it's got 205bhp to play with (205? Ha!). We might get misty-eyed about the 205 GTi, but it wouldn't see which way the newer car went. That, I'm afraid to say, is progress.

Or is it? You see although this tarted-up special is undoubtedly quicker, on the road it's a twitchy little devil. Yes it might be quick in a straight line, but only if you can keep it in one - use its power liberally and, despite a Torsen diff, it has a heck of a job to put it all down.

On top of that it has a super-stiff ride that on a bumpy British B-road is so bad it felt like it was about to break my spine. Drive it on a motorway in a crosswind and it begins to feel decidedly unstable, too. Then add in an awkward clutch and an unexpectedly long-throw gearchange, and it doesn't take long to conclude that, although this 208 can be made to go fast, driving it in such a manner is not really very nice at all.    

The standard 208 GTi might not leap all over the road with quite the voracity of this special one, but it's not without its faults either. What makes this more of a pity is it doesn't seem so long ago that Peugeot's chassis engineers were at the top of their game, producing such great road cars as the 309 GTi, the 106 GTi, the 306 GTi-6 and, especially, the 405 Mi16 4x4.

Years ago I had a 1.9 205 GTi. In many ways it was awesome: it had enormous grip, looked great and handled well, even when provoked. It was much more pleasant to drive than this 208 and, through dint of being able to drive it comfortably up to (and even beyond) its limits, it was probably faster point to point too. No fewer than 21 years on, I still remember it giving me one of the best drives of my life, driving solo late one wet night on a deserted A264.

However, countered against that, its build quality was iffy and its unassisted steering was slow and heavy, with too much self-aligning torque. Later on I tried a version with power-assisted steering and a quicker rack, and it convinced me that that was the one to have.

Equipped thus, the 205 deserves its iconic status. I doubt whether any version of the 208 GTi will ever become an icon, or if in 30 years we'll even remember it at all, despite the swish advert.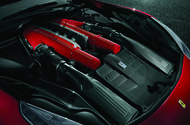 There will be no turbochargers on Ferrari V12 engines
Turbocharging technology will not be used on Ferrari's V12-engined models in the near future, despite the company now using turbo V8 units elsewhere

Ferrari V12 engines will not be turbocharged in the near future - but they are likely to get electrical assistance in order to smooth power delivery and lower emissions.

There had been speculation that Ferrari could turbocharge its V12s in future, as it has begun doing with its V8 line-up, spearheaded by the new 488 GTB.

However, a source close to the company said: "There will be no turbos on our V12s. Expect instead to see 48-volt systems on the next generation."

This means future V12 Ferraris will be mild hybrids, using technology pioneered on the LaFerrari hypercar.

Such a move will allow Ferrari to maximise fuel economy and CO2 emissions but also tune the engine for pure power, knowing that the commensurate drop-off in low-down torque will be more than replaced by instantaneous electrical energy.

Get the latest car news, reviews and galleries from Autocar direct to your inbox every week. Enter your email address below: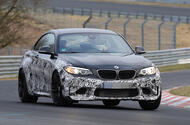 The new BMW M2 is set to go on sale in the UK in the final quarter of this year
New 370bhp-plus M2 to arrive in late 2015, with a manual transmission and rear-wheel drive offered as standard

These are the latest pictures of the upcoming BMW M2, which has been spied testing at the Nürburgring. It is due to go on sale towards the end of this year at a price of around £45,000.

Spotted performing hot laps of the iconic motor racing circuit, the new pictures show the M2's production-ready front bumper and quad-exit 'M-double' exhaust system at the rear, which is synonymous with BMW's M performance division. Bigger brakes, larger wheels, flared wheel arches and more aggressive front air intakes can also be seen on the performance coupé.

The German manufacturer is preparing to revive the intrinsic spirit and driving appeal of its original six-cylinder powered M3 with the new racy two-door, which will sit between the existing M235i and the fifth-generation M3 in its line-up. Power for the new model will come from a 370bhp-plus turbocharged 3.0-litre six-cylinder engine.

Its price point will see the new M2 Coupé compete directly with an upgraded version of the Mercedes-AMG A45 and the upcoming second-generation Audi RS3 when it reaches UK showrooms this summer. A public debut for the new BMW in lightly-veiled concept car guise is planned for this year's Frankfurt motor show in September.

While the new M2 Coupé has yet to be officially confirmed by BMW, new M division boss Frank van Meel has said he would "love to do something" in the same vein as the previous limited-volume 1M Coupé, which the M2 will indirectly replace in the BMW M line-up.

The M2 Coupé will be powered by a turbocharged 3.0-litre in line six-cylinder direct injection petrol engine. It won't, however, be the powerplant used by the larger and more expensive four-door M3 and its mechanical identical two-door sibling the M4, according to departing M division boss Friedrich Nitschke.

Described as an all-new development, the S57 B30-designated unit is based around the German car maker's upcoming B57 powerplant that is planned to make its debut in the sixth-generation 7-series later this year - rather than the older N55 engine that forms the basis of the unit that powers the M3 and M4, the so-called S55 B30.

A heavy cloak of secrecy surrounds the new engine, which is also earmarked to power a range of future petrol powered 'M Performance' models for BMW M's subordinate go-faster brand. Nitschke revealed it could develop up to 400bhp in production form, beating the future power output of the four- and five-cylinder engines of the A45 and RS3.

"Four hundred is the magic number," said the BMW M division boss, referring to the power output of the M2's new engine. "With forced induction it is no trouble to achieve this, but we have to make sure it doesn't get too close to the power level of the new M4," in reference to the engine used by the M2 Coupé's larger sibling, which delivers 425bhp.

BMW M division insiders say initial prototypes of the M2 Coupé run an engine tune that gives it 375bhp.

Channelling those reserves will be a standard six-speed manual or optional seven-speed dual clutch transmission with remote steering wheel mounted shift paddles – both featuring automatic stop/start and brake energy recuperation alongside a thermal energy recovery function.  

Although nothing is official ahead of the new car's planned unveiling in concept car form, BMW M division sources suggest the new M2 Coupé will be geared for a 0-62mph time of 4.4sec in seven speed dual clutch guise – 0.5sec inside the time quoted for the 335bhp 1M Coupé and 0.2sec slower than the M4. The model's top speed, as with all existing M-cars, will be limited to 155mph in standard guise.

Early examples of the M2 Coupé will be sold exclusively in rear-wheel drive configuration, complete with an electronically controlled limited slip differential that incorporates a torque vectoring function for enhanced traction.

The combination of six-cylinder power and rear-wheel drive is set to provide the new price-leading BMW M car with what Nitschke describes as "a unique selling point" in a market segment he says is "completely dominated by four-cylinder four-wheel drive performance cars".

Autocar understands BMW's M division is planning to make a four-wheel drive xDrive option available for the M2 Coupé in selected markets later on as part of a broader sales strategy that will see it offered as an option on all future series production M models.

Further performance-enhancing initiatives include the use of a number of lightweight components aimed at bringing the M2 Coupé's kerbweight well down below 1530kg to be lighter than the existing M235i. Among them will be a carbonfibre strut brace within the engine bay and composite plastic panels – developments first seen on the new M3 and M4.

Differentiating the new M2 Coupé from the existing M235i Coupé will be uniquely styled front and rear bumpers, front wings, sills, boot lid and standard 19-inch wheels.  

The M2 Coupé is planned to be produced on the same production line as the standard 2-series Coupé at BMW's Leipzig plant in Germany, with the first examples scheduled to land in showrooms during the final quarter of 2015. It will be followed in 2016 by a new M2 Cabriolet.

Get the latest car news, reviews and galleries from Autocar direct to your inbox every week. Enter your email address below: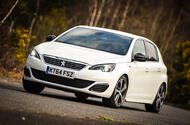 308 GT 1.6-litre petrol is priced from £24,095
Peugeot's given the 308 the engine from the 208 GTi 30th and some chassis upgrades; we find out if the changes bring a bit of old-school Peugeot hot-hatch magic to this likeable family hatch. The Peugeot 308 is arguably a return to form for the French manufacturer in the style stakes. Gracefully reserved but handsome nonetheless, it's a big improvement over some of the company's less well-received recent creations.Great dynamics were also once a Peugeot trademark, but over the last decade or so that star has waned. It's hoped that the new 308 GT can improve this aspect, too. Its sporting credentials are announced by the mild body kit, with side skirts and bigger air ducts, twin tailpipes and LED headlights. Meanwhile its credibility relies on stiffer springs and dampers, plus the 1.6-litre turbocharged motor from the 208 GTi 30th Anniversary. So, has it worked?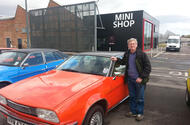 The Austin Princess with designer Harris Mann
On March 26, 1975, the 18-22 Series - or Princess as it became known - was born. Today, its birthday was celebrated by owners and the car's designer

Four decades ago today, the nation was slightly startled by the arrival of a dramatic-looking new slice of family car. A wedge-shaped slice, which had come from the by now rather pedestrian Austin-Morris division of British Leyland.

The new 18-22 Series was launched on March 26, 1975, and earlier I attended a modest ceremony to mark the fact at the place of its birth, at what is now BMW's Mini factory on the edge of Oxford.

Strictly speaking, we were told - by a Mini factory guide who worked there at the time - that the 18-22 was manufactured on the other side of a bypass on land now occupied by a gym, an Audi dealer and a science park, but the 18-22's body was made on the part of the site from where Minis emerge today.

In case the 18-22 Series doesn't sound familiar to you, you may remember this car as the Princess, or following a demotion and a sex-change, the Ambassador. The Princess is what it became after nine months, when BL decided to rationalise the original Austin, Morris and Wolseley versions under this one nameplate.

The Princess tends to be lumped with the Morris Marina and Austin Allegro as an example of one of the worst cars produced by Britain's troubled motor industry in the 1970s, but the 'wedge' differed from this infamous pair in that it was actually rather good.

During 1977, this very magazine rated the six-cylinder 2200 HLS as the best car it had tested that year, although this was partly the slightly embarrassing result of an admirably obtuse scoring system used by the mag at the time.

Nevertheless, the Princess was an entirely credible rival to the recently released Citroen CX and made Ford's Granada look like a throwback. Its strengths were cabin space, ride comfort, interior fittings, road holding and refinement. Oh, and its Tomorrow's World wedginess. But by the time it had mutated into a Princess, a number of weaknesses had emerged.

Austin Morris touted the 18-22 Series as 'the car that's got it all together', an ad line that was just asking for trouble, which duly arrived in the slightly alarming form of failing rear suspension mountings and an appetite for driveshafts that would result in the six-cylinder engine undergoing a minor relocation within its engine bay. Hard to imagine a mod like that being pursued today.

The 10-or-so Princesses lining up on this windy March morning - there would have been more, including my own, but several are works-in-progress - were joined by the car's key creator Harris Mann, who designed this, the Marina, the Allegro and the Triumph TR7. 

It was a creative record that made him (in)famous at the time, but as he'll quietly point out with the aid of his original sketches, his intentions for the Allegro and TR7 were somewhat different from the end result.

Of the quartet, he says, the Princess is his favourite because it most closely replicates his original vision. "We wanted to take the company into the modern age," he says, showing a picture of the 18-22 parked beside its frumpy Austin 1800 predecessor. The shot was taken in 1971, four years before the 18-22's launch, and the clay model looked ready to fire British Leyland 20 years into the future.

But as always with BL cars of the 1970s, the 18-22 was haunted by the issues of the past, its enthusiastic reception (three-month waiting lists grew within weeks) was soon savaged by strikes and quality troubles from which it never recovered.

"They took too long to sort them out," says Mann, looking slightly frustrated with BL's management even today. Examine the fine array of design sketches he has brought, some shown here, and you can understand why.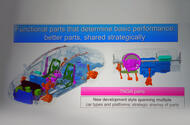 Toyota reveals plans to revolutionise the car factory of the future, which will be able to grow or shrink its production line as required
Toyota says its has completely re-thought the way its future car factories will operate.
Its plans for the new-generation factories - nicknamed 'simple and slim' - are well advanced. Toyota claims they will be 25% smaller than existing plants, require 40% less investment and emit up to 55% less CO2.
Toyota also plans to re-engineer the production lines so they can be shortened or lengthened in less than 80 minutes.
It's claimed that a standard line can be shrunk from a 100,000 car-per-year capacity to just 50,000 cars, or vice versa. This would allow capacity to be easily reduced or increased depending on demand.
The simplification of the line-side equipment is key to this, along with a new type of super-slim modular conveyor belt, which is laid on the factory floor, rather than being dug into a pit.
In order to allow this new conveyor belt to be made longer or shorter, the line-side equipment – such as the arm, which holds the car's doors as they are swung into place - is mounted on wheels.
Because this equipment is not physically attached to the ground or the structure of the factory, it allows the production line to become truly modular. This means adding extra features to an existing vehicle is now much easier, because a new workstation can be added to extend the production line.
Toyota will also remove the overhead conveyor lines from its new-generation factories. This, it says, has a number of useful knock-on effects. The new factory buildings will be much more simply constructed because they do not need a heavy-duty structure to carry the weight of production equipment.
Senior Toyota engineers told Autocar that the new production lines would get much more natural light and that the problems of cleaning and maintaining conveyors in the roof of a building had been eliminated.
The combination of the surface-mounted conveyor and the removal of overhead lines led to Toyota describing the new factory philosophy as 'no hanging and no digging'.
Toyota production engineers have also dramatically shrunk the paint shop, traditionally one of the most expensive investments in any factory. The current shops are 13m high, 6m wide and 189m long. Toyota's new compact paint line is just 6.5m high, 4.5m wide and 149m long. One of the new paint technologies is a Dyson-style giant centrifuge, which traps paint spray waste.
The engineers say the new lines are 40% cheaper to build and use 40% less energy.
Toyota also revealed a number of cost-saving advances including the new 'Laser Screw Welding' technology. This is not only over twice as quick as conventional spot welding; it can also weld both aluminium and steel sequentially.
Heating up very high-strength steel structures, such as B-pillars, so they can be stamped in press tools has also been re-thought. Rather than taking between four and six minutes in a gas furnace to heat several sheets of steel on a 20m conveyor, Toyota's new machine can heat individual sheets to 900degC in just 10 to 20 seconds.
The new machine, which is just 2m long, uses an electrical charge to heat up the sheet, which is then quickly transferred to the press tool.
The new factories will also be powered by a number of different energy sources using a new 'Factory Energy Management System'.These will include ground heat pumps, Liquid Natural Gas-powered generators and a hybrid solar panel system, which simultaneously generates electricity and creates hot water. Defunct Prius battery packs could also be used to store electricity from solar panels.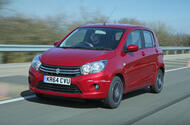 The Celerio is an all-new city car from Suzuki
Does Suzuki's new city runabout have what it takes to succeed? For a small car made by a bit-part player in the global car market, the Suzuki Celerio has already had a disproportionately large amount of coverage in Autocar – and that's not counting the eight pages you're about to read.The Celerio might have justified much of that coverage all on its own and in the usual ways, by virtue of being new, interesting, practical and appealingly well priced. We've come to expect nothing less from Suzuki – and we'll cover those many facets in detail over the next couple of thousand words.Suffice to say for now that this isn't just another city car but a sign of new-found ambition and imagination from Japan's maverick supermini and 4x4 specialist.And yet, as regular readers will know, it has also had a UK market launch marked by controversy. The Celerio provided a welcome reminder of the need for independent and thorough testing when, six weeks ago during our own performance benchmarking session, it failed a routine emergency braking test.Two test cars suffered the same brake linkage failure on the same day, leading to a collapsed pedal, when required to execute a maximum-pressure, ABS-assisted stop from 70mph.It's a clear example of a safety-critical mechanical defect being flushed out by what we still believe to be the most thorough assessment of a new car carried out by any car magazine anywhere in the world – and, mercifully, before it was allowed to endanger lives on UK roads. Which, in a rarely necessary but important sense, is what we're here for.Acting with laudable speed, Suzuki subsequently investigated the problem, recommissioned the part at fault, retro-fitted it to cars in UK dealer stock and delivered a third Celerio to Autocar HQ that would, Suzuki assured us, handle any abuse that we could throw at it.It's the final, right-hand-drive, 'Autocar-specification' Celerio with the updated brake linkage about which you're now reading. So, putting its smartly resolved teething problem to one side, what kind of renewed threat can Suzuki present to the increasingly talented elite in the city car class?From the Celerio's launch, there will be just two trim levels (SZ3 and SZ4) and one petrol engine – slim pickings when you consider the broader line-ups of its rivals. But the top-specification Celerio – tested here – is cheaper than most rivals' entry-level options. A good place to start, then.



The third-generation Renault Mégane is due to go on sale early in 2016
Renault's upcoming Mégane hatchback will receive a 'more sporting' design in a bid to claw back sales from Ford and Volkswagen, and will go on sale early next year

The next-generation Renault Megane has been spotted testing for the first time, ahead of a planned on-sale date early next year.

The new model is likely to receive its global debut at the Frankfurt motor show in September, and will become a crucial model for Renault as it fights to match the current generation of family hatchbacks from Ford, Vauxhall and the Volkswagen Group.

As these first spy pictures reveal, the third-generation family hatchback will take on a sportier stance and is expected to mix design themes established by the smaller Clio and larger Captur.

The key details from the Clio and Captur will be the curved door shape with its 'waisted-in" body side, together with the new corporate face which features a prominent Renault logo on a dark plastic, full-width narrow grille. A new roof-mounted lip spoiler can also be seen at the rear.

"We won't be going back to the shape of the Mégane II," UK product manager Yann Le Graet told Autocar last year. "The low roof gives us something different from the Golf. It makes the Mégane more sporting, more appealing."

The Mégane II was a huge success, winning the European Car of the Year award in 2003 and going on to become the best-selling hatch in its class just after launch.

"We think the [current] facelifted model is competitive on price, equipment and styling," said Le Graet. "The all-new model will win us back more retail customers.

"We will have to concentrate on retail customers and this will also help our user-chooser sales."

The interior of the new Mégane is tipped to feature higher-quality plastics and sharper design, with many control functions transferred to a generously sized central touchscreen. Top-spec models are expected to be equipped with a nine-inch screen while lower-spec models will receive a seven-inch item.

The touchscreen will clean up the interior by reducing the number of minor switches. Such a move would allow Renault to echo the i-Cockpit design now preferred by French rivals Peugeot.

"We won't go quite as far as Peugeot, though, in reducing the switchgear," added Le Graet.

Get the latest car news, reviews and galleries from Autocar direct to your inbox every week. Enter your email address below:



Collins Performance has given the Fiesta ST 270bhp and 265lb ft, but has our favourite fast Ford been ruined in the process? It's a chance for fans of the superb Ford Fiesta ST either to wince and shake their heads or sit up straight and take notice, depending on how they like their hot hatches.We did the latter when Mountune announced it was hiking the ST's power from 180bhp to 212bhp back in 2013, and the results were good. For 2015, Collins Performance has somewhat raised the bar. You see, its ST, in this state, produces 270bhp and 265lb ft.This actually represents the third and final tier of CP's ST upgrade packages. A new Mongoose exhaust, Airtec intercooler, ITG induction system, CPE turbocharger and revised ECU mapping are your rewards for choosing to laugh in the face of tiers one and two.The cost for going this big? A full £2965, including fitting and a discount if you let CP keep your old turbo. Our car was also fitted with the firm's Dynamic Chassis upgrade, which swaps the ST's standard front wishbone and rear beam bushes for stiffer ones, and costs a further £440. This sort of power from a 1.6 petrol is nothing new - see Peugeot's RCZ R - but that's a car that relies heavily on its limited-slip differential. So how does a similarly potent but slippy diff-less Fiesta ST get on?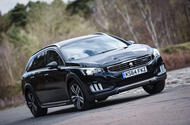 Lavishly-equipped, rugged-looking Peugeot 508 estate is a pleasant drive, but there are many more recommendable alternatives It's a bit misleading - that's what it is. Where previously the chunky bodykit and raised ride height of the Peugeot 508 RXH was unique to the four-wheel drive, electric-diesel 'Hybrid4' powertrain, this is in fact a straightforward front-wheel drive 508 estate, wearing the hybrid's mud-faring regalia.Still, with 178bhp from the 2.0-litre diesel, and a six-speed automatic as standard - a powertrain that's not available in the standard Peugeot 508 SW estate - this diesel RXH offers good mid-range performance and a massive saving of £4350 over the hybrid.On top of that, with emissions at a very respectable 119g/km, and equipment including the full roster of luxuries such as head-up display, sat-nav, leather and LED headlights, this could actually make a lot more sense than the 'proper' hybrid RXH.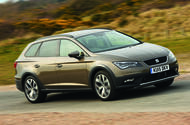 The Seat Leon X-Perience is the closest thing to an SUV that you can buy with a Seat badge for now, blending estate practicality with off-road ability The Seat Leon X-Perience offers a lot of practicality in one package, including four-wheel drive, improved ground clearance and all the usefulness of the standard Leon ST estate.This range-topping version adds a few more things that might be chosen out of want rather than need, though, such as the DSG dual-clutch automatic gearbox and a 181bhp version of the 2.0-litre diesel engine.It's also worth noting that this higher-powered engine and dual-clutch transmission are only available as a pair - you can't have one without the other in your X-Perience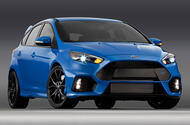 The new Focus RS is powered by a 2.3-litre EcoBoost engine
Third-generation all-wheel-drive Ford Focus RS will powered by a 2.3-litre EcoBoost engine producing 316bhp, and will come with launch control and a 'drift' button

The new Ford Focus RS is headed to the New York motor show with a new signature colour. The car's paintwork is described as 'Nitrous Blue'. It will be the first RS model to be sold in the US.

The third-generation hot hatchback, which will be powered by a turbocharged 2.3-litre engine producing "more than 316bhp", received its first public at the Geneva motor show earlier this month, where officials confirmed it will also come with a new 'drift button'. The Focus RS will channel its power through a variable all-wheel drive system as part of a raft of technical innovations designed to make it the highest-performing RS model yet built.

The so-called All-Wheel-Drive with Dynamic Torque Vectoring system is by far the most significant mechanical upgrade for the RS over other Focuses, including the ST.

It is also a surprise because the early indications where that Ford had decided to stick with a two-wheel drive system for the car after trying both set-ups during development work led by Europe's Ford Performance division. Ford claims the system provides "class-leading corner speed, limit handling and a unique drift capability". See the new RS in action in Ford's video, below.

The all-wheel drive system is based around twin electronically controlled clutch packs. These are located on each side of the Rear Drive Unit (or RDU, which works like a limited-slip differential).

The RDU uses sensors that monitor conditions 100 times per second to distribute power continuously between the 
front and back wheels and on either side of the rear axle. Up to 100 per cent of the available torque can be sent to either wheel.

The system diverts torque to the outer rear wheel during cornering, aiding turn-in and stability. Ford says this "virtually eliminates understeer" and lateral grip in excess of 1g is possible. Ford also says the system helps to "provide neutral and adjustable limit handling and the ability to achieve controlled oversteer drifts at the track".

Raj Nair, group vice president of global product development, confirmed that the decision to adopt four-wheel drive was taken early in the development programme, which began at the end of 2013.

"There are always debates about which way to go, but as soon as the advantages became clear it was a pretty straightforward decision," said Nair. "The twin clutch set up offered us some real advances, not just out of corners but also on turn-in and with mid-corner stability.

"Crucially, the technology doesn't detract from the driver experience either. This is a car you can have fun in and drift in a totally controlled way, or which you can go out and set a fast lap time in. Those two things don't always tally, but this technology gives us the scope to do that."

Nair also confirmed that the case for four-wheel drive was strengthened by a decision by Ford's top management to use Performance branded vehicles as showcases for innovations on all vehicles. "You saw with the Ford GT how it will act as a halo for Ecoboost technology - we see a lot of technology that the Focus RS can highlight across the range."

The 2.3-litre four-cylinder Ecoboost engine is an uprated version of the unit available in the new Ford Mustang. Changes from the Mustang engine include a low-inertia twin-scroll turbocharger with a larger compressor to aid airflow, plus a notably larger intercooler and air intake.

The Focus RS's engine is linked to a six-speed manual gearbox that has had its shift action shortened for faster, more accurate changes. The transmission and clutch have also been uprated to cope with levels of torque that are confirmed only as "increased" over the Mustang's 320lb ft. Current reports suggest as much as 340bhp could be possible from the engine.

The engine is also linked to a larger-bore exhaust system. As well as boosting performance, the system is said by Ford to be tuned to "deliver a rewarding and sporty sound character during spirited driving, with the distinctive burbles, pops and crackles that are an RS signature".

Autocar's spy photographers, who have witnessed prototypes in action in recent months, have described the new Focus RS as sounding "very loud".

In addition, and in the quest for high-temperature durability, the cylinder head is made of an upgraded alloy and mounted on a strengthened head gasket. For the same reason, the cylinder block also has stronger high-tensile cast iron liners. A significantly larger radiator than in the Focus ST aids cooling.

The engine's power figure of more than 316bhp is the only performance figure released to date and remains subject to ratification. However, it establishes the Focus RS Mk3 as the most powerful 'standard' Focus RS to date. The Mk1 Focus RS had 212bhp and the Mk2 had 301bhp. However, the special-edition Focus RS500 had 345bhp.

The new Focus RS will be sold as a five-door model only, in line with Ford's global strategy for the entire Focus range. Inevitably, though, the Focus RS is significantly upgraded, even from the Focus ST. 

Most significantly, the chassis has been retuned, with the use of stiffer spring rates, bushes and anti-roll bars, and two-mode dampers that can be switched between road and track settings.

The electric power-assisted steering has also been retuned to work with a more rigid front suspension knuckle and shorter link arms to deliver what Ford describes as "connected and responsive steering with outstanding feel".

To emphasise the track capabilities of the new Focus RS, it will be available with a specially developed semi-slick tyre for the first time. All buyers will have a choice of standard or lightweight forged 19in multi-spoke alloy wheels, which can be shod with either Michelin Pilot Super Sport 235/35 RD tyres or Pilot Sport Cup 2 semi-slicks. Iconic driver Ken Block has been involved in the car's development process.

The exaggerated exterior look has been created by Ford's stylists and the practical need for improved aerodynamic downforce and increased brake and powertrain cooling.

The interior also gets several upgrades, including Recaro sports seats, a flat-bottomed, leather-clad steering wheel, alloy pedals and a simpler dashboard layout than on standard cars. This includes a standard 8.0in colour touchscreen and Ford's Sync2 connectivity system.

The new Focus RS - the 30th Ford to be badged 'RS' since the Ford 15M RS launched the high-performance series in 1968 - will enter production late this year with first sales beginning next Spring. It is expected to cost about £30,000.

Buyers will get just four choices of colours, called Nitrous Blue, Stealth Grey, Absolute Black or Frozen White. The launch car pictured here is painted in what Ford calls Liquid Blue, which is "currently only a show colour", suggesting that it may become available as a cost option.

For the first time, the Focus RS will be sold in all global markets, including North America and China. However, most Focus RS sales are still expected to come from the traditional European markets, led by the UK. It will be built alongside the regular Focus at Ford's Saarlouis plant in Germany.

The four-wheel drive system and other technical upgrades also raise the possibility of a final, extreme performance version of the car being sold some time around 2017, in the vein of the previous-generation Focus RS500. That car was developed in conjunction with Mountune and sold as a limited edition of 500 cars, 101 of which were sold in the UK.

Ford of Europe boss Jim Farley says the new RS "captures the essence" of the brand. "We make great cars that are affordable and that's what defines the RS. Bringing RS back is a high point for us and customers. We don't just want a sustainable business for Europe, we want a vibrant business. This is a part of that journey."

Q&A with Tyrone Johnson, RS engineering manager

When did Ford start work on the new Focus RS?

"We started talking about it some time ago. Certainly the engineers started thinking about it the day they signed off the last one, but of course there has to be a business case behind any decision to actually make it. Compared to making money on this kind of car, finding an extra 100bhp or so is easy. Specific approval came at the end of 2013."

How quickly did you settle on the technical specification?

"It would have been the easiest thing in the world to add 60bhp, put bigger wheels and tyres on and bolt a wing to the back - but all of us at Ford were clear that we weren't interested in that. We've been there and done that with RS; this time we wanted a different kind of RS."

Why go for four-wheel drive?

"We actually built a four-wheel drive prototype three or four years ago, using more traditional technology. We drove it and, well, let's say it was not satisfying to us. It didn't have the dynamic levels that Ford has become known for and therefore we couldn't envisage going down that route. But then this new system came on the radar, and it transformed the vehicle dynamics. We were up and running."

How quickly did the project progress from there?

"Let's just say it has been a busy year. Finding technical solutions was one challenge, but we were also sent back half a dozen times to try and find better solutions for less cost. We had to find better ways to achieve our goals; RS is also about being affordable, and that tension drive a lot of originality and invention."

Was the five-door layout a hinderance?

"Of course, a three-door layout is lighter, but ultimately the five-door situation has detracted nothing from this car - nothing. It simply wasn't an issue, and I guarantee you that this car will be amazing to drive."

Why have road and track settings?

"We wanted this generation of Focus RS to have a greater flexibility than before. We know that RS has a purist's heritage, and that we had to produce a proper sports car to justify that. But we also have to recognise that the world has moved on; people who bought a Focus RS Mk1 or Mk2 have families now, and we felt they might appreciate a road setting that allows them to use the car in comfort, and then to switch it for those boy racer moments."

Blog - The Ford Focus RS is dead, long live the new Ford Focus RS

Read more about the rivals the new Ford Focus RS will face off against.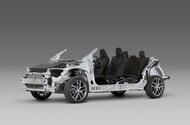 Toyota shows off new TNGA architecture
Toyota has revealed a new platform that will underpin its future cars

Toyota has unveiled a new global vehicle architecture that the company says will "greatly improve vehicle performance and product appeal", as well as cutting development costs and massively reducing the complexity of its current global model range.

Known as the Toyota New Global Architecture (TNGA), the system is a kit of "lighter, more compact" components that will be used for a new generation of vehicles covering front and rear-wheel drive and a new, "much higher efficiency" powertrain family.

The Japanese car maker also promises much-improved handling, thanks to a lower-mounted powertrain. This, according to Toyota, endows TNGA cars with the lowest centre of gravity of any mainstream rival.

As many as 50% of all Toyota's output by 2020 will use the TNGA architecture. This will offer a huge cost saving and reduction in complexity for Toyota, which says it currently has around "100 platforms and sub-platforms".

Toyota says the TNGA structures will be 30-65% stiffer than today's models. That should feed into better ride and handling as well as improved crash safety.

The new TNGA engines are "much more" thermally efficient, offering around 15% more power and - in conjunction with more efficient automatic and CVT transmissions – offer as much as 25% better fuel economy.

The "fifth generation" hybrid powertrain that is bundled with TNGA is claimed to be 15% more economical than today's Toyota hybrid models.

This new powertain family will also reduce the huge complexity of Toyota's global engine line-up. The company estimates that, taking into account different emissions regulations and way the units are mounted in a particular platform, it has around 800 different engines.

The common parts in the TNGA architecture are almost entirely hidden from view. It covers the front end and crash structure, the actual floor structure and the rear floor and rear crash structure. Also included are the front and rear suspension systems, the whole powertrain, the radiator position, the heating and climate control unit and the steering system.

Inside, the seat frames are common but can be sited at five different heights, allowing the TNGA kit to cover all types of vehicles from superminis to MPVs.

According to Toyota, the only common visible parts in the cabin will be the steering wheel, touchscreen, gear selector and foot pedals. On the outside, the only common parts will be the door mirrors and the Toyota badge.

This, it's claimed, will give Toyota's operations in the various global markets the ability to completely customise vehicles to local tastes.

Previously, Toyota's development system allowed vehicle line chief engineers to customise platforms and powertrains when developing new models. This was the main reason for the massive proliferation in platforms and powertrains.

From now, the chief engineers will use the TNGA toolkit and invest more in meeting local market demands and delivering the 'eye-catching design' that Toyota bosses insist has to mark out all future models.

The first TNGA-based car will be a "front-drive, medium-size model" launched later this year. Although Toyota officials wouldn't give any further details, the TNGA architecture on display at its Honsha facility was Auris-sized and had independent rear suspension.

According to the company, investment in a TNGA model will be around 40% lower than a similar model from 2008. However, as much as 75% of this saving will be invested in what Toyota says is its new mission statement of "making ever-better cars".

While not being specific, it seems that this extra cash will go into more sophisticated technical specifications – possibly including low-cost autonomous safety equipment - and niceties such as higher-quality slush-moulded dashboards, touchscreens on all models and improved trim materials.

Toyota says the TNGA development ultimately underpins its corporate desire to build cars that are seen as more than efficient and reliable, but deliver driving pleasure and innovative design.

Get the latest car news, reviews and galleries from Autocar direct to your inbox every week. Enter your email address below: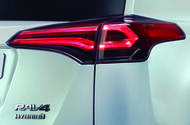 The Toyota RAV4 Hybrid is expected to be launched in 2016
Teaser image reveals the rear of Toyota's new hybrid SUV

Toyota has released an image of the facelifted RAV4, showing the hybrid version of the revised SUV ahead of its public debut at the New York motor show.

Little information on the car has been released, but the hybrid is expected to join theRAV4 line-up in 2016 after its appearance in New York.

The teaser picture only shows the rear of the car, and it will be the first time that a hybrid is offered in the RAV4 range.

The RAV4 range was boosted earlier this year with the Business Edition model, which went on sale in January, priced from £23,995.

Toyota's SUV counts the Mazda CX-5, Nissan Qashqai and Ford Kuga among its rivals, but it would be the first of them to offer a hybrid model in their range.

Read more New York motor show news

Get the latest car news, reviews and galleries from Autocar direct to your inbox every week. Enter your email address below: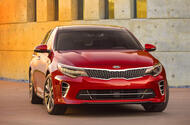 The Optima shares its platform with the Hyundai i40
Fourth-generation Optima will go on sale towards the end of this year, featuring Sportspace-inspired looks and a more luxurious cabin

The new Kia Optima will make its global debut at the New York motor show next month, and has been previewed with this official image, which shows the car in the metal for the first time.

Set to take on the likes of the new Ford Mondeo and Volkswagen Passat when it goes on sale in Europe towards the end of this year, the fourth-generation Optima is based on the same platform as the Hyundai i40.

Kia describes the new car as being "passionately designed and obsessively crafted," and says the Optima range "has become a catalyst for the brand's tremendous growth around the globe."

Showing clear design inspiration from recent Kia models, the fourth-generation Optima features a thinner, elongated interpretation of the firm's 'Tiger Nose' grille, as well as larger lower air vents. The new model gets a more aggressive rear bumper design than today's Optima, too.

As well revising the exterior styling, Kia is understood to have lifted the overall fit and finish of the Optima's cabin, with spy pictures revealing a new centre console design. The Korean firm says "the all-new Optima features a more spacious interior, premium features from the class above and a number of technologies not previously offered."

Elements from Geneva's Sportspace concept car, such as its large freestanding infotainment screen and digital instrument cluster, could also be used. The Sportspace previews the Optima estate, which will go on sale soon after the saloon.

Powering the new model in Europe will be a revised version of the current Optima's 1.7-litre CRDi turbodiesel engine. In the current car, that engine produces 134bhp and 321lb ft.

Joining the range soon after launch should be a new diesel-electric hybrid variant of the Optima. Kia previewed the technology with its Optima T-Hybrid concept at the Paris motor show last year, and again on the Sportspace concept car. 

The mild hybrid powertrain mates the Optima's existing 1.7-litre turbodiesel engine to a small electric motor.

Read more New York motor show news

Get the latest car news, reviews and galleries from Autocar direct to your inbox every week. Enter your email address below: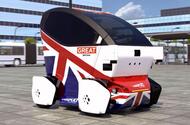 Research presented to the industry in London today outlines how taking a lead in next generation automotive technology will generate money and jobs in the UK
Development of autonomous and connected car technologies will raise billons for the UK economy, according to research published today.
Research conducted by KPMG on behalf of the SMMT, says the development of connected and autonomous vehicles will help generate 320,000 jobs in the UK, generate £51 billion pounds in revenue and reduce serious road traffic accidents by more than 25,000 a year by 2030.
The findings are being presented to the industry at SMMTConnected, the first ever industry-wide event in Britain seeking to demonstrate how the UK automotive sector is already developing the cars of the future. 
Mike Hawes, SMMT Chief Executive, said, "Connected and autonomous cars will transform our roads and the way our society functions for generations to come, dramatically reducing accidents and helping to deliver more than £50 billion to our economy. The KPMG report clearly shows the UK automotive industry is leading the way in developing the cars of the future and that it will act as a catalyst for wider economic benefits that will create more than 300,000 jobs by 2030.  The UK must grasp the opportunities ahead and ensure it is continually at the forefront of pushing through these next breakthrough technologies."
The UK has taken a lead in the pushing the autonomous driving agenda, helped by government investment and a legislative advantage over European rivals.
Chancellor George Osborne last week announced a £200 million government and industry investment into driverless research, development and demonstration in the UK.
Uniquely, the UK never ratified the Vienna convention some decades ago which means there is no legal impediment to driverless cars being used on the roads. As a result, driverless car trials have already started in three British cities this year, yet other European countries need to seek legislative changes to do the same.
Get the latest car news, reviews and galleries from Autocar direct to your inbox every week. Enter your email address below:
Tank-style caterpillar tracks were regarded as the future, once
Before the road network matured, there seemed to be real potential in go-anywhere vehicles equipped with self-laying tracks

These days, mainstream car makers don't have a habit of developing vehicles with tank-style caterpillar tracks on their rear axles.

In the early 1920s, however, there was a good argument for tracked vehicles, especially in less hospitable regions of the globe.

"A vast future lies before vehicles which are equipped with self-laying tracks," proclaimed Autocar in a 1922 article.

"If we study the history of any new country, we usually find that the limiting factor in its evolution is the question of transport, and hitherto this has depended upon the development of railways or hard-made roads. There is an urgent need for vehicles which can operate freely over unmetalled paths or virgin land.

"The capability which these creeper track vehicles in general possess of covering soft ground is due to the fact that the load is distributed over the whole area of contact of the track with the ground, whereas with a wheeled vehicle the area of contact of the wheels with the ground is extremely small."

There were some drawbacks to creeper tracks, Autocar noted: "One difficulty has been the absence of an efficient system of compensated springing to enable a perfect distribution of weight to be obtained in crossing rough or uneven ground.

"It is easy when passing over an undulation for half the weight of the machine to be borne on a very small area, the result being that the ground is flattened, or the machine is lifted bodily over the obstacle.

"One effect of this absence of compensation is that the tracks arefrequently overloaded and have a very limited life in such cases."

A potential solution was at hand, though: "A system of springing which has been termed 'cable suspension' has been applied with every success.

"When the machine passes over an obstacle, the roller immediately above the obstacle rises against the tension of the cable and passes over the obstruction without appreciably affecting the level of the chassis. It is thus obviously impossible to exert undue pressure on any part of the track or ground."

Creeper tracks also reduced wear on roads. "Probably many motorists have had occasion to notice the road surface after the passage of one of the war tanks and, despite its 30-tonneweight, they will doubtless have observed that no damage has been done. This is due to the uniform distribution of the load," said Autocar.

"As the great portion of the world's surface is not yet provided with roads, it would appear that a vast future lies before the creeper track. Its use upon the roads of this country would possibly be the means of solving the vexed question of road maintenance by lessening wear."

Previous Throwback Thursdays

4 March 1899 - Steam, electric or combustion engine? 

14 February 1913 - 100 miles in one hour

2 February 1934 - The ethics of skidding

21 January 1949 - Tidier tails

27 January 1961 - Ford Thunderbird road test

19 January 1980 - Talbot Horizon road test

13 February 1982 - 4x4s tested on the farm 

16 March 1994 - Bentley's Concept Java

16 April 1997 - When Bugatti bit the dust

Get the latest car news, reviews and galleries from Autocar direct to your inbox every week. Enter your email address below:



Castle Bromwich assembly plant gets £400m upgrade as part of JLR's investment program
Jaguar Land Rover has reaffirmed its commitment to car development and production in the West Midlands with investment totalling £600 million announced today.
The announcement completes a remarkable transformation for the company's West Midlands facilities, which were earmarked for consolidation as recently as 2010. The introduction of successful new models, as well as significant investment, have seen sales of Jaguar cars built at its Castle Bromwich plant almost double in five years.
Company CEO Dr Ralf Speth said: "Jaguar Land Rover continues to demonstrate its unwavering support to the British automotive industry through sustained investments in advanced research, technology and innovation.
"This investment, made here in the heartland of our UK business operations, signals the confidence we have in this region to support the creation, engineering and manufacturing of ultra-low-emission, premium British products, today and in the future."
How the £600m has been spent
The money is split between three seperate facilities in the West Midlands.
The largest single investment has been made at the company's Castle Bromwich plant, where more than £400m has been spent upgrading ahead of the new Jaguar XF going into build.
Of that amount, £320m is committed to an all-new 74,000sq ft body shop, which the company says cements the plant as a global centre of excellence for lightweight vehicle manufacturing. The all-new XF completes the line-up of all-aluminium cars assembled at the Midlands plant which already builds F-Type and XJ models. An additional £16m has been spent on an assembly line which turn coils of aluminium into 'blank sheets' that will be pressed into body panels, and £50m on a new press line which is currently under construction. The remaining £30m has upgraded the trim and final assembly hall.
The Castle Bromwich announcement follows on from the commitment earlier this month that the company's Advanced Design and Engineering Centre in Whitley, Coventry, will be doubled in size at a cost of £50m.
This is in addition to the £150m invested in the National Automotive Innovation Centre (NAIC) at the University of Warwick. Due to open in Spring 2017, it seeks to provide a home for Jaguar Land Rover's advanced research teams and its partners from the supply chain and academia.
Get the latest car news, reviews and galleries from Autocar direct to your inbox every week. Enter your email address below: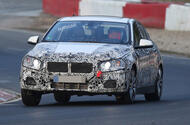 The 1 Series saloon will be front-wheel drive but may come with an xDrive AWD option
BMW is set to take on the Audi A3 saloon next year with a new compact front-wheel-drive four-door

The BMW 1 Series saloon has been spotted testing for the first time ahead of a 2016 launch.

The saloon is based on the same platform as the next generation of the 1 Series hatchback and both cars are set to be front-wheel drive. The current 1 Series hatchback is the last that will be offered with rear-wheel drive.

The new saloon will join the 2 Series Active Tourer and Gran Tourer in being front-wheel drive. However, both of these models are also offered with four-wheel drive, so there is a possibility that the 1 Series will come with an xDrive option as well.

The pictures show a four-door model similar in shape to the current 3 Series, albeit smaller. The current 3 Series is 4624mm long and the 1 Series hatchback 4324mm.

This new model was spotted testing at the Nürburgring and is expected to be a rival to the likes of the Audi A3 saloon and the Mercedes-Benz CLA. This is an area in which BMW does not currently compete.

The 1 Series saloon is set to go on sale before the new version of the hatchback, because the three-door and five-door 1 Series were facelifted only this year.

The new saloon is likely to offer similar engines to the 1 Series hatch. These include a range of transverse three-cylinder and four-cylinder petrol and diesel units. However, there is also the possibility of a plug-in petrol-electric hybrid at a later stage.

The new 1 Series platform will also form the basis of the second-generation X1, with the compact SUV going on sale this autumn. It will also be offered as a predominantly front-wheel-drive model.

Get the latest car news, reviews and galleries from Autocar direct to your inbox every week. Enter your email address below: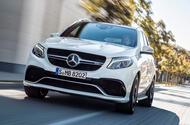 The GLE was formerly known as the M-Class
Former M-Class receives a new name and a host of upgrades, plus a new petrol-electric plug-in hybrid joins the mix

The new Mercedes-Benz GLE has been revealed ahead of its global debut at the New York motor show next week.

The new SUV - formerly known as the M-Class - will go on sale in July, competing in the same crowded market as other top-end SUVs including the Range Rover Sport, Porsche Cayenne and BMW X5.

Alongside revised styling and new equipment, the GLE also ushers in a new era of hybrid SUVs for Mercedes-Benz.

The new GLE adopts many of the same styling cues as seen on the smaller GLE Coupé, revealed at the Los Angeles motor show last year, including the new Mercedes family front-end styling. The GLE gets a more boxy appearance than that of its stylised sibling, however, and includes roof rails and dual exhausts integrated into the rear bumper. LED lights feature front and rear.

Engine options include a 201bhp 2.0-litre four-cylinder diesel in the GLE 250d, which Mercedes says returns up to 52.3mpg along with CO2 emissions of 140g/km.

Also available is the GLE 350d, which is powered by is a 254bhp 3.0-litre V6 diesel engine. Producing 457lb ft of torque, the unit returns up to 44.1mpg with CO2 emissions of 169g/km. Mercedes says that across the range, fuel consumption and C02 emissions have improved by 17%.

Perhaps most significant is the new GLE500e 4Matic. Described as the first plug-in hybrid SUV in Mercedes-Benz's history, the GLE500e 4Matic features a 328bhp, 354lb ft 3.0-litre twin-turbocharged V6 engine working in conjunction with a single electric motor, which produces an extra 114bhp.

The hybrid GLE produces 436bhp and 479lb ft combined, and can travel for around 18 miles on electric power alone at speeds of up to 80mph. Mercedes says the model can return up to 85.6mpg with CO2 emissions of 78g/km. Drive is sent to all four wheels through a transmission which is based on the older 7G-Tronic unit. All diesel GLE models, meanwhile, will come with Mercedes' nine-speed automatic transmission as standard.

Drivers can swap between four different driving modes in the GLE hybrid. E-Mode offers all-electric driving, while E-Save preserves the current state of charge. Charge mode focuses on topping up the battery, while Hybrid mode provides the best overall balance between the engine and the electric motor.

The GLE hybrid can be charged either from a wall-mounted box charger or from a conventional power output. Charging from a wall box takes around two hours. The launch of the hybrid will help Mercedes to stay competitive against the likes of Porsche's Cayenne S E-hybrid and the Range Rover Hybrid.

Inside, Mercedes has given the GLE the same 7.0in free-standing infotainment screen already in use across its range. Also featuring is the firm's touch-sensitive controller, mounted on the centre console.

While the GLE's cabin will be familiar to current Mercedes-Benz owners, the company says there's a wider choice of interior colours and trim materials, which include wood and carbonfibre.

The optional AMG Line specification grants extra interior luxury, including Artico leather upholstery and a new leather multifunction sports steering wheel, while exterior modifications include reprofiled front and rear bumpers and large 20in alloys.

Other options include Mercedes' Airmatic suspension and the AMG Ride Control system, as well as numerous technology upgrade packages.

Also on display in New York will be the Mercedes-AMG GLE63 S, which produces 577bhp from its 5.5-litre twin-turbocharged V8 engine, along with 561lb ft. Mercedes says the high-performance SUV can reach 62mph in 4.2sec and has a limited top speed of 155mph. Fuel consumption is rated at just 23.9mpg, with CO2 emissions of 278g/km.

Those performance figures mean the GLE63 S compares well with its chief rivals, BMW's X5M and X6M, which each get 564bhp from their twin-turbocharged 4.4-litre petrol engines.

Unique styling features on the GLE63 S include a modified front bumper and grille, 20in AMG alloy wheels - although optional 21-inch units are also available - and chromed exhausts at the rear.

Formerly a best-selling model for Mercedes, the brand will have high hopes for the GLE in what has become a highly profitable market.

Read more New York motor show news

Get the latest car news, reviews and galleries from Autocar direct to your inbox every week. Enter your email address below:



The new 570S Coupé features a flying buttress design
McLaren's entry-level supercar range will be priced from £140,000 when sales begin after the New York motor show in April

The McLaren 570S Coupé will be the first car launched as part of the firm's new Sports Series range, it has been confirmed.

Like the 650S, the new two-seater takes its name from its power output. The twin-turbocharged 3.8-litre 
V8 engine produces 570PS, or 562bhp.

The 570S will take after other models in the McLaren range in that it features a mid-engined layout and is based around a carbonfibre tub. It is expected to be the first of three models in the new entry-level Sports Series, with a convertible Spider and a more spacious GT model set to join the line-up later. A high-performance 'Long Tail' version is also likely.

There would probably also be a detuned model for the asian market, joining the 625C. This model is expected to be unveiled at the Shanghai motor show three weeks after New York.

McLaren is also understood to be planning a track-only GT3 version of the Sports Series to be raced by customer teams. It believes there are now so many credible race contenders that the new car needs a track presence to achieve visibility.

The first models in the entry-level Sports Series range are scheduled to receive their public debut at the New York motor show next week. Prices for the line-up are expected to start at about £140,000.

Recent spy pictures have shown the Sports Series models testing in convoy with the recently-revealed 675LT and a Ferrari F12 Berlinetta.

Mules for the Sports Series have been spotted testing as far back as 2013, with early prototypes wearing modified 12C bodywork. The Sports Series shares no panels with any other McLaren and has unique glasshouse styling, but its LED headlights are in the shape of McLaren's badge. It lacks the 650S's sophisticated suspension, but engineers have worked hard on its capabilities on both road and track.

The cars' debut means McLaren can at last offer models in each of the categories it has identified: Sports Series, Super Series (650S and the 675LT) and Ultimate Series (P1, P1 GTR and their future siblings). The 12C, which McLaren said would continue in production, has been dropped because buyers prefer the newer models.

The latest video preview issued by McLaren is understood to show the coupé variant in testing. New details revealed include the LED headlights and rear light clusters inspired by the P1 hypercar, while the front-end design appears undisguised for the first time. The front sits very low to the ground and sports a different aerodynamic package to that seen on McLaren's current cars. McLaren's official preview picture has also shown off the car's flying buttress design.

"We've been working at this plan since the company began," said CEO Mike Flewitt. "The only car we didn't plan and agree is the P1 GTR, which is a track-only model we'll sell to existing P1 owners. Everything we do in future will fit into this structure."

The debut of the Sports Series cars will bring another jump in McLaren production, said Flewitt, but he insisted the company is "about exclusivity, not volume". McLaren expects to sell around 1700 to 1800 cars this year, but output will rise beyond 4000 when the Sports Series is established.

"We should peak at about 4000 units when the market is mature," said Flewitt. McLaren currently sells its cars through 72 dealers worldwide and expects to build that to 100.

Meanwhile, the company has finished building its 375 P1s, will complete 40 P1 GTRs (orders closed last week) and is turning its attention to its next Ultimate Series car."I've always said we won't want to make a P1-and-a-bit," Flewitt said. "The next Ultimate Series McLaren has to take a very significant step over what we have.

"There are several directions we could take. One would be finding ways to get more weight out of the car's structure. Another would be to take advantage of more power-dense battery packs if they became available. And there's always the promise of better aerodynamics and better software. But it could take 10 years. After all, the leap from F1 to P1 took 20."

Flewitt also scotched the idea of a McLaren SUV. "We have no such plans," he said. "We're totally committed to making sports cars."

Read more New York motor show news

Get the latest car news, reviews and galleries from Autocar direct to your inbox every week. Enter your email address below:



The DeltaWing-inspired sports car could have around 340bhp
DeltaWing racer of 2012 could give birth to new two-seat and four-seat Panoz road cars

US sports car maker Panoz could be set for a comeback with plans for two new road cars designed around the concept of the radical DeltaWing.

The DeltaWing, which ran at the 24 Hours of Le Mans race in 2012, is understood to have provided inspiration for a 300bhp-plus two-seat sports car, as well as a four-seat saloon version with around 100bhp. 

Both cars will retain the narrow front track and 30/70% front/rear weight distribution central to the lightweight DeltaWing racer, which was conceived to achieve the same performance as its rivals while using half the fuel.

The cars will be made by the DeltaWing Technology Group, which incorporates the currently dormant Panoz.

DeltaWing boss Don Panoz said: "I'm certainly no tree-hugger and have no opinion on global warming, but if you have better fuel economy and lower emissions, then that makes a contribution to society."

Both cars will be built around a lightweight aluminium chassis and feature engines mounted transversely at the rear. The GT two-seater will have a turbocharged four-cylinder engine of undisclosed origin producing in the region of 340bhp, while a three-cylinder engine with 105-110bhp is planned for the saloon, in which the rear seats would be mounted over the drivetrain.

Panoz envisages a price of $60,000-$70,000 for the GT and $27,000-$30,000 for the saloon.

DeltaWing first revealed a concept for a road car last May at a time when it envisaged selling its technology to a large manufacturer. Now it has decided to build road cars itself – although it hasn't ruled out licensing deals - and has recruited Brian Willis from Multimatic, where he was a key figure in the design of Ford's forthcoming carbonfibre-bodied GT, to lead the programme.

Development of the two-seat Panoz will begin in earnest first, and the firm has set a target of having the first prototype up and running this autumn. The plan is to develop the car in a racing environment, with race outings late this season on the cards.

Willis, who joined DeltaWing at the end of February, admitted that he was facing "some aggressive development goals".

DeltaWing has yet to reveal when the saloon might appear or when cars would go on sale. Panoz's previous road car project, the front-engined Abruzzi 'Spirit of Le Mans', which was revealed at the race from which it took its name in 2010, never made it into production.

Panoz and US team owner Chip Ganassi, who are among the rights holders to the DeltaWing concept, are pursuing a legal action against the creator of the car, Ben Bowlby, and Nissan, which turned the 2012 Le Mans race programme into a reality with the supply of engines, finance and technical resources.

They allege that the last year's Nissan ZEOD RC, which, like the DeltaWing, was given the 'Garage 56' entry reserved at Le Mans for experimental machinery, violated its intellectual property rights.

An attempt by Nissan to have the case dismissed failed early this year. The continuation of the action, which also names Nissan global motorsport boss Darren Cox, comes at a time when the manufacturer has gone quiet on its plans for the narrow-track BladeGlider concept, revealed at the Tokyo motor show in 2013.

Speaking to Autocar at the recent Geneva motor show, Nissan bosses described the BladeGlider as an "exploratory concept", despite it being 18 months since the car was first revealed. Chief planning officer Philippe Klein has said producing BladeGlider is "not among the immediate priorities" of the firm.

The BladeGlider was originally scheduled to go on sale in 2017, priced from around £30,000.

Gary Watkins

Get the latest car news, reviews and galleries from Autocar direct to your inbox every week. Enter your email address below: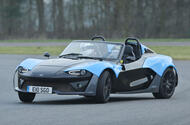 The E10 is the first car to come from Zenos, but won't be the last
So often niche car makers fall by the wayside, but the team at Zenos Cars have all the ingredients to do well

Britain may be the spiritual home of the niche car maker, but it still takes an unusually brave person – or group of people – to set up a new marque. For every Ariel there's a dozen ventures that have arrived in a blaze of publicity and faded away without turning a wheel.

All credit, then, to the team at Zenos, who have not only created a car that is both enthralling to drive and innovative in its design but who have also done so to a budget and with a seemingly sound financial plan behind them.

In many ways, it should be no surprise that Zenos has succeeded thus far; co-founders Ansar Ali and Mark Edwards used to run Caterham, after all. But nor should their familiarity with their subject detract from the enormity of their team's achievements to date.

Of course, the challenges have just started, with early customers wanting their cars delivered and the order books waiting, ready to fill. But make no mistake: Zenos's success to date is a great demonstration of British innovation at its best.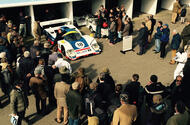 The 73rd Goodwood Member's Meeting was a roaring success
Goodwood's Member's Meeting is the best yet; Range Rover Sport Hybrid is frugal fun; touring Jag's new Ingenium plant

SATURDAY/SUNDAY - Fine, fulfilling weekend at the year's first big motoring event, the 73rd Members' Meeting at Goodwood.

The idea behind the fixture is to recreate the unique club atmosphere of enthusiast-orientated gatherings in the circuit's heyday while accompanying it with some hectic racing and amazing, full-noise demonstrations by cars never before seen there.

An awesome roll call of 'airbox' F1 cars, including Freddie Hunt in his father James's Hesketh, circulated at something close to full speed. Later, a collection of 18 Group C Le Mans cars, also driven flat out, grabbed every ear and eye in the place.

In between, there were hectic races for 1950s and 1970s/1980s saloons, plus jockeying clumps of tiny single-seaters and some lovely sports cars – all of it done with breathtaking attention to detail. Goodwood has the knack of persuading you to leave your ordinary life at the gate, and did it again this year, only better.  

TUESDAY - Absorbing trundle into central London in the new Range Rover Sport Hybrid, a jaunt that carried the chance to compare it directly with our 'normal' V6 diesel long-termer.

Very impressed to return 36mpg on the trip computer during a congested 11 miles, where the standard car would have done 22-24mpg. However, I was surprised to discover that the price difference between the two models is nearly £15,000.

The main reason why you'd choose a hybrid, as I understand it, is to reduce company car tax, but the difference between the pair is only about £500 a year.

Of course, Land Rover has built the hybrid for bigger reasons. Big cities are moving towards banning all but low-emissions cars from their centres – and the hybrid can go about a mile or two without its engine.

Another plus for the hybrid is that its components are well integrated – better, in my view, than in equivalent Mercs and Porsches. The brake assistance isn't quite as easy to modulate as in our V6 and the all-electric steering has a shade more stiction, but there isn't much in it. Full marks to Land Rover's integration experts, but good luck to their salesmen. 

WEDNESDAY - Spent a happy afternoon near Wolverhampton touring Jaguar Land Rover's fantastic new Ingenium engine plant. My guide was Neil Hume, a fact-perfect senior engineer who was the one of the first employees there.

I'm often impressed by the way well-designed modern industrial buildings welcome you. The light, view, space and organisation all made me wish my own house reached Wolverhampton's standards, although it could do with nicer soft furnishings…

THURSDAY - Chrysler croaked in the UK last week, to no one's regret and without ever producing a market-leading car. The US marque established a European operation here in the late 1950s. It was a misbegotten set-up that swept the assets of Simca and Rootes into a disorganised heap before selling out to Peugeot – which crazily resurrected the Talbot name to ensure a final failure.

The Alpine (Simca) and Avenger (Hillman) were sort of okay, but the only genuinely new European Chrysler was the slow-selling 180, a weird union of unrelated Rootes and Simca projects.

Chrysler raised its flag here again about 15 years ago to bring us US-made clunkers such as the Neon and PT Cruiser, although at least the 300C and Crossfire were okay and the associated Jeeps deserved the following they acquired. But when FCA boss Sergio Marchionne chose Chrysler as the bonnet badge for a couple of stray right-hand-drive Lancias, the Delta and Ypsilon, the die – in the 'death' sense – was cast. I almost always regret the passing of car companies, but not this one.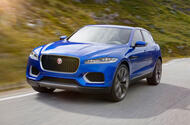 F-Pace crossover is tipped to be sold in Tesla-rivalling all-electric guise
Battery-powered version of the F-Pace crossover is likely by 2018

Jaguar Land Rover will step up its development of ultra-low-emission technologies by doubling the size of its engineering and design centre in Whitley, Coventry, a move which paves the way for all-electric versions of its models to launch.

The Whitley site is the base for advanced powertrain engineering, advanced engineering teams for both Jaguar and Land Rover brands, the Jaguar design and advanced design departments, and the firm's global headquarters.

The site will grow from 55 to 110 acres, the expansion being equivalent to around 30 football pitches. JLR says the expansion is down to a ramp-up in development of "ultra-low-emission technologies". However, the expanded site will not result in 4000 new jobs, as reported by the Coventry Telegraph previously.

The firm is understood to be doing extensive R&D working on future electric and hybrid drivetrains, with the first models expected to be all-electric versions of the Jaguar XE saloon and F-Pace crossover with ranges of around 300 miles, according to well-placed industry sources. 

JLR has experience with electric transmissions through its development of the cancelled CX-75 supercar project, which was engineered in conjunction with Williams Advanced Engineering in Oxfordshire. The two companies' ongoing collaboration includes the building of the C-X75 supercars that will be used in the filming of the new James Bond movie, Spectre.

There are two reasons for the move to a pure electric powertrain, the most important of which is new Zero Emission Vehicle legislation introduced to California and adopted by another seven US states.

These laws demand that, between 2018 and 2025, the number of new ZEVs sold rises from 5% of all new cars to 15.4%.

Secondly, analysts expect rising demand for electric luxury vehicles as more global cities start to introduce 'zero emission zones' of the type proposed for central London. Tesla has also proved that there is a rising global market for an upmarket all-electric vehicle.

With SUVs and crossovers dominating the US new-car market, and Tesla's long-awaited Model X SUV on the way, an electric F-Pace makes good sense.

It seems there's also a good chance that Range Rover will offer an all-electric SUV using the same technology as the Jaguar's. Last year Autocar revealed that Land Rover design boss Gerry McGovern was considering a new line of Range Rover models that could be "incredibly luxurious and low-slung".

It's thought that this potential new model could be based on the same basic aluminium architecture as that of the F-Pace, but with a greater emphasis placed on opulence in place of the F-Pace's focus on dynamic performance.

Building the EV across two brands will also help reduce per-unit costs and the pricing potential for a super-luxury electric Range Rover must be tempting to JLR planners.

The unexpected success of Tesla - an example of a very rare breakthrough into the automotive market from a start-up company - proved what trend spotters had suspected for some time.

It is the world's most affluent consumers who are most enthusiastic about 'green' technology. And considering the cost of building an electric car with a near-300 mile range, it is only the most affluent that can afford it.

Moreover, vehicles driven by electric motors are inherently smooth, refined and swift, which gives them a decisive advantage over conventional luxury cars that use internal combustion engines.

Tesla sold around 32,000 vehicles in 2014, with the biggest market being the US. That's only a pinprick in the global car market, but the new legislation in the US should help change that and this niche market will expand as more mainstream makers get involved.

California has led the way on pollution reduction since the famous 1974 model-year 'smog' regulations. One of the most important markets in the US, it had originally wanted around 4% of new cars by 2025 to be either 'Zero emission' (battery powered) or Plug-in Hybrids.

The modest aim was dramatically upgraded so that, by 2025, some 15.4 per cent of new cars – or around 230,000 units in California – would be half ZEVs and half plug-in hybrids.

Such a demand would have been important enough to Jaguar Land Rover on its own. However, a total of eight US states (California, Connecticut, Maryland, Massachusetts, New York, Oregan, Rhode Island and Vermont) signed up for the California proposals.

These are states on the east and western seaboards of the US and are among the most affluent. The combined efforts of the eight should see 3.3 million zero emission vehicles on the roads of the US in 10 years, especially as the states themselves are committed to massively expanding the charging network.

The rules and regulations around which carmakers have to build ZEVs are immensely complex, but as JLR sells more and more cars in the US, thanks to changes in the legislation, it is likely to be ranked as a 'large volume manufacturer' before the end of the decade. This means it will be required to sell ZEVs in California and the other seven supporting states.

Indeed, it seems that JLR might have to have a battery-powered car on offer for the 2108 model year. And the more ZEV models JLR sells, the more 'credits' (another complex part of the legislation) it can offset against the sale of conventionally engined models.

Investing in electric SUVs and Crossovers is not just for the future US market. China's government is also pushing for more of what it calls 'New Energy [electric] vehicles', which, again, are most likely to be afforded by the most affluent drivers.

Get the latest car news, reviews and galleries from Autocar direct to your inbox every week. Enter your email address below: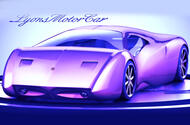 The LM2 Streamliner is the first car from Lyons Motor
New York-based startup company ready to reveal 1677bhp supercar at April show, with electric and track-focused versions to follow

US-based startup firm Lyons Motor has unveiled plans to showcase its 1677bhp LM2 Streamliner supercar at the New York motor show next week.

The LM2 Streamliner, which is powered by an 8.2-litre twin-turbocharged V8 engine, is claimed to have an estimated top speed of 290mph. Its makers claim the car can reach 60mph in 2.2sec, 100mph in 4.1sec and 200mph in 11.85sec. The V8 engine produces 1610lb ft. Drive is sent to all four wheels by a seven-speed sequential transmission.

Those heady performance claims put the LM2 Streamliner into direct competition with more established names such as Koenigsegg. Lyons Motor says the LM2 streamliner also gets a 16in touchscreen infotainment system inside. The car's aerodynamic bodywork is made from carbonfibre.

The company says it is the first car manufacturer to be based in New York city for 70 years and that the LM2 Streamliner will "counter the best performing and exclusive vehicles from Europe, Asia and beyond have to offer.

"The LM2 Streamliner is not only an engineering tour de force; it is a masterpiece equivalent to fine art."

Pointing towards a future family of Streamliner models, company boss Kevin Lyons says all-wheel-drive electric and Super Sport GT versions of the car are already in development.

Read more New York motor show news

Get the latest car news, reviews and galleries from Autocar direct to your inbox every week. Enter your email address below: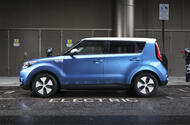 The Highways Agency's proposed rapid charger network is part of a £900m a year budget administered by OLEV
Government investment in EV charging network creates confusion over commercial model

The government must take firm control of the expansion of the UK's EV rapid-charger network or it risks the project failing, Britain's biggest manufacturer of charging points has warned.

"Private enterprise is willing to do as much as we can, but we need much clearer policy on costs and charges if we are to invest," said David Martell, boss of Chargemaster, at an industry event last week. "All this is very unclear now." 

One of Martell's major concerns is the set up of a free to use £15 million trunk road rapid-charger network announced by the DfT and Highways Agency last year. "If a government body is going to provide a free nationwide network, where does that leave private involvement in EV charging?" said Martell.

Martell would prefer that the government uses funds to allocate sites and upgrade the local electricity grid infrastructure, and then have open tenders with private companies for the operation of the chargers.

"Government should lay the groundwork and set a policy for private enterprise to operate within," he said. "A free nationwide network of chargers will discourage private companies."

Rapid-chargers are the breakthrough technology to push EV ownership into the mainstream because they top up a battery to full in just half an hour, making long distance journeys a more practical proposition.

However, rated at 50kW, compared to the typical 7kW street-side unit, they cost more than 10 times to install, raising the cost of investment to around £20,000 per charger. They also drain so much energy from the power grid that locations, such as service stations, need major upgrades to their electrical circuitry.

Martell wants the government to invest in the infrastructure, leaving the charger manufacturers to fund the chargers - costs it will recoup with a tariff for EV drivers. "It has to be recognised that the days of free charging for EV drivers are coming to an end," says Martell.

Chargemaster's rival Ecotricity leads the way in rapid-chargers, with around 170 units concentrated at motorway services, but it is also understood to be considering asking EV drivers to pay for top-ups.

The Highways Agency's proposed rapid charger network is part of a £900m a year budget administered by OLEV, the Office of Low Emissions Vehicles, to promote ultra-low-emission vehicles.

Much of this budget is spent on the £5000 per car subsidy for EV and plug-in hybrid buyers, but significant sums are being sunk into the EV charging network, clean buses and vans and carbon-saving technology. Gordon Murray Design, for example, received a grant to help development of a new recycled carbonfibre material.

Get the latest car news, reviews and galleries from Autocar direct to your inbox every week. Enter your email address below:



Jason Plato served notice of his intent in his Team BMR Volkswagen CC
Volkswagen CC driver tops times during official practice for the Dunlop MSA British Touring Car Championship at Donington Park

New team-mates Jason Plato and Colin Turkington were top of the times during the official practice session of the 2015 Dunlop British Touring Car Championship season at Donington Park today.

The Team BMR Volkswagen CC partners were separated by just 0.006s after the four-hour session. Plato's lap time of 1min 10.249sec helped him head the 28 cars taking part.

"I am really getting the handling of the car into a good place now," said Plato. "Of all the testing we have done, this has been the best. I don't see any reason why we can't go out at the first race and win."

Behind the two VWs were two Mercedes Benz A-class cars of teenager Aiden Moffat and Adam Morgan. They were both 0.05sec adrift. The Triple Eight Racing MG6 GTs of Jack Goff and 2013 champion Andrew Jordan completed the top six.

The factory Honda team of Matt Neal and Gordon Shedden, driving the new Honda Civic Type-Rs, suffered a tough day. On the car's first competitive outing, Neal was 12th, 0.8sec shy of Plato while he worked through set-up on the car.

"The car is new so we are learning, but it seems very strong in areas," said Neal. Shedden was 18th after his car missed a chunk of track time with a throttle problem.

Matt James

2015 Dunlop MSA British Touring Car Championship leading test times

1 Jason Plato (Volkswagen CC) 1min 10.249sec

2 Colin Turkington (Volkswagen CC) +0.006sec

3 Aiden Moffat (Mercedes-Benz A-Class) +0.051sec

4 Adam Morgan (Mercedes-Benz A-Class) +0.055sec

5 Jack Goff (MG 6GT) +0.131sec

6 Andrew Jordan (MG 6GT) +0.376sec

7 Hunter Abbott (Audi A4) +0.545sec

8 Warren Scott (Volkswagen CC) +0.580sec

9 Martin Depper (Honda Civic) +0.679sec

10 Sam Tordoff (BMW 125i M Sport) +0.736sec

Get the latest car news, reviews and galleries from Autocar direct to your inbox every week. Enter your email address below: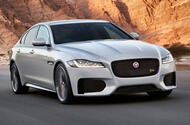 The new Jaguar XF will receive its public debut at the New York motor show next week
Jaguar's high-tech new executive saloon will receive its public debut in New York next week, and will go on sale towards the end of the year

This is the all-new Jaguar XF, which is roomier, lighter, more frugal and far more technologically advanced than the seven-year-old model it replaces.

After its public unveiling at the New York motor show next week, the big saloon is expected to reach showrooms at the tail end of this year.

Built around the company's latest aluminium architecture, which it shares with the XE, the Mk2 XF is powered by Jaguar Land Rover's all-new 2.0-litre four-cylinder Ingenium petrol and diesel engines, as well as a twin-turbocharged 3.0-litre diesel V6 and a supercharged 3.0-litre petrol V6.

The new XF also features the company's new InControl Touch Pro multimedia system, which is based around a quad-core processor and uses an "ultra-fast" ethernet network.

The new car employs Jaguar's aluminium-intensive platform, which is also used, 
in smaller form, under the 
new XE saloon.

The XF's structure is, like the smaller XE's, about 75% aluminium in its construction. The XF's front-to-rear weight distribution comes in at close to 50/50, because the rear structure of the body is made mainly of steel, which places more weight at the car's rear.

Jaguar also says the structure is nearly 30% stiffer than that of the current car.

Thanks to the use of these lightweight materials, the new XF is as much as 190kg lighter than the outgoing model, contributing to much-improved fuel economy and CO2 emissions figures.

The XF shares its suspension set-up with the XE, which means struts with double wishbones at the front and an 'integral link' independent set-up at the rear. 

The steering uses the 
same electric power-assisted set-up as the F-Type and XE. Active dampers will be on the options list. A feature called Jaguar Configurable Dynamics will allow the 
driver to tailor the settings 
of the dampers, steering, engine and eight-speed automatic gearbox.

Jaguar is also introducing All-Surface Progress Control, which, it says, has been developed "for low-speed driving in adverse conditions". This system automatically "manages the brakes and throttle" to maximise traction on, for example, surfaces covered with heavy snow. 
The driver simply steers 
the vehicle.

Although the new XF is 7mm shorter and 3mm lower than the current model, the wheelbase is 51mm longer. 
At a lengthy 2960mm, it's only a whisker shorter than that of the BMW 5 Series. The British car maker is promising "class-leading rear seat space, 
with more leg room, knee room and head room".

A feast of new technology means that the new XF range kicks off with CO2 emissions as low as 104g/km, which are delivered by the most frugal 161bhp, 280lb ft, 2.0-litre diesel Ingenium engine.

Jaguar says this is the lowest CO2 figure in the class for any non-hybrid vehicle. It's well down on today's BMW 518d, which has an official rating of 114g/km as well as a lower-powered, 141bhp engine.

The company says there will also be a 178bhp, 317lb ft, 2.0-litre Ingenium diesel XF. Both of these engines can be combined with an eight-speed automatic gearbox.

At the top of the diesel 
range is a tweaked version of the familiar twin-turbo 3.0-litre V6, which offers 296bhp and 516lb ft of torque.

The only petrol-engined version that Jaguar has so far released details about is the supercharged petrol V6, 
which develops 375bhp and 332lb ft of torque.

Inside, the XF has a completely different design language from Jaguar's XJ flagship. Rather than the XJ's flamboyant circular vents and much more extravagant detailing, the new XF has a rather more contemporary and sparse appearance inside.

The centre console is notably wide, with plenty of storage space, and the interior detailing - both the brightwork and wood trim — is given a very lean and taut treatment. The XF gets the familiar pop-up rotary controller for the automatic gearbox and the outer air vents roll open when the car is started.

The new XF comes with a big, 10.2in 'dual-view' smartphone-like touchscreen and JLR's latest multimedia system, known as InControl Touch Pro. The main instruments are displayed 
on a 12.3in TFT panel, which can be reconfigured.

Q&A with Ian Callum, Jaguar design director

What was your aim in designing the new XF?

"I wanted to protect Jaguar's visual DNA and I wanted to make sure that we created a genuine sports saloon. However, I also wanted the new XF to be more mature and sophisticated than the previous car. It may be slightly shorter and lower than the old XF, but I wanted the car to have more presence, which I think we've achieved.

"We've given the new car three side windows, which helps illuminate the interior, and we have this new strong line running down the side of the car."

Why did you decide to stay with the familiar Jaguar nose design?

"The current XF is nearly eight years old and I think it has worn well. I wanted to translate the XF nose into the new family look. I wanted the front to look slightly menacing, but not aggressive or vulgar. The grille surround stands proud at the front. I like the way it looks like an air intake."

Why is the interior design of the XF such a break from the flagship XJ saloon and quite unlike any previous Jaguar model?

"We've certainly gone for a very simple interior architecture, although we have carried over some design themes from the current Jaguar line-up.

"Running around the top of the dashboard and into the doors is the upright strip we call the 'Riva hook', and it was used on the XJ. And like the current XF, we've used a metallic finish on the dash, retained the pop-up controller for the automatic transmission, and the outer two air vents are powered and flip into place when the car is started.

"This time, though, we've put a lot more sculpture into the shaping of the seats. On the leather-trimmed interior, we've alsoused a fluted finish, which could be thought of as old-fashioned, but I wanted to bring it back to Jaguar."

Read more New York motor show news

Get the latest car news, reviews and galleries from Autocar direct to your inbox every week. Enter your email address below: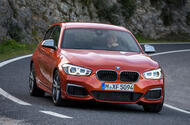 2015 updates include slimmer headlights and daytime running lights
BMW's facelifted M135i has more power, sharper looks and new technology. The previous version was a belter, so is this new one just as good? The BMW M135i is an interesting proposition. Even BMW will tell you it's not a 'proper' M car, but that doesn't stop people peering round its rear end, checking the badge and the twin tailpipes and nodding sagely. M car or not, it's forged its own path in people's minds as a 'proper' car all the same.Unbelievably, it has been a decade since the launch of the original 1 Series. So to counter Father Time, the second generation has received a nip and tuck.Along with subtle styling updates it has more power and a host of new features for good measure. So is this latest depiction of the M135i still good to drive, and has it retained its power to impress the badge connoisseurs?Slimmer headlights and a new aerodynamic M Sport front bumper create a more aggressive look that, to these eyes at least, is prettier at the same time. The rear also appears more distinguished thanks to new L-shaped LED tail-lights.Inside it's basically the same impressive interior as before, with a touch more panache thanks to chrome and gloss black detailing around the centre console.Technology upgrades mean that adaptive LED headlights and cruise control are on the options list, as is a GPS-guided eight-speed automatic gearbox similar to that used by the Roll-Royce Wraith. BMW Connect is standard and comes with emergency assist. You can also add apps for live traffic reports, music streaming and a concierge service.Right-hand drive versions still have slightly offset pedals, but otherwise the driving position remains faultless. There's an oversupply of leg and head room, even if you're upwards of six feet tall, and that space is complemented by plenty of steering wheel reach.This latest incarnation of the six-cylinder turbocharged engine has a touch more power – up from 315bhp to 322bhp - while peak torque of 332lb ft at 1300rpm remains the same. And it's as fabulous as ever.You can barely detect the signs of forced induction and it is delightfully smooth in its harmonics and power delivery. This wonderful linearity means it will pull from 1300rpm uphill in third as easily as it will eagerly blat around to its redline.Our car had the six-speed manual gearbox, and although the theory is that it's slightly slower than the automatic (0-62mph takes 5.1sec as opposed to 4.9sec), we think it's worth the trade in pace for the extra interaction. This is thanks to the lovely weighting and precision of the change, along with pedals that enable you to heel-and-toe with ease.This was almost a requirement around our snaking Portuguese test route that was also a decent test for the M135i's chassis. On the approach to a corner the brakes feel positive and progressive, and as you ease off them and begin turning in, the front end bites, which gives immediate confidence.Mid-corner there's a little lean before the body settles, and then it's a case of exploiting that predictable engine map and the car's innate traction to fire it out and on to the next kink. It's a process that you'll want to repeat over and over again.However, the variable-ratio steering, despite being firmer than that of the standard 1 Series, is still a touch too light and urgent with its initial response, and there's precious little feedback through the wheel.Furthermore, hit a bump mid-bend with the M135i's suspension under load and it has a disconcerting tendency to give a little skip sideways. This trait didn't cause any real dramas, but it sowed the mental seed that at full tilt it isn't quite as tied down as it first appears.That said, for a car with this level of performance, on the optional adaptive dampers the ride is relatively forgiving. Even stepping up the challenge by aiming at bigger potholes failed to make it feel crashy. Indeed, the only thing that was any bother was a slightly bouncy high-speed ride.One of the things about the previous car was its amazing value considering the performance on offer. It's a shame, then, that BMW has now bumped the price up to £31,725 for the five-door we tried.Even so, bang for buck, the M135i is still an impressive proposition. There are question marks over its steering and handling on the very limit, but otherwise it's a difficult car to fault.It's comfortable and genuinely quick, but most importantly for this kind of car, if you stick it on the right road the M135i will stick a huge grin on your face in return.BMW M135iOn sale 28 March 2015; Price £31,725; Engine 6 cyls, 2979cc, turbocharged petrol; Power 322bhp at 5800rpm; Torque 332lb ft at 1300rpm; Gearbox 6-spd manual; Kerb weight 1505kg; Top speed 155mph; 0-62mph 5.1sec; Economy 35.3mpg (combined); CO2 rating & BIK tax band 188g/km, 30%



Diesel-powered Mazda supermini has gutsy performance, good cruising manners and great economy. A lumpy ride is the major disappointment. The one and only turbodiesel version of the new Mazda 2, which officially went on sale in the UK earlier this month. We've already reviewed the car in a couple of petrol guises, but the diesel offers something markedly different – both from its rangemates and most of its competition.Using a new 1.5-litre all-aluminium turbodiesel engine built of Mazda's 'right-sized not downsized' philosophy, the car develops a healthy 104bhp and 162lb ft – in a class where it remains rare to find a diesel option with more than 90bhp.As a result of that power, as well as the lightness that Mazda added in the design and engineering of its third-generation supermini, this car is almost two seconds quicker to 62mph than plenty of its competition. And thanks to the low compression ratio and associated efficiency, it's also just as frugal and CO2-efficient as those rivals, bettering 80mpg and squeezing in less than 90g/km of CO2 at manufacturer claims.We tested the car in range-topping Sport Nav trim, giving us a chance to sample the richer features and touches available on the car. The standard specification includes 16in alloy wheels, automatic lights and wipers, parking sensors, a 7.0in colour multimedia system with sat-nav and DAB radio, and both climate and cruise control.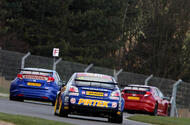 Dunlop BTCC held its official launch event at Donington Park today (Tuesday)
Five champions and a total of 11 manufacturers represented on the grid for this year's tin-top series, backed by Autocar, What Car? and Pistonheads

Reigning Dunlop British Touring Car Championship title-holder Colin Turkington will face opposition from 31 rivals in this year's series, which gets underway at Brands Hatch on 4-5 April.

Turkington, who stormed to the crown in a rear-wheel-drive eBay Motors BMW 125i M Sport last year, has switched to Team BMR to race a front-wheel-drive Volkswagen CC this season.

He'll go up against four former champions in the shape of Jason Plato – who has joined Turkington at Team BMR – Andrew Jordan, Matt Neal and Gordon Shedden.

Jordan has switched from Honda and his family-run Eurotech team to take Plato's seat at Triple Eight Racing, which tends to the works MG 6 machines. The second MG will be driven by Jack Goff.

Neal and Shedden remain with Honda Yuasa Racing, but will compete in the brand-new Civic Type R instead of the estate-bodied Civic Tourer they used in the previous campaign.

The build of the Civic Type R racer, which will hit the track before the road-going production model reaches the UK showrooms, has only been completed in the past week, and subsequently the car has undergone limited testing.

Other big news includes the return of Andy Priaulx, the three-time World Touring Car champion, who has returned to the BTCC after a 13-year absence and joined WSR to race a BMW 125i M Sport. He'll compete alongside Rob Collard and Sam Tordoff in a three-car assault.

Infiniti is lending official support to the new Support Our Paras Racing team, which will field Richard Hawken and Derek Palmer in a brace of Infiniti Q50s.  The squad joins Honda and MG as official manufacturer-backed entries. The WSR BMWs will also challenge for honours within what's known as the Manufacturer/Constructor Championship.

A total of 12 models from 11 marques will be represented on the grid, with independent teams entering cars from Audi, Chevrolet, Ford, Honda, Mercedes-Benz, Proton, Toyota and Volkswagen.

29 entries will complete the full BTCC campaign, with Nicolas Hamilton joining the championship at Croft in June and two Ford Focus entries from Motorbase Performance scheduled to arrive at Snetterton in August.

2015 Dunlop MSA British Touring Car Championship

1 Colin Turkington (Team BMR Volkswagen CC)

6 Robert Collard (Team JCT600 with GardX BMW 125i M Sport)

7 Sam Tordoff (Team JCT600 with GardX BMW 125i M Sport)

11 Simon Belcher (Handy Motorsport Toyota Avensis)

12 Andy Wilmot (Welch Motorsport Proton Gen-2)

13 Daniel Welch (Welch Motorsport Proton Gen-2)

14 Alex Martin (Dextra Racing Ford Focus)

16 Aiden Moffat (Laser Tools Racing Mercedes-Benz A-Class)

17 Dave Newsham (Power Maxed Racing Chevrolet Cruze)

21 Mike Bushell (AmD Tuning.com Ford Focus)

22 Derek Palmer (Infiniti Support Our Paras Racing Q50)

23 Kieran Gallagher (RCIB Insurance Racing Toyota Avensis)

25 Matt Neal (Honda Yuasa Racing Civic Type R)

28 Nic Hamilton (AmD Tuning.com Audi S3)

30 Martin Depper (Eurotech Racing Honda Civic)

31 Jack Goff (MG 888 Racing 6GT)

33 Adam Morgan (WIX Racing Mercedes-Benz A-Class)

39 Warren Scott (Team BMR Volkswagen CC)


40 Aron Smith (Team BMR Volkswagen CC)

52 Gordon Shedden (Honda Yuasa Racing Civic Type R)

54 Hunter Abbott (Exocet AlcoSense Audi A4)

55 Jeff Smith (Eurotech Racing Honda Civic)

66 Josh Cook (Power Maxed Racing Chevrolet Cruze)

77 Andrew Jordan (MG 888 Racing 6GT)

80 Tom Ingram (Speedworks Motorsport Toyota Avensis)

84 Richard Hawken (Infiniti Support Our Paras Racing Q50)

95 Stewart Lines (Houseman Racing Toyota Avensis)

99 Jason Plato (Team BMR Volkswagen CC)

101 Rob Austin (Exocet AlcoSense Audi A4)

111 Andy Priaulx (Team IHG Rewards Club BMW 125i M Sport)

4 Mat Jackson (Motorbase Performance Ford Focus)*

44 James Cole (Motorbase Performance Ford Focus)*

*Contesting part-season.

Get the latest car news, reviews and galleries from Autocar direct to your inbox every week. Enter your email address below: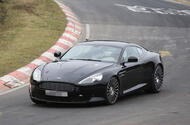 The Aston Martin DB9 replacement is due to go on sale in 2016
Aston's DB9 replacement will get a twin-turbo AMG V8 engine and possibly a new name, as the first mules have been spotted testing

These are reportedly the first pictures of Aston Martin's DB9 replacement testing. The new model, which is due to go on sale in 2016, has been spotted at the Nürburgring.

This early mule is understood to be testing chassis and internal components, and wears lightly modified bodywork from the current DB9.

Aston Martin executives have already admitted the new car might not carry the DB9 name. Speaking to Autocar last year, Aston Martin design director Marek Reichman said: "It'll definitely be a DB, but what number will follow that is yet to be decided."

Reichman also hasn't ruled out simply reusing the existing name – an idea some senior Aston executives are known to be keen on.

The car is unlikely to carry the DB10 name, with that designation going to the car which will accompany James Bond on his 24th big screen adventure, Spectre. The styling of the DB10 is understood to closely preview that of the DB9 replacement.

The new DB9 will be built around an all-new bonded aluminium platform and is set to be powered by a new twin-turbocharged 4.0-litre V8 engine designed and built by Mercedes-AMG.

AMG will not provide a bespoke version for Aston. Instead, off-the-shelf engines will be modified to sound, respond and feel like an Aston Martin engine. Spy photographers have reported a particularly loud sound coming from this early test mule.

Modifications would extend to bespoke engine management and exhaust systems and possibly revised turbo boost pressures but no internal mechanical changes. 

Even if no more power is liberated, the base 503bhp tune of the new V8 is close to the 510bhp of the existing 5.9-litre V12, but it comes with 479lb ft at just 1750rpm, compared to 457lb ft at 5500rpm for the current unit.

Installed in a car claimed by an insider to be "dramatically" lighter, performance will improve. Economy and emissions figures are also set to be 20 per cent better than those of the current DB9.

The motor will be mated to Mercedes' new nine-speed automatic transmission. In the meantime, the existing DB9 will use the old six-speed ZF unit rather than be upgraded to a new ZF eight-speed unit.

Reichman said the shape of the new car would be more than an evolution of the current model. "There'll be a little more revolution in it," he said. "It will be unmistakably an Aston and a DB at that, but it will look fresh and modern."

Read more about the Aston Martin DB10

Get the latest car news, reviews and galleries from Autocar direct to your inbox every week. Enter your email address below: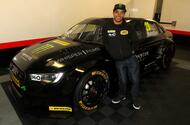 Nicolas Hamilton will make his Dunlop BTCC debut at Croft in late June
Nicolas Hamilton, younger brother of F1 champ Lewis, is entering five events in an Audi S3 this season

Nicolas Hamilton, the brother of Formula 1 World Champion Lewis, will this season become the first disabled competitor to participate in the Dunlop MSA British Touring Car Championship.

The 22-year-old, who lives with the neurological condition Cerebral Palsy, will enter five events of the 2015 BTCC season, competing in an Audi S3 with the Essex-based AmD Tuning team.

Hamilton, who has previously competed in the Renault Clio Cup and European touring cars, will begin his 2015 race programme at Croft circuit on 27-28 June, before continuing his season at Snetterton, Rockingham, Silverstone then concluding at the Brands Hatch finale.

He said: "I'm coming into the championship with a lot to learn and my expectations are to develop as a driver as my programme across the season progresses. While I'm aiming to improve as a driver, I'm also hoping to inspire others to strive for their own personal goals, whatever their situation in life.

"Anyone can exceed expectations in one way or another and I hope to prove that when I race alongside not just able-bodied drivers, but the best touring car drivers in the UK."

AmD Tuning team boss Shaun Hollamby said: "BTCC is a fiercely competitive series with hard wheel-to-wheel racing action on track and we have developed Nicolas's 2015 program to ensure he enters the championship with a level of preparation. We have a number of test sessions over the coming months, which will enable him to acclimatise to the car.

Hamilton will run as a 'guest' entrant in the five events he undertakes because he does not hold the BTCC licence needed to be eligible for points in the championship.

Get the latest car news, reviews and galleries from Autocar direct to your inbox every week. Enter your email address below: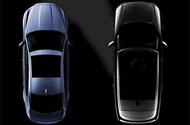 The New York-bound Range Rover is understood to be a new ultra-luxury model
Jaguar Land Rover releases an aerial shot of the ultra-luxurious new model alongside the 2015 Jaguar XF

An image has been released of a new, ultra-luxurious Range Rover that is set to make its debut at the New York motor show.

Believed to be lined up for a 2016 release, the teaser image shows the new car alongside the next-generation Jaguar XF, which will also make its public debut in New York.

There's limited information available on the new Range Rover, but it's expected to be the most luxurious model yet.

Prices could conceivably start higher than the £105,840 Range Rover Autobiography Black Long Wheelbase that was released in 2013.

Read more New York motor show news

Get the latest car news, reviews and galleries from Autocar direct to your inbox every week. Enter your email address below: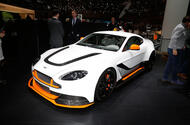 Just 100 examples of the Aston Martin GT12 will be made
Ultimate version of the Vantage - which has been renamed to GT12 - gets a 592bhp V12, an extensive aerodynamic package and a £250,000 price tag

Aston Martin has confirmed it will change the name of its Vantage GT3 to Vantage GT12 - a move understood to have been prompted by Porsche's claimed rights to the GT3 moniker.

While many manufacturers use the GT3 prefix to describe track focused or race-inspired models - the Mercedes-AMG GT3 and Bentley Continental GT- R are just two recent examples - Porsche is understood to have claimed exclusive use of the name. The badge first appeared on a Porsche model in 1999.

Revealed at the recent Geneva motor show - and at the time carrying the Vantage GT3 name - the track-focused Aston Martin gets more than 592bhp from its 5.9-litre V12 engine. It will be built in a limited production run of just 100 units, each costing about £250,000.

Most of the production run is understood to have already been snapped up by Aston Martin's VIP customer base.

The new Aston is based on the V12 Vantage S road car and inspired by the Vantage GT3 race car - which could also now have its name changed to GT12. It makes extensive use of lightweight materials inside and out — including carbonfibre, magnesium, titanium and aluminium — to reduce its kerb weight by up to 150kg over the 1665kg V12 Vantage S with all the lightweight options fitted. In its standard form, the Vantage GT12 weighs 1565kg.

An extensive aerodynamic package also features on the Vantage GT12, as does a more focused seven-speed automated manual transmission, wider tracks, revised adaptive damper settings and a new titanium exhaust system.

David King, director of the Aston Martin Special Projects arm that created the model, told Autocar the aim was to "create the essence of a GT3 racer in a still-legal Vantage road car".

King added: "We wanted to push the Vantage as far as we could to make a more extreme track day car that's visually and functionally inspired by the race car, but still with the style and craftsmanship Aston Martin is known for."

The engine, codenamed AM57, is carried over from the V12 Vantage S but with some modifications. The inlet manifolds are new, made from magnesium and with revised geometry. The titanium exhaust system is also new and offers a weight saving of 19kg over the V12 Vantage S's exhaust system. As a result, power is up from 565bhp to more than 592bhp and torque rises slightly from 457lb ft to an estimated 461lb ft at its peak but with bigger gains through the rev range.

The torque tube is also new and made from magnesium, and the seven-speed gearbox has been recalibrated for faster shifts. However, the gearing itself is unchanged from the V12 Vantage S's.

The final engine output and performance figures have yet to be confirmed by Aston, but the top speed drops from the 205mph of the V12 Vantage S and is rated at 185mph, due to the extra drag created by the aerodynamic package. The 0-60mph time is estimated at 3.5sec, which is 0.2sec faster than that of the V12 Vantage S.

The basic chassis and suspension system of the V12 Vantage S carries over to the Vantage GT12, but with several key modifications. Although the ride height remains the same, ground clearance is reduced by the new aerodynamic features and the track is 15mm wider at the front and 33mm wider at the rear. New spring rates and bars are fitted to the suspension set-up and the Bilstein adaptive dampers are retuned.

The Normal, Sport and Track modes from the V12 Vantage S are also carried over. These alter the firmness of the dampers, throttle response, gearshift speed and timing, exhaust note and steering assistance. They have all been retuned for the Vantage GT12, and King has promised "a very different feel" from the donor model for the GT12.

King's team is currently entering a two-month testing period to tune the various components and has "fairly aggressive targets to meet with performance". Aston Martin Racing driver Darren Turner has also been recruited to the development team for this chassis tuning stage.

Elsewhere on the chassis spec, the large Brembo carbon-ceramic brakes are carried over from the V12 Vantage S to the GT12. Lightweight 19in magnesium alloy wheels are shod in Michelin Pilot Super Sport tyres (the first time Michelins have been fitted to an Aston) – 265/35s at the front and 325/30s at the rear. The alloys can be specced with a magnesium centre locking cap, another first for Aston.

The Vantage GT12 is wrapped in a new carbonfibre skin, which saves 20kg over the bodywork of the V12 Vantage S. The new bodywork and wider tracks make the Vantage GT3 50mm wider than the model on which it is based.

Visually, the Vantage GT12 is easily distinguished from the V12 Vantage S thanks to its extensive aerodynamic package, in part derived from the GT3 race car. Most striking at the front is the horseshoe graphic in the bonnet that helps with both cooling and airflow over the car. Meanwhile, the rear end is dominated by a large, fixed rear wing.

Inside, the weight-saving continues, because the centre console has been made out of carbonfibre and the carbonfibre seats have manual adjustment rather than electric. The infotainment system is also now fixed, rather than popping out of the dashboard. The cabin, sporty yet still luxurious, is trimmed in Alcantara and leather, and the carbonfibre is left exposed.

Q&A, Marek Reichman, Aston Martin design director

Is this an uprated version of the V12 Vantage S or a road-going version of the GT12 race car?

"It's pushing from both ends. We're unusual in that we actually have the race cars in the design studio and work on the surfacing. We've shown we have the race pedigree, and there's a growing frustration at seeing other brands' GT3 cars so well represented at track days. We know we have the potential and can compete."

Can a car like this be beautiful?

"Yes. It is beautiful in its functionality, and also the way we execute it because of the quality and attention to detail. We also wanted to convey that the design had been affected by the aerodynamics. In one of our 'gentleman' cars, you try to hide it, but in this car the suit is off and the Lycra is on."

Is the car still usable every day?

"Yes, because we believe there is a gap for a car like this that is also luxurious and usable. There is a luxurious feel to all the materials, but they're used in functional ways. Each individual part of the car is beautiful and has great attention to detail. The graphics are painted on and show the airflow. The badge is forged from carbonfibre. The mounts for the rear wing follow the same angle as the diffuser. It's functional things like this developed in a beautiful way that make this an Aston Martin."

A new generation of Aston Martins is soon on the way. Is this the ultimate current Aston?

"What we're doing is the pinnacle of our current thinking and potential with the products. We've now shown the tip of where we are today and we have a new generation of products coming."

Read more Geneva motor show news

Get the latest car news, reviews and galleries from Autocar direct to your inbox every week. Enter your email address below: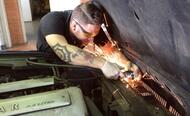 Jag's trip to the workshop turns out to be a £10 transformation
Okay, okay, so the above isn't strictly true. The parts in question actually cost me £10.43 (excluding VAT), and that doesn't take into consideration labour costs. But the fact that I'm falling asleep just typing this out suggests it's not headline material. 
I'm talking about the Jag's front shock bushes, which I've just had swapped on both sides after the wince-inducing knocks from the driver's side became too much. The kit, from britishparts.co.uk, contains the upper and lower bushes, and with the old ones out and new ones in, the drive and ride are night-and-day different.
As you can see from the pictures above, the old bushes had thrown in the towel long ago, and a 20-year pounding had reduced them to dust. That left a good 1-2cm of play between the shocks and body - no wonder there were was so much noise and wandering about at speed.
I'd read that sorting an XJ6's suspension was worth doing, but I can't describe to you just how much better the old thing now feels. It rides properly (and quietly), it's much more responsive at the front end and it remains far more composed over bumps. It feels like an old Jag!
While we were there, we sorted the radiator, too. Its mount bushes had worn away entirely, so the radiator was practically floating about. With all four bushes replaced and the top plate screwed back, it's now solid as a rock. You may have noticed an angle grinder and lots of sparks in the gallery. Getting the top plate off wasn't exactly simple…
So after a full fluid and oil service and new shock bushes, the Jag is running and driving better than I could ever have hoped for a £500 car. Next up is changing the fuel filter and sorting the surface rust. With things going this, well, I can't wait - although my words are there to be eaten. 
Read the previous entries here: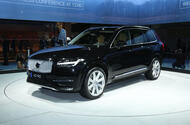 The latest XC90 is the first production car to come from new Volvo designer Thomas Ingenlath
Volvo design boss Thomas Ingenlath says premium cars must still contain premium content, and must not rely on big leaps in styling

Volvo's new generation of cars will call time on 'bling' in premium car design, according to the company's German design boss Thomas Ingenlath.

Ingenlath, who has been at the Swedish carmaker for two and half years, said he thought buyers would begin to turn away from 'flashy' design especially if it disguises a "lack of real content".

"You can make big jumps in design when a brand is establishing itself but, after that, it is all about sophistication," he said. "In terms of design language, premium doesn't need to jump about. [In future] premium design will be about consistency over time."

Ingenlath's comments, made at the recent Geneva motor show, were reflected by Land Rover design boss Gerry McGovern, who was also speaking at Geneva.

McGovern said the approach for the recent facelift of the Evoque was "not to change it, but to improve and refine the design" and to "increase and refine the interior luxury".

He said this approach to luxury was already in evidence on the fashion world's catwalks where 'flashy' design had been replaced by a more polished and refined look.

According to Ingenlath, this shift in premium design is a natural move for a Swedish company. "In Sweden it is not done to show personal wealth – expect, perhaps for owning a boat," he said. "I really had to explain to many people in the company how luxury could be related to the Volvo brand.

"You have to understand how people live in Sweden. You might argue that having the Swedish landscape and ultra-clean air is a kind of ultimate luxury compared to many places in the rest of the world." Swedish luxury, he hints, is public rather than private or personal.

Ingenlath makes it clear that expressing luxury in consumer items is very much frowned upon in Sweden. But pushing the Volvo brand upmarket required him and his team to come up with a design language that bridges both Swedish sensibilities and the need to appeal to global premium car buyers.

The belief that "premium design doesn't need to radiate content" is, he said, reflected in the cabin of the new XC90, which is dominated by a large tablet-style touchscreen. "Although the XC90 does, on paper, compete with German SUVs, the interior gives the passenger a completely different experience and has a very different flair," he said.

Ingenlth also denied that Volvo "was becoming an SUV company", despite the XC60 and XC90 being long-term best sellers. "You must not under-estimate the saloon market in China and America," he said, adding that Volvo would still produce estate cars, despite small sales.

"I am not religious about the definition of estate and SUV," he said. "I see having models such as the XC60 and XC70 together as having a portfolio of estate cars in the widest sense."

The next all-new Ingelath production car is will be launched at the Geneva show in 2016 and is expected to be the replacement for the S and V60 models.

Get the latest car news, reviews and galleries from Autocar direct to your inbox every week. Enter your email address below: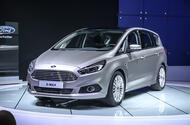 This is the second generation of Ford's large MPV
Plush new S-Max offers seven seats as standard and will go on sale in the UK this summer, with prices starting from around £25,000

Ford is promising an even sportier drive and a more premium cabin for the second-generation Ford S-Max.

Other highlights of the sleek new seven-seat MPV, famed for its involving drive in its first generation, include an all-new chassis, new engines, the option of four-wheel drive, and a more flexible interior.

It will reach the UK in summer this year, with prices due to start at around £25,000.

New technology and options offered on the S-Max includes an autonomous braking function that can stop the car from speeds 112mph, a panoramic roof, and parking and lane keeping assist systems.

Other new features include Ford's Intelligent Speed Assist that can read road signs to see speed limit changes and slow the car down automatically to that speed.

The S-Max also comes with a front camera that offers a 180deg left to right view on the 8.0in touchscreen at junctions where the driver's view may be impaired.

Underpinning the new S-Max is a new platform known as CD4 which is shared with the Mondeo, Edge SUV and upcoming Galaxy replacement, which the new S-Max has been engineered alongside.

The chief program engineer for Ford's large cars, Rolf Deges, says the new S-Max "strengthens the strengths of the old car, fixes the weaknesses and adds new technology". 

"The fun to drive nature is one of these key strengths - with the sharp steering, agile handling and predictable, linear responses".

Despite the new S-Max broadly retaining the same dimensions inside and out as the model it replaces, there are no carried-over parts.

The MacPherson strut front suspension has been redesigned over the old S-Max, and a new integral link rear suspension system has been added. A new ZF-supplied electric steering system also features, while optional is a new 'Advanced Front Steering' set-up, a fully variable system similar to BMW's Servotronic.

The petrol engine range includes a new 158bhp 1.5-litre Ecoboost unit hooked up to a six-speed manual gearbox, and a 237bhp 2.0-litre Ecoboost with a conventional automatic.

On the diesel front, a new 2.0-litre TDCi unit with 118bhp, 148bhp or 178bhp is offered. A six-speed manual is standard with this engine, and a six-speed dual-clutch Powershift auto' is optional on the 148bhp and 178bhp versions.

A fully flexible all-wheel drive system shared with the Mondeo and Edge is also offered with the two most potent diesel options.

Ford of Europe's design department has overseen the design of the S-Max, which unusually for Ford and its global car policy is very much still a European-focused product. Stefan Lamm, who was director of exterior design before moving to Volkswagen Group, said customers "would see the new Ford family look, but also the resemblance to the original S-Max" in the new car.

Lamm, who was replaced by Hak Soo Ha, added: "The car is a bit lower and with a higher beltline. We've moved the A-pillars back for a more premium and sporty profile, without impacting on the flexibility customers told us to keep. It looks more muscular and dynamic, and there's less glass than on the current car to help make it look more upmarket and less van-like."

The front-end design sports the latest Ford family face, first seen in production on the upcoming Mondeo after being previewed on 2011's Evos coupe concept. Full LED lights with the ability to automatically dim certain sections as not to dazzle other road users are optional.

Two character lines run down the sides of the car, and the rear is visually widened by pronounced shoulders, slim horizontal taillights and a chrome bar in between.

Top-spec Titanium models, which account for up to 60 per cent of S-Max sales, also get a rear diffuser with integrated rear tailpipes, plus the optional of up to 19in alloys, as seen on this test car. An even plusher Vignale trim, previewed on Mondeo and S-Max concept cars, is likely to launch by the end of 2015. 

Inside, Lamm said the focus has been on making the S-Max "more luxurious and sophisticated, with premium materials, and simple, useful and easy to use technology". 

Switchgear has been drastically reduced, with many functions carried out by an eight-inch touchscreen that runs Ford's SYNC 2 infotainment system. The instrument panel is now digital. An electric parking brake is standard, which frees up more storage space.

UK-spec S-Maxes will all offer seven seats as standard. The three middle row seats all fold flat individually, and can be slid forwards and reclined to boost access to the two rear seat that fold into the boot floor. Rear passengers also get the option of their own air-con system.

See What Car?'s video preview of the new Ford S-Max

Get the latest car news, reviews and galleries from Autocar direct to your inbox every week. Enter your email address below: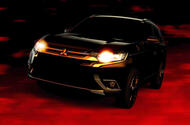 Chrome detailing features on the front of the car
The facelifted Outlander will make its public debut at the New York motor show

Teaser pictures of the 2016 facelifted Mitsubishi Outlander have been released ahead of the car's public debut at the New York motor show.

Its design has been influenced by Mitsubishi's Outlander PHEV Concept-S, revealed at last year's Paris motor show.

These new pictures show that the Outlander facelift features chrome accents around the new grille and wraparound headlight clusters. At the rear, chrome accents also feature.

There are no official shots of the interior of the facelifted Outlander, but Mitsubishi trimmed the Concept-S with black wood and leather, with silver accents and new ribbed seat cushions.

Based on the Outlander PHEV hybrid SUV, the Concept-S was said to offer "a sportier and more sophisticated visual expression of MMC's PHEV technology".

The look of the concept, especially its front-end design, drew on some of the firm's recent show cars including the XR-PHEV and GC-PHEV, but the new Outlander marks the first time that look had been transposed onto a production car.

The concept had different dimensions to those of the standard Outlander PHEV, measuring 4760mm long by 1842mm wide, with a height of 1700mm. The two share the same 2670mm wheelbase.

The Concept-S shared the same powertrain as the standard car, meaning a four-cylinder 2.0-litre turbocharged petrol engine working in tandem with two electric motors. Total power is rated at 200bhp, alongside 245lb ft.

In standard form, the Outlander PHEV can cover the 0-60mph sprint in 10.0sec, has a top speed of 106mph and has an electric-only range of around 25 miles.

Get the latest car news, reviews and galleries from Autocar direct to your inbox every week. Enter your email address below: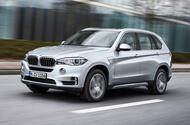 The hybrid BMW X5 mates a 2.0-litre petrol engine with an electric motor
A new McLaren Sports Series car, the Jaguar XF and a new Mercedes SUV – all are expected to be revealed at the New York motor show in April

The New York motor show takes place from 1-14 April, and Autocar will be there to bring you the latest news, pictures and industry gossip.

With new cars from the likes of McLaren, Mercedes-Benz and Jaguar all expected at the show, New York is shaping up to be a significant event in the motoring calendar. Below you'll find details of all the new models expected at the show. Keep checking back to this page for updates.

BMW X5 xDrive 40e - Already driven in prototype form, the hybrid X5 features a 2.0-litre turbocharged petrol engine working in conjunction with an electric motor. Power outputs are rated at 309bhp and 332lb ft.

Cadillac CT6 - Cadillac's Mercedes S-Class rival will be crucial in rebuilding the brand in Europe, and is expected to be offered with the option of a high-performance twin-turbocharged V8 engine.

Chevrolet Spark - a new version of Chevrolet's city car is on the way.

Jaguar XF - Latest preview pictures show the XF will adopt a clear family resemblance to the smaller XE. It will also use that car's lightweight aluminium architecture.

Lexus RX - Lexus' new RX SUV will go on sale at the end of this year, and is expected to adopt similar styling cues to the smaller NX.

Kia Optima - Having closely previewed the look of the new Optima estate with the Sportspace concept in Geneva, Kia will showcase its fourth-generation Optima line-up in New York.

McLaren Sports Series - The new entry-level sports car range from McLaren could include as many as three body styles, with the coupé being the first to be revealed.

Mercedes-Benz GLE - The old ML-Class is now badged GLE, and the facelifted model is expected to adopt styling cues from the smaller GLE Coupé. It should be seen for the first time in New York.

Mitsubishi Outlander facelift - The updated Outlander was previewed with the PHEV Concept S at the Paris motor show last year. Now it's time for the production version.

Read more New York motor show news

Get the latest car news, reviews and galleries from Autocar direct to your inbox every week. Enter your email address below: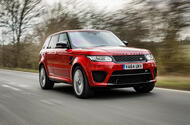 Range Rover Sport SVR is capable of 0-62mph in 4.7sec
The new Range Rover Sport SVR is the most popular review on autocar.co.uk over the past week

The Range Rover Sport SVR has topped the list of the most viewed reviews on Autocar for the week ending 20 March. Read below to find out what joined it in the top five.

1 - 2015 Range Rover Sport SVR

The first series-production offering from Jaguar Land Rover's Special Vehicle Operations division emphatically tops our list of the most popular reviews on the site.

JLR bosses describe the SVR model as having an extra 10% above a standard Range Rover Sport on price, power, speed and driver focus. Aimed at the likes of the Porsche Cayenne Turbo S, it uses the same 5.0-litre supercharged V8 engine that powers Jaguar's F-Type R and XKR-S performance cars. Power is increased from the Range Rover Sport's 503bhp to 542bhp in this form.

Click here to read our verdict on the new Range Rover Sport SVR.

Despite starring on autocar.co.uk halfway through the week, the track-only McLaren P1 GTR has unsurprisingly proved a big hit, rapidly climbing our most popular ranking list.

If the standard McLaren P1 hypercar wasn't potent enough, with its combined 903bhp output from its 3.8-litre twin-turbocharged V8 hybrid powertrain, the P1 GTR produces 986bhp from the same-sized hybrid unit.

The P1 GTR also tips the scales at 50kg less than its road-going sibling - at 1440kg - and features a more extensive aerodynamic package which produces 10% more downforce than the P1 road car at 150mph.

Read our in-depth review of the hardcore track-only hypercar here.

3 - 2015 Ford Ecosport 1.0 Ecoboost

Ford's updated Ecosport baby crossover features on our list for the second week running.

We tested the outgoing Ecosport version last year, and while we were impressed with its cabin space and manual gearshift quality, we found it possessed rudimentary chassis dynamics, a gruff diesel engine and a poor quality cabin poor.

However, the Blue Oval has given this refreshed Ecosport a thorough update to address the previous version's shortcomings. Click here to read our verdict.

4 - Radical RXC500

Focused track cars are a hot topic on autocar.co.uk and Radical's latest creation continues this trend.

When we drove the outgoing Radical RXC last year, we found it to be a sensational track car with a chassis that could handle more power than its 350bhp 3.7-litre Ford V6 offered.

However, this new Radical RXC500 now develops 530bhp from its 3.5-litre twin-turbocharged V6 and can sprint from 0-60mph in a claimed 2.6sec.

Read our review here.

5 - BMW M135i

When the BMW M135i went on sale more than two years ago it rewrote the hot hatchback rule book, given the spectacular performance on offer and its comparitive bang-for-buck value.

The BMW M135i has remained one of the most revered hot hatchbacks with our readers since. This 2015 facelifted version gains more power, cosmetic styling tweaks and new technology. 

Click here to read our verdict of the rapid hot hatchback.

Read more Autocar reviews here.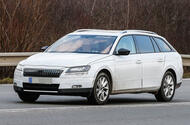 The Skoda Superb estate gets styling close to that of the recently revealed Superb hatchback
Estate-bodied Superb will go on sale in the UK soon after the third-generation hatchback

These are the first pictures of the new Skoda Superb estate testing, ahead of its planned launch in the UK this autumn.

Scheduled to arrive in UK dealers around a month after the third-generation Superb hatchback goes on sale in September, the estate is likely to have its first public outing at the Frankfurt motor show in the same month.

While the estate gets idenitcal styling to that of the hatchback at the front, this test mule's light rear disguise reveals a more prominent boot-mounted lip spoiler than the current car, as well as new tail-light clusters and a reprofiled rear bumper.

The Superb hatchback made its public debut at the Geneva motor show earlier this month, and is pitching to occupy the same middle-market territory currently dominated by the Ford Mondeo, Volkswagen Passat, BMW 3 Series, Audi A4 and Mercedes-Benz C-Class.

Like the hatchback, the Superb estate is based on the VW Group's versatile MQB architecture, and should offer near class-leading storage space in its larger boot. The hatchback has 625 litres of storage space with its rear seats in place, eclipsing the boots of the Passat and Mondeo, while the current Superb estate offers a maximum of 1865 litres with its rear bench folded down.

Expect the Superb estate's engine line-up to mirror that of the hatchback, meaning the diesel-focused range will start with a 118bhp 1.6-litre unit and rise to a 187bhp 2.0-litre unit. Petrol options will include 1.4 and 2.0-litre turbos, but they are only expected to account for a small percentage of UK sales. Expect the Superb's four trim levels to be mirrored across the two body styles.

The new Superb estate will likely command a small premium over the equivalent hatchback when it reaches UK dealers. With the hatch starting at £18,640, prices for the estate should start at around £20,000.

Get the latest car news, reviews and galleries from Autocar direct to your inbox every week. Enter your email address below:



Save more than £5400 on a Jaguar XF Sportbrake
The best new car deals to be found this week: Jaguar XF Sportbrake, Mini Cooper, Honda Civic Tourer, Audi Q5, BMW 3 Series

Our deal-hunting experts have been scouring online broker websites to find the best available discounts on new cars.

This week's highlights include big savings on estates and SUVs.

Read all about it

Autocar's Tim Dickson has bid a fond farewell to his Honda Civic Tourer, and you can read his full goodbye in this week's Autocar magazine. Tim loved the Tourer's efficient diesel engine and we've found a good online saving on the practical estate. Head to Drivethedeal.com for a £3215 saving on the Civic Tourer 1.6 i-DTEC S-T and pay £18,705 for a new one.

The iconic saving

The third-generation Mini Cooper has a lot going for it. It's great to drive, quick off the mark and its styling remains as iconic as ever. Online broker Coast2coastcars.co.uk have £1122 off the five-door Mini 1.5 Cooper, making it yours for £14,963.

The outgoing saving

The BMW 3 Series is due a facelift this year to keep up with the competition from the impressive Jaguar XE; as a result, there are some good discounts on the 3 Series available via online brokers. Carfile.net have £6439 off the BMW 320d Sport saloon, bringing its price down to £23,336.

The executive estate

This week we brought you the first pictures of the new Jaguar XF that will make its public debut at the New York motor show. Prices for the outgoing model are still being driven down, and we've found £5477 off the estate version of the XF. Head to Carfile.net to get the Jaguar XF Sportbrake 2.2D 163 Portfolio for £34,218.

Big car, big saving

The Audi Q5's space and quality make it one of the best cars its class and Autoebid.com is offering a sizeable discount on the SUV. Head over to its website to get £3709 off the Audi Q5 2.0 TDI 150 quattro S line to bring its price down to £30,326.

Get the latest car news, reviews and galleries from Autocar direct to your inbox every week. Enter your email address below: