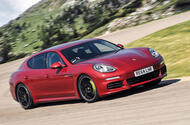 A week with our Porsche Panamera hybrid; touring Paris in a Citroën DS21, electric Jaguar XE spotted
MONDAY - Back to work after a week away in Mr McIlroy's Porsche Panamera Hybrid, one of those cars about which you feel uncertain at first (bewildering switchgear, poor visibility) but increasingly appreciate as you drive.
Big cars today tend to come with commanding visibility – aka tallness – built in, so it's odd to slide your rump into a limo no higher than an Audi TT.
Sitting down there among the wheels, your view is initially hampered further by thick pillars and mirrors shaped more for aero than rear vision. However, once you're used to it, and have spent five minutes boning up on the more obscure switch functions, everything comes together.
Panamera Hybrid reviews tend to focus on the oddities of the accelerator response, which can't disguise the fact that there's a bank of computers buried down there in the car's bowels, mind-bendingly juggling braking and power regeneration against complex petrol-electric propulsion.
But the car's seat comfort is exceptional, the steering is magnificent, the cornering grip is right up to Porsche's best standard and there are enough ways of adjusting the ride rates to ensure the car will meet your preferences. Furthermore, when the moment comes to summon up all available poke, you'll find the acceleration is vintage Porsche. This would be a relief, if you weren't so busy coping with the horizon bolting so fast towards you. 
TUESDAY - You often hear how Paris is deserted by its residents in August and therefore ideal for visits by car. Our Mr Holder has just confirmed the matter big-time by taking a day-long tour of the capital en famille, driven to all the important places by an extremely knowledgeable driver-guide called Renaud in his own original Citroën DS21.
Anyone can organise this, Jim says, in exchange for about £200 a half-day or £350 for a full one. Alternatively, there are deals that allow you to hire the car alone for £200 a day or £1000 a week – but the Holder family reckon Renaud's knowledge and cheery company (he just happens to be a former PSA designer), plus the relaxation of being driven, makes the all-in deal the one to go for. Full details here.
WEDNESDAY - I'm kicking myself for not requesting a quick trip in a low-CO2 prototype I spotted during the Ricardo consultancy's centenary celebrations two weeks ago. 
Ricardo's chief technology officer, Professor Neville Jackson, drew my attention to the car. It uses a Land Rover Freelander body and features a tiny, single-geared Fiat Twinair engine as a 'speed hold' power unit, driving through a computer-controlled clutch. It comes silently to life at 20mph. Acceleration, and most deceleration, is provided by  a battery-electric powertrain.
The cleverness of this layout is that it recognises how much of our motoring is steady-state cruising, and allows the car's traction battery to be relatively small (thus cheaper and lighter). As one of my sons, a systems engineer, keeps saying: rewards flow as much from cleverly applying known technology as from finding new stuff.            
THURSDAY - All-electric Jaguars are out there. Our man Mark Tisshaw, driving near his home on London's western outskirts, encountered a not-quite-normal looking blue Jaguar XE, drifting along silently on local roads.
Closer examination showed it bore XE E badging on the rear, with the 'E' adopting the same style as the orange 'S' on ritzier petrol versions, but picked out in blue. We've known for quite a while that Jaguar and Land Rover had pure electric versions under way; this was proof.
Get the latest car news, reviews and galleries from Autocar direct to your inbox every week. Enter your email address below: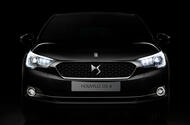 As the DS4 is reborn as both a hatch and a crossover, DS seems to be finding its feet as a standalone brand
The DS 3 was launched in 2009 as a rather effective rival for the Mini and Fiat 500.
Citroën quickly followed that up with the DS 4 and DS 5. Both were based on older-generation PSA Peugeot Citroën platforms and suffered for it.
When the DS brand was officially spun-off as a stand-alone company last year within the PSA combine, it looked a bit confused and hastily executed.
However, DS accounted for 508,000 sales up to August 2015 and the future looks a lot better organised. By 2020, there will be six DS models on sale and five of them will be all-new.
DS has a long way to go, but with PSA's excellent EMP2 platform to play with and an impressive engine line-up, it might yet manage to carve out a profitable niche.
Indeed, DS claims the recently facelifted 5 has prompted 75% of buyers to opt for the top two trim levels. It's this kind of uptake of showroom options (and therefore high-end margins) that really makes a premium brand.
I understand that future models will have money and effort expended on their interiors and exteriors, rather than hard-fought investment cash being used to get into a Germanic technology war.
A luscious all-leather interior might appeal to many customers who care nothing about the specification of the rear axle.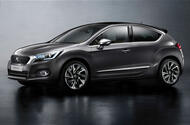 Revised DS 4 hatch has been joined by a new Crossback variant and a line-up of refreshed engines
PSA Peugeot Citroën's DS brand has given the DS 4 a major makeover. The model gains a freshly styled nose, new headlights with xenon and LED technology, a freshened engine line-up and more paint and trim options.
In addition, DS has created two models out of one. In place of the original single variant, there's now a choice of two distinct versions: the standard-issue five-door hatchback, which has a normal ride height; and the new Crossback, which rides 30mm higher and has more rugged styling, including larger wheels, cosmetic skidplates and roof bars.
Both versions of the new 4 will be front-wheel drive only and the engine range is made up of three turbocharged petrol engines and three diesel motors. A six-speed manual gearbox and a six-speed torque-converter automatic are the two transmission options.
In the UK, the Crossback will be available with one trim level and a choice of two engines.
Blog: Is DS heading in the right direction?
Eric Apode, vice president for products and business development at DS, said the new 4 line-up is intended to compete with "established premium C-segment cars such as the Audi A3, BMW 1 Series and Volvo V40".
Apode added that crossovers based on premium C-segment cars were now accounting for 30% of sales, with the traditional hatchbacks dropping from 50 to 40% of sales. This market shift was the inspiration behind the decision to build the Crossback, he said.
As well as getting the new DS family face, more exterior chrome trim and significantly improved headlights, the new 4 gets a new 7.0in colour touchscreen, which allows "two-thirds of the dashboard switches" to be removed.
Options include CarPlay for compatibility with iPhones, mirroring for Apple and Android mobile phones as well as the 'DS Connect' system, blind spot warning, keyless entry, a reversing camera, massage seats and an upmarket Denon hi-fi.
The 4 also now has the option of four roof colours and nine body colours, which adds up to 38 different combinations. Nappa leather door panels and semi-aniline leather trim are again optional. Both versions get a 'wrap-over' windscreen as standard.
For the hatch, the entry-level engine is the 119g/km turbocharged petrol Pure Tech 130 S&S unit, which offers 128bhp and 170lb ft from 1750rpm and is hooked up to the manual 'box.
The 130g/km THP 165 petrol engine has 177lb ft from 1400rpm. Top of the petrol range is the 138g/km THP 210 variant.There are three diesels, all tagged Blue HDi. They come in 120 (100g/km), 150 (103g/km) and 180 (115g/km) guises. The 180 unit delivers 295lb ft of torque and comes with the auto gearbox as standard.
In the UK, the Crossback will be offered with only the Pure Tech 130 engine and manual 'box or the Blue HDi 120 with either the manual or auto.
The new 4 makes its debut at the Frankfurt show on 15 September. Prices will start at £19,500 for the entry-level Pure Tech 130 manual model, rising to around £25,500 for the range-topping Blue HDi 180. The new 4 goes on sale in the UK from November.
The company says it has sold 115,000 DS 4s since the car was launched in 2011. That makes up around 20% of all DS models sold since the brand was introduced with the DS 3 hatchback in 2009.
Get the latest car news, reviews and galleries from Autocar direct to your inbox every week. Enter your email address below: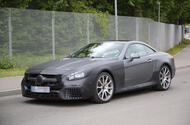 Facelifted range-topping Mercedes SL could get the same 4.0-litre V8 engine as the Mercedes-AMG GT
These are the first spy pictures of the Mercedes-AMG SL63, which has been spotted testing ahead of a planned launch towards the middle of next year.
Even though this test mule is camouflaged, we can see the facelifted SL63 will feature many of the same styling changes as the regular facelifted SL, which is due to go on sale next year and has already been spotted testing. In particular, inspiration has come from the GT sports car, with the SL63 adopting a larger front grille and large side air intakes.
Changes to the standard SL's interior will carry over the the range-topper, including the free-standing infotainment system found in the latest C-Class. As well as running the latest version of Mercedes' COMAND infotainment software, the system will also be controlled by the touch-sensitive controller found across most of the Mercedes-Benz range.
It's unknown whether Mercedes-AMG will keep the current car's 5.5-litre V8 engine, which produces 577bhp and 664lb ft of torque - enough to get the car to 62mph in 4.2 seconds and on to a limited top speed of 155mph. Instead, Mercedes-AMG may give the SL63 the same 4.0-litre twin-turbocharged V8 engine which already features in its range-topping GT. That engine produces 456bhp in the standard GT and 503bhp in the GT S.
As well as the possibility of a new engine, Mercedes will also offer its new nine-speed automatic transmission, replacing the seven-speed unit used by today's car.
Get the latest car news, reviews and galleries from Autocar direct to your inbox every week. Enter your email address below: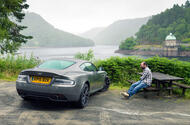 The last hurrah for the Aston Martin DB9 is this, the 540bhp GT. We take one for a final fling in Wales to savour what still makes a DB9 so special
There is no convoluted plan. Normally for a 'goodbye' drive of a car, we'd go somewhere regarded as marginally relevant.
Start at the Aston Martin monument near Aston Clinton, or go to that road in the film Skyfall, or something convoluted or tenuous like that. I can't be doing with that 'take it to this bit, pose for a poignant picture' malarkey.  
The Aston Martin DB9 is a car I've just always liked driving. And so to mark the fact that it'll disappear from production next year, and that this model – the DB9 GT – is meant to be "the best a DB9 can be", I'm just going to take it for a drive. Get up early, travel well, enjoy the sunset, come home. Simples.
The GT is the end of a 12-year journey for the DB9, the ultimate version in the only proper sense of the word. The DB9 itself could hardly be more significant to Aston. It's the first of the VH architecture cars, the aluminium underpinnings whose metaphorically flexible 'vertical' and 'horizontal' components mean Aston can make a car as long as it likes and fit whatever components it likes.
It's so versatile that Aston used to get a bit uppity if you called it a 'platform', because that suggests the platform is now 12 years old. Yet pull the skin off a DB9 now and from a 2004 model and they'd look different enough underneath.
The advantages of the structure are many. It is versatile, for one thing. The DB9, Vantage, Vanquish and Rapide, as well as the shorter-lived Virage and DBS, have all been hung from versions of this same architecture.
And it makes for easy car upgrades. That's important for a company with the limited budget of Aston's. ("Aston has basically never made money," says CEO Andy Palmer.) Over the years, the infotainment system has been improved, the interior has received makeovers, the engines have been made cleaner and more powerful and structurally it's more rigid and better honed.
But with that comes a downside: the Aston range has been a group of cars that, if you're a less interested observer, look similar and do a similar thing. In future, under the stewardship of Palmer, that'll be different, we're told. VH architecture will stay, but each model line will have its own distinct personality – up to and including the crossover that's meant to provide Aston with the budget to be self-sustainable in the long term. First on the list, though, is the DB11, this car's replacement.
I'd be pretty chuffed if the DB11's demeanour and personality turned out not too dissimilar to the DB9's. It's not uncommon to find that the original version of something is the purest and best.
The DB9 was the first VH car, it's a GT car and, to my eyes, it's still Aston at its best. I don't like talking about aesthetics too much because I'm not a designer, you can make up your own mind and I'd rather deal in more objective things, but I'll make an exception here: I think the DB9 is still a staggeringly good-looking car.
Today, the GT wears a black front splitter and rear diffuser, because apparently no pseudo-sporting car of any ilk is allowed out of the factory gates without them these days. But when it rocks up outside my house at yawn o'clock, I still stop and just look at it for a while.
Although I don't have a tenuously linked plan, photographer Luc Lacey and I do have a plan of sorts. To see what the DB9 is like now and see how good the DB11 will have to be, we'll drive to Wales, mooch around on some good, quiet roads, and take it to a beach for a sundown photo, if there's a visible sunset. But this being the summer holidays in Great Britain, the day starts pretty grey and doesn't get much brighter.
Hey ho. That won't stop us from assessing part one of the DB9's job: grand touring – if Oxfordshire to the Elan Valley is particularly grand.
Obviously, it isn't, because it's wet and there are roadworks and families in MPVs but, still, it's several hours non-stop behind the wheel and whether you do that on the M42 past Redditch or on the A8 from Genoa to Saint-Tropez, the net effect is the same: you discover that the DB9 is pretty good at this sort of thing.
When it was launched, the DB9 had plastic switches to move the seats and the Volvo-sourced satellite navigation system was rubbish even then, but although the overall cabin architecture is similar, here's where you can see how Aston improves things in small increments.
The latest-generation centre console has a touch-sensitive array of haptic feedback switches, the seat controls became nice aluminium items years ago and these days, if you reach that far, the nav screen is touch-sensitive and pretty easy to use.
That's where you notice the budget differences with small car makers these days. Hand-crafting used to give them an edge on mainstream cars, but short lifecycles mean ordinary cars kill them for technology. Still, the DB9 GT feels lovingly put together inside. Certainly, fit and finish are a class apart from where they used to be.
But it's the way the DB9 drives that has always marked it out to me as a bit special, and the GT is no different. I like the controlled, composed way it rides. (A couple of my colleagues think it can be a bit firm for a grand tourer, but I don't mind it.)
What you get is a lot of honesty. The big 5935cc V12 – pushed up to 540bhp in the GT, rather than the standard car's 510bhp – has precisely the kind of response you'd expect from a large, naturally aspirated engine: predictable, reliable, zingier at the top end (peak power is at 6750rpm) but pleasingly lag-free lower down.
And even though the automatic gearbox is a six rather than the latest eight-speeder, such is the spread of power and its smoothness that you don't miss having more.
Then there's the chassis balance. Away from the humdrum commuting roads and into the quietest bits of Wales, the more interesting side to the GT's personality comes out.
Sure, the engine's in the front – and it's quite big – and the kerb weight is 1785kg, so the Aston isn't super-agile, but the DB9 just feels 'right'. It steers with great confidence – something else massively improved over the years is clearing the steering of harsh kickback – and the handling is just so trustworthy, predictable and downright enjoyable.
A Ferrari F12 can feel hyperactive; a fast Porsche 911 can feel cold; that Bentley Continental always feels its size. Of all GT cars, though, to my mind the Aston has the most pleasing handling balance. If you had to write a book on how a big coupé should handle, you'd use a DB9 as the template.
More good roads follow, and a few bad roads, too, until we reach the coast where guess what? It's still grey. There's no visible sunset today, but that's fine by me. There are lots of aspects to the DB9 that I'd rather the sun didn't go down on at all. 
Aston Martin DB9 GT
Price £140,000; Engine V12, 5935cc, petrol; Power 540bhp at 6750rpm; Torque 457lb ft at 5500rpm; Gearbox 6-spd automatic; Kerb weight 1785kg; Top speed 183mph; 0-62mph 4.5sec; Economy 19.8mpg; CO2/tax band 333g/km/37%
We road tested the original DB9 in 2004. This is what we found...
"In short, there isn't a better drivetrain on sale," we said of the DB9 when we first road tested it, on 1 June 2004. We rather liked the rest of the car, too, because it notched up four and a half stars.
There was a lot to like about it then, as now. Back then, its 5935cc V12 put out 450bhp at 6000rpm and 420lb ft at 5000rpm, which was enough to punt it to 60mph in 5.4sec and through a standing quarter mile in 13.7sec.
At the time, we reckoned there was "not much that will out-drag a DB9 in a straight line", which is quite a telling fact about the past 10 years in motordom, because even some hot hatchbacks would out-drag a decade-old DB9 today.
Reading the test now, though, there is a pleasing sense of continuity about the DB9. "By conventional Aston standards the DB9 is very firmly sprung," we wrote, but "it remains a fine blend of comfort and agility".
Its handling balance was similarly faithful: a touch of understeer that you could prod through in the wet, but with grip levels so high that "in the dry, only the insane will try and find where it finally ends". It felt agile for its size but wasn't a car you could thread as easily as a Porsche 911.
Ultimately, "dealing with the bad [was] a gratifyingly short process". The steering was too heavy, the ride a bit choppy and a few switches "unbecoming of a £103k car". We concluded it was "extraordinarily desirable and supremely capable" and "the best car Aston Martin has ever made and a tantalising preview of what's to come from Gaydon". Since then, the DB9 has served Aston supremely well.
Get the latest car news, reviews and galleries from Autocar direct to your inbox every week. Enter your email address below: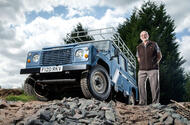 How did the Defender get its name - and why? Bill Morris, Land Rover's chief engineer at the time, tells us the story behind the Defender's arrival
Bill Morris looks like a man born behind the wheel of a Land Rover Defender.
He sits comfortably in the driving seat of a One Ten at the top of The Staircase, one of the tougher obstacles for 4x4s on Solihull's famous Land Track, and smiles at the memory of tackling it a minute earlier, resting his arm on the window sill the way Defender people do when in all but the dead of winter.
The 3.5-litre petrol V8 woofles quietly at idle. Then comes the characteristic deep clunk as Morris selects first gear with the long lever. The engine note rises just a little and he's off to tackle it again, smiling still. It's a few years since he's driven one of these, but the pleasure never fades.
Morris was Land Rover's chief engineer when this car was new. We've enlisted his aid, and come to this iconic spot just yards from the production line where every UK Defender started life, to clear up a mystery that surrounds Land Rovers of the 1980s and early 1990s model: when and how they first came to wear the name.
For many, every Land Rover with the outline and layout of the Wilks brothers' 1948 original is a Defender, an easy assumption as the 67-year-old original prepares to 'retire' from today's Land Rover line-up. But it isn't true.
The Defender name didn't become official until Britain's 4x4 was nearly 40 years old. It wasn't actually written on a Land Rover until 1990. However, to confuse matters, many believe 'Defender' can be applied to vehicles made earlier, once they had adopted a new coil-sprung suspension largely donated by the Range Rover – along with the Ninety and One Ten model names.
"The story started in the 1970s," says Morris. "I'd been the engineer responsible for the Land Rover Series III, so I was in the right place to experience the growing pressure from the BL board to improve the Land Rover, which had been in production for nearly 30 years and needed a rethink."
Land Rover had already sent several deputations of engineers – including Morris – around the world to meet customers and discover how they thought the vehicle should progress.
It was soon clear, says Morris, that the major demand was for the Landie to have a bigger, better engine. Well-organised Japanese opposition – principally from Toyota and Nissan, whose products had much more powerful engines – was starting to hurt Land Rover in its all-important export markets.
Land Rover Defender special - crossing the Atlantic...sort of
"The only viable big engine we had at the time was the 3.5-litre V8 from the Rover saloons and Range Rover," says Morris, "so we dreamed up a couple of improvement steps for the Land Rover. In stage one, we'd fit the V8 to the long-wheelbase model and convert it to permanent four-wheel drive.
That became the One Ten. For stage two, we'd improve the suspension by fitting the coil spring system from the Range Rover. For stage three, we planned to come up with a new body design, but it never happened. People who still love the way the Defender looks now will probably think that was just as well."
Morris confesses that at first he wasn't keen on the idea of converting the Landie suspension from leaf springs to coils. "I thought we'd runinto damper trouble, because leaf springs have their own damper effect," he says. "With coils, the wheels would move further and more oftenso we'd need better, longer-travel dampers.
"I also thought the leaf suspension placed its own limits on performance, which in turn helped our overall durability. I was right on both counts, but we managed to overcome the problems. And it became obvious very quickly that coil springs delivered better comfort."
By 1983, Land Rover was making coil-sprung, permanent 4x4 One Tens (launched at home in Solihull) and a year later unveiled the shorter 90 model (whose wheelbase is actually 92.9in) at the Eastnor Castle estate near Ledbury, where it was developing all its vehicles. With those changes, accompanied by modernising but gentle styling tweaks, the staple Land Rover moved into the modern era, not so different (apart from a string of later engine changes) from the models made today.
The Defender name has served the company well, but it came about for predictable reasons. "It was driven by the confusion that ensued when Land Rover and Range Rover products were sold together," Morris explains. "Land Rover Ltd was hived off from the main Rover concern in 1978, and it caused immediate uncertainty among customers. Was a Range Rover a Land Rover? And if it was, what was the Land Rover brand for?"
The matter came to a head after Land Rover launched the Range Rover across the Atlantic, using a company called Range Rover of North America. Three years later, as they shaped up to launch the Discovery there, even more confusion ensued. Why were the Range Rover and this new-fangled Land Rover Discovery differently named?
Land Rover Defender special - the most extreme Defenders
The question was especially important to those who knew how closely the two models were related under the skin. The issue of nomenclature was described by one company high-up as "an unholy mess" and something had to be done.
The plan to adopt the Defender name for the staple Land Rover is attributed to the product planning director of the time, Alan Edis, who arrived at it after a thorough word association process. The rationale for the name was simple: Land Rover was big in the defence business, so in that environment the name worked fine.
What's more, its role as Land Rover's icon (at a time when the Range Rover was still a low-volume offering and the new Discovery had yet to make a big impact on buyers) was to defend the Solihull company's hard-won place in the 4x4 world. The name 'Defender' was deemed ideal and adopted from 1990.
Arguably, it has even more market appeal today. Looking ahead, Land Rover models will be organised into three families: Range Rover, Defender and Discovery. A model's family will be picked out in easily read, three-dimensional letters across the leading edge of the bonnet.
The logical system that has been needed since the Range Rover appeared in 1970, and began with the adoption of 'Defender' 20 years later,has at last reached maturity a further quarter of a century on. 
Years ahead of the game
Coil-sprung Land Rovers might have come to market years earlier if an early proposal by veteran Land Rover development engineer Roger Crathorne had reached fruition.
"The idea for coils emerged during visits to export markets we made in the early 1970s to discover our customers' priorities," he says. "People could see how well the Range Rover chassis worked, but a proposal I made at the time was kyboshed."
Within a couple of years, Crathorne was given the task of building four coil-sprung Land Rover prototypes that led eventually to today's Defender. Did he see the irony of retracing his steps? "Not really," he says philosophically.
"I was just pleased we were getting on with it." 
Get the latest car news, reviews and galleries from Autocar direct to your inbox every week. Enter your email address below: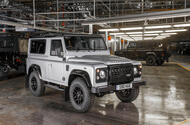 The two millionth Defender is a bit special - and not just because we made its bonnet
After 67 years, it hardly seems possible that the original Land Rover, nowadays badged Defender, will cease production at the end of the year, killed by a mix of outmoded production methods and new-fangled regulations.
To mark this 'retirement', Land Rover is sending its icon out on a high, staging a series of commemorative events, launching three limited-production heritage models and auctioning the two millionth Defender, built a couple of months ago, in an auction to be conducted by adventurer Bear Grylls this December.
Building the two millionth Defender was a more strung-out affair than usual, because the company invited several dozen Landie-driving luminaries to participate, everyone from company chief Ralf Speth and veteran Land Rover engineer Roger Crathorne to actress Virginia McKenna, who, after portraying animal conservationist Joy Adamson in the film Born Free, set up an Africa-based wild animal charity.
Others less prominent but equally keen were also invited, and one of them was your humble servant, given the job of helping to make and fit the two millionth bonnet.
Production line work is no picnic, especially when you must perform an operation 106 times a day with perfect attention to detail. Putting cars together takes strength, concentration, dexterity and brain strain, and there's never any time to spare.
My job was to assist two operators, Jake Ainsworth and Adrian Lowe, to load a bonnet inner and outer into a welding rig, where they would be combined for ever by a series of blue flashes, then to fit the united structure with its distinctive hinges.
After that, we'd unite the finished assembly with its correct Defender body, which just happened to be crawling past on a moving base called a skid.
The Defender production line isn't Jaguar Land Rover's most modern – in fact, the whole place is earmarked for modernisation after December – but it's still an impressive process. No dirt floor here.
There are several robotised operations (constructing the complex scuttle panel is one), and everyone who lays hands on a customer car gets thoroughly assessed for aptitude and dexterity before being accepted for training. Every assembly operation is laid out in detail. There are even diagrams, a bit like dancing instructions, that show exactly where and when you move.
Because I was to be protected by the experience of Jake and Adrian, I was able to circumvent all that, but there was no avoiding the wearing of steel-capped boots and a high-vis vest. My heart was beating hard when the time came to lift a bonnet inner from a rack of pressings and place it in the welding jig.
There's a knack to picking up big pieces of steel (you need thick gloves to prevent cuts, but they dull your touch), and I didn't have it. It was also instructive to see the speed at which you have to work and how little time you get to settle the parts into place and start the welding process.
Still, with coaching, not least from plant boss Phil Cox, I managed to bed the parts in place, press a button to lower the spark-protective door and begin the welding process. That was quick. Within a minute, it was time to lift the new assembly onto a bench and fumble the two hinges into position (starting the threads by hand and then tightening them with a torque-limited power wrench). Then it was done. Three minutes' hard work.
My impression? That process work is tough and there's no time to spare; there was certainly none allocated to standing and admiring my handiwork. Jake and Adrian were already halfway through building bonnet number two million and one, I noticed, attacking it with exactly the same speed and skill as the one that created all the fuss.
Read more:
Crossing the Atlantic in a Land Rover Defender
The most extreme Defenders ever made
Our Land Rover Defender memories
Get the latest car news, reviews and galleries from Autocar direct to your inbox every week. Enter your email address below: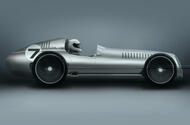 Bradford-based specialist says hybrid-powered special should be launched by 2016
British coachbuilder Kahn is aiming for track day customers with its new Speed 7, a vision of a classic-themed two-seater built with traditional aluminium bodywork.
The Bradford-based styling specialist has pitched for other British companies to join the project - and the company's boss, Afzal Kahn, says he hopes to make it as a hybrid with a price of around £70,000. So far, the firm has released two teaser illustrations showing the car's side profile and its two-seat layout.
"Speed 7 is something that I've had in my head for a couple of years now," Kahn said. "But I think the time is right now to bring it to fruition. We know how to finish and trim a car so it's like a jewel - but we want other specialised British engineering firms who have experience of a ground-up build and homologation process to get involved with us. I'm confident that if they came forward now, we could have a car on a stand at next year's Geneva motor show." He suggested firms like Caterham or Morgan could be suitable technical partners.
Kahn claims to have a solid customer base ready for the vehicle, which would be for track use only. "We've only issued some early illustrations and outlined the vision for Speed 7 and yet I know I could sell 100 of them tomorrow," he said. "There's huge demand - and the track day customers that I spoke to were very enthusiastic about the idea of a hybrid."
He added: "The idea behind this car is actually fairly simple - but we could take, for example, a Caterham chassis and build it up around that. Perhaps it could be a small petrol engine to start with, then a hybrid; it all depends on which partners we find. We don't need financial help with the project; we want the technical co-operation."
Get the latest car news, reviews and galleries from Autocar direct to your inbox every week. Enter your email address below: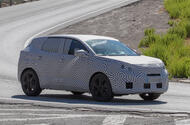 Early test mule for the next-generation 3008 shows Peugeot has adopted more conventional SUV styling, but this time there'll be no hybrid option
The next generation of Peugeot 3008 has been spotted out testing ahead of an expected launch in early 2017.
Despite being heavily camouflaged, it would appear that the second-generation 3008 has ditched the chunky styling of the first generation for a more conventional SUV look.
The new model features a low side window line and a sloping roofline and is expected to take inspiration from the Quartz hybrid SUV that was revealed at the 2014 Paris motor show.


Even though the exterior of the 3008 looks set to change notably, the interior of the popular family car is likely to remain much the same, as reports suggest it is set to take on a similar appearance to that of the 308.
It is also reported to be based on the same platform as the 308 SW, which will allow for an increase in rear legroom over the current model.
The 2017 version is likely to come with Peugeot's latest generation of engines, which could include the 1.2-litre three-cylinder petrol that features in the 308 SW.
One engine that is not likely to be carried over to the next generation is the diesel hybrid, which has recently been dropped from the current 3008's range. Instead, a petrol plug-in hybrid is more likely for the next version of the family crossover.
Get the latest car news, reviews and galleries from Autocar direct to your inbox every week. Enter your email address below:
This Autocar image shows how Honda's 'Project 2 & 4' could look
Detuned racing motor should give Frankfurt track car concept around 220bhp

Honda has confirmed that its Project 2&4 Frankfurt motor show concept will get a detuned version of the company's MotoGP racing engine - giving it a potential output of around 220bhp.

The show car is the winner of a global design competition between all of Honda's studios. It was created by the Japanese firm's motorcycle design studio in Asaka and its car studio in Wako and is said to reflect Honda's efforts to "create a more exciting user experience".

The powerplant for the car had been widely expected to be a V4 motorcycle engine. Now Honda has issued a single piece of technical data, confirming that Project 2&4 will be powered by "RC213V, modified for public road use". The unit in question is a 1000cc V4 that produces in excess of 235bhp in race trim. Even when detuned for road use, it could easily produce 220bhp.

The choice of transmission could be more of an issue. The MotoGP bike has a seamless shift transmission - but Honda would need to incorporate a reverse gear to make it suitable for even a track day car. Honda's Goldwing does have a reverse gear driven off the electric starter motor, though, and this could also be a solution for Project 2&4.

Honda has stated that Project 2&4 will have a "cabinless design". The top-down teaser image suggests that the engine will 
sit on one side of a central 
spine - and a driver cockpit could be located on the other.

The teaser sketch also reveals references in the livery to Honda's 1960s Formula 1 cars - a possible tribute to 
the firm's first F1 victory, 
which came 50 years ago 
this October. There's also a front air intake that could 
feed the engine.

Based on the teaser sketch, the car is almost certainly a single-seater. Honda says it will provide "the freedom of a motorcycle and the manoeuvrability of a car" - another hint that it will have an open cockpit but a car-based chassis with four wheels.

Get the latest car news, reviews and galleries from Autocar direct to your inbox every week. Enter your email address below: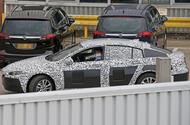 Larger, more spacious Insignia will become a truly global model for Vauxhall, and will arrive with new engines and revised styling
The next-generation Vauxhall Insignia will grow up as it morphs into what has been designed as a truly global model.
The new car will be sold in Europe, the United States and China under Vauxhall, Opel and Buick badges.
Caught here undergoing tests in Germany, it's thought that the car is around 12 to 15 months away from making its public debut. The biggest change for what will be the second-generation Insignia is expected to be a small stretch in the car's wheelbase.
Although the new car's styling theme won't change much from that of the original, the swooping roofline is higher at the rear and the tail end is wider behind the rear wheels.
As well increasing rear 
space and making it easier to access the rear cabin (thanks to the taller door apertures 
the design allows), the Mk2 Insignia will get a bigger and more user-friendly boot
A new tailgate design and redesigned tail-light clusters should help to ensure that the car has a boot that is deeper, wider and taller than before, as well as matching the 565-litre capacity of the Skoda Superb.
Under the skin, the Insignia is based on a moderately updated version of GM's familiar Epsilon 2 architecture. In the European markets, the most important engine upgrades will be the debut of the new 1.6 CDTi diesel engine in the Insignia, which will replace today's economical but unrefined 2.0 CDTi unit.
With a newly engineered installation, General Motors will be targeting best-in-class refinement for the diesel Insignias. The new 1.6 CDTi unit will be offered in a range of outputs, starting at 136bhp and rising to around 170bhp.
Today's Insignia is already available with GM's new 1.6-litre SIDI turbocharged petrol engine in 168bhp form. This engine will also be offered in two lower-powered versions.
The Insignia will be offered with a new eight-speed automatic transmission, which is expected to improve overall fuel economy by around 3% compared with the six-speed manual versions.
Get the latest car news, reviews and galleries from Autocar direct to your inbox every week. Enter your email address below: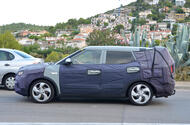 SUV is based on the XLV concept car shown at the Geneva motor show in 2014 and has been spied for the first time
A seven-seat version of the SsangYong Tivoli has been spotted testing.
The model is based on the XLV concept which was unveiled at the Geneva motor show in 2014 and could go on sale in 2017.
At 4430mm in length, the XLV was slightly longer than a Nissan Qashqai but there's no official word on dimensions for this prototype, which was spied out testing with a five-seat Tivoli.
It does, however, appear much longer around the C-pillar than its five-seat sibling to accommodate a third row seat and more interior space.
There are no photos of the interior so the seating layout remains unclear, but the XLV had an innovative 2+2+2+1 arrangement with the seventh seat able to slide between the second and third rows.
The seven-seater could also be the car first in SsangYong's range to use hybrid technology if it uses the same 1.6-litre diesel engine and electric motor hooked up to a lithium-ion battery that the concept was powered by.
At the time of the concept's unveiling, discussions were ongoing at SsangYong about whether or not to launch the seven-seat model in the UK, but the manufacturer has since made a commitment to release a new model every year up to 2020 so the seven-seater seems likely to reach these shores.
Get the latest car news, reviews and galleries from Autocar direct to your inbox every week. Enter your email address below: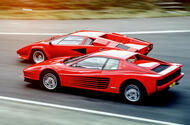 What does it take to be a modern supercar? Is it all to do with power and torque figures? Or could it be something else...
What, exactly, is a supercar? It used to be obvious. It was a car whose engine was in its middle and whose cylinders numbered at least eight, but ideally 12. It had just two seats, a power output starting no lower than a four and a top speed of at least 180mph.
It was wide, it was low, it was impractical, you couldn't see out of it properly and you had a poster of it on your wall.
It was also expensive and exclusive, so it was probably red. Certainly, Audi didn't make one.
Today, though, Audi does. Even the least powerful R8 of all, the original V8, met the performance criteria – only you could see out of it and it was no harder to drive than a TT. The supercar, of late, has been democratised.
Which is fine, unless you want to precisely define what one is, and I do. At this mag, we keep a series of 'Top Fives' updated –
 our favourite cars in each market segment. Knowing what qualifies, then, is handy.
A dictionary is no help. The Oxford dictionary thinks it's "a high-performance sports car", which would mean an Ariel Atom is a supercar, which clearly it isn't (even in V8 form).
The Collins dictionary thinks a supercar is "a very expensive fast or powerful car with a centrally located engine", a tighter definition but no more helpful. A 'centrally located engine' would rule out any Aston Martin, which is clearly nonsense if you've driven a V12 Vantage S, and any Porsche 911.
Although here, actually, 
I'm half with Collins. I know most 911s are supercar fast 
and handle rather better than most of them, too, but I wouldn't define a GT3 RS as a supercar. 
A 911 Turbo? Perhaps, but 
only on a technicality on 
account of its sheer speed; the 911 is the greatest sports car of all time, not the greatest supercar of all time.
Collins' definition would also rule out the Mercedes SLS AMG, which is obviously a supercar. Is, though, the new Mercedes-AMG GT? Like a 911, it might be a sports car, in the way that an Aston Martin DB9, despite having the speed, price and power of a supercar, is a grand tourer. A Nissan GT-R is… well, I don't even know where to start with the GT-R.
In the end, defining whether a car is a supercar comes down, as it always did, to blind prejudice. A supercar isn't about stats; it's about a mindset. Does it make you go a bit tingly? Yes? It's probably a supercar.
Today's archetypal supercar, then, looks not that dissimilar to what it always did.
Which means it's a Lamborghini Aventador SV, although that's so powerful and fast that it's almost a hypercar, whatever one of those is. Thankfully, Collins and Oxford have not yet attempted that one.
Get the latest car news, reviews and galleries from Autocar direct to your inbox every week. Enter your email address below: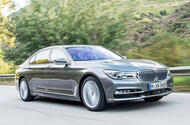 BMW gives its flagship 7 Series an extensive overhaul in a bid to tempt buyers of luxury cars away from the Mercedes S-Class, Audi's A8 and the Jaguar XJ The sixth-generation BMW 7 Series is a pivotal new luxury saloon that looks set to make quite an impact on the luxury car ranks when it goes sale here in November following a debut at next month's Frankfurt motor show.As befits its range-topping status, the new four-door comes loaded with a host of new technology. Among its highlights are intelligent lightweight carbonfibre construction solutions, new-generation six-cylinder petrol and diesel engines, a high-quality interior with the latest in internet-supported connectivity and gesture-based controls, stereo camera and radar-based autonomous driving and safety features and an optional smart key that allows you to monitor functions such as fuel range and interior temperature from the palm of your hand.Also available with an autonomous parking function that enables you to step out and park the car it at the press of a button, it aims to launch a serious challenge to the sales dominance of the Mercedes-Benz S-Class while providing stiffer competition to the Audi A8, Jaguar XJ and Lexus LS than the seven-year-old model it replaces.The new 7 Series, which is available in both standard and long-wheelbase guises, receives an evolutionary design that helps provide it with visual continuality. But despite flaunting a bolder face than before, it lacks the outright presence of some rivals.Its slightly sleeker form provides it with a class-leading drag co-efficient of just 0.24. In combination with a new turbocharged 3.0-litre in-line six-cylinder diesel engine in the rear-wheel-drive 730d driven here, the slippery shape contributes to exceptional combined fuel consumption of 62.8mpg and average CO2 emissions of just 119g/km.   The evolutionary approach evident in the styling is also reflected in the dimensions. At 5098mm long, 1902mm wide and 1478mm high, the new 7 Series is just 19mm longer, the same width and 7mm higher than its predecessor in standard-wheelbase guise. The long-wheelbase variant is a further 139mm longer – 18mm longer than the model it replaces – at 5238mm. Both the standard and long-wheelbase variants share the same wheelbase measurements as those of the outgoing models, at 3070mm and 3210mm respectively.Yet while the overall appearance and size of the new 7 Series are clearly similar to the old model, its construction and engineering introduces new processes and materials that are set to revolutionise the next generation of BMW models.Drawing on methods first explored in the development of BMW's i models, it incorporates a number of load-bearing carbonfibre-reinforced plastic components. The lightweight material, which can be found within the header rails, sills, B-pillar, centre tunnel and C-pillar, combines with additional aluminium elements to bring a 40kg reduction in weight over its predecessor. Further weight savings have been achieved with changes to the bodyshell, which receives newly designed aluminium doors (weighing 12kg less than before) as well as an aluminium roof panel.The new 730d as tested tips the scales at 85kg under that of the outgoing 730d, at 1755kg, making it 25kg lighter than the Audi A8 3.0 TDI and Mercedes-Benz S350 CDI. It's also 200kg lighter than the Jaguar XJ 3.0D.When it hits UK showrooms, the new 7 Series will be offered with the choice of two new six-cylinder engines, both mated to a standard eight-speed automatic gearbox that uses a longer final drive ratio and a shift strategy that operates in conjunction with the satellite navigation system for greater efficiency. Buyers can choose a Steptronic variant of the ZF-produced gearbox with shift paddles on the steering wheel as an option.The B57 engine used by the 730d develops 7bhp and 45lb ft more than the N57 engine it replaces, with 261bhp and 457lb ft. Along with the aforementioned consumption and CO2 emission figures that better the old 730d by a staggering 12.4mpg and 29g/km, it endows the most affordable of the new 7 Series models with the same 0-62mph time of 6.1sec and 155mph top speed as its predecessor.Also included in the line-up is BMW's new B58 petrol unit in the 740i. The turbocharged 3.0-litre engine delivers 6bhp more than the old N55 powerplant it replaces, at 321bhp. Torque remains the same at 332lb ft, endowing it with a 0-62mph time of 5.5sec and 155mph top speed, along with combined fuel consumption of 42.8mpg and CO2 emissions of 154g/km.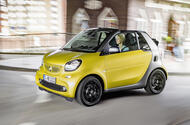 New Cabrio version of the Smart Fortwo comes complete with a novel, three-stage folding fabric roof
Smart has added a convertible version to its all-new Fortwo city car line-up that features a novel new roof arrangement. 
The two-seater Cabrio's 'tritop' fabric roof can be pushed back as a more conventional sunroof, with the rear screen built into it still up. Alternatively, it can be fully folded onto the tailgate along with the rear screen, at which point the two roof rails can also be removed and stored in the boot to turn it into a full convertible.
The roof, which is offered in three different colours, can be fully opened in 12 seconds, even when the car is travelling at top speed. It can also be opened from outside the car using the key fob.
Design-wise, the cabrio shares its look with the standard hard-top Smart Fortwo on which it is based. The Mercedes-Benz-owned brand has, however, improved rigidity underneath the car to compensate for the lack of a fixed roof.
A steel cross has been added beneath the vehicle, the A-pillars have been reinforced, and the front and rear bulkheads have been beefed up. The result is a car that is 15% stiffer than its predecessor.
The engine range of the Fortwo cabrio is shared with the hard-top, meaning a pair of three-cylinder petrol units is offered: a normally aspirated 70bhp 1.0-litre and an 89bhp turbocharged 0.9-litre. Transmission options include a five-speed manual and a DCT dual-clutch automatic.
The new Smart Fortwo Cabrio will be available to order from mid-November, when prices will be revealed. The model will reach dealers in February 2016. 
Get the latest car news, reviews and galleries from Autocar direct to your inbox every week. Enter your email address below: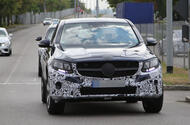 The Mercedes GLC Coupé, a rival to the BMW X4, has been spotted testing ahead of its expected launch next year
Testing of the all-new Mercedes-Benz GLC Coupé is well under way ahead of the BMW X4 rival's expected launch in 2016.
Sporting a similar design to the bigger GLE Coupé, a GLC Coupé test mule was snapped while out with the standard GLC.
A concept version of the GLC Coupé was unveiled at the Shanghai motor show earlier this year, and Mercedes seems to have stuck closely to the concept's bold design for the production version.
The disguised GLC Coupé has the same swooping roof design as the concept, but with smaller wheels, and it features a similar front to its GLC sibling, apart from a different grille. 
No official measurements for the production version are available, but at 4727mm long, 2000mm wide and 1593mm tall, the GLC Coupé concept was 57mm longer, 120mm wider and 28mm lower than the X4.
It also rode on a wheelbase that was 17mm longer than the BMW's, at 2827mm. Compared with the outgoing GLK, it was 192mm longer, 160mm wider and 77mm lower.
The sporting SUV had a modified version of Mercedes' modular high-strength steel MRA platform, as found beneath the latest C-Class. It was allied to aluminium-intensive suspension that uses a combination of double wishbones up front and multi-links at the rear.
Although it has not been officially confirmed, Autocar can reveal that production versions of the new swoopy-styled GLC Coupé will have the option of rear air springs, following the lead taken by the C-Class.
Power for the concept came from a twin-turbocharged 3.0-litre V6 petrol engine, one of a number of units that will be made available in the GLC and GLC Coupé, according to senior Mercedes sources.
The twin-turbo V6 kicks out 362bhp and 383lb ft of torque - 60bhp and 88lb ft more than the most powerful petrol-powered X4 model, the xDrive35i.
This particular engine is set to power a GLC450 Coupé AMG model, in line with moves made with the larger GLE450 Coupé Sport shown earlier this year.
Channelling these reserves to all four wheels is Mercedes' new nine-speed 9G-Tronic automatic gearbox and 4Matic four-wheel drive system.
Officials revealed in Shanghai that the company's SUV line-up would eventually extend to seven models.
Included are the GLA, GLC, GLC Coupé, GLE, GLE Coupé, GLS and traditional G-Class, which is set to be substantially updated in 2017.
Get the latest car news, reviews and galleries from Autocar direct to your inbox every week. Enter your email address below:
Revitalised TVR will bring four new sports cars to market, starting in 2017, and has already sold out the first year's allocation
The reborn TVR brand has already sold out its allocation for 2017, with the new company announcing that it has taken 250 deposits in just six weeks.
TVR announced it was going back into production in June this year, with Gordon Murray Design and Cosworth Engineering signed up as key partners. The new company started taking deposits for the planned new sports car four weeks later having faced a high level of demand from the public, despite there not yet being any official pictures or details of the new car.
Deposits are still being taken, but John Casey, TVR's operations director, says that any orders now placed will not be delivered until 2018.
Les Edgar, Chairman of TVR, said: "This a heart-warming situation we find ourselves in. We are mindful that we have taken deposits from customers who have not even yet seen official pictures of the car. We look forward to revealing more details soon, and to all our customers who have shown their faith I can promise that the new car will exceed expectations in every way." Interested owners were able to place a £5000 deposit for the new model.
Volumes in year one are said to be limited as the company ramps up production, so the intention will be to take more than the 250 orders for 2018.
Returning after an absence of nearly 10 years, the new TVR has been designed by engineering guru Gordon Murray and will be powered by a unique, hugely powerful Cosworth V8 engine and backed by an ambitious and well-funded ownership team.
The iconic sports car marque's backers have already spelled out the first details of a 10-year plan that will put at least four new TVRs on the road from 2017.
The intention is to re-establish the marque in the same performance-minded, driver-centric territory from which it departed nine years ago, when production ceased at its former factory in Blackpool.
Although radical in design and new in every detail, the reborn TVR car range is aimed both at the powerful and demanding band of existing TVR aficionados that has never gone away - not least because most members of the company's backing consortium are members themselves - and a new generation seeking an affordable supercar that can be driven every day.
Volume targets are also still being decided, but since the company plans to be guided by TVR's numbers in its healthy years, an output of 1000 to 1500 units a year looks likely. The company has said that production in 2017 will be "in the low hundreds."
"This is a unique opportunity to be part of the revival of a great British marque," said TVR operations director John Chasey. "We are a well-funded, well-supported organisation that boasts a vastly experienced management team and a clear 10-year master plan for both product and business development."
Edgar, Chasey and Murray all have extensive connections with sports car racing, especially at Le Mans, and even at this early stage the car is being configured with a racing life in view. Customers, the partners believe, will be as keen on competition as they are.
The company currently operates from premises near Guildford but plans a 'proper' headquarters wherever it decides to build its cars.
Edgar said his partners are resolved to make TVRs in the UK but the factory location won't be decided until they have assessed the logistics of their manufacturing process, plus regional development schemes and skill and supplier bases.
The investor group, which consists of about a dozen well-heeled individuals, was formed two years ago to buy TVR from Russian oligarch Nikolai Smolenski, who nearly drove it to ruin.
The group is proud of its recent success at keeping a low profile while laying plans to produce cars whose profile and pricing "will be consistent with TVR's past market positioning and highly competitive within its field".
Two distinct models have been designed and are closely related under the skin. Each will be available in coupé and convertible variants. Both cars' styling is the work of a British design consultancy whose identity TVR bosses decline to reveal for now.
The new TVRs will be similar in their major dimensions to outgoing models of the mid-2000s such as the Tuscan and Sagaris, with the same built-in two-seater simplicity and lightness, although there will be no common components with the old models. The new cars' construction elements and techniques will be completely different.
The mechanical design of the cars, which has taken place at the premises of Gordon Murray Design (GMD) in Shalford, Surrey, is nearly complete. The new TVRs, all V8s, will have a front mid-engined layout and feature six-speed manual gearboxes, rear-wheel drive, all-independent suspension and driver-focused interiors.
The deals with GMD and Cosworth were concluded about a year ago. The new TVR model range is likely to be the first in the world to use GMD's unique iStream manufacturing process, which dramatically simplifies car construction and reduces the size of the assembly plant infrastructure while offering big benefits in cabin packaging, chassis rigidity and crash protection.
The basis of the chassis is formed by a structure of fairly big-diameter steel tubes, with ultra-light composite panels bonded in to boost rigidity. The construction method was pioneered on Murray's T25 and T27 city cars, which demonstrated remarkable rigidity in crash tests. Materials for the outer panels are still being decided, but a combination of aluminium and composite parts is likely.
"We're very pleased with the way iStream, which was designed for volume projects, can be adapted to applications like this one," said Murray. "It still delivers all the efficiency advantages it was designed to do."
The new TVR engines will be based on a proprietary V8 block that has been developed into a unique unit at specialist manufacturer Cosworth's Northampton factory, where the firm's Formula 1 engines were built. Comprehensive modifications have been developed for the base units, whose exhausts exit as side pipes just behind the front wheels.
The partners are reluctant to reveal more at this stage except to confirm that the engine management system, and therefore the engine's essential character, will be unique to TVR.
Edgar and his partners are well aware of the manufacturing quality concerns that dogged TVR in the old days but believe the combination of modern design, a far more streamlined manufacturing process, modern materials and Murray's attention to detail will help the company avoid past mistakes.
Because the TVR investors have only just begun setting up the company's structure, launch details remain sketchy. Expect models to appear one by one from 2017, with sales in the UK and northern Europe the initial priority.
New TVR - what to expect
With two years to go until the launch, a factory location still to be decided and a management still facing big decisions, the new TVR's final mechanical layout is not set in stone. However, if you read the signs, it's possible to take a stab at what the car could be like beneath its inspirational surfaces.
Styling
Modern designs, consistent in dimensions and major features to the admired shapes produced under TVR's proprietor before last, Peter Wheeler. No attempt to replicate the old shapes, but the DNA will be obvious.
Model names
No decision yet. TVR bosses have some iconic names at their disposal (Griffith, Tuscan, Grantura among others) but are deciding if numbers and letters (T350) would build a more logical lineage. Our bet: Griffith. 
Chassis
Tubular steel frame requiring very few stamped panels, built by Gordon Murray's iStream principle, with composite panels strategically bonded in to provide extreme rigidity. Murray-designed all-independent suspension (possibly double wishbones) with power steering and race-derived disc brakes.
Body
Major panels formed mostly in a variety of composite materials, but with some aluminium components, which in some cases can be lighter than composite. All-up weight planned at about 1100kg, depending on variant, which with chassis rigidity should be a big asset in race applications.
Aerodynamics
Flat-bottomed chassis (allowed by front side exhausts) with splitter and rear diffuser will deliver true on-road downforce, which can be enhanced in racing versions. Initial design has been tested by computational fluid dynamics (CFD) and via a scale model in a moving-floor wind tunnel.
Powertrain
Cosworth-developed V8 of unspecified origin, probably Chevrolet or (more likely) Ford. TVR will not go down Wheeler's path of building its own engine. A decent bet would be the Ford Mustang's 4951cc unit, which produces 415bhp in standard form. Expect 450-470bhp, plus a magnificent exhaust note, after the Cosworth ministrations and you won't be far wrong. Six-speed manual gearbox as standard.
Performance
With 450bhp-plus in a 1100kg structure, the TVR should be extremely fast. Look for 0-60mph in under four seconds and a top speed of more than 185mph. That's before the likely extra-power (and possibly extra-light) versions arrive. TVR is renowned for performance, and the new backers aredetermined not to disappoint.
Dynamics
Dry-sumped engine, mounted low and well back in the chassis, should allow the ultra-low centre of gravity and rearward weight bias (say 47% front, 53% rear) deemed ideal for a car of this layout. TVR is still deciding what electronic aids the car needs, but ESP and ABS are certainties because of legislation. Whether the ESP is configurable, as in latest Lotus, Ferrari and Porsche models, is an open question.
Sales volume
In its very best years, TVR claimed to make 2000 cars a year, but 1000 a year was much more typical. We'd expect the new company, helped by the efficiency of the iStream manufacturing process, to ramp up to 1000 units and eventually to push beyond it. But the consortium well understands that the European market for such cars is small (50,000-80,000 units per year) and is deliberately targeting a small percentage.
Pricing
When TVRs disappeared from sale, mainstream models were in the £40,000s, with the most expensive model touching £57,000. A Porsche Boxster cost £40k (now more like £50k). Given that the new company wants new-wave TVRs to be as accessible, broadly speaking, as the old ones, a starting price of about £60,000 seems likely, with performance extras boosting prices towards £80,000.
Read more:
Blog - can TVR's new plan really work?
Blog - At last, Gordon Murray's big idea is coming on stream
Get the latest car news, reviews and galleries from Autocar direct to your inbox every week. Enter your email address below: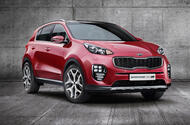 The fourth-generation Kia Sportage has been revealed and will move upmarket to fight the Nissan Qashqai and Honda CR-V in Europe
The fourth-generation Kia Sportage has been revealed with a brand new look ahead of the car's official public debut at this month's Frankfurt motor show.
The new Sportage gets totally new styling at the side and rear, although the biggest changes are at the front. The headlights are no longer integrated into the grille, as they were on the third-generation Sportage, but now sit higher up on the side of the bonnet. This leaves the now familiar Kia nose, which features on the majority of the company's range, with a stand-alone grille.
It also gets a larger lower grille, with a silver coloured kickplate on the lower edge. The foglights, which complete the front-end styling, sit in a larger cluster than before.
At the side, the Sportage retains its traditional SUV-like styling but has a marginally more raked profile than before. The wheelarches are more pronounced, while it also gets a sharp line running along the side doors.
The company says the look at rear of the car is inspired by the 2013 Kia Provo, with a strong line running horizontally across the bootlid between the two tail-light clusters. The indicator and reversing lights are much lower down than before and sit in a separate cluster on the rear bumper
The new model is also likely to get a significantly upgraded cabin over the old version. UK Kia boss Paul Philpott said this was partly as a result of feedback from owners of the current car.
"We recognise that for a more demanding audience issues such as interior quality, refinement and ride and handling are essential," he said. "All of those aspects have been addressed. We have done this because of what our customers have told us."
There will be one design of interior, although the size of the infotainment screen is set to differ depending on specification. It will come with a greatly reduced number of buttons on the central console. Kia has also said the cabin will feature a "rich material quality" to improve perceived quality, while it will come with technology already found elsewhere in the company's range, such as wireless phone charging and a system that helps when reversing into traffic. Top-level trims will feature high-end audio Harman Kardon stereo systems.
Details of the full engine range are set to be announced at Frankfurt, but the Sportage is set to come with a brand new four-cylinder turbocharged petrol engine. Several of the units from the similarly sized Tucson, from Kia's sister company Hyundai, are also set to be carried over, including the 113bhp 1.7-litre diesel and two versions of the 2.0-litre diesel, in 134bhp and 181bhp formats.
Paul Philpott, Kia UK President and CEO, Q&A
How much will the Sportage cost?"We will not reveal pricing or specification until closer to launch in February next year, but while we want to remain competitive in our sectors, we will have to reflect the fact that there is a lot of new technology and features in the new car – so undoubtedly there will be a premium over the outgoing model."
Are you planning to expand the Sportage into a wider family?"The compact SUV segment is growing all the time but we feel with new engines, new transmissions and a stunning new face that it will continue to grow in its marketplace. We are looking at possibilities in other parts of the growing SUV market and we will deal with those opportunities in due course."
What are the engine plans? Could there be a plug-in variant?"Our R&D team have plans to launch 22 eco-variants in our range by 2022 – so you never say never, but there will be no plug-in at launch."
Get the latest car news, reviews and galleries from Autocar direct to your inbox every week. Enter your email address below: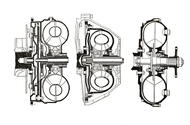 For years, British drivers had favoured the manual transmission, but would a rise in automatic transmissions in the US sway motorists here?
Following World War 2, automatic transmissions became commonplace on American cars, prompting Autocar to ponder how long it would be before similar systems were adopted by British car makers.
"Very shortly some decision will have to be made in order that British cars can continue to hold their own against American competition," wrote technical expert MS Crosthwaite in the magazine, in August 1950.
"There is no doubt at all that car users who regard the automobile primarily as a means of transport will no longer continue to view the conventional clutch and synchromesh gearbox with favour. Elimination of the clutch pedal would appear to be an absolute necessity."
Crosthwaite detailed three types of automatic transmission – the semi-automatic overdrive, a four-speed 'planetary' gearbox and a fully automatic torque converter – and assessed their suitability for the British market.
"Two factors are of vital importance when considering a transmission for British cars, namely, what may be considered 'reasonable' efficiency and whether fully automatic control is desirable," he wrote.
"Behind any consideration of these arguments, however, lies the question of environment and its effect upon the type of vehicle most suitable.
"In many ways the narrow twisting roads of Great Britain, with their high traffic density, have no counterpart. Thus ease of gear changing is essential, although the actual percentage of the life of the car spent in intermediate gears may not be unduly high. Nevertheless, it will be enough to show up in terms of fuel consumption any relatively low transmission efficiency."
At the same time, he identified two factors contributing towards the need for a reconsideration of gear ratios.
"These are the reduced drag of modern coachwork, resulting in the possibility of attaining higher road speeds with a given engine power, and the realization that in other countries, where high cruising speeds can be sustained for long distances, a higher top gear ratio is desirable in order to keep engine speeds reasonable."
Ultimately, Crosthwaite felt that other technical elements of the car could play a more important role in improving fuel economy than transmission evolution."No transmission is an end in itself. The ideal is to have so much surplus engine power that nothing is required beyond a device to provide a smooth start," he wrote. "While this desirable state is approached by the large-capacity American car, it cannot be expected in other countries where fuel is expensive.
"The alternative is, however, open to all. It lies in more effort devoted to reducing weight and drag. No amount of transmission development can replace the need for these improvements."
Previous Throwback Thursdays
4 March 1899 - Steam, electric or combustion engine? 
26 June 1906 - The first French Grand Prix
9 July 1907 - The beginning of Brooklands
14 February 1913 - 100 miles in one hour
8 April 1916 - Making post-war predictions
25 March 1922 - Caterpillar tracks are the future
4 July 1925 - Citroën lights up the Eiffel Tower
2 February 1934 - The ethics of skidding
6 July 1934 - A tour of Cowley
1 June 1935 - Introduction of the driving test
22 June 1945 - Driving through post-WW2 Europe
21 January 1949 - Tidier tails
24 April 1959 - Aston Martin enters Formula 1
27 January 1961 - Ford Thunderbird road test
17 November 1961 - TVR Grantura road test
19 August 1966 - Four-wheel drive on test
6 May 1971 - Driving Ford's Supervan
12 June 1976 - Cars for under £100
10 July 1976 - Land's End to John O'Groats on one tank
13 May 1978 - Ferrari 512 BB road test
19 January 1980 - Talbot Horizon road test
13 February 1982 - 4x4s tested on the farm 
17 April 1985 - Secrets of a lost British supercar
15 August 1990 - Giugiaro's vision of a 1990s Jaguar
28 April 1993 - BL's unseen concepts
16 March 1994 - Bentley's Concept Java
16 April 1997 - When Bugatti bit the dust
4 April 2001 - 0-260mph in 6.0 seconds
25 July 2001 - 180mph in a Chevrolet Corvette
Get the latest car news, reviews and galleries from Autocar direct to your inbox every week. Enter your email address below: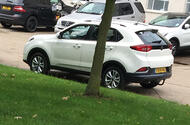 UK sales of MG's first production SUV are planned for 2016, but is already on sale in China
The MG GS SUV has been spotted testing on UK roads, having been unveiled at the Shanghai motor show back in April.
The new five-seat SUV was first previewed by the CS concept at the Shanghai motor show in 2013. It's already on sale in China, with a UK introduction earmarked for early 2016.
The production version of the GS was styled under the stewardship of MG design boss Anthony Williams-Kenny, in a collaboration between the company's Shanghai and Longbridge design teams.
The first-ever MG SUV adheres closely to the look of the well-received CS concept, with a highly contemporary look featuring a clear family resemblance to the recently introduced MG3, MG5 and MG6.
Key styling elements include a simple grille featuring the traditional octagonal Morris Garages badge, a heavily adorned two-tone front bumper, trapezoidal headlights, sheer surfacing, structured flanks, blacked-out pillars and an angled tailgate.
At 4500mm in length, 1855mm in width and 1675mm in height, the GS is 73mm longer, 46mm wider and 8mm lower than the Volkswagen Tiguan.
While earlier speculative reports suggested the new SUV was based on the same platform as the latest SsangYong Rexton, MG says the GS rides on a new scalable SUV architecture developed in partnership with SAIC. It has a wheelbase of 2650mm – 46mm longer than that of the Tiguan.
MG has confirmed one engine for the GS, although others are planned to follow, according to officials from SAIC's UK engineering headquarters in Longbridge. The in-house-developed turbocharged 2.0-litre four-cylinder petrol engine delivers a class-competitive 217bhp and 258lb ft.
However, the DVLA's records of this latest model spotted on UK roads suggest that a smaller, 1.5-litre petrol engine similar to that offered in the MG3 is also likely. The production version would likely be a more affordable turbocharged 1.5-litre four-cylinder petrol engine producing 168bhp and 184lb ft.  
On the initial GS model, drive is channelled through a standard six-speed dual-clutch automatic gearbox, with buyers set to be offered the choice of either front-wheel drive or four-wheel drive. In four-wheel-drive guise, the new MG is claimed to accelerate from 0-62mph in "around eight seconds". However, more detailed performance and fuel economy claims are yet to be made public.
Also planned for selected markets, including the UK, is a diesel variant of the GS. It is earmarked to receive the same turbocharged 1.9-litre four-cylinder unit already offered in various MG models, where it delivers 148bhp and 258lb ft of torque.
Get the latest car news, reviews and galleries from Autocar direct to your inbox every week. Enter your email address below: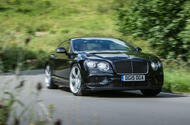 Go-faster Bentley Continental feels effortlessly quick despite its considerable weight The updated-for-2016 version of the Continental GT Speed, driven in the UK for the first time.Its modifications – for the most part – show Crewe tinkering with a light touch; inside, we're talking revised seat quilting on the standard Mulliner spec interior, larger paddle shifters and some new dials. Outside, to go with the new Bentley family front bumper, the Speed incorporates a bespoke diffuser and rear spoiler, the latter popping up from above the bootlid when things get sufficiently blurry.This the Speed remains inordinately good at doing thanks to the repeat deployment of the mammoth 6.0-litre W12 engine, which continues to make the GT's expansive engine bay look like Saddam's spider hole. It retains the same 626bhp introduced at its last refresh, a bewildering output marshalled by the eight-speed ZF automatic gearbox and responsible for making the model a confirmed 200mph-plus Bentley.Its status as the quickest GT means its maker has opted not to include the latest cylinder deactivation tech which makes the 'standard' W12 run as a slightly leaner six-pot in less demanding moments. Consequently, the fuel consumption is still rated at a heady 19.5mpg (think of that as a target to aim at), while its 338g/km CO2 emissions rank it above a Rolls-Royce Ghost. Prices start at £168,300.
Ford S-Max costs from £24,545
Can the new S-Max retain its title as the driver's seven-seater? Almost 10 years have passed since Ford first attempted to prove that a wee bit of style and dynamic rigour weren't necessarily qualities lost on the seven-seater segment.The S-Max that resulted has proven popular – not just with buyers who found its mix of practicality and well-groomed design appealing, but also with those of us who prefer to labour under the illusion that we might be piloting a large and high-sided saloon rather than a minibus.This, of course, was the point. Ford, apparently with its tongue nowhere near its cheek, still prefers to call the S-Max a 'sports activity vehicle', a marketing misnomer conjured up mostly to differentiate it from the slightly larger (and less shapely) Galaxy it firmly considers an MPV. The distinction, though, remains critical because once again the underpinnings – an evolution of the latest Mondeo's modular platform – are shared between the two.To bolster the car's appeal, Ford hasn't been shy with the application of technology. The S-Max is the first to use Ford's adaptive front steering system and there's now the option of intelligent all-wheel drive and an extensive line-up of overhauled or entirely new engines, including the latest range-topping 2.0-litre bi-turbo among a glut of similarly sized oil-burners, as well as the 1.5-litre Ecoboost petrol and its burly 238bhp 2.0-litre sibling.Atop it all comes the crucial renovation of the interior. Ford's quaint last-decade design theme has been replaced by something more modern and Mondeo-ish, along with a revised version of the Easy-Fold seating that was a big part of the model's appeal.Available in Zetec, Titanium and Titanium Sport trim levels, the S-Max starts at £24,545. It's around the same price as a Seat Alhambra, and still significantly cheaper than the new breed of affordable seven-seat SUVs typified by cars such as the Kia Sorento.Time to find out whether or not there's still a place for Ford's sportier option between the two.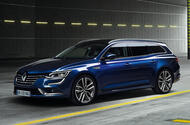 The Talisman will be the Renault Laguna's replacement in Europe, but it won't be coming to the UK
Renault's Laguna replacement, the Talisman, has been revealed in estate form ahead of its first public outing at the Frankfurt motor show. The Talisman will go on sale in Europe in the first half of 2016 in both saloon and estate forms, but won't be coming to the UK.
Design cues around the front end echo those of the next-generation Renault Megane, which is also due to arrive in 2016, while the Talisman's overall shape is similar to traditional saloons like the Mazda 6 and Volkswagen Passat.
Renault says the Talisman nameplate was chosen as it "conjures up notions of both protection and power. At the same time, Talisman is an easy word to pronounce and understand the world over".
The Talisman will come with a choice of two petrol and three diesel engine. The 108bhp 1.4-litre diesel engine is the most efficient of the range, with emissions starting at 95g/km when paired with the six-speed manual gearbox. A 1.6-litre dCi 130 and a dCi 160 are also offered, alongside a 147bhp and 197bhp petrol option.
Renault says that the new car will come with 4Control - a four-wheel steering system - and active dampers, which allow the driver to switch between Comfort, Sport, Eco and Neutral modes.
The Talisman name is already used on a four-door model sold in China. The aligning of the name with this new model shows Renault's ambition to create a more global car.
The Talisman has been a long time coming, with plans for a more premium executive saloon to replace the Laguna stretching back to 2012. Renault bosses told Autocar in 2013 that the next Laguna would need to be a more adventurous model, and would need to incorporate the "fluid and emotional" styling seen in Renault's smaller models. In particular, former Renault boss Carlos Tavares said inspiration would come from the Zoe, Captur and Clio models.
A Renault spokesman confirmed that the reason why Talisman would not be coming to the UK was the same reason why the new Espace won't be seen in this country: because D-segment saloons and MPVs are not a growth area in the UK, with market trends instead showing a desire for SUVs and crossovers. By contrast, in Europe the saloon and MPV market is still relatively stable.
Get the latest car news, reviews and galleries from Autocar direct to your inbox every week. Enter your email address below: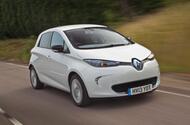 The £5000 grant will continue to be available to all plug-in cars that emit 75g/km of CO2 or less until at least February next year
The £5000 Plug-in Car Grant scheme has been extended until at least February 2016, the government has announced.
The scheme, last renewed in 2014, offers motorists £5000 off the price of plug-in cars that emit 75g/km of CO2 or less.
At the time of its last renewal, it was announced that the deal would be reviewed when 50,000 vehicles were sold through the scheme, a figure that is expected to be met in November this year after a 256% growth in ultra-low emission vehicle registrations in the first six months of 2015, compared with the same period in 2014.
Andrew Jones MP, Transport Minister, said: "The UK is now the fastest growing market for electric vehicles in Europe.
"We will continue to invest to help make this technology affordable to everyone and to secure the UK's position as a global leader."
Reacting to the news, Society of Motor Manufacturers chief executive Mike Hawes said: "With British buyers taking to ultra-low emission vehicles faster than anyone else in Europe, the extension of the Plug-in Car Grant is good news.
"The market for these vehicles remains small, however, so it is essential that the government continues to provide effective incentives for their uptake - including the Plug-in Car Grant and other measures."
The Mitsubishi Outlander PHEV is the UK's best-selling plug-in hybrid, and the manufacturer welcomed news of the renewal.
"We have seen ultra-low emission vehicles rapidly establish a 1% share of UK sales in a period of time unprecedented in automotive terms," said Lance Bradley, managing director of Mitsubishi Motors.
"We welcome the government's decision to continue these incentives in a way which recognises the fledgling nature of this low emissions market," he added.
More details on how the grant will be structured after February 2016 are expected in the government spending review in November.
Get the latest car news, reviews and galleries from Autocar direct to your inbox every week. Enter your email address below:
Mazda MX-5 vs every rival; Full scoop on Nissan's Z crossover; Ford S-Max road test; New Mercedes-AMG C63 Coupe revealed
This week's Autocar, dated 26 August, is our annual Junior Handling Day issue and we name the best sub-£30,000 driver's car of 2015.
The lineup of the year's hottest cars includes the Mazda MX-5, Honda Civic Type R, Renault Clio RS 220 Trophy and Mini John Cooper Works.
In our Sub-£30k shootout we split the contenders into three tantalising battles - Ford Focus ST vs Civic Type R; Caterham Seven 270R vs Toyota GT86 vs Mazda MX-5; and Mini JCW vs Vauxhall Corsa VXR vs Peugeot 208 GTi vs Clio 220 - before naming an overall winner.
Also driven in this issue:
Lamborghini Aventador SV - Does the limited-edition Aventador deliver the performance the car deserves?
Jaguar XF 3.0 TDV6 - Stonking V6 engine reveals even more of new Jag's talents
Mercedes-Benz V250 SE - Revised styling, updated infotainment and new tech for Merc's van-based MPV
Ford S-Max - can the new MPV retain its title as the driver's seven-seater?
In Autocar's news section we have the full story on Nissan's plan to bring its famous Z badge back as a radical sports crossover, as well as news on Alpine's hardcore and SUV models which could reach the market by 2017.
We've also got the lowdown on Honda's Project 2 & 4 show car, a concept that will be unveiled at the Frankfurt motor show and is likely to be powered by a V4 motorbike engine.
In our weekly columns, Matt Prior discusses how the law will soon change to allow closed-road motorsport without an act of parliament, and Steve Cropley's week in cars features his thoughts our Porsche Panamera Hybrid and a sighting of an electric Jaguar XE.
Elsewhere, James Ruppert tells us how it's become fashionable to buy old bangers, Nigel Donnelly picks out his top five robust motors that just keep on going, and our long-term BMW M4 receives a stiff bill from the garage after an altercation with a careless bus driver.
Autocar magazine is available through all good newsagents and for download from Zinio and the Apple iTunes store.
You can also buy one-off copies of Autocar magazine from Newsstand, delivered to your door the morning after.
Alternatively, never miss an issue – subscribe to Autocar magazine today.
Get the latest car news, reviews and galleries from Autocar direct to your inbox every week. Enter your email address below: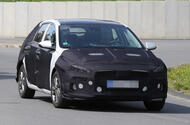 First pictures of Hyundai's third-generation hatchback, due to launch in two years with refreshed engine line-up and range-topping performance model
These are the first pictures of the next-generation Hyundai i30 hatchback, which has been spotted testing close to the Nürburgring ahead of a planned launch in 2017.
While the facelifted i30 range was only revealed earlier this year at the Geneva motor show, an all-new third-generation version is already in development. While this test mule's camouflage covers up much of its styling, we can see the new i30 will come with a revised grille similar to that used by the facelifted car and the updated i40.
Key to the success of the next i30 will be a range-topping performance version, which will be the first road-going model to come from Hyundai's N Performance sub-brand. That model has already been spotted testing at the Nürburgring, and will compete with the likes of Volkswagen's Golf R when it goes on sale.
While the exact engine powering the hot i30 N is unknown, Hyundai officials have confirmed it will be a turbocharged unit, using technology derived from Hyundai's i20-based WRC car, which is also built by the N Performance division. The Korean firm's current rally car runs a 1.6-litre four-cylinder turbocharged petrol engine with 296bhp.
Further down the range, the recently launched i30 Turbo will continue to be powered by its current 183bhp 1.6-litre 'Gamma' GDI petrol engine, while the rest of the i30's petrol and diesel engine range will be carried over with minor changes.
A hybrid version of the next i30 - using technology garnered from Hyundai's dedicated hybrid model coming in 2016 - can't be ruled out. The dedicated hybrid, which has also been spotted testing, mates the i30's 1.6-litre petrol engine with an electric motor.
Clues to the look of the next i30's interior could come from a recent preview picture for the US-market Elantra, which sports a minimalist, buttonless design and a redesigned centre console. The i30 hatch is sold as the Elantra GT in the US.
This early test mule also appears to be riding higher than the current i30, prompting speculation that Hyundai could be looking into launching a larger version of the i30 to take on the likes of Volkswagen's Golf SV in Europe. The regular hatchback, meanwhile, will face tough competition from the likes of Ford's Focus, the Seat Leon and the Volkswagen Golf.
Get the latest car news, reviews and galleries from Autocar direct to your inbox every week. Enter your email address below:
New Qashqai rival majors on practicality and usability and benefits from a long warranty, but lower-specification versions are the better bet The latest in a long line of small SUVs to go toe to toe with the fabled and class-leading Nissan Qashqai. Its launch marks the return of the Tucson name, last seen in 2009, and it's in effect a slightly larger replacement for the now-superseded ix35.Hyundai's new Tucson is going to have to offer up one stout package, though, if it's to draw buyers away from the alternatives already on sale. After all, this is a class populated by the likes of the aforementioned Qashqai, Mazda CX-5 and Honda CR-V.That said, before even turning a wheel, it's got much in its favour. For example, it comes as standard with a five-year, unlimited-mileage warranty. That eclipses the vast majority of its rivals, which typically feature three-year, 60,000-mile warranties.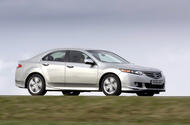 Rust may not be the car killer it once was but, says James Ruppert, don't think it's a thing of the past
Rust. Where exactly did that go? It usually lived in the sills and made your used purchase terminal in the old days. For the past 20-odd years, though, rot has been fairly low down on the 'what to look for' list. Mostly, it seems to be cosmetic.
Rust, then, is confined to all the rubbish from the 1960s, 1970s and early 1980s that would disintegrate before your very eyes after a couple of salty winters. Except that rust never actually went away. I have come across a few Mercedes-Benz CLKs and the odd E-Class from the famously fragile W210 era that have looked awfully crumbly. Late 1990s Fords weren't great, either. Fiestas and, in particular, Kas and Pumas would crumble quite alarmingly.
That was then, but right now I am indebted to reader Nick Williams, who recently bought a 2008 Honda Accord 2.4 automatic. He described it as fantastic "with every extra imaginable, but it had a rusting sunroof at the front. I think prospective buyers and current owners should peel back the rubberand look for any rust."
Nick had a conversation with Honda UK, which did the right thing and replaced the sunroof. As a rusty aside, he also complained that there was no spare wheel - only a spray can - so Honda gave him a spacesaver. It even valeted the car. So full marks to Honda customer service, but back to rust.
You still need to look for it. I've heard that Mazda MX-5s aren't that great and neither is the Honda S2000. Anything imported secondhand from the Land of the Rising Rust Bug needs extra-special attention, because the bodies don't need to last so long there.
Potentially, anything can be bitten by the bug, and location can have something to do with it. It is all very well picking up an OAP's marginal-mileage retirement Ford Mondeo from the salty air of Bournemouth's seafront, but it could bite you back at MOT time.
Indeed, the MOT test, with all its flaws, remains your best guide as to whether a vehicle is roadworthy or not. Otherwise, it is down to your common sense and going back to good old car-buying basics: checking for musty smells and dampness, carpet lifting and general poking around with a sharp screwdriver.
So should you ever buy a model with a reputation for rusting out? Well, every car is different and, crucially, is treated differently by each keeper. If you want the car, buy it, but bear in mind that long term the bodywork is always the really expensive part of a car to fix. Remember that and you will always remember to look for rust, whatever the year and whatever the model. Good luck.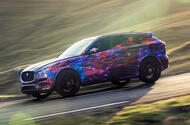 Jaguar says its upcoming F-Pace SUV will be a true driver's car, and will use chassis technology from the F-type sports car
Jaguar says the upcoming F-Pace has been designed 
to be a driver's car, with several elements of the 
new SUV's underpinnings using technology from the F-Type sports car.
This technology aims to improve the SUV's ride and handling abilities and includes elements such as a torque vectoring system. This works in conjunction with the torque-on-demand all-wheel drive system and aims to improve agility in corners. 

The system reduces power 
to a wheel in the event of a 
loss of traction in a bid to eliminate understeer.
The F-Pace's steering has also been developed using knowledge gained from the F-Type. The electric power-assisted system has been set up to provide as much feedback as possible, with Jaguar saying it is capable of responding to even the smallest input.
Other confirmed technology includes double wishbone front suspension and integral link rear suspension.
This latest information comes only a short while after the British firm issued fresh pictures of its new crossover in testing, giving the clearest view yet of how the F-Pace will look. The images showed the car being evaluated in cold conditions and also under extreme heat in Dubai.
The F-Pace prototype also acted as the support vehicle for the first stage of the Tour de France, the so-called Grand Depart, and carried team members and support equipment for the likes of British riders Chris Froome, Luke Rowe and Peter Kennaugh as part of Team Sky. This stage was short by the Tour's standards, as it is a 13.7km time trial. The car then joined riders at the finish in Paris.
The F-Pace is due to go on sale in early 2016, following its debut at the Frankfurt motor show in September. The car's first appearance was confirmed in April by the firm's brand director, Steven de Ploey.
Other recent spy shots have caught what appears to be a supercharged 3.0-litre V6 version of the F-Pace out on the roads. Although the prototype is still heavily disguised, several elements mark it out clearly as a performance version of Jaguar's new SUV. It features red brake calipers, two large tailpipes and chunky alloy wheels.
The supercharged 3.0-litre V6 petrol engine is set to be the most powerful version of the F-Pace when it goes on sale, although there is a chance that the supercharged 5.0-litre petrol V8 that's used in many of Jaguar's high-performance models will also make it into the F-Pace.
The staple engines in the F-Pace are expected to be the new four-cylinder Ingenium petrol and diesel units which feature in the Jaguar XE saloon and Land Rover Discovery Sport.
The spy images confirm that, as expected, Jaguar's first production SUV – which the manufacturer is referring to as a 'sports crossover' – will share its overall design and shape with the C-X17 concept car unveiled at the Frankfurt motor show in 2013.
The size and dimensions are said to be near identical to the C-X17, which is 4.72m long – 400mm longer than a Range Rover Evoque – and 1.65m tall.
The F-Pace has a more upright stance than Jaguar's typically rakish car designs, although the plunging roof at the rear means it retains a sleek profile. The bluff front end treatment suggests the SUV will follow the C-X17's lead in that the driver will look over the bonnet, rather than down it.
The concept had what Jaguar called "an assured driving position" set at "a low height", similar to that of an Evoque, and this is likely to be a staple part of the F-Pace driving experience.
The C-X17 concept also featured a muscular ridged bonnet. This hallmark of other Jaguar models appears to have been retained under the camouflage of the F-Pace prototype.
The spy pictures also offer a glimpse at the cabin and dashboard of the Jaguar F-Pace. Aside from the data-collecting apparatus, it bears little resemblance to any current JLR production model, suggesting the Jaguar F-Pace will reach production with a fresh interior look.
The launch of the new F-Pace marks the first time the 80-year-old manufacturer has entered the SUV market. The F-Pace name is understood to have been chosen to emphasise both its relationship in style and character with the F-Type sports car and to recall Jaguar's famous 'Grace, Pace, Space' slogan of the 1950s and 1960s.
The new SUV squarely targets Porsche's Macan and BMW's X4 models. It should command a starting price of about £35,000, reaching upwards as far as £50,000.
The new car is expected to become one of Jaguar's two best-selling models, performing strongly in major markets such as China and the US and rivalling the volume of the upcoming XE compact saloon.
Once established in the market, the two debutantes should push total Jaguar volume beyond 200,000 units a year, up from last year's figure of about 80,000.
JLR's global operations director, Andy Goss, says the emergence of the F-Pace is a direct result of the company's plan to spend more than £3.5 billion a year on product development over the next few years.
The F-Pace's styling was created in-house by design boss Ian Callum and his team at the beginning of 2013. It is a relatively long car for its compact billing, nearly 40cm longer than a Range Rover Evoque and about the same height.
These generous dimensions allow the car its curvaceous exterior ("If you want form," says Callum, "you need space"), which includes muscular haunches, classic Jaguar bonnet lines and strongly raked front and rear windscreens.
Callum admits it took time to shape a convincing SUV in the image of the F-type. "This was our first crossover design," he says, "and, yes, it was hard. We found the initial results quite difficult and disappointing. The profile, the 200-metre view, was the hardest bit, and that's what sells cars. But I reckon we cracked it in the end."
The F-Pace will be built in Jaguar's new Solihull plant.
"We've been talking about a product onslaught for a quite while," says Goss, "and now it's beginning." 
Although the F-Pace will be Jaguar's first SUV model, it might not be the only SUV for long. Jaguar is understood to be eyeing up a whole family of SUVs to follow on from the F-Pace, with one of the most promising ideas being a smaller model to rival BMW's X1.
Q&A with Andy Goss, Jaguar Land Rover global operations director
F-Pace is an unusual name. Why did you choose it?
"There was plenty of discussion about it. We wanted to emphasise the car's relationship with F-type, which we view as our emotional fulcrum. And 'pace' implies performance, which the car certainly has. Besides that, it's a word we own; we started using it in the famous 'Grace, Pace, Space' slogan many years ago."
How important is the F-Pace to your range?
"It could be the biggest seller we're going to have, similar in size to the XE. The sector volume has tripled in five years, and all predictions say it'll expand by another 30 per cent in the next five. These cars sell well in all the big markets: China, the US and Europe. It's really important for us."  
Are you worried about a clash with Land Rover?
"Not at all. The F-Pace's exterior design and its obvious reference to the F-type is one huge point of differentiation. And whereas Land Rovers are focused on off-road performance, this car is very definitely aimed at highway use. Frankly, the real surprise is that we haven't done it before."
Even without the F-Pace or XE, you've had a good year at JLR, right?
"Yes. Total sales were up nine per cent to 462,678 units and Jaguar had its best year for a decade. We have 12 new product actions planned this year and anticipate retailing 500,000 cars for the first time in the company's history."
Get the latest car news, reviews and galleries from Autocar direct to your inbox every week. Enter your email address below: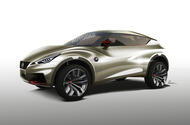 Nissan is expected to resurrect its Z name for a new crossover - this Autocar image shows how it could look
It's not a sports car, but the next Zed could do more for the brand - and the balance sheet - as a small crossover

The prospect of a Z car having more than two seats may not be totally alien to Nissan's engineers - but the idea of it being a jacked-up crossover certainly is. 

Nissan is about to take a huge risk with its sports car sub-brand by creating a new Z car in the image of a crossover, and it knows it. As creative director Shiro Nakamura describes it, this will indeed be a "revolution".

Sadly, that's what is required - because when all's said and done, the 370Z has done little to boost Nissan's image or its sales sheets. Its combination of a hefty V6 petrol engine and rear drive has looked increasingly old-school against ever more sophisticated rivals.

Furthermore, the sports car market itself has been shrinking, squeezing the potential impact of even a successful Z car.

We'll know more in a few weeks, when we finally get to see what Nissan's interpretation of a sports crossover looks like. But the company has a terrific record on SUVs, and if it can mix that slightly raised stance with entertaining dynamics and a trick hybrid powertrain, it could have a fascinating Z on its hands.

Not a traditional one, I grant you, but potentially a sales hit.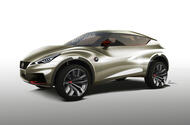 This Autocar image shows how Nissan's new Z car could look
Radical next-gen Zed to be previewed by baby SUV concept at Frankfurt - and it's due on sale by 2017

Nissan is preparing a radical sports crossover to bring its famous Z badge back to the masses - and the new model is poised to hit showrooms within the next 18 months.

The Japanese brand has been weighing up a variety of options on where to take the famous Z brand as the current 370Z is phased out by 2017. It has considered a higher-powered sports car and a cheaper, more basic four-cylinder model - as previewed by the iDx compact coupé concepts that were revealed at the Tokyo motor show in 2013.

However, sources indicate that Nissan has settled on a more radical solution: making the next Z car a small sports crossover. It's expected to showcase how such a model could look as early as the Frankfurt show next month.

Blog - Is a Z crossover a wise move for Nissan?

An SUV-influenced Z car is likely to infuriate purists, but Nissan believes it can still satisfy a large number of Z fans while also tapping into a huge new customer base, particularly in the US, where the badge has equity and the crossover market far outweighs the sector for small sports cars.

Senior Nissan officials have recently hinted at a rethink on the Z strategy. Earlier this summer, the firm's chief creative officer, Shiro Nakamura, told Australian media: "I don't think the 
next one [Z car] is going to be the 390Z. It's not growing because it's already big enough. You know, 350 started with 240, 300, 350 and then came 370. I don't think we should go higher.

"We haven't yet decided anything about whether next-generation Z should be anything larger or with more power," he said.

In a clear reference to a switch of vehicle type, Nakamura added: "We 
need to take another path. I feel Z needs more revolution than evolution. I think 
GT-R has to stay the most high-performance symbol 
of Nissan technology and Z 
is a more affordable sports car or a sporty car to get the younger people."

Nissan executive vice-president Trevor Mann has supported Nakamura's view. He told Autocar: "We do 
know that Z, as a sub-brand 
if you like, has high equity. 
The market is not like it 
used to be, though, so I 
think that if you do something, you'll need to do something which is quite special, to attract the segment."

When asked to comment directly on Nakamura's statement, Mann said: "If that's what Nakamura said, then I guess he might be right, in terms of re-establishing the links to something people can connect to."

That's likely to be a reference to price. It's thought the new Z crossover will be notably cheaper than a £30k 370Z and its range-toppers could overlap with the lower-end editions of the Qashqai.

The new Z will be similar in size to the Nissan Juke although, unlike the current version of that car, the new model will be based on the Renault-Nissan Alliance's latest CMF B platform. Its engine line-up will be able to include the full range of 1.6-litre turbocharged petrol engines.

It's unclear if the new model will be a coupé-esque three-door or if Nissan will include a pair of rear doors with hidden handles. It's likely that the roofline will compromise rear cabin space for adults, though, making the Z crossover a car with occasional rear seats at best. The more extreme concept, which will be designed to gauge reaction after the Frankfurt show, may even be a two-seater only.

The new platform has the flexibility to accommodate hybrid powertrains, so it's possible the concept at least will showcase a set-up featuring an electric motor to drive one of the axles.

Nissan is likely to argue that the GT-R has managed to mix strong performance credentials with a rear-biased four-wheel drive system and that a hybrid crossover can provide some of the same character - while potentially also offering zero-emissions running for short distances.

The Z should allow Nissan to compete in the lucrative middle ground on small crossovers, attracting buyers who don't want as large a car as the Qashqai but who find the Juke too quirky nor not sporty enough.

The demographics of Juke buyers are said to have confounded Nissan product planners. The average age of Juke buyers is in the late 40s, but this is based on really young purchasers and a surprisingly large band of elderly customers.

A Z-badged crossover would also be a legitimate choice of vehicle for the Nismo tuning division. Nissan hopes to extend the sub-brand's influence with cars like the forthcoming Pulsar Nismo, but senior figures insist it will not be applied to models that don't allow it to deliver genuine performance credentials.It's thought the continued strength of Juke sales has allowed Nissan to consider adding a further small crossover to its line-up.

The Juke is expected to evolve for its next incarnation, which will bring a switch to the same CMF B platform as the new Z crossover (and the next Micra) but only mild changes to its exterior styling.

"We think the Juke still looks a really fresh car," Mann said. "Sales are still really strong and the customer base continues to expand for that type of vehicle. I think that'll be reflected in what comes next for Juke."

Z cars - the six pack the crossover must follow

240Z (1969) - The original Z was first shown at the 1969 Frankfurt show and went on sale the same year. It started with a 149bhp 2.4-litre six-cylinder engine in the US. This was upgraded to a 2.6 in 1974 and a 2.8 in 1975, resulting in name changes to 260Z and 280Z.

280ZX (1978) - The second-generation Z car carried over the 2.8-litre engine and five-speed manual gearbox of the first generation but little else. It added more luxury and was larger. A turbo boosted power and performance in 1981, taking the output up to 178bhp.

300ZX (1983) - The second-generation Z car carried over the 2.8-litre engine and five-speed manual gearbox of the first generation but little else. It added more luxury and was larger. A turbo boosted power and performance in 1981, taking the output up to 178bhp.

300ZX (1990) - The engine remained largely the same for the fourth-generation Z car, but it now had 219bhp in naturally aspirated form and 296bhp in turbo guise, bringing a 0-60mph time as low as 5.0sec. This version also introduced the first Z convertible, in 1993.

350Z (2002) - The Z car was absent for five years after the 300ZX went off sale in 1997. It returned with the 350Z, the first Z model built after the creation of the Renault-Nissan alliance. It came with a 3.5-litre V6 engine.

370Z (2009) - The coupé version of the 370Z went on sale in early 2009, with the convertible following towards the end of the same year. It came with a 3.7-litre V6. Power outputs have ranged up to 339bhp for the latest Nismo edition.

Get the latest car news, reviews and galleries from Autocar direct to your inbox every week. Enter your email address below:



All-new Optima will go on sale across Europe towards the end of this year and be seen in European specification at the Frankfurt motor show
The 2015 Kia Optima saloon has been revealed in European specification ahead of its first public outing at the Frankfurt motor show next month. The all-new Optima was first seen in US specification at the New York motor show in April.
This fourth generation of the saloon is marginally longer, taller and wider than the previous version, and the wheelbase has been stretched by 25mm.
Kia says this allows for increased passenger space and luggage room in the Optima, with rear passengers receiving a 25mm increase in leg room, as well as more shoulder room. Overall storage space has also increased, from 505 litres in the old Optima to 510 litres in the new version.
The new Optima is also stiffer than the outgoing version, with more than 50% of the body made from high-strength steel. Other advances include increased use of carbonfibre-reinforced plastic, with the aim of reducing weight in order to lower the levels of noise and vibration. The model will be available with 16, 17 and 18in alloy wheels.
While the US variant of the Optima will be built in Georgia in the United States, the car heading to the UK will be built in Korea.
The sole engine option in the UK is a revised version of the current car's 1.7-litre CRDi diesel engine, with power increased to 139bhp and torque pushed to 251lb ft between 1750-2500rpm. Emissions of CO2 have been reduced to 110g/km.
The engine is coupled to Kia's new seven-speed dual-clutch automatic transmission, which is already offered in the facelifted Ceed, although a six-speed manual gearbox is also offered.
A plug-in hybrid variant will follow in 2017, while a high-performance version, liked to be badged as 'Optima GT', is set to arrive towards the end of 2016. An estate version of the Optima, which was previewed by the Sportspace concept in Geneva this year, is planned for the middle of 2016.
The options list for the new Optima includes an electronically controlled suspension system, which allows drivers to select between Normal and Sport modes.
UK trim levels will be announced closer to the Optima's UK on-sale date. The version is set to follow the same trim level set-up as the outgoing model, which would mean 1, 2 and 3 specification.
Options include the choice of a 7.0in or 8.0in touchscreen infotainment system running the latest version of Kia's AVN software. Other options include a wireless charger for mobile phones, as well as adaptive cruise ontrol, autonomous emergency braking, lane keeping assistance and blind spot detection systems.
Get the latest car news, reviews and galleries from Autocar direct to your inbox every week. Enter your email address below:
The Ferrari 488 GTS will cost around £200,000 when it goes on sale
New cars from Alfa Romeo, BMW, Ferrari, Maserati, Mercedes-Benz and many more will be seen at the September show

The 2015 Frankfurt motor show opens its doors on 17 September and Autocar will be there to bring you the very latest news, pictures and analysis from one of the most important motor shows of the year.

With new model launches expected from the likes of Audi, BMW, Ferrari, Jaguar, Infiniti, Mercedes-Benz and Porsche, the Frankfurt show is already shaping up to be full of exciting new metal. Take a look at the key cars coming to Frankfurt in our guide below.

Frankfurt motor show 2015 - the key cars

Alfa Romeo Giulia - Alfa's crucial BMW 3 Series rival was unveiled in Milan last month. It is powered by a Ferrari-developed V6 engine in its sportiest form.

Audi e-tron quattro concept - All-electric SUV concept previews Audi's upcoming Q6, which is due to launch in 2018.

Audi A4 - The fifth-generation A4 goes on sale in the UK this November, with new engines and evolutionary styling.

Bentley Bentayga - After months of spy shots, Bentley is likely to finally pull the wraps off its £130,000 luxury SUV in Frankfurt.

Borgward SUV - The first model from reborn Borgward will be an SUV, which will go on sale next year.

BMW 7 Series - BMW's range-topper will go on sale in October and features a heavily reworked and lightweight chassis. A plug-in hybrid variant is scheduled for 2016.

BMW X1 - Second-generation compact SUV will be offered in both front and four-wheel drive forms for the first time. It goes on sale in the UK this autumn.

Citroen Mehari concept - Mehari-inspired concept car will preview a convertible version of the C4 Cactus.

Ferrari 488 GTS - Open-top Ferrari gets 660bhp from its twin-turbocharged V8 engine, and will go on sale next spring for around £200,000.

Fiat 500 - Prices for the updated 500 supermini start at £10,890 - the car will go on sale in the UK this September.

Infiniti Q30 - Infiniti's Volkswagen Golf rival was first revealed in concept form in Frankfurt in 2013. It will go on sale at the end of this year.

Jaguar F-Pace - We've caught glimpses of Jaguar's SUV in its role as Team Sky's support car, but Frankfurt will mark its official public debut.

Kia Cee'd facelift - Set to go on sale in the UK this October, Kia's facelifted hatchback features a more economical range of engines.

Kia Sportage - Next-generation Sportage is moving upmarket in a bid to take on Nissan's Qashqai. It features styling inspired by the KX3 concept car.

Lamborghini Huracán Spider - With an open-topped version of the Huracán due to arrive this year, Frankfurt would mark a likely debut for the Huracán Spider.

Lotus 3-Eleven - Lotus's 450bhp sports car was unveiled at the Goodwood Festival of Speed and costs from £82,000.

Mazda Koeru - Mazda's five-door SUV concept is thought to preview a seven-seat version of the CX-5.

Mini Clubman - Mini's family-size model has grown again. It goes on sale later this year for a starting price of £19,995.

Mercedes-Benz C-Class Coupé - Mercedes has already confirmed that its three-door variant of the latest C-Class will make its debut in Frankfurt before going on sale at the end of the year.

Mercedes-Benz GLC - The successor to the GLK SUV, Mercedes' GLC will do battle with the Audi Q5 and BMW X3 when it goes on sale this autumn.

Mercedes-Benz S-Class Cabriolet - Four-seat luxury convertible will go on sale in the UK early next year, costing upwards of £100,000.

Peugeot 308 R Hybrid - With PSA boss Carlos Tavares spotted testing the 493bhp hybrid, it's likely that a production variant of the 308 R Hybrid concept is coming.

Porsche 911 facelift - A minor facelift is planned for Porsche's 911 range, including styling changes and interior upgrades.

Renault Mégane - Renault's crucial mass-market hatchback has been spotted testing, revealing that the third-generation Mégane will take on a sportier stance.

Smart Fortwo Cabriolet - Due to launch in the third quarter of this year, Smart's new open-top Fortwo comes with a folding fabric roof.

Suzuki Baleno - The production version of Suzuki's iK-2 concept car takes the shape of a B-segment hatchback.

Vauxhall Astra - Vauxhall's new Astra will go on sale soon after its Frankfurt debut, with prices starting from £15,295.

Volkswagen Tiguan concept - VW's second-generation Tiguan SUV will be previewed by a thinly disguised concept car in Frankfurt.

Stay tuned to this page as we'll be updating this preview with news of further cars at the show. And stay tuned to Autocar for all the latest Frankfurt motor show news.

Get the latest car news, reviews and galleries from Autocar direct to your inbox every week. Enter your email address below: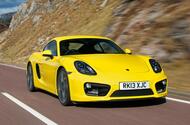 As subjective as questions come, but what does it take to be the best car in the world?
There are very, very few new cars that I would consider branding with the title 'best car in the world'. Yet I got to thinking about this because I found myself bandying the phrase around more often than ever before in the past year or so, and I started to wonder whether I was being overly generous, or whether the recent crop of star cars really are that good. 
So the question is this: what makes 'the best car in the world'? Of course, it's subjective, but I do think there's a formula that works for me and which might apply to a lot of enthusiasts.
For the sake of this blog ever ending, we'll stick to cars that are currently in production.
Next, I'm afraid hypercars are out. I would undoubtedly be woozy with delirium if I ever drove a LaFerrari, Porsche 918 or McLaren P1, but for me, that sort of level is too extreme for practical road use and too expensive by half to be remotely viable for being labelled the best car in the world. They may well be from an engineering point of view, but otherwise, no.
My 'best cars in the world' all have to be much more accessible. In fact, to my mind, they have to be attainable to a large audience. Elite cars are all well and good, but if the average person (forgive the vagueness) is never going to be able to buy or run one - even used - then it feels too aspirational to deserve the title. Basically, these have to be the best cars in the real world, not the world in which we've all won the lottery. 
The car also has to be fun on road and track. By which I mean it has to be able to deliver The Buzz – that simple feeling of elation at how flipping brilliant driving is – both at ordinary speeds on the road and when given free rein on a circuit. 
There also has to be an element of practicality. Boring, I know, but while I probably have a higher tolerance and level of affection for flyweights than most, to be the best car in the world there must be some portion of comfort to make it enjoyable as an everyday motor.
I could live with two seats, so with that I'm down to three 'best cars in the world'. In no particular order, they are:
1. The Ford Fiesta ST. If the Peugeot 205 GTi has a spiritual successor, this is it.
2. The new Mazda MX-5. A complete delight. Feels and looks special, without 'special' costs attached. 
3. Porsche Cayman S. Manual, of course. I'd go for the GTS or GT4, only a high price and a distinct unwillingness to depreciate suggests they might fall short of my 'average person' attainability requirements.
Yes, it's a cop out to have three winners, but I don't think there has been another time in my 10 years at Autocar and What Car? when I've been so willing to stick such a weighty label to this many cars. Rejoice, for we're clearly in a golden age of some sort, and that heralds equally remarkable things for the used market in a few years. 
There you have it. Ever a conversation starter, and with arguments guaranteed, what are your best cars (or best car, if you're more decisive than me) in the real world?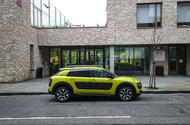 The Royal Borough of Kensington and Chelsea ticketed Autocar's Cactus and then towed it away to the local compound 30 minutes later. The release fee was £265.
The government wants parking enforcement schemes to be fair and transparent, but local councils are stretching the rules to the limit

A decade ago, parts of Britain went parking ticket mad. The number of tickets issued and the amount of money raised by councils spiralled upwards. It was claimed that one central London council actually raised more money from parking fines in one year than it did from council tax.

Even though those excesses have been mostly choked off by central government, there's still plenty of marginal behaviour in play when it comes to parking tickets, clamping and towing.

I know this because earlier this year the Department for Transport issued a long and detailed document on this subject, titled National Guidance to Local Authorities: Parking Policy and Enforcement.

It's a goldmine of fascinating information, because all the guidance can be clearly read as trying to stamp out various types of bad behaviour in local parking regimes.

Mind you, I'm only reading this fine document because of a run-in I had with the Royal Borough of Kensington and Chelsea (RBKC) at the beginning of the year.

I had an appointment at a hotel on the River Thames at Chelsea. I turned up to park for the hour in an area known as Lots Road, not too far from Stamford Bridge. Although all the parking bays were empty, the meters would only take coins and I was cashless.

RBKC seems to be the only central London borough that doesn't offer smartphone or card payment. I looked around for the controlled parking signs. There were none, despite there being plenty of poles along the sides of the street.

Two other cars were parked on a yellow line, so I did the same and left. Unfortunately, the yellow line was 'live' until 6pm that day.

Half an hour later, my girlfriend appeared to tell me the Citroen C4 Cactus had been given a ticket. I was annoyed but, considering the importance of the meeting, decided that I'd have to live with it.

I returned to the car 30 minutes later and the car had gone. It didn't take long to find out why: the RBKC towing bay was at the end of street. The Citroen had been lifted and shifted about 200 yards from an empty street.

Two minutes later, I was being asked for £265 to get the Citroen back. The chap in the queue in front of me was an RBKC resident trying to recover his Skoda Yeti. It had been towed the morning his resident permit expired. "Funny," he said to me. '"The council used to write to you and remind you of the expiry date."

The day after the car was towed, I went back to Lots Road to look for the 'controlled zone' signs that I had missed. You've already guessed that there was no sign when entering Lots Road, nor any along the length of the road.

Nor was there one at the west end of the road, right outside the RBKC towing pound. The only sign, heavily faded, was visible if approaching from another road - which would be unlikely, because it is not a through road.

I carefully appealed the ticket and received a letter of rejection (sent from 'Transport and Technical Services' 90 miles away in Worthing) in short order. The crux of the refusal was the claim that "the CPZ (Controlled Parking Zone) signs are not required to be on the entry points to each and every street".

More to the point, I was amazed that the Citroen had been towed, because it was in no way a traffic obstruction; the street was virtually empty and has very little through traffic.

That's where the Department for Transport's guidance document comes in. It very clearly reinforces a number of important points. "Parking schemes are not allowed on a purely money-raising basis," it says. Detailed accounts for the schemes must be made public. And "enforcement authorities should run their CPE operations efficiently, effectively and economically".

On the subject of removing vehicles, the DfT document is also quite clear. "The Secretary of State is of the view that it should only be used in limited circumstances such as where the same vehicle repeatedly breaks parking restrictions and it has not been possible to collect payment for penalties, primarily because the keeper is not registered, or is not properly registered, with the DVLA. Where a vehicle is causing a hazard or obstruction, the enforcement authority should remove rather than immobilise. Immobilisation/removal activity should only take place where it gives clear traffic management benefits."

Of course, I would argue that an absence of CPZ signs in a street of bare poles is in breach of the DfT guidelines, and the old-school cash-only parking meters look suspiciously like another hurdle for drivers. And removing a car from an empty street must surely be in breach of the government guidance.

But the killer is the economics of RBKC's car removal operations, which, remember, the government thinks should not run at a loss.

According to RBKC's Annual Parking Report 2013-14, the borough made £102,000 from clamping and £1.34 million from removing cars from the side of the road. However, the operations cost a massive £1.89m, so the council ended up £441,000 in the red.

This must be the first ever case of highway robbery making a loss.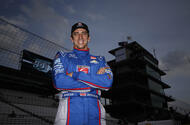 After F1, Justin Wilson carved a decent career in US motor racing
British racing driver Justin Wilson, who has died from head injuries sustained in an accident on Sunday, was a fine racer and an even better bloke

My fondest memories of Justin Wilson, the 37-year-old Yorkshire-born Indycar driver who died yesterday as a result of severe head injuries in a freak accident at Pocono Raceway, have nothing to do with his career in big-time single-seater racing, although that was his chosen form of the sport. They speak volumes for the bloke himself, however.

We were in a Ford Mustang at Brands Hatch seven or eight years ago, Justin driving, lapping with a bunch of track-day specialists in Caterhams and race-prepped Lotus Elises. He knew the circuit backwards having been an instructor there in his formative years and was obviously well used to much more powerful cars. So he was having a good time giving it everything.

We must have done eight or 10 laps in the big beast, regularly creaming Caterhams that should have been much faster, the pair of us grinning at the sheer fun of it. I can still see the mirrored shock in the eyes of one 340R driver in front as he spotted our swaying, bellowing Ford for the first time, bearing down on his rear at speeds and in attitudes he simply hadn't seen before.

For all our tyre-smoking velocity, Wilson never seemed to do anything more than guide the big beast with casual, deft movements, and I hardly felt his gearchanges. It was a consummate demonstration of skill, but Justin laughed it off as if anyone could do it. But then, he was about the nicest guy you could meet: friendly, gentle, amusing and modest. He even sustained the grin while I took the Mustang's wheel for a few laps.

Half an hour earlier Wilson has been the star performer at the annual general meeting of shareholders in Justin Wilson plc, the company he and his mentor Jonathan Palmer formed in 2002 — and listed on the London Stock Exchange — as a means of raising the funds Justin needed to buy a Minardi F1 drive for 2003. For a decade afterward he'd meet investors annually at Brands — I was one of 900 who chipped in  — and if you were very lucky he'd take you for a few laps. It must have been a chore, but he made it fun.

All successful racing drivers need deep reserves of aggression and ego, but no-one disguised them better in normal life than Justin. Yet there was no disguising his determination. He always had to struggle against two problems: the lack of funds and a 6ft 4in beanpole frame difficult to accommodate in single-seat racing cars. After an all-arms-and-legs start in karting, he progressed through Formula Vauxhall to become the first-ever Formula Palmer Audi champion, and then he beat Mark Webber to the 2001 F3000 championship, winning by a record points margin.

The natural step was F1, but Justin didn't have much luck in the solitary season we helped to finance. Unable to take a mid-2002 opportunity at Minardi because he couldn't fit the car, Wilson did get into a revised Minardi for 2003, scoring an 11th place before transferring to the short-lived Jaguar team for the season's last five races. His best-ever F1 race was his second-last in the US, where he came eighth and scored his one and only championship point. The following year Jaguar needed paying drivers and Christian Klien bought Justin's seat from under him.

He moved to the US, part of a wave of Brits who crossed the Atlantic, racing Champ Cars until that series ended, then Indycar. Justin's results in America were decent and included victory in the Daytona 24 Hours sportscar race in 2012. Although he started 2015 without a drive he was drafted in by Andretti Autosport to bolster its Indycar campaign and finished a fine second in his penultimate race in Mid-Ohio.

During his time in America he had turned into a dedicated family man — he leaves a wife and two young daughters — and will probably be best remembered by his many friends and admirers not so much for race results but for being the fine person he was.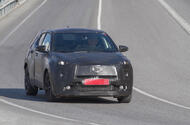 Production version of C-HR concept will rival the Nissan Qashqai when it is launched next year
Toyota looks set to expand its crossover range with a car based on its C-HR concept after disguised mules were spotted testing.
Expected to go on sale early next year, the crossover looks to be sticking closely to the concept's polarising looks in a bid to break into the hotly contested category.
These spy shots show two different prototypes of the same crossover testing on different continents. Both show that the C-HR's two-door coupe style has been translated into a four-door layout.
The car will be made on the manufacturer's TNGA platform, which Toyota hope to build 50% of its models on by 2020, with a four-cylinder powerplant and CVT gearbox, sitting above the RAV4 in Toyota's range. It's expected to be the same size as a Nissan Juke but offer interior space that rivals the Qashqai.
The C-HR was revealed at last year's Paris motor show. It was distinguished by its heavily flared wheel arches, angular haunches and 'floating' rear light clusters, all of which gave it a notably broad stance.
Potential customers are 
said to have favoured the concept's looks over more traditional interpretations of crossover themes.
The C-HR's looks were created in response to a demand from company boss Akio Toyoda for Toyota's designers to be more adventurous. Recent designs for Lexus, Toyota's luxury brand, have shown the initial response to that demand.
The new crossover is expected to be revealed at the Geneva motor show next March.
Toyota's architecture has been designed to underpin everything from compact to large vehicles in front, rear and all-wheel drive configurations. The next-generation Prius will kick-start use of the TGNA platform.
One of the most significant benefits of the platform structure is that it allows greatly enhanced interior space. The C-HR concept was said to have the interior space of a Qashqai despite having slightly smaller dimensions.
Toyota has also launched a move to upgrade the quality and functionality of its interiors, and this is set to be accelerated as new-generation cars come on stream.
Rumours suggest the crossover could be called Auris Cross, although there has been no official confirmation of this. It was first spied testing in Germany around 18 months ago.
New Toyota UK president Paul van der Burgh declined to comment on specific launch plans but said: "The high growth rate of sales of that sort of vehicle would be very good for us. The concept was excellent and the styling, in particular, stood out. If such a product were to launch, I'm confident 
it could be a best seller."
Get the latest car news, reviews and galleries from Autocar direct to your inbox every week. Enter your email address below: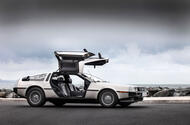 Delorean DMC-12
Want to arrive in style by stepping out of a car with dramatic doors? Here are five ways to make an entrance, from £1000 up

Time was that only the jet set could afford a car with space-age gullwing doors, but now door-lead design statements can be had for as little as £1000. Here are some of the best

1 - Delorean DMC-12 (1981-1982)

The sorry tale of the DeLorean DMC-12 is one of the best known in the modern motor industry. None of the complex politics, drugs, cash or Hollywood glitz should hide the fact that the car was as much a dynamic disappointment as it was a commercial one.

The technology was eye-catching, though. The brushed stainless steel exterior skin remains a style statement today, but what really made it stand out from the crowd was gullwing doors.

The Renault-derived engine was not butch enough to haul this stylish 1980s car around with any real urge, which was lucky, because the rear-engined configuration gave it tricky handling. It was built over such a short period that there was no time to develop the car or improve its build quality issues, either.

But popular culture has been kind to it and prices are strong; £18,000 may put you behind the wheel and £30,000 gets you the best.

2 - BMW Z1 (1986-1991)

The original BMW Z roadster is thought to have taken its name from its rear suspension: the first iteration of the firm's multi-link rear 'Z' axle. However, the Z1's doors are one of its most striking features, dropping down inside the sills.

The rest of the body is similarly space age, being a glassfibre shell based around a steel and carbonfibre monocoque. Beyond that, it used the engine and gearbox from the 325i. No bad thing, but it makes the 171bhp Z1 quick rather than devastatingly fast.

With just 8000 Z1s built, choice is limited and prices high. The starting price for one worth having is £20,000.

3 - Peugeot 1007 (2004-2009)

Adding sliding doors to a compact city car looked like the ideal way to conquer the difficulty of getting in and out of a two-door car in a compact urban parking space.

Sadly, the 1007 was a one-trick pony. Peugeot knows a thing or two about making great small cars, but the heavy, lethargic 1007 was a betrayal of its small car heritage.

At least the premium pricing when new is no longer an issue, because £1000 will net you a good one. Go for a strong colour and quirky interior and keep your fingers crossed that they develop a cult following. You might be lucky.

4 - Bond Bug (1970-1974)

Rear-wheel drive does not necessarily make something a driver's car but, equally, numbers often don't completely tell the story about performance. And so it is with the Bond Bug. It takes 23 seconds to reach 60mph from rest and is maxed out at 75mph, but you never want more.

The fabric doors and lifting canopy ensure that it feels faster, as does the inherently nervy stability that comes with a tricycle set-up with a single front wheel. They only come in orange and only basket cases are cheap. Although £4k will get you a runner, you should budget twice that for the best.

5 - Toyota Sera (1990-1996)

Although the Toyota Sera was never officially sold in the UK, plenty made the journey over here. Its doors are dihedral, not gullwing, and the solution was elegant enough to catch the eye of McLaren F1 designer Gordon Murray, who incorporated them into his supercar. 

Earliest examples are now 25 years old, but the Sera still has a futuristic air about it, helped by a 'glass canopy' look that makes it look like something from the Jetsons. Roadworthy examples are now available from around £2000, and they'll never be worth less.

Get the latest car news, reviews and galleries from Autocar direct to your inbox every week. Enter your email address below:



Our reporters empty their notebooks to round up this week's gossip from across the automotive industry
This week's industry gossip includes news of a possible return of the Panamericana name for Porsche, the next-generation Ford Ka, and what models could get Audi's 'virtual cockpit'.
New Ford Ka
The next-generation Ford Ka will arrive in late 2016 or daly 2017, according to company sources.
The current Ka was developed in a partnership with Fiat, but it is understood that the new Ka will be a stand-alone Ford product.
Read more: Ford Ka review; Ford Edge SUV to launch in 2016
Audi A3 could get 'virtual cockpit'
It is feasible that Audi's 'virtual cockpit' technology will appear in smaller models.
The fully digital instrument cluster, regarded as one of Audi's signature pieces, has been rolled out in the new Q7 and A4 and is likely to be available in the soon-to-be facelifted A3.
"We are looking very carefully at the interface so it can be integrated into smaller cars," said head of electronics Ricky Hudi.
Read more: Audi Q7 review; Audi A4 review
F-Pace and C-X17 designed together
Jaguar designed the F-Pace and the C-X17 concept alongside one another rather than creating the production car after the concept.
Jaguar design chief Ian Callum said: "The C-X17 was done at the same time we were designing the F-Pace.
"For us, C-x17 was a really nice verification of what we were doing."
Read more: Jaguar F-Pace full details; Jaguar F-Pace to spawn SUV family
Ingenium 2.0-litre diesel engine replaces 2.2-litre SD4 in Land Rover Discovery Sport
The 2.2-litre SD4 diesel engine that powered the Land Rover Discovery Sport at launch is no longer available.
Instead, the Ingenium 2.0-litre engine from the Jaguar XE in two states of tune is now the sole engine choice in the seven-seater.
Land Rover says all examples of the Discovery Sport with the old 2.2 engine have now been sold.
Read more: Land Rover Discovery Sport TD4 180 review; Jaguar XE 2.0d 180 Portfolio review
Porsche Panamericana name to return?
The Panamericana name could be in line for a return; Porsche has applied for a trademark for the name.
It last appeared on a concept car that was shown at the 1989 Frankfurt motor show and was designed to investigate a way to dramatically renew the looks and styling of the 911.
Read more: Porsche 911 facelift full details; The first, worst, fastest and best Porsche 911 GTs
Get the latest car news, reviews and galleries from Autocar direct to your inbox every week. Enter your email address below: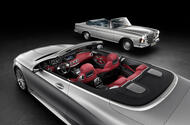 Fabric-roofed, four-seater Mercedes-Benz S-Class will go on sale in the UK early next year, with prices starting from upwards of £100,000
The first official picture of the 2016 Mercedes-Benz S-Class  Cabriolet has been released prior to the upmarket, open-top four-seater making its world debut at the Frankfurt motor show in September.
The new convertible has been pictured alongside an example of the last version of Mercedes' open-top S-Class, which was sold from 1961 to 1971.
The latest S-Class Cabriolet, known under the internal codename A217, is being pitched as a direct rival to the Bentley Continental GT Convertible, with prices set to start at upwards of £100,000 and extending to more than £200,000 when UK sales get under way in early 2016. 
The S-Class Cabriolet uses what Mercedes-Benz sources describe as the largest folding fabric roof to ever see series production.
The fully automatic, multi-layer arrangement, which receives a generously dimensioned glass rear window, has been styled to replicate the roofline of the S-Class Coupé, although packaging requirements mean the rear section is more heavily angled, giving the new car much smaller rear side windows and a considerably longer boot deck than its fixed-roof sibling.
Among the changes to the body are a substantially strengthened windscreen frame, altered belt line treatment, new rear wing panels and a heavily reworked boot lid.
To preserve its exterior line when the roof is lowered, the S-Class Coupé also receives a large tonneau cover behind the rear seats. It opens at the press of a button to accommodate the roof structure, stowing it in the forward section of the boot.
Among two initial petrol engines planned to see service in the new car are a 449bhp twin-turbocharged 4.6-litre V8 petrol unit in the S500 cabriolet, and a 577bhp twin-turbocharged 5.5-litre V8 engine in the S63 AMG cabriolet.
Later on, Mercedes-Benz also plans to add a 621bhp twin-turbocharged 6.0-litre V12 to the line-up in a plush, range-topping S65 AMG cabriolet.
Although it is yet to be confirmed, Autocar understands the S-Class Cabriolet will be sold as standard with rear-wheel drive, along with the option of Mercedes-Benz's 4Matic four-wheel drive system on at least one model.
Other technology planned to be brought over from the latest S-Class Coupé includes an advanced tilt function that forms part of a reworked magic ride control system capable of leaning the car in to corners in a manner similar to that of a motorcycle.
The same system also boasts a road scanner function that digitally reads the road surface and automatically alters the stiffness of the hydraulic dampers for optimum ride comfort.
Inside, the new open-top Mercedes provides seating for four, with the individual electronically adjustable rear seats separated by a centre console. Owing to the inclusion of the storage area for the roof behind the cabin, the boot capacity fails to match the 400 litres offered by the S-Class Coupé.  
Along with its cutting-edge chassis technology, the S-Class Cabriolet is also set to receive a wide range of high-end driver assistant and safety systems as either standard or optional. 
Included is a new head-up display system, adaptive headlights with an automatic high-beam assistant, the semi-autonomous Distronic Plus system with steering assistance, a collision-prevention feature that automatically applies the brakes when an impending impact is detected at speeds between 4mph and 124mph, an active lane-keeping function and infra-red night vision.
Further comfort features will include a fragrance dispenser, a massage function for the front seats and a series of high-end Burmester surround-sound audio options, including a 3D system that Mercedes-Benz officials have told Autocar has been specially developed for the open top qualities of the S-Class Cabriolet.
Get the latest car news, reviews and galleries from Autocar direct to your inbox every week. Enter your email address below: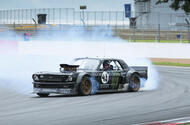 Gymkhana and rallycross star Ken Block shows us how to drift in his all-wheel-drive Ford Mustang
Ken Block, the star of Gymkhana videos, world rallying and rallycross talks us through what got him in to motorsport, why he loves drifting and how he manages to make a car drift so far... before climing aboard the 845bhp Hoonigan Ford Mustang V8 at Silverstone to show us exactly how its done.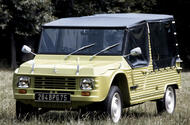 Citroen hints at Cactus M name and trademarks e-Mehari, which could hint at electric four-wheel drive version of the car
Citroen will unveil a "bold and creative" concept car at the Frankfurt motor show, which is believed to invoke the utilitarian look of the 2CV-based Mehari, which was built between 1968 and 1988. The car is rumoured to be called Cactus M, after Citroen Tweeted a picture of a surfboard carrying the name, alongside the statement: "The summer holidays may now be drawing to a close, but we've been preparing an exciting project…"
Beyond that, the Citroen Cactus M has only been described as showcasing a "vision for the future of the automobile through a strongly designed concept car".
However, Autocar can reveal that Citroen recently applied for the trademark on the e-Mehari name, suggesting the car could have an electric or hybrid powertrain.
In addition, an insider has suggested that extreme concept ideas could include a clip-on canvas roof, an open load bay and another variation on the Airbump theme launched on the C4 Cactus. As such, it also invokes the open-topped Citroen Lacoste concept, which was the original concept for the Cactus.
It has been suggested that the car, once stripped of its concept extremes, will show how a convertible version of the C4 Cactus could look. While that car is expected to be a more conventional interpretation of a convertible, insiders say Citroen is eager to spark memories of the Mehari in its concept as part of its push to remind people of its new philosophy of building cars with a simplicity of purpose at their core.
In addition, the Mehari weighed less than 600kg and was powered by a 602cc two-stroke engine; both lightweight design and low capacity but capable powertrains are at the core of Citroen's future product plan.
The Mehari was sold around the world as a mild off-roader and light truck. Around 150,000 were sold in the 20 years it was built, including in the US. It took its name from a fast-running camel that was at one time used by the French cavalry in desert warfare.
The e prefix to the Mehari trademark raises the possibility of a production car getting an electrically assisted four-wheel drive system. The original Mehari was sold as a 4x4 between 1979 and 1983.
Get the latest car news, reviews and galleries from Autocar direct to your inbox every week. Enter your email address below:
Fourth-generation Prius will be the first model to be based on Toyota's new modular architecture
Toyota's fourth-generation Prius has been spotted undisguised ahead of its planned debut at the Frankfurt motor show next month.
The pictures taken of the car on a marketing photoshoot reveal a look that's been heavily inspired by the Mirai hydrogen model. 
The new Prius will go on sale in the UK early next year and face competition from a new generation of family-orientated hybrids from the likes of Hyundai and Kia.
Underpinning the next-generation Prius is Toyota's New Global Architecture (TNGA). Unveiled in March of this year, the new modular platform is essentially a kit of "lighter, more compact" components which will be used for a range of front and rear-wheel drive vehicles from the Japanese manufacturer.
Toyota says the new architecture will make its models stiffer and lighter, as well as allowing it to mount engines lower down. The result should be cars that ride and handle better and provide improved safety and better fuel economy.
As well as the added benefits to drivers, the manufacturing costs associated with building cars on the new platform are understood to be dramatically lower. Investment in a TNGA-based car is around 40% lower than on a similar model from 2008. It's understood that the money saved by the new platform will be re-invested in new vehicle technologies, which could include autonomous driving systems.
The first early-stage Prius test mules were spotted as far back as 2013. They appeared to show that the new Prius would adopt a more conventional instrument cluster than the all-digital unit used by the current third-generation car.
More recent spy pictures of the interior, however, confirm that the new Prius will still use an all-digital array, but will feature updated software and graphics. A sleeker centre console design can also be seen, alongside a larger central screen for the infotainment system.
Powertrain options for the new Prius have yet to be revealed, but it's expected to be offered with an evolution of today's hybrid set-up, which combines a 1.8-litre petrol engine with an electric motor to produce a combined 134bhp and up to 76mpg. Power is channeled through a CVT. As with today's car, both conventional and plug-in hybrid options will be offered.
Speaking to an Australian news website last year, sources close to Toyota were quoted as saying the company was targetting a 10% improvement in fuel economy - suggesting the new model will be capable of returning up to 84mpg.
The same source also claimed the next-generation Prius would come with nickel-metal hydride batteries as standard, but a lithium ion battery pack would be optional. 
Given the versatility of Toyota's new platform, it's safe to assume that a replacement for the larger, seven-seat Prius+ will be planned for later in the car's life cycle.
The new Prius will enjoy only a few months of sales in Europe next year before new rivals begin to fight for hybrid supremacy. Among the new generation of models is a dedicated Hyundai hybrid, which has already been spotted testing and will go on sale in Europe by the end of next year. A concept car previewing this model is expected to be seen at the Frankfurt motor show.
Hyundai's sister brand Kia is also planning a dedicated hybrid model and has pledged to have its car on the road by the end of next year.
Read more:
Toyota reveals new next-generation vehicle architecture
Get the latest car news, reviews and galleries from Autocar direct to your inbox every week. Enter your email address below: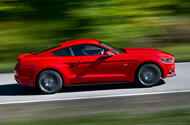 Around 1800 orders have been taken for the new Ford Mustang in the UK, which starts at £29,995 and is available in right-hand-drive form for the first time
Around 1800 orders for the new Ford Mustang have been taken in the UK since January this year.
Huge demand for the new Ford Mustang, which is available to order now and priced from £29,995, means the UK order book for the US-bred performance car is already full into the middle of 2016.
Read our first drive of the 2015 Ford Mustang
The all-new car is the first Mustang to be offered in right-hand-drive form and comes with a choice of two engines. 
Ford says 70% of UK buyers have chosen the 410bhp, 386lb ft 5.0-litre V8-equipped model, which costs from £32,995 and sprints from 0-62mph in 4.8sec.
The final power output is actually 5bhp lower than that of the left-hand drive version. This is due to the location of the steering assembly on the right-hand side of the engine, necessitating a new exhaust manifold, which resulted in a small reduction in peak power, according to Ford. Torque, acceleration, top speed and fuel consumption figures are not affected.
The other 30% of UK customers have opted for the entry-level 2.3-litre Ecoboost petrol engine, which develops 313bhp and 320lb ft. This variant can hit 62mph from rest in 5.8sec.
There is the option of either six-speed manual - which 55% of customers have chosen - or six-speed automatic transmissions. The automatic adds £1500 to the price.
The 5.0-litre V8 will be upgraded to 500bhp within 18 months of the car going on sale. In launch specification, the V8 emits 299g/km of CO2 and can return a claimed 20.9mpg, while the Ecoboost option emits 179g/km of CO2 and returns up to 35.3mpg. US markets will also get a 3.7-litre V6 option.
Click here to see our history of the Ford Mustang gallery
The first right-hand-drive models are already rolling off the production line at Ford's plant in Flat Rock, Michigan, with first deliveries expected in November. Buyers have been told that it will take around 12 weeks for the car to reach them once it has left the plant.
Ford of Britain boss Andy Barratt said: "We are now sold out beyond July next year, although that's not a reason not to go into a dealership and buy one. I will do my very best to ensure we look after every single customer in the right way."
The pricing means the new Mustang substantially undercuts perofmance rivals such as the Nissan 370Z, BMW 4 Series and Audi A5.
Ford has launched the new Mustang in both convertible and 'Fastback' bodystyles. The convertible body style is around £1500 more expensive than the equivalent Fastback, which 80% of customers have chosen.
Standard kit in the UK includes 19in alloy wheels, a performance brake package, xenon headlights, LED tail-lights and a rear diffuser. Inside it gets dual-zone climate control and Fords latest Sync2 infotainment system with nine speakers an 8.0in screen.
There are 10 colours to choose from, including yellow and orange hues that are bespoke to the Mustang, while the options list includes upgraded seats. 'Race Red' is the most popular colour among UK buyers so far, accounting for 23% of all orders.
The new Ford Mustang made its public debut at the Detroit motor show in 2014. It is the latest global model developed under the 'One Ford' plan, but Ford claims that the character has not been altered as a result. "We didn't decide to do a global Mustang," said programme boss Dave Pericak. "We decided to take the Mustang global. Everything we do is to make a Mustang, and then take it global with homologation. We didn't change the recipe." 
According to Pericak, the fact that the hugely successful outgoing model was the conceptual starting point is partial proof of that, even if "the only commonality is the wheelbase - every sheet metal panel is different and only two fasteners are retained".
Most significantly, the new Mustang now has independent rear suspension, a move that comes 30 years after most manufacturers jettisoned live rear axles. The change in set-up greatly improves ride quality, while the front suspension has also been redesigned to help make the car suitable for a global audience.
Even so, Ford has admitted it is looking at improving the low-speed ride comfort of its new Mustang ahead of its 2015 European launch. 
Autocar test-drove the Mustang in Los Angeles in 2014. It received praise for its performance and high-speed handling but there was criticism of its low-speed ride, which was rated as being short of the compliance needed for UK roads. "As soon as we play with the low-speed damping we risk harming the car's handling," said global engineering chief Raj Nair. "Even so, we're about to begin testing and there are some things we can do."
An initial run of 500 Mustangs was offered for sale across 20 European countries during a special promotion at the 2014 UEFA European Championship final. During the match - held between Real Madrid and Atletico Madrid - the cars, including 130 right-hand-drive cars for United Kingdom, were offered for sale and sold out in less than 30 seconds. In total, more than 9900 buyers tried to buy the cars.
Get the latest car news, reviews and galleries from Autocar direct to your inbox every week. Enter your email address below:
Renault's crucial next-gen hatch has been spotted testing and gets more mature looks and a higher-quality interior, on sale next year
The new Renault Mégane will go on sale in the UK early next year, with its styling heavily influenced by the new Renault Espace and Talisman models.
These latest spy pictures show undisguised tail-lights for the first time that look similar to the tail-lights on the Renault Clio, and less camouflage around the front bumper.
This more mature and more premium look has been revealed in the French media and has also been evident in recent spy pictures of the Mégane. This suggests that all new Renaults upwards of the Mégane's expected 4.4m length will adopt this look, while the smaller Twingo, Clio and Captur will retain a more heavily stylised design.
The upmarket move is driven by the need for the Mégane, which is based on the Renault-Nissan CMF platform that also underpins the Qashqai and Kadjar, to compete for sales with the likes of the Volkswagen Golf. The European sales success of the Peugeot 308 has also added further impetus to Renault's ambitions.
The interior of the new Mégane is expected to feature higher-quality plastics and a sharper design than before, with many control functions on top models transferred to a large central touchscreen, as available on the new Espace. Depending on spec, cars are expected to get either a 7.0in or 9.0in touchscreen, while 
the interior is said to have been designed with a greater focus on driver ergonomics.
Five-door and estate models will be sold, with Renault expected to make more of the Mégane's sporty credentials on these models. It is not known if a three-door coupé model will be part of the line-up.
Spy pictures have shown the car testing with a roof-mounted lip spoiler, while the roofline is notably more raked than that of the Golf. It is not expected to get the Talisman's four-wheel steer facility, however, as the technology is seen as too expensive to be justified by buyers in the sector.
The new Mégane is expected to be unveiled at the Frankfurt show in September and go on sale in the UK early next year. It is seen as key to Renault's continuing sales growth - nearly 1.45 million Meganes have been sold since the current model went on sale in 2008.
"We won't be going back to the shape of the Mégane II," UK product manager Yann Le Graet told Autocar last year. "The low roof gives us something different from the Golf. It makes the Mégane more sporting, more appealing."
The Mégane II was a huge success, winning the European Car of the Year award in 2003 and going on to become the best-selling hatch in its class just after launch.
"We think the [current] facelifted model is competitive on price, equipment and styling," said Le Graet. "The all-new model will win us back more retail customers.
"We will have to concentrate on retail customers and this will also help our user-chooser sales."
Read more:
Blog - Will the new Renault Megane sell here?
Get the latest car news, reviews and galleries from Autocar direct to your inbox every week. Enter your email address below: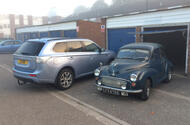 If you drive an old car, you need to keep your wits about you. So why do drivers of modern cars drive so badly around them?
I still own my first car.
It is a 1967 Morris 1000. It has around 48bhp, 61 lb/ft of torque and a top speed of 73mph. I say around, because at 48 years old, it has earned the right to have lost a little vigour. It is dogged, rather than fast. Tough, rather than exhilarating. 
The Minor was the first car I drove on my own. As a youngster, I went as fast as I dared in it, which, given the modest power, was rarely enough to break a speed limit. I span it, hit kerbs, clipped the odd parked car during poorly executed parking manoeuvres and basically conquered the poor driving techniques and habits that come with inexperience. All of them at low speed and in relative safety. It simply wasn't fast enough to get me in real trouble.
At the same time, my mates were having far more serious spills in MkII Fiestas and Vauxhall Novas, which happily they recovered from, even if their more powerful, more fragile front-wheel-drive motors didn't.
As I got older, and owned more cars, I came to appreciate the Minor for its ability to communicate exactly what it was doing, even when travelling at walking pace.
My Morris Minor has disc brakes on the front, which is an upgrade from standard, but there is no servo assistance. Any force you apply to the brakes is transmitted directly and it's a very manual process. Press too hard and the brakes lock up. Don't press hard enough and you will hit something. Slowly. 
The clutch pedal is a similarly analogue affair, attached to the clutch fork and release bearing by a threaded piece of steel. No hydraulics or cable operation to smooth things out. You need to carefully balance the millimetres (actually, the few thou) between a kangaroo start and a stall. That said, the unassisted steering is actually thoroughly modern in operation, being light and direct, but drive over a lolly stick that has been left in the road, and you'll feel it ripple through the rim of the spindly tiller.
All of this meant that, as a young and dumb driver, I at least got to recognise what the car was doing, and what I was doing wrong. It taught me to drive, long after I'd handed my L-plates back. It's that closeness, that affinity with this humdrum little saloon which means it has never been sold.
Like a lot of people with old cars tucked away, I don't use it as much as I might.
There are few less intimidating things to see on the road than a Morris Minor, but despite this, drivers of more modern cars seem to treat it, and me, as something of a threat. People pull out in front of us, cut into the lane we are in and refuse to merge in turn. Drivers will literally take their lives in their hands to overtake on B-roads, even if I'm keeping up with the other traffic.
If you drive something old, you sort of come to expect it. In the natural hierarchy of road users, old cars are at the bottom of the heap. The truth is, though, like so many folk driving things that are more challenging to pilot than a modern supermini, you have to be a better driver, rather than a worse one, to get to where you are going.
Recently I spent a week driving the Minor from home to Autocar's suburban London office, and in that time something tangible happened. It made me a better driver.
In saying better, I'm not talking in the 'locker room' sense. It's not being fast, or about car control. It's not technical, per se.
When driving old cars, you have to heighten your awareness levels simply to avoid accidents. When a modern car hops in front of you and immediately stamps on the brakes, it's a massive issue. Old car drivers leave appropriate stopping distances but modern motorists like to fill those gaps, in case you might slow them down for a second or two. They are in a modern car. They outrank you. They are better than you. Get out of the way. 
When they do cut in, you have to drop back, only to have some other turbo diesel twonk do precisely the same thing a minute later.
You don't have the airbags, crumple zones, AEB or any other safety kit to look after you if the worst happens. You are acutely aware of your vulnerability and you drive defensively as a result.
Similarly, when driving along, you are acutely aware of the noise. Old cars make noise. Lots of noise. Some of it is just because old cars do a worse job of insulating you from the mechanical bits. After all, it's old. But as the driver, you get very attuned to the noises, and if something starts to go wrong, you don't need a warning light to tell you. A slight change in frequency, a new rattle or unfamiliar squeak tells you that a bit of investigation is needed.
On a modern motor, TPMS systems tell you if your tyres have lost a pound or two of pressure from the tyre. On a Morris 1000, it starts to steer differently and tracks across the road. With no steering assistance or cosseting ride to insulate you from the road, you know exactly what is going on. No warning lights required.
This heightened sense of awareness stays with you when you jump back into a modern. Even with assisted brakes and steering, proper ventilation, a working radio and an airbag arsenal protecting you from other drivers, you are just more aware of what you are driving and crucially, of other motorists.
There is no doubt at all that even the crudest, poorest modern vehicles are considerably more civilised, safer and more efficient than a 1967 Morris Minor. You'll get no argument from me on that.
Despite that, I've no doubt that a spell behind the wheel of it or something similar makes even the most confident, competent modern driver more considerate, more aware and ultimately, a better driver.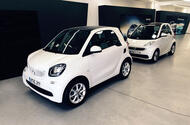 Honda Civic Type R is my personal Handling Day favourite; swapping old Smart ForTwo for new; Driving license change is pleasantly uncomplicated
MONDAY - Exciting visit to Bedford Autodrome for the first of our two annual handling days, the one for cars you can just about afford.
Star attraction was the new Mazda MX-5, whose ancestors have sometimes walked this competition, but you'll have to wait a short while to discover how it fared this time. I'm not risking strife with the bloke in charge of it all, Matt Saunders, by blowing the gaff.
My own favourite was the new Honda Civic Type R, a car I tried on the Goodwood hill this year and could definitely own for its speed, class, neat handling, crisp gearchange and mighty engine.
Hondas usually appeal to me, perhaps because I love those stories of the company's battling founder, Soichiro Honda, and because my first two-wheeler was a mid-1960s Honda Dream, one of those oil-tight, customer-focused Japanese bikes that came along and wrecked the British motorcycle industry overnight.
TUESDAY - Had the pleasure of meeting and riding with Jolyon Palmer at Bedford. He's the reigning GP2 champ, currently Lotus's reserve Formula 1 driver, and a decent bet for a regular grand prix seat next year.
He joined our test team for the afternoon and had some pretty interesting opinions, given that his usual smoker is a Toyota GT86, part of our field. Jolyon liked the Civic, too, and stroked it around the circuit with the delicious ease of someone whose 'other car' has three times the power-to-weight ratio. Full story soon.
WEDNESDAY - Day off wandering favourite roads of the Cotswolds in a BMW i3, one of my current (geddit?) favourites for the way it combines BMW's traditional driving strengths with the innate dynamic advantages of good battery cars (creamy acceleration, perfect accelerator response, gliding progress where others chunter) to make it Europe's best-driving electric car.
My secret agenda is to interest the Steering Committee in the car so we can get one onto the home fleet, but this still seems to be a work in progress.
THURSDAY - Up early for an easterly sprint, Cotswolds to Bedfordshire, in an old-tech Smart, of all things. My mother-in-law has run a leased Fortwo for the past few years and it was time to change old for new.
I knew the latest model would feel different, but since we were changing like for like – 63-plate White Passion with auto and power steering for 15-plater answering the same description – I wasn't prepared for the huge progress the latest model has made. Simply, it has grown up.
Its new three-pot Twingo engine, with new dual-clutch auto gearbox, sweeps away the much ballyhooed powertrain woes. A wider track (to go with a wider body) eliminates the other big fault: topply handling and a wild, lurching gait if you try travelling with the traffic. For the first time, a Smart has a proper primary ride. I delivered the car to its new owner with a rising sense that promise has been fulfilled, at last.
FRIDAY - More driving: Swansea this time, because it's past time to trade my raggy old paper driver's licence (1980 vintage) for a new, high-tech, plastic photo-ID job. If you have a foreign passport (mine's Australian) and want to establish that you're you without leaving your most precious document with the DVLA for weeks, you have to present yourself and your document together.
Drove in to the car park at 2pm, expecting an afternoon confronting bureaucracy. What I found was an organisation peopled entirely by helpful, proactive Welsh women with the sunniest dispositions I've ever encountered. They really were amazingly helpful and nice. I was away in 15 minutes, grinning at the ease of it all.
Get the latest car news, reviews and galleries from Autocar direct to your inbox every week. Enter your email address below:
The F-Pace will be a revolution for Jaguar when it arrives in 2016, but it's not the only SUV being planned by the company
When was the last time you saw a child seat in the back of a Jaguar?
That's probably not something you've ever considered, but you can be sure Jaguar's product planners are well aware of the brand's demographic limitations. That's precisely why instead of launching one SUV, the F-Pace, it's instead planning a whole family of more practical models.
A Jaguar dealer once told me a story about the XK coupé. It was a fine car but was, in effect, a two-seater with jump seats in the back.
The dealer said a Porsche 911 driver once appeared at the dealership and pulled the child seat out of the back of his car and tried to fit it into the XK, without success. With zero chance of accommodating his child, the frustrated Porsche driver had to abandon the idea of owning a Jaguar.
The short version is that affluent, early middle-aged car buyers are more likely to have children than not, and Jaguar has never really been seen as a family brand.
Indeed, the only serious family vehicle it has so far produced in its long history is the XF Sportbrake.
Associated with older buyers, Jaguar is pushing hard to gain a more youthful image. For example, the XF wagon and its sponsorship of the Sky cycle race team accompanied the launch of the F-Type sports car.
However, the F-Pace (so named in order to be associated with the F-Type) will be the long-awaited breakthrough for Jaguar's family image. It will be a premium SUV of the type that has been a huge seller for major brands from Audi to Volvo.
Jaguar wants to modernise its image. The F-Pace will be a huge leap in that direction.
Read more: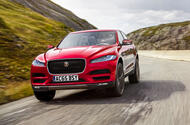 This latest Autocar image shows how the Jaguar F-Pace is likely to look
Jaguar's upcoming mid-size SUV will be the first in a new family of models, with coupé and and electric Jaguars planned

Jaguar is planning a radical family of premium SUVs to run alongside the new F-Pace, to be launched early next year - and the range could include a baby rival to the Mini Countryman and Audi Q1.

The F-Pace will be the first competitor Jaguar has had to the likes of BMW's X models and Audi's Q range, potentially opening up thousands of new sales as the SUV market continues to expand.Company insiders have all but confirmed additional models, saying: "Don't think in terms of one more SUV - think a family of SUVs."

The smallest, Q1-sized SUV would be little more than four metres in length. The company is believed to see more brand cachet in a small SUV than in a supermini and, crucially, it would be able to charge more for a jacked-up baby model than it would a rival for the Audi A1 or Mini hatchbacks.

Read more about the Jaguar F-Pace

A larger model than the F-Pace is not thought to be part of Jaguar's plans. There had been speculation that a seven-seat, long-wheelbase SUV was in the pipeline, but company insiders have indicated the performance intentions of the Jaguar SUVs will make a model larger than the F-Pace unlikely.

This sporty intention means that coupé versions are also thought to be likely. These will rival similar cars from fellow premium manufacturers.

BMW and Mercedes-Benz already offer coupé-styled SUVs, with more to follow. BMW's X6 and X4 will be joined by the X2 next year, while Mercedes will add a GLC Coupé to join its existing GLE Coupé in 2017. Audi also plans to release a Q6 and a Q8 in 2018 and 2019 respectively.

Like their rivals, any coupé offshoots of the F-Pace would have sweeping lines, although it is likely they would be available only with four passenger doors rather than two.

The sporty nature of the new family of SUVs will not be confined to their styling, as they look set to do justice to the 'Pace' suffix in their name.

It is expected that Jaguar will offer R and SVR versions of its SUVs, since the company plans to pitch the models as technical flagships.

Blog - Why Jaguar needs SUVs like the F-Pace

Previously, Steven de Ploey, brand director of Jaguar, has said of the SUV family: "We'd only do it on two key attributes: if the car was dynamically the most capable, and it met our design standards."

Meanwhile, an electric Jaguar has also been all but confirmed. Ian Callum, Jaguar's design director, has said recently, "It's coming", when talking about a potential electric Jaguar, while JLR has applied for a series of patents for technology related to inductive charging.

Jaguar has also applied to trademark the name 'EV-Type'. Although this is no indication of a definitive name, it does suggest that such a model is close.

Any future electric EV-Type looks likely to be made at the Magna Steyr factory in Graz, Austria. Jaguar has confirmed that it will be moving some model lines to the facility to free up capacity at its UK plants. The F-Pace will otherwise be built at the company's plant in Solihull in the West Midlands.

Get the latest car news, reviews and galleries from Autocar direct to your inbox every week. Enter your email address below:



Knockhill saw three different winners in the BTCC, with Matt Neal stealing a late victory and Gordon Shedden enjoying a home win
Matt Neal took victory in a thrilling third race at the British Touring Car Championship meeting at Knockhill, putting himself back into championship contention.
Neal, in his Honda Civic Type R, made a penultimate-lap pass on Adam Morgan to snatch victory. Morgan had established a comfortable lead on two occasions in his Ciceley Racing Mercedes A-Class, but saw one wiped out by a safety car and the other by his own mistake.
Starting a reverse-grid finale on pole for the third time this season, Morgan led stable-mate Aiden Moffat away at the start and proceeded to space between himself and the Scottish youngster in the opening laps.
A dislodged tyre stack at the chicane required a one-lap safety car so it could be replaced, and on the restart Morgan pulled away from Moffat again - this time to the tune of more than three seconds as the Scot came under pressure from Neal.
Moffat made a mistake at the chicane on lap eight and ran slightly into the gravel, releasing Neal - though Morgan actually extended his lead slightly in the first couple of laps that Neal ran second.
Soon enough Neal started to take chunks out of the advantage, and had it down to 1.3 seconds when Morgan hit the tyre stack at the chicane with two laps left.
Debris covered the A-Class's radiator grill and although Morgan managed to dislodge it at the hairpin, Neal was on his tail - and dived inside a lap later when Morgan left a gap open at the same corner.
Morgan threw everything at the Civic Type-R on the final lap but could not get back ahead, and so had to settle for second.
Earlier, Neal's teammate Gordon Shedden had claimed victory at his home track in the second race of the day, while Rob Collard emerged triumphant in the first.
Shedden's win was the most comfortable of the day, taking victory by three seconds in the end. His nearest challenger for a large part of the race was Mat Jackson, who stayed behind Shedden for 25 laps. He was passed by race one winner Rob Collard in the final third of the race, but Jackson managed to hold on to third.
In the first race, Mat Jackson took an early lead while Collard started fourth on the grid. Collard nipped ahead of Tordoff in the opening lap and was harrying Priaulx for second.
A brief safety-car period bunched up the leaders but when it ended a lap later, Jackson pushed his lead back up above a second - though the rear-wheel drive BMWs came back at him once their soft tyres were back up to temperature.
Jackson defended gamely, keeping Priaulx at bay without too much difficulty, but the pressure turned into contact when Priaulx tried to get around the outside of the Ford exiting the hairpin at three-quarters' distance.
Priaulx went onto the grass briefly, allowing Collard into second - and a lap later he cut underneath Jackson exiting the same corner and took the lead into Duffus Dip.
He retained his advantage to the flag, finishing 1.7s clear of Jackson who expertly fought off Priaulx to mark Motorbase's second meeting of the season with a fine second.
Despite not featuring on the podium at the weekend, Jason Plato did enough to retain his position at the top of the championship with 239 points, with Gordon Shedden and Colin Turkington close behind on 230 and 220 points respectively.