The Seat Ateca is the brand's first SUV model, which the Spanish car maker hopes will bring it back to volume sales
This is the Seat Ateca, the firm's crucial new SUV and a new model targeted squarely at the likes of the Nissan Qashqai.
The Ateca, unveiled at a special event in Barcelona by company president Luca de Meo ahead of a Geneva motor show debut next month, will reach the UK in September. It will be priced to compete head-on with the Qashqai (which starts from around £15,500), with orders being taken from late spring.
SUVs have been rapidly gaining popularity in Europe and last year became the biggest-selling type of car in the region for the first time. The Ateca, which has a similar footprint to the Leon, is Seat's first-ever SUV and should bring significant growth to the Volkswagen Group brand.
It will also be followed in early 2018 by a smaller SUV based on the next-generation Ibiza, itself due in 2017, with a larger SUV under investigation for production by the end of the decade.
Underpinned by the VW Group's versatile MQB platform, the Ateca is 4.36m long, which makes it just 2cm shorter than the Qashqai. It shares its 2.64m wheelbase with the Leon, while the 1.84m width and 1.6m height are also in line with the Qashqai.
The five-seat Ateca will be offered with standard front-wheel drive and optional four-wheel drive from launch and a familiar range of turbocharged petrol and diesel engines.
The entry-level petrol unit is the three-cylinder 113bhp 1.0 TSI. A 1.4 TSI with 148bhp and cylinder deactivation technology is the other petrol engine. A 1.6 TDI diesel is offered with 113bhp, and a 2.0 TDI with 148bhp or 187bhp.
All engines come with a six-speed manual gearbox as standard, with a seven-speed DSG dual-clutch automatic gearbox optional on more powerful engines. All-wheel drive is offered on the diesel engines only.
The most efficient model in the range is the 113bhp 1.6 TDI with a manual gearbox and front-wheel drive. This has CO2 emissions of 112g/km and combined economy of 65.7mpg.
Seat has already confirmed that an FR version of the Ateca will be offered at a later date, and that a performance Cupra version was under consideration. Versions with off-road styling are also likely.
The new Ateca, named after a village in Spain, sports a sharp, sculptured design evolved from that of the Leon range. Among the features are full LED headlights and the option of LEDs in the exterior mirrors that illuminate the floor area around the doors when they are unlocked, projecting the Ateca name at the same time. A similar feature is offered on Range Rovers.
The interior is also familiar from the Leon, borrowing that car's look and touchscreen infotainment system. The gearstick has been shortened, however, in order to to give a more sporty feeling.
Seat is pushing the sporting credentials of the Ateca. R&D boss Matthias Rabe describes the cars as having the "most dynamic ride possible", and "light-footed, precision handling". 
The Ateca's boot capacity is rated at 510 litres, reducing to 485 litres on all-wheel drive versions. This is significantly greater than the Qashqai's standard 430 litres.
Technology features on the Ateca include wireless smartphone charging, Apple CarPlay and Android Auto compatibility, and the ability to wave your foot under the tailgate for it to open automatically.
Another feature is an autonomous driving function called Traffic Jam Assist that steers, accelerates and brakes the car in heavy traffic at speeds of up to 37mph. Also new is a function called Emergency Assist that detects if the driver has been inactive for a period before pinging an alert, pulsing the brake and then bringing the car to a standstill if there's no reaction.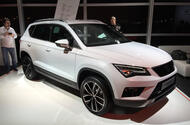 Facelifted Seat Leon, new Seat Ibiza, baby Seat SUV and possibly seven-seat Seat SUV to follow
The Seat Ateca SUV is the first of four new models to be launched by the firm in the next two years, Autocar has learned.
The Ateca will be followed by a facelifted Leon range later this year, and then next year an all-new Ibiza and soon after a compact SUV based on that car.
Autocar understands that the facelifted Leon will highlight a more grown-up look for the range. Work has also been done on refinement, and more technology and convenience options will been added.
The Ibiza that will follow in 2017 will be an all-new car, and the first to be based on the VW Group's MQB A0 platform. It will be a bolder looking car with improved quality, refinement and detailing. It will then spawn an SUV model, which will go head to head with the Nissan Juke.
Without confirming specifics about the models, design boss Alejandro Mesonero Romanos revealed that each new Seat would move the firm's design language up another step. However, he also said that even after the launch of the four new cars he would consider Seat to be in "phase one" of its rebuilding process.
He also ruled out the possibility of coupe-styled SUVs for Seat, saying they would not be practical enough. However he said that a larger, seven-seat SUV previewed by the 20V20 concept stood a favourable chance of making production by the end of the decade.
"To me that car is the top of phase one, phase two will be something else..." he told Autocar.
There are also no plans to bring back a large saloon to the Seat range after the demise of the Audi A4-based Exeo. Mesonero Romanos said this is because the market is now demanding SUVs rather than saloons. "It's not a question of not liking saloons, it's that we have priorities," he said.
Meanwhile, Seat boss Luca De Meo said that at the end of the model offensive Seat should be sustainably profitable, adding that the Ateca was a "major step" towards this. He added that SUVs were important in growing brand awareness according to Seat's research, and said the Ateca would be "a key challenge and opportunity" in helping boost Seat's image. De Meo also highlighted that "the perception of Seat outside the company is very different to the strength we see inside".
However, De Meo conceded that the VW Group emissions scandal had "obviously not been a good thing" for Seat. However, he added: "It has promoted a reaction of pride in our company, and a determination to do things better. It's an opportunity."
De Meo added that there were no imminent plans to launch electric cars or hybrids but said it would happen within the next five-six years. He also stressed that he wanted to avoid badge-engineering models in core segments in future, and said badge-engineered models like the Mii and Toledo were "not helpful for building the brand".
De Meo also reported sales growth for Seat in 2015. Although sales dropped in the UK, sales worldwide increase to 400,000 cars, the best figures since 2007. Germany is the top market for Seat, where it sold 87,800 cars last year, up 3.8% year on year.
The Martorell factory where all Seats are built alongside the Audi Q3 produced 477,000 cars last year, an 8% rise year-on-year and 60% up on 2009, when just 301,000 models were produced.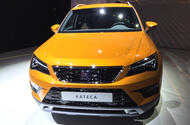 We discover why the timing of the Seat Ateca SUV's launch could not be better
Last year, SUVs were the best selling cars in Europe for the first time.
According to figures from Jato Dynamics, SUV sales grew 24% year-on-year to 3.2 million units and the market share increased 2.7% to 22.5%. In other words, almost one in four cars sold in Europe is an SUV, and it's going up all the time.
So Seat's timing with the launch of its first ever SUV, the Seat Ateca, couldn't be better. It's why the company, one that only really has a presence in Europe, doesn't just speak of one SUV but a future family of them. SUVs, if got right, could finally put Seat on the map.
Seat boss Luca de Meo gave insight at the unveil of the Ateca into just what it means for Seat.
He said SUVs presented an opportunity for "sustainable profitably and success for the Seat brand". He added that they can help make Seat "more relevant, and unavoidable for a big group".
That last point is the most interesting one. In the past it's been too easy to be able to walk past an over- or under-designed Seat and wonder what the brand stood for. But, in a process that started with the new Leon range, Seat has finally started to make more sense, as a brand with stylish but not fussy cars, sophisticated underpinnings, nice, practical interiors, strong dynamics, and good value. Throw all this into an SUV body and the market may finally take more notice. De Meo says he wants Seats to become "unavoidable".
For all the recent improvements, Seat now needs to move to the next level. A range of Leons will only take Seat so far. Seat has done its homework and discovered SUVs play an "essential role in brand image" and the arrival of one to a range "is the key contributor to the brand image improving", according to de Meo. This, he added, is a challenge but also an opportunity.
De Meo's comments carry extra weight as he has led the brand for just over 100 days now, and his early impressions are that Seat is a brand that's "underrated". "Coming here, the company is much stronger than perceptions," he says. "We do great quality cars. We make Audis. We design great cars ourselves."
So what does he think this is down to? "It's probably historical. There's been lots of ups and downs. There have been lots of changes in how people have come in with new plans, saying Seats are small cars, big cars, sporty cars. Now we have a good base."
Seat's image problem and low historical sales have been well documented, but it's a company I've always been fond of. Whatever you think of Seat, there's now a more coherent strategy in place, and it'll be fascinating to see if it truly - and finally - makes Seat "unavoidable".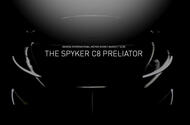 Spyker readies C8 Preliator for the Geneva motor show
The Spyker C8 Preliator has been teased ahead of the Geneva motor show. 
Spyker made the announcement on its official website, with the teaser image depicting the outline of the car and the shapes of a few key features with a series of wispy grey highlights. 
The C8 badge has not been used on a Spyker car since the C8 Aileron, which was revealed at the 2008 Geneva motor show. Unlike its namesake, however, Spyker's recent teaming up with US electric aircraft company Volta Volare following a period of financial flux means that the C8 Preliator will more than likely be a fully electric car. 
The Dutch supercar manufacturer is not releasing any more information about the C8 Preliator until after the car's official debut, so this is yet to be confirmed. 
Spyker's period of uncertainty involved a bankruptcy ruling and its subsequent overturning, before the firm merged with Volta Volare. The C8 Preliator will be the first car, concept or otherwise, that Spyker has revealed since the B6 Venator from 2013.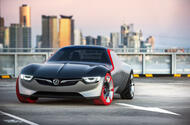 Vauxhall GT Concept
The Geneva show is one of the biggest motoring events of the year, with new cars making their debuts from Audi, Bugatti, Jaguar, Mercedes-Benz, Porsche and Volkswagen expected

The Geneva motor show takes place on 1 March and Autocar will be there to bring you the very latest news, pictures and analysis of what is traditionally one of the most important motoring events of the year.

As a European show, Geneva usually hosts vehicles which will have direct relevance to the UK market. For 2016, we're expecting new vehicle debuts from the likes of Audi, Bugatti, Jaguar, Mercedes-Benz, Porsche and Volkswagen. Among the new metal planned for Geneva are concept cars, production-ready vehicles and futuristic technology displays.

Keep checking back to this page as we'll be updating this list with details of more cars ahead of the show, and click here to read more Geneva motor show news.

Here are the key cars to watch out for at the Geneva motor show in 2016.

Geneva show 2016 - the key cars

Alpina B7 - with a new BMW 7 Series already out, Alpina is working on its own modified version. It's expected to use a more potent version of the 4.4-litre twin-turbo V8 engine that already features in the firm's B5 and B6 models. The car has also been teased in an official video.

Aston Martin DB11 - The production version of Aston Martin's new range-topping sports car will be seen in Geneva, but the car has already received an early debut thanks to a leaked image. Engine options will include a new 5.2-litre twin turbo V12 with around 600bhp.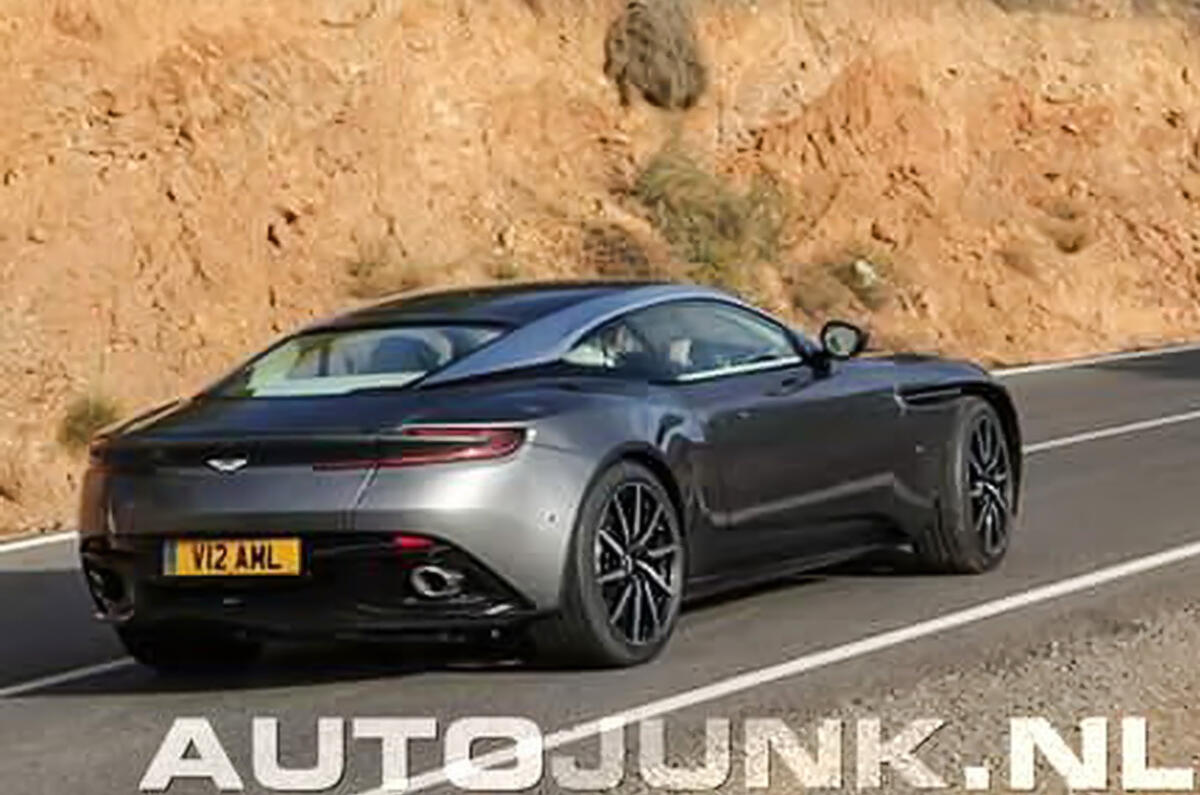 Audi Q2 - The smallest of Audi's SUV lineup was formerly known as the Q1, but has since been renamed Q2. When it goes on sale, the Q2 will act as a premium rival for the likes of the Nissan Juke and Renault Captur.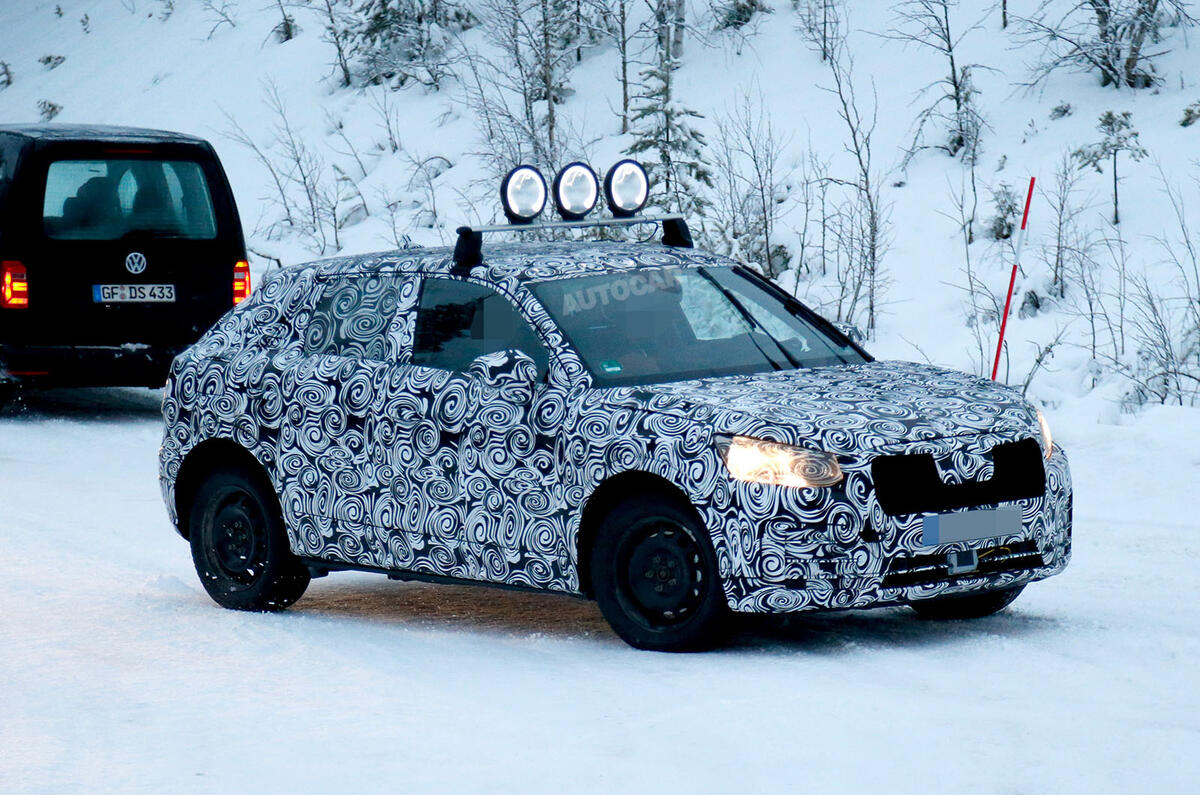 Audi RS Q3 Performance - The new Q3 range-topper adds 27bhp and 11lb ft to the RS Q3, increases 0-62mph acceleration to 4.4sec, and delimits the top speed to 167mph.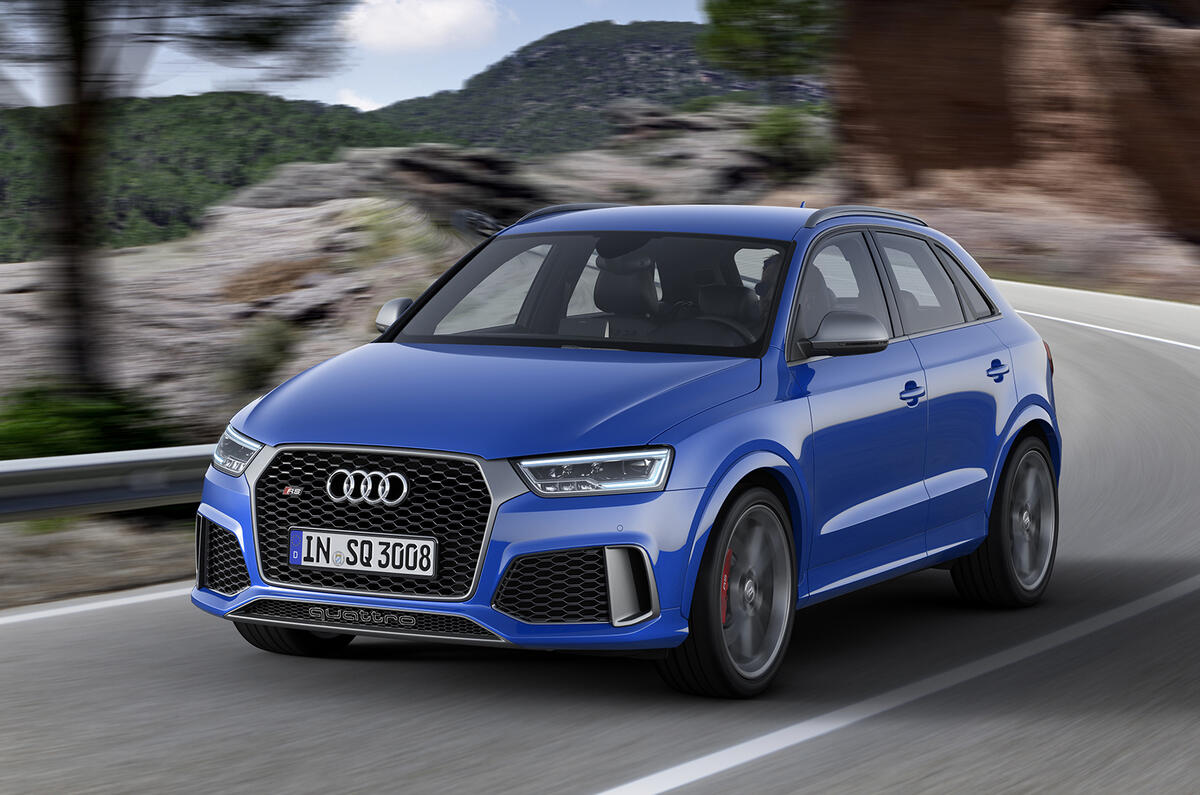 Bugatti Chiron - A strong 'star of the show' contender is Bugatti's new supercar. Dubbed Chiron, the successor to the Veyron will feature a hybrid powertrain producing around 1479bhp and be capable of reaching over 270mph.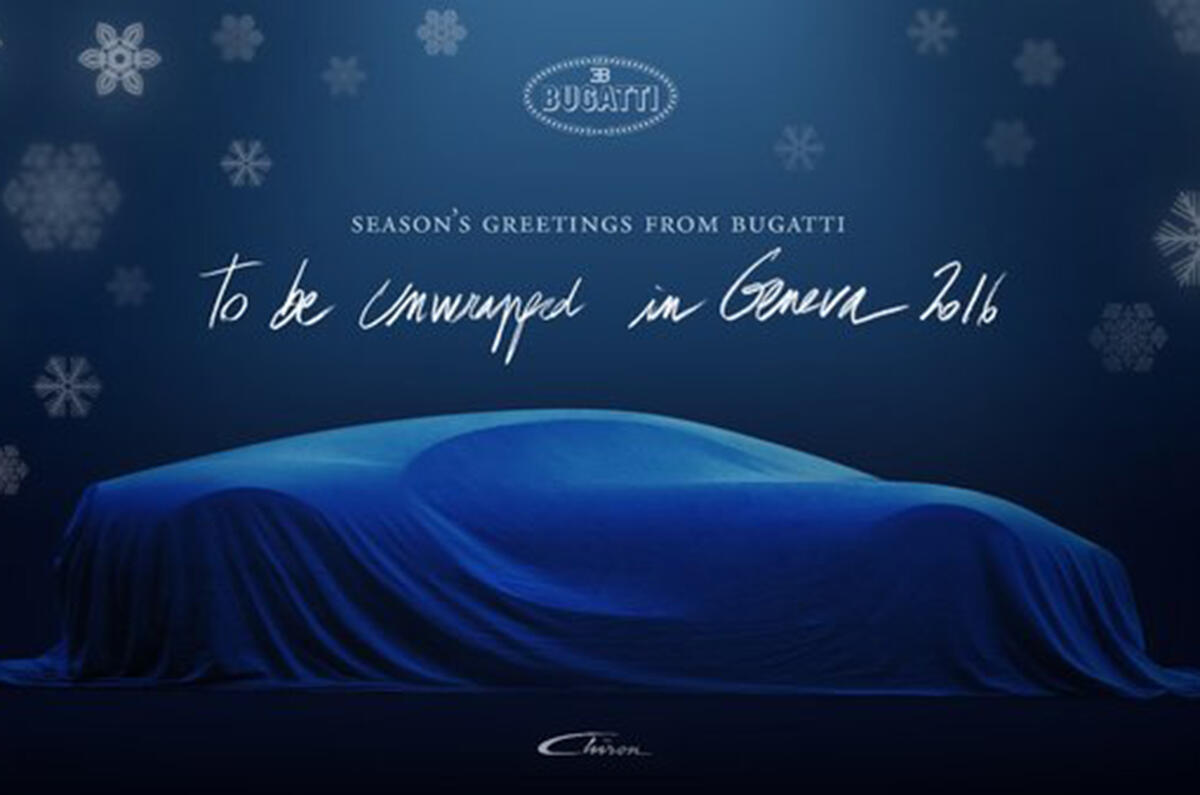 Citroen Spacetourer Hyphen concept - a rugged version of Citroen's Spacetourer MPV. Production-ready versions of the Spacetourer, as well as its sister cars, the Peugeot Traveller and Toyota Proace, will also be at Geneva.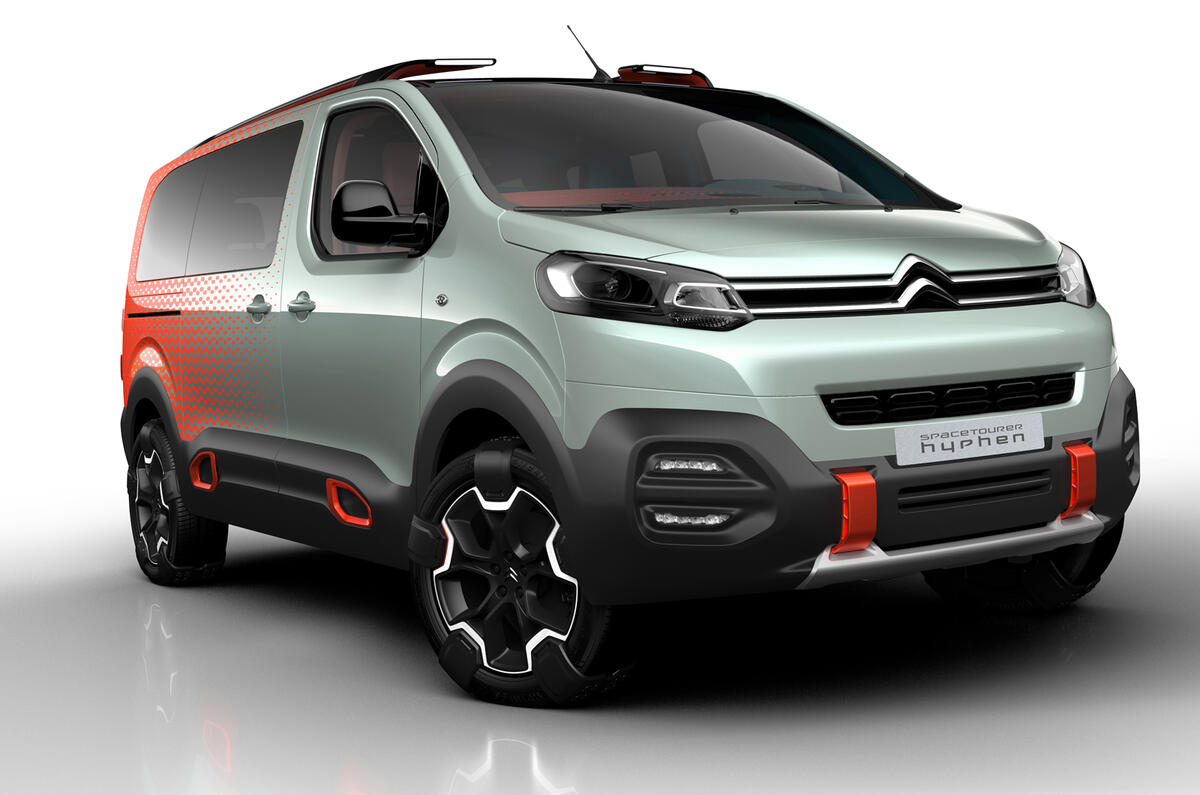 Fiat Tipo hatchback - Fiat's new mass-market hatchback is one of three Tipo variants that will be on show in Geneva. It will be powered by MultiJet II diesel and Multiair petrol engines at launch.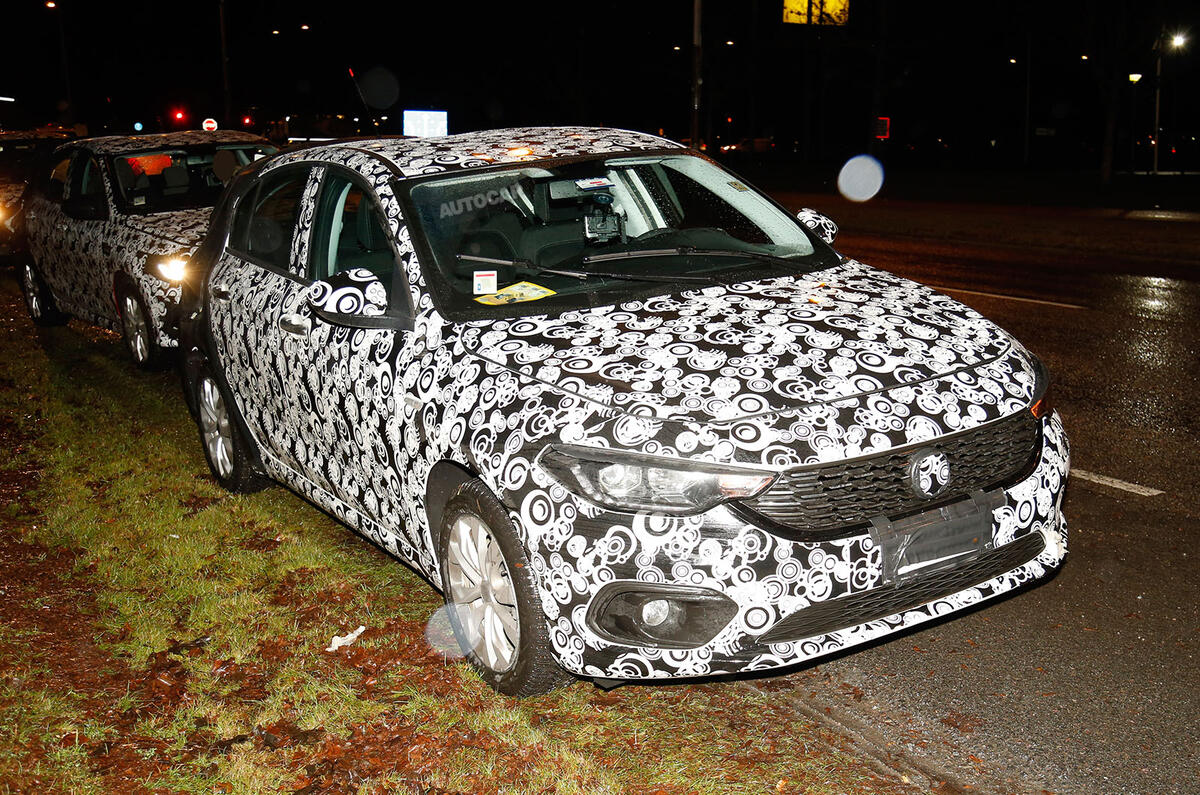 Hyundai Ioniq - Hyundai's first dedicated hybrid model will eventually come with the option of three powertrains and be available as an EV, a plug-in hybrid or a conventional hybrid. In hybrid form, the Ioniq draws its power from a 1.6-litre petrol engine working in conjunction with an electric motor.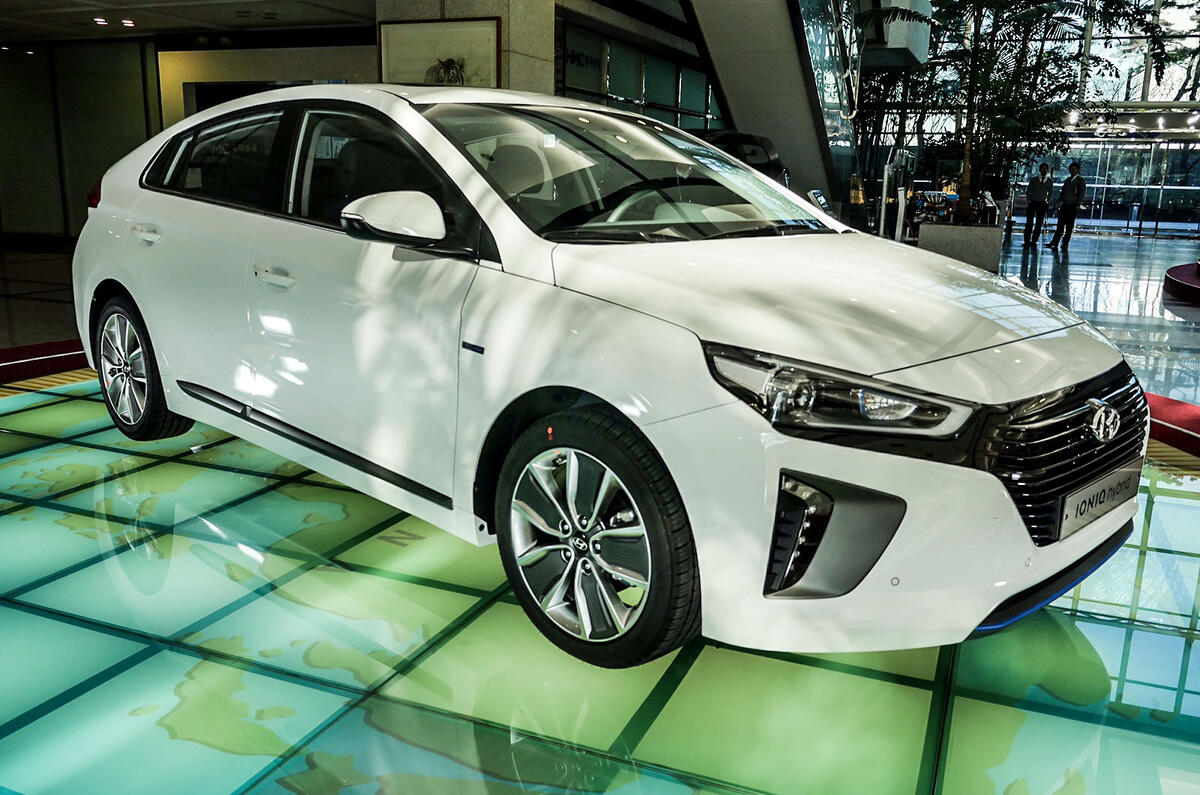 Jaguar F-Type SVR - Jaguar Land Rover's Special Vehicle Operations division has upgraded the F-Type sports car, producing a model which is capable of 200mph in coupe form and gets 567bhp from its supercharged 5.0-litre V8 engine.
Kahn Design Vengeance WB12 - coachbuilder and tuner Kahn will premiere its £300,000 Aston Martin DB9-based Vengeance WB12 at the Geneva show, with styling inspired by Aston Martin models of the 1980s and 1990s.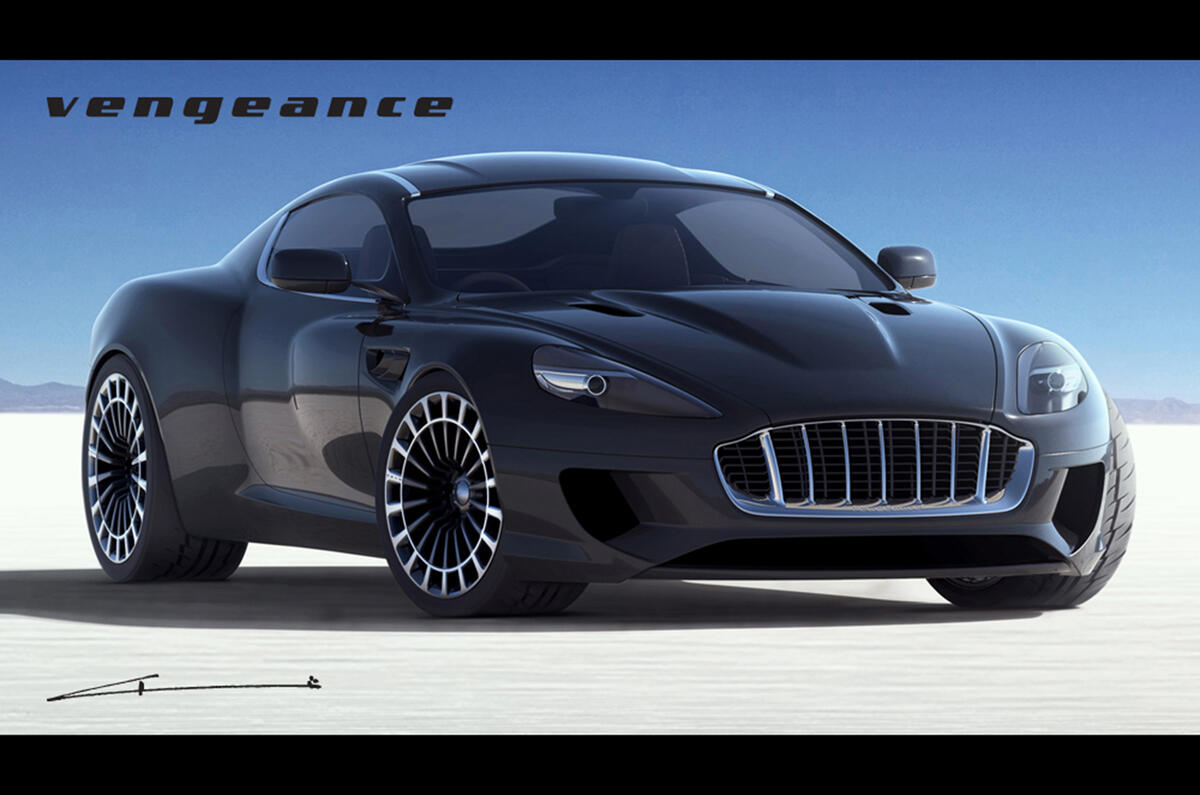 Lamborghini Centenario - Only 40 versions of Lamborghini's new £1.64 million supercar will be built, but all have already been sold. The new model will celebrate the 100th birthday of Lamborghini's founder.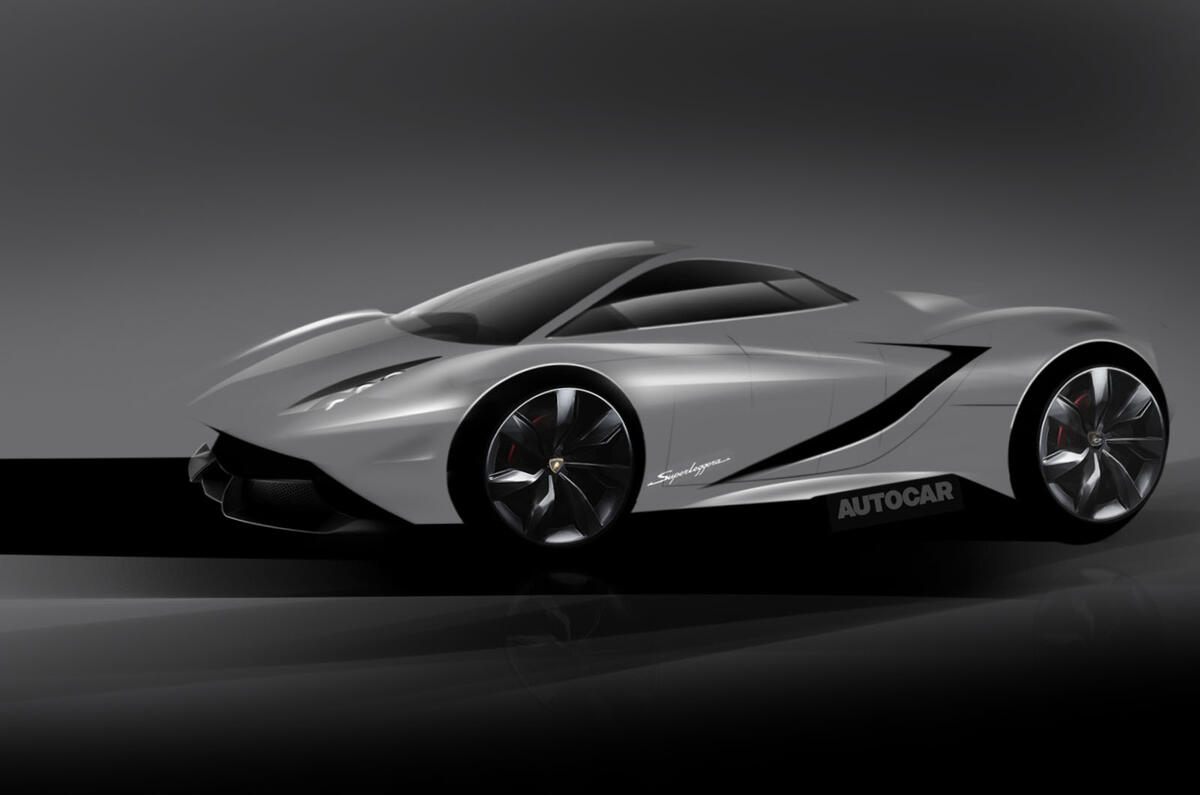 Maserati Levante - Maserati's crucial first SUV model is designed to help the Italian marque grow its sales volume and will rival the likes of the Porsche Cayenne. Recent spy pictures have shown the Levante in winter testing.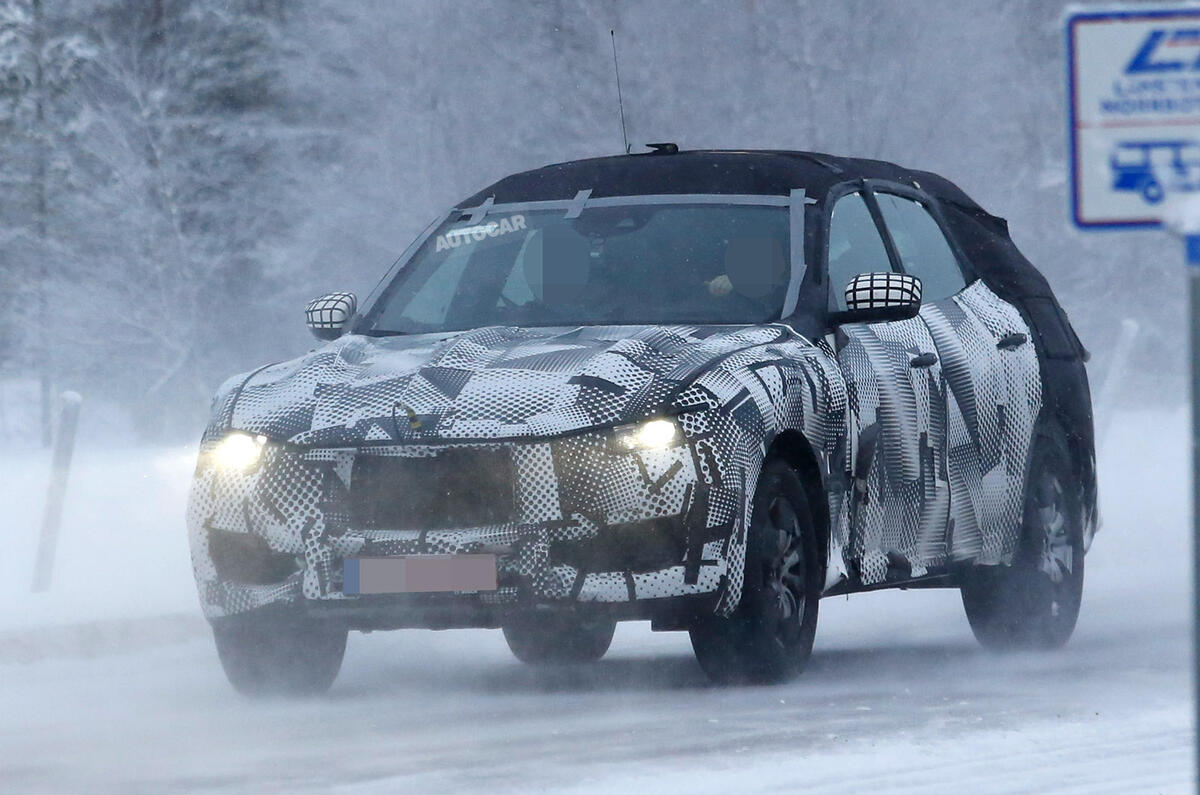 Mercedes-Benz C-Class Cabriolet - Although its presence in Geneva has yet to be confirmed, the new open-top C-Class is likely to make its debut in Geneva, given that it's due to reach the UK this summer. Expect engine options and specifciations to mirror those of the C-Class Coupé.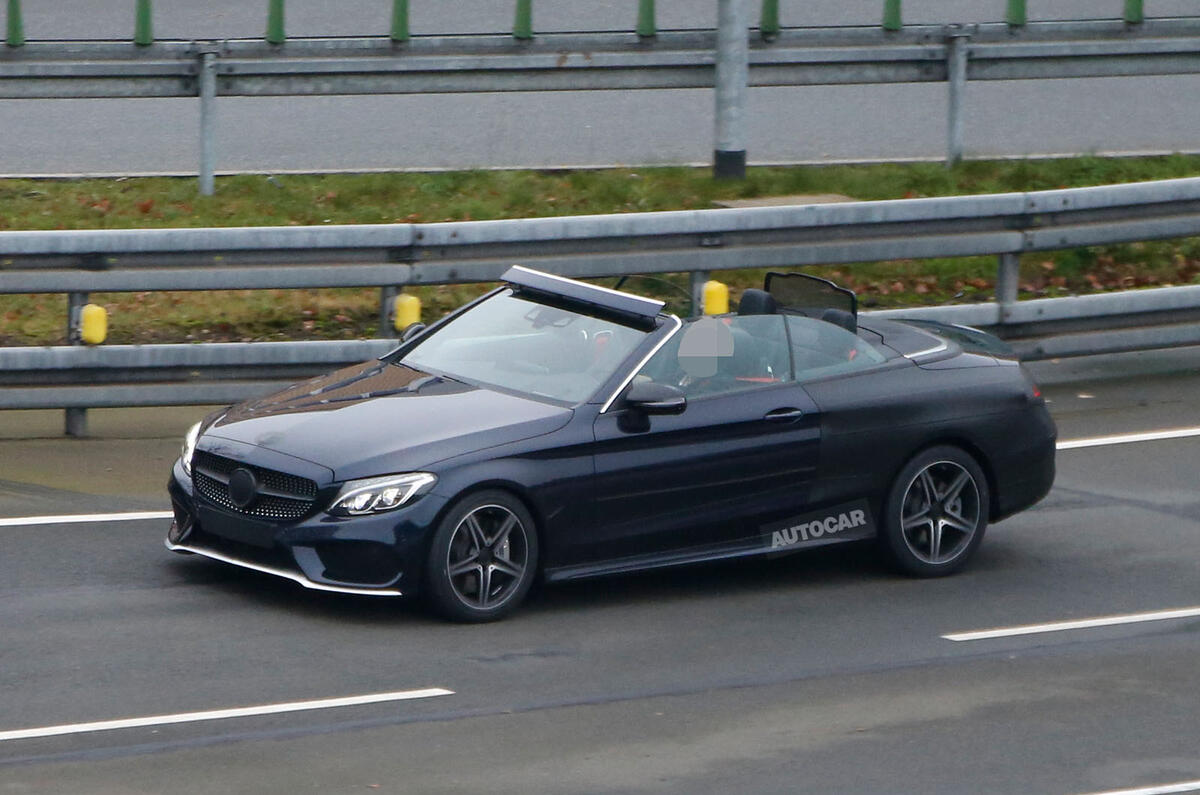 Mitsubishi ASX and L200 design studies - Mitsubishi has released a teaser image of two Geneva-bound concept cars based on the current ASX and L200 pickup. The two cars are based on the current models, with toughened-up styling.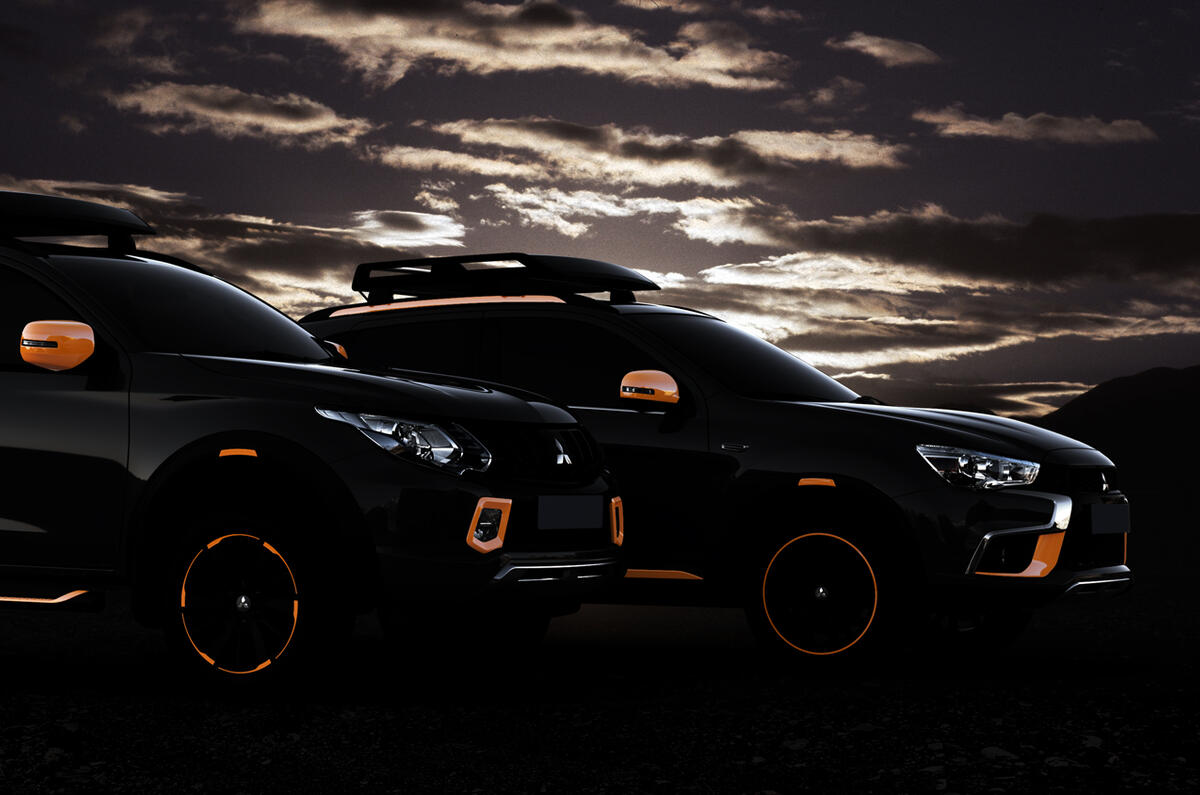 NanoFlowcall Quantino - Using pioneering electric vehicle technology, the Quantino has a projected range of more than 600 miles. NanoFlowcell is also considering a small production run of the Quantino. 
Nissan wireless charging concept - Nissan has promised to showcase a high-performance wireless charging system for electric vehicles in Geneva. If the technology is widely adopted, wireless charging could help to increase the uptake of EVs.
Pininfarina - no name has been given for Pininfarina's Geneva 2016 offering, and only a teaser image has been released. Judging by the picture, though, it'll be a performance car.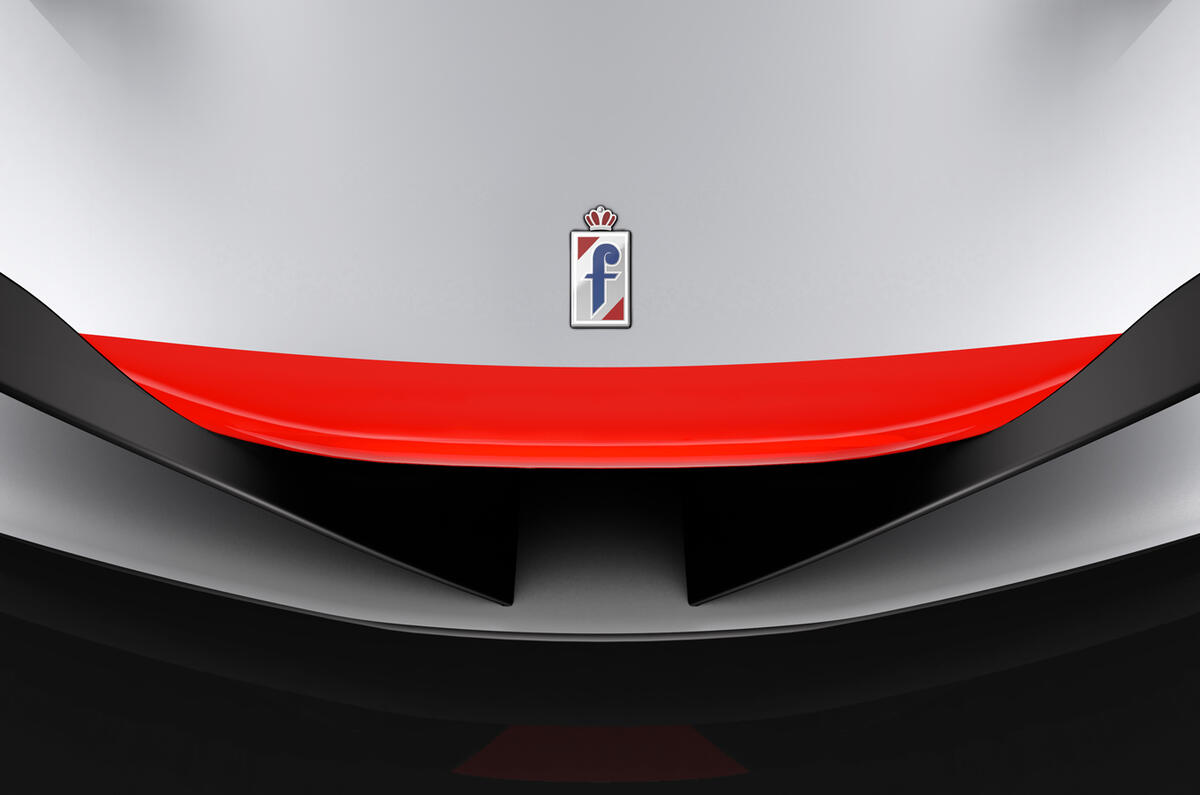 Porsche 718 Boxster and 718 Cayman - Porsche's sports cars receive new names and new engines as part of their mid-life updates. The 718 Boxster will go on sale in April with prices starting from £41,739.
Renault Scenic - The new Scenic will shed its old MPV image, transforming instead into more of an SUV shape. The new Scenic is due to go on sale in the UK later this year.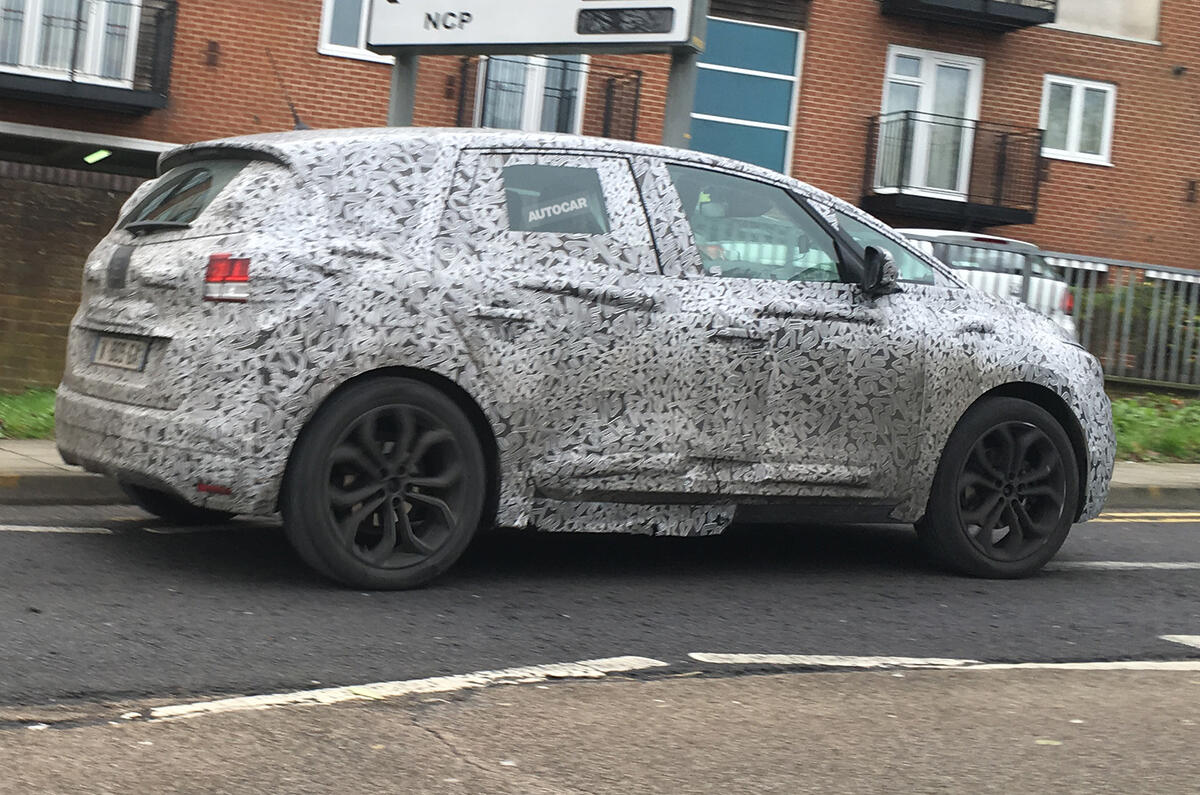 Seat Ateca - Seat's long-awaited SUV will be the first of three cars in Seat's upcoming SUV lineup. The Ateca will share engines and underpinnings with the Leon hatchback, and will be a direct rival to the Nissan Qashqai.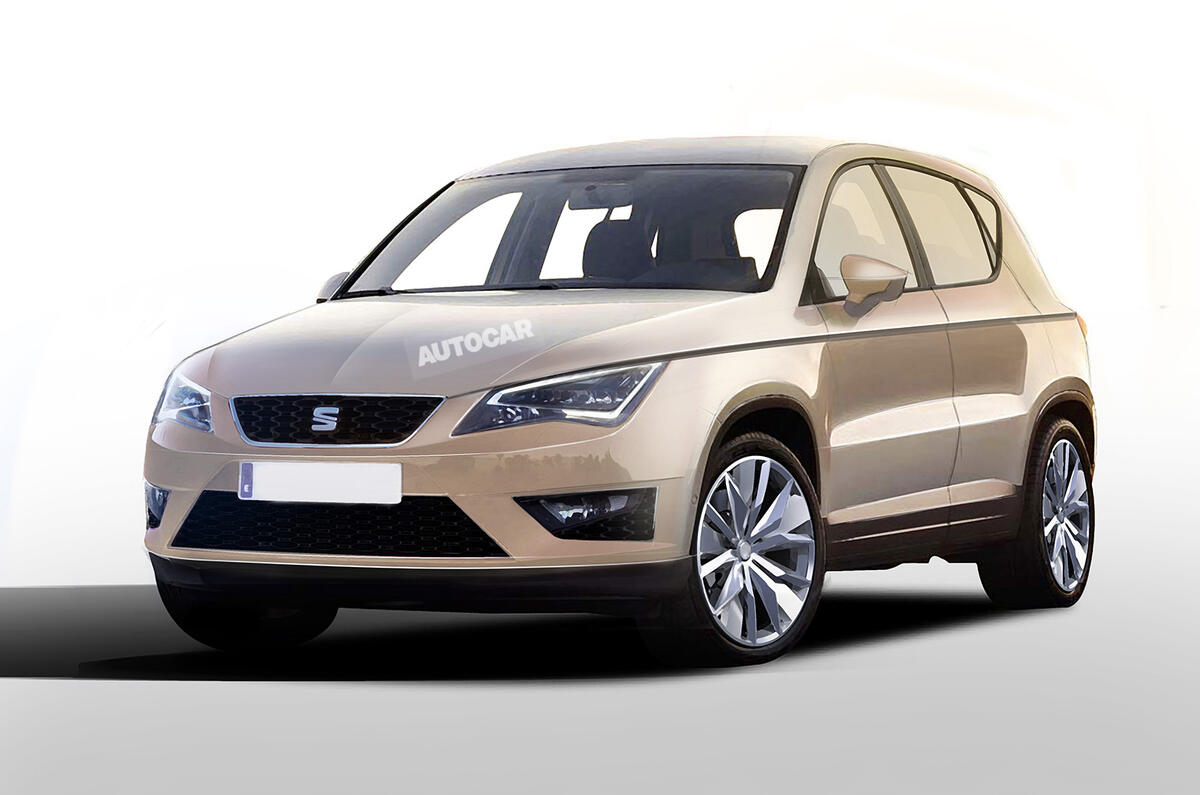 Skoda SUV - Skoda's new large SUV is closely related to the Volkswagen CrossBlue and is expected to take the Kodiak name for production. A range of four-cylinder engines will be offered, with the base unit being a 1.6-litre diesel.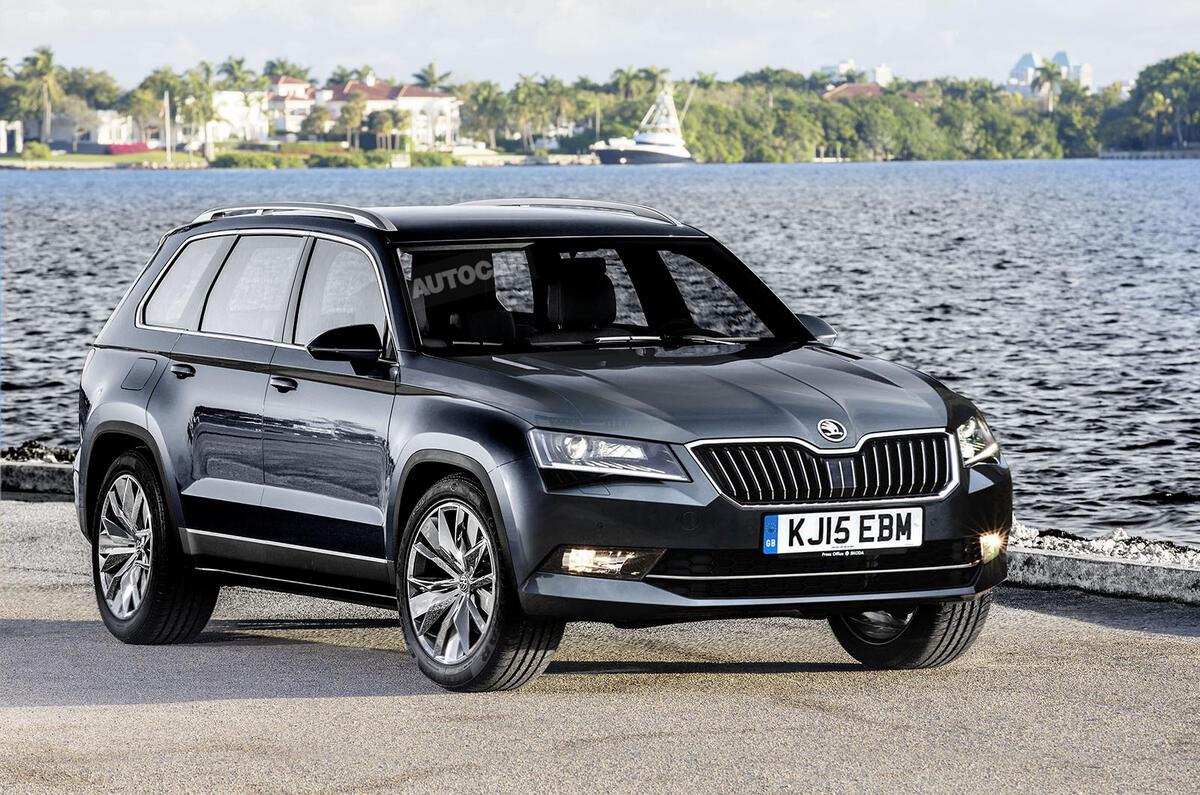 Spyker C8 Preliator - Spyker has released a teaser image of its C8 Preliator, which will be revealed at Geneva. The Dutch supercar maker is tight-lipped about any details of the new car, but it's more than likely to be electric, after Spyker joined forces with American electric aerospace company, Volta Volare.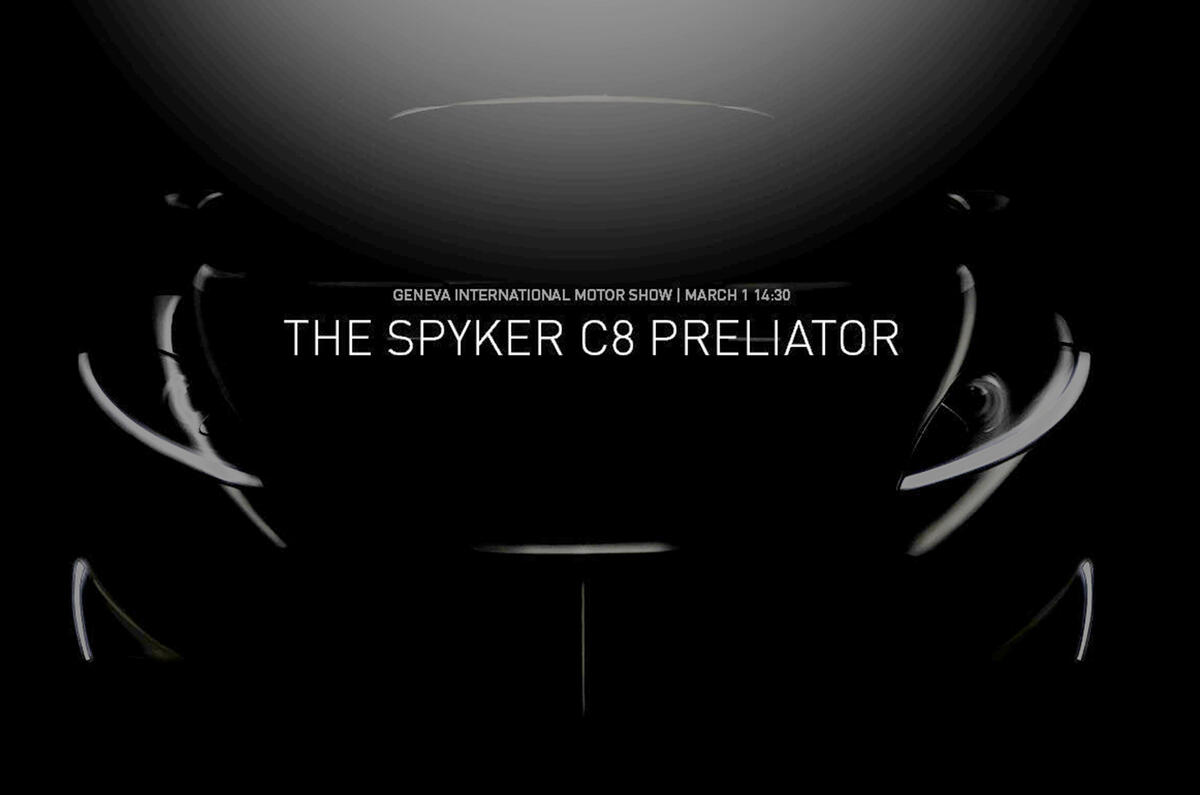 Subaru XV concept - Subaru confirmed that it will preview the next XV crossover at Geneva, after the current model received its mid-life refresh. Details are sparse, but Subaru has released a teaser image of the concept.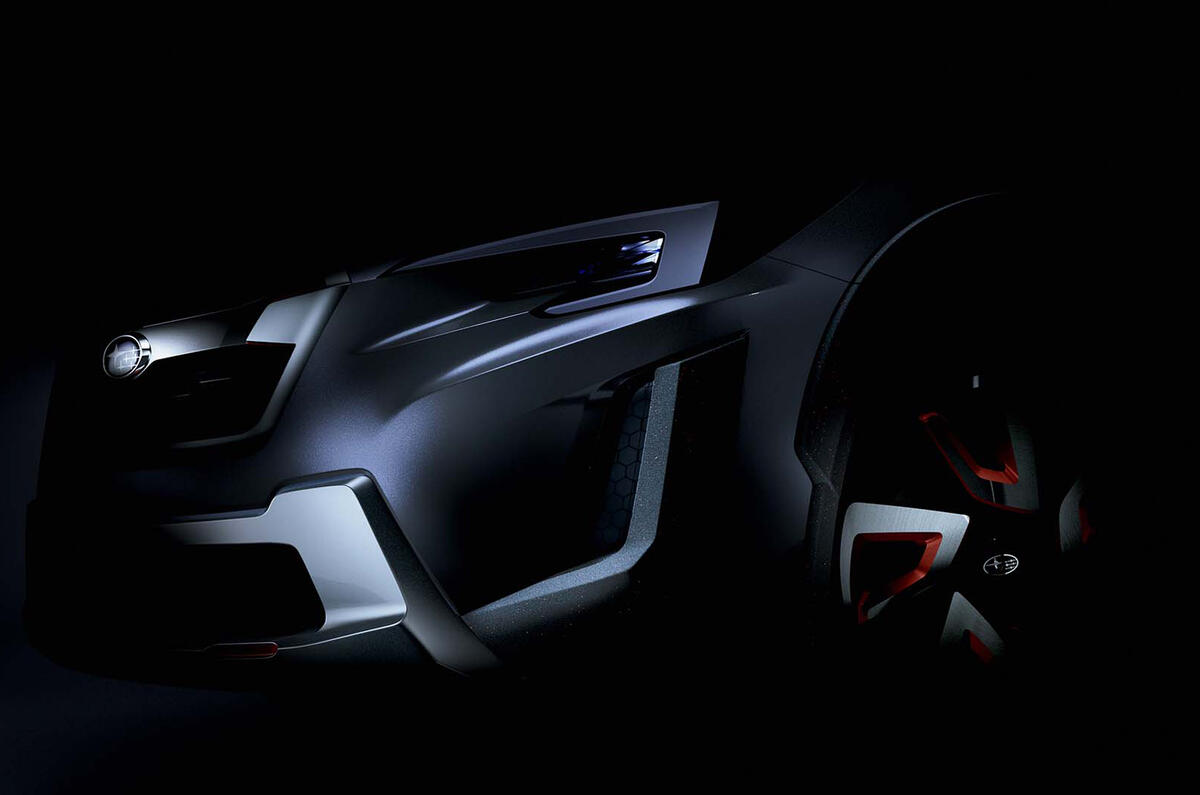 Vauxhall GT Concept - Billed as setting a template for future sports cars to come from Vauxhall-Opel, the GT Concept is powered by a 144bhp 1.0-litre three-cylinder petrol engine. Its styling is inspired by previous Vauxhall concept cars from the mid-1960s.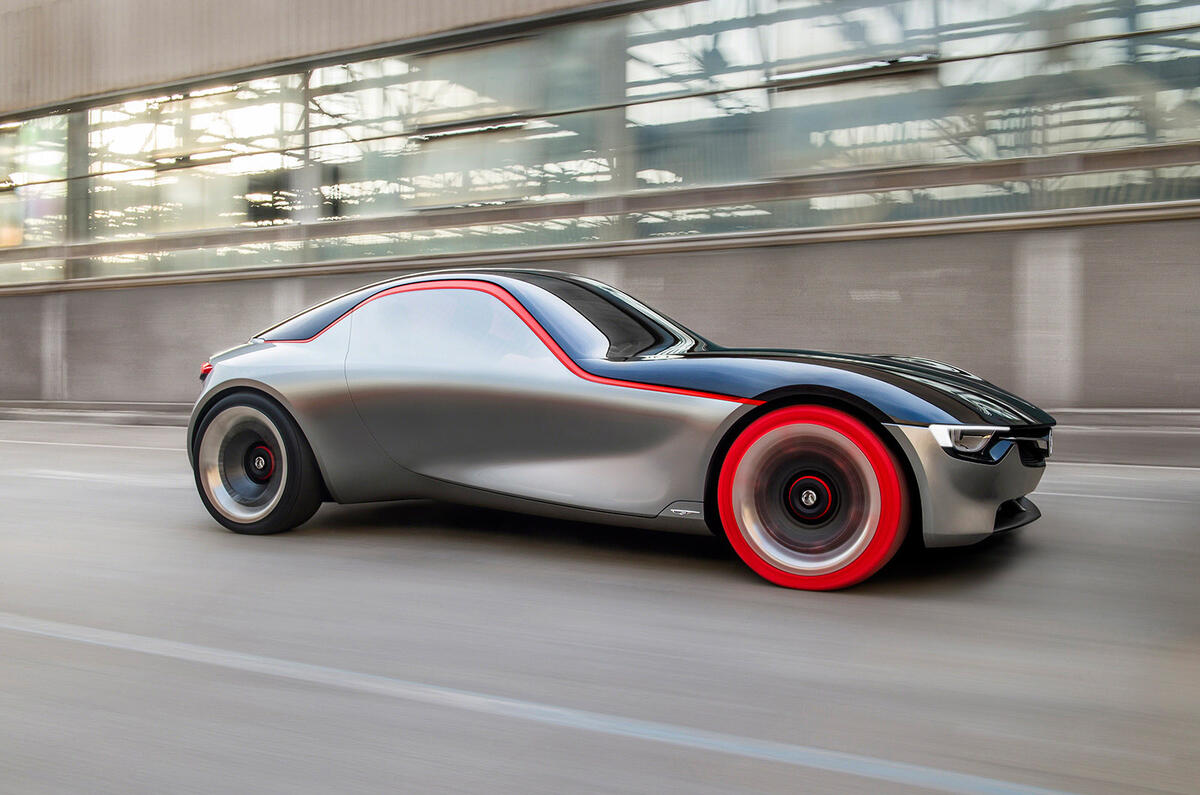 Vauxhall Mokka X - the facelifted Vauxhall Mokka gains an X for the Geneva show, as well as refreshed styling and infotainment.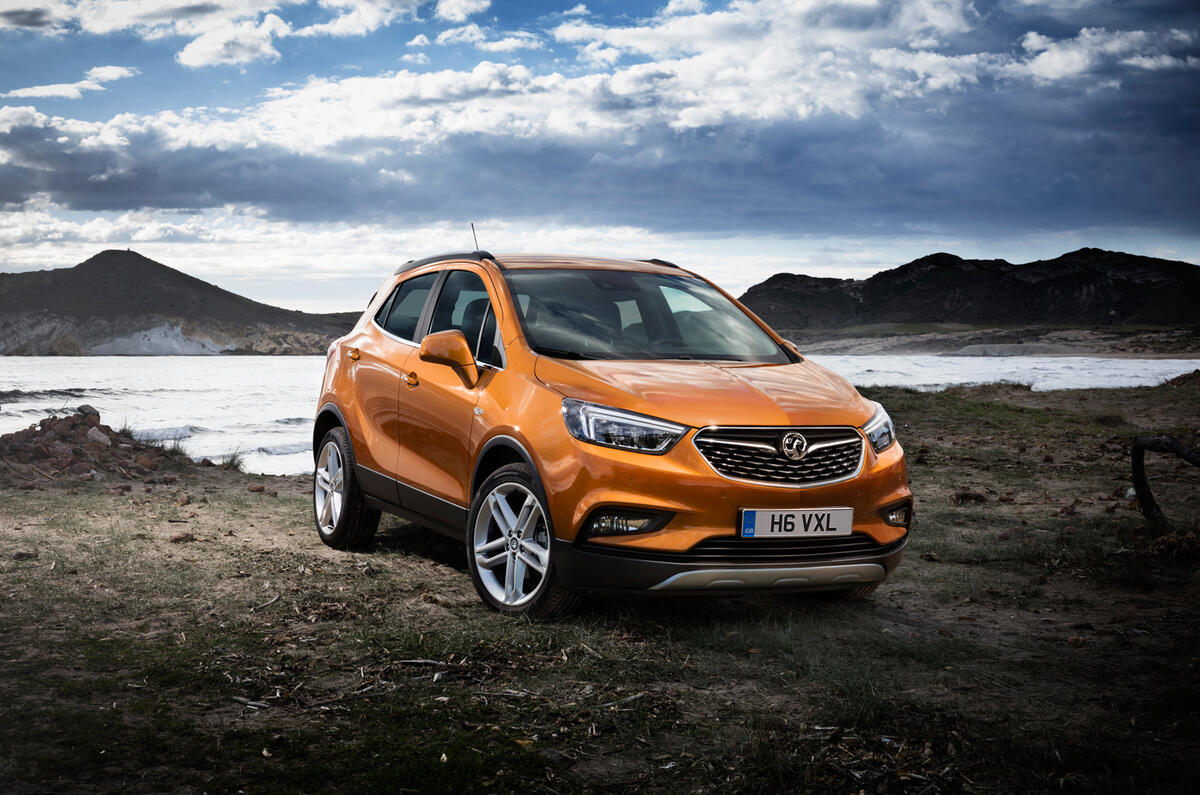 Volkswagen T-Cross - VW's latest SUV concept is based on the Polo and is intended to preview a sub-£18,000 rival to the Nissan Juke.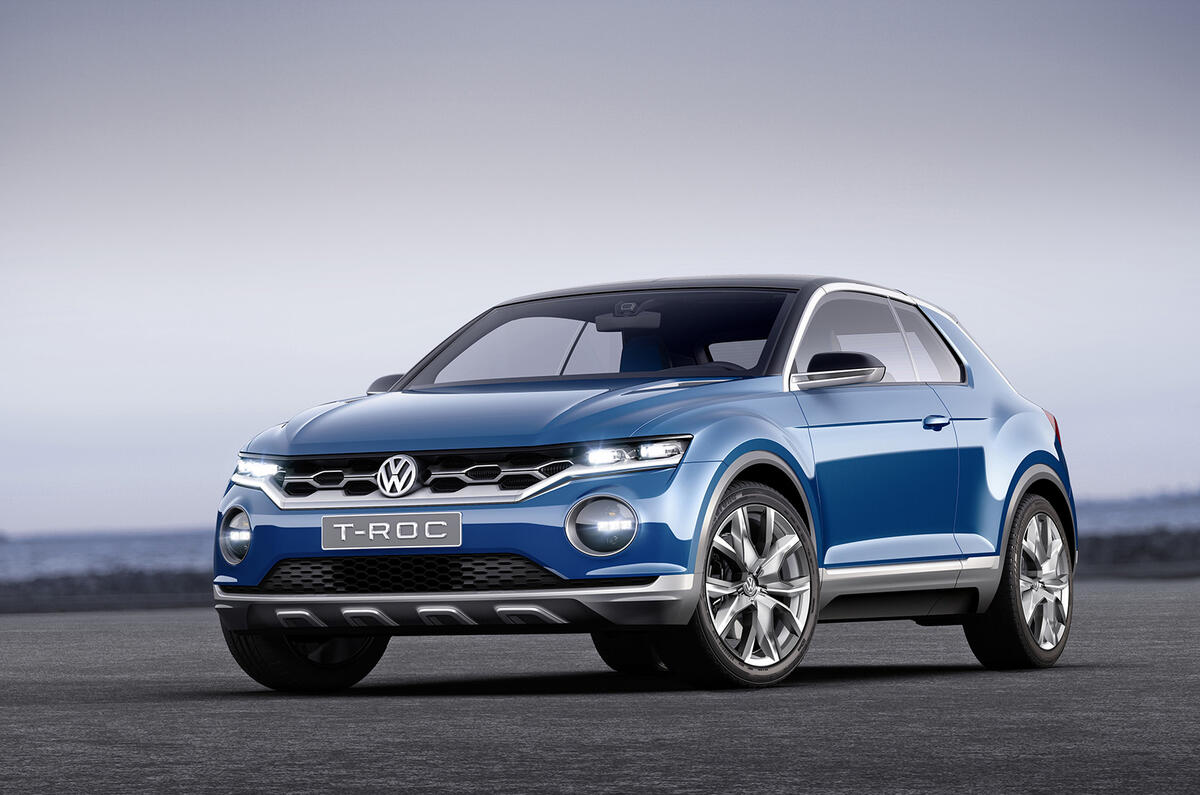 Volvo V90 - The estate sibling to Volvo's recently revealed S90 has already been spotted undisguised in a workshop in Sweden. It will go on sale in the UK in the second half of this year.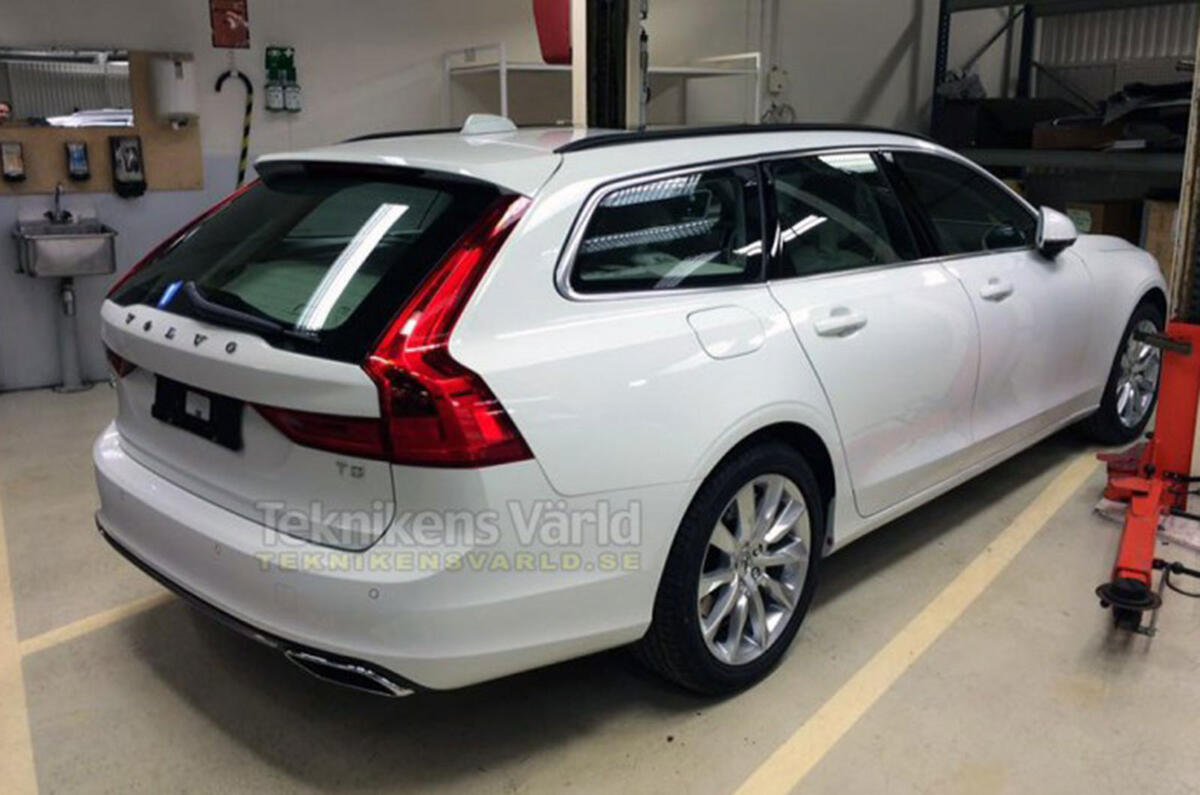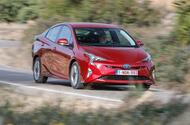 Fourth-generation Prius promises yet-better eco credentials and a new dose of driving appeal. We find out if it delivers Toyota's Prius once seemed such a futuristic machine, and the green baggage it carried made it the darling of the planet-saving classes. But through 18 years and three generations it has gone almost mainstream, and mini-cabbers like no car better. Now meet Prius version 4.0, recognisably Prius-shaped but longer, lower, wider and sportier.That sounds like a standard set of evolutionary steps for a new model, but they're slightly unexpected for a pious-minded Prius. The fact that the driver's hip point has dropped a hefty 59mm doesn't sound right for a car whose owners to date equate driving enjoyment with adultery or worse, and who favour a good view forward over a feeling of one-ness with the machine.But the intention this time is not only to snare existing owners who will be thrilled about the new one's 70g/km CO2 score, bigger boot space and enhanced refinement, but also to attract new converts who will discover a Prius that drives like no other before it.This is the first Toyota to be built with the Toyota New Global Architecture set of platform components. Its particular combination of ingredients is called GA-C; it brings a structure 60% torsionally stiffer than the old car's, a new rear suspension that's a hybrid of double wishbones and trailing arms, and that lower-slung architecture.Petrol-fuelled power still comes from a 1.8-litre engine running on the high-economy Atkinson cycle, but it now features a two-level cooling system, which restricts flow during the now-quicker warm-up, when the coolant is further heated by exhaust gas.There's an electric water pump, too, and other refinements that together give the engine a thermal efficiency of 40%, claimed to be the highest ever for a production engine. The hybrid drive's CVT transmission is smaller and lighter, and the two electric motors working with it have a greater speed range, which makes the Prius up to 14% more efficient at high speeds.Other numbers include 20% less power loss in the transmission, an electrical inverter that's 30% smaller, and a new nickel-metal hydride battery pack that's 10% smaller - it now lives under the back seat, allowing full hatchback versatility - and the ability to take 28% more charge per unit of time.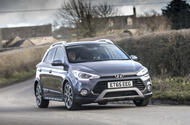 Our continued thirst for anything and everything SUV prompts Hyundai to launch this new i20 Active. We drive it on UK roads The Hyundai i20 Active is, as you might reasonably assume from its name, an i20 with a slight but significant twist - that being the Active suffix, which encompasses 20mm of extra ride height and some cosmetic addenda including skid plates at the front and rear and cladding across the wheel arches.But before anyone gets too high and mighty about Hyundai's plans to charge roughly £1200 more for a car seemingly only slightly modified over the one from which it is derived, let's take a reality check. The SUV and crossover market is booming - so much so that, in 2015, more SUVs and crossovers were bought in Europe than any other type of car. The appetite for small, crossover-style vehicles is ravenous.Little wonder, then, that manufacturers are rushing to get high-riding cars on sale as quickly as they can - Hyundai among them. With a baby brother to the Hyundai Tucson long rumoured but seemingly still some way off, this i20 Active is the halfway-house solution to the firm launching a genuine crossover rival to the likes of the Renault Captur or Suzuki Vitara. It has been thoroughly tuned for European roads, too, and, if you take a moment to consider the pictures above, the i20 Active is actually a nicely understated example of the breed.Adding extra lustre to the model's launch is the addition of Hyundai's new 1.0-litre turbocharged petrol engine, which produces 99bhp. The engine is claimed to return up to 58.9mpg with CO2 emissions of 110g/km and will be rolled out across Hyundai's range in short order.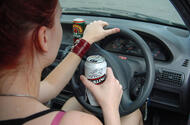 England and Wales could follow Scotland by introducing a 50mg/100ml drink driving limit, Ministers have hinted
The UK government could slash the drink-driving limit in England and Wales, making it illegal to drive after one pint of beer or a glass of wine.
Transport Minister Andrew Jones has suggested that England and Wales could follow the example set by Scotland, which lowered its drink-driving limit from 80mg per 100ml of blood to 50mg in 2014.
It is understood that the rest of the UK could follow Scotland's lead, with Jones saying he will seek "robust evidence" of the impact of the lower limit.
In response to a parliamentary question asked earlier this month, Jones said he would meet and discuss the matter with his Scottish counterpart: "It is important to base our decisions on evidence and the Scottish experience will be crucial to that before we consider any possible changes to the limits in England and Wales.
"This Government's current position, however, remains to focus resources on enforcing against the most serious offenders."
Police in Scotland have said that the number of drink-driving offences fell by 12.5% in the first nine months of its new limit being enforced.
In 2014, drink-driving led to 240 fatalities and 1080 serious injuries in England and Wales.
The current 80mg limit is among the highest in Europe. Countries including the Czech Republic, Hungary, Romania and Slovakia have a blanket zero alcohol policy, while the majority of countries have limits of around 50mg per 100ml.
Although the new limits would suggest a single pint of beer or glass of wine would place drivers over the limit, in practice it is impossible to predict, because each person metabolises alcohol at a different rate.
Reaction to the news has been positive. The RAC Foundation's director, Steve Gooding, said that ministers were "right to remain open minded about drink-drive limits and ready to assess evidence from north of the border.
"It would be a poor argument to say cut the drink-drive limit just because others have done it, but there is now plenty of data to suggest a change would have a marked improvement in terms of road safety."
The RAC Foundation's own research estimates that a lower drink-driving limit would save around 25 lives annually. Since 1979, the number of people killed in drink-driving accidents has dropped by around 85%.
Speaking to The Telegraph, AA president, Edmund King, said that a majority of his organisation's members would support a lower limit. He said the move "seems a sensible step to bring us into line with Scotland and the majority of European countries.
"However, it would probably be more effective for the police to target hard-core offenders, who are way over the current limit, as they are involved in the most deaths and injuries on the road.
"With a lower limit, drivers will also have to be aware of being over the limit the morning after. Our research shows that almost 20% of drivers have driven the morning after when they believed they could be over the limit."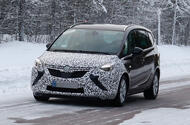 New front and rear-end styling and interior improvements for Vauxhall Zafira Tourer
The facelifted Vauxhall Zafira MPV has been spied winter testing ahead of its public debut.
Our spies caught the upcoming Zafira in Scandinavia, with heavy camouflage at the front and rear hinting that this is where the majority of the revisions will be made. 
Through the camouflage, it can be seen that the front-end styling has been tweaked to fit more in line with the new Astra and Corsa, with more swept-back headlights and a revised grille among the changes. The distinctive boomerang-shaped headlights and headlight surrounds will be carried over from the pre-facelift model. Styling changes at the rear are harder to make out, but a revised bumper is suggested by the camouflaged area. 
Inside, the Zafira will benefit from the same dramatic changes seen in the new Astra and Insignia models, with a more intuitive, modern layout and upmarket materials, as well as following the industry-wide trend of adopting a larger touchscreen infotainment system to minimise the use of dash-mounted buttons. 
No further changes are visible, so it's likely that the Zafira will maintain the same 710-litre bootspace with five seats in place as the current-generation Zafira. The rear doors are still conventional hinged doors, so the Zafira will lack the sliding doors from which many of its rivals benefit. 
We expect to get a first official look at the upcoming Zafira in the coming months, although after the current Zafira's launch in 2011, the car is unlikely to go on sale until late 2016 or early 2017.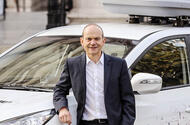 Internet sales, home deliveries and no haggling are "inevitable", says Tony Whitehorn
The way cars are bought and sold is on the cusp of a dramatic change, according to Hyundai UK boss Tony Whitehorn.
Predicting the rise of internet sales, home deliveries, more, better-targeted finance options and the end of haggling, Whitehorn said the established methods of car purchasing and selling "had to change" and that "buying a car from your living room must become a reality because it is what customers want".
However, Whitehorn stopped short of predicting the end of the traditional dealership. He said "they will always be our shop front and the venues that represent our image and standards to the public" and predicted that "a large number of buyers will always want interaction with a human being and the reassurance of having a physical place to go is something goes wrong".
Read Autocar's review of the new Hyundai i20
However, Whitehorn said the growth of internet sales and marketing was inevitable, based on the evidence of the Hyundai Rockar dealerships in Bluewater and Westfield shopping centres. These dealerships sit alongside traditional shops and offer test drives and servicing but also allow the customer to order their car online with a no-haggle policy.
"Rockar is teaching us so much about how customers shop on the internet - and from the trends, we can see and understand the big changes that are coming," said Whitehorn.
Whitehorn revealed the Bluewater dealership sold more than 700 cars last year, with the average age of a customer being 39, compared with an industry average of 51. He also revealed that 56% of buyers were female, again far higher than the industry average. Of those who placed an order over the internet, 51% bought their car between 7pm and 10pm.
"Those figures are transformational," said Whitehorn. "We are on a journey, but what it tells us is that we are opening up new ways of selling cars, and as an industry, no matter how strong the allure of sticking to old, successful principles, we can't resist that."
While Rockar stores are allowed to discount stock, they do not offer the opportunity to haggle. In addition, staff are paid a flat salary rather than being incentivised to make sales.
"Again, these things are the start of a wider trend," said Whitehorn. "If someone is paid to help rather than sell, the customer experience is that much better. Transparent pricing goes hand in hand with that. Internet sales will only work if we have one price and stick to it, and while that may take years to achieve, it is inevitable if we want a sustainable business."
Whitehorn also predicted the rise of concierge buying services, where customers buy a car and have it delivered and maintained without ever visiting a dealership, saying that it is only FCA rules around signing financial documents in approved places such as dealerships that are currently holding the initiatives back. He also believes dealerships will eventually have to offer weekend servicing, as Rockar does, so that the car ownership experience fits better with modern lifestyles.
"When customers are demanding change, it is not a case of if it will happen, but when," said Whitehorn. "Rockar is actually a halfway house to a new extreme, where you can buy a car from your home - and it is clear that is what a significant amount of buyers want to be able to do."
Finally, with around 70% of Hyundai's retail sales now on PCP,  Whitehorn is predicting the proportion will increase as customers and retailers better understand how to balance deposits and monthly payments.
Although most PCP deals are for three or four years, Whitehorn said the average point people swap to a new car is at 21 months, something that he sees as critical for driving new car registrations and allowing car makers to better predict demand and manage stock.
"Our industry needs to be more open-minded and more flexible in its approach than ever before," said Whitehorn. "There are huge opportunities out there and the traditional models of selling cars don't always cater for them."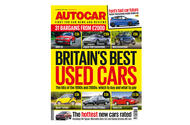 Ferrari's overhauled FF, two pivotal German SUVs and the best used buys from the 1990s and 2000s, all in this week's Autocar
Autocar magazine's 10 February issue is out now. Here's what to look out for in this week's magazine.
The Ferrari FF is no more, but the Ferrari GTC4Lusso is born. There's a new look and a new name for Ferrari's quirky grand tourer, and some impressive new statistics to boot.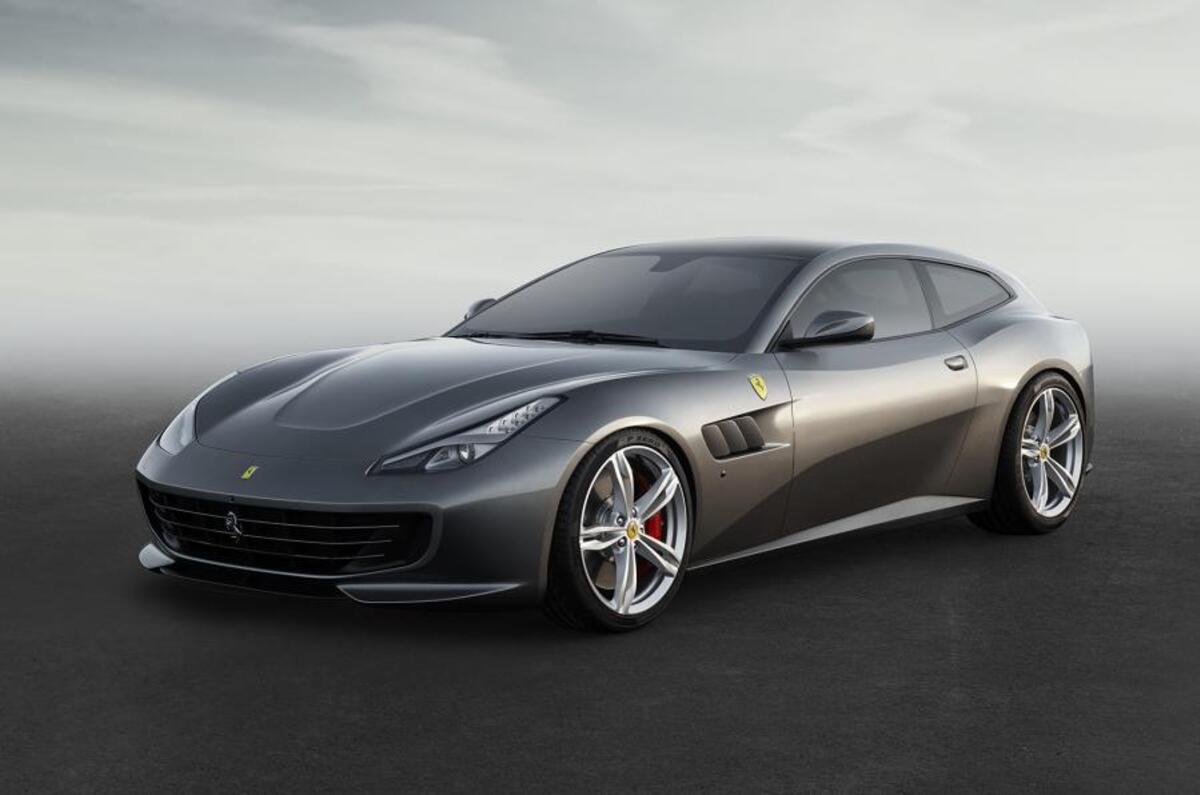 We've been behind the wheel of two important SUVs: the Volkswagen Tiguan 2.0 TSI and the Mercedes-Benz GLC 250d AMG Line. Both cars have the potential for lucrative sales figures, but do they measure up in one of the most competitive segments in the market?
Fancy grabbing a bargain modern classic? We've got the best used buys from the 1990s and 2000s, including star cars from Mercedes-Benz, Jaguar, Mini and Volvo.
Also in this issue:
Skoda Octavia vRS 4x4 – can all-wheel drive improve Skoda's bargain hot-hatch package?
BAC Mono – following its success in the UK and overseas, the British track weapon is expecting a sibling.
Land Rover Defender – we say goodbye to Land Rover's iconic off-roader, in the aftermath of the model's production coming to an end.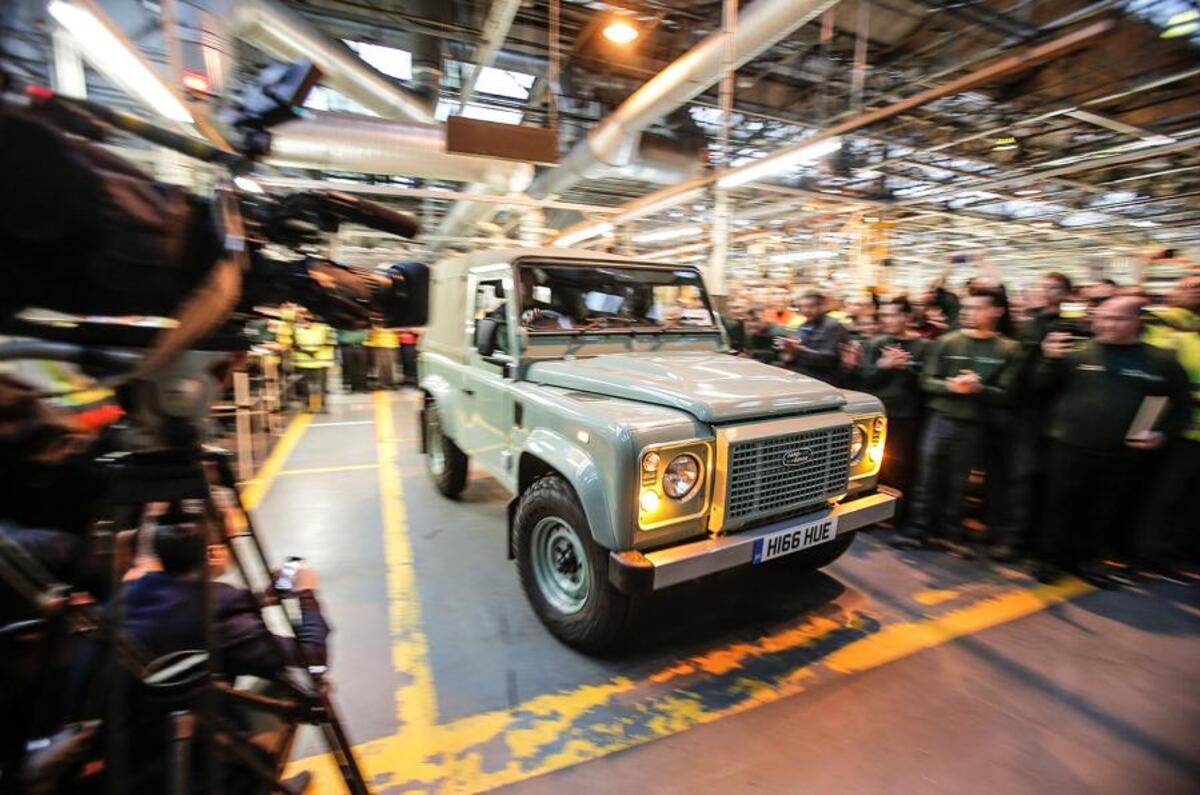 VW's bespoke EV – is there electric life after Dieselgate? Volkswagen looks to recreate the success of the BMW i3 with an electric model that's "as iconic as the Golf".
Our long-term test cars:
We say goodbye to the Range Rover Sport, while our bruised BMW 220d Active Tourer gets some much-needed TLC. Matt Prior brings you the latest on life with the Volvo XC90.
Deals:
James Ruppert takes you through the steps to take if your car has been damaged by the recent floodings, and we've got stealthy performance covered, with our rundown of the best Q-cars from £2000.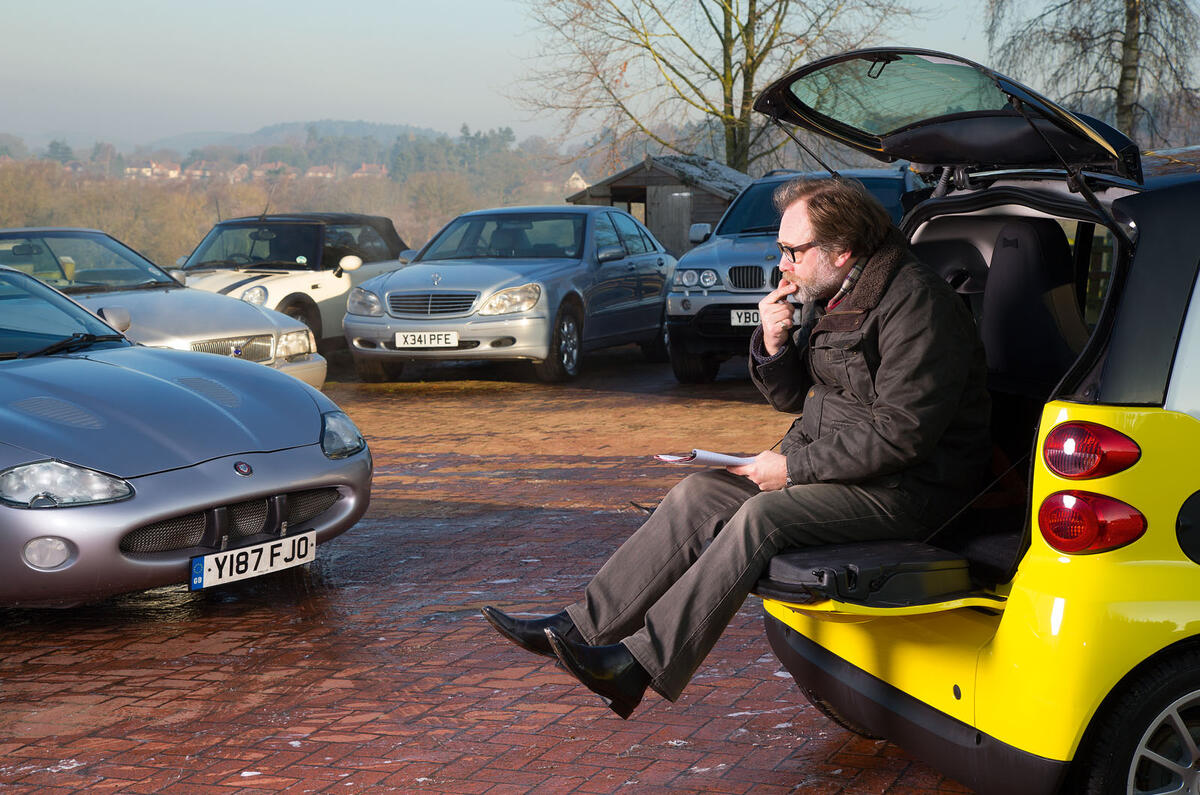 Where to buy:
Autocar magazine is available through all good newsagents and for download from Zinio and the Apple iTunes store.
You can also buy one-off copies of Autocar magazine from Newsstand, delivered to your door the morning after.
Alternatively, never miss an issue – subscribe to Autocar magazine today.
1.0-litre triple brings added appeal to i20, but it's still an unremarkable drive Last time we reviewed the Hyundai i20, we reckoned it might take the arrival of a 1.0-litre turbocharged engine before it came of age. Well, here it is.The engine's a triple, like a lot of 1.0-litre units, and can put out up to 118bhp in some applications, but it has a steady 99bhp here. That's the same as the i20's existing naturally-aspirated 1.4-litre unit, so the 1.0 is the joint most powerful in the i20 range.At only 99g/km, it has the second lowest emissions engine of the line-up and sits behind only the remarkable 84g/km 1.1-litre diesel. The 1.0 is a few hundred pounds cheaper than the diesel; plus it's not a diesel, which on balance of things as they stand, is likely to make it more attractive.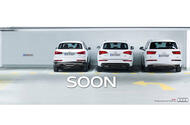 Audi releases the first teaser image for its smallest SUV model, the Q2, which will go on sale later this year
The upcoming Audi Q2 has been teased ahead of its offical debut at the Geneva motor show next month.
While not officially confirming the new model, Audi's teaser image shows its Q7, Q5 and Q3 SUVs arranged in height order, with a 'reserved' place set aside for a new model, understood to be the Q2.
Previous spy shots have shown the Q2 in final winter testing ahead of its show debut, with the car expected to go on sale towards the end of this year.
Audi first confirmed the Q2 for production in 2013, and design work was completed by November 2014. It's been styled by Audi design boss Marc Lichte. The model was previewed previously as the Crosslane Coupé in 2012, but the design has moved on significantly since then. 
Originally, the Q2 was set to be called the Q1, but in September last year Autocar India confirmed that Audi had managed to secure rights to use the Q2 and Q4 names from Fiat Chrysler Automobiles. Speaking to Autocar India, former Audi R&D boss Ulrich Hackenberg said: "the production version will be called the Q2 and the Q1 will come later."
That leaves the door open for an even smaller crossover model, based on the A1 supermini, to arrive after the Q2. The Q2 itself will be smaller than the existing Q3, and will be underpinned by VW Group's MQB architecture.
When it goes on sale, the Q2 will act as a premium rival to the likes of the Nissan Juke and Renault Captur.
The Q2 forms part of Audi's plan to launch several new SUVs to bolster its Q-badged line-up. Other models which form part of the plan include the Q8 and Q6.
Although heavily camouflaged, pictures of test mules have shown that the Q2 will feature a smaller interpretation of the Q7's front grille and front bumper design, and also uses slimline LED headlight clusters.
At the rear, the sloping roofline ends in a boot-mounted lip spoiler - much like the current A1 - and includes a chunky rear bumper. Body cladding will feature around the lower edges of the car.
The Q2 is understood to be similar in length, width and wheelbase to the three-door A3, which is 4237mm long and 1777mm tall, with a 2601mm wheelbase.
Inside, Audi could either model the five-seat cabin on the existing A1, or give the Q2 the same digital dashboard technology as found in the TT, A4 and Q7. It's known that Audi wants to use the digital dashboard technology on more of its vehicles, as it negates the need for a separate infotainment screen while also giving the car a premium look. The car will offer a raised-up seating position, as expected in an SUV.
Power for the Q2 is expected to come from three and four-cylinder versions of Volkswagen's latest petrol and diesel engines. VW's EA211 petrol engine is available in 1.0, 1.2 and 1.4-litre forms, while the latest EA288 diesel comes in 2.0-litre form.
Transmissions should include a standard six-speed manual, with VW's DSG transmission available as an option.
Audi could also launch a hybrid e-tron variant of the Q2 further down the line. The 201bhp hybrid powertrain already found in the A3 e-tron - which combines a 1.4-litre petrol engine with an electric motor - could be adapted for use in the Q2. A sporty variant, possibly badged SQ2 and using the 228bhp 2.0-litre petrol engine found in the S1, also can't be ruled out.
Although natively front-wheel drive, Audi will also offer its quattro all-wheel drive system as an option.
The use of the sophisticated MQB platform and the fact it is built in Germany suggest the Q2 will be an upmarket machine with a price to match, rather than a cheaper, entry-level, model like the A1 supermini.
The current A1 range starts at £14,355 and rises to £19,565 for a top-end A1 Sportback while the larger Q3 starts at £25,380. Therefore, a starting price of around £20,000 for the Q2 seems likely, pitching the Q2 well against premium rivals like the £17,105 Mini Countryman.
Audi is pitching the Q2 at younger buyers and insiders say it is a response to a demand for ever-smaller premium models. Indeed, the A3 has now surpassed the A4 as Audi's biggest seller in the UK.
"A premium car is justified in this segment," said one insider. "As volumes in segments such as these have gone up, so has demand for premium models in them."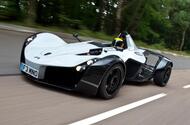 The single-seat Mono could get a three-seat stablemate as BAC aims to increase sales
Liverpool-based BAC, maker of the £125,000 Mono track day single-seater, will begin work later this year on a stablemate for its "purist supercar", aimed at boosting total production from the present 20 a year to more than 100.
The company, spun off an automotive design consultancy established in Germany around a decade ago by Liverpool-born brothers Neil and Ian Briggs, currently employs 24 people but wants to expand to nearer 60 by building more cars and moving more of its assembly operations in-house.
Development director Neil Briggs says BAC (which stands for Briggs Automotive Company) will first lift Mono production from the present two or three cars a week to four towards the end of the year to cut its present year-long waiting list and help cope with demand from the present stable of 20 export markets, of which the US is currently the leader.
The Mono's stablemate is several years away, although Briggs believes the company's flexible manufacturing progress and agility will allow quick progress once the major decisions have been made.
Few of the new BAC model's specifications are set in stone, though many of the Mono's properties – ultra-light weight, very high performance, compact proportions, sophisticated aerodynamics, a driver-hugging cockpit, "formula car" suspension technology, normally aspirated power and possibly a pneumatic paddle-controlled Hewland transaxle — will be on the agenda. Neil Briggs says he would like the chance to co-operate more fully at the design and integration stage with an engine partner. BAC is also about to appoint an owner advisory panel and will listen carefully to its opinions, says Briggs.
The key decisions will be over the car's size, whether it has an open or closed cockpit, and above all, the number of seats and their layout. So far, says Neil Briggs, there are strong views in favour of single and three-seat (with the driver in the middle) layouts. "Nothing's decided," says Briggs, "but I don't believe we'd do a two-seater. That's other people's territory."
For 2016, the Mono gets a mountune-developed 2.5-litre Ford four cylinder engine to replace the previous 2.3-litre. It lifts power 9% to 310bhp, but concedes a 40kg weight gain so its power-to-weight ratio stays at 525bhp/tonne. It also has a fly-by-wire throttle for the first time, giving greater sensitivity and more sophisticated throttle mapping.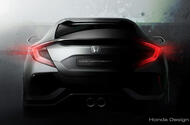 All-new Honda Civic is due in 2017, but will be closely previewed by a show car at next month's Geneva show
Honda will preview the exterior design of the next-generation Civic with a prototype at the Geneva motor show next month.
The Civic Hatchback Prototype, seen in this teaser sketch, will point to the styling of a new Civic due for launch early next year.
Clues to the design of the new car can be seen in the Civic saloon already on sale in the US. The prototype has the same tail-light design, although its central twin exhausts and revised roofline suggest the Geneva show car will have a sportier look. 
Honda will use the new car to turn around its fortunes in Europe. The new five-door hatchback will replace today's model, which has not made the market breakthrough for which Honda had hoped. 
The new five-door Civic will be built at Honda's Swindon plant, which has been running significantly below its capacity of 250,000 per year since 2009. Despite Swindon making just 119,000 Civics and CR-Vs last year, Honda confirmed earlier this year that it would make a fresh £200 million investment in the plant to allow for the production of the new Civic.
Swindon will be the sole global source for the Civic hatchback. Production of the CR-V, meanwhile, will shift to Canada.
There's no news on whether Europe will again get an estate version of the Civic, but it seems relatively unlikely under Honda's new policy of building global models.
Because the Mk10 European Civic is part of Honda's global Civic programme, today's highly distinctive layout - in which the fuel tank is mounted under the front seats, allowing for a deep rear luggage space - will be dropped.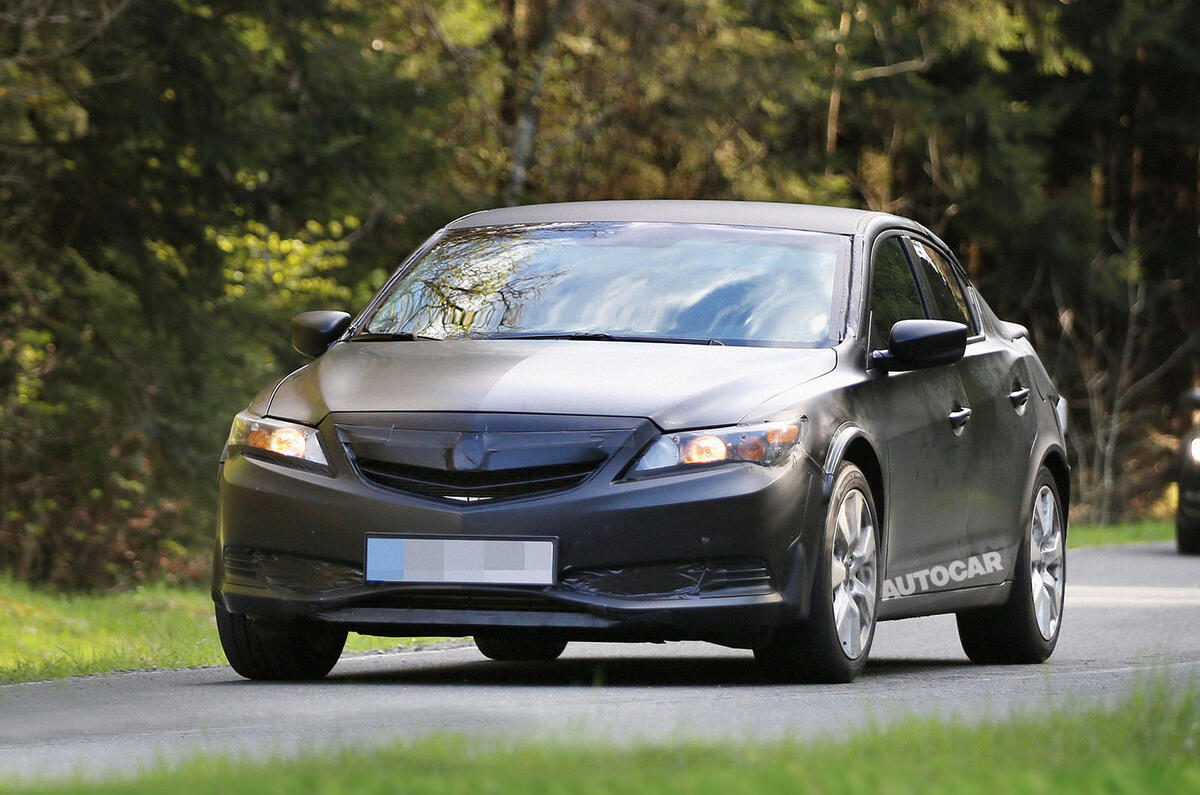 The new platform for the global Civic has already been launched under the US-market 2016 Civic, and early reports suggest it will be competitive with rival European cars. Independent rear suspension mounted on a separate subframe will replace the simple torsion beam used by the current European Civic. Reports also say the platform is 25% stiffer than that of the previous-generation Civic.
Honda gave a big clue to the form of the 2017 Civic hatchback when it showed a coupé concept at the New York motor show last year.
The mainstream engine is expected to be the new 1.5-litre petrol turbo unit that has just appeared in the US Civic. The US launch models have been tuned for 173bhp, but this engine is expected to be sold in Europe in lower-powered versions as well.
The 2017 Civic will also get a new 1.0-litre three-cylinder turbo petrol engine. This is good for 127bhp and 148lb ft and will, in effect, replace Honda's normally aspirated 1.8-litre petrol engine. The 1.0 turbo engine should be rated at 99g/km CO2, according to Honda sources in Japan.
Honda's current 1.6-litre diesel engine will also be fitted to the new Civic.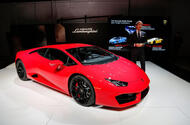 Stephan Winkelmann reflects on Lamborghini as he heads to Audi's performance division
Lamborghini president and CEO Stephan Winkelmann is poised to take over as the head of Audi's Quattro performance division after more than a decade in his current role.
Speaking to Autocar in a Q&A, Winkelmann, whose replacement is rumoured to be ex-Ferrari F1 team principal Stefano Domenicali, reflected on the state of the company:
Lamborghini volume has nearly trebled its volumes since the recession. How did you go from 1300 sales to 3300 so quickly?
"The end of the financial situation helped, but mostly it was because we improved our models. The first kick came with the Aventador in 2011, and since 2014 the Huracán has had a huge effect. We increased by nearly 25% last year."
What do you see as the future of the super-sports car? The market isn't expanding, is it? And Lambo has new rivals…
"It's a fierce battle, and it's great for the customer. The world market is still only around 31,000 units, well short of the 35,000 we saw in 2008. We think anticipation is key. You have to visualise what people are waiting for and exceed their expectations."
How long will Lamborghini avoid turbocharged engines?
"Going to turbos is about reducing CO2, not improving air quality. We can clean our exhaust with after-treatment. So we can go for a while yet. We think buyers see the sound and response as one of our USPs, but we're not glued to naturally aspirated engines. If we have to change, we will."
When will we see the production Urus SUV? Will you show a concept beforehand?
"We showed a concept in Beijing in 2012. We'll be ready to launch the car in 2018 but we still wouldn't want to lessen the impact of the launch. We might show it about a year before, some time in 2017."
What will be the major challenge with that car?
"Undoubtedly it will be making sure it carries Lamborghini's DNA. It helps that there's an SUV in our past, but we have to make certain it connects with our existing products."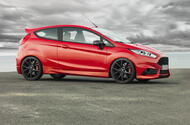 Sources are predicting the arrival of a hotter version of the ST, which would receive both engine and chassis tweaks
Ford could be revealing a hotter version of the Fiesta ST at the Geneva motor show next month.
The car maker has refrained from providing comment, but Autocar understands a hotter version of the Fiesta ST is on its way, sold under the name ST Plus.
The faster Fiesta, one of seven new Fords planned for this year, will be a powered-up, more focused version of the Fiesta ST rather than a full RS model.
More power and torque are expected from the ST's turbocharged 1.6-litre engine, which has so far been tuned to 212bhp and 236lb ft in its most potent Mountune form. A sharper chassis and more extreme bodykit are other likely additions to the car.
Rumours that a Fiesta RS would be produced appear to have lost momentum, possibly because there's no room for such a model in Ford's tightly compacted hot hatch line-up.
The Focus ST, for example, produces 247bhp from its turbocharged 2.0-litre engine and is priced from £22,745. But the Fiesta ST is only 35bhp down on this once the Mountune kit has been added, and in its top-spec form it's barely a couple of thousand pounds cheaper.
The four-wheel-drive Focus RS has set a trend that a Fiesta RS would have to follow, but such a car would likely tread on the toes of the Focus ST. A slightly less hardcore Fiesta ST Plus model would therefore squeeze more neatly into the available line-up.
Ford does want to produce more RS models at a later date, however. The firm's global sales and marketing chief, Stephen Odell, said at the recent Detroit motor show that RS "was a really valuable brand" and that the company had "an opportunity to keep it fresh".
Just yesterday, Ford announced it will be unveiling a new model, its latest in-car technology and the latest Ford Smart Mobility developments at this month's Mobile World Congress event in Barcelona. Though nothing more has been revealed, we expect the updates to come part of a Kuga facelift.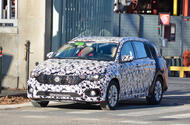 Estate variant of Fiat's Tipo saloon and hatchback spotted testing ahead of an anticipated launch later this year
The new Fiat Tipo Station Wagon has been spied testing, ahead of its launch later this year.
It's clear from the spy shots that the estate variant will share the same front-end styling as the Tipo hatchback and saloon. This is particularly apparent at the car's front, where the grille design follows that of the 124 Spider and the lights adopt Fiat's new design languag. Heavy black cladding prevents us from seeing the rear-end treatment, but a boomerang-shaped tail-light design is visible, following the same approach as the saloon, which we test drove earlier this year.
In profile, a gently tapering roofline and sloping tailgate can be seen, much like those of rivals such as the Seat Leon ST. The Tipo Station Wagon will be a touch longer than the saloon's 4.54 metres, while offering considerably more boot space than the 500 litres or so offered by the saloon. 
Like the Tipo saloon and hatchback, the Station Wagon will come with a choice of four engines at launch - two Multijet II diesels and two petrols - with power outputs ranging between 94bhp and 118bhp.
Spy shots of the new Fiat Tipo hatchback also revealed the car testing ahead of going on sale in 2016.
The Tipo hatchback is based on the same platform as the saloon variant, which was unveiled at the Istanbul motor show in May 2015. The first cars are expected to reach the UK in the second half of 2016.
While both hatchback and estate variants of the Tipo will be offered in this country, Fiat is still deciding whether to bring the saloon version here. All three variants will be shown at the Geneva motor show next year, as Fiat looks to strengthen the 'practical' element of its model line-up. 
Fiat brand boss Olivier François said: "On a global basis, Fiat has two legs to its range. There is the aspirational, emotional side, with the 500 and now the 124. And then there is the more pragmatic, practical side, with the Panda and Punto. We are still committed to this side, and you will see this in Geneva. We have the Tipo ready for Europe, and we'll have three versions there."
The new hatchback will compete in the same crowded mass market as Ford's Focus, the new Vauxhall Astra and the Seat Leon when it goes on sale.
Fiat is also said to be planning a successor to the Punto, which has been on sale since 2005. The replacement would use a modified version of an existing platform in order to minimise costs, but Fiat is tight-lipped about the Punto replacement. Neither car is likely to make it to the US. "For now we think the aspirational side of the brand works in the US," said François. "Different regions will have one leg or the other, and only some will have both."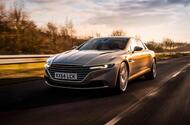 An emotional purchase rather than a rational one, but for the super-rich, super-exclusive customers who'll own the Lagonda Taraf, it's just what they're after Aston Martin's take on the super-luxury saloon and a revival for the Lagonda name badge.Although Taraf production is limited by both production constraints and the car's staggering price tag. Aston is planning to eventually launch a wider range of Lagonda models. The company has said it won't make more than 200 Tarafs, but with 50 built and production set to stop before the end of the year, the final total is likely to be closer to 150. This will be one of the rarest saloons on the planet.Initially sales were limited to the Middle East, but late last year Aston broadened the ordering to other markets. Both left and right-hand-drive versions are available, with an ex-works price of £685,000 in the UK.Without context that price tag looks ridiculous. For the same money you could buy both a Rolls-Royce Phantom and a Bentley Mulsanne plus a fully loaded Range Rover SV Autobiography on the side.But this rarefied part of the market doesn't play to the normal rules, and anyone in the fortunate position of being able to consider a Lagonda is going to be able to scratch any automotive itch they have ever had. What's really on offer here is unmatched exclusivity.At 5396mm in length the Taraf is massive, although shorter than a Maybach S600, Rolls-Royce Phantom or Bentley Mulsanne, and it radiates presence beyond even that given by its gargantuan size.Despite wearing number plates and Topaz Gold paintwork that's more suited to Dubai summers than Warwickshire winters, it still has the otherworldly swagger of a concept car, the muscular lines and swept back styling making it look like it was designed for a futuristic movie: it's the car the bad guy's boss would be driven in.Underneath it's less complicated. Describing it as an XL version of the existing Aston Martin Rapide S saloon is a gross oversimplification and one that trivialises the huge amount of design and engineering that's gone into it. But, whisper it, it also expresses the fundamental truth here.The Taraf sits on a stretched version of Aston's familiar VH bonded aluminium architecture and is powered by a development of the long-serving naturally aspirated 6.0-litre V12.Which, as in the Rapide S, DB9 and Vanquish, powers the back axle through a rear mounted eight-speed transaxle. The wheelbase is 200mm longer than that of the Rapide S, but despite the stretch the use of carbonfibre panels allows Aston to claim an identical 1995kg kerb weight for both cars.Relatively few buyers will experience the Taraf's driver's seat before they climb into the rear, with many buyers expected never to pilot their own car. But in the front of the cabin the Rapide S similarities are overwhelming, with the two cars sharing the same dashboard, control layout and even front door trims.The seating position is further back, putting shoulders very close to the substantial B-pillars, and the high glassline creates a surprisingly coupé-like driving position.The back is very different, and this is where the effort has been directed. The engineering team have done an impressive job of carving space out of what remains fundamentally a sports car architecture, and it's a completely different car from the tight-fitting Rapide S.The Lagonda loses the Aston's chunky centre console, although there's still a substantial bump over the transmission tunnel, and now also a proper view out of the windows. Pretty much all of that wheelbase stretch has gone into extra leg room. The rear seats are comfortable but don't recline, and the Taraf feels short of toys when compared to its obvious rivals.The Lagonda still sits on steel springs with switchable dampers charged with combining both comfort and response, which is a notable contrast to the pillowy air suspension of all its obvious rivals.The engine has a quiet start function, purring into life without the exuberant blip Astons deliver when they first fire up. The throttle has also been retuned to deliver a far more leisurely initial response, with the Taraf pulling away cleanly and trundling along happily at a gentle motorcade speed.But the fundamental Aston character isn't buried particularly deeply. As always, the V12 engine gives its best when worked hard, pulling with increasing vigour and a gorgeous yowling soundtrack at higher revs.The gearbox also seems to be happier in its manual mode than when left in drive, with changes ordered by the shift paddles delivered quickly and cleanly.The hydraulically assisted steering feels light but increased chassis loadings deliver proper feedback, and the Lagonda feels far smaller on the road than its dimensions suggest it should.It's soon being hustled along at speeds that would produce some complaints from any rear-seat passengers, with the Taraf showing every sign of enjoying this unlikely back road workout, especially with chassis and throttle pedal firmed up in Sport mode.What's lacking is much in the way of waft. There's noticeably more road and wind noise than you would find in its obvious rivals, and although the springs and dampers do a good job of dealing with rougher surfaces at speed – and the longer wheelbase definitely helps to smooth things out compared to the Rapide – the Taraf doesn't deliver the magic carpet experience that normally comes as standard in this segment.It still feels like a sportscar at heart, but one that's doing a decent impression of a limousine. Which, to be fair, it pretty much is. This is a car that makes a Rolls-Royce Phantom or Bentley Mulsanne look positively mass-produced, and that will be the core of its appeal of the super-affluent who want exclusivity above anything else.This is a fascinating bit of toe-dipping and potentially the start of something far bigger. Here's to that future. Aston Martin Lagonda TarafPrice £685,000; Engine V12, 5935cc, petrol; Power 540bhp at 6650rpm; Torque 465lb ft at 5500rpm; 0-62mph 4.4sec; Top speed 195mph-plus; Gearbox 8-spd torque converter automatic; Kerb weight 1995kg; Economy 21mpg (combined, est); CO2 300g/km, 37% (est)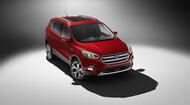 Promise of a new model suggests updates from new Escape will be added to its European equivalent
Ford has announced it will be revealing a new model and its latest in-car technology at the Mobile World Congress event in Barcelona on 22 February.
The carmaker has refrained from providing exact details, but insiders are predicting the updates will be shown on a facelifted Kuga.
If it is an updated Kuga, we already have a very good idea of what's to come, because the model's US-equivalent, the Escape (pictured below), was launched with a facelift at the LA motor show last year.
That car has a more angular face with a new wide-mouthed grille and reshaped tail lights . Inside, a three-spoke steering wheel that more closely resembles the one fitted to the Focus is added, and there's also new switchgear for the climate control.
The Escape comes with Ford's latest SYNC3 infotainment system, which utilises a 7in touchscreen display, and also features SYNC connect technology, which can remotely lock, start and even schedule future starts via a smartphone.
It has also been given active cruise control and lane-keep assist technology, forward collision warning and brake assist, as well as Ford's latest park assist technology.
We can expect most, if not all of these updates to be applied to a facelifted Kuga.
Additionally, the US-market car's engine line-up has received a few tweaks, but there's no word as to whether the smaller line-up of European Kuga engines will be upgraded.
Currently, UK buyers have a choice of just two main turbocharged units, a 2.0-litre diesel and 1.5-litre petrol, although admittedly these come in several states of tune.
Subaru will showcase an XV concept at the Geneva motor show, which will preview the XV's replacement
The Subaru XV concept has been teased in an image released by Subaru and will be on display at the Geneva motor show in March. 
The XV concept will preview the next-generation Subaru XV, although no further details have been released. The XV has just received its mid-life facelift, with tweaks to the engines, chassis and interior and exterior styling, as well as an improved infotainment system.
The subtle styling changes include new metal-tone front foglight surrounds and a new lower grille and bumper treatment. Tweaks to the headlight clusters also feature on the 2016 model, along with a new set of diamond-cut black and silver alloy wheels. Two new paint colours have also been added.
The rear end remains largely unchanged, aside from revised LED tail-lights and tweaked boot spoiler.
The exterior upgrades mark the second part of a two-step facelift, according to Subaru, with the interior upgrades having been put in place prior to the exterior updates for the 2016 model year. The chassis upgrades are claimed to improve the ride and grip of the XV and were implemented prior to the exterior facelift. Despite the subtlety of the exterior styling tweaks, Subaru claims that the updates 'significantly change' the original car.
Subaru says it experienced an increase in sales following the earlier interior and chassis upgrades and expects to maintain current sales of 600-700 units per year in the UK, although this is a long way from the sales figures of more mainstream rivals such as the Nissan Qashqai and BMW X1. 
Inside, a new steering wheel is the most notable upgrade, with a greater amount of metallic trim replacing some black plastics in the previous model. Voice control has also been added to the XV, allowing navigation and climate control settings to be changed using voice commands, alongside full connectivity for iPhone users.
Engine updates have improved the fuel economy of the 2.0-litre petrol unit to a claimed 43.5mpg, with CO2 emissions of 151g/km when equipped with Subaru's Lineartronic CVT transmission. The 2.0-litre diesel's fuel economy rises to a claimed 52.3mpg, with emissions falling by 5g/km to 141g/km. No further engines are planned to feature as part of the XV model line-up, though.
The facelifted XV goes on sale from 1 March, with prices remaining unchanged from the previous model despite Subaru's claim of higher-quality interior materials.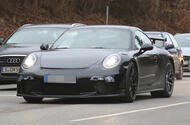 Facelifted Porsche 911 GT3 receives subtle styling refresh ahead of its 2017 on-sale date
The Porsche 911 GT3 has been spied testing, with a subtly refreshed front-end.
A deep, redesigned front spoiler, air intakes and new LED indicators are the extent of the changes, with the rest of the car's styling carried over from the current model, including the slit grilles at the front and back, large rear wing and central twin exhausts.
The test mule was also running on what appear to be new wheels with a multi-spoke design. However, previous spies of the closely related 911 R still use the same alloys as the outgoing GT3.
Despite the rest of the 911 range now being turbocharged for added efficiency and reduced emissions, the facelifted car is likely to maintain the naturally aspirated 3.8-litre engine of the current generation GT3.
The current 911 GT3 pumps out 468bhp and 324 lb ft, which combined with its 1430kg kerb weight, equates to a 0-62mph sprint which is over in just 3.5sec and a top speed of 196mph.
Porsche couldn't give any further details on the upcoming 911 range-topper, but it's expected that the facelifted 911 GT3 will appear at the Geneva motor show alongside the upcoming 911 R, which is a manual-only variant on the GT3 format.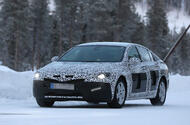 Larger, more spacious Insignia will become a truly global model for Vauxhall, and will arrive with new engines and revised styling
These are the latest images of the next-generation Vauxhall Insignia being tested near the Arctic Circle in preparation for the car's launch in 2017. The new version of Vauxhall's Mondeo rival is said to be larger, lighter and more efficient; the biggest change is expected to be a small stretch in the car's wheelbase.
The next Insignia will be a global car, and will be sold under the Vauxhall, Opel and Buick badges across Europe, the United States and China.
It is believed that the next Insignia is quite a long way from making its public debut; it's not expected to appear until the Paris motor show in the autumn or, potentially, the Geneva show in March 2017. 
The latest spy shots suggest the new Insignia will get an evolutionary look, with only minor styling changes to bring it into line with the rest of the Vauxhall range. Although heavy cladding hides the majority of the car's styling, it has a new swooping roofline that is higher at the rear and a wider rear end.
As well as increasing rear space and making it easier to access the rear cabin thanks to the taller door apertures, the Mk2 Insignia will get a bigger and more user-friendly boot. A new tailgate design with redesigned rear light clusters will help to make the boot deeper, wider and taller boot than before, with a 565-litre capacity that will match the Skoda Superb.
Under the skin, the Insignia is based on a moderately updated version of GM's familiar Epsilon 2 architecture. In European markets, the most important engine upgrades will be the debut of the new 1.6-litre CDTi diesel in the Insignia, which will replace today's 2.0-litre CDTi unit.
With a newly engineered installation, General Motors will be targeting best-in-class refinement for the diesel Insignias. The new 1.6-litre CDTi engine will be offered in a range of outputs, starting at 136bhp and rising to around 170bhp.
Today's Insignia is already available with GM's new 1.6-litre SIDI turbocharged petrol engine in 168bhp form. This engine will also be offered in two lower-powered versions.
The Insignia will be offered with a new eight-speed automatic transmission, which is expected to improve overall fuel economy by around 3% compared with the six-speed manual versions.
Additional reporting by Matthew Griffiths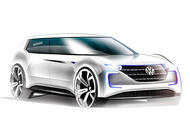 Beleaguered Volkswagen aims to "make a statement" with a cutting-edge new electric model which will be capable of travelling more than 300 miles on a single charge
Volkswagen's leading engineers have been challenged by company boss Herbert Diess to create an electric car that can be as iconic as the Golf.
The secret plan, uncovered by Autocar, has been hatched by Diess as a crucial pillar in the firm's attempts to rebuild its reputation in the wake of the emissions scandal and is described as a watershed project similar in depth to the multi-billion-pound engineering undertaking that spawned the i3 at BMW, his former employer.
Diess has told Volkswagen's engineering bosses to create "the Volkswagen for the digital age", and the top engineering talent at the firm's Braunschweig R&D centre is already working on the new car, which is tentatively due in 2019.
Diess has challenged his team to set new benchmarks for electric performance as well as developing cutting-edge connectivity and infotainment systems and style the car so it stands out as a statement of VW's technical capabilities.
The hand-picked team of engineers is currently defining the packaging of the new zero-emissions model, which is understood to be around 4400mm in length. That compares with the Golf's 4255mm and suggests that it will fight for sales in the same segment while offering a unique powertrain, interior environment and look.
"It will make a huge statement," a senior engineer with knowledge of VW's research and development plans revealed. "It's planned to use cutting-edge technology but at a price that makes it attainable for the average motorist," the source added.
Autocar has been told the dedicated electric car will be the first to use the Volkswagen Group's new MEB architecture, which has been developed specifically for electric cars.
The platform was showcased on the Budd-e MPV concept at the Consumer Electronics Show in Las Vegas earlier this year, with VW claiming the architecture "heralds a fundamental change in electric cars, and thus for the car in general, because the MEB throws all fossil fuel ballast of the present overboard, having been designed specifically for electric cars".
As a result, Volkswagen says the body design, interior design, interior packaging and drive characteristics of electrically powered cars will change dramatically. 
Changes compared with current car design are said to focus on the opportunity to have a far more spacious interior in a car with a much smaller footprint, greater agility and greater connectivity opportunities. In addition, Volkswagen has targeted a significant growth in electric range through the use of compact electric motors and high-performance batteries.
While Volkswagen is banking on a range of up to 300km (186 miles) for the next-generation e-Golf due in 2018, the engineering parameters for the new electric model are claimed to call for a range exceeding 500km (311 miles) - the same distance claimed by Porsche for the production version of its Mission-E saloon.  
Despite the apparent parallels between the Budd-e concept and the stand-alone electric car, a key source at Volkswagen's R&D centre said they were being developed separately, albeit off the same MEB platform.
VW Group CEO Matthias Müller has confirmed that there will be 20 electric or plug-in hybrid vehicles in the VW Group's range by 2020.
"We are using the current crisis to fundamentally realign the group," he said. "I feel we now have the chance to build a new and better Volkswagen."
To date, with the exception of the ultra-high-tech XL1, Volkswagen has concentrated its electric car developments on existing models such as the Up and Golf. Prior to the emissions scandal, it had been taking a cautious approach to electric car sales.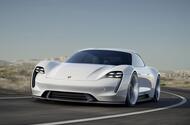 Porsche's all-electric Tesla Model S rival is scheduled to go on sale in 2020, and has received an official development codename
Porsche has granted the 600bhp-plus Mission E an official codename, indicating that the advanced electrically powered saloon has formally entered development.
The move follows an announcement in December last year confirming that the Tesla Model S rival had been given a production green light and was tentatively set to go on sale in 2020.
The production version of the Mission E, codename J1, has been conceived to sit on a bespoke platform designed to accommodate a lithium ion battery pack capable of providing the car with arange of more than 330 miles. In combination with two electric motors, the sleek four-door promises a 0-62mph time of just 3.5sec.
The new platform is said to be separate to the structure being developed by parent company Volkswagen for its new range of electric cars, which includes a production version of the Budd-E concept seen last month at the Consumer Electronics Show in Las Vegas.
Heading development of the zero-emissions Porsche is Stefan Weckbach, who previously led product strategy and more recently was responsible for the development of the Boxster.
Meanwhile, officials have confirmed to Autocar that the upcoming facelifted 911 GTS will retain its existing naturally aspirated 3.8-litre flat six engine, rather than adopting a powered-up version of the company's new twin-turbocharged 3.0-litre flat six.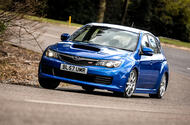 Subaru Impreza 2.5 WRX STI
Subaru has broadened its line-up in recent years, but its used models remain a byword for cool, fast, all-wheel-drive machines

Subaru is arguably most famous for making the legendary Impreza, but that's not the only model to look for on the forecourts these days. Here's our pick of Subaru's performance range.

1 - Subaru Impreza 2.5 WRX STI (2007-2011)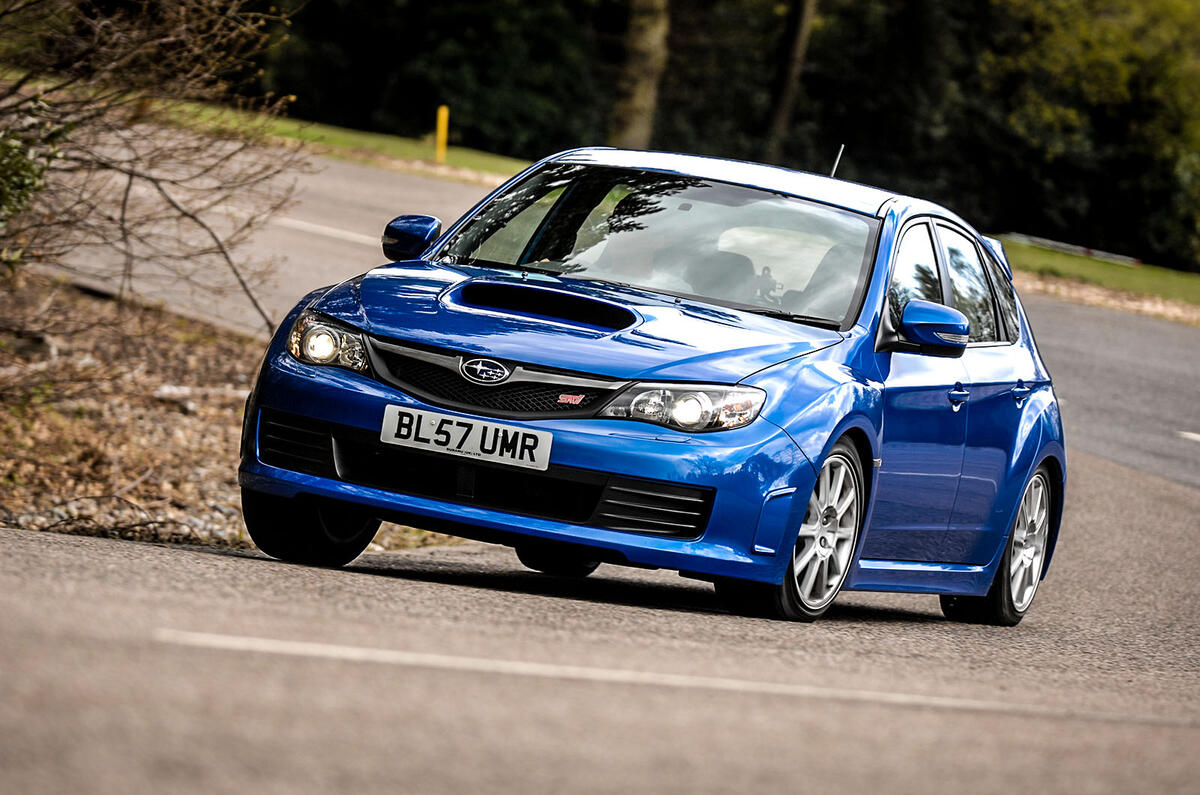 The Mk3 Impreza broke the model's mould, being available for the first time as a practical five-door hatch in the hope of competing with the Volkswagen Golfs of this world.
But while the WRX can't quite be held in such high esteem as its predecessors, it retains a unique and alluring character. The steering has near-perfect weighting, while the handling is spot on and able to keep everything neat and tidy until the tyres run out of traction.
Under the bonnet is a 2.5-litre boxer engine, which develops 296bhp and is full of character and delightfully smooth. The WRX gets to 60mph from rest in 5.2sec.
An 80,000-miler from 2008 is available from £10,000.
2 - Subaru Legacy 3.0 R Spec B (2003-2009)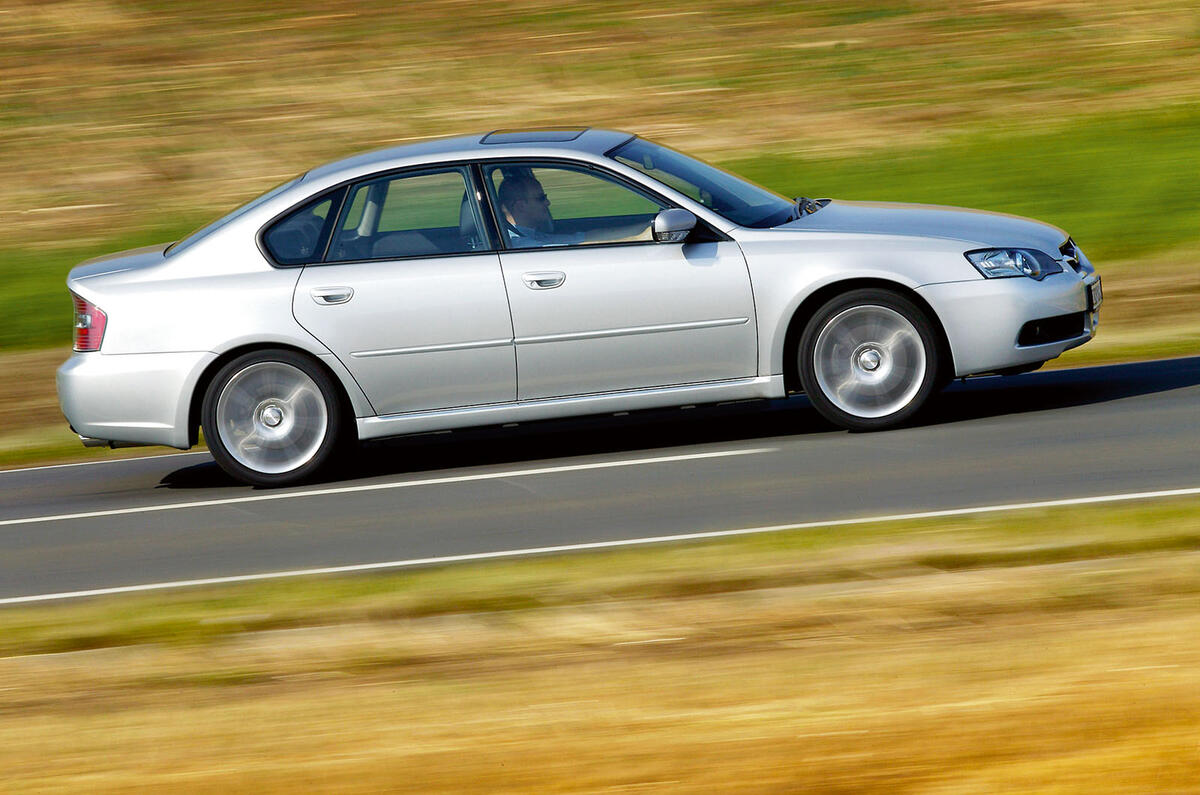 For years it was the unsung hero of motoring, let alone Subaru's range. A decade on and a Legacy saloon is a steal.
The Legacy does everything well in a manner that's as modest and unassuming as the car looks. The handling is great and the steering is accurate and responsive.
The 3.0-litre petrol Spec B is the muscle of the Legacy range. Delivering 241bhp, and with the help of all-wheel drive, it'll get to 60mph in 8.2sec.
Servicing intervals are reasonable, but repair bills can be high. Watch out for engine issues, ventilation failures and clutch and gearbox problems. A 2005 Spec B with 37,000 miles can be found for less than £4500.
3 - Subaru Impreza 2.0 WRX (2003-2007)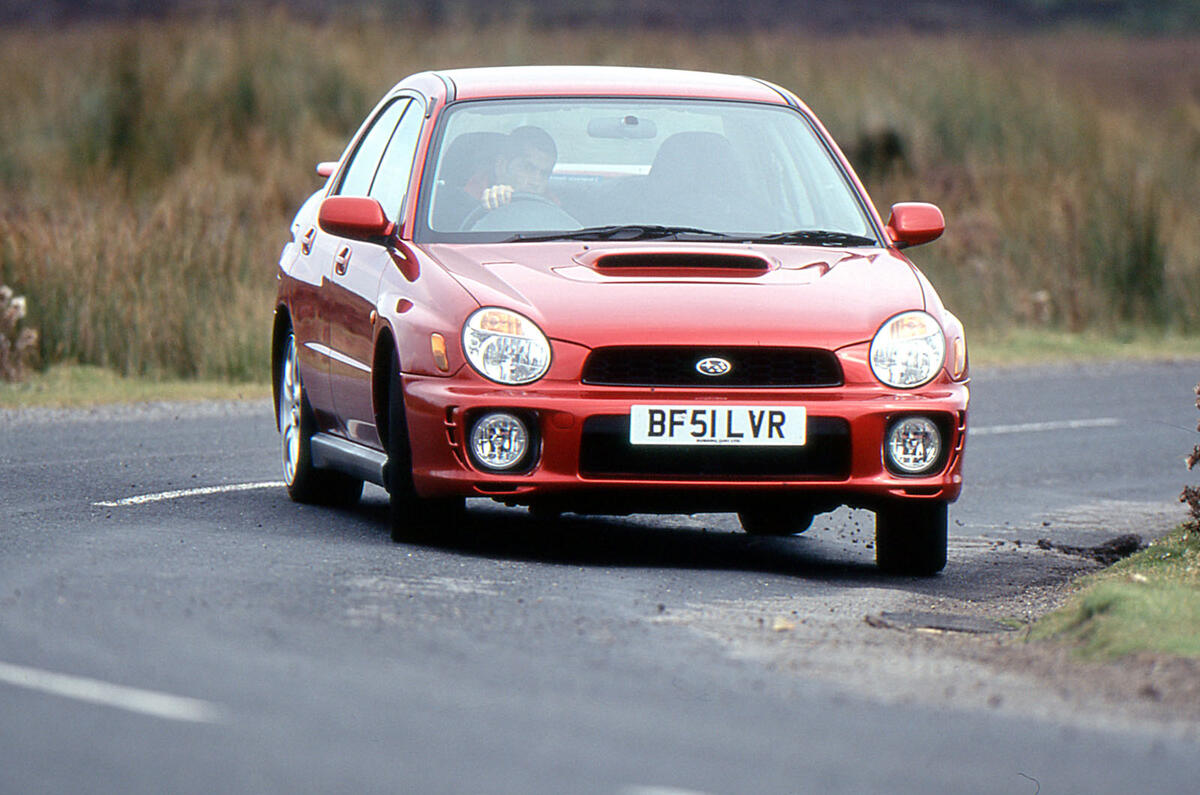 Subaru's second attempt at the Impreza came with a divisive frog-eyed front end, rectified by a hastily launched facelift.
The Mk2 is an impressive performance car. It's rapid, with 221bhp rocketing the four-door from standstill to 60mph in 5.6sec. Mated to a four-wheel drive system, top-notch steering and excellent handling, the car really excels. It's roomy and well made, too, but the cabin is drab, with lots of plastic on show.
Running costs are on a par with a small mortgage. Tyres and brakes wear quickly, insurance is high and economy is in supercar territory. Breakdowns and failures, however, are rare.
A super-quick, 65,000-mile frog-eyed car can be yours for around £3500.
4 - Subaru Forester XT Turbo (2003-2008)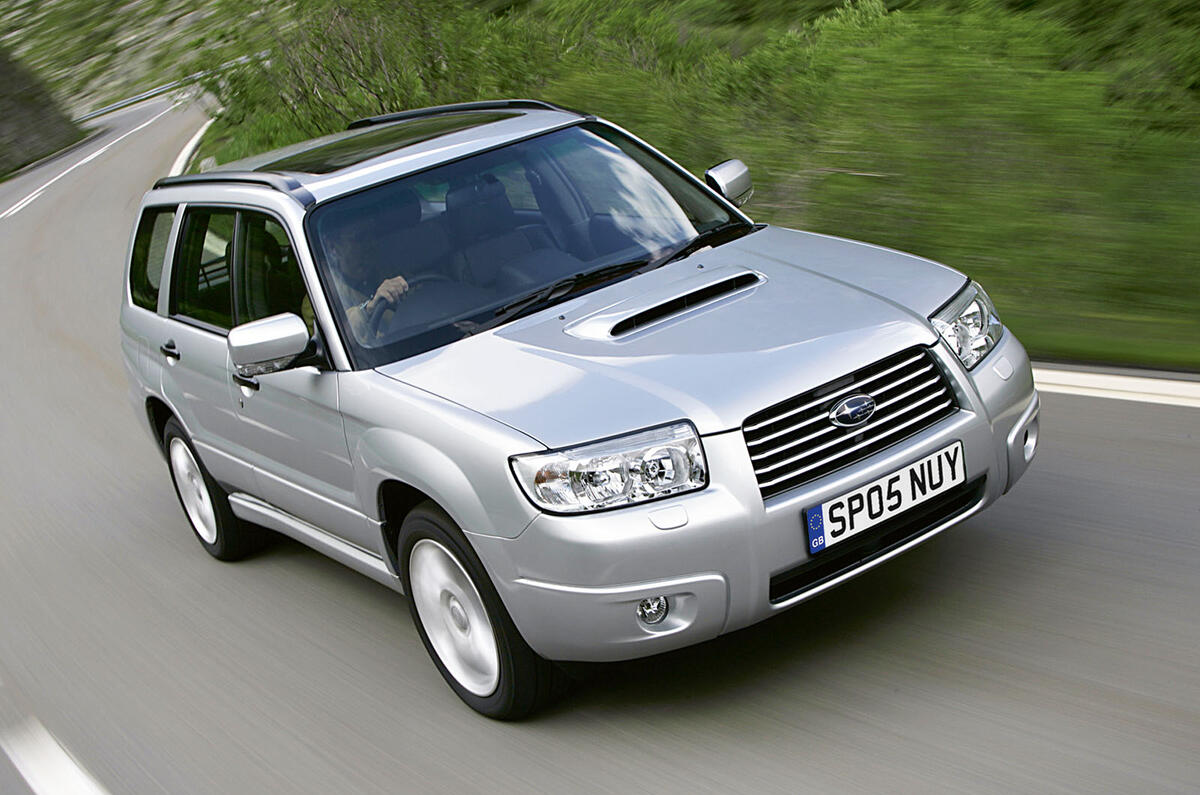 Did Subaru get to the crossover market too early with the Forester? Not a normal estate, not a full-on 4x4, it didn't catch people's imagination as it might. Nevertheless, it's a unique ownership proposition, especially in XT Turbo form.
The high-riding, all-wheel-drive estate rides smoothly, has good handling and is fast, with a 2.5-litre engine that propels it to 60mph from rest in just 5.7sec.
Cabin quality isn't the best and it's not the roomiest, but it will cope with some muddy stuff, while carrying the family. As with most Subarus, it's generally reliable, but clutches and driveshafts can give out at around 60,000 miles.
Ten-year-old cars with 70,000 miles are on forecourts from £5000.
5 - Subaru Impreza P1 (1992-2003)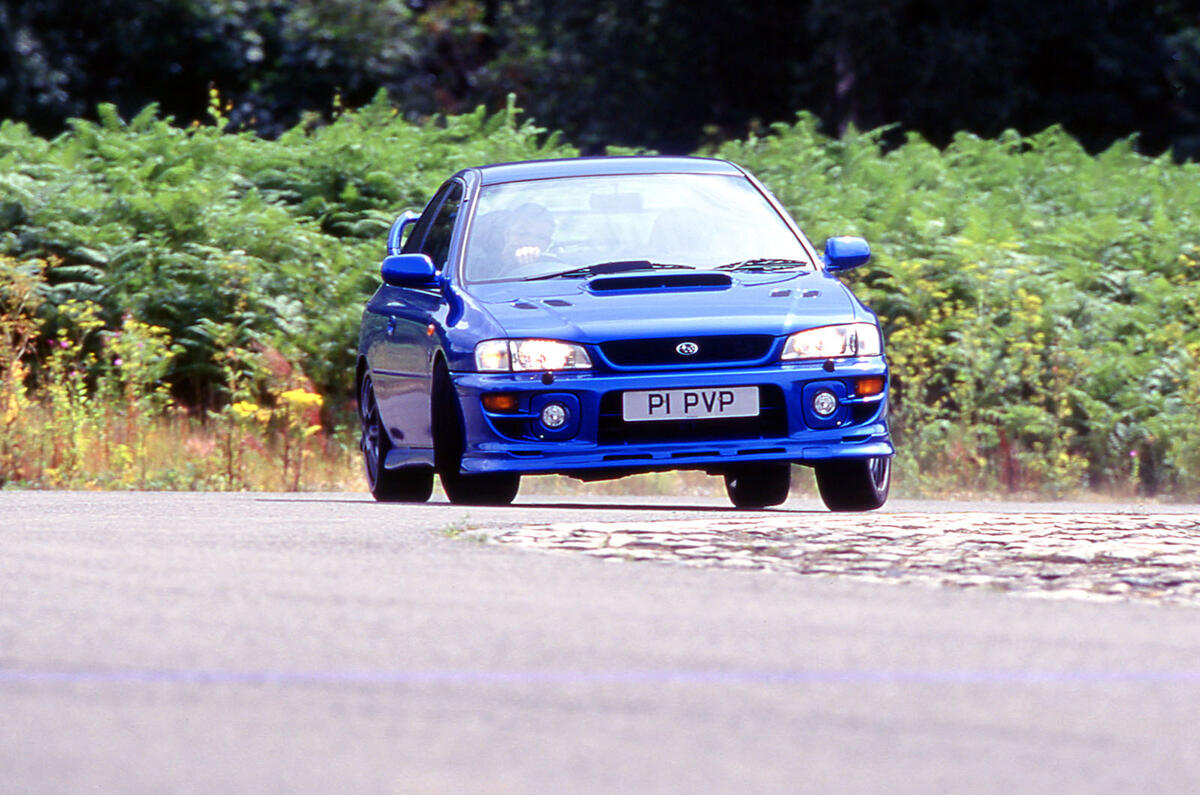 The relationship between Subaru and Prodrive in the 1990s not only delivered a wealth of World Rally Championship wins but also produced what is arguably the best Impreza ever.
The P1 was produced in rare two-door form, with a 2.0-litre rally-edition engine producing 280bhp. The limited-edition model comes with a big-bore exhaust, quick-shift gears, suspension tweaks 
and 17in titanium-finish alloy wheels. 
The sprint to 60mph takes just 6.3sec, with a top speed of 144mph.
Watch out for imports disguised as UK-spec cars, and have all the full vehicle checks carried out before parting with your cash. This collectable model can be appreciating in your garage from £13,000 for a 2001 example of the P1 with 83,000 miles on the clock.
Matthew Griffiths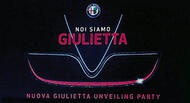 A facelifted version of the Alfa Romeo Giulietta has already been spotted testing; launch event invite teases the new car's nose
The facelifted Alfa Romeo Giulietta will be revealed on 24 February, as confirmed by a launch event invite that also teases the new car's nose.
The 2016 model has already been spotted testing in the Arctic Circle ahead of its launch. The disguised prototype suggests that exterior tweaks on the hatchback are minimal.
Alterations are focused on the front of the car, where the refreshed design carries subtle cues from the forthcoming Giulia, which is also due an update. The front bumper gets a revised design, and camouflaged light clusters hint at some changes. 
The rear lights remain the same as those of the current car, while a camouflaged interior on a test mule spotted late last year suggests that upgrades in the cabin should be expected.
There's no official confirmation yet of how the engine line-up may change, but more efficient versions of the familiar T-Jet petrol and Multijet diesel units are likely to replace the current crop of powerplants.
First launched in 2010, the Giulietta is priced between £18,450 and £27,590 and counts the Vauxhall Astra and Volkswagen Golf among its rivals in its class. There's no official word from Alfa Romeo on whether this facelift will command a price increase.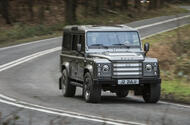 You've heard of Kahn, you've heard of Twisted. Now meet JE Engineering's Zulu2, a £150,000 supercharged V8-powered gentleman's G-Wagen Overhauled versions of the recently deceased Land Rover Defender are nothing new. Most of us are now familiar with names such as Twisted and Khan, who'll either take your Defender and modify it, or provide you with a blank canvas to modify at will.In much the same way, JE Engineering is nothing new either. It's been around since the mid-1970s and is perhaps best known for its work on performance versions of the P38 Range Rover. In fact, JE would like to think it played a small part in the birth of the Range Rover Sport.  An honest name like JE Engineering should give some idea of what the company is trying to achieve, and how it believes it stands out against its main rivals. Sure, its business includes everything from purely aesthetic modifications to diesel engine upgrades and automatic gearbox conversions, but the Zulu 2 is very much a standalone halo product. In turn, JE Motorworks is its new sub-brand.You start with a standard 90 or 110, but JE will then fit a unique, bored-up, 475bhp 4.7-litre version of JLR's supercharged last-generation 4.2 V8. Drive goes through a six-speed auto 'box borrowed from Ford - more commonly fitted to its F150 - and letting the V8 sing is a bespoke stainless steel exhaust with high-flow cats. A Quaife LSD has been added at the rear, and the 110's beefier four-pin differential has been shuffled from the back to the front axle.Thankfully the considerable go has been countered with the addition of some considerable stop: JE's 'big brake' conversion features 362mm grooved discs and six-piston calipers with upgraded pads at the front. Fox racing dampers all round, lowered springs at the rear and stiffer anti-roll bars are included to improve ride and handling.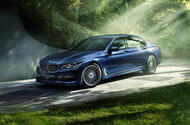 US-version of 7 Series-based B7 revealed; European model due next month
Alpina has revealed the US-version of its new B7 super saloon ahead of the car's world debut at the Geneva motor show next month.
The US car is identical to the model we will get in the UK, barring the fitment of xDrive four-wheel-drive, orange side repeaters and a left-hand-drive layout.
Under the bonnet of the new B7 is Alpina's 4.4-litre twin-turbocharged V8 petrol engine. It's a unit that's shared with the B5, but it produces 9bhp more in the B7, with 600bhp available between 5750-6250rpm. 590lb ft of torque is available from 3000rpm.
Thanks to the standard fitment of four-wheel-drive, US-spec cars will be quicker off the line than rear-driven UK cars. The US model can sprint from 0-60mph in a claimed 3.6sec, 0.8sec faster than its predecessor, while top speed is a quoted 193mph. For UK cars, less traction means we can expect a figure closer to four seconds for the same sprint, but a lighter weight (due to no four-wheel drive parts) may enable a top speed slightly closer to 200mph.
There's an eight-speed automatic transmission with Alpina's familiar Switch-Tronic shift buttons, which are located on the back of the steering wheel. The car maker claims that the gearbox's close ratios - with a spread of 7.81:1 - ensure maximum power is more readily accessible.
Alpina says that the car's twin-scroll turbocharger engine has also been tuned to offer strong performance at low revs. It backs this up with an impressive claim that 494lb ft of torque is available at just 2000rpm.
The carmaker attributes the engine's strong performance to effective cooling systems – which include large volume intercoolers – and its use of high-performance Mahle pistons and NGK spark plugs. Along with other high-performance parts, these enable the engine to run with 20psi of boost pressure and a compression ratio of 10.0:01.
Back pressure is reduced with the fitment of a model-specific stainless steel exhaust system, which features active valves to allow drivers to adjust the sound by switching the Driving Dynamic Control (DDC) switch between Comfort and Sport modes.
The car's chassis settings can also be controlled through DDC, with an adjustable air suspension system that in conjunction with adjustable dampers and Road Preview, which uses GPS to adjust the car's suspension for upcoming corners.
The car's ride height can be manually adjusted, and it can also automatically adjust according to driving scenarios. Above 140mph, for example, the car lowers itself by 2cm, helping to lower centre of gravity and therefore improve high-speed stability. This squat position also increases front wheel camber, which makes for more direct steering responses.
Conversely, drivers can raise the ride height by 2cm when driving at speeds of 20mph and under, to help clear obstacles such as speed bumps and kerbs.
The car sits on 20in Alpina classic wheels as standard, while 21in items are available as an option. The car is stopped by 394mm front and 368mm rear discs and four-piston calipers all round.US cars use xDrive four-wheel drive, which can continually adjust torque to each wheel depending on traction. This option won't be made available in the UK market.
We'll know more about the UK car when the European model is launched at the Geneva motor show next month. The European car will likely be called the B7 Biturbo.
Alpina has also confirmed that the upcoming B6 will be sold in the UK market. Though details of that car are slim, it should feature the same 4.4-litre V8 engine as the B5 and B7, and, like those cars, will be available in the UK exclusively as a rear-wheel-drive car.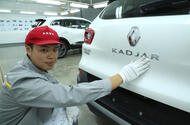 Carlos Ghosn, chief executive of the Renault, believes the French company's new joint venture with Dongfeng will boost its Chinese sales
Renault boss Carlos Ghosn is targeting annual sales of about 735,000 cars in China when the company's new road car operation there gets up to full speed.
The company has forged a joint venture with Chinese automotive superpower Dongfeng and last week the first fruits of the relationship, a new 150,000-capacity production plant, was officially opened in Wuhan in central China.
The factory will build two Renault-badged crossovers for the Chinese market to take advantage of an explosion in popularity of high-riding vehicles. The market for crossovers and SUVs in China grew by 53% last year compared with 2014.
Renault is one of the last of the major European makes to forge a joint venture to enable it to build and sell cars in China. Previously, Renault sold fewer than 25,000 cars per year in China and as an import-only operation, the prices of its products were heavily taxed.
Although Ghosn wouldn't put a timeframe on how rapidly Renault could grow in China, he eventually expected the company to attain about "3 and 3.5%" of the nation's new car market, which currently comprises around 21m per year but is expected to reach 25m by 2020.
The new Wuhan plant has the potential for expansion to produce up to 300,000 vehicles. When production of the two crossovers is underway, the factory will build an electric saloon based on the Fluence on behalf of Dongfeng.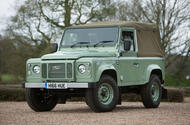 View 32 exclusive pictures of the soft-top Defender 90 Heritage that rolled out of Solihull last month
This is the last ever Land Rover Defender, which rolled off the Solihull production line on 29 January 2016.
Our 32 exclusive images reveal the details of that final model, which was the 2,016,933rd to be produced. It's owned by Jaguar Land Rover itself and will forever mark the end of a model that was on sale for a staggering 68 years.
Land Rover commissioned this final Defender to be built in as similar spec as possible to the first ever Series car. Despite the near seven-decade age difference, the resemblance between the two cars shows just how little has changed since the Land Rover Series' inception in 1948.
The final Defender is a 90, the smallest production Defender with a 93in wheelbase, and is finished in Grasmere Green, the same as the first car. Again, like the first car, it has been built in UK right-hand-drive form and wears a soft-top.
In keeping with original specifications, it gets two parts that have been fitted to all open-top Series Land Rovers since 1948: hood cleats and an underbody support strut.
At its heart is a 2.2-litre four-cylinder diesel engine, which was sourced from the Ford Transit and has been standard fitment in the Defender since 2012.
The car's number plate, H166 HUE, and the fake HUE 166 number plate decals are in tribute to the original Land Rover, which was nicknamed Huey.
Inside there's cream coloured leather seats, and the dash trim has been painted in the same colour as the exterior.
The last ever Defender will be kept as part of the Land Rover Heritage Collection.
Interestingly, Land Rover employees have already begun referring to it as the last of the 'current Defenders', suggesting thoughts are quickly turning to its replacement. That car isn't expected to arrive before 2018, however.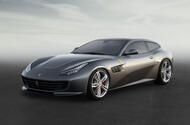 Previously known as the Ferrari FF, Maranello's four-wheel-drive grand tourer gets a new look, more power and torque and a rear-wheel steering system
The facelifted Ferrari FF has been revealed ahead of its global debut at the Geneva motor show, sporting a new name and upgrades inside and out.
The updated car now takes the GTC4Lusso name and gets subtle styling upgrades to mark it out from its predecessor. Aerodynamic improvements include a new front grille with integrated air intakes, new air vents on the rear wing, a roof-mounted rear spoiler and a new diffuser. Ferrari says the result is a drag coefficient that is "substantially lower" than that of the FF.
Interestingly, Ferrari says the GTC4Lusso will be aimed at a younger audience than the brand has traditionally been used to. Owners of the FF, on average, drove more miles than owners of other Ferraris, suggesting that the GTC4Lusso will become the grand tourer of choice in the company's range.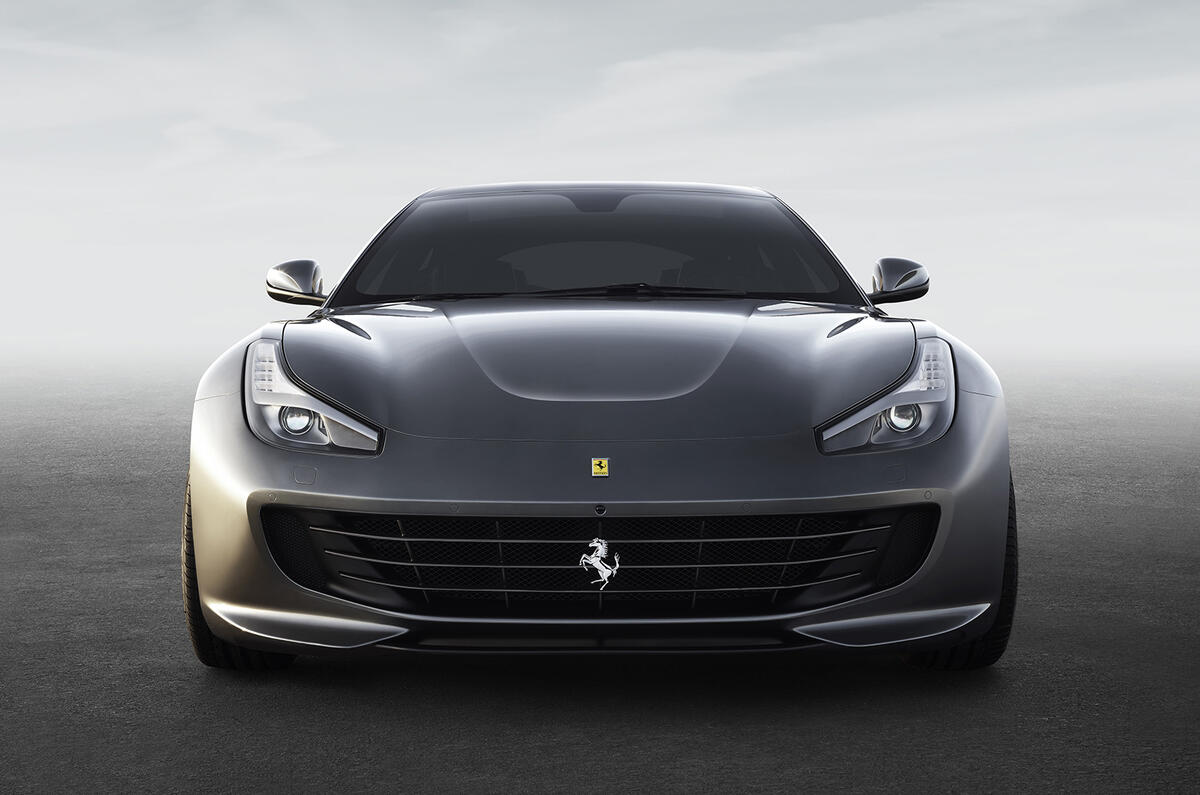 Powering the GTC4Lusso is the same 6.2-litre V12 engine already fitted to the FF, but with power raised from 651bhp to 680bhp. Maximum power is reached at 8000rpm, while torque is rated at 514lb ft at 5750rpm, with 80% of torque available from 1750rpm. As before, drive is channelled through a seven-speed dual-clutch transmission. Ferrari says the car's engine note is "rich and powerful in performance driving and discreet yet harmonious in the city."
Armed with more power, the GTC4Lusso can reach 62mph from a standing start in 3.4sec - 0.3sec faster than the FF - while its top speed is unchanged at 208mph. When specified with optional lightweight components, the GTC4Lusso has a dry weight of 1790kg, which matches the FF. Ferrari has yet to reveal whether the GTC4Lusso will improve on the FF's fuel economy or CO2 emissions figures, which currently stand at a claimed 18.3mpg and 360g/km respectively.
As with its predecessor, the GTC4Lusso has four-wheel drive but gets rear-wheel steering for the first time. The new, improved system, dubbed 4RM-S, features Ferrari's Slip Side Control setup, and works with the car's electronic differential and dampers. Ferrari says the result means drivers can "effortlessly handle the GTC4Lusso's extraordinary torque even on snow-covered, wet or low-grip roads."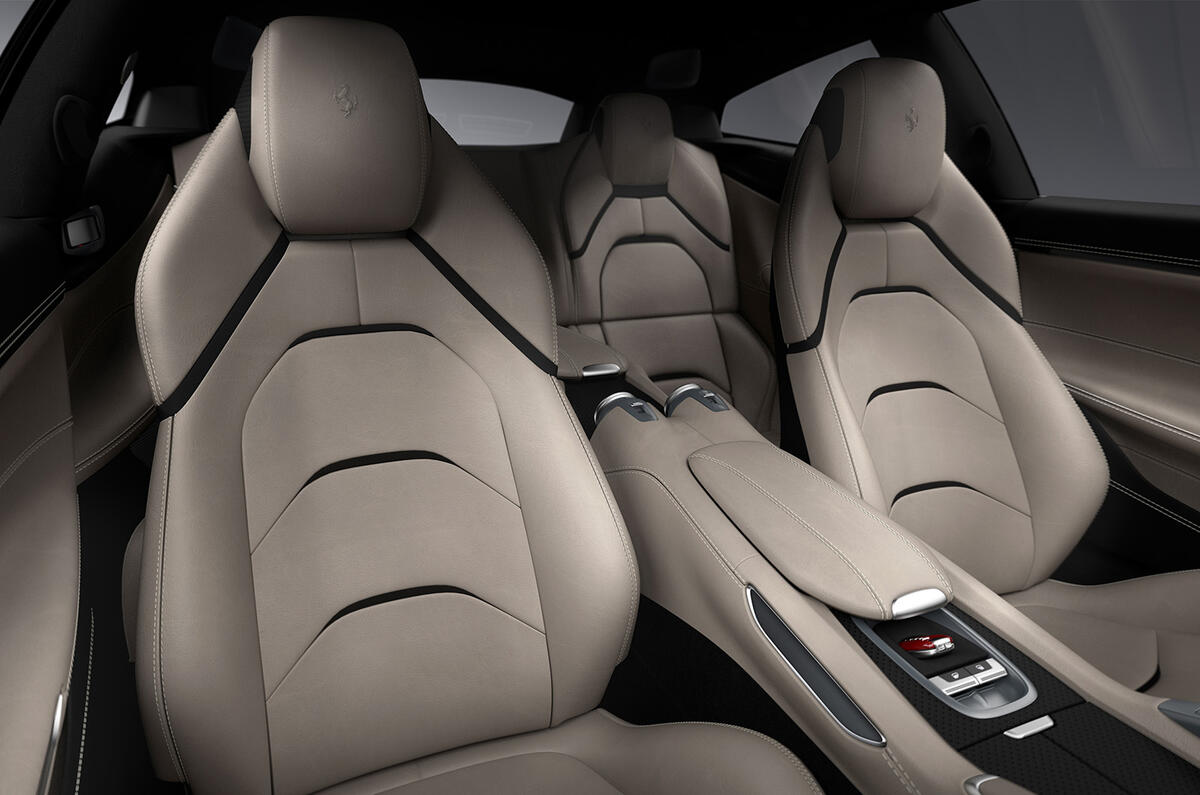 Among the significant interior changes to the four-seat cabin is a new infotainment system which has been developed by Delphi, but remains compatible with Apple CarPlay.
The 10.25in screen is much larger than the one in the FF and Ferrari claims that its upgraded usability will put the GTC4Lusso among the class leaders. Ferrari's dual cockpit display, which allows passengers to see speed and engine information from their side of the cabin, now appears to show a g-force meter – a first in a Ferrari.
The smaller steering wheel – made possible due to a more compact airbag – features "more ergonomic" controls, such as a redesigned Manettino control and new buttons for the hands-free telephone system.
The GTC4Lusso also gets a recess between the seats specifically to hold the key during driving; a feature the FF did not have.
Ferrari says the GTC4Lusso has been designed "for clients wanting to experience the pleasure of driving a Ferrari anywhere, anytime, be it on short spins or long journeys, snowy mountain roads or city streets, alone or in the company of three lucky passengers. Drivers who demand exceptional power but refuse to compromise on in-car comfort, sporty elegance and impeccable detailing."
Pricing and availability for the GTC4Lusso won't be revealed until closer to the car's launch in Geneva, but we'd expect prices to rise from the £226,023 of the FF.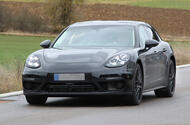 Estate bodied Panamera commences on-road testing; due for arrival next year
Porsche has begun testing an estate version of its next-generation Panamera, with the new model due to go on sale next year as the Panamera Shooting Brake.
The Shooting Brake's design is clearly inspired by the silhouette of the Panamera Sport Turismo concept from the 2012 Paris Motor Show and increases both rear head room and boot space compared with its four-door equivalent.
The wheelbase itself looks identical to the saloon, suggesting rear leg room will be unchanged, but the Shooting Brake does feature a few design tweaks to go with that longer roofline. Most noticeable is a large rear spoiler as well as a third brake light, which is housed beneath the spoiler.
Other than that, the design of this development Shooting Brake looks identical to the four-door. Although details are yet to be confirmed, it will likely be sold in the same guises as the regular car, so models offered will range from the entry-level version to the range-topping Turbo S. The regular car will rival the Mercedes-Benz S-Class and Audi A8, but the Shooting Brake's estate body will help the model delve beyond the remits of those cars.
Insiders are suggesting the next-generation Panamera will follow the trend set by the Cayenne and be made available with more hybrid engines, extending its rivalry to models like the Mercedes GLC and its shooting brake equivalent. The Mercedes is available with anything from a 220d diesel to a 577bhp AMG CLS63 S, so a more comprehensive range of mid-range engines would help give the Panamera a more comparable line-up.
There's no official word on a launch date for the Panamera and the Panamera Shooting Brake, but these pictures of both models testing suggest they're due to arrive close to each other in early 2017. The five-door Shooting Brake will likely be priced slightly higher than the four-door, which we expect to start from about £60,000.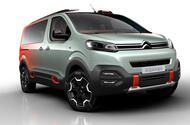 Citroen concept adds SUV-like qualities to the Spacetourer, with chunky offroad styling and the practicality of a van-derived MPV
Citroen will bring its Spacetourer Hyphen concept - a chunky all-wheel drive MPV - to the Geneva motor show in March.
The eight-seat MPV is claimed to offer the practicality of an MPV with the offroad, go-anywhere ability of an SUV. The styling features a raised ride height, chunkier bodywork than the standard Spacetourer, and is finished with 19in matt black aluminium alloys.
An all-wheel drive powertrain matches the rugged looks of the Spacetourer Hyphen while the Hyphen moniker stems from Citroen's collaboration with the French pop group Hyphen Hyphen.
The quirky three-colour interior Nappa leather upholstery and trim design is finished in teal, neon orange and pale green, with each seat adopting a different variation using the three colours, while orange strap detailing mirrors the orange exterior trim. A panoramic sunroof also features.
The Spacetourer Hyphen concept is powered by Citroen's BlueHDi 150 S&S engine, with claimed CO2 emissions of 110g/km, 'vastly reduced NOx emissions', and a six-speed manual gearbox. The engine is also currently found in the C4 Picasso and Grand C4 Picasso, with which the concept also shares its underpinnings.
Although the Spacetourer Hyphen concept will not make it to production, the standard Spacetourer will go on sale in the UK in short, medium and long-wheelbase formats, accommodating up to nine people. An on-sale date around the start of September is expected, with pricing likely to start at around £24,000, rising to more than £31,000 for top-spec Spacetourers. 
The standard Spacetourer was revealed in December 2015 and is built alongside the Peugeot Traveller and Toyota Proace, as the three brands' deal for shared underpinnings continues. All three brands' versions of the car will feature at the Geneva motor show on their respective stands, in addition to the Spacetourer Hyphen concept.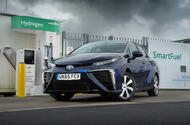 The hydrogen-fuelled Toyota Mirai emits nothing but pure water. We raise a glass to its success
For a car like no other in production, the hydrogen fuel cell-powered Toyota Mirai – theoretically on sale for £60,000 but in reality impossibly limited by supply – feels reassuringly easy to drive.
Once you've settled behind the wheel, you find the Mirai's responses are strongly reminiscent of those of a Nissan Leaf, a Renault Zoe or any other electric car in two ways that contrast with the fuel-burning ones you've been in all your life. On the one hand, the Mirai's smoothness and quietness are the equal of any high-end luxury saloon; on the other, there's an immediacy and accuracy about the power delivery that few conventional cars can match.
But the Mirai does things differently from its battery brethren, too. It derives its power from air and hydrogen combined in the catalysing environment of a fuel cell, almost a religious ritual since it produces pure water as its only by-product.
However, what stops the Mirai from being the Holy Grail on wheels is that most of today's hydrogen supplies are generated either from hydrocarbons or by using large quantities of energy to electrolyse water into its two elements. The former process pollutes; the latter consumes more energy than it liberates. Both encourage the sceptics.
Yet Toyota believes in hydrogen for the future and is betting billions that an economic process will be devised to provide the supplies a hydrogen-based society would need. The company has been doing fuel cell research for decades and has chosen our era to bring the Mirai to production because it believes the time is right to start selling fuel cell cars in countries where people will 'get' their advantages. The favoured markets so far are Japan, California, Denmark, Germany and the UK.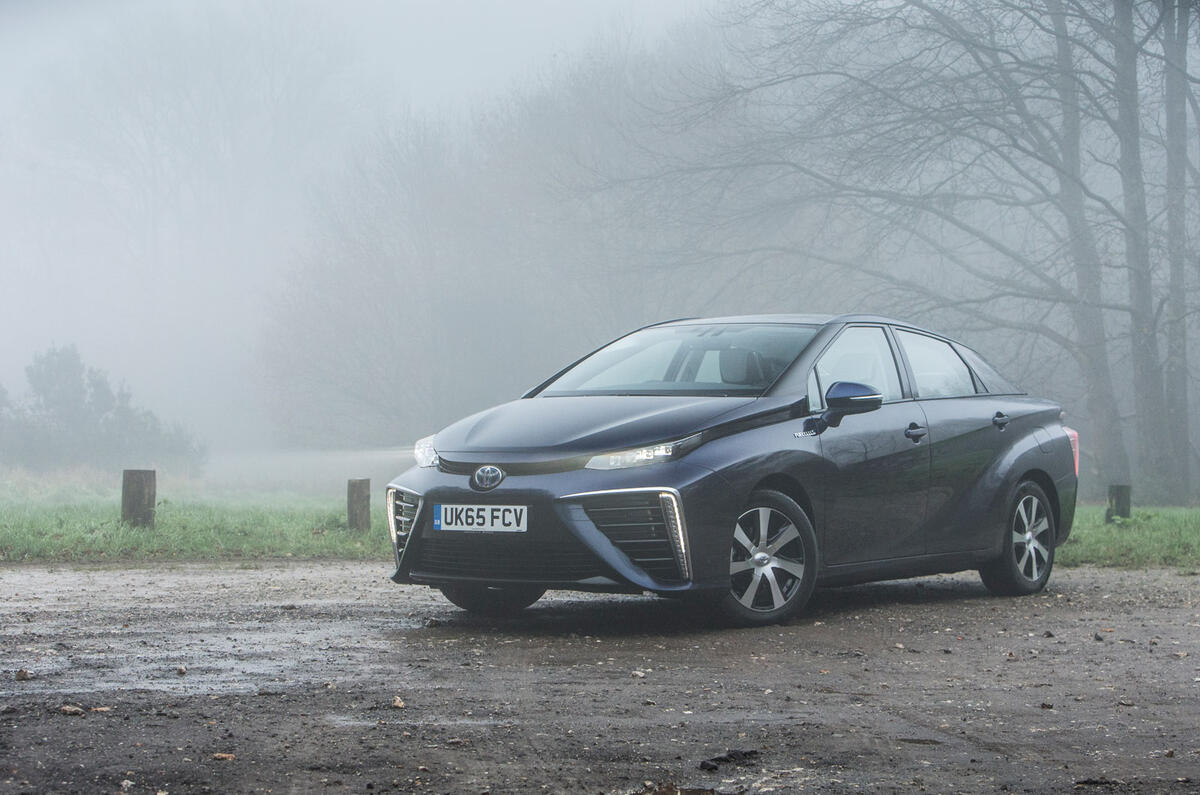 In its first year, 2015, world Mirai production amounted to 700 units. This year's aim of 2000 will expand to 3000 next year and keep growing towards a target of 30,000 cars in 2020. In the meantime, the company is releasing around 5000 fuel cell patents it holds, believing that a critical mass of cars will bring hydrogen breakthroughs closer. Honda is already within sight of a production fuel cell model and others are close, including Mercedes-Benz and Hyundai.
So far, Britain is home to a mere 12 Mirais, already allocated to the likes of Green Tomato (a cab firm that pioneered the Prius), Transport for London (whose concerns about urban pollution are well documented) and helpful businesses such as ITM Power, already working on the hydrogen fuelling infrastructure. Toyota UK is retaining two cars for its own purposes, which include putting them (briefly) at the disposal of people like us.
My own opinion is that Toyota is right about hydrogen fuel cells having a big future; it's only the timescale that's debatable. I have uncomfortable memories of smirking at the original, dumpy-looking Prius hybrid saloon back in 2003, when Toyota forecast a big future for hybrids, too. That car, now in its fourth generation, has grown to become a family of models, is the most reliable Toyota of all and has found more than eight million owners. Vision brought success to the Prius, so why not to the Mirai?
Such thoughts led me, just before Christmas, to persuade Toyota UK to lend me one of its Mirais to take out onto December's soupy roads and drive as one would a normal car. I'd collect the car from Toyota's Epsom HQ on the southern outskirts of London, then mix it with the local traffic. The discussion brought two bonuses. Firstly, Toyota UK's Mirai expert, Neil Spires, agreed to come with us, bringing his gold mine of info, and while out and about we'd refuel at the Heathrow hydrogen filling station, one of two in London.
The Mirai's divisive styling strikes me as anything but beautiful. Still, like the original Prius, it's different and highly recognisable, and no one is going to get distracted from its pursuit of efficiency by any pretensions to elegance. It's a long car, too (4.89m), on a very long wheelbase (2.78m).
Those two dimensions alone show how the proportions of hydrogen fuel cell cars can be considerably different from those of conventional all-in-the-nose front-drive saloons. The Mirai has a snug, comfortable, Prius-sized front cabin with an instrument layout recognisable from the latest Prius. The rear doors are big and there's impressive spreading space in the back, plus plenty of boot room. On first examination, you're left wondering where all the mechanical bits go in such a new-tech car.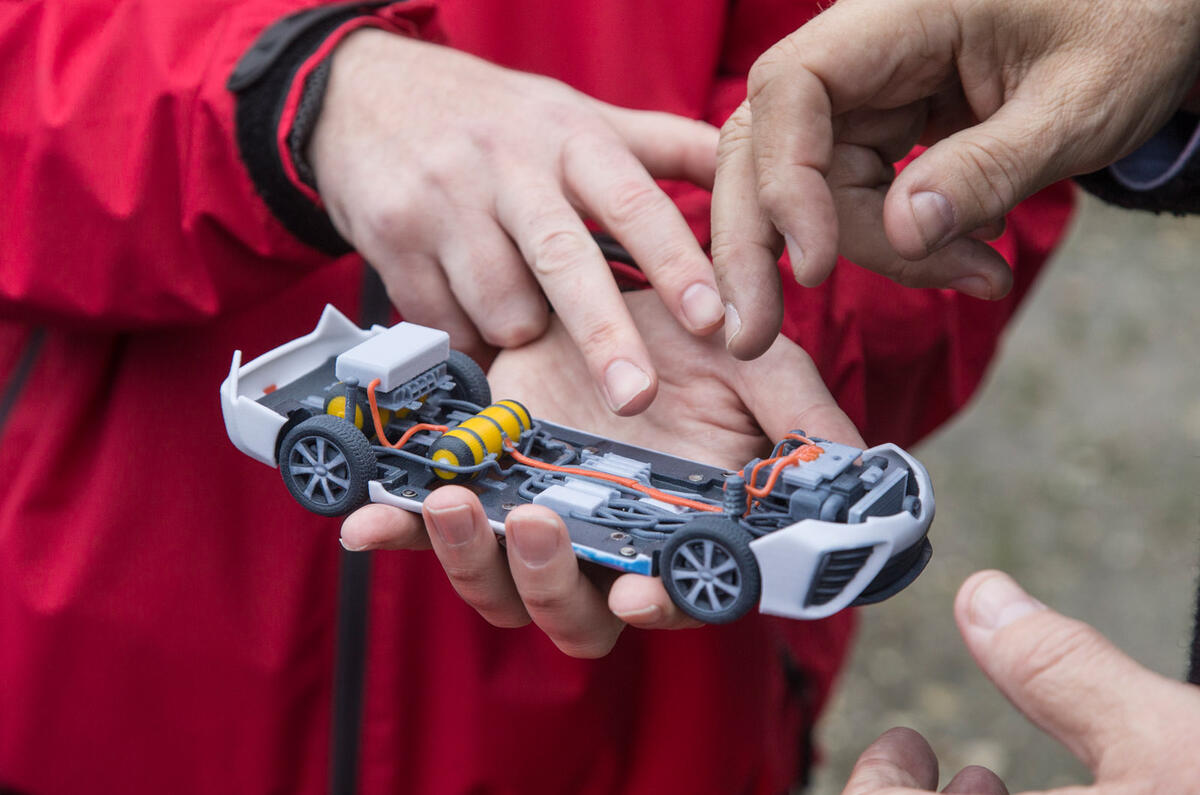 Spires talked me through the mechanical layout using a handy 3D printed model he'd had made for the purpose. The compact, cylindrical 152bhp electric drive motor (with an even more impressive 247lb ft on tap from ultra-low revs) is mounted low in the nose between the front wheels, which it drives through a reduction gearbox and differential. Above it are the boxed electronics that manage the power arriving from the fuel cell stack and battery to feed the motor, as well as dealing with regenerated power when the car is slowing.
The all-important fuel cell stack is in the centre of the car, under the front seats, fed with copious quantities of air from the twin triangular scoops in the nose. Two cylindrical carbonfibre tanks containing hydrogen loaded at 700bar are mounted farther back, one under the rear bench seat and the other between backrest and boot.
The rearmost tank carries a small nickel-metal hydride battery on top. These are no ordinary fuel tanks; they're tested against explosions and gunfire, can be dropped from a great height or withstand (as Spires eloquently put it) the weight of 150 Aygos stacked on top. Together, they contain 60 litres of compressed hydrogen, a fuel load that weighs just 5kg – a mighty contrast to the 40-50kg of fuel that most conventional cars carry.
Compared with a conventional car, the body design requirements are quite different. The nose can be short and low but needs big air scoops, the underseat space front and rear must be optimised, but weight distribution can be much closer to 50/50 than that of regular front-drive cars. The Mirai's kerb weight is 1850kg, which is substantial but not disastrously porky, given the fact that your power-generating equipment is on board, so you don't need a big battery.
Driving the Mirai, as I've said, is simple and precise. The car is roomy and refined. Its ride is also notably soft and well damped, not least because its mass is better shared between front and rear suspensions than usual. The steering is top-quality electric power, and the car's lowness means it corners with little roll. Road noise is low, possibly because, like a Prius, the tyres are modestly sized. There's a general air of sophistication that shows how Toyota has spent more time on this car's dynamics than it might have done in the past, to show that a fuel cell car can be as comfortable and capable as a conventional one.
Refuelling was a doddle. The Heathrow refuelling station turned out to be a bare asphalt expanse with a big, angular complex of white tanks each as big as a small building.
It emitted various random chunterings while we were refuelling, an exercise that took about 90 seconds. There was a pause for some high-tech stuff at first while the car 'bonded' electronically with the pump (so everyone could be sure hydrogen wasn't about to start flowing at 700 atmospheres where they didn't want it to) but the process was quick and easy.The pump handle was a bit more ergonomic and high-tech than the one on your street corner, but the main thing is that it was easy to use.
Once full of hydrogen, the Mirai was good for an official 341 miles of driving, which translates into a real-world 250-280 miles, depending on how you drive. It all seemed heart-warmingly conventional, except for the fact that we'd just driven 100 miles and pumped out not an atom of carbon dioxide or toxic emissions. That bit was the miracle.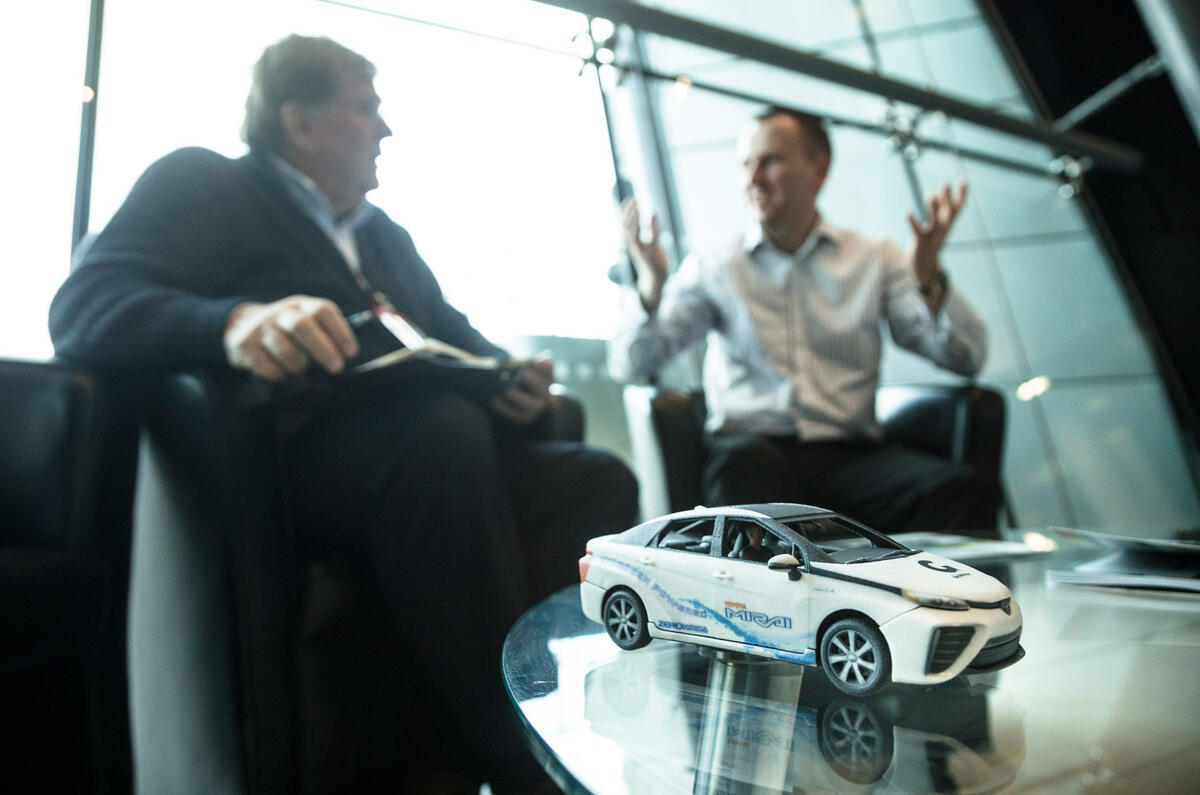 Drinking and driving
If I ever drive across the Sahara, I want it to be in a Toyota Mirai, because its only tailpipe emission is pure water. After our drive, Neil Spires showed me how to drain it into a glass, then offered it to me to drink. 
We'd produced more water than this on our trip (the official output is 0.8 litres per 10km), but what was left made about two-thirds of a glass. It was encouragingly clear, but drawn as it had been from the car's rear underside, I couldn't help expecting some eau d'exhaust. It was very pure, though, with just the slightest tang of the plastic container in which it had last reposed. I sent it all down the hatch. For the Mirai owner, this is going to become a party trick - at least until we all get used to it.   
New car offers a glimpse of a new sub-Phaeton model set for China
Volkswagen is testing a prototype version of its C Coupe GTE concept, which was first revealed the Shanghai motor show in 2015.
When it was revealed, the concept was said to preview a new high-end model, and this 2016 test mule appears to be a development version of that car. The vehicle is only due to be sold in China, but its look and technology previews "future top saloons" from the brand.
Although the show car was a five-metre-long coupe, near the end of 2016 it will reach production as a Chinese-market limousine positioned directly below the Phaeton in VW's model line-up. The new model does not yet have a name for production.
Volkswagen design chief Klaus Bischoff described the C Coupe GTE as "the missing step in the ladder" between models such as the Passat and CC and the Phaeton. "It will be completely new in the line-up and based on the MLB platform, the modular longitudinal matrix," he said.
Bischoff said the C Coupe GTE shows the way for future VW premium-class models. "The evolution of the VW design DNA shown here will accompany us worldwide — also on the way to the new Phaeton," he added.
The car seen here testing in February 2016 takes heavy inspiration from the C Coupe GTE concept, and will sit below the Phaeton in Volkswagen's model line-up when it arrives on Chinese roads next year.
Unsurprisingly, there are no details on the forthcoming model, but looking back at the specifications of the 2015 concept should reveal some features.
C Coupe GTE concept
At slightly more than five metres long, the concept is 1930mm wide and has a 3001mm wheelbase. Wide tracks — 1634mm front and 1624mm rear — are complemented by 22in wheels.
The exterior is the most striking expression yet of VW's developing design language, which is dominated by what the firm refers to as "horizontal lines and sharp, precise edges".
VW also highlights what it calls the "prestige clearance" — the distance between the leading front door shutline and the centre of the front axle. According to VW, the "longer this measurement, the longer the bonnet can be without increasing the front overhang".
The front-wheel-drive concept uses a four-cylinder 207bhp petrol engine coupled to an eight-speed gearbox and an electric motor, with VW claiming total system outputs of 242bhp and 369lb ft. It can travel 31 miles on the battery and has a 0-62mph time of 8.6sec with CO2 emissions of 55g/km. The transmission allows the car to pull away in electric mode before the engine cuts in. It also has a coasting function.
VW admits the C Coupe, which has impressive rear leg room and luxury twin rear seats, is aimed at the Chinese market. The car is designed to be driven by a chauffeur during the week and the owner at the weekend. It features a 'Chauffeur mode' which filters information about the owner's schedule and transfers it to the infotainment system, so the chauffeur has a driving schedule and the sat-nav can calculate the day's route.
In a further effort to appeal to buyers in China, where the colour gold is associated with wisdom, tolerance, patience and power, the paint finish has been dubbed 'Golden Atmosphere'.
The exterior also features extensive ambient lighting. The outline of the VW badge is illuminated by a thin LED strip, as is the leading edge of the bonnet, the headlight bezels, wing vent details and windscreen A-Pillar.
There are no plans to bring the new model to Europe, where the Volkswagen Phaeton will remain the range-topper.
Hilton Holloway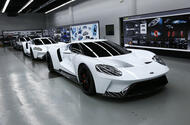 The utmost secrecy surrounded the creation of Ford's new GT supercar. We gain access to the basement studio where a very select team worked
Deep in the bowels of Ford's Product and Development Center in Dearborn, Michigan, there's a room 
that no security pass will grant you access to.
Not that you'd ever know to try. The room is at the end of a corridor about four flights of stairs underground. 
It's the kind of room that only caretakers and security guards would ever walk past: unused and almost forgotten for years.
For the past two years, though, that room has been home to one of the most top-secret projects in Ford's history: the new GT. Created to commemorate the 50th anniversary of the GT40's first Le Mans victory, the new supercar's launch at the 
2015 Detroit motor show was so secret that it came as a surprise even to most of Ford's staff, including some top executives.
At the time, those involved in 
the project spoke about the secret room in which they created the car. Now, a year on, its secrets are about to be revealed.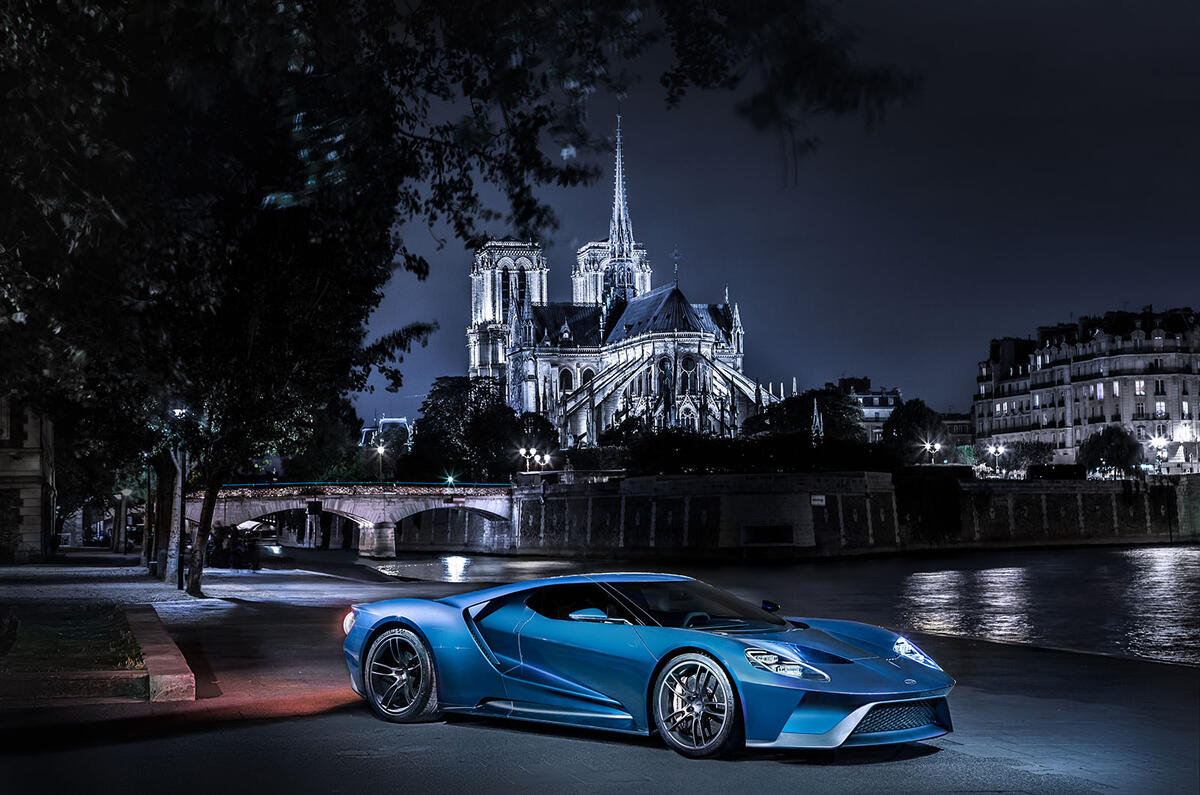 The room may sound like the creation of something for an Ian Fleming novel, but in this instance life really does imitate art. The access corridor is lined with dusty storage racks for foam blocks that will be milled into prototype parts.
"There would be no reason to go down there," says Ford's Chris Svensson, design director for the Americas, "and it would be out of bounds for most people anyway."
The room is accessible only by 
an old-school key, the digital touchpad beside it having been disabled. "It was very top secret," adds Svensson, who has the key hanging around his neck. "Very few had access to the project, and no one 
was allowed to talk about it. Out of 600 or so designers here, 12 had access to the room. It's not a beautiful place; it's a grafting place. It's a real basement studio: no windows, dirty, uncomfortable, floods when it rains… but it's beautifully functional."
Svensson was one of the few involved in the early stages of the project, which kicked off around 15 months before the GT's 2015 Detroit debut. According to Jamal Hameedi, Ford Performance's chief engineer, the goal was, in essence, the same as that of the 1960s GT40: to be a tour de force of the very best Ford design and technology in order to beat Ferrari at their own game. "And to take Ford back to Le Mans," adds Hameedi.
The room, far removed from 
the main Ford design studio, was cleared, and the crack team involved in the project got to work, often in the evenings and at weekends so as not 
to arouse suspicions.
"We started with aerodynamic efficiency," says Hameedi, adding that Ford has "never done so much with CFD [computational fluid dynamics] software" to hone the 
GT's aerodynamic form. "We knew we were going back to Le Mans," he says, "so we had set criteria to go racing and have a fantastic road car. Racing is therefore at the core of our existence. I'm not sure you can say that about some of our peers."
Three key design themes for the car were chosen, none of them retro, and then models were made off those themes, all with the same teardrop fuselage and extremely aggressive glasshouse and extreme aero packages, but with different styling. They were then put through wind tunnel and computer testing, and the best-performing one was chosen for the design, not necessarily the best-looking one. Carbonfibre bodywork allowed for some extreme sculpting.
The model then spawned a full-sized clay model, which was then used as the basis for the prototype unveiled in Detroit last year. This, in turn, formed the basis for the final verification model unveiled at this year's Detroit show, with such small changes from the earlier model that you'd struggle ever to notice the difference. Svensson says fewer changes were required than on any other project he's seen in his 23 years at Ford. "And if you can spot them, you've got a very good eye."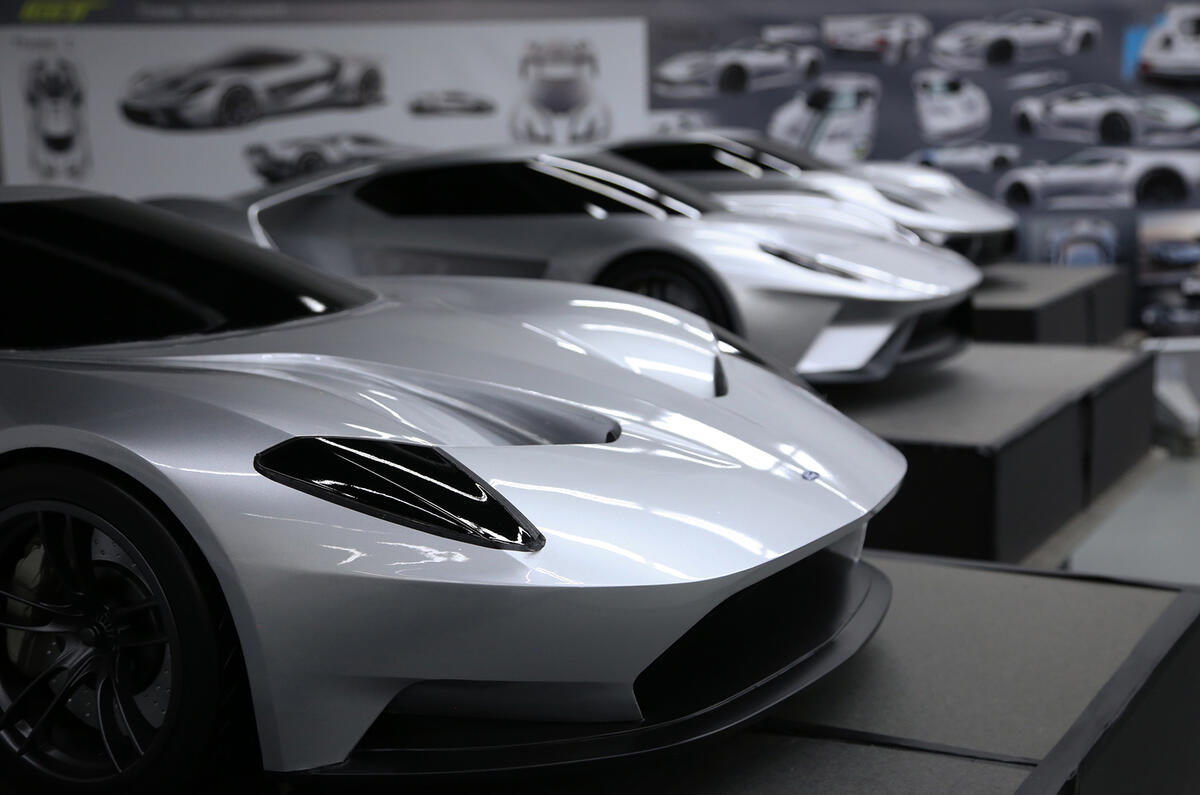 With aerodynamic efficiency 
and low weight being the top priorities in the car's development, the engine was considered to be of secondary importance and was chosen primarily on the basis of 
fuel economy. For that reason, the team went with Ford's twin-turbocharged 3.5-litre Ecoboost V6.
"Le Mans is a fuel economy race now," says Hameedi, "so efficiency is a key criteria. You can't beat the V6 for that, and you can make the homologated 500bhp or so output in the rules easily and also be extremely fuel efficient."
All secrets now fully out, the GT race car, in addition to its Daytona outing and Le Mans appearance this summer, will compete in the World Endurance Championship this season. The GT road car will follow by the end of the year, produced in limited numbers, each costing around £280,000. It will be a gratifying moment for the team involved.
"We didn't want to be another Ferrari, McLaren or Lamborghini," says Svensson. "This is us; we can compete with the very best and represent the best of Ford."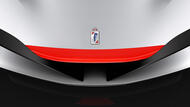 'Innovative' design will be revealed on 1 March
Italian design house Pininfarina has confirmed that it will reveal a new car at the Geneva motor show this March.
To whet our appetites, the iconic firm has released a single teaser image revealing what appears to be the new car's nose.
Pininfarina has refrained from providing any specific details, but in an official release, it describes the car as an "innovative stylistic and technological jewel".
Looking at the aerodynamic design of the nose, it seems likely that it'll be a performance model, and recent history suggests it could also be a special one-off model commissioned by a private buyer.
Pininfarina's recent work includes the curvaceous Ferarri 458-based Sergio Pininfarina, and the V12-engined BMW Grand Lusso Coupé concept.
Business giant Mahindra bought a controlling stake in Pininfarina last year. The Indian company has announced it intends to reduce the Italian firm's €52 million debt, and this new model will be the first under the new ownership.
Pininfarina will pull the covers off its new design at the Geneva motor show on 1 March.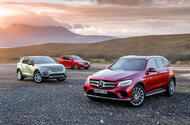 Mercedes-Benz finally has a mid-sized SUV to rival BMW's X3 in the UK, where it also faces the home-grown talent of the Land Rover Discovery Sport
It doesn't seem that long ago that Mercedes SUVs came in two sizes: modest, as anyone might reasonably rate three generations of the M-Class, and massive, as anyone outside of the US would call the blimpish GL. 
You could have a G-Wagen, too, of course, although no one did, because it was like buying a Land Rover Defender in Wehrmacht fancy dress. Mercedes also built something called the GLK, but you couldn't have that in the UK, because converting it to right-hand drive was apparently too much of a bother.
Consequently, despite being in the business of turning out the kind of cars people suddenly want since the late 1990s, Mercedes, in the UK at least, has not previously made the waves it might have done.
Since 2014, however, it has begun to emphatically fix that. With the launch of the compact GLA, based on the A-Class's architecture, the firm signalled to customers its intention to produce a crossover for every platform and attach a nameplate to suit. Thus we've had the GLE (formerly the M-Class), very soon we'll have the GLS (in place of the old GL) and between the lot, appropriately, there's the focus of this test, the new GLC.
This is the spiritual successor to the packaging blooper that was the GLK, so it represents something of an unknown quantity to British buyers.
Nevertheless, the underside (and therefore the general proportions) of the car ought to be well understood, because it rests on the C-Class platform – albeit one slightly swollen in both length and width.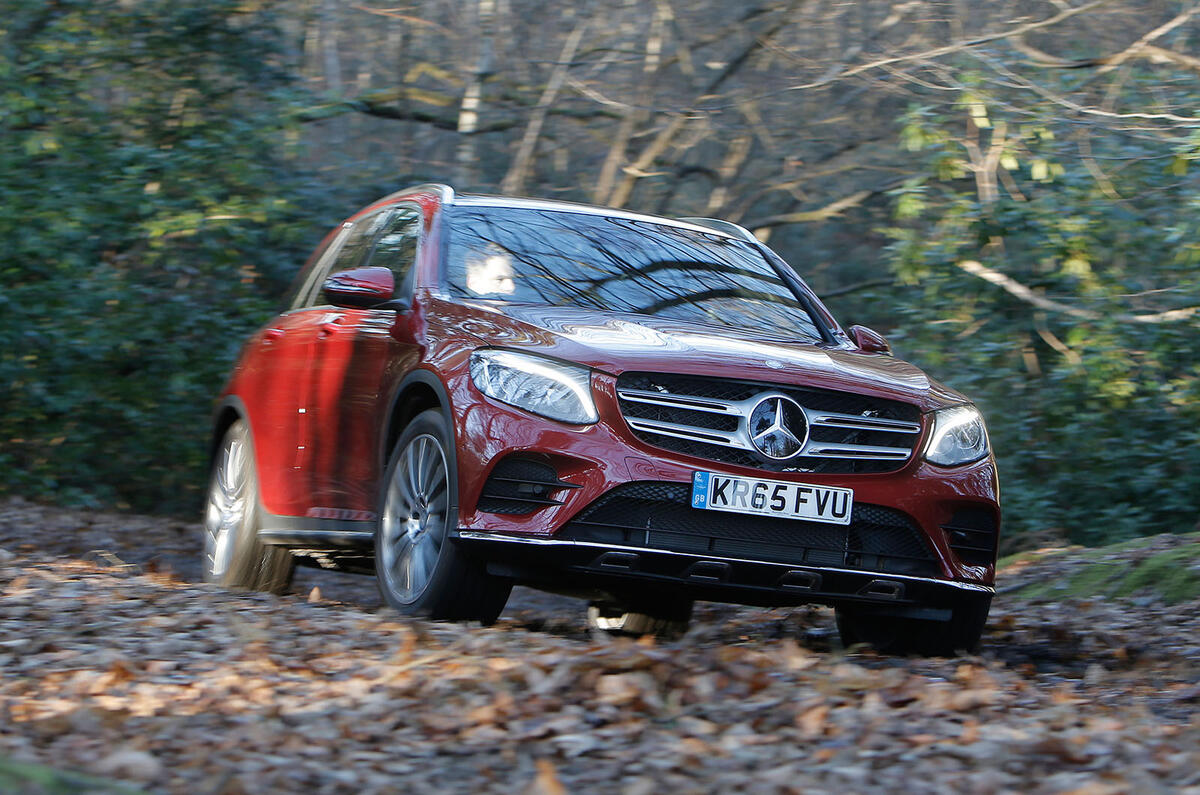 At any rate, the GLC can be concisely and immediately related to people by simply explaining that this is Mercedes' answer to the BMW X3. Mercedes makes no bones about the identity of its direct rival, and with the highly popular BMW now middle-aged in its life cycle, this is as good a time as any to introduce a premium alternative to Munich's fattened 3 Series.
The grit in the oyster shell of Mercedes' plan comes in the form of the Land Rover Discovery Sport. Although based on the LR-MS platform (which means there's still some residual Ford in the heritage), the Discovery Sport isn't beholden to a saloon car – and so it's alone in this group in exuding the seriousness and visual heft of a 'proper' SUV. It is also the only one of the three to provide seating for seven, an advantage it's possible to overstate but an attractive no-cost benefit nonetheless.
Despite not being as tall as the Discovery Sport, the GLC, in 
AMG Line trim, proves suitably appealing in the metal. The decision of the Mercedes press office to fit £450 running boards to our test car was doubtless an attempt to stamp some robustness on the bodyshell, but it needn't have bothered.
Stick-on steps do not a Toyota Land Cruiser make, and the GLC's conspicuous crossover-ness is assuaged by the fact that (with optional 20in rims filling the arches) it looks sharply engaging – certainly more so than the X3, 
which, despite a facelift and M Sport garb, is beginning to date with 
the inelegance of a Taylor Wimpy tudor mansion.
The Mercedes' interior, inevitably borrowed mostly from the C-Class, completes the styling rout. The X3 remains unequivocally and consummately BMW: superior in ergonomics, function and perhaps even build quality. But, like the exterior, the overall design and some of the switchgear have fallen off the pace, a fact confirmed by glancing inside the GLC. Clad in slippery piano black and purged of right angles, the innards are two parts upmarket futurism, one part TIE fighter cockpit. It radiates wow factor.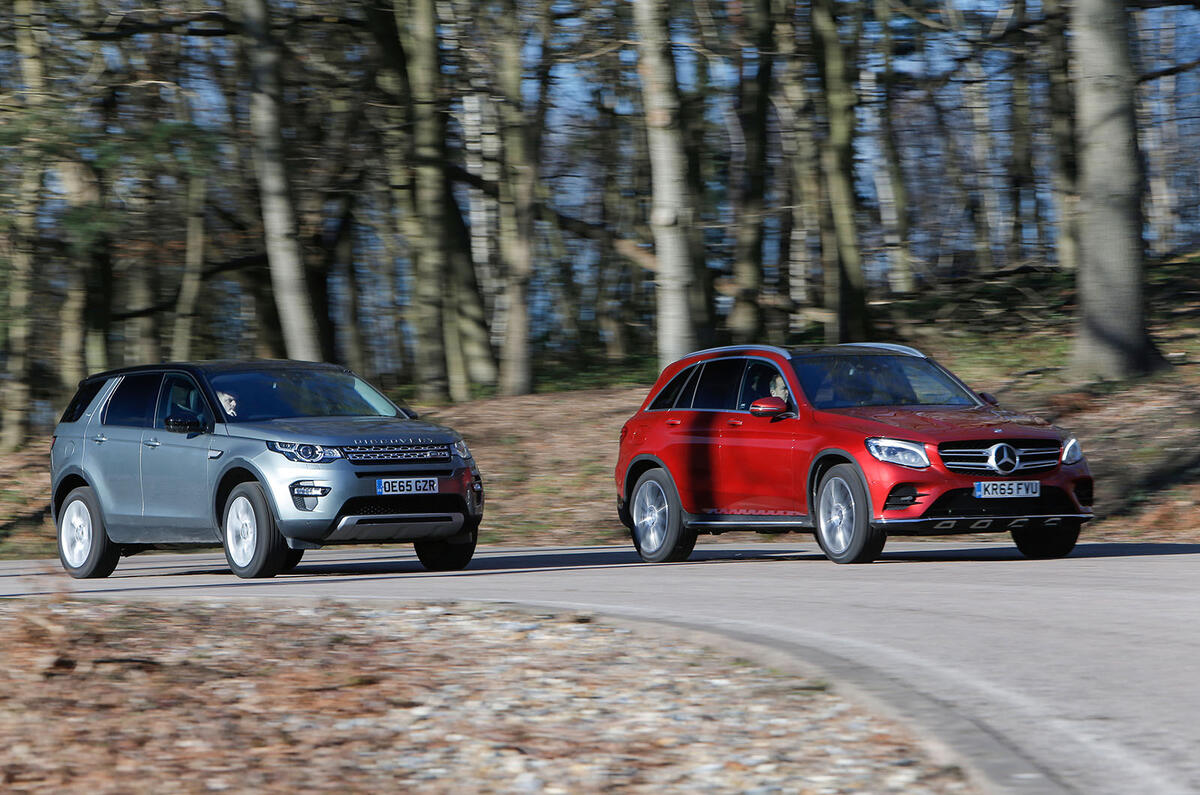 That said, I will admit to still suffering the effects of mild discombobulation when sat facing the three-pointed star.
Mercedes' dogged use of the column shifter continues to rankle. There's the very latest in nine-speed torque converter automatics connected to the stalk, nestled in a magnesium housing to save weight; why we're forced to engage this 21st century item like Tony Danza in Taxi is beyond me. Granted, there's more room on the centre console for other controls this way, but the extra space is apparently insufficient to show me all the buttons without having to peer over the infotainment dial and the vast wrist-docking apparatus above.
Perhaps this is why the Discovery Sport continues to lure me in. Objectively, it is the most staid of the three, its perceived quality innately hamstrung by an in-house requirement to feel less special than the Range Rover-badged Evoque. But I find its dusting of utilitarianism, even in HSE spec, very endearing.
The Disco still wants to be the Leatherman multi-tool of SUVs: expensive, solid, useful and reassuring. The quirk of its positioning, which has left it straddling both a premium and mainstream customer base, ought to have limited it – some think it has – but I needed to variously wear muddy wellies and later a tux during our time together and felt right at home in both.
In terms of space in the rear, all three cars qualify as effective family cars (hardly surprising, given their provenance). The X3 has a fair bit more head room than the GLC, but leg room is similarly generous in both.
The Land Rover has a shorter wheelbase but doesn't feel any less accommodating. Filling its two jump seats – even with small children –
obviously eats into that space, although the Sport is packaged cleverly enough for it all to still 
seem like a neat idea.
Boot volume is similarly admirable across the board. The fact that you reportedly get 60 litres more capacity in the GLC than you would in a C-Class wagon gives some indication of the increased practicality (and therefore added value) that is had from choosing the SUV.
Also thrown into the usability bargain is Mercedes' 4Matic all-wheel drive system. In the case of the 250d driven here, it's powered by the 201bhp version of the omnipresent 2.1-litre four-cylinder diesel engine, which makes it moderately more powerful than both the Discovery's 178bhp 2.0-litre Ingenium and BMW's 188bhp four-pot oil-burner. Away from the mark, that difference shows.
The GLC proves a genuine sub-8.0sec to 60mph prospect, with a standing-start eagerness that not even the famously brisk X3 replicates. The Land Rover lags even further back, the gearing of its own nine-speed auto and a fair bit more kerb weight only contributing to the Ingenium engine's power deficit. The unit's refinement issues are hardly downplayed in this company, either.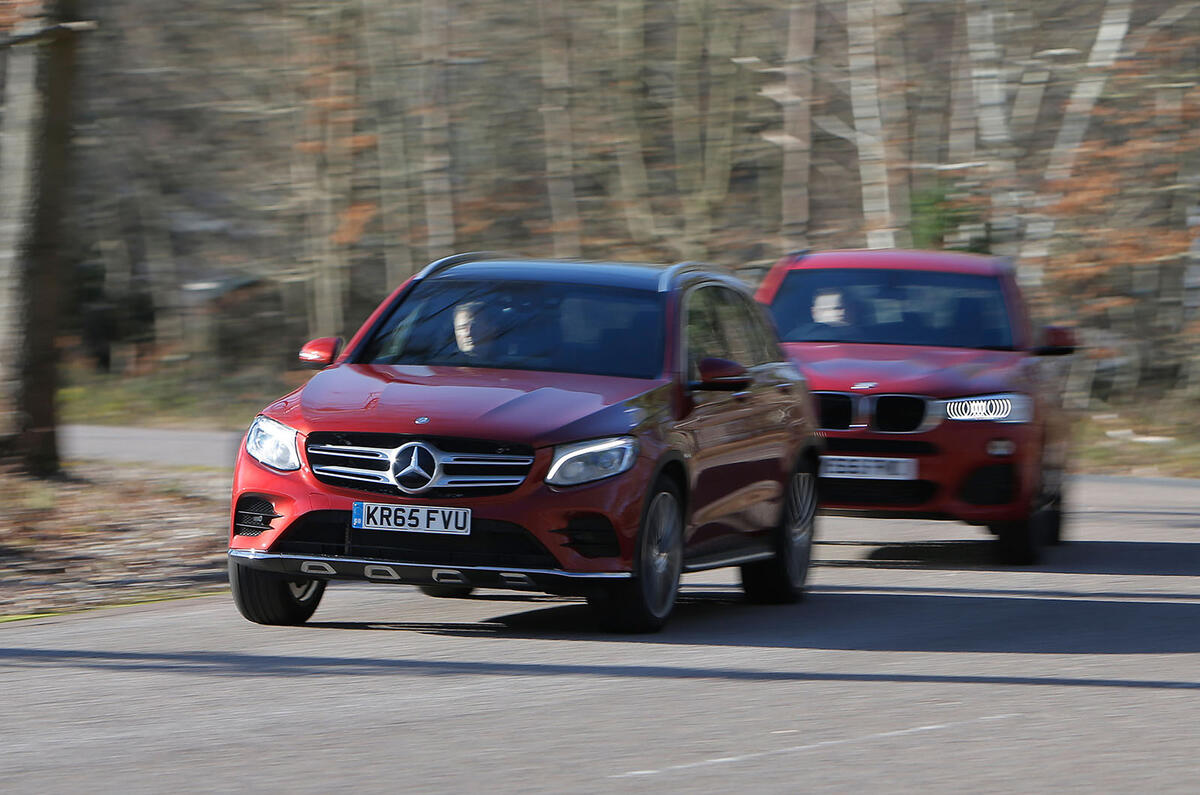 Mercedes has successfully wrapped its own strident motor in an apparently thicker blanket than normal, its curiously chirpy thrum now consigned to moments of hard acceleration only. The engines in the Discovery Sport and the X3 are noticeably more vocal than that of the GLC, while the British car adds a dose of vibration into the mix.
The GLC's pace is a useful ally in modern SUVs, and initially the car seems well primed to exploit it. Compared with its competitors, you sit low in the cabin – so low, in fact, that the model seems a more likely contender for something of the Audi A4 Allroad's ilk than a Land Rover. The pedals and steering wheel are presented in car-like fashion, too. In the X3, the steering wheel has the girth of a George RR Martin paperback and is tuned for the kind of incisiveness that can be wrung from the front end.
The Mercedes follows suit, its variable rack being quick indeed but with less life to it. Compared with the Discovery, which turns the front wheels with a crisp, emphatic heft uncannily hotwired to your expectations, the GLC is lifeless to the point of impassive. Its pedals share the condition and prove oddly numb to either getting started or finally bringing the car to a halt.
In between those two states, the GLC is better. The question of chassis character when it comes to every compact SUV perched between a mainstream crossover and a Porsche Macan is a confounding one.
BMW and Land Rover have answered it succinctly enough. The X3 tested here, inexplicably shorn of its brilliant-value £650 adaptive suspension and unfairly propped on 20in alloy wheels, rides with stiff-backed abruptness and a disdain for road surface deflections deeper than a deck of cards. It also corners flat and tenaciously and with something approaching neutrality from the rear-biased xDrive all-wheel drive system.
Side by side, the Discovery's patient lean under duress could almost be mistaken for wallow. It demands predictably more of the outside wheel and, on slimmer 19in tyres, mislays purchase earlier. But its poise and primary ride composure are exemplary, endlessly juggling mass and speed and body movement without the requirement for a button marked 'Comfort'. The Ingenium engine finally comes into its own too, slyly and endlessly interjecting with 317lb ft mid-range gusts courtesy of the gearbox's eagerness to unobtrusively downshift.
The GLC, one suspects, ideally wants it both ways – although with an emphasis on the tranquillity that £1500 worth of multi-chamber air suspension ought to buy you. Sadly, that option box was left unchecked, leaving our AMG Line test car with the passive 'sports' suspension set-up, as distinguished from the 'comfort'-biased alternative on SE versions. Be that as it may, handling, in an enthusiastic sense, is not the GLC's forte.
The right-hand-drive versions reputedly send more power to the rear wheels by default than the left-hookers, but that isn't immediately apparent in the car's overt preference for understeer – a characteristic typically unaided by the vagaries of Mercedes' direct-steer electric rack and enhanced by the sportier dampers' surprisingly permissive attitude to body control.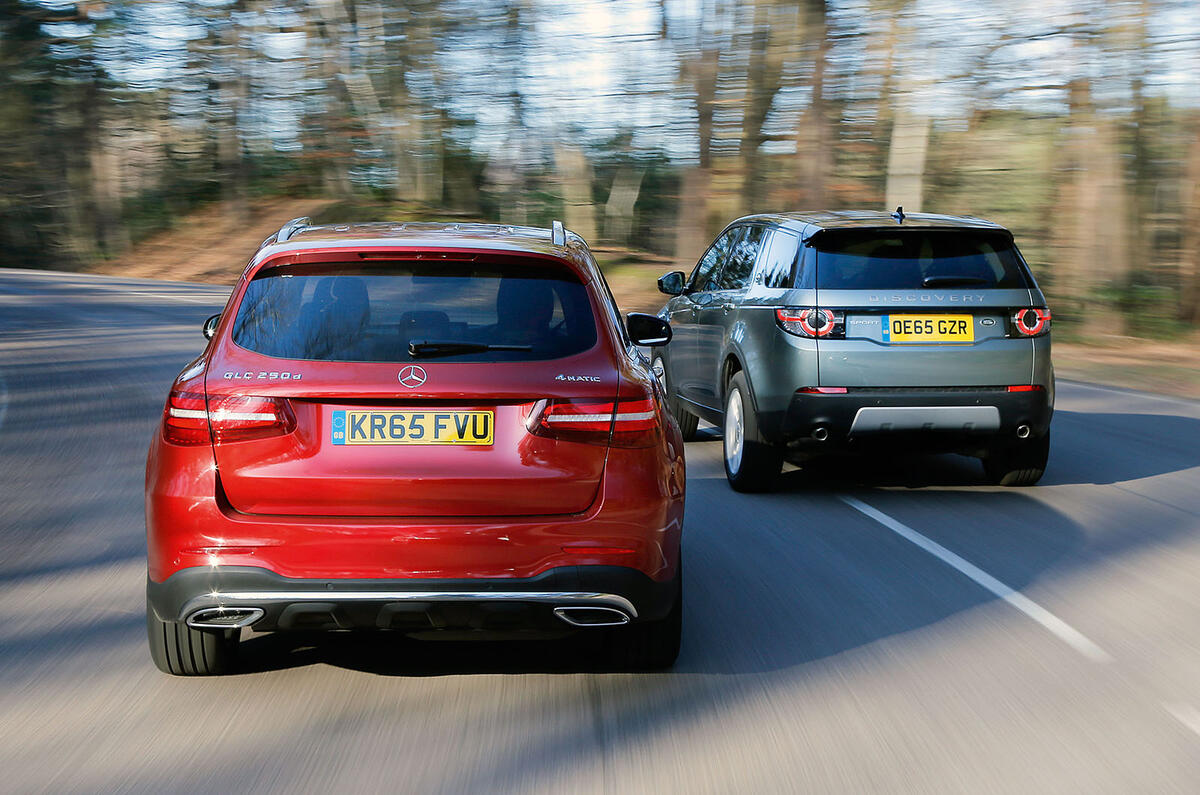 The softly-softly approach plays well at lower speeds, though. Here the GLC's comfort levels outshine the Discovery, which can seem oddly rudimentary when dawdling. The Mercedes' sophistication isn't in question, yet it continues only up to a point: namely, the moment a suitably sized hole is offered up for one of the car's big, pretty wheels to fall into.
This inconsistency leaves the GLC a patchier prospect than it otherwise might have been. Mercedes has trumpeted the availability of its Air Body Control in the segment, and it's no great leap to imagine a better car resulting – just as the X3 is an improved product with adaptive suspension.
Without the costlier optional solutions – and minus the counter-intuitive selection of big rims – neither car tested here feels appropriately specced. Forced to make a choice between them on the day, I'd narrowly take the GLC, if only because its newness and aesthetic appeal better paper over the dynamic cracks than the older if leaner X3.
The GLC is also quicker (never a bad thing) and, if the claimed figures are to be believed, marginally cheaper to run, although there really isn't much to choose between them on that score.
Nonetheless, both cars, any way you cut their spec sheet foibles, serve to make the Discovery Sport look good. Being the slowest, least efficient option in a modern SUV test is as welcome as discovering rust on the wheel arch, yet when driving the Sport, in Land Rover's best tradition, your attention is rarely drawn to its flaws. Its steering and faultless sense of self make it both the most gratifying to drive and the best to be in long term.
Where its rivals shine in specific conditions, the Discovery feels ready for anything – not least the addition of two extra passengers and, lest we forget, the deeper, very occasional challenge of muddy stuff (where it is confidently superior).
The very fact that the GLC and X3 need careful finishing on their respective spec sheets only reinforces the impression that the Land Rover is the segment's one can't-miss, complete option.
Land Rover Discovery Sport HSE TD4 180 auto
Price £39,400; 0-62mph 8.4sec; Top speed 117mph; Economy 53.3mpg; CO2/tax band 139g/km/25%; Kerb weight 1884kg; Engine 4 cyls, 199cc, diesel, Power 178bhp at 4000rpm; Torque 317b ft at 1750rpm; Gearbox 9-spd automatic
Mercedes-Benz GLC 250d 4Matic AMG Line
Price £39,595; 0-62mph 7.6sec; Top speed 138mph; Economy 56.5mpg; CO2/tax band 129g/km/23%; Kerb weight 1845kg; Engine 4 cyls, 2143cc, diesel; Power 201bhp at 3800rpm; Torque 369lb ft at 1600-1800rpm; Gearbox 9-spd automatic
BMW X3 xDrive20d M Sport auto
Price £39,585; 0-62mph 8.1sec; Top speed 130mph; Economy 54.3mpg; CO2/tax band 136g/km/25%; Kerb weight 1820kg; Engine 4 cyls, 1995cc, diesel; Power 188bhp at 4000rpm; Torque 295lb ft at 1750-2500rpm; Gearbox 8-spd automatic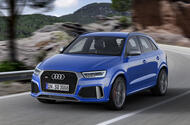 Range-topping model adds 27bhp and 11lb ft to Audi's characterful five-cylinder to enable BMW M3-aping performance
Audi has injected more power into the 2.5-litre turbocharged five-cylinder engine of its hottest crossover with the new RS Q3 Performance.
The Performance model produces a peak of 362bhp, along with 343lb ft produced between 1625rpm and 5550rpm, which together represent improvements of 27bhp and 11lb ft more than the standard car. Audi claims the increased output comes thanks to improved cooling capacity and an optimised fuel pump, and the results make for much-improved straight-line performance.
The Performance trims four-tenths from the regular RS Q3's 0-62mph time, with the benchmark speed now reached in 4.4sec - just a tenth slower than the current BMW M3. The standard RS Q3's 155mph electronic limiter is also removed, allowing a 167mph top speed.
Read - Audi RS6 and RS7 Performance specs and prices revealed
Impressively, Audi is claiming that these improvements have no effect on economy, so the RS Q3 Performance's claimed combined figure stands at 32.8mpg, while CO2 output remains at 203g/km.
Aside from the engine changes, the RS Q3 is mechanically unchanged from the regular car. It uses the same seven-speed S tronic gearbox and drives all four-wheels via a Haldex-clutched quattro four-wheel drive system. It also comes available with optional adjustable dampers.
To differentiate it from the regular car, the RS Q3 Performance feautres matt titanium finish trim and is also available with Ascari blue metallic paint.
The RS Q3 Performance is on sale now, priced from £49,175, which is £3365 more than the standard model. The car is set to make its global debut at the Geneva motor show this March.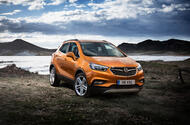 A new face, engine and extra kit account for the bulk of the Mokka's 2016 update
The 2016 Vauxhall Mokka X has been revealed ahead of its debut at the Geneva motor show in March.
Despite the new name, the X is essentially just a facelifted version of the current Mokka. It gains an updated exterior, a new engine and a more comprehensive list of technical features.
The most noticeable change for the 2016 model is that new nose. Vauxhall says the Mokka's design team wanted to create a more muscular stance, so it swapped the old car's soft face for a sharper, angrier looking one. There's also less plastic trim and new sharply angled LED day running lights, adding more class to the design.
The rear has seen fewer changes, but new lights and a redesigned bumper help to freshen things up, while inside, the Mokka's dashboard has been completely revamped.
Inspired by the cabin of the new Astra, the Mokka X gains a new centre stack with the choice of a 7.0in or 8.0in touchscreen infotainment system. The system can integrate with smartphones via Apple CarPlay and Android Auto, and has enabled the design team to remove most of the outgoing car's buttons, giving the dash a simpler, cleaner look.
The Mokka X also gains a new 1.4-litre turbocharged direct injection engine. The 152bhp petrol unit first appeared in the new Astra, and, when mated to Vauxhall's six-speed automatic transmission, is claimed to be good for 42.8mpg combined and an output of 154g/km of CO2 in the Mokka X.
The 1.6-litre turbocharged diesel units of the existing Mokka are retained with the X. They come in 108bhp and 134bhp guises and are both good for a claimed 68.9mpg combined when specced in two-wheel drive ecoFlex form. Standard fit for all engines is a six-speed manual, and stop/start technology is also available.
Four-wheel drive is optional on manual models, and it uses an electro-magnetic multi-plate clutch to offer both front and all-wheel drive modes. The car's default setting is front-wheel drive, helping to save fuel, but as soon as the system detects slip, up to 50% of torque can be instantly directed to the rear wheels.
The Mokka X also gains a few optional extras compared with its predecessor. These are headed by Vauxhall's latest LED Adaptive Forward Lighting headlamps, which automatically adapt to the driving situation. It has nine different settings that can adjust the lighting for different driving conditions, such as in town or on country roads. There's even a tourist mode, which angles the headlights in the other direction to avoid dazzling drivers when driving on the right side of the road.
Vauxhall's OnStar personal connectivity service is also available from launch, and adds a range of wireless safety features to the car. If an airbag deploys, OnStar is automatically alerted, with an advisor contacting the car to determine if passengers need help or not.
OnStar customers also have 24-hour access to Vauxhall's services, which can help with things such as requesting roadside assistance. The system's connection enables the Mokka to become a 4G LTE hotspot too, offering internet connectivity for up to seven devices.
The new Mokka X will make its debut at the Geneva motor show in March, before arriving in UK showrooms in late 2016. Pricing is yet to be confirmed, but insiders are predicting that there'll be little change from the current model, which starts from £18,749.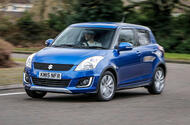 Do engine and trim revisions make Suzuki's all-wheel drive Swift supermini a perfect winter companion? We try it in the UK to find out The updated all-wheel drive version of the popular Suzuki Swift supermini now features Dualjet technology on its 89bhp 1.2 petrol engine. However, going for this more efficient 1.2 with 4x4 restricts you to one trim: range-topping SZ4. The Dualjet engine sends its power to the wheels through a permanent four-wheel drive system, which can direct additional torque to the rear wheels when needed. It gets twin fuel injectors, which are positioned close to the engine inlet, allowing for better fuel optimisation. The changes improve fuel economy by 7.5mpg and reduce emissions to 111g/km, helping drop the VED rating to band C. All of this sounds pretty impressive, and so is the list of standard equipment of the SZ4. Keyless entry, automatic air conditioning, sat-nav, Bluetooth connectivity, seven airbags, cruise control and automatic headlights are all included. In an effort to set the 4x4 apart from its front-wheel drive siblings, the ride height has been raised by 25mm. It also gets front and rear skid plates and extended wheel arches, adding some all-terrain design cues.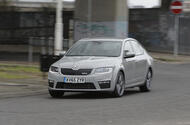 Skoda's hot Octavia gets all-wheel drive in both hatch and estate guises. Octavias don't get much more expensive than this, so is it worth it? It doesn't seem more than five minutes ago that Skoda was launching its latest Octavia vRS, but in fact, we were first introduced to it back in 2013. The higher-powered '230' petrol model followed late last year, and only now are we getting our first chance behind the wheel of the recently added 4x4 version.But before you start conjuring images of a roomier, cut-price Volkswagen Golf R, Skoda is offering the vRS/4x4 combination as a diesel only. It is the VW Group's strong 181bhp 2.0 TDI, though, and its six-speed DSG dual-clutch automatic gearbox comes as standard. Both hatch and estate variants are available, too. Prices start at £27,515 for the 4x4 hatch, while the estate version costs a further £1200. Only an automatic vRS 230 costs more in the Octavia line-up, but sat-nav is now standard, while further features such as 18in alloy wheels, xenon headlights and climate control are included to sweeten the deal.After an initial drive on the roads and ice of Austria, now we've had a chance to see if the 4x4 proves as worthy for consideration on our more challenging UK roads.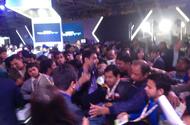 At India's annual motoring event they prefer hatchbacks to supercars and fist fights to queuing
This year's Delhi Auto Expo was all about SUVs, and a few token hybrids here and there, but it will take some serious effort for manufacturers to interrupt the infatuation with small cars in India.
Supercars were a rarity, unlike at many other motor shows where they take centre stage; the only notable ones on display were the Audi R8 and Ford Mustang, which were given global unveils months ago.
The Auto Expo, then, is completely tailor-made to appeal to the Indian market, which has a huge appetite for bargain basement, locally-built small cars.
Such is the adoration and hysteria around new metal, especially over products from local favourites Tata, Mahindra and Maruti Suzuki, that the sheer volume of people trying to get the best view of the cars results in some pretty hectic scenes at press conferences.
I spent most of the two media days on the web desk at the Autocar India stall, but after several colleagues returned from press conferences with stories of huge crowds and fist-fights for press packs, I went to see what the fuss was about at a Maruti Suzuki press conference.
As soon as the Ignis and Baleno RS concept cars were unveiled there was an almighty surge to get the press kits. Seeing the poor PR team attempting to control a baying crowd of journalists and punters literally clambering over each other, elbows out, to get the all-important USB stick, and hopefully a free pen, was like watching a scene from a zombie apocalypse film.
This was a common sight at most press conferences. Security even had to be called at some venues, and one colleague saw a photographer actually climbing on top of a show car to get a better shot of another car.
If you can bear the crowds, though, there's a fascinating display of hugely popular small hatchbacks from Indian manufacturers and some wacky compact-SUV concepts that offer a glimpse into what makes the Indian automotive market tick.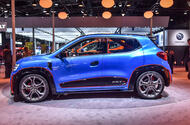 The Delhi Auto Expo 2016 is in full swing and Doug Revolta is in the heart of the action
The Indian car market has been dominated by small low-cost cars for some time, but the prominent role of SUVs at this year's Auto Expo in Delhi suggests the character of Indian roads could change.
Domestic manufacturers, like Tata, Mahindra, and Maruti Suzuki, which is the biggest car manufacturer in the country, led the SUV charge on the home front. Tata owns Jaguar Land Rover, but is only a modest carmaker itself. It displayed the Nexon compact SUV to much fanfare and praise. It also announced a marketing set-back with the news that it will change the name of its soon-to-launch Zica hatchback because of the association with the Zika virus.
Mahindra, owner of SsangYong and now Pininfarina, unveiled the XUV Aero concept, an SUV with coupe-like styling designed by Mahindra and built by the Italian design house and coachbuilder.
But the biggest interest from the domestic market was always going to be around Maruti Suzuki because of its dominance in this country, and the manufacturer took the opportunity to use the very first press conference of the Auto Expo to unveil perhaps the biggest star of the show.
The Suzuki Vitara Brezza is a compact SUV that's 3995mm in length – to avoid the extra tax on vehicles in India over four-metres long – and will go on sale this year. It's unlikely to come to Europe, though. Maruti also unveiled the Baleno RS, with a sporty bodykit and Suzuki's 1.0-litre Boosterjet engine.
Hyundai, another big player in India, also unveiled a compact-SUV concept at the show. The HND-14 is also under four-metres in length and will lead to a production version in the future, one that in all probability will go on sale in 2017.
Mercedes-Benz, SsangYong and Hyundai all showcased SUVs currently on sale outside of India before their respective launches in the country; the GLC, Tivoli and Tucson are all set to arrive in the near future.
The increase in SUV sales has triggered a general decline in the MPV market globally, but the Toyota Innova remains a huge success story in India, and the second-generation model attracted a lot of attention at the Toyota stall, becoming one of the most popular cars at the show.
More eye-catching imports included the Audi R8 and Ford Mustang which, although unveiled some time ago globally, were displayed to the mass Indian market ahead of their showroom debut there. In India, both are subject to import tax which puts a 120% premium on their UK prices.
Foreign manufacturers face a struggle to make an impact in India because of these exorbitant import tax laws, but Renault has taken the market by storm.
The French manufacturer released the low-cost locally-built Kwid hatchback in India to huge acclaim last year, scooping the Autocar India Car of the Year award and perfectly tailoring itself to the country's insatiable appetite for affordable small cars, while also giving it the much sought-after styling of an SUV, all for a bargain basement price equivalent of around £2500.
Built on the flexible Renault-Nissan CMF-A platform, and made from 98% localised Indian parts, there are rumours it will be sold in Europe, but nothing is confirmed yet.
Renault revealed two concept cars based on the hatchback at the Auto Expo: the Climber and Racer. The Climber is an off-road concept to illustrate the potential for the Kwid's all-terrain ability, while the Racer previews a performance-focused version with 18in alloys, an Alcantara, aluminium and carbon interior, bucket seats, and improved aerodynamics. Neither is expected to result in a production version, but features from both could end up in future models.
Harmful pollution levels in India have been in the spotlight recently, and many people are calling on the car industry to do its bit to help. However, hybrid technology remains a rarity in the country, and the EV infrastructure is woefully inadequate. Things may change, though, as the emission standards for engines are set to be raised to the equivalent of Euro 6 (BS-VI in India) by 2020, suggesting there is hope for a greener future.
As India slowly shifts its focus to more environmentally friendly cars, smatterings of frugal options were dotted around the Auto Expo, like a racing concept based on the Mahindra e20 Reva, which is the successor to the UK-badged G-Wiz, as well as the Volkswagen Passate GTE and Nissan X-Trail Hybrid. It will take some time for these frugal alternatives to make it to the mainstream, though, but this year's Auto Expo showed that SUVs could start to become much more prominent in the near future. 
Our more warts-and-all account of the Delhi Auto Expo 2016 gives a first-hand, journalist's eye-view of the biggest car show in India.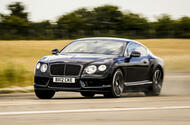 We've not had it long, but our Continental GT has already started racking up the miles
Our three-year-old pre-owned Conti GT V8 has been accumulating miles at an alarming rate. We've had it just four weeks and the mileage has already climbed from just over 21,000 when it left Bentley Birmingham (from whom the former owner bought another car) to 22,700.
It's one of those cars that simply eats distance. We picked it up in Crewe, drove back to London for meetings, then used it the next day for a London to Midlands return dash. That was 450 miles in the first 24 hours, right there.
Even so, I'm surprised by the GT on dynamic grounds. My first impressions of Continentals were gathered during an early comparison of a GT W12 and an Aston DB9, a car we judged to be aiming at broadly the same buyers. The Bentley seemed heavy and unresponsive against the agile, road-hugging Aston, and its 6.0-litre engine was powerful but rather 'buzzy' beside the Aston's V12.
The GT moved on, yet I'm surprised by just how far. Bentley has been fanatical about development, and there's now an intuitive sophistication built into everything the car does. Steering that seemed ponderous is now appropriately firm but pleasingly sensitive; a chassis that seemed reluctant to change direction now transmits your every desire to the road. The ride is quiet and flat in any of its four selectable modes.
The outstanding element for me, though, is the engine. Like many, I viewed the twin-turbo 4.0 V8 as a kind of starter engine, not least because it is used in a motley line-up of lesser VW Group cars. But I was forgetting the Bentley fanaticism; Crewe has found a unique sound and tune for the V8 and put its power through a smart eightspeed automatic transmission.
My abiding impression after this first 1600 miles is that this car's performance and elastic torque simply feel too big for a 4.0-litre capacity, blown or not. The engine note in Sport is refined but sublime. In fact, all you really lack with a V8 are bragging rights. I'm happy to go without them.
Bentley Continental GT V8
Price new (2013) £125,000; Price now £89,950; Economy 24.8mpg; Faults None; Expenses None; Last seen 13.1.16
Previous Bentley Continental GT reports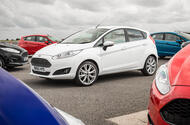 Figures issued by the Society of Motor Manufacturers and Traders (SMMT) show the UK new car market enjoyed its best January for 11 years
The Ford Fiesta continued its dominance at the top of the UK new car registrations chart as the domestic market started 2016 with its best January performance in 11 years.
New car registrations increased by 2.9% last month compared with the same month in 2015, with a total of 168,678 cars registered during the month. That's the highest total for January since 2005, when 181,474 cars were registered.
A total of 8353 new Fiestas were registered, eclipsing the second-placed Nissan Qashqai by 3514 units.
The market growth was fuelled by an increase in registrations of private cars, which enjoyed an 8.2% year-on-year rise. The total of 73,061 was the highest number of new cars registered to private buyers in January for 12 years.
Mike Hawes, SMMT Chief Executive, said: "January's solid performance puts the new car sector in a good position to start the year. Providing consumer confidence remains strong, we expect a more stable 12 months ahead, broadly similar to 2015 which was, of course, a record year."
Alternatively fuelled vehicles continued to follow the recent trend of growing in popularity, with registrations up by 32.1% compared with January 2015. Hybrids and EVs commanded 3.6% of the total new car market, an increase of 0.8% over this time last year.
Diesel remained the most popular fuel type among buyers, but only by the slenderest of margins. A total of 82,311 oil burners were registered during the month, compared with 81,292 petrol-powered cars.
New car registrations for January 2016
1 Ford Fiesta 8353 units
2 Nissan Qashqai 4839
3 Vauxhall Corsa 4803
4 Ford Focus 4285
5 VW Golf 3813
6 Nissan Juke 3446
7 VW Polo 3298
8 Audi A3 3227
9 Vauxhall Astra 3185
10 Mercedes C-Class 3022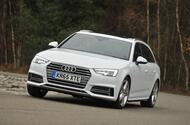 Classy new A4 Avant has plenty going for it, but rivals remain better to drive A new Audi A4 saloon reached the UK last year, so now begins the inevitable roll-out of the rest of the family's bodystyles. Up first, and tested here, is the new A4 Avant (the estate, lest you forget), which will in time be followed by (deep breath) an A4 Allroad version, an A5 coupé, A5 Cabriolet, A5 Sportback and probably some other niche that a bloke in marketing thought up. Can we not just skip to the RS4?I digress. The engine range of the A4 Avant mirrors that of the saloon, meaning four-cylinder petrols are offered alongside four and six-cylinder diesels, with front and quattro all-wheel drive and six-speed manual and seven-speed S tronic dual-clutch automatic transmissions.We've picked quite an interesting combination here to test: the 187bhp version of the 2.0 TFSI petrol engine mated to a seven-speed automatic gearbox driving the front wheels. Diesels will, of course, be the main sellers, but we liked the smooth power delivery of the petrol when we tested it previously, and the auto is well suited to life in the outside lane of British motorways.But of more importance here are those vital estate statistics. The boot space is rated at 505 litres, rising to 1510 litres when the standard 40/20/40 split rear seats are folded. The smaller boot volume figure eclipses both the BMW 3 Series Touring and Mercedes-Benz C-Class Estate, while the C-Class Estate is a match for the A4 Avant seats down.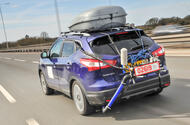 Should emissions scandal outrage extend beyond the scorn being poured on motor manufacturers?
Strange, isn't it, when your long-held convictions are challenged? Often you find yourself clinging to those beliefs, just because they are long-held, rather than moving your stance in the face of the evidence in front of you.
I've long been a keen supporter of the car industry, and particularly the ingenuity of the men and women who work in it, who come up with ever-cleverer ways to solve every type of challenge and problem. From meeting ever more stringent crash tests to making cars lighter or more fuel efficient, more comfortable or making them faster, grippier and so on, they continually amaze as they find ways to make things better.
Of course, I still am - but perhaps less so today than yesterday. That's because there's a rather unpleasant underbelly being exposed by the ongoing emissions scandals that makes me question the morality of some of the people involved, both in the companies themselves and at a regulatory level.
No one needs reminding of the VW emissions scandals, of course. Then last week Autocar uncovered a wave of CO2 revisions for mechanically unaltered cars. Even a car maker under the brightest of spotlights seemed to think it could make changes under the radar. And in between we have had a succession of real-world tests that have exposed NOx emissions running at astronomically higher levels than the cars are certified at during laboratory tests.
The latter cases are the most pertinent to my introduction, because I was initially despairing of a media looking to drag every car maker into a scandal created by VW's cheating. You don't need to be a genius to work out that a real-world test, with all the variables it introduces, isn't going to replicate a carefully controlled laboratory test.
But there is a growing acknowledgement that car makers do employ - perfectly legally - devices that allow greater amounts of harmful emissions under certain circumstances in order to protect parts from excessive damage. Indeed, some makers say that such devices are required to meet regulations that demand emissions cleaning systems must work efficiently for around 100,000 miles.
It's here that the focus of my thoughts are aimed. Both the regulators and car makers have consented to this situation, and there may well be sound practical and economical reasons for that being the case. But where is the morality in that process?
Can it really be acceptable for a car maker to push multiple times the claimed amount of NOX into the air just because it's cold? And if it is a requirement of ensuring durability of the emissions reduction systems, who is regulating just how many times the prescribed levels these cars can run over the legal limits?
In my view, both those responsible within the car makers and the regulators should hang their heads in shame. The ingenuity of the industry is being tarnished by the incorrectly calibrated moral compass of some. I've no doubt that the vast majority of men and women working in the industry are every bit as bright and brilliant as I've always thought, but they are now going to have to work harder than ever to fix an image that is currently being tarnished day by day.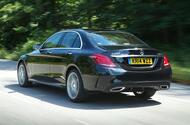 Mercedes clarifies its stance in the wake of new Dutch environment agency emissions findings
Real-world tests have recorded the Mercedes C-Class C220 TDi BlueTec emitting 40 times more NOx than the legal limit in laboratory tests. However, Mercedes says the results are a consequence of real-world tests not reflecting official procedures, primarily because of the low ambient temperature during the test.
The tests were conducted by Holland's Organisation for Applied Science Research (TNO) on behalf of the Dutch Minister of the Environment.
Mercedes says the discrepancy is partly down to the exhaust gas recirculation (EGR) process operating differently between five and seven degrees centigrade, a process it says is aimed at protecting the EGR cooler. Official laboratory tests that define whether a car is legal are conducted at 22 degrees centigrade.
Mercedes says this practice is fully legal, and that it is required to ensure the regulated requirement of delivering full functionality of the exhaust gas after-treatment system up to at least 160,000 kilometres. However, critics, while accepting the legality of the system, have suggested that such a device should be banned as it means the cars are hugely more polluting in low temperatures.
A Mercedes statement read: "Daimler AG once again absolutely rejects the inherent accusation of manipulation. Mercedes-Benz vehicles fully comply with the national regulations in force at the time of vehicle registration.
"We absolutely reject speculation or interpretation that possible deviations between test-bench measurements and measurements made during real driving conditions can only be explained by manipulation. No defeat device, ie a function that improperly restricts the effectiveness of exhaust-gas after-treatment, is used by Mercedes-Benz. Neither do Mercedes-Benz vehicles have a function that automatically recognises when a vehicle is being tested."
However, as a consequence of the claims, a pressure group in Germany, Deutsche Umwelt Hilfe, has called on Germany's automotive regulator Kraftfahrt-Bundesamt (KBA) to withdraw the EU-wide type approval for all diesel-powered C-Class models, or have the cars banned from all inner cities when temperatures drop below 10 degrees centigrade.
If type approval were withdrawn, affected cars would have to be taken off sale.