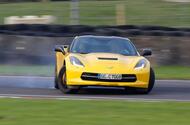 Chevrolet only builds its Corvette in left-hand-drive form
American sports car heads range of converted left-hook-only models now offered by Clive Sutton

The Chevrolet Corvette can now be bought in right-hand-drive guise thanks to a conversion offered by luxury dealership Clive Sutton.

Chevrolet builds its 6.2-litre V8 sports car in left-hand drive only, but Clive Sutton is working with an engineering firm to offer a right-hand-drive conversion for £54,000.

Sixteen other models are currently available for conversion to right-hand drive, including the 707bhp Dodge Challenger SRT Hellcat (below), Cadillac Escalade, Dodge Ram 2500, Ford F-150 and previous-generation Ford Mustang.

More models are due to be added to the list, but Clive Sutton says it wants to produce prototype versions for testing first before bringing them to market.
"We've been running our converted Dodge Ram for over a year without any problems," said a spokesman. "Every car comes with a one-year warranty, but we hope to expand that in the near future."
The work takes between 12 to 16 weeks to be carried out. The conversions take place in Britain, meaning any future servicing or repairs can be dealt with here.
The most affordable conversions are the pick-ups, with work on the 5.7-litre V8 engined Dodge Ram 1500, for example, costing £26,400.
The most expensive conversion is for the a Mercedes-Benz G63 AMG 6x6, which costs £780,000 to buy in right-hand-drive form – more than double the regular left-hand-drive car's starting price.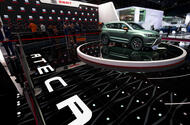 The SEAT stand at the Paris Motor Show
Full report and video: find out about SEAT's plans to launch three new cars in 2017, the Ateca X-PERIENCE concept and more from the Paris Motor Show

SEAT had a major presence at this year's Paris Motor Show, and Autocar was on hand to provide special live promoted coverage of all the brand's activities.

The Barcelona firm showcased the new SEAT Ateca SUV, and unveiled a rugged, off-road focused Ateca X-PERIENCE concept. SEAT also revealed bold plans to release three new cars next year, including a brand-new supermini-sized crossover.

On top of that, SEAT put a major focus on technology, both by showcasing some unique and innovative products on its stand, and by making it a key part of the firm's future direction.

We reported live on all of SEAT's activities across both of the Paris Motor Show's press days, and you can see all our coverage below. You'll find five videos from technology expert David McClelland. There's also plenty of insight from SEAT chairman Luca de Meo into the brand's future plans.

To find out more about SEAT, click here.

How Friday September 30 unfolded

22.11: That concludes our coverage. Thanks to everyone for reading. You can watch all five of the videos we produced on the Autocar YouTube channel here – and we'll have a 'best of' video coming up in the near-future.

22.04: SEAT chairman Luca de Meo was on hand at the Paris Motor Show, and our technology expert David McClelland had a fascinating chat with him about the brand's new releases for 2017, and how SEAT plans to reinvent itself using technology. To find out more about SEAT's exciting plans for the future, watch this video - and you can find more insight from de Meo below.

21.47: The third car launched in 2017 will be an entirely new model, called the Arona. It will be a supermini-sized crossover, and built on the same platform as the Ibiza. And if you were wondering, like all of SEAT's cars the new machine is named after a place in Spain. Arona is a city on the island of Tenerife in the Canary Islands.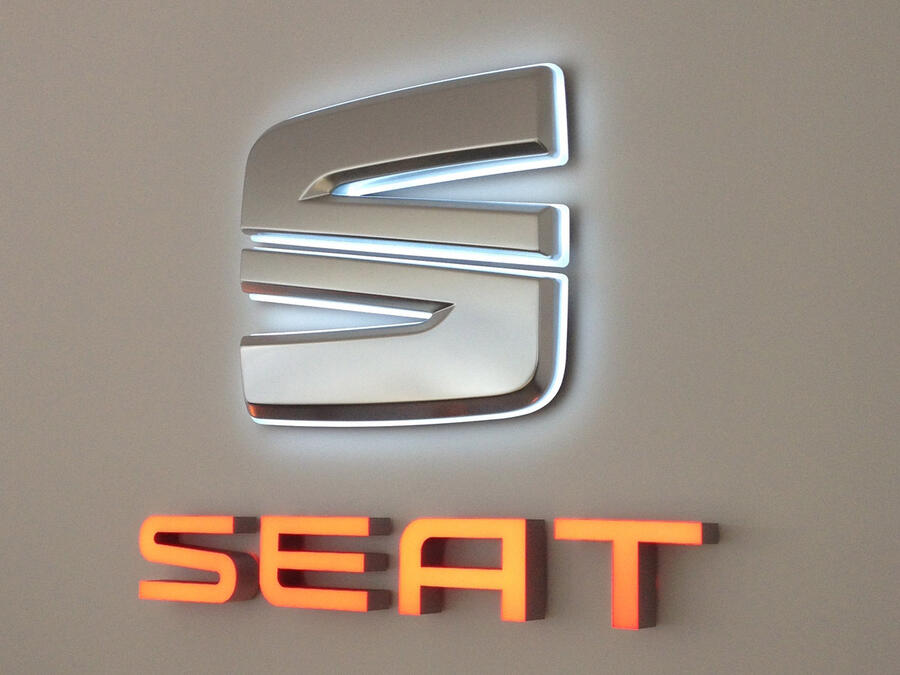 21.43: While SEAT's stands in Paris are both focused around showcasing two different versions of the Ateca SUV, the firm used the event's press days to reveal ambitious plans for three new cars in 2017. 
The new car releases will include updated versions of two of SEAT's 'brand pillars'. There will be a new version of the popular Leon, and the release of the fifth generation Ibiza supermini. This will be the first car to be released on the VW Group's new MQB A0 platform. 
21.36: SEAT has a huge outdoor stand at the Paris Motor Show, located right by the main entrance to the event. That stand celebrated the firm's Barcelona heritage with a display of items created in the city. The centerpiece of the stand was the new SEAT Ateca SUV in XCELLENCE trim.
21.24: The 4D experience was part of SEAT's demonstration of future technology that it believes could provide a future direction for the firm and the wider motor industry. Another innovative system on display was a BitBrain neural technology car configurator.
21.20: To conclude our coverage, we're wrapping up some of the highlights from the two press days at the Paris Motor Show.
The SEAT stand featured a unique press conference. Instead of a traditional press conference, SEAT ran a continuous 4D experience, in which visitors to the stand could watch a VR presentation outlining the firm's plans for 2017. 
The experience also included a virtual drive in the new Ateca X-PERIENCE concept through the streets of Barcelona.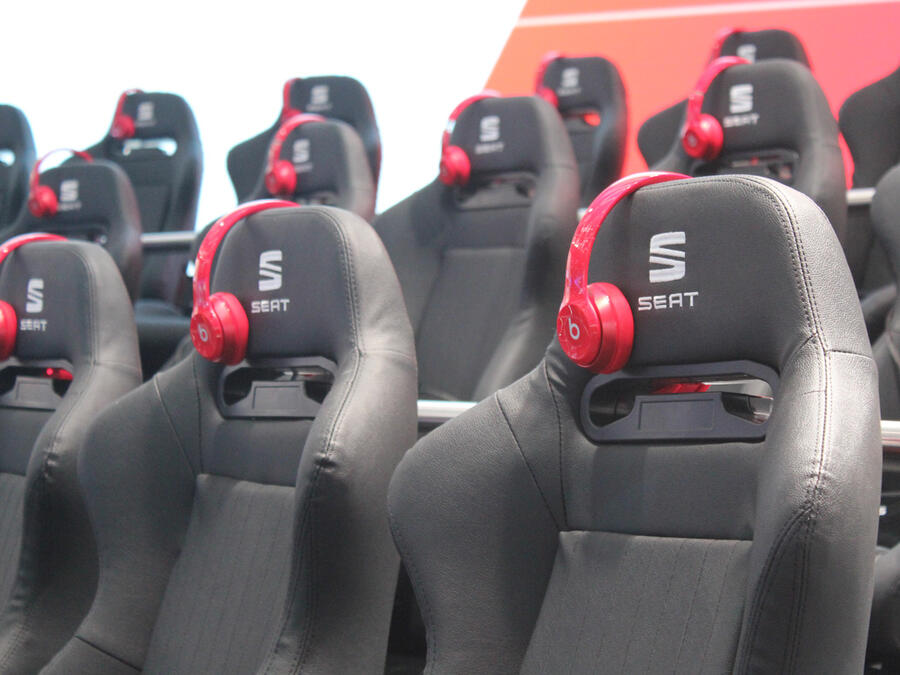 17.10: We'll have more SEAT highlights from the Paris Motor Show here later.
17.08: The Ateca X-PERIENCE is currently a concept, but has been conceived to showcase what the Ateca model can be capable of, as SEAT vice-president of R&D Dr. Matthias Rabe explained. "With the Ateca X-PERIENCE we can go beyond that which we already have in the series. It's for the customer that wants to go further, taking it to the extreme, for weekend adventures, and of course, off-road."
16.45: Since it was revealed at the Geneva Motor Show, the SEAT Ateca has been one of the big motoring stories of 2016. Here at Paris, SEAT showcased a new Ateca X-PERIENCE concept, a rugged off-road version of their first compact SUV. 
The Ateca X-PERIENCE took pride of place on the firm's interior stand, and looked stylish in olive green matt paint.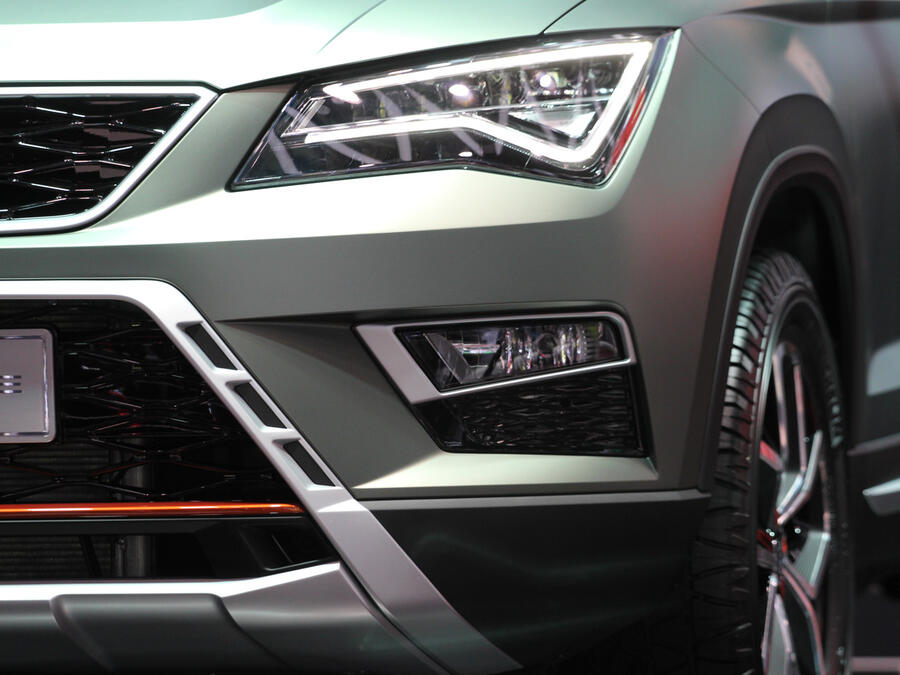 16.30: We're nearly done with our live coverage of SEAT at the Paris Motor Show here. It's been an exciting couple of days for the brand, which has shown off a new SEAT Ateca concept, revealed plans for three new models in 2017 and given an insight into its future direction.
We'll finish off this evening with a recap of everything notable that's happened on the SEAT stand during the show.
14.36: Luca de Meo added that SEAT's young customer base will be a great advantage in shaping its future direction, particularly as new technology disrupts the car industry.
"I think SEAT has a great advantage. We have by far the youngest customer base in the European industry," he said. "It's ten years younger than average. So if we listen to our customers, we'll see things ten years before [other car firms]."
14.26: SEAT chairman Luca de Meo has also spoken about coming up with a new position and identity for the firm – but is adamant that it won't forget its heritage. "We are from Barcelona, and we will not deny that spirit," he said. "People expect it. It is warm, emotional, in good taste, dramatic, etc."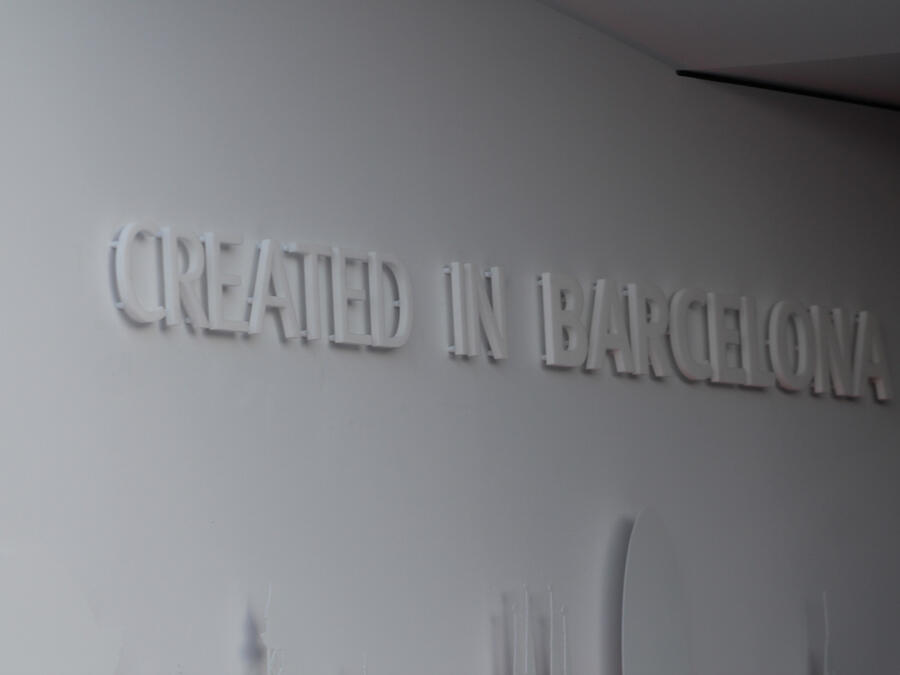 14.18: Luca de Meo has also spoken about the ongoing disruption to the car industry, and how technology is changing the way people think about cars.
He said: "There are a lot of things that are disrupting the industry – electric cars, mobility, connected cars, etc – and we believe this could be a huge opportunity for an emerging brand like SEAT to position ourselves as a leader.
"The fact that Apple and Google are coming into the game, I see it as a great opportunity – and also a sign that the car will be a very important part of the Internet of Things. It's an opportunity, because it will focus attention on the car industry and what's coming up."
14.09: SEAT chairman Luca de Meo has been very open about creating a new position and direction for the brand – and about using innovative technology as a way to do that.
He said: "We are trying to position SEAT in a different way, as a brand that is accessible, that speaks a fresh language and does things that are, let's say, interesting and entertaining for people."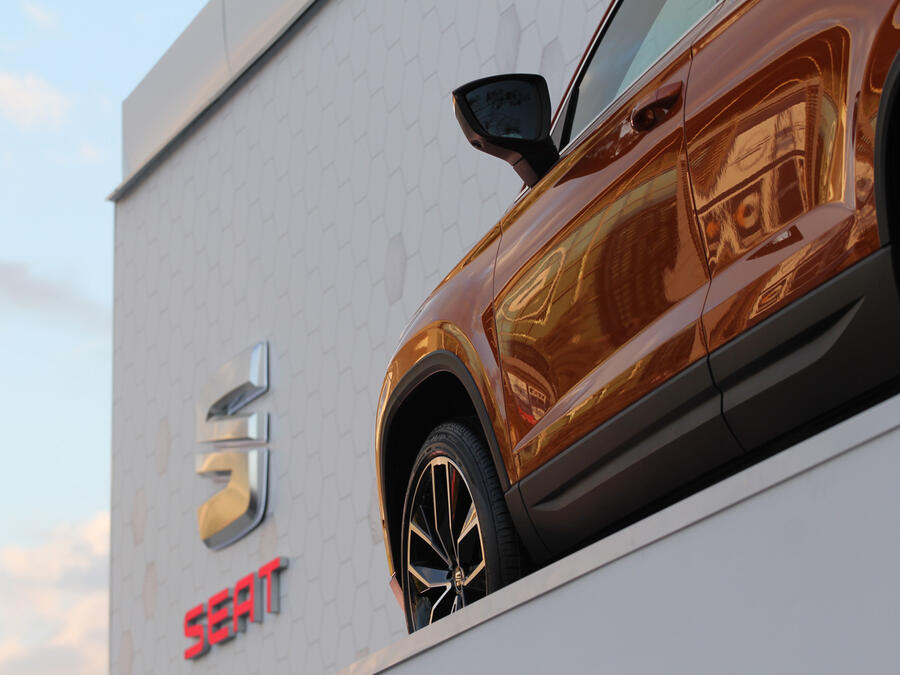 14.02: The new Ibiza that will launch in 2017 will be the fifth generation of SEAT's supermini – the first was launched at the Paris Motor Show in 1984 – and Luca de Meo is confident it will be a standard-setter in the competitive supermini sector. He said: "I think it will be one of the best cars in the class, because it will be the first car in the VW Group to have the state-of-the-art technology [on the MQB A0 platform]."
Since there aren't any images of the new 2017 SEAT Ibiza yet, this seems a good place to look back at the first generation of the supermini from 1984...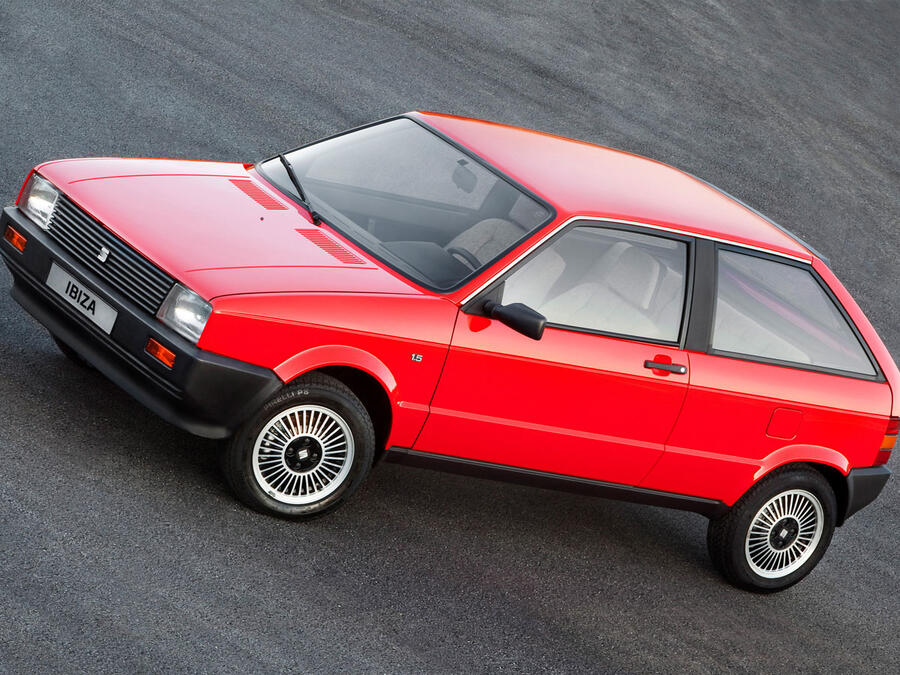 13.50: SEAT has bold plans for the future. Following the launch of the new Ateca SUV this year, the firm is planning three new cars in 2017. There will be a new Leon, a new Ibiza and a new supermini-sized crossover, called the Arona. 
David McClelland asked SEAT chairman Luca de Meo why the firm was launching three cars in such a short space of time. "To sell more cars," quipped de Meo.
He added: "Actually, one of the problems SEAT has had is a very restricted product range. In 2013 the Leon came in and was very successful in a very big segment in Europe. Now we have the Ateca and an updated version of the Leon platform.
"With the new VW Group MQB A0 platform we can renew the Ibiza, and out of the Ibiza we thought about developing a small crossover below the Ateca. The technical development of the platforms allow us to be quick and invest."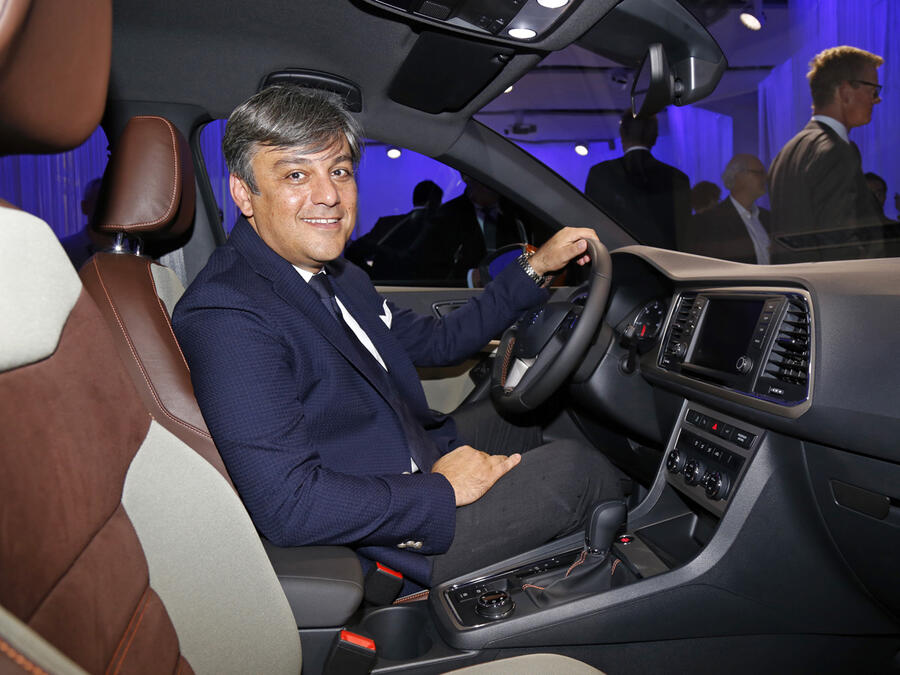 13.41: Here's the video of David McClelland talking to SEAT chairman Luca de Meo about the firm's use of technology and plans for 2017.
13.30: Earlier, technology and automotive expert David McClelland sat down with SEAT chairman Luca de Meo. They chatted about the three new SEAT models planned for 2017, and how the firm is aiming to become an industry leader in the innovative use of technology. We'll have a video of the interview coming up shortly, and some further excerpts coming up here in a bit.
13.09: With plenty to see around SEAT's two stands at the Paris Motor Show, we've been gathering some of the best images in a gallery, which you'll see at the top of the page. Have a scroll through to take in the sights of the cars and the stands.
12.56: Yesterday, SEAT chairman Luca de Meo spoke to Autocar editorial director Jim Holder about the fifth generation SEAT Ibiza, which is one of three new models the firm is launching in 2017. Take a look at the Autocar story here to find out more. We'll have more from Luca de Meo here shortly.
12.11: BitBrain are open that the system isn't perfect when it comes to determining the likes of each individual yet, because different people will draw different things out of each video clip. For example, one clip shows someone relaxing while reading a book. People who react to it are scored for potentially enjoying calm, but could just like reading. That said, BitBrain's technical gurus do believe that it works to detect general trends across a large group of people.
If you're heading to the Paris Motor Show you can try the BitBrain neural generator out for yourselves – and see if it specs up an Ateca to your preferences. And, as a pointer, we're particularly pleased with the colour of Ateca it picked out for us...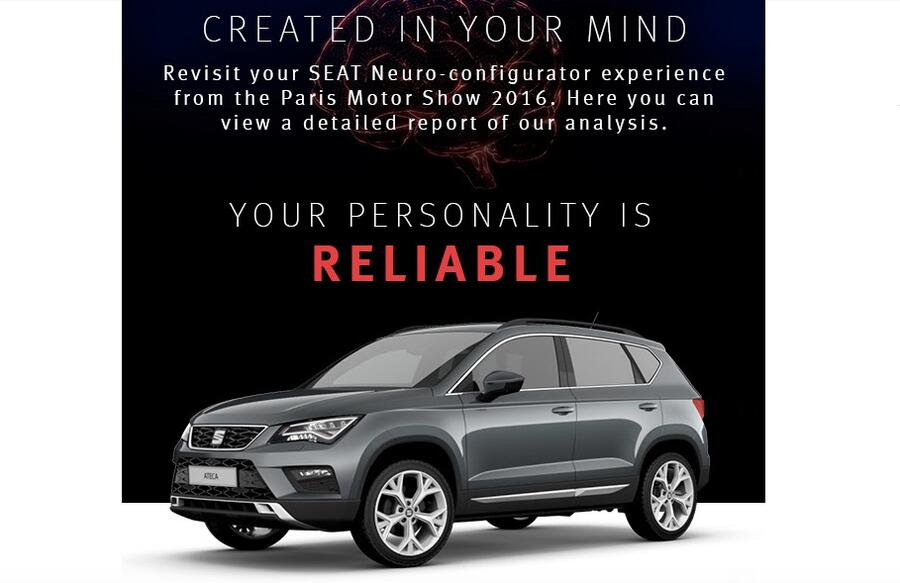 11.46: As an example of how the BitBrain neural technology works, part of the video shown to SEAT stand visitors is first-person footage of a mountain biker on a particularly treacherous course. If your brain reacts strongly and the BitBrain system detects your eyes following the path of the bike, the system determines you are more likely to be adventurous. Then SEAT use that information to select options on the new Ateca that would suit an adventurous lifestyle.
11.29: Essentially, the BitBrain generator works by showing you a series of images, and measuring your neural activity as they are shown. By reading how you respond to each image, the BitBrain system can draw inferences about your personality – which SEAT then use to match up to colours, engine options and equipment available for the Ateca.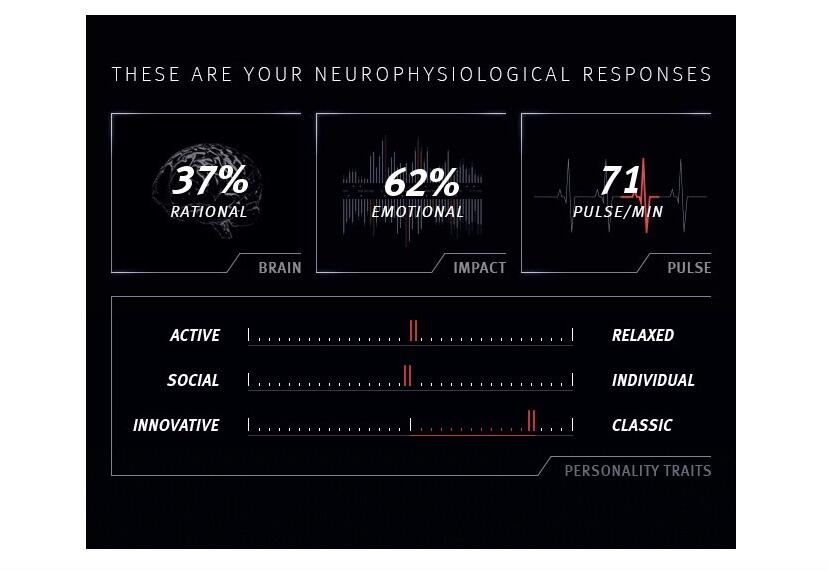 11.08: You might have seen the video earlier in which David McClelland tried out the BitBrain neural technology SEAT Ateca specification generator. And if not, why not? Don't fret, you can find it by scrolling down.
Essentially, the system reads activity in your brain in response to images, and then determines a spec of SEAT Ateca customised to you. It might seem like a bit of a gimmick, but there's plenty of interesting science behind it. We've spoken to one of the brains behind BitBrain for an insight into the technology.
BitBrain Technologies is a Spanish company that specializes in neuroscience and neurotechnology. It was founded in 2010 as a spin-off from the University of Zaragoza.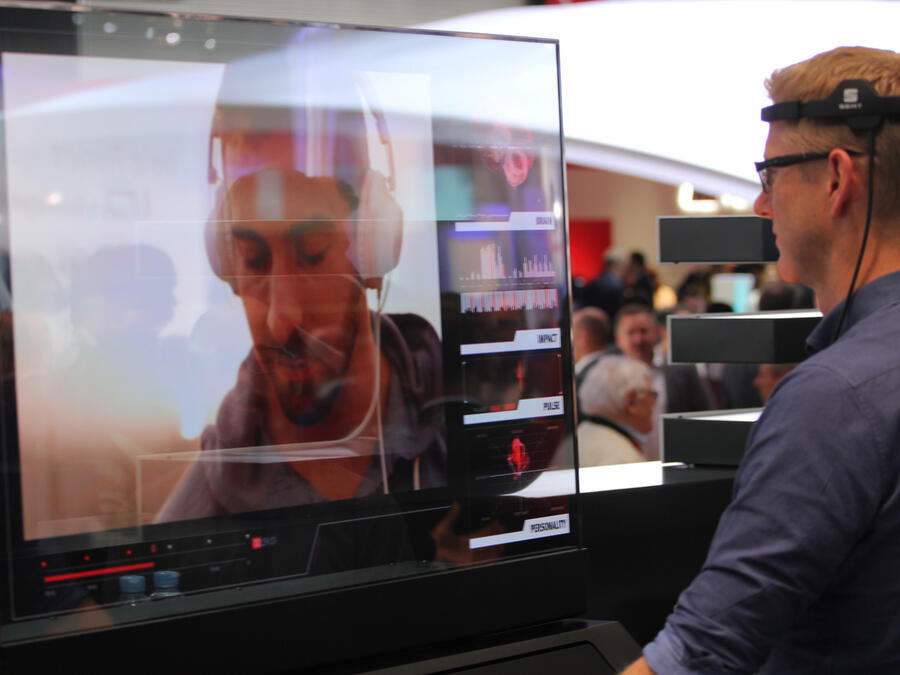 10.33: Here's David McClelland taking a first look at the SEAT Ateca X-PERIENCE, the firm's concept for an adventurous version of their first SUV.
10.20: Taking pride of place on SEAT's indoor stand at the Paris Motor Show is the new Ateca X-PERIENCE concept. It's designed to show the adventurous side of SEAT's first SUV. David McClelland has been to take a look. We'll have that video coming up shortly.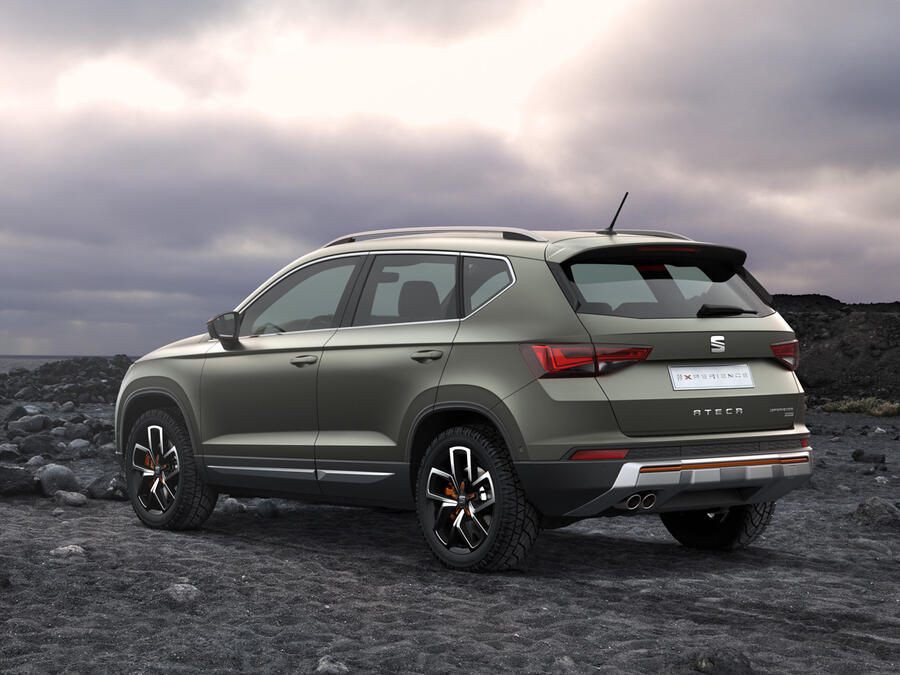 10.10: SEAT's exterior stand at the Paris Motor Show has a major celebration of the firm's Barcelona heritage. That included a display of objects that come from Barcelona, which include an Olympic torch and an M-5 stapler. We ran through some of the objects yesterday, so scroll down to find out more. But they're not the only items on the stand that have a link to Spain: there are some beautiful olive trees inside the stand, as can be found throughout the Mediterranean region.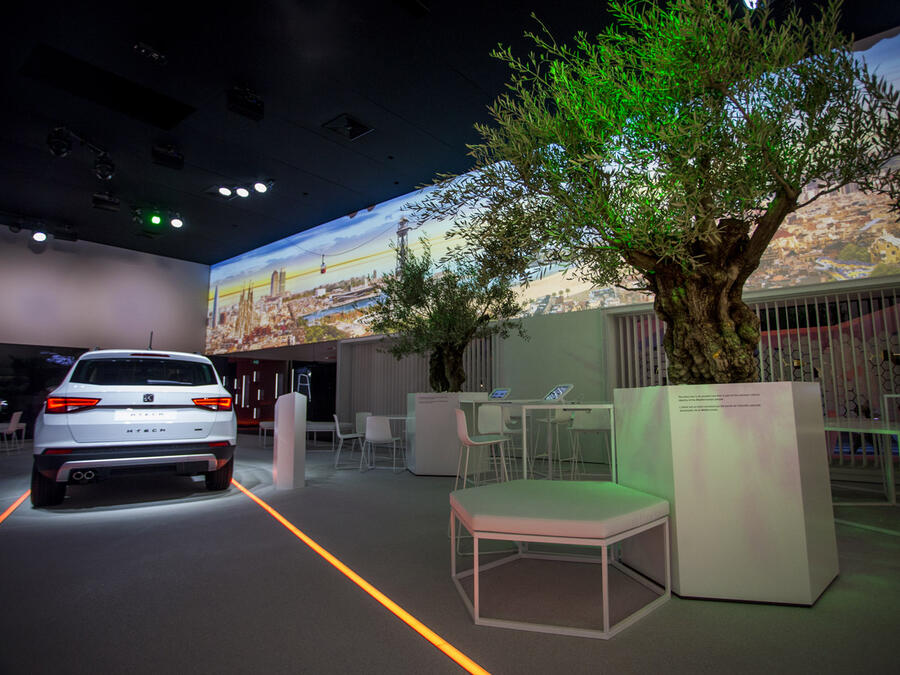 09.50: Yesterday, David picked out some of the notable features available for the new SEAT Ateca. To find out which ones resonated most with the public, Autocar staged a promotion with SEAT to display the new Ateca to the heart of Cardiff and Edinburgh. We asked shoppers what they thought of the SUV. You can read the story and watch the video of what happened here. 
09.32: SEAT chairman Luca de Meo has attended the Paris Motor Show press days and, with the brand revealing three new models for 2017, he has been much in demand. Technology and automotive expert David McClelland has just headed off to meet him, to find out more about SEAT's plans for the future. We'll have all the details coming up later today.
09.21: The Ateca XCELLENCE trim includes 18-inch wheels, a chrome double exhaust pipe, Full LED headlights, aluminium roof rails and dark tinted rear windows.
It also comes with options including an eight-inch colour touchscreen, which gives access to the SEAT Full-Link connectivity system, a wireless phone charger and multi-colour interior ambient lighting. Drivers assistance features include rear parking sensors, a 360-degree Top View camera, lane assist, blind spot warning detection.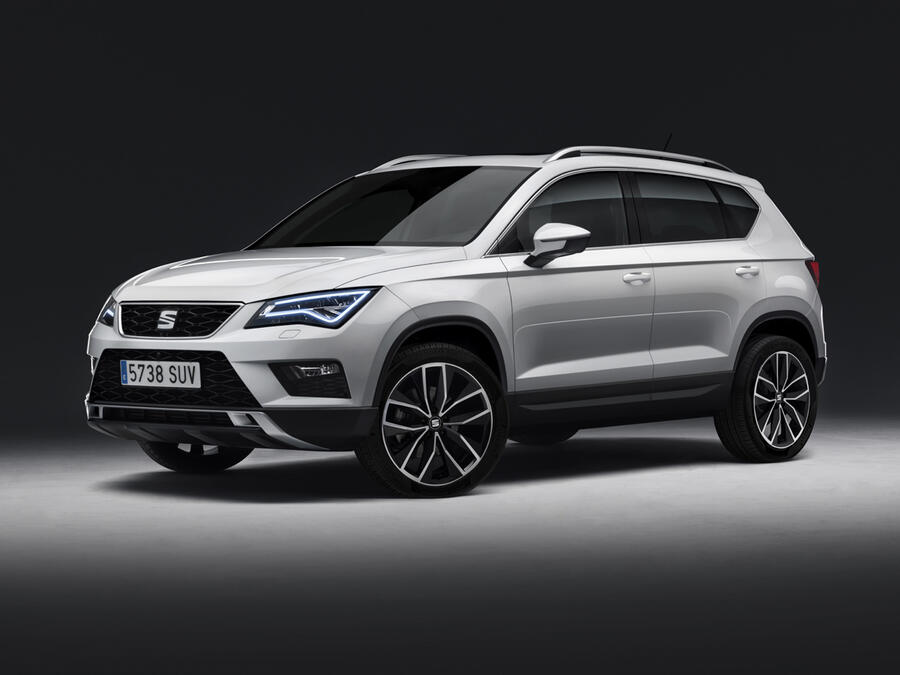 09.07: The Ateca XCELLENCE is available with a 1.4-litre EcoTSI petrol engine with 150 PS, or a 2.0-litre TDI diesel with up to 190 PS. The latter model comes with a choice of manual or automatic gearbox, and is available in two- or four-wheel-drive. On-the-road prices for the Ateca XCELLENCE start from £23,905.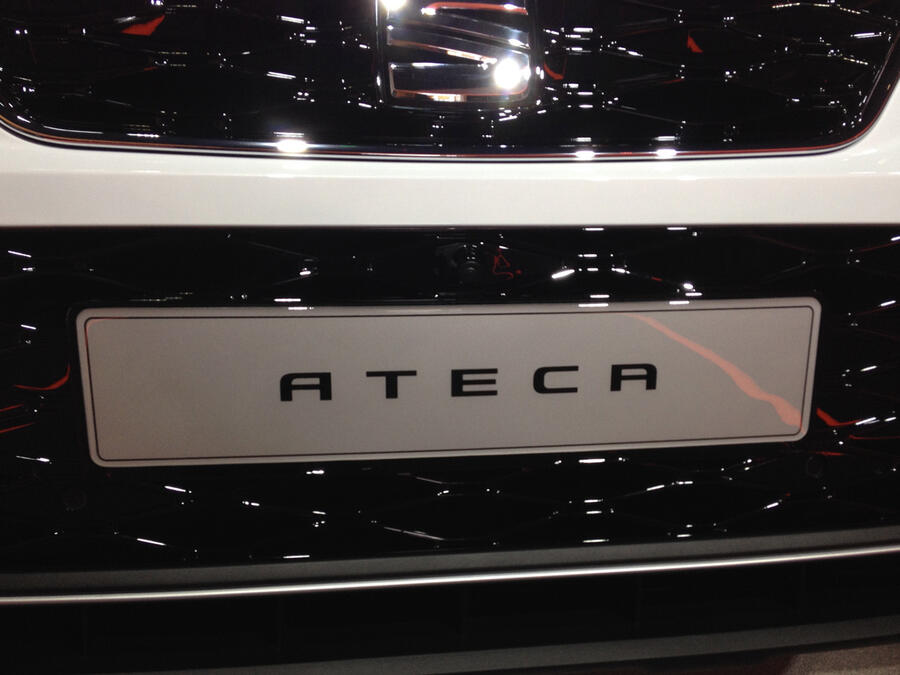 08.40: The SEAT Ateca, in XCELLENCE trim, takes pride of place in the firm's outdoor stand, which is locate right by the main entrance to the show. David had a close look round the car yesterday, and made this video. We'll have a quick run through some of the technical details here in a bit.
08.32: We've got one more video David made yesterday coming up shortly - and we'll have more from him later today. He's going to take a close look at the Ateca X-PERIENCE concept that is the centre of attention on SEAT's indoor stand, and he's also due to interview company president Luca de Meo. Keep checking back here later to see the videos.
08.21: While most manufacturers held 'traditional' press conferences yesterday, SEAT stage a continuous press interactive press conference, using 4D and VR interactive technology. If you aren't sure what that means, here's David trying it out.
08.11: There was plenty of interesting stuff happening yesterday. If you missed it, you can scroll through all of our blog content below. Our coverage included technology and motoring expert David McClelland taking a look around the SEAT stand. You can catch up on his stand tour here:
07.57: Welcome back to Autocar's special promoted coverage of the SEAT stand at the Paris Motor Show. We're here all day with more news, updates, pictures and videos showcasing everything the Barcelona firm is doing in Paris.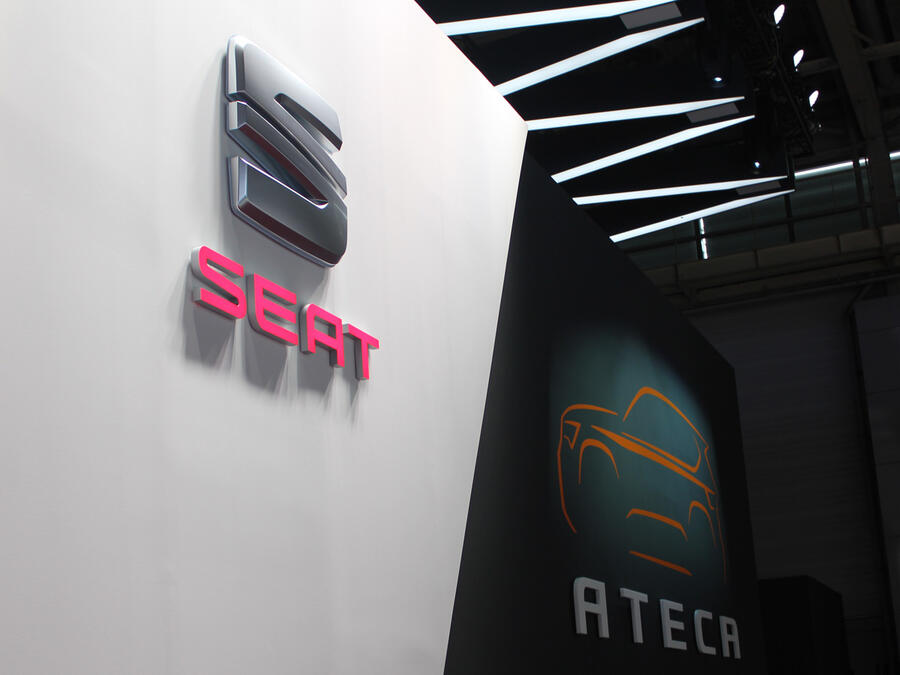 How Thursday September 29 unfolded
19.19: It's getting dark here in Paris, so time to end the blog for the day. We'll be back with more coverage tomorrow, including an interview with SEAT president Luca de Meo and a video taking a closer look at the new Ateca X-PERIENCE concept. We'll also check out some of the finer details of the Ateca XCELLENCE, and investigate the BitBrain neural technology car configurator.
Remember, you can have your say on social media – just use #SEATparis. We'll see you here again in the morning.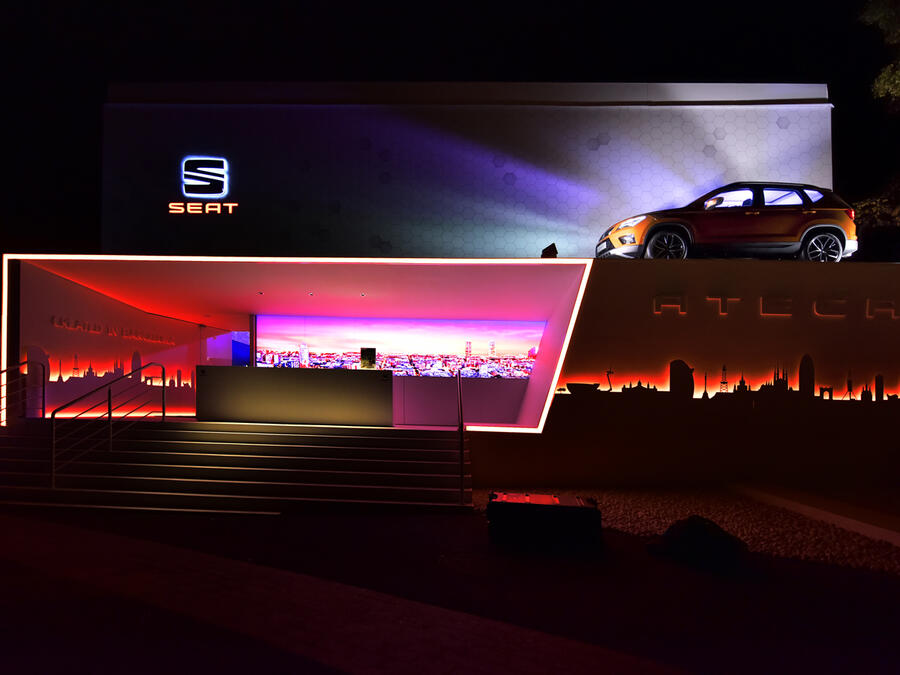 19.10: You can also scroll through the gallery at the top of the page to take a closer look at the SEAT stands in Paris. We'll be uploading more images there throughout tomorrow.
19.02: We're nearing the end of our coverage of the SEAT stand from the opening press day of the Paris Motor Show. Hope you've enjoyed the coverage, in particular the videos from our reporter David McClelland. You can find his stand tour, thoughts on SEAT's interactive experience and Ateca walkaround videos in the thread below – or you can check them on Autocar's YouTube page here.
17.53: Here's David McCLelland's video walkaround of the SEAT Ateca XCELLENCE, covering some of the key design and technology features of the car.
17.37: The SEAT Ateca went on sale in the UK at the start of September. If you haven't had the chance to go and take a look at one yet, reporter David McClelland has done a walkaround of the XCELLENCE trim model being displayed on the stand. We'll have that video for you here shortly.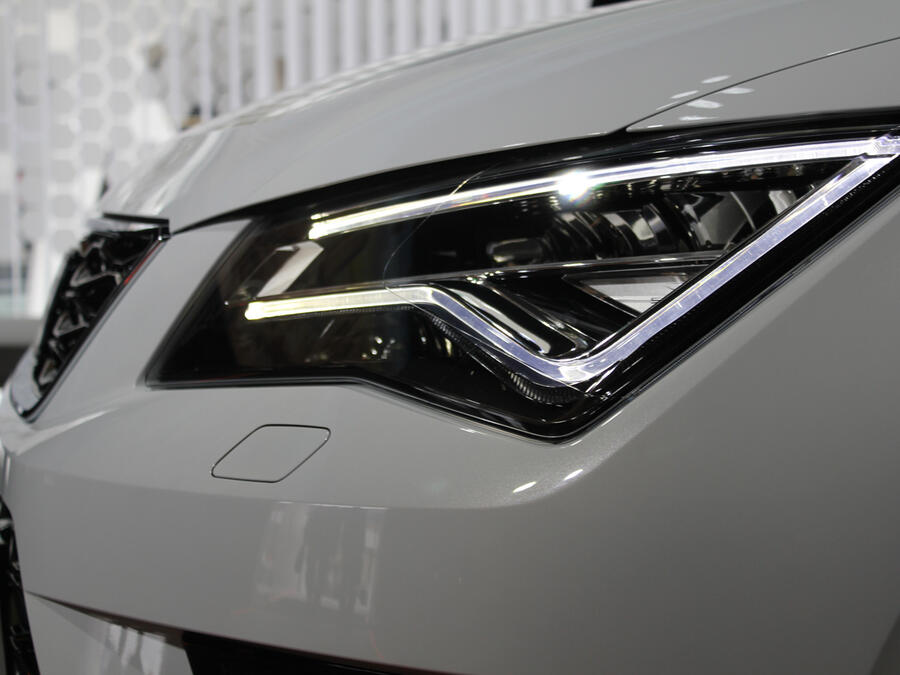 17.05: If you want to learn more about the Ateca X-PERIENCE, we'll have a video walkaround as part of our coverage tomorrow. You can also see what the Autocar editorial team made of the Ateca X-PERIENCE by reading their news story.
16.49: Powering the Ateca X-PERIENCE is a 2.0-litre TDI 190hp engine, with a seven-speed automatic gearbox with paddle-shifts, and a 4-drive traction control system. It also comes with plenty of driver-assist systems and infotainment options including SEAT's Full Link smartphone connection. There's an eight-inch touchscreen with Media System plus, and a wireless charger for compatible smartphones.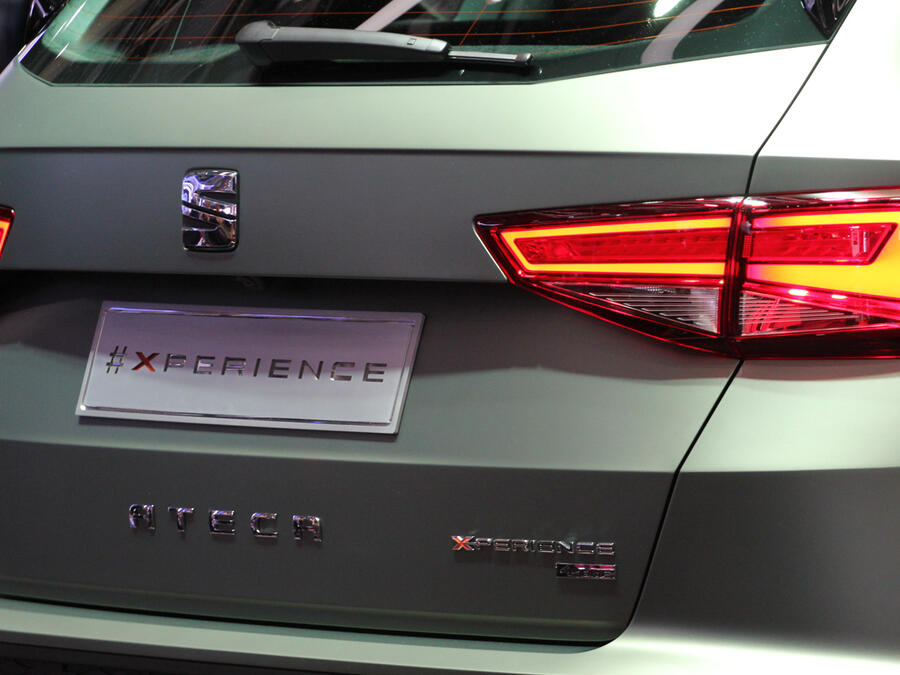 16.32: The Ateca X-PERIENCE doesn't just look the part of an off-roader either: it's got all the kit needed to tackle rough surfaces. It has higher ground clearance than the regular Ateca, elevated suspension and 18-inch alloy rims.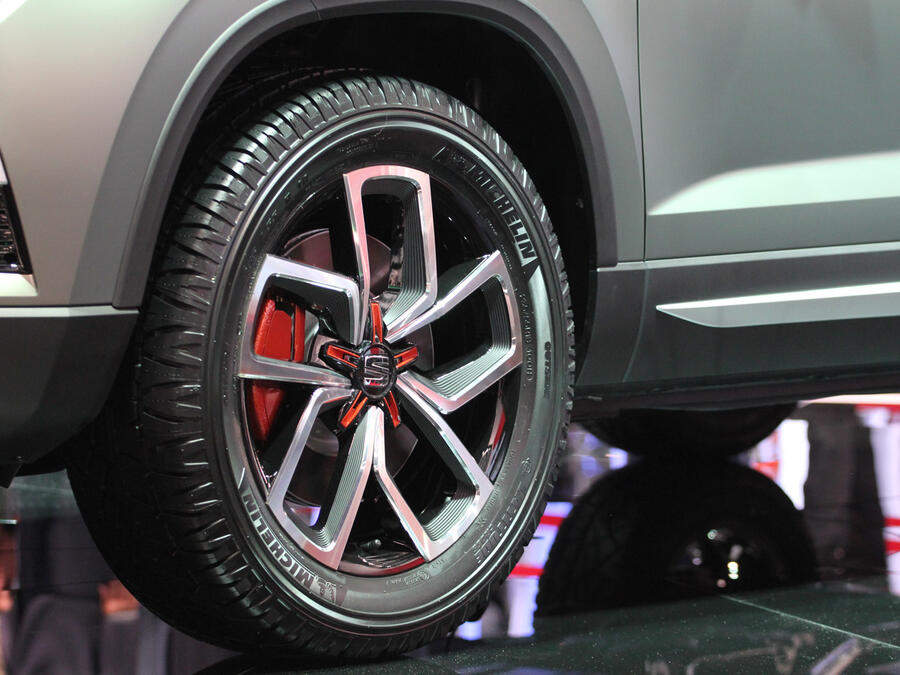 16.08: The new SEAT Ateca X-PERIENCE concept takes pride of place at the firm's stand inside Hall 4, so let's take a closer look.
The concept has been designed to show the true potential and most adventurous characteristics of SEAT's new Ateca SUV. That's reflected in the choice of olive green matt paint, with orange tones to give it a technical look.
Other exterior touches on the Ateca X-PERIENCE include chromed roof rails, a rear spoiler mounted above the boot, and a front diffuser to protect the lower grill.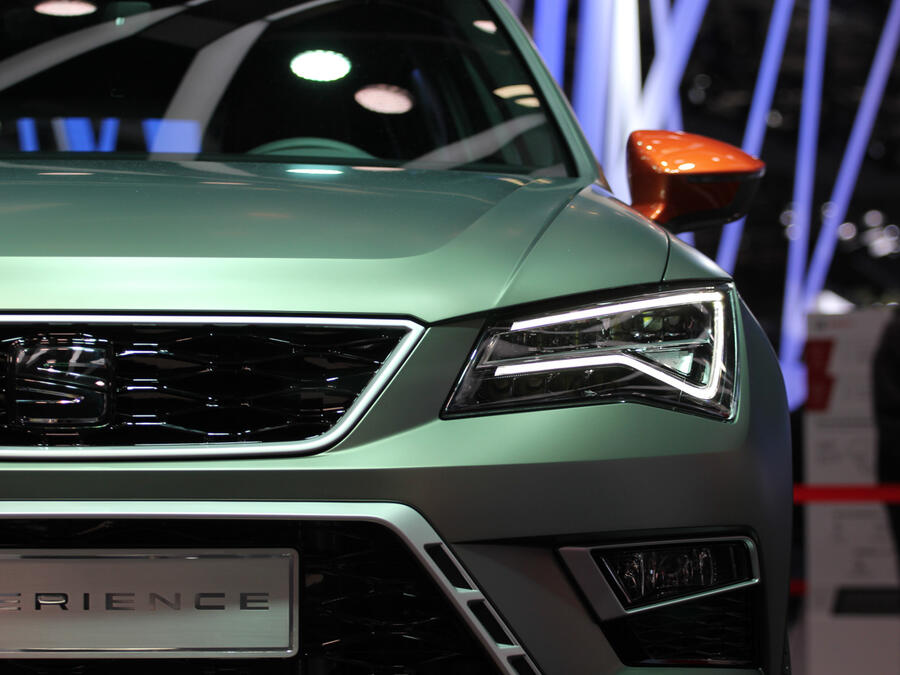 15.35: SEAT's goal is to become a leading brand in terms of connectivity and digitisation, and to use technology to enhance the customer purchase experience.
Luca de Meo, SEAT's president, said: "The connected car at the core of the user experience is our vision of the future of mobility. We want to position the car as a service that offers a digital, connected experience. We dream of making SEAT the brand capable of delivering the easiest mobility experience in this fast changing environment."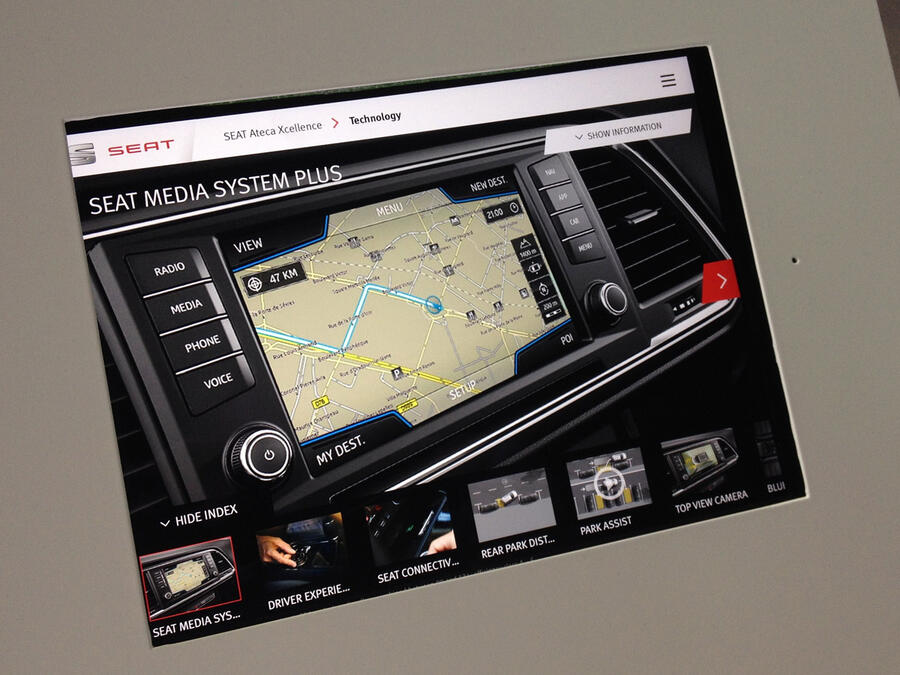 15.19: Technology is a big theme of SEAT's presence at the Paris Motor Show, reflecting a trend in the wider car industry towards electrification, digitisation and connected cars. SEAT has set up an Easy Mobility Team, which has been tasked with transforming how the company works in the areas of digitisation and R&D, customer experience and business development.
14.45: The fact there have been more than 21,000 orders for the Ateca shows it's been a hit with the public – and it's also received a good reaction from the Autocar editorial team. Here's their review of the car from earlier this year.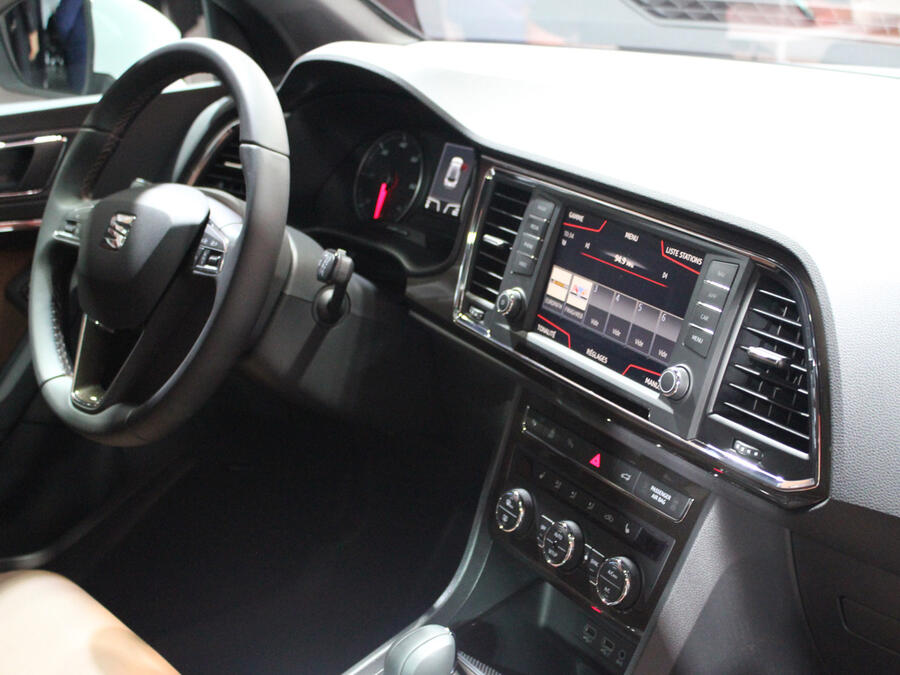 14.18: If you've somehow missed the launch of the Ateca – which, let's face it, will have been pretty hard – you can read more about the car's launch in this Autocar promoted story and video from Geneva earlier this year.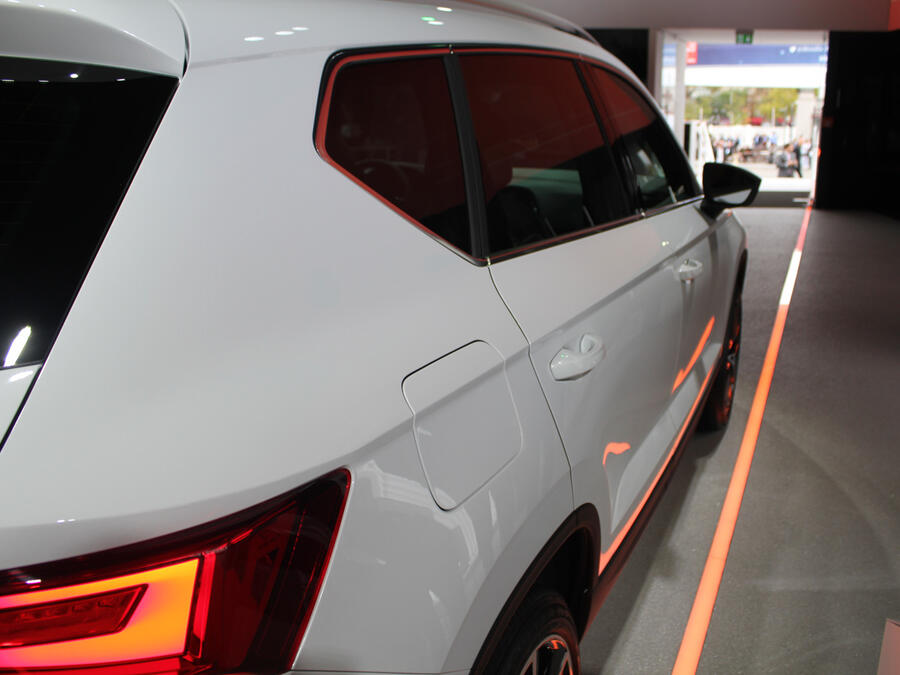 14.02: SEAT has described the Ateca SUV, which went on sale earlier this month, as its third 'brand pillar', alongside the Ibiza and Leon. It's certainly been a hit so far: since it was unveiled at the Geneva Motor Show earlier this year, SEAT reports more than 21,000 orders have been placed for the Ateca, with 1.5-million people trying out the car configurator on the firm's website.
13.14: Here's our next video from David McClelland, getting his view on the SEAT 4D experience press conference, and some of the other innovative technology SEAT is using at the Paris Motor Show.
12.58: Our reporter David McClelland has just taken part in the 4D experience press conference. Check back shortly to see what he made of it.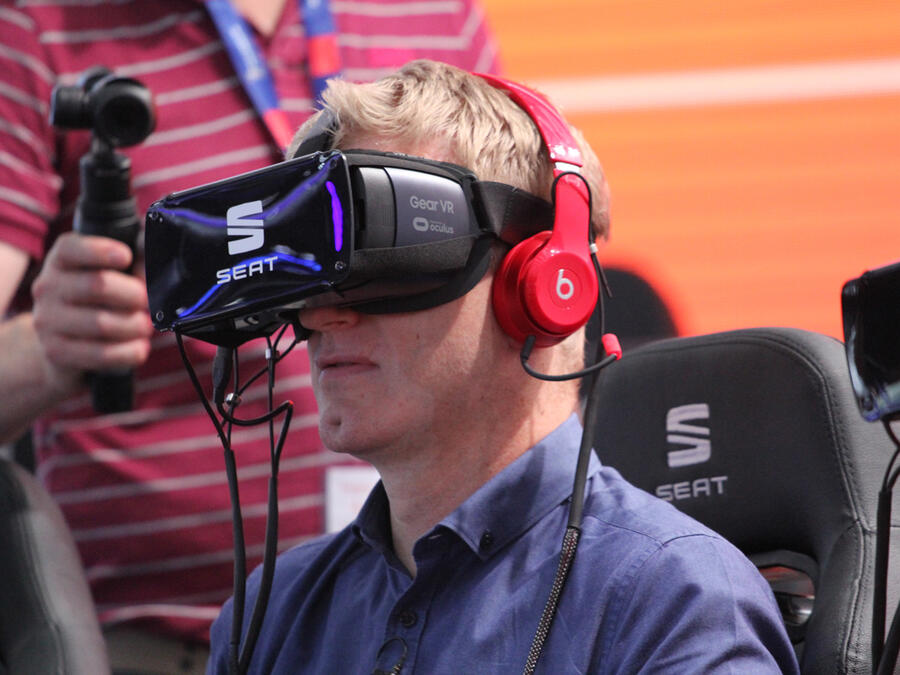 12.35: Another unusual item being as part of the SEAT stand's celebration of Barcelona's design heritage is a Marquina vinegar bottle. Apparently, this was the world's first non-drip vinegar bottle - so practical as well as stylish.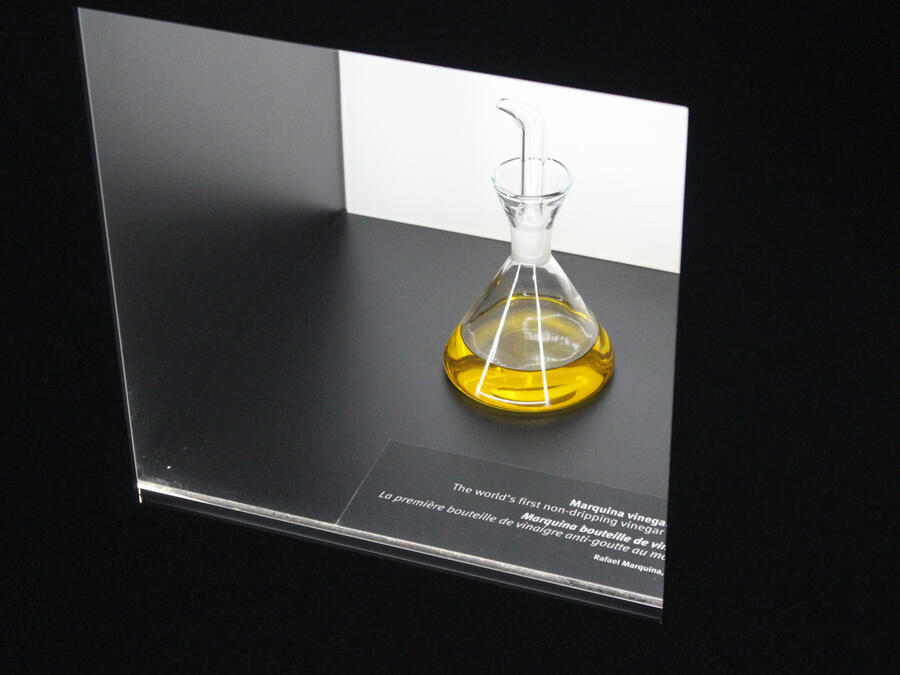 12.23: From the world of fashion is a Desigual bag, and for more practical design there's a Copenhagen Ashtray, a Barcelona floor tile, a Gira table lamp and a Toledo chair.
One of the more unusual items on display is also one of the most practical: an M-5 stapler, which is now 80 years old.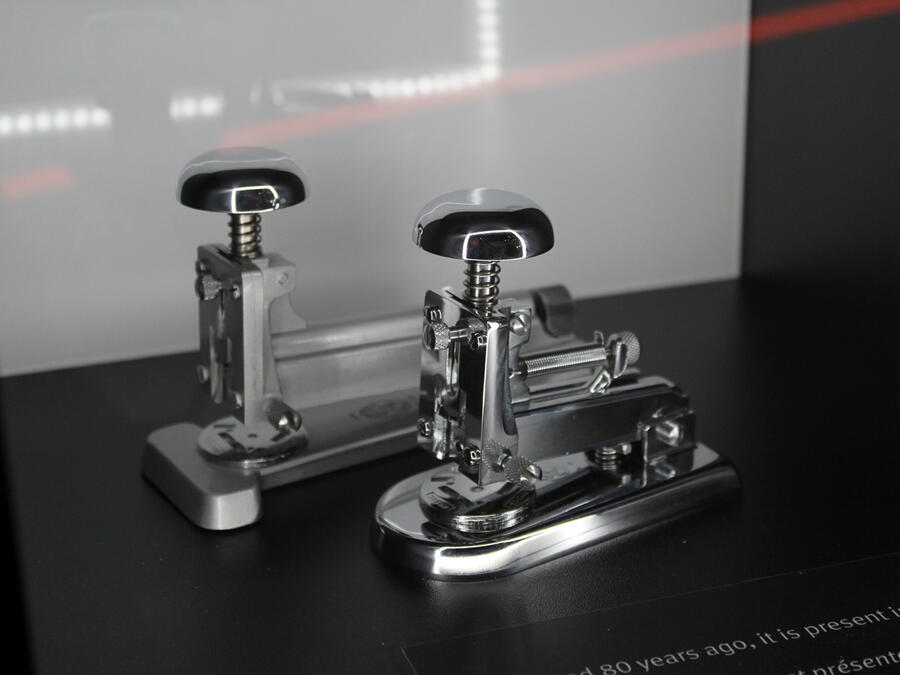 12.07: Some of the other objects on display celebrate Barcelona's hosting of the 1992 Olympic Games. There's also a statue of Cobi, who was the official mascot of the event. There's another Olympic object, too: one of the official torches used in the relay.
11.42: Right next to the main entrance of the exterior stand is a display unit containing a model of the first generation SEAT Ibiza, one of the marque's defining cars. The Ibiza was actually launched at the Paris Motor Show back in 1984, and sparked SEAT's major expansion. More than five million have been sold since. As noted earlier, the fifth generation Ibiza is due to launch in 2017.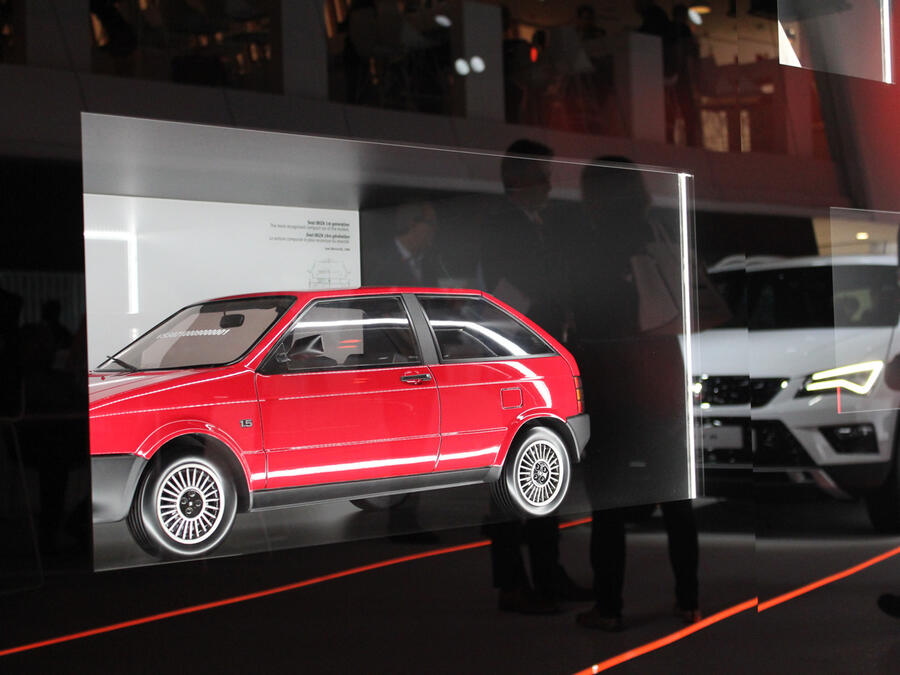 11.32: The SEAT Ateca, in XCELLENCE trim, takes pride of place in the outdoor stand, where objects celebrating both the heritage of both the firm and the city of Barcelona are on display. It's a demonstration of how SEAT was created in Barcelona, and the pride the firm has of its roots in the city. Coming up, we'll take a quick look at some of the items on display.
11:12: It's impossible not to notice SEAT's presence at the Paris Motor Show. The two-storey exterior stand is right next to the main entrance to the Paris Expo Porte de Versailles, and it would be hard to tell at first glance that it's a temporary structure. There's even an Ateca perched on the roof near the main entrance…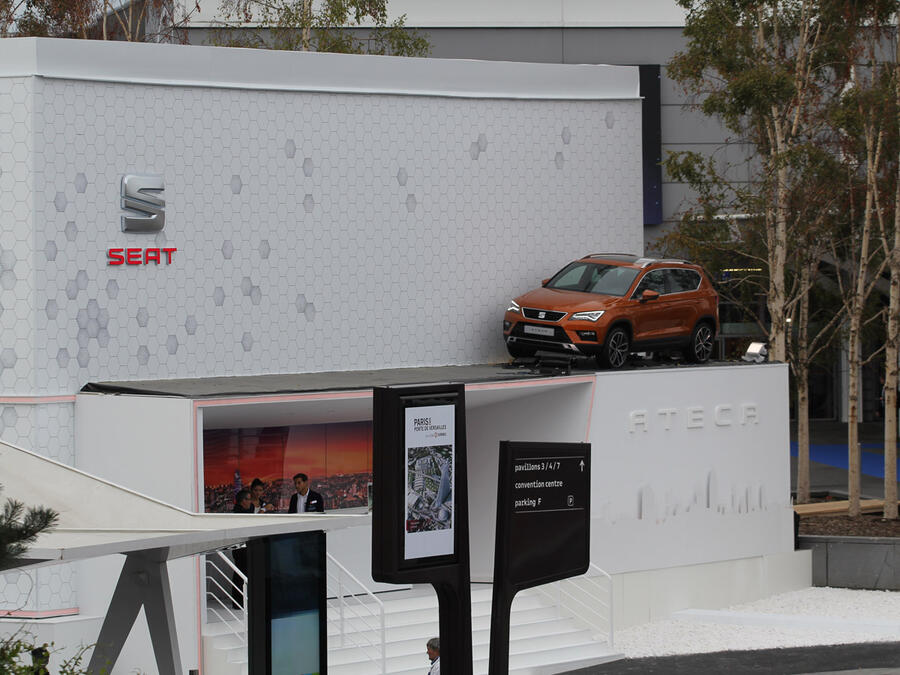 10.40: So what is going on at the SEAT stand for the Paris Motor Show? Here's David McClelland to give you a quick video tour. We'll have more videos from David later.
10.09: Our reporter David McClelland has been checking out the SEAT stand. You can watch his video tour here shortly.
09.50: Speaking about SEAT's 2017 plans Luca de Meo, the firm's president, said: "the Leon, the Ibiza and the new Arona, together with the Ateca, are going to strengthen SEAT from a commercial, financial and brand image standpoint. 2017 is going to be a very special year for SEAT."
We're due to interview Luca de Meo as part of our live coverage here, so check back in to find out more from him about SEAT's plans for 2017 and beyond.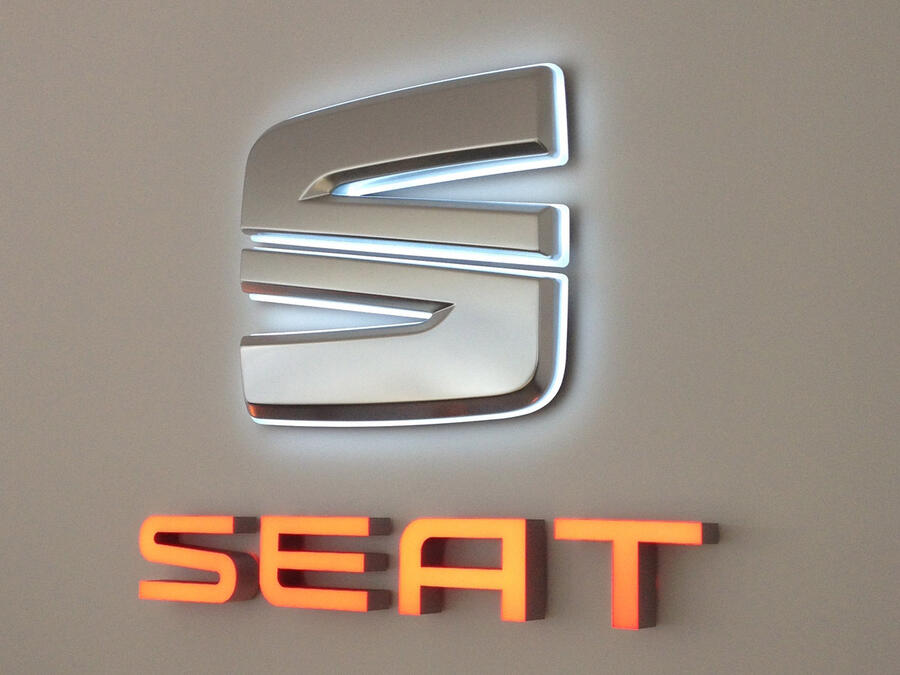 09.34: Like all of SEAT's range, the Arona is named after a place in Spain. In this case, Arona is a city on Tenerife in the Canary Islands. Originally a fishing town, Arona is the now a popular tourist spot, and the third biggest city on Tenerife. There's also a town called Arona in the Piedmont region of Italy. The Arona will be made at SEAT's Martorell factory in Barcelona.
09.10: SEAT has revealed details of what it calls the 'biggest product offensive in its history'. Over the course of 2017, the firm will update the Leon and launch the fifth generation Ibiza. SEAT is also launching its first crossover, the SEAT Arona. 
09.05: Most manufacturers at the Paris Motor Show hold a single press conference, in which they launch their shiny new car or concept. SEAT has taken a different approach this year, with their stand featuring a 4D experience press conference that runs every 30 minutes. We're due to get the full experience later, but we can bring you details of the news coming out from the event.
08.32: As part of the updates here, automotive and technology journalist David McClelland is on hand to highlight everything happening on the SEAT stand in a series of videos. You'll be able to see them all right here throughout today and tomorrow.
We're keen to hear your thoughts on everything that SEAT is presenting in Paris as well: you can share your comments on social media using the hashtag #SEATparis.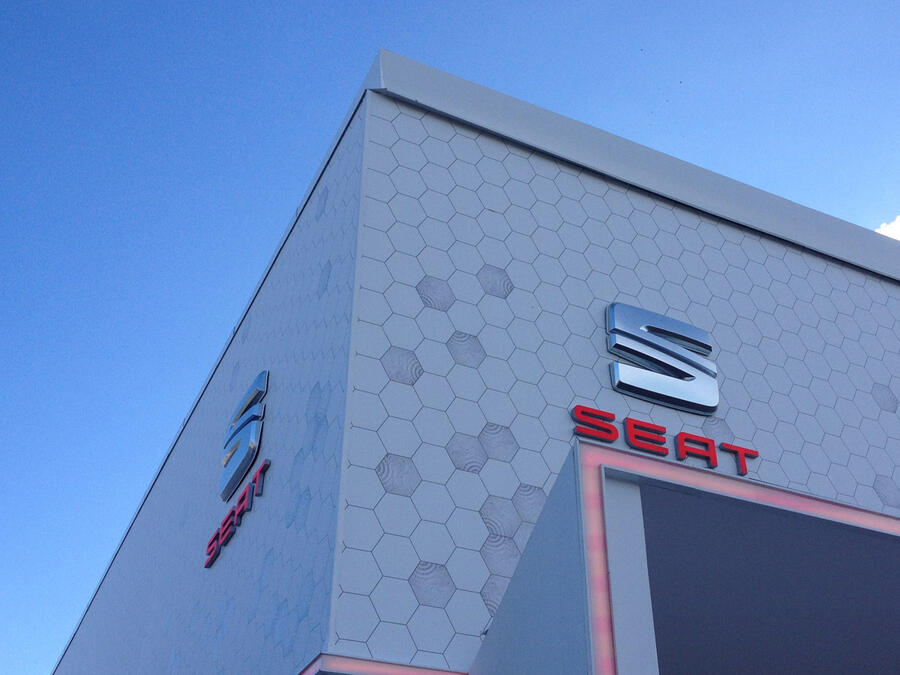 08.12: Naturally, the new SEAT Ateca, the brand's first SUV, will have a starring role in Paris. There are several examples of the Ateca on display, including the new Ateca X-PERIENCE showcar. Inspired by Mediterranean culture, the Ateca X-PERIENCE highlights the SUVs rugged off-road aspects. We'll be taking a closer look later.
07.55: The other space SEAT has at the Paris Expo Porte de Versailles in an outdoor showcase, located close to the main show entrance. This is an informal area designed for socialising, complete with a chill-out zone. It also has a useful area for the media, which is where we'll be producing much of our coverage from (bonus: it has a plentiful supply of coffee…).
07.30: SEAT actually has two spaces at the Paris Motor Show this year, both designed to highlight new technology and celebrate the firm's Barcelona heritage. Inside Hall Four, the SEAT stand will feature an interactive 4D amphitheatre, where a continuous press conference will be held every 30 minutes. We'll have all the information from the conference here later.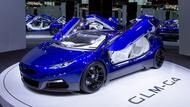 Japanese startup transforms the Chevrolet V8-engined Savage Rivale Roadyacht GTS into a four-seat electric supercar; it made its debut at the Paris motor show
The Savage Rivale Roadyacht GTS returned at the Paris motor show, rebranded and reborn as an electric supercar. 
GLM, a Japanese EV startup, is reviving the Roadyacht GTS project as the G4 as it enters the electric supercar landscape at the Paris motor show at the end of this month.
The Roadyacht GTS, a four-seater supercar from the Netherlands, was revealed in 2011 but failed to gain traction. Now GLM has bought a stake in Savage Rivale and plans to replace the Roadyacht's Corvette-derived V8 with an all-electric powertrain. 
That powertrain, according to GLM, provides around 738lb ft of torque, and the equivalent to just over 536bhp. Torque can be split between the front and rear wheels depending on the driver's preference, while 62mph is out of the way from a standstill in 3.7sec. GLM claims that the G4 cruises at 155mph. More pertinent to its EV nature is its range, which GLM puts at 248 miles. 
Savage Rivale was started by Justin de Boer and Emile Pop, but they have been unable to establish the Roadyacht in an already-saturated supercar market. With GLM now taking over the project, Savage Rivale will shift its focus from building the petrol-powered Roadyacht to concentrating on studio design work, with projects including new sports cars as well as boats and villas.
The electric supercar field is expanding, with several new projects under way. Faraday Future, a US venture, unveiled a concept supercar at the CES show in Las Vegas in January, while a Chinese startup called NextEV plans to reveal its McLaren P1-rivalling hypercar effort before the end of the year. McLaren is said to be working on an all-electric successor to the P1, and in April the Beijing Automotive Industry Corporation (BAIC) unveiled the Arcfox-7 electric supercar.
GLM's CEO, Hiroyasu Koma, said: "The Automotive industry is changing and in the next few years the EV market will see significant growth, taking shares of internal combustion vehicles market. GLM's mission is to be at the forefront and push the boundaries of EVs. Our 'key enabler' technologies and the concept of 'application to variants' will be applied for dissemination of EVs which you would witness in near future."
"Developing EV technology not only concretely contributes to a low-carbon society but provides an exciting driving experience: this is our vision and daily inspiration."
Phill Tromans and Jimi Beckwith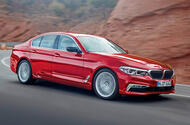 We run through our five picks of the best deals available on this week's new car market - all deals are valid until 6 October
Buying a new car is always better when you know you're getting a bargain, but scouring the internet for the best car deals around can be very time-consuming. Here, Autocar has done the hard work for you and compiled a list of some of the best savings currently on offer in the new car market.
On this list, a combined value of £33,176 can be saved on the following five cars, so take a look below and click the links to read our full road test verdict on each car. All offers stand until 6 October.
BMW 5 Series – pay £30,718, saving £10,987
A longstanding driver's favourite, the BMW 5 Series mixes rear-wheel-drive handling with a premium cabin and mature looks. The next-generation car will arrive next year, meaning great deals can be had with the last few examples of the Mk6 F10.
Carfile.net is selling a 530d SE Step with an automatic gearbox for £30,718, knocking nearly £11,000 off its list price.
Volvo V60 – pay £25,170, saving £7825
A smart exterior and practical interior make the V60 a compelling rival to German alternatives. Those wanting something different may be drawn to its Swedish design.
Drivethedeal.com has lopped nearly £8000 off the price of a new D4 R-Design Nav, leaving you with just over £25,000 to pay.
Mitsubishi Outlander PHEV - pay £31,787, saving £7167
Brirain's best-selling electric vehicle, the Outlander plug-in hybrid (PHEV), offers traditional road-focused SUV practicality with reduced running costs.
Drivethedeal.com is selling a PHEV GX4 automatic for £31,787, meaning you save more than £7,000.
Kia Sorento - pay £31,062, saving £4788
Kia has come on leaps and bounds in the past few years. Its cars are now among the best looking in each class, and its Sorento SUV brings a strong fight to the likes of the Honda CR-V and Mazda CX-5.
Click onto Orangewheels.co.uk and you'll see a 2.2 CRDi KX-3 priced at just over £32,000, which is almost £5k less than the car's list price.
Land Rover Discovery Sport - pay £32,191, saving £2409
The new Discovery has just been revealed in Paris, so it's likely the hubbub surrounding it will ramp up demand for all Discovery models, the Sport included.
Carfile.net is offering close to £2500 off on a 2.0 TD4 180 SE, bringing its price down to just over £32,000.
Check back to this page next Friday for more great new car deals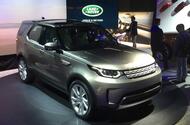 Autocar staffers pick their top headline act from the Paris motor show and we reveal the Autocar readers' favourite, as decided by your votes on social media
The biggest motor show of the year – the Paris motor show – has produced a wide range of newcomers and given us a glimpse of what cars to expect over the next year.
There were numerous launches and debuts, so our reporters have whittled them down by each picking his or her favourite. Catch the rest in our Paris motor show news tab and get a blow-by-blow account of the show in our live blog, which has been topped off with a post-show report from our editor-in-chief, Steve Cropley. 
Paris motor show 2016: our show stars
Jim Holder - Land Rover Discovery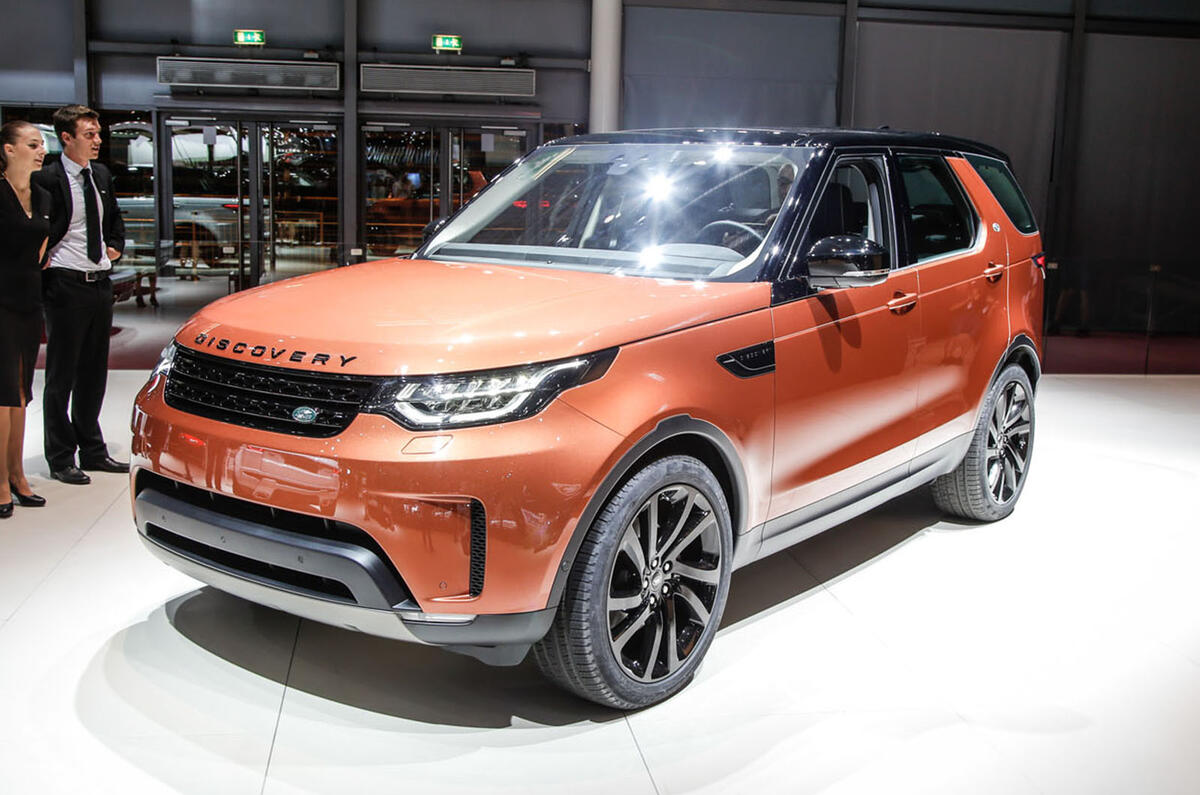 With apologies to the critics, who'll claim it has been designed for Chelsea poseurs over rough-and-tumble country folk, here's proof yet again that Gerry McGovern and his design team have the Midas touch when it comes to re-imagining an icon with respect to the past but eyes open to the modern world. So few manage it with one car. Defender aside, this lot have now managed it with a whole range of cars.
Steve Cropley - Honda Civic Type R concept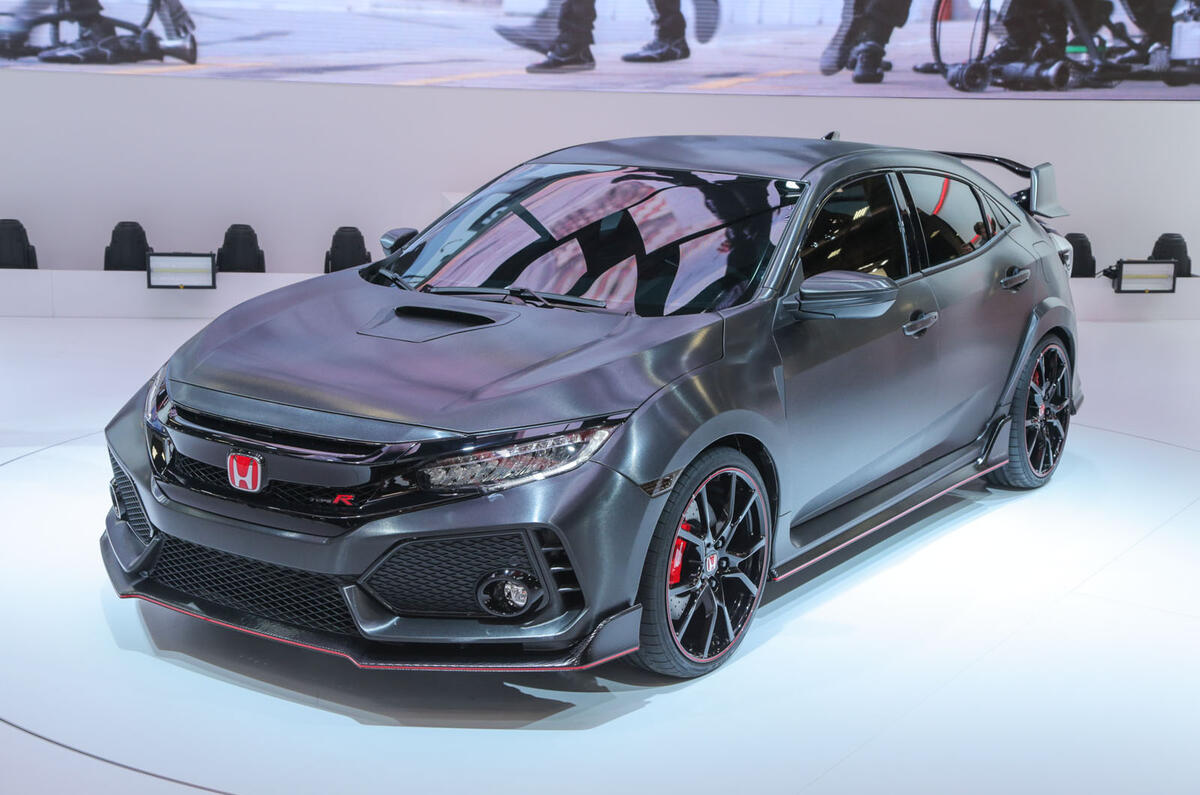 At a show where so much changed, Honda's recipe for the new Civic Type R remained gloriously unaltered, which is why I liked it so much. Lots of obvious aero, a stonking 2.0-litre engine with a presumed 330bhp on tap and a lingering determination to take the Nürburgring lap record back from Volkswagen. Reassuring stuff.
Matt Burt - Renault Trezor concept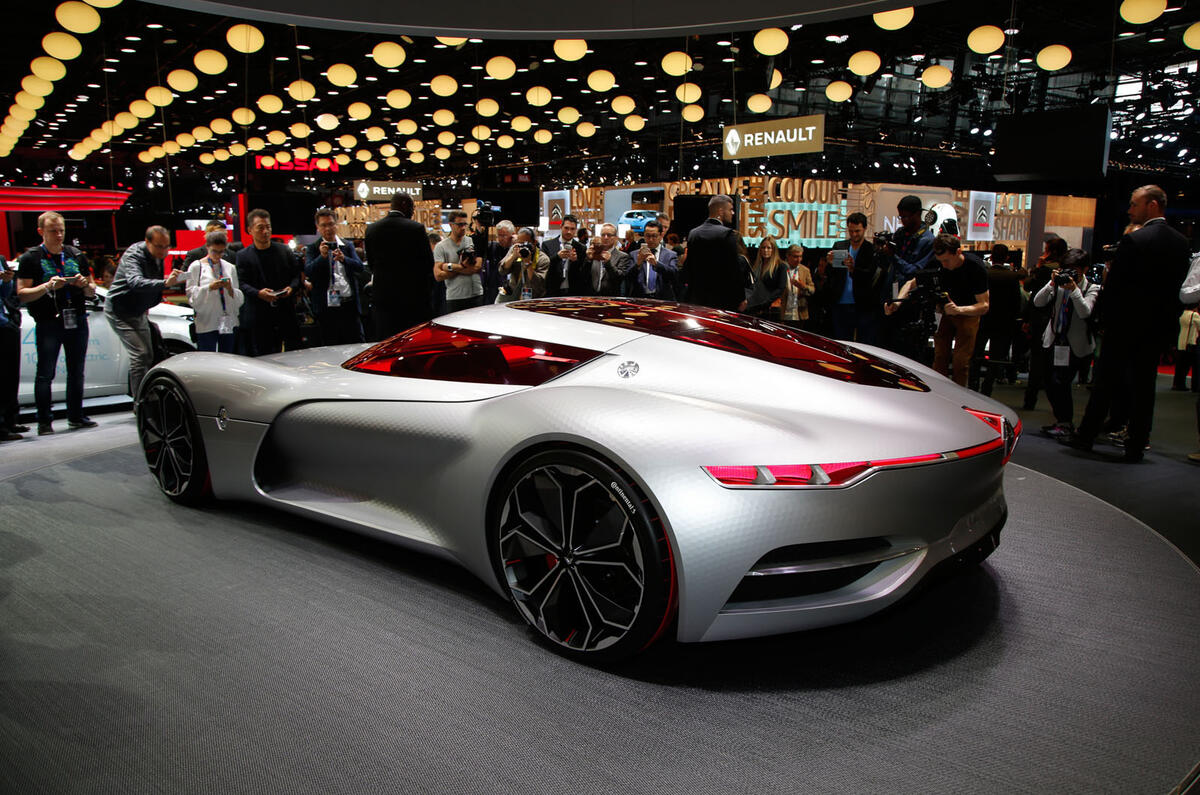 Pictures don't really do justice to the presence the long, low Trezor projected on Renault's Paris show stage. With its front-opening clamshell bonnet, autonomous driving capability and feisty electric powertrain, the Trezor is glimpse into both Renault's future and the fertile imaginations of its designs. I love the car's attitude and some of the neat design touches, such as the Eiffel Tower motifs on the alloy wheels.
Rachel Burgess - Volkswagen ID concept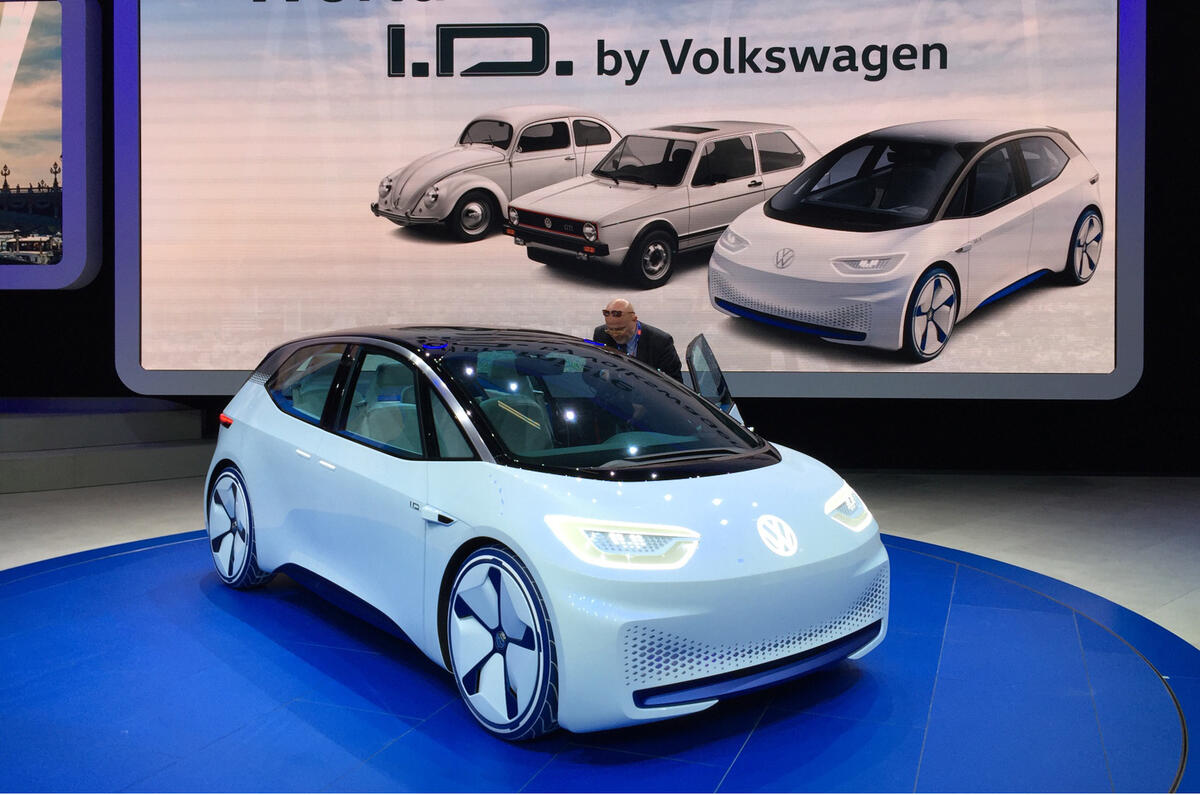 Not to discredit the work done by BMW, Nissan, Renault and more, but the launch of a dedicated Volkswagen (and Mercedes) electric car feels like the dawn of a new age for motoring. This is the first electric family hatchback with genuine aesthetic appeal and that, along with increased range, means EVs are well on their way to becoming the norm. Exciting times.
Hilton Holloway - BMW X2 concept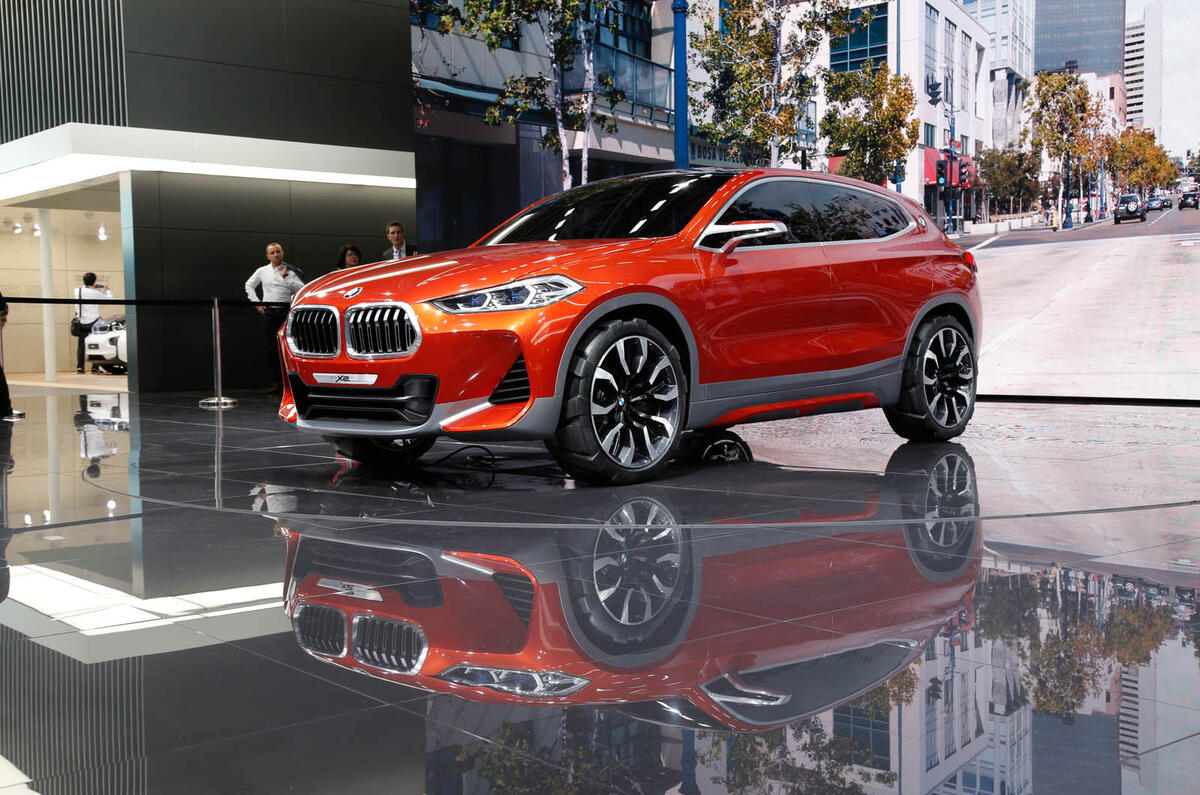 You might think there was no way to squeeze another minor variation out of the baby crossover genre, but BMW has done it with the X2. As elegant as the X4 is awkward, this is probably the first truly convincing Range Rover Evoque rival, combining the low roof and shallow glasshouse with a credible BMW flavour.
Greg Kable - Mercedes-Benz Generation EQ concept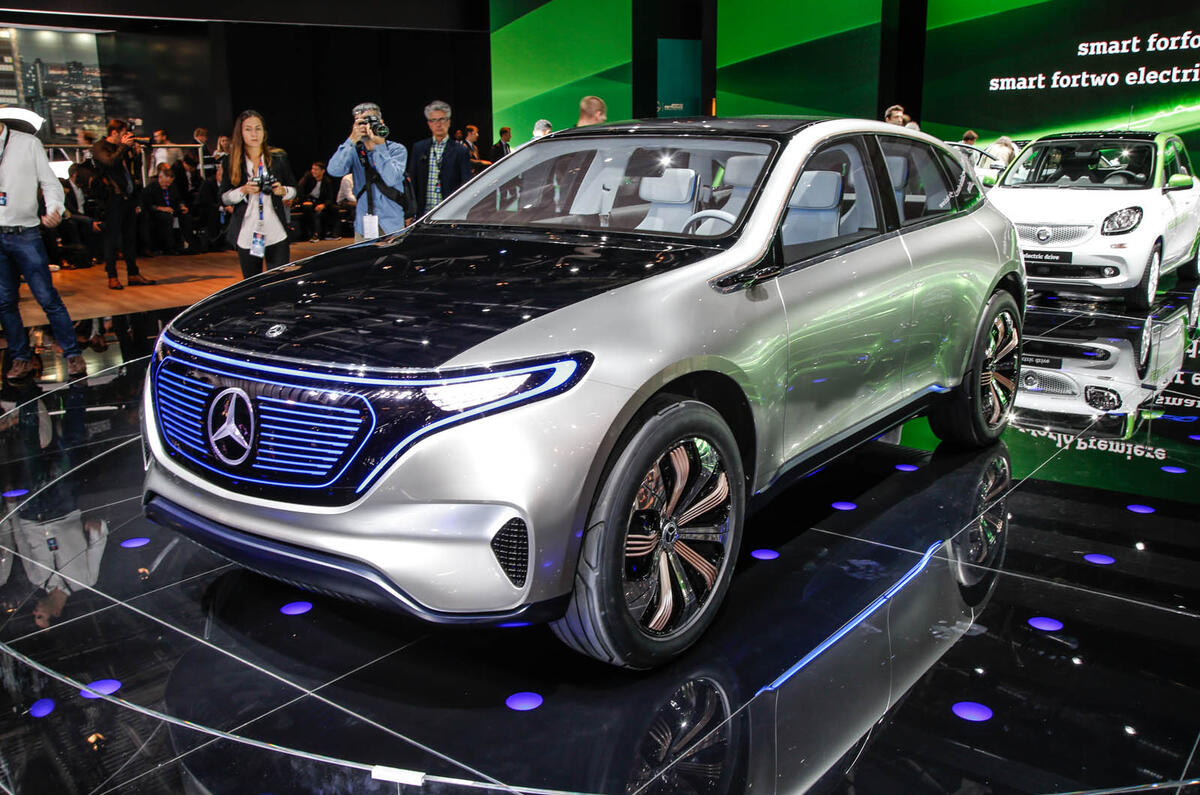 The Generation EQ spearheads the anticipated entry of the world's oldest car maker into the dedicated electric cars ranks. It promises unique styling touches, clever interior packaging and an impressive 310-mile range when it goes on sale in 2019. The new SUV heads a 10-strong fleet of electric cars planned by Mercedes-Benz by 2025.
Julian Rendell - Lexus UX concept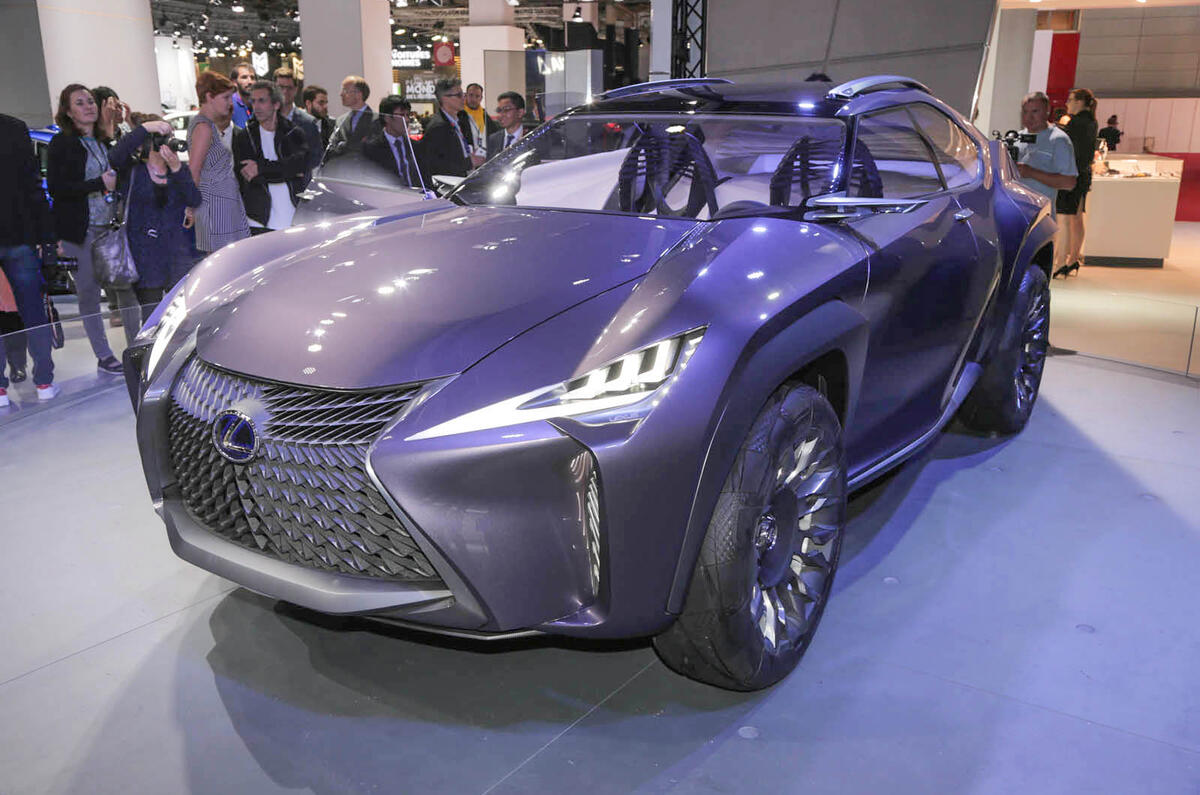 Lexus design feels to have hit a hot spot of urban cool and the compact soft-roader UX concept just reinforces that point. Even better, the production version is said to be very close to the design study. Another Lexus winner.
Andrew Frankel - Nissan Micra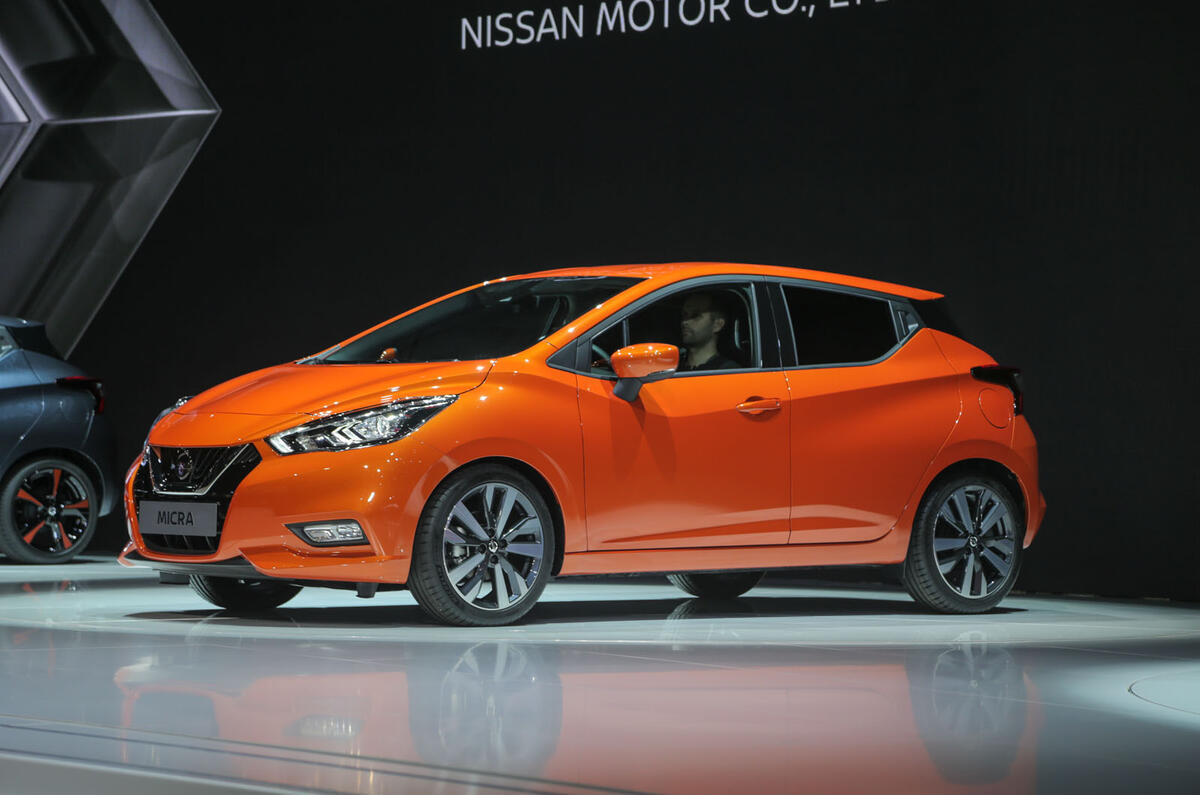 If the new Micra is as good as it looks, Nissan will have pulled off that rare trick of leaping from near the bottom of the class to close to the top. It's a fun and funky compact hatch and therefore everything the current car is not. It should transform Nissan's presence in the sector.
Matt Prior - Ferrari GTC4 Lusso T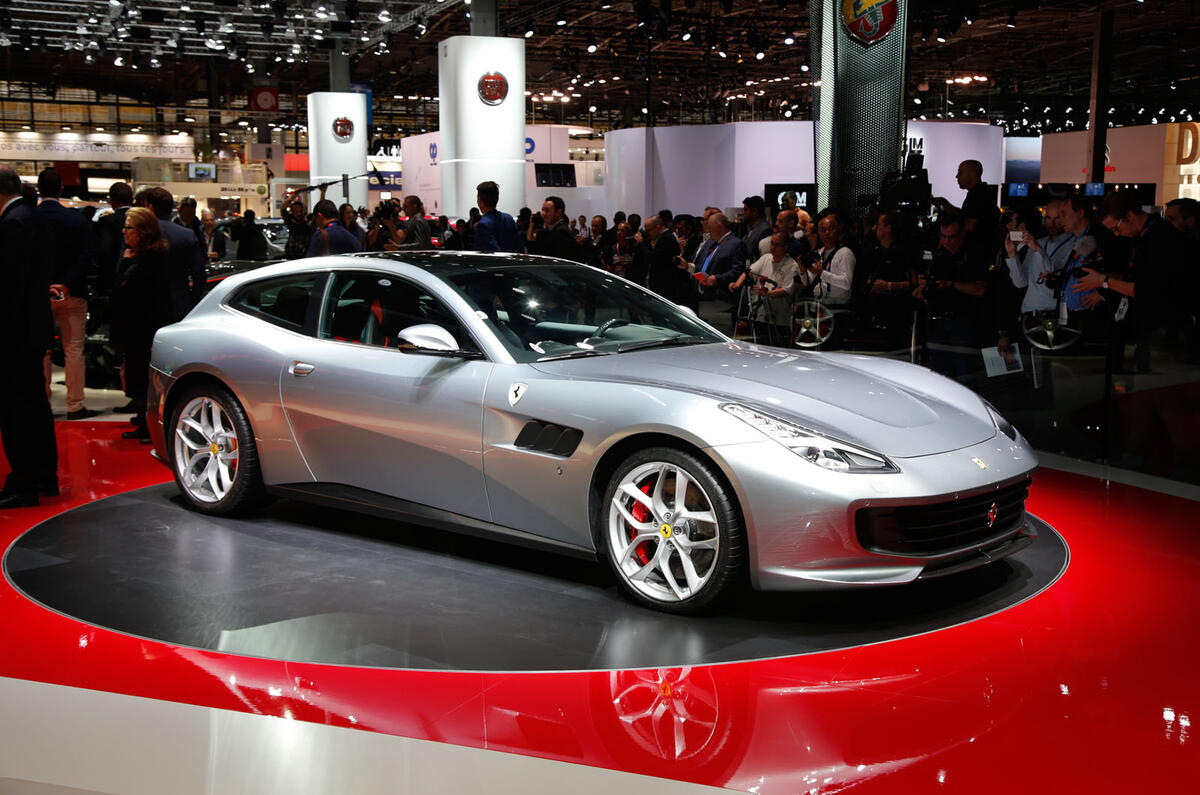 The V12-powered GTC4 Lusso is a lovely thing, but it's too ravenous and too four-wheel drive for a lot of customers. This cheaper, lighter and rear-drive-only V8 variant is less powerful but likely faster in the real world because it has more torque. Like a V8 versus W12 Bentley, I think it'll be the best GTC4 Lusso.
Neil Winn - Audi Q5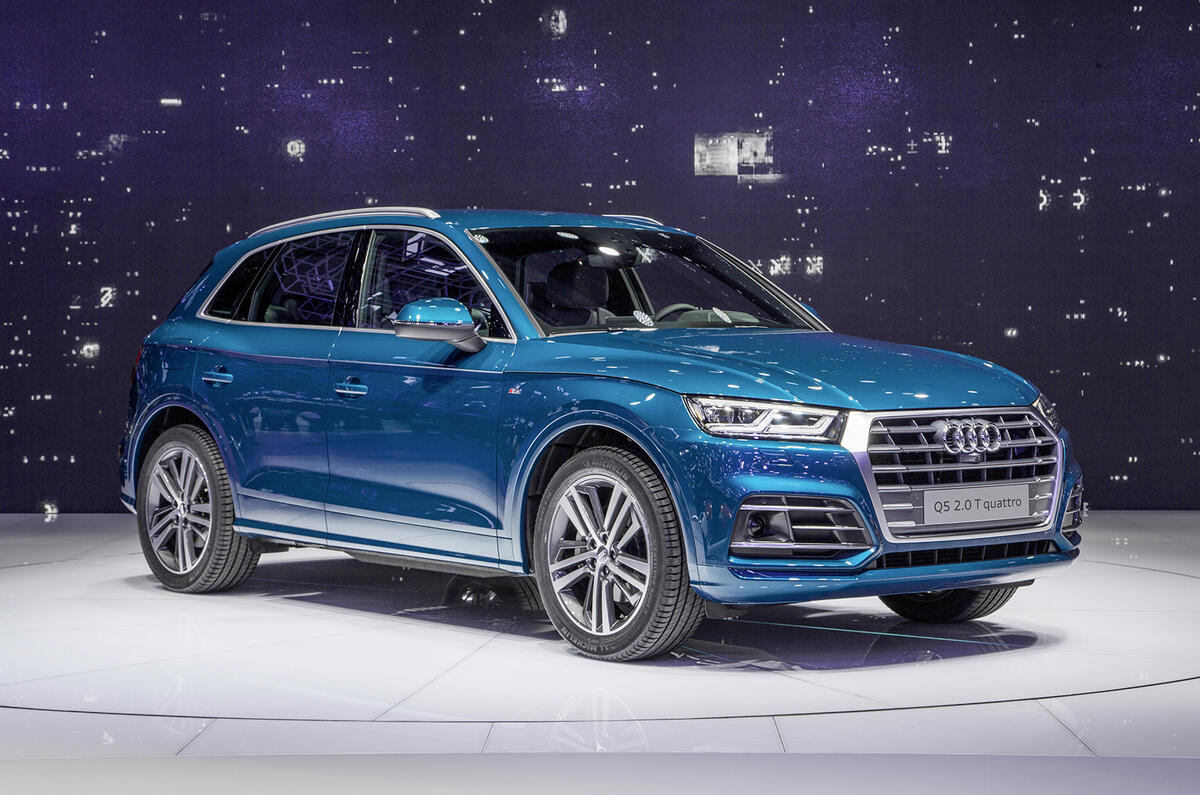 With sharper styling (inspired by the larger Q7), a lighter chassis and new five-link suspension front and rear, the new Q5 looks like it has all the right ingredients to dominate the mid-sized SUV class. And with the 450bhp RS Q5 set to blend supercar performance with everyday practicality, Audi might even have another performance car hero on its hands. I, for one, can't wait to get behind the wheel.
Darren Moss - Seat Ateca X-perience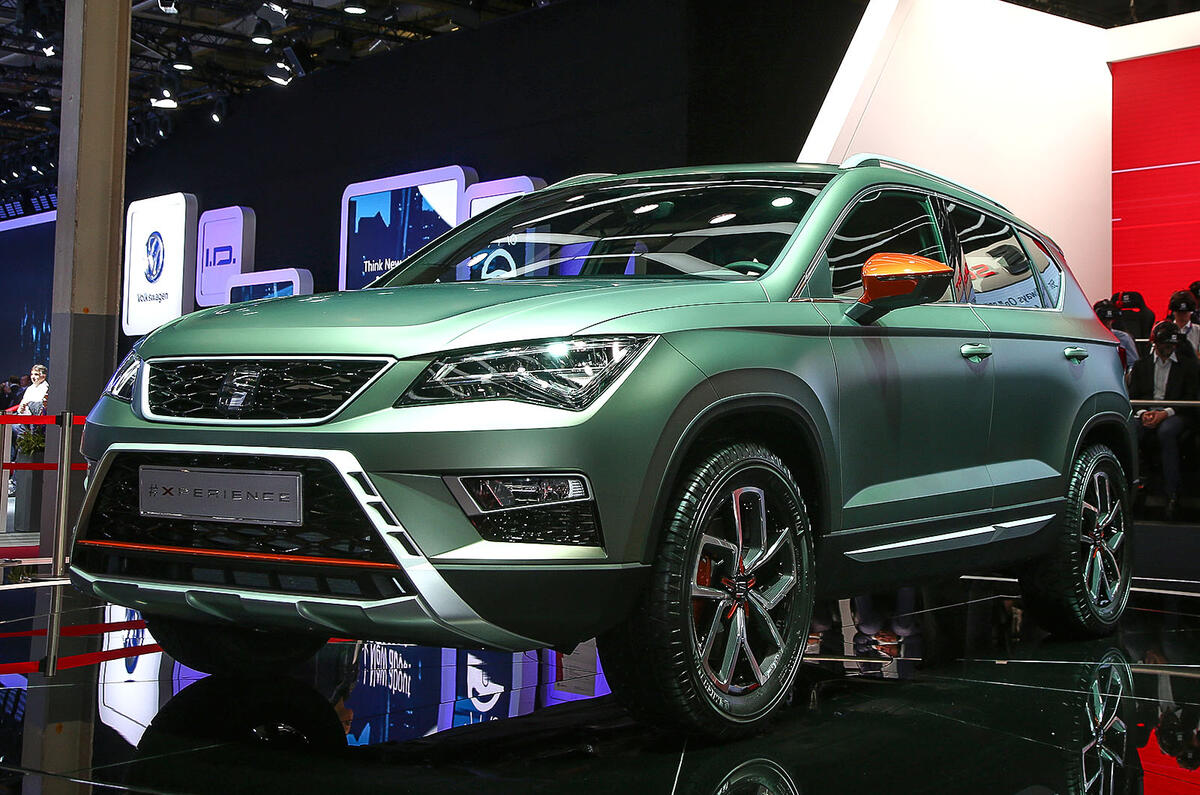 As first forays into SUV land go, the Ateca has been a hit for Seat and this four-wheel-drive range-topper just strengthens the appeal, with its rugged looks and punchy diesel motor. Still want that Qashqai?
Sam Sheehan - BMW i3 and i8 Garage Italia Crossfade concepts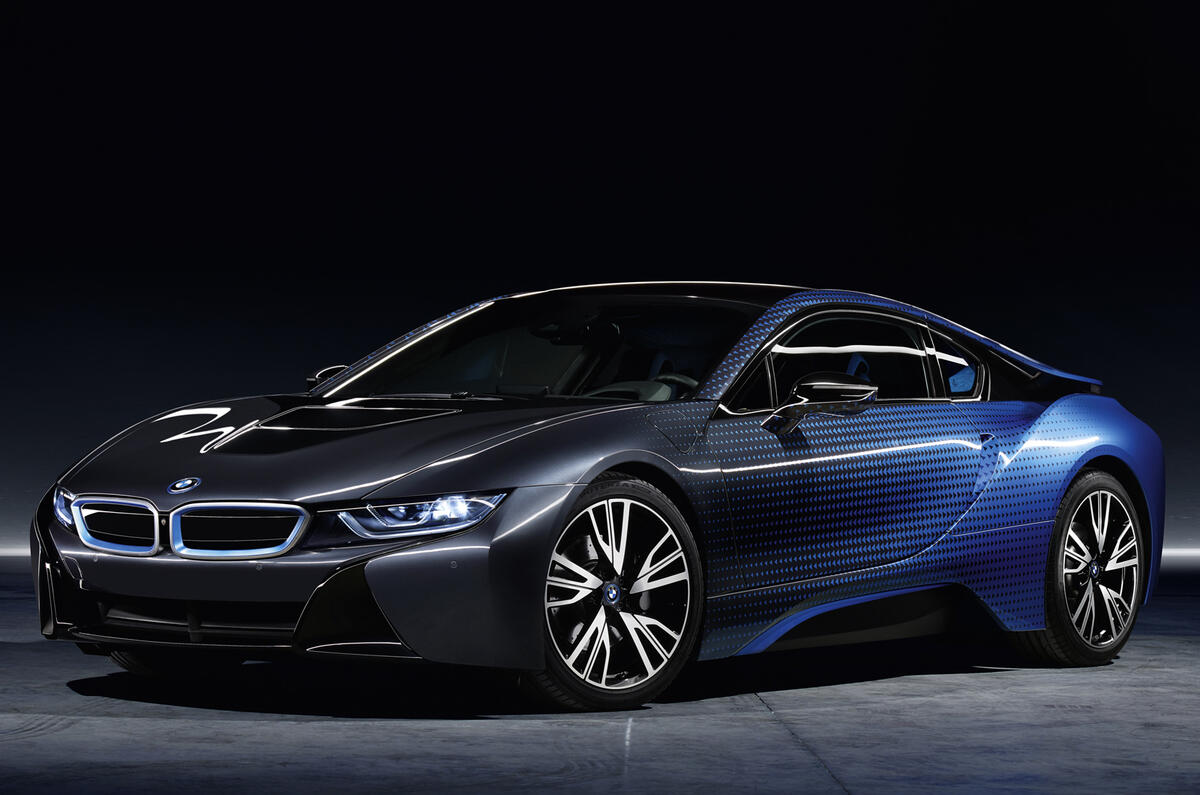 Given that rival brands have revealed forward-thinking concepts and launched striking new production models, bringing an i3 and i8 with new paint schemes to Paris might make BMW look lazy. But let us not forget these two vehicles, even a couple of years into their existence, are still ground-breaking machines. Add a snazzy new paint job and, yeah, I'm back to drooling over i8s and checking finance deals on a new i3…
Jimi Beckwith - Peugeot 3008 DKR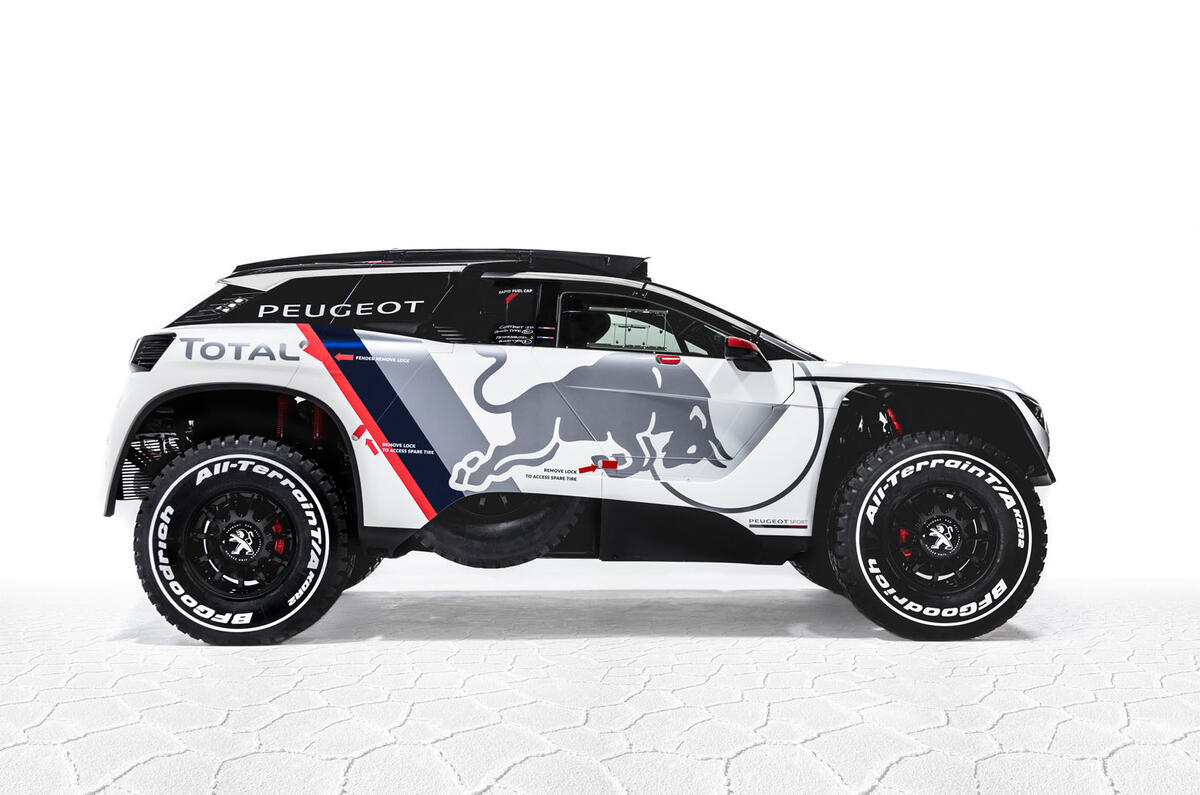 I've never watched the Dakar rally, but just to see the Peugeot 3008 DKR, I will be. It'll never make mass production, but given the predicted growth of the SUV segment, there's still hope. Peugeot's new SUV range on the whole seems to be ushering in quite promising design, but the 3008 DKR takes it to a whole new – tragically unattainable – level.
Autocar readers - Alfa Romeo Giulia Veloce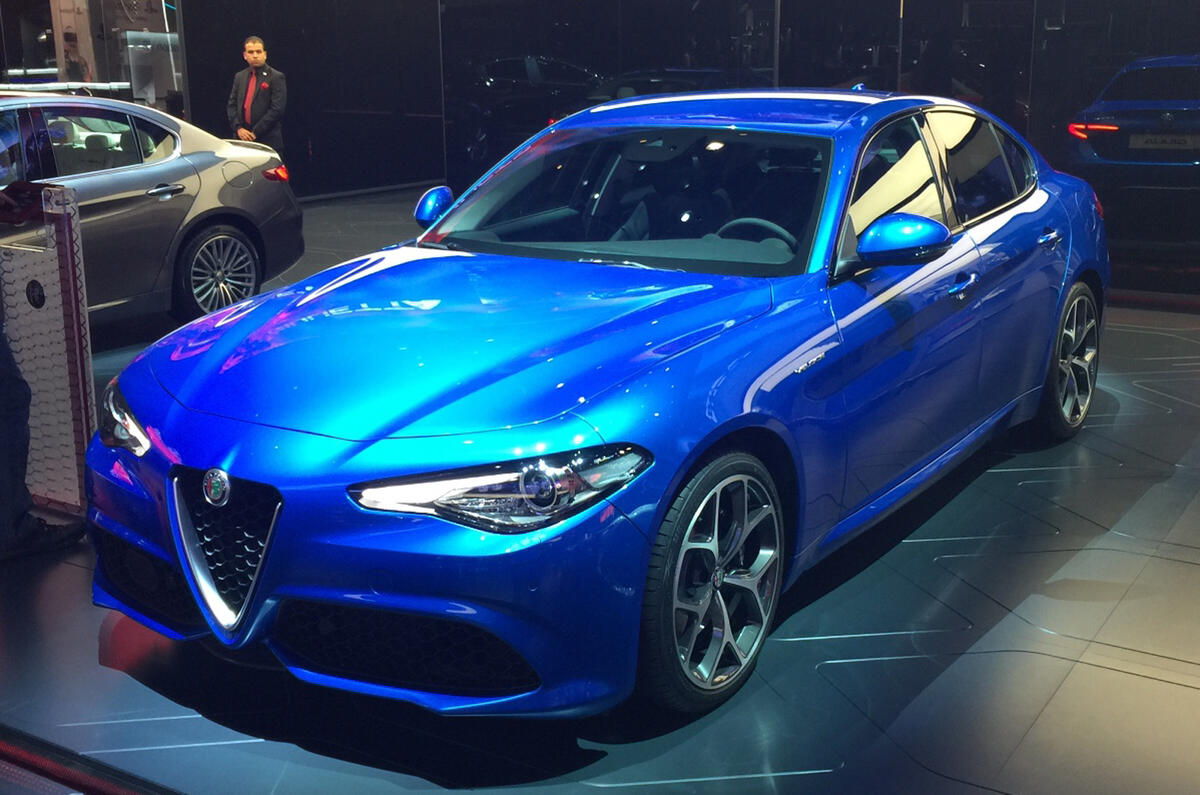 Autocar readers voted the Alfa Romeo Giulia Veloce their favourite on Twitter, ahead of the Paris motor show. Demonstrating the power of the Alfa brand, the warm saloon - which might not even come to the UK - defeated giants like the LaFerrari Aperta, Land Rover Discovery and Porsche Panamera 4 E-Hybrid as the most hotly anticipated car at the 2016 Paris motor show.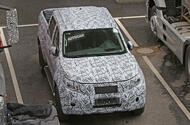 Mercedes' first pick-up truck will be made at Spanish and Argentinian plants alongside the Renault Alaskan and Nissan NP300 Navara
Mercedes-Benz's first pick-up truck will be built at Spanish and Argentinian plants owned by the Daimler and the Renault-Nissan Alliance.
Speaking at the Paris motor show, Carlos Ghosn, chairman and CEO of the Alliance, said: "The partnership between Daimler and the Alliance has grown and matured. By sharing development and production costs, we have been able to enter new segments and offer our customers more compelling vehicles with the latest technology and features at more competitive prices."
Mercedes' pick-up, which is expected to be called the GLT, will benefit from this business system, and will be constructed alongside Renault's Alaskan truck and its Nissan sister model, the NP300 Navara.
Despite the shared underpinnings, Mercedes is understood to be focusing on giving its version of the pick-up a distinctive character. As such, it'll get its own range of engines and its own suspension settings.
Earlier pictures of a development model, shown in the gallery, also suggest it'll sit lower and be slightly wider than its Renault and Nissan siblings. Mercedes' design language appears in the features, with the upswept appearance of the headlights visible in outline through the camouflage.
The Mercedes pick-up will most likely have a different interior to that of the Nissan too; the test GLT's dashboard and other interior components were also camouflaged.
Mercedes has remained tight-lipped on the model's specifications, but sources believe the introduction of a range-topping AMG version is almost inevitable.
The more premium interior and upmarket badge of the Mercedes mean it's likely that the GLT will be more expensive than its £22,000 Navara counterpart. The GLT will therefore occupy the upper end of the pick-up segment, rivalling the Volkswagen Amarok.
Previous reports have suggested that the GLT won't reach North America but would be sold in Europe, Australia, South Africa and Latin America.
Jimi Beckwith and Sam Sheehan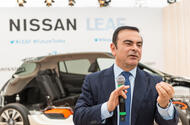 Nissan's Sunderland plant will not get further investment unless the Government strikes a deal with the manufacturer to compensate for potential Brexit costs
Nissan will not invest further in its Sunderland plant until it reaches a deal with the Government to receive compensation for the additional costs and taxes it might incur as a result of Brexit.
The announcement was made by Nissan boss Carlos Ghosn at the Paris motor show. 
Read more: the SMMT has issued a post-Brexit warning about the risk posed to the UK car industry
As a result of this, production of one model will be delayed at Sunderland. Nissan Europe boss Paul Willcox told Autocar at the Paris motor show that this is likely to be the next Qashqai, which is expected to arrive in 2018.
Willcox also said that the Qashqai is moving to 'Line 2', which will allow the Sunderland plant to build more examples of the SUV model. Sunderland also builds around 20,000 Leaf EVs each year, as well as the Infiniti Q30. The plant built 120,000 Jukes in 2014 and 110,000 in 2015.
Read more: Nissan Qashqai production to increase at UK factory
Crucially, Ghosn isn't yet threatening to pull a car from production in Sunderland, but he is quoted as saying that he wants 'compensation' if the UK leaves the EU single market and the EU imposes tariffs on exported cars from the UK to the EU as a result.
'Compensations' are possible. The UK could - because it will no longer be restricted by EU law - reduce corporation tax for UK car makers or engineer some tax break deals on research and development. It's thought that Ghosn made his announcement because he is aware of that fact.
Read more: Paris motor show - report and gallery
Ghosn's announcement confirms a previous story where he warned of grave implications for the plant in the event of a Brexit vote. Nissan has invested heavily in the plant in the past. 
Such a move would be a blow to the UK's car industry, because the plant accounts for a third of all Britain's car exports, as well as one of the UK's most prolific domestically-built models, the Qashqai. 
A spokesman from Nissan was unavailable for comment at the time of publishing. We are awaiting a response.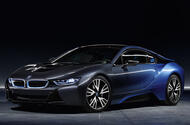 BMW has revealed the i3 and i8 Garage Italia Crossfade concept cars at the Paris motor show; they will make production in some form
BMW has revealed its i3 and i8 Garage Italia Crossfade concepts at the Paris motor show, displaying a new exterior colour treatment for both electric models.
As the name suggests, a crossfade pattern has been applied to the cars, transitioning from blue to grey. On the i8, the fade runs the length of the car, while a vertical fade has been applied to the i3.
Both cars will make production, although possibly not in the same form as the concepts; BMW says that the cars will be available with a derived version of the concepts' design at the start of next year.
BMW is yet to comment on the cost of the cars over the standard-coloured i3 and i8, how many will be produced or if the design will be available in any other colours. 
BMW's chief of design Adrian van Hooydonk oversaw the pattern's application by Italia Customs boss Lapo Elkann, saying: "Lapo is a pioneer in linking the disciplines of fashion, automobile and design. As a designer, I find this comprehensive approach particularly exciting."
"With BMW i, we have been successful in overcoming previous restrictions in automotive design through the use of entirely new materials. So the progressive expressiveness of the Garage Italia Crossfade Edition is perfectly in keeping with the BMW i3 and the BMW i8."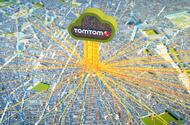 Deal with Parkopedia means drivers in London and Birmingham can get guidance on where to find a spot
Detailed information about on-street parking space locations is coming to TomTom sat-nav devices, thanks to a new partnership with Parkopedia.
The deal between the navigation firm and the parking service provider means information about 40 million parking spaces in 6000 cities across 75 countries can now be included on sat-nav devices. Initially, the service will be rolled out for London and Birmingham in the UK, but there are plans to expand that further.
The system will use the data to determine where drivers are looking for parking places and at what times of the day. The service, called TomTom On-Street Parking, then provides drivers with the probability of finding a parking spot on a particular street, as well as the average search-time for a spot. Where available, pricing and restrictions will also be displayed.
The technology was shown for the first time at the Paris motor show.
Phill Tromans
UK car buyers favour smartphone and parking tech over safety kit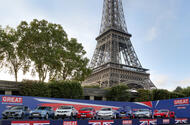 British automotive leaders met in Paris to emphasise the UK's manufacturing expertise
Brexit has the UK car industry worried, but British under secretary for international trade, Mark Garnier, is keen to secure the right deal

Here's the scene: the UK motor industry holds an ever-so-slightly triumphalist photocall of British-made cars at the Eiffel Tower on the eve of the Paris motor show. The keynote speech is to be delivered by the UK's new under secretary for international trade, Mark Garnier.

The pictures are taken, the car industry's great and good foregather for speeches and canapés in a function room on the mighty tower's premier étage. A couple of the speeches from industry chiefs are familiarly themed: Brexit is the big concern.

We must be able to import technical talent, we need inward investment and above all, we must continue to be in the single market. Anything else will be a disaster. Everyone wonders what the minister will say. He rises - and to the surprise of almost everyone present, he starts talking about Autocar.

Few in the room are aware, so there is a surprised buzz when he lets it be known that his father, Peter, worked at Autocar (née The Autocar) for 25 years. He joined in 1950, was sports editor from 1955, and became editor from 1968 to 1975.

For a minute the minister charms the audience and beguilingly establishes his credentials with stories of being collected from school by his dad in a Ford GT40, and recalls his father's close friendship Graham Hill, with whose children he sometimes played as a child. Then we're into business talk in earnest.

First, Mark Garnier volunteers a few killer facts to show he knows what a vibrant industry he's dealing with. The car industry is responsible for 12% of all UK exports, he acknowledges, selling a remarkable 80% of what it makes abroad. It is also number one for foreign investment. Nine of the 11 Formula 1 teams choose to be based in the UK, and we all know why.

"We really, really understand how important this is," he tells his rapt audience, and insists that the Government also understands the leave vote was not what the sector asked for. "We know you need zero-tariff access," he tells them. "We know you need to be able to hire engineers from other parts of the EU."

Plans and promises of action are few, for the plausible reason that one does not reveal a negotiation before it's necessary. However, there are solid-sounding assurances that Great Britain "will carry on being great" despite it starting a new kind of trading relationship with its neighbours.

Later, away from the hubbub, the minister confides that as a 'remainer' he is very concerned about the effects of Brexit and that there is hard bargaining ahead. "We have to work out a mechanism for having some sort of seat at the table," he says. "But the other side hasn't shown its hand yet. We'll put a lot of time into working out what's in it for them before the talking starts."

It's about as far as he can go. Before our chat ends we touch on his previous career in classic Formula Ford racing, and how, if he had time, he'd like to build up to trying a friend's Lola T70, an exceptionally quick and valuable car. It's clear that, despite a lack of time, Mark Garnier carries the fire of the car-lover his belly.

It will all be very difficult, Mark Garnier asserts, but as much as we need access to their market, they will need access to ours. There will be tough times ahead, but Garnier surprises the sceptic in me by radiating both leadership qualities and optimism. I had been expecting to doubt him.

No victory is guaranteed, Garnier asserts, but this is the big one, and no effort will be spared.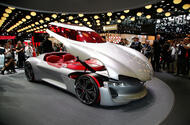 We cover every car debut, get inside scoops, and take you behind the scenes in Paris
Welcome to Autocar's coverage of the 2016 Paris motor show. Scroll down to recap on all the goings-on at the show this year.
Read all the latest news from the Paris motor show
This show will always be remembered as the event where electric vehicles stopped being niche and moved into the mainstream. There were simply too many battery electric models, launched or forecast, for anyone present to imagine that their life isn't going to be affected, and in the near term, by the presence of electric vehicles.
The supporting theme, continued from all recent shows, was SUVs. Land Rover weighed in heavily on the conventional side of the technical argument with a loud launch of its impressive all-new fifth-generation Discovery. Audi had a new Q5, Ssangyong's LIV2 prototype was actually its new Rexton production model in show clothing, and Skoda gave the Kodiaq its first public outing.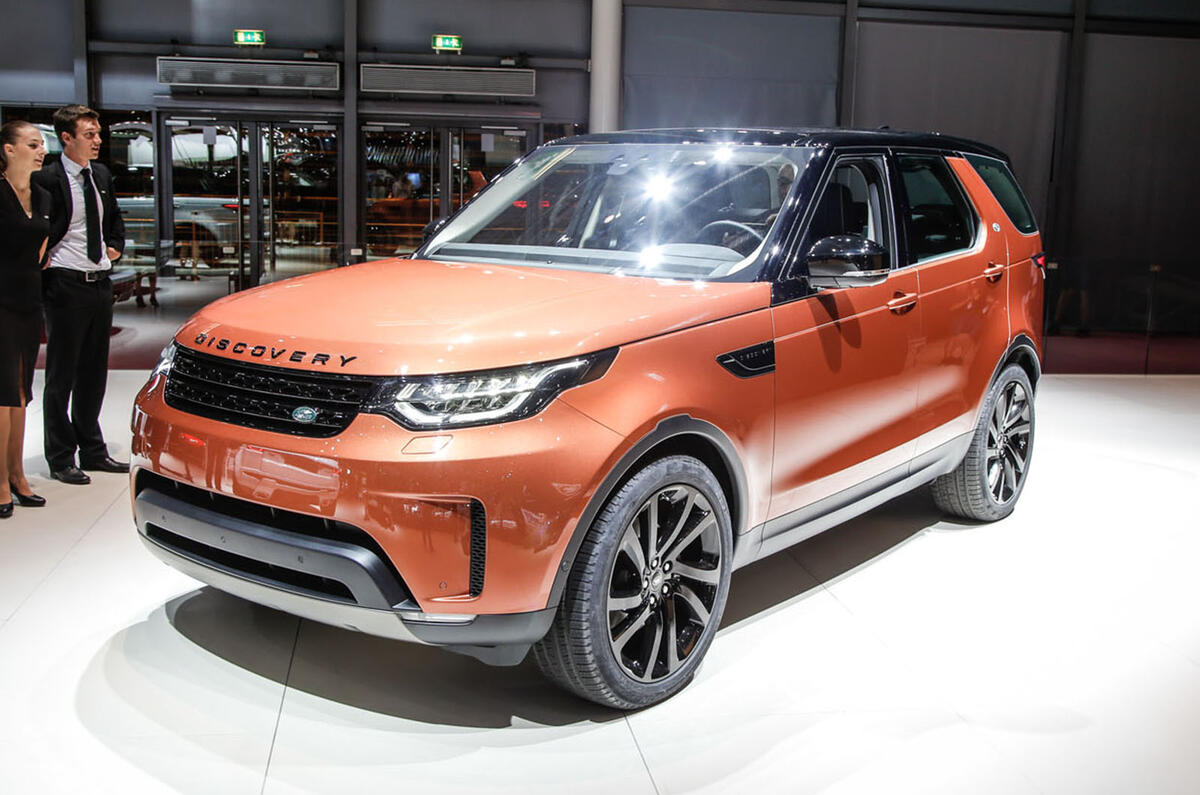 Given that these heavily contrasting vehicle types were around in such numbers, said one wit, the show felt a bit as if you were standing at a busy crossroads, waiting to see which stream would give way. The reality is, of course, that the two types will eventually combine – as in Mercedes' prophetic Generation EQ concept. It's an electric SUV for now, and impressive, but it's even more important as the precursor of 10 fully electric Mercedes EQ cars within a decade.
Volkswagen, seemingly always in the news, drew all eyes with its highly influential ID electric concept, a modern-familiar on brand-new architecture that aims to be the Golf of electric cars by 2020, as opposed to a mere Golf modified to be electric, which is what we have now. VW plans many more of these as the years go by. In fact, the air seemed full of German boasts about clouds of new models between now and 2025. 
Mind you, there were strong conventional show themes. Superminis were strong (Nissan Micra, Citroën C3, Kia Rio, an extended-range Renault Zoe) because the industry, which previously saw these B-segment hatchbacks as tough to engineer and close to uneconomic, now regards this big, dependable market as something of an island in the storm. High-performance cars (Mercedes-AMG GT roadster, LaFerrari Aperta) were around but didn't really star. But then, Paris is always a bit confusing, given the random layout of exhibition buildings at its unique venue not far from Porte de Versailles.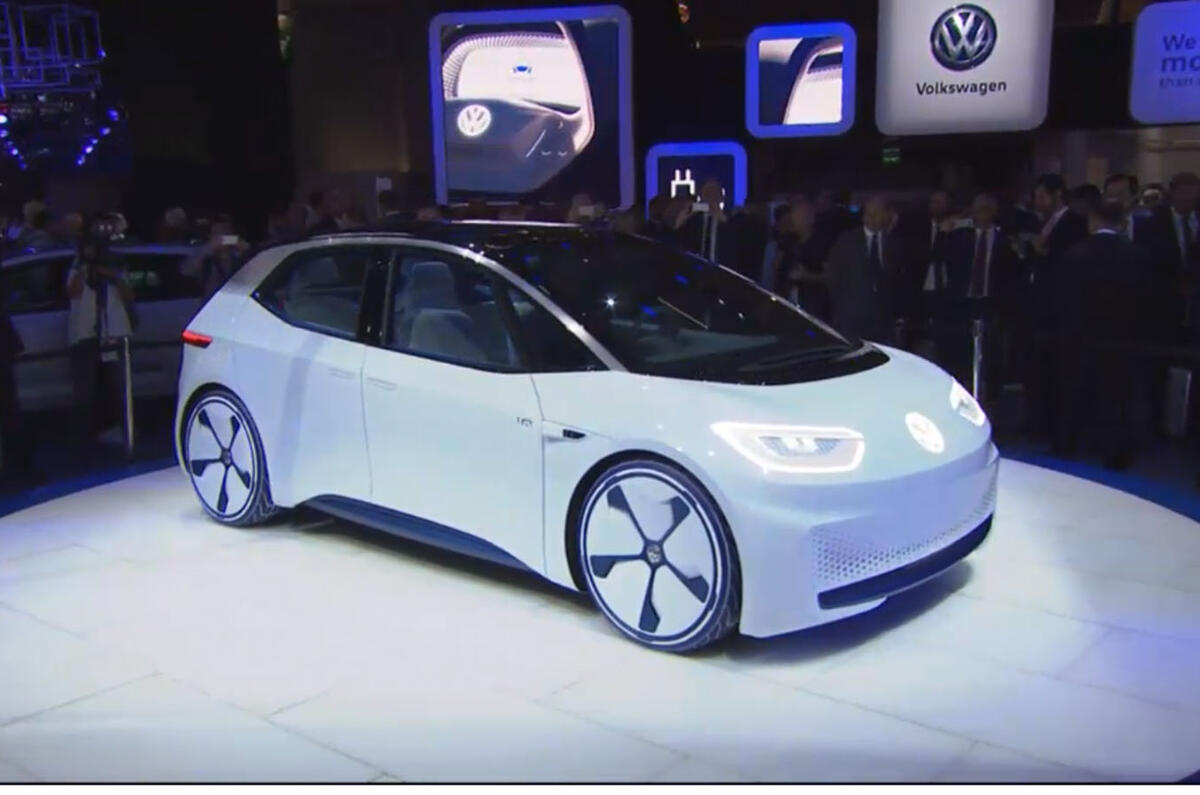 There was a very worthy strand to this show, maybe the worthiest yet. The words 'connected', 'autonomous', 'mobility services', 'electric', 'battery' and 'shared' were scattered so widely by so many that, to the traditional enthusiast hungry for excitement and dreaming of something new to own, the mood must have been downbeat. Paris itself was downbeat following the recent terrorist outrages. Besides, you can't have a motor show with no-shows like Lamborghini, Bugatti, Aston Martin, Bentley, Rolls-Royce, Ford and Mazda without the event losing some of its sparkle. 
And for the historians among us, this was the 10th anniversary of Lotus's never-to-be-forgotten launch of six (subsequently stillborn) concepts at once, as the beginning of a huge expansion plan. Nowadays, that company is (a) not present in Paris, and (b) for sale. How the world turns.
2016 PARIS MOTOR SHOW - AUTOCAR LIVE BLOG
Jimi Beckwith
1800 - This is where we disembark at the Autocar UK office. The show is over for today, so it's time to regroup ready for the final day of action tomorrow. Keep refreshing our Paris news homepage as the final stories roll in, and keep an eye on our opinions homepage as our correspondents at the show gather their thoughts and put fingers to keyboards. But until tomorrow, we're off. Watch our highlights video below to recap, and find out more about all of the cars in it here.
1757 - The results are in from our Paris motor show Autocar readers' favourite poll. We held three rounds of polls to decide the ultimate winner, and from a final between the Alfa Romeo Giulia Veloce, LaFerrari Aperta, Land Rover Discovery and Porsche Panamera, the Alfa Romeo Giulia Veloce triumphed, with 34% of the overall vote. Thank you for all your votes, and we'll keep you posted on whether the model will be brought to the UK. 
1755 - If you've missed anything from today, all the reveals and news stories, big and small, are in our Paris motor show news feed. There's also extra tidbits on our Twitter, Facebook and Instagram feeds, as well as bespoke videos on our YouTube channel. 
1750 - Then, today's action got under way. Once again, it started with a bang, as the Honda Civic Type R concept broke cover. Big-hitters of the day were the Renault Trezor concept, Hyundai RN30, Ferrari's limited edition models and Mercedes-Benz Generation EQ were all revealed, while the Nissan Micra blew all expectations away with a bold new look and wide-ranging appeal in our readership. Then, the Audi Q5 took over as top story for the rest of the afternoon.
1740 - Matt Burt is still over at Fiat: "Fiat boss Olivier Francois won't commit to a date when the next-generation Fiat 500 might arrive. It's the 500's 70th birthday next year, sparking speculation that a new one might be ushered in, but the message from the boss is that while the current car is still selling so strongly (as it is across Europe) there's no rush to cook up a new version."
1734 - As the second day - sort of - of the Paris motor show comes to close, let's recap what we've seen. Things started with a bang, as the Land Rover Discovery, one of the most popular cars of this year's show, was unveiled in London before proceedings began. Then, Volkswagen revealed the ID concept, signposting its future and spearheading something of a re-brand for the marque's tarnished reputation. 
1727 - Jim Holder has gained some insight into the biggest story of the decade, the Volkswagen emissions scandal: "Fascinating half hour with VW brand boss Herbert Diess, who embodied contrition and ambition as well as he should. There were no excuses - "morally we did something really wrong" - and many pledges to earn back customer loyalty, plus a polite admission that the company "used to be a bit overstated for me" (read between the lines there).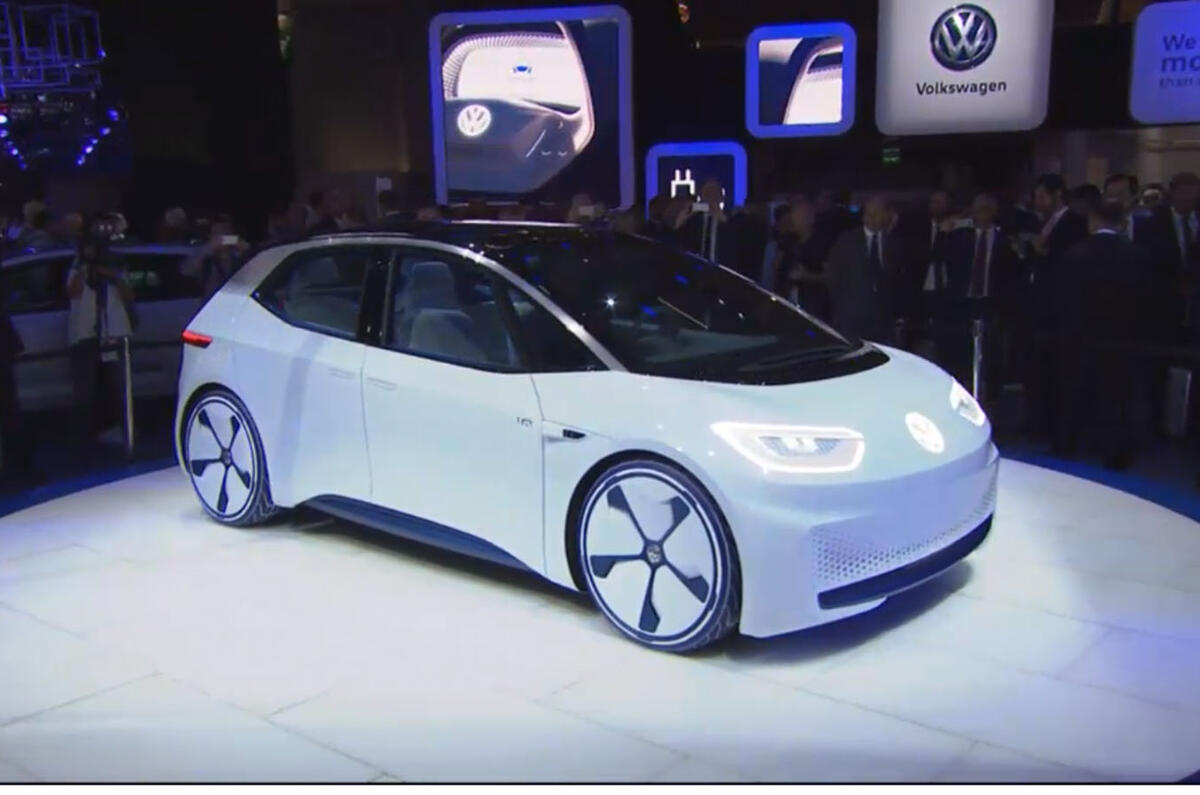 But what stood out was the determination to spend the next four years building the blocks to succeed with the electric car revolution pioneered by today's ID reveal. Timing, he reckons, is everything - and launching in four years allows the answers to electric propulsion's difficulties to crystallise - namely range, infrastructure and complimentary self-driving and connected tech. Is he right? Nobody has the answer, but you'd be brave to bet against him."
1715 - Seat boss Luca De Meo has described the next Ibiza and small SUV, called Arona, 'game-changing for the brand'. Read the full story here
1705 - ...While Rachel Burgess checks out a more tech-oriented exhibitor: "HERE is by far the most prominent tech company at the show this year with a prominent place on the main thoroughfare. Being owned by BMW Audi and Daimler probably helps..."
1656 - Matt Burt has uncovered some disheartening news: "Prospects of a hard-roofed version of the Fiat 124 Spider appear to be fading. Autocar reported a coupe was in the works but today Fiat chief Olivier Francois said: "We looked at it but it isn't in the plan at the moment". Shame - the fixed-head rally car version shown as a concept earlier this year looked stunning..."
1644 - There's no denying that the sheer volume of coverage of the Paris motor show is testament to its size and importance; our picture editor, Ben Summerell-Youde, has precisely 2222 images from the show. Now someone has to sift through them.
1635 - Andrew Frankel's been chatting to Mercedes-Benz execs: "Mercedes-Benz marketting boss Dr Jens Thiemer is not underestimating the challenge posed by our all electric future. Talking to Autocar at the launch of its all new EQ product brand, he said: 'After 130 years, the race begins from zero again.'"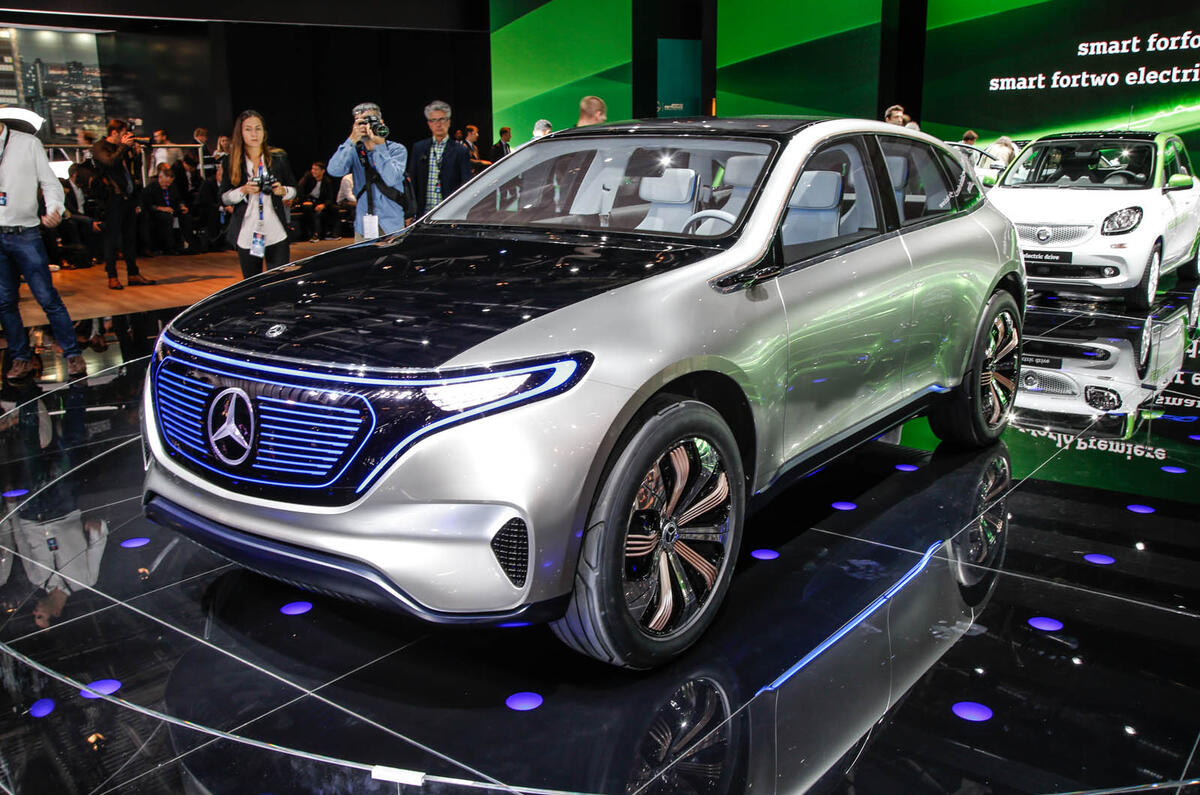 1625 - It'll be an exciting World Rally Championship with today's reveals racing against one another; the Toyota Yaris WRC and the Hyundai i20 WRC challenger. 
1619 PROMOTED - Want to take a look around the Seat stand at the Paris Motor Show? You can now check out a video tour as part of Autocar's promoted live coverage brining you everything that Seat is up to in Paris. Click here to take a look.
1615 - Remember, you can keep up with all the action on our Twitter, Facebook and Instagram feeds, so make sure to keep checking us across all of our media to get up-to-the-minute updates. Keep refreshing this page for all the action too, of course.
1605 - Full story on the Jaguar XF Sportbrake is here, get all the details and new information we have
1555 - Matt Burt likes to be direct with car execs: ""Is diesel going to die?" It's a question I've lobbed into a few interviews with car company execs today. Responses were mixed, but the key theme was how tightening legislation and the need to use technology to force down emissions could drive up the price of cars fitted with diesel engines considerably."
1549 - If you want to watch Ferrari's press conference, it's uploaded the whole thing to YouTube: 
1545 - Matt Burt witnessed Jeep boss Mike Manley's flying visit: "Jeep chief Mike Manley on good form, despite jetting in from the US for a whistle stop visit to the show. His good mood could be down to strong sales of Renegade and high hopes for the new Compass crossover, launched in Brazil earlier this week."
1540 - One of the bigger stories to come out of the show is Mercedes' announcement that it is developing a hypercar to rival the AM-RB 001
1531 - It feels like an age since we first saw it, but it's finally here - the Skoda Kodiaq has officially been revealed
1525 - One of the more outlandish cars at the show - the Toyota FCV Plus concept - made its European debut today. 
1519 - Jaguar has confirmed that there will be an estate version of the XF - the Sportbrake - and it will arrive in 2017. Full story to follow.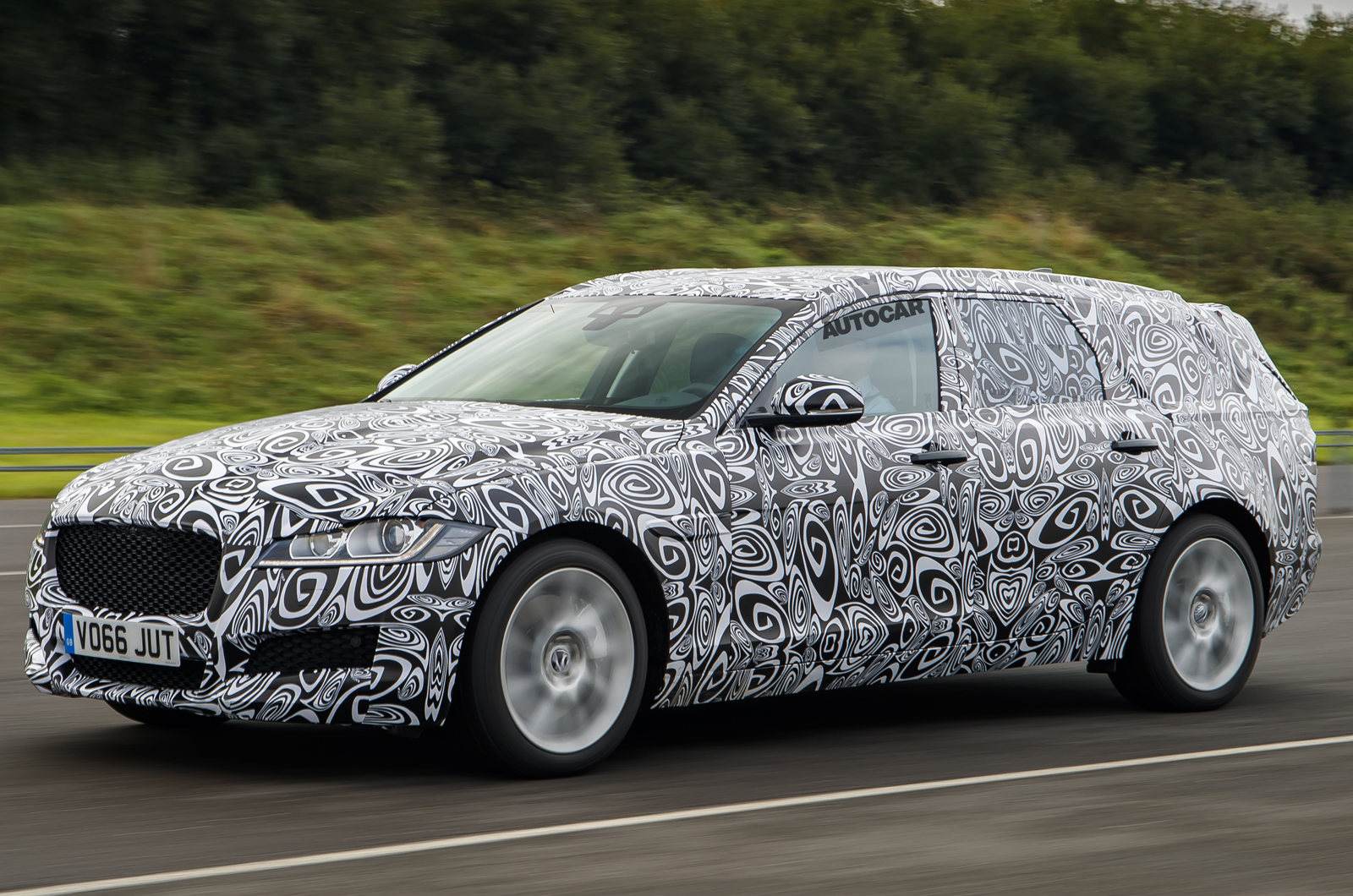 1514 - Interestingly, Hyundai has opted out of showgirls on its RN30 concept stand, instead posing a man in a race suit next to the car. 
1510 - Anyone else think that the Golf GTI's position next to the ID in VW's Paris show backdrop is a subtle hint at a sporting model?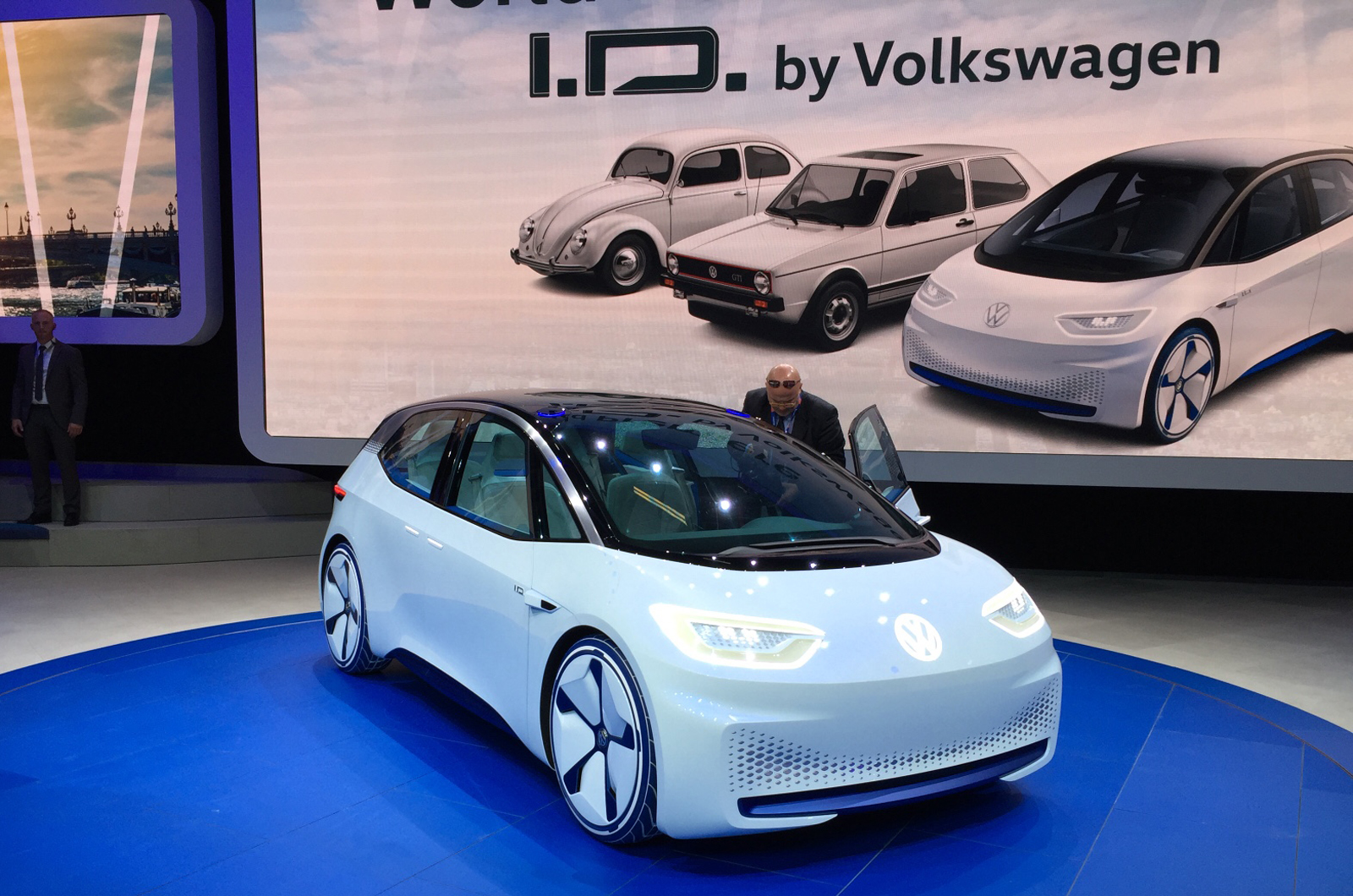 1506 - So what exactly does the next Honda Civic Type-R need to exhibit in order to excel? Jim Holder's on the case
1459 - Audi has announced that it will broadcast the opening of the factory where its new Q5 will be built here. The opening takes place tomorrow.
1454 - Get the full story on Dieter Zetsche's response to suggestions that diesel is dying post-emissions-scandal here
1450 - How are you enjoying the show? Will you be visiting, or browsing the Autocar website to get up-to-date with all the reveals? Let us know your Paris motor show plan - autocar@haymarket.com
1446 - Seat confirmed the name of its Nissan Juke-sized SUV - the Arona. Get the full story here.
1442 - ...This comes just moments after his company revealed the first in a new range of electric vehicles: the Generation EQ
1435 - Mercedes-Benz boss Dr Dieter Zetsche has claimed it would be 'absolutely stupid' for diesel-powered passenger cars to be allowed to die out in the wake of the emissions scandal. Read more on our Paris motor show news homepage very soon
1428 - Another Audi reveal, this time it's the RS3 LMS racer.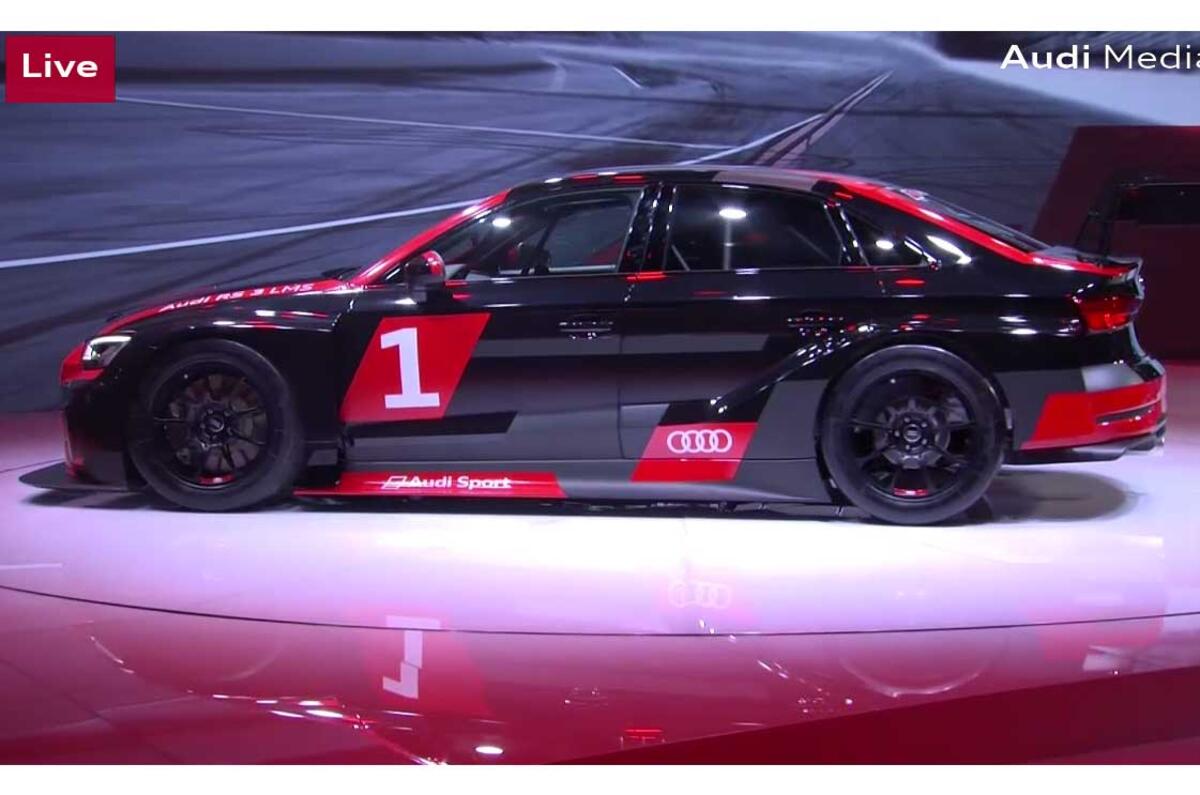 1424 - An unexpected big hitter from this year's show is the Nissan Micra. Its bold new look has clearly caught the eye of our readers, catch up on its reveal here
1419 - Take a look at the full set of pictures for the Audi Q5, direct from its unveiling in Paris. Let us know what you think about it - will it top the segment, or will it flop?
1416 - We reckon this'll be making waves long after its pre-Paris reveal last night. Catch up on the reveal of the Land Rover Discovery here
1409 - Breaking news: Vauxhall is to develop an electric vehicle for the UK market, even though the Ampera-e won't be brought to the UK. 
1404 PROMOTED - Fancy a guided tour of Seat stand at the Paris Motor Show? From the new Seat Ateca X-Perience to a 4D interactive press conference, see the highlights of the stand in a special video. It's part of an Autocar and Seat partnership to bring you live coverage from the Barcelona firm's stand throughout the Paris Motor Show. To take a look, click here.
1357 - A big announcement from Peugeot, as well as adding to the EV-trend at this year's show - Peugeot has just revealed plans for three plug-in hybrids and two fully-electric cars within the next five years
1353 - Porsche just revealed the 911 GT3 Cup racer: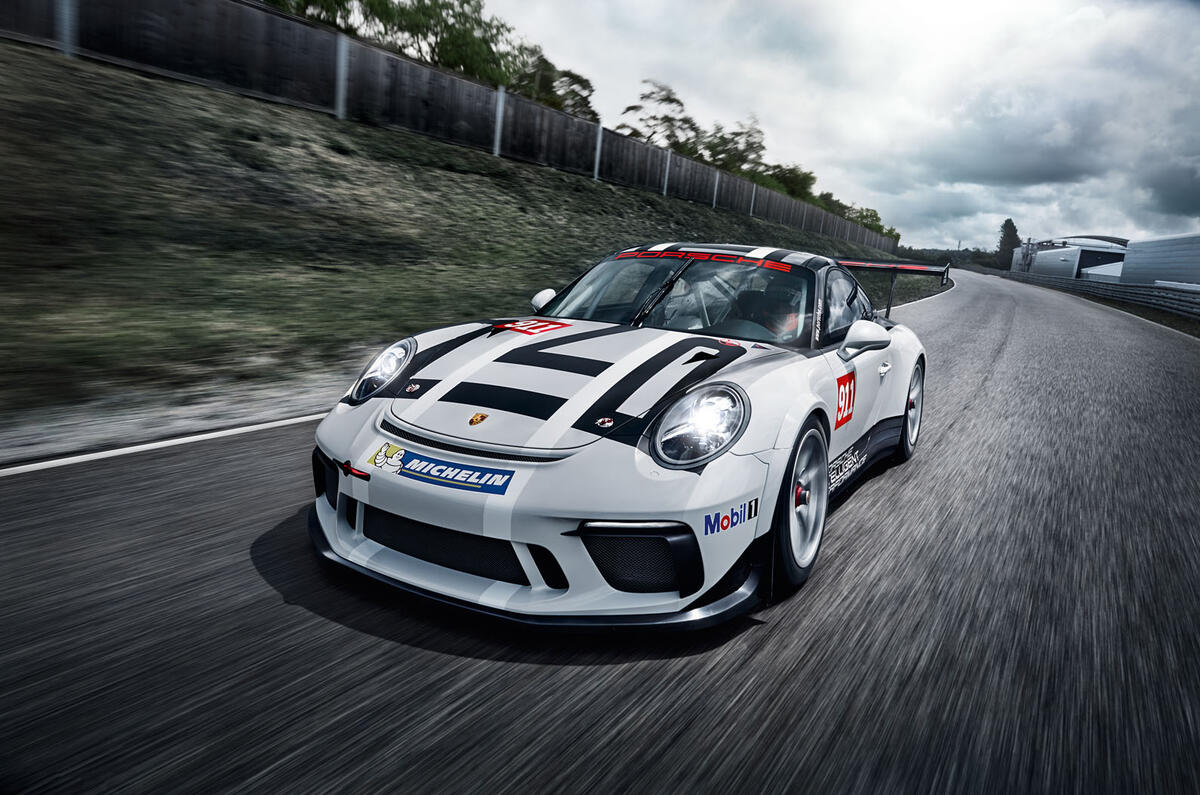 1347 - Not long to go now to vote for your favourite at the Paris motor show. We whittled the cars down over the past week to four finalists, and this is how things are totting up right now: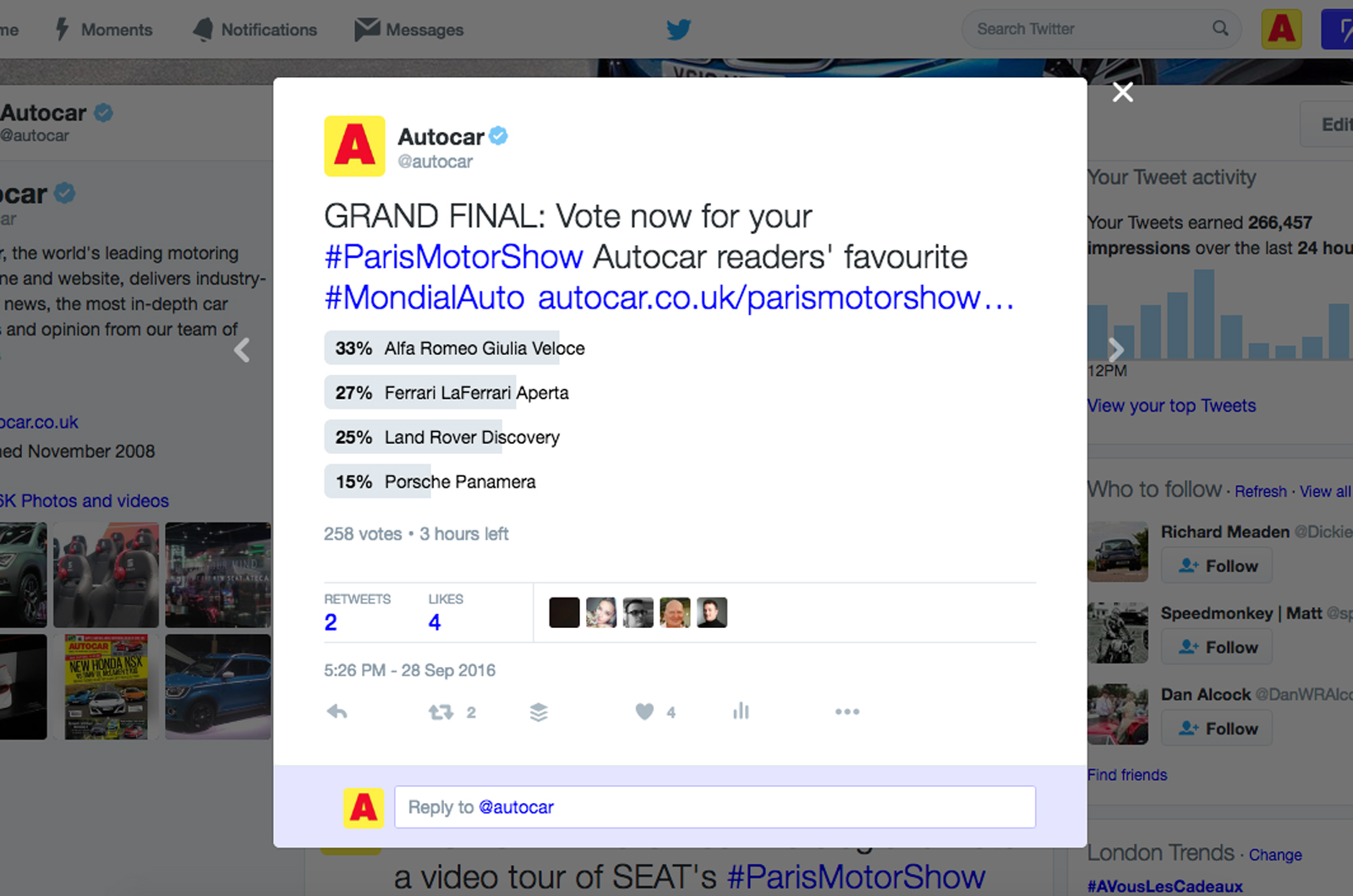 1343 - Speaking of which, keep an eye on our YouTube channel; we're doing walk-arounds of all the key cars, so get a closer look at your favourite. 
1337 - Fancy watching Citroen's press conference as it happened at the show? Citroen has very kindly uploaded it to its YouTube channel: 
1334 - Volkswagen's looking to Apple's sales structure for inspiration on how to re-invent the car with the ID, says Rachel Burgess: "There will be range of battery options when the ID goes on sale, with the minimum range of 400km offered. It was likened to getting different amounts of memory in an iPhone."
1329 - Mitsubishi has just released this video to accompany the reveal of its Ground Tourer PHEV concept: 
1325 - Rachel's still over at Renault, with more exciting, but tentative, news: "Renault Sport boss Patrice Ratti confirmed that he still can't confirm production of the R.S.16 concept we reported on earlier this year. He admitted he had hoped "to have a decision by September", but alas, it is not yet definite. We're confident it will happen."
1321 - It's rapid-fire releases over at Paris, the Lexus UX concept has just broken cover: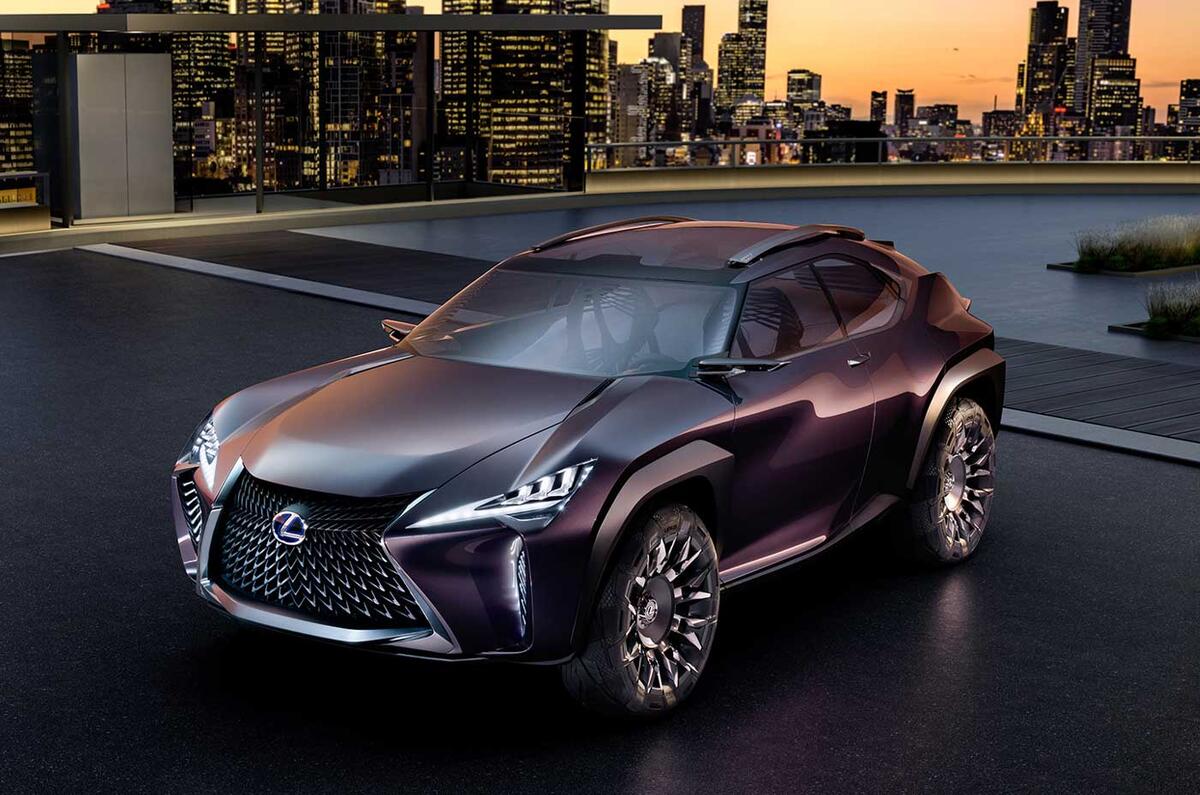 1320 - And the Audi RS3 Saloon joins Audi's high-performance family: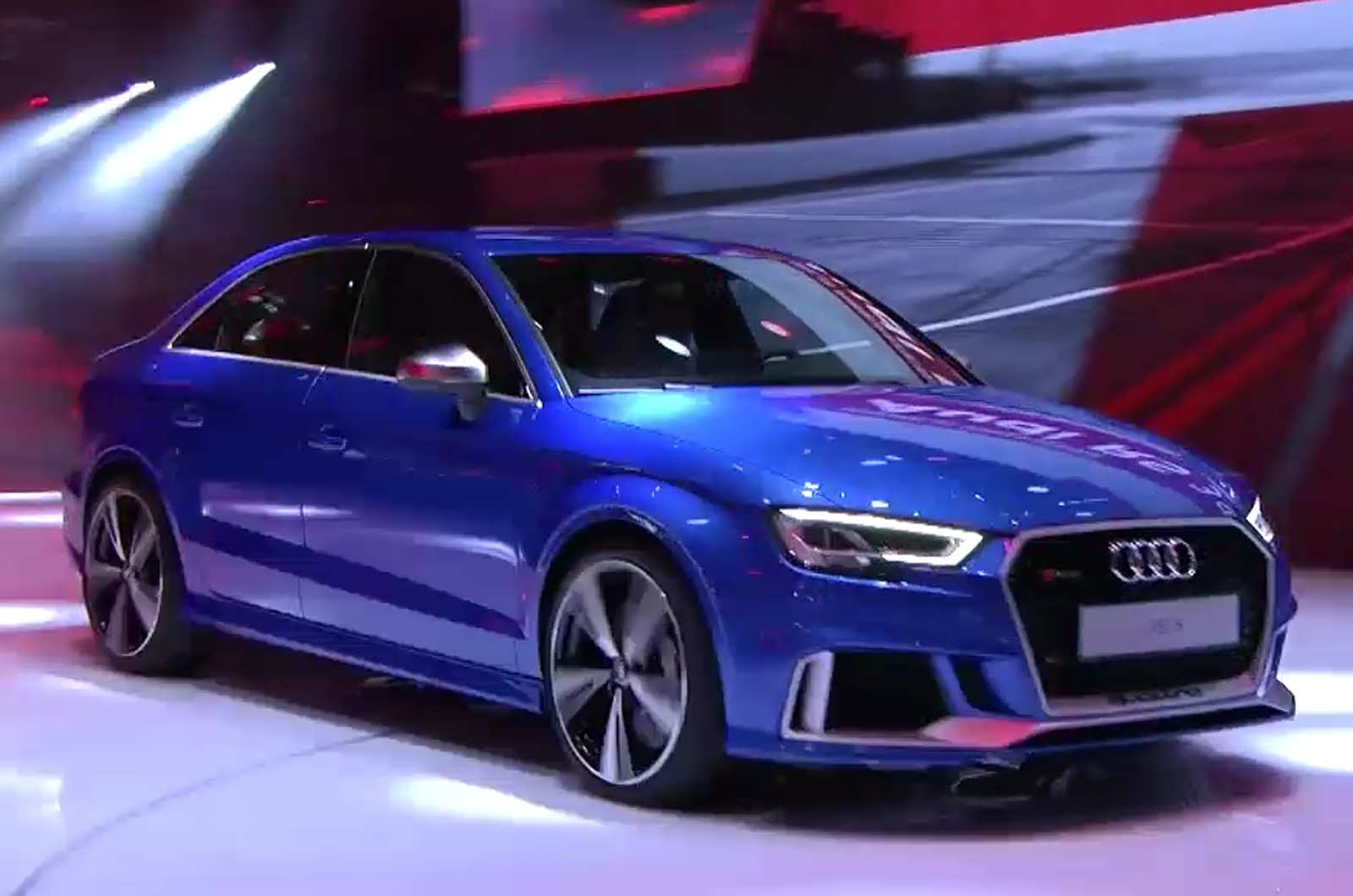 1315 - More Audis, hot off the show floor - the Audi A5 Sportback and S5 Sportback
1312 - Rachel Burgess is also rubbing shoulders with Renault: "Renault Sport boss Patrice Ratti tells me his favourite RS is the Megane RS 275 Trophy R, describing it as very light, powerful and very agile. "It's very quick for real drivers and very fun for people who live to drive but don't drive very well, like me!" I'm sure he's just being modest."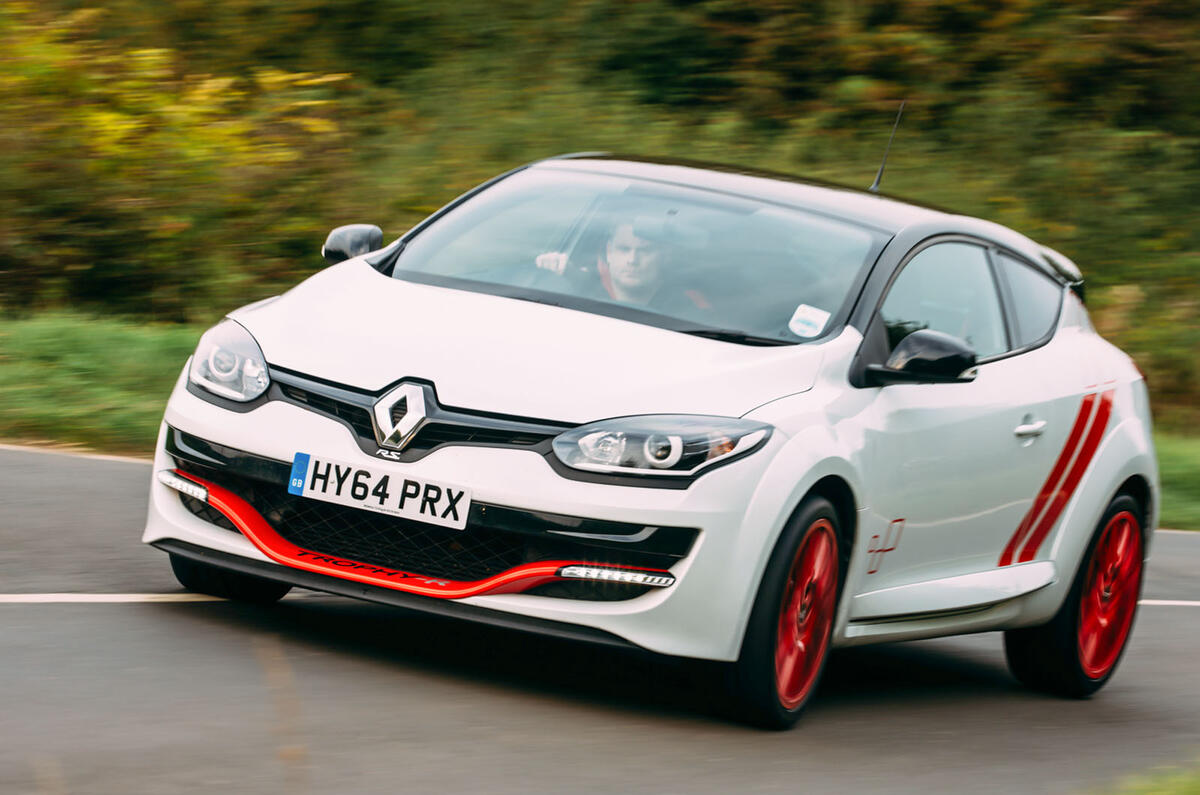 1308 - Some news, direct from Jim Holder and the Renault stand: "Existing Zoe owners will be able to buy or lease the new battery pack, with details of how to do so expected at the end of this year"
1304 - And here it is! Get your first look at the new Audi Q5, which we expect to be one of the biggest stars of this year's Paris motor show, and one of the most hotly anticipated cars of the year: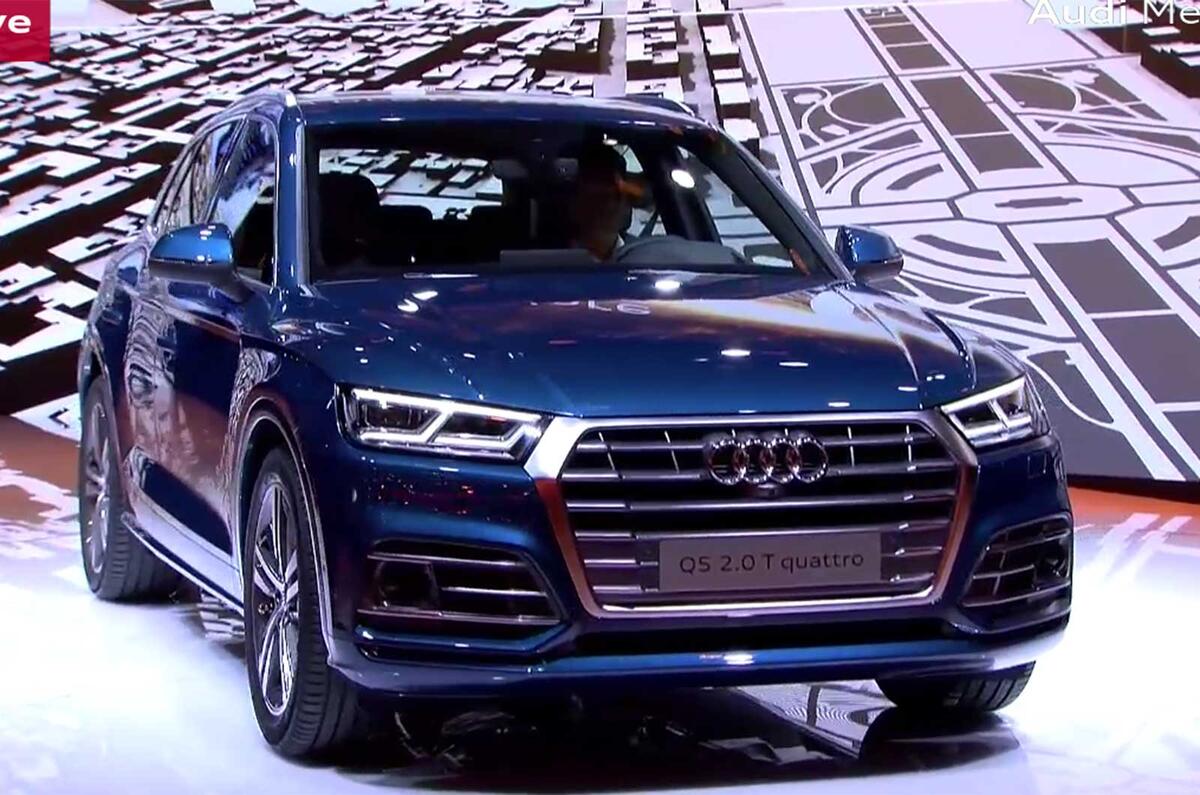 1300 - Here comes the Audi Q5...
1256 - Matt Burt's chatting with Renault's head of design Laurens van den Acker, "who has a spring in his step following the hugely positive reaction to the Trezor concept car. It took 18 months from start to finish, because van den Acker insisted it was completed to the highest standard possible. "We could have rushed it, had parts that didn't quite fit or that were hanging on, but much better that it is just so, so you can get up close and see and feel it." A concept in the truest sense, van den Acker also delighted in a project where he and his team could truly express themselves. "There's pressure on every production car to be a success - here we could explore what's possible," he says"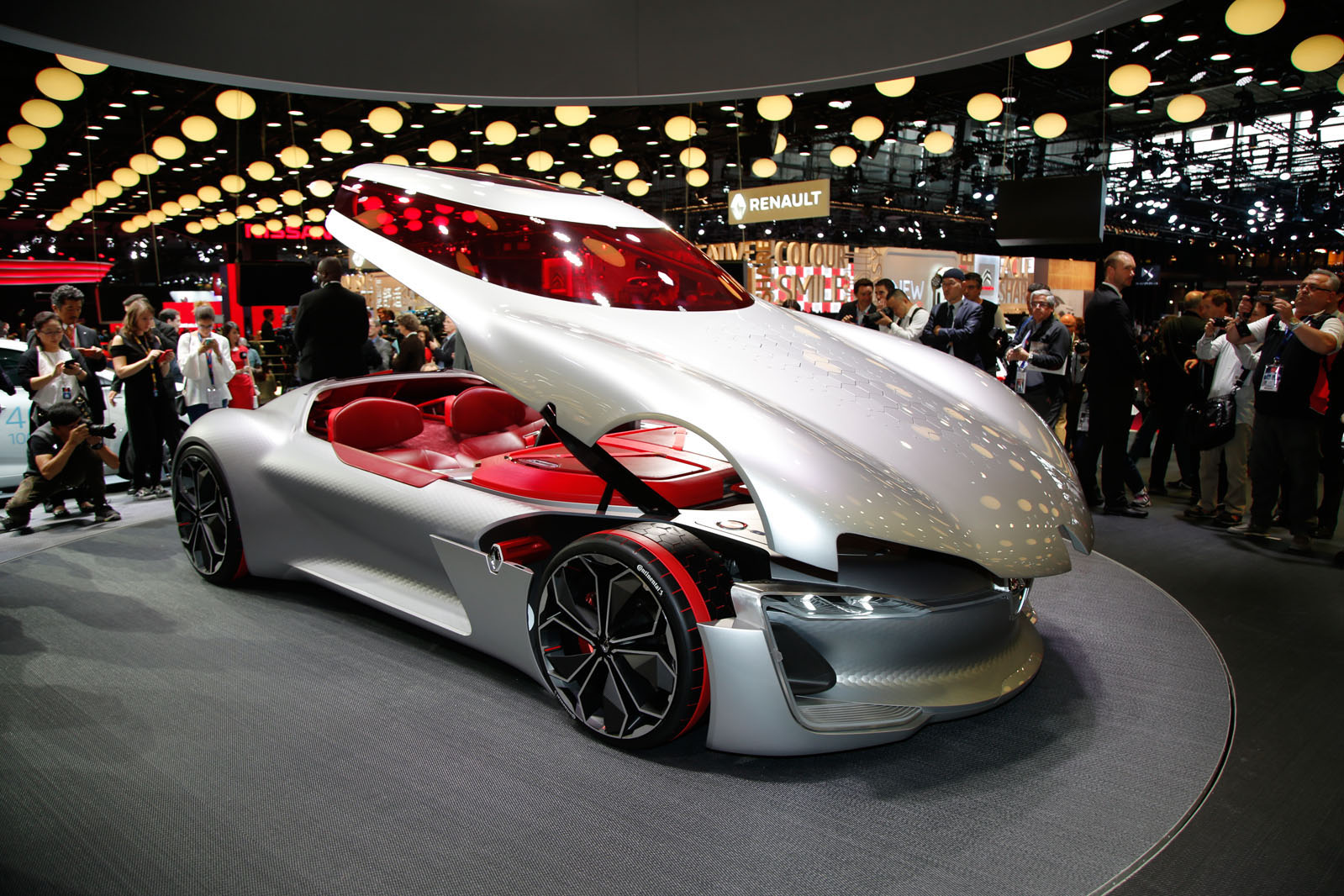 1253 - The team in Paris are darting in and out of interviews across the show, so stay tuned throughout the next few days for all the information coming your way on the biggest reveals, from the biggest names in motoring. 
1247 - Matt Burt's getting the inside scoop on the Toyota Yaris WRC, though: "Snuck around the back of the Toyota stand in time to see motorsport's biggest boss, FIA president Jean Todt, leaving via a side door after watching the unveiling of Toyota's Yaris World Rally Car."
1245 - Not long now until the wraps come off the new Audi Q5. Here in the UK we think this could be one of the big cars at the show, so our guys in Paris are likely getting the best spot they can for the big reveal...
1240 - And there it is - the Toyota Yaris WRC. Can you tell who one of the big sponsors is?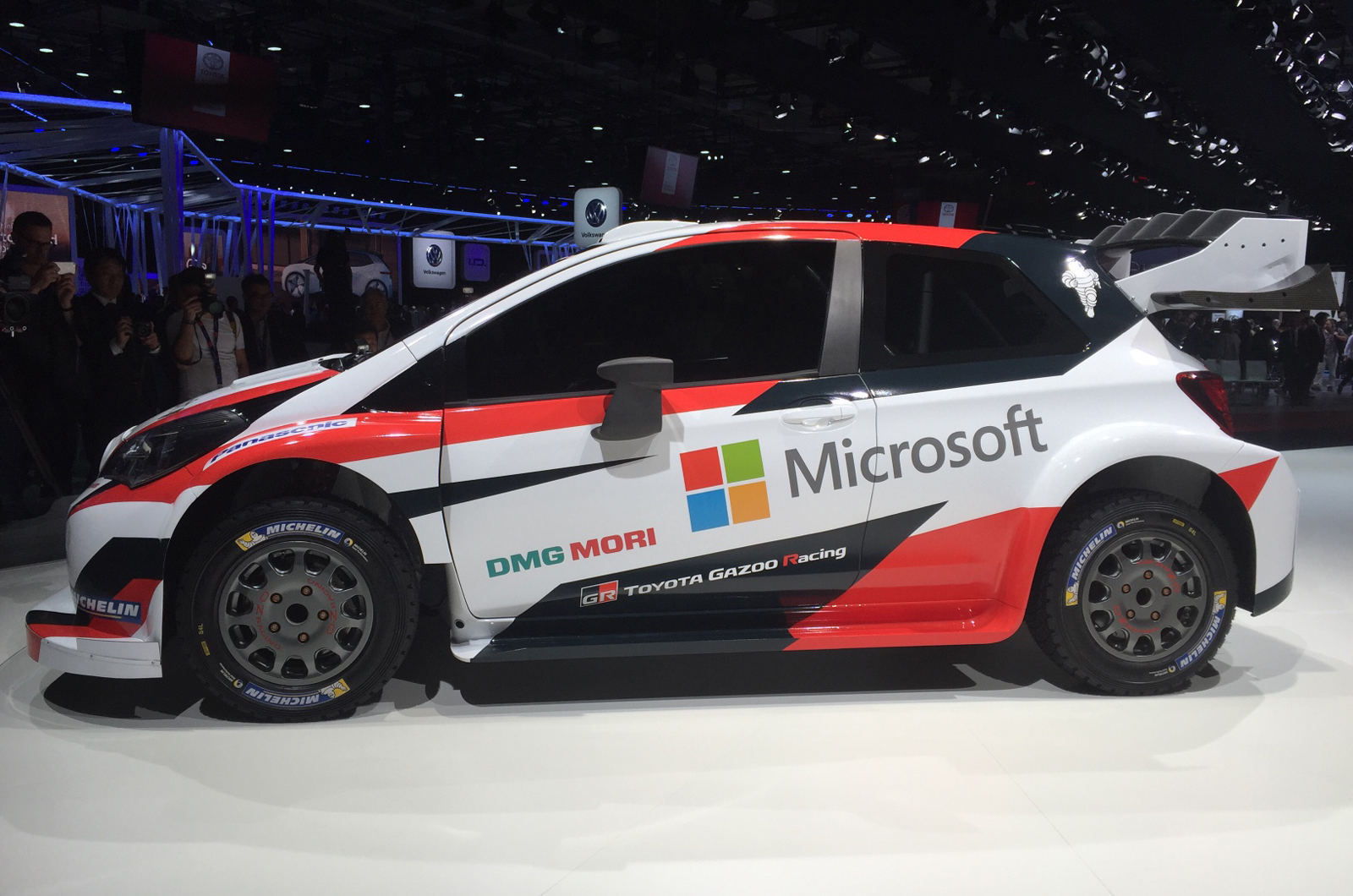 1235 - The cheapest car on sale in the UK has been given a refresh - get your first look here at the tweaked Dacia Sandero
1231 - "Toyoda says the Yaris WRC car will play a part in the brand's autonomous driving road car research, particularly the data derived from its handling characteristics." reports Matt Burt. Who'd have known that autonomous cars would benefit from motorsport of all places?
1227 - There's top banter at the Toyota announcement: "Toyota's rally team chief Tommi Makinen, who won 4 WRC titles with Mitsubishi, has just appeared on stage wearing a red shirt. "Is that Toyota red or Mitsubishi red?" quipped Toyoda."
1225 - Matt Burt is at the heart of a "Huge crowd at Toyota, where the new Yaris World Rally Car has just been wheeled out." "It's been 17 years since we last competed in the WRC so you could say we are well rested. But now we are back" said Toyota chief Akio Toyoda.
1222 - The BMW X2 has been unveiled, with a distinctly Volkswagen Scirocco-shaped silhouette, says Jimi Beckwith. Get in touch if you agree, at autocar@haymarket.com
1220 - Volkswagen's also released a glossy video for its ID concept - is this what life will be like a few years from now? 
1215 - Take a closer look at Mercedes' Generation EQ concept; here's the video which accompanies the concept: 
1212 - Matt Burt has been digging on the Renault Zoe: "Renault UK will reveal pricing for the new Zoe with a better driving range closer to its November on-sale date, but the manufacturer's electric vehicle programme chief, Eric Feunteun, said that the price increase in Europe worked out at around €2500, which equates to about £2150. It could mean the Zoe will work out at between £21-22k in the UK."
1206 - Rachel Burgess sounds off on a less modern appearance on the Jeep stand - and she doesn't mean the Wrangler: "Unsurprisingly I'm not a big fan of the so-called showgirls but the Jeep stand's are the best of the bunch. Cool-looking and perfectly reflective of the brand. (Also, spot the latest garish model here today)."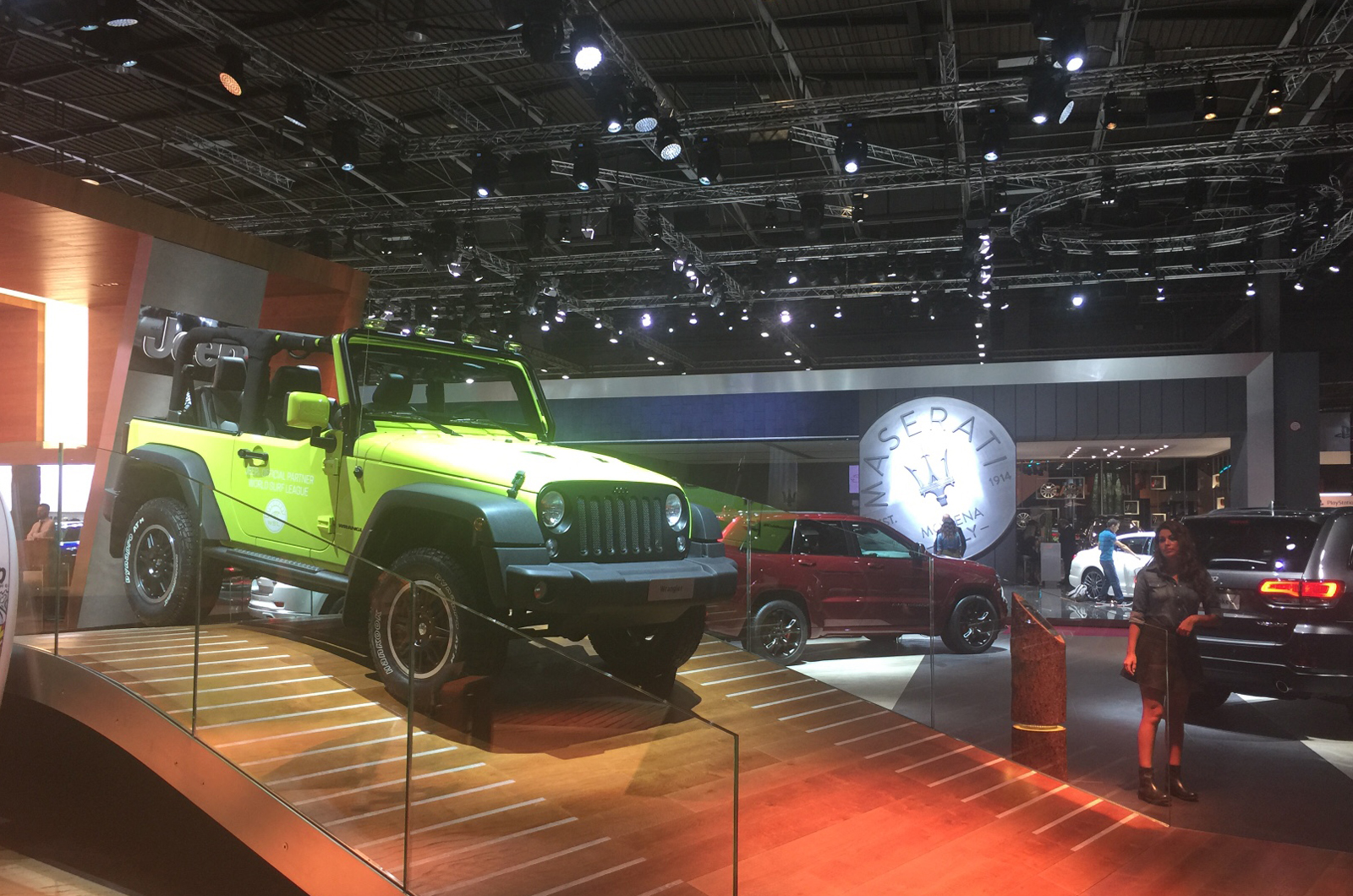 1201 - Bet you wish you'd gone to this last night. Those of us from Autocar who didn't wish we had!
1158 - Matt Burt's had some thoughts on the Renault Trezor - see if you agree here
1154 - There's been a healthy serving of concept cars for your enjoyment at Paris this year, these are the ones which have had the silk whipped off so far: Honda Civic Type R concept, Hyundai RN30 concept, Mitsubishi GT PHEV concept, Renault Trezor concept, Mercedes Generation EQ concept, Ssangyong LIV-2 concept and Volkswagen ID concept. Let us know your favourite! 
1151 - Not long now until Infiniti reveals its new engine. Could this be the advance which finally gives it the advantage in the UK market? 
1147 - Jimi Beckwith joins the fanfare around the Nissan Micra: "I'm genuinely shocked at how different the Nissan Micra looks - it's so futuristic-looking and progressively designed, that the word 'unrecognisable' is bound to be one of the most used words when describing it. The cruel nicknames my friends gave to a Micra belonging to one of their parents are long gone." 
1142 - There's a lot of metal at the Paris show, but this is a firm reader favourite, and it's little wonder why...
1138 - Remember, you can keep up with all the action on our Twitter, Facebook and Instagram feeds, so make sure to keep checking us across all of our media to get up-to-the-minute updates. Keep refreshing our opinion homepage too; with all the reveals there are some colourful opinions flying around!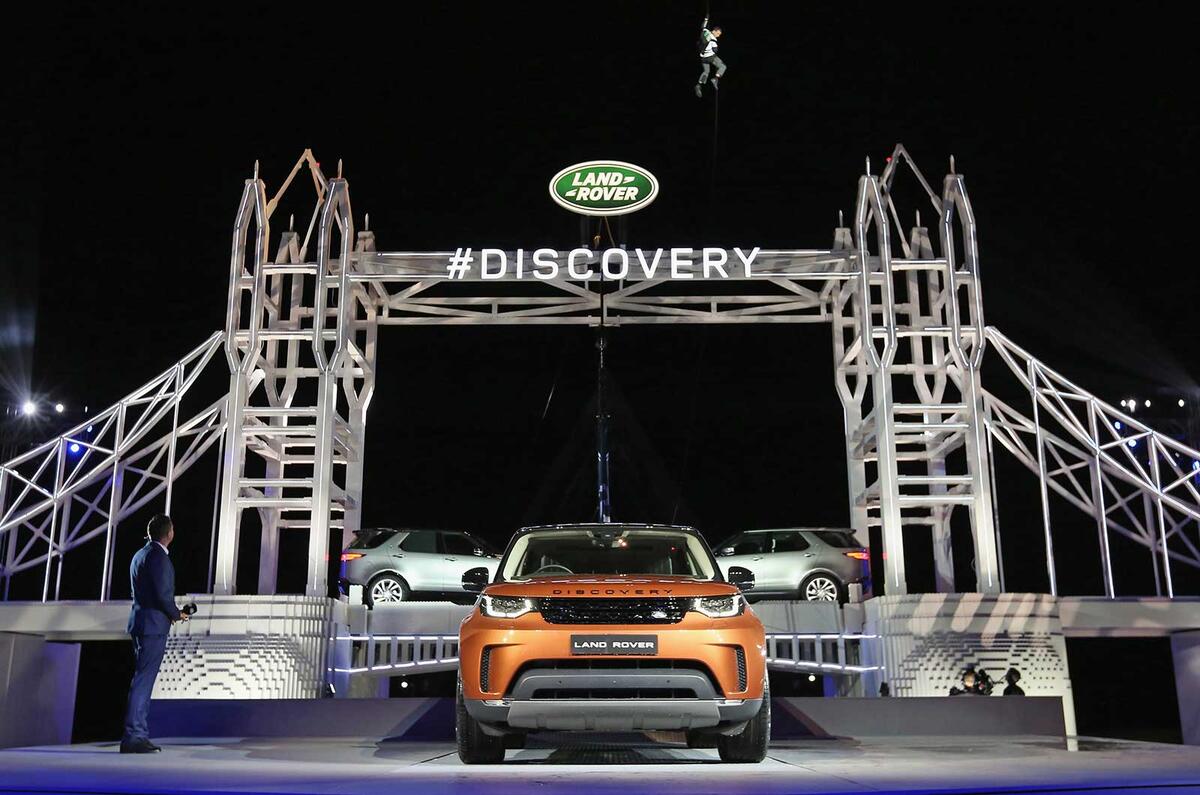 1135 - Get the rest of the details on Ferrari's naturally-aspirated V12 successor to the F12 here
1130 - With only a few hours to go before we find out the winner of the Autocar readers' favourite for the 2016 Paris motor show, the Alfa Romeo Giulia Veloce has stretched its lead to 2% over the LaFerrari Aperta. To vote for the Alfa, LaFerrari, or the Land Rover Discovery or Porsche Panamera in our grand final, click here. Make your vote count! 
1127 - Jim's got so much hope for the Nissan Micra that he's written an entire thought article on it. Catch it here in a few short minutes.
1124 - Rachel Burgess is digging deep for the Volkswagen ID: "Christian Zenger, VW electric car boss, said the facelifted E-Golf is a "very important bridging model' [until the ID's arrival]. He added it will have more power and accelerate better than today's model.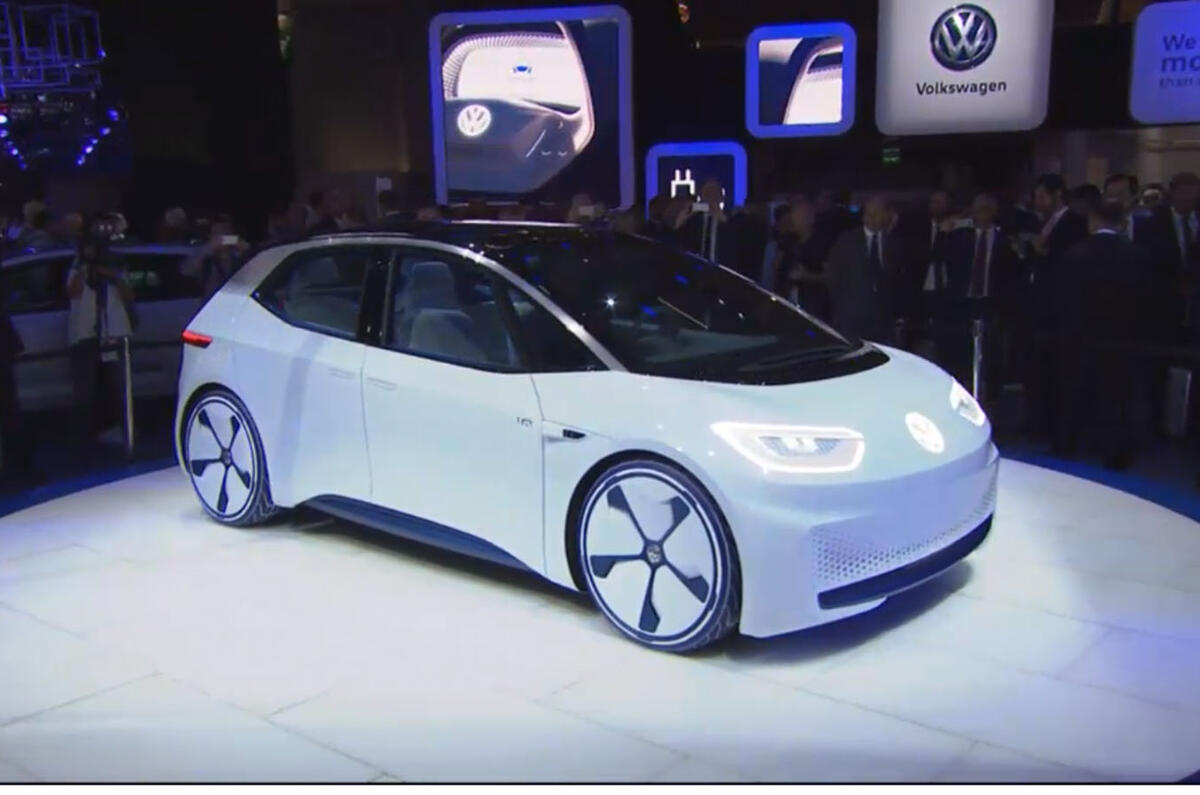 1121 - The Stelvio isn't the end of Alfa Romeo's SUV model range - there's a smaller and a bigger model coming too.
1115 - Could you be tempted out of a Hyundai Santa Fe and into one of these? Ssangyong has revealed its new LIV-2 concept, which previews the next Rexton
1111 - Our Honda Civic Type R concept video is live - get an in-depth look at the concept below: 
1105 - Big news from Andrew Frankel's sniffing around the Ferrari area: "The replacement for the Ferrari F12 is likely to make its global debut at the Geneva motor show next year. A development of the existing car it will continue to use a normally aspirated V12 engine but with power raised from the current 730bhp to close to the 769bhp already seen in the F12 tdf. The new generation of hybrid assisted V12 Ferraris will likely not be seen until an all new flagship is launched in around 2020."
1101 - PROMOTED: Want to take a look around the Seat stand at the Paris Motor Show? You can now check out a video tour as part of Autocar's promoted live coverage bringing you everything that Seat is up to in Paris. Click here to take a look
1055 - Richard Bremner has been digging around the Hyundai stand: "Hyundai's spectacular RN30 concept, a wild-looking 380PS, 451nm hot hatch based on the latest i30, is a pretty bold signal of the company's new-found performance car ambitions. Developed under the leadership of Ex-BMW Motorsport engineer Albert Bierman, it may eventually appear as a Focus RS, Golf R and Civic Type R alternative. 
In the meantime, a 260PS i30 N - 'N' is Hyundai's new performance sub-brand - will appear in the second half of next year. The object of both cars is not only to appeal to enthusiasts, but also to signal the greater emphasis the brand is now placing on driving dynamics. "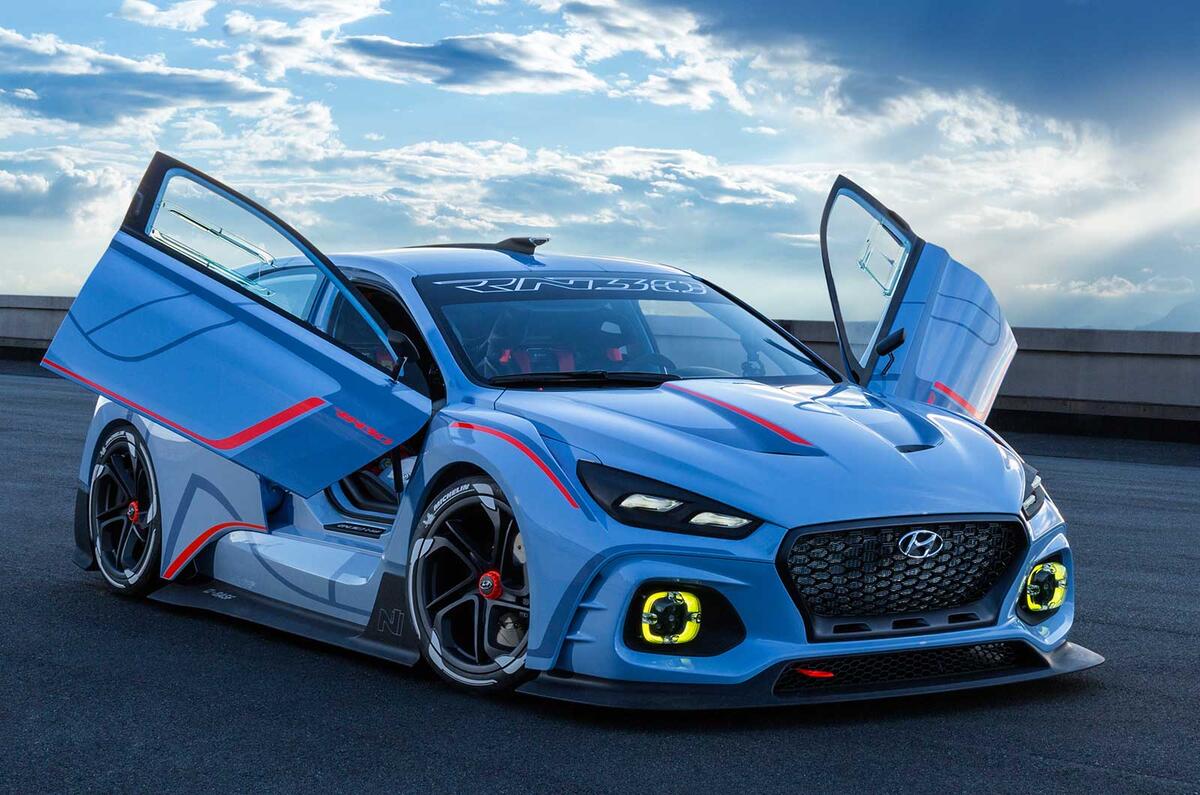 1052 - Jim Holder forecasts considerable success for the new Micra: "A Micra is a Micra, right? Well not really - I've just spent 10 minutes poking around the new car, and it really is a quantum leap forward over its unremarkable predecessor. The bold styling hints at the massive shift, but the interior quality, kit and layout all scream that this is a better car in every way. Will it be enough to floor the Fiesta? Far too early to say until we get to test it, of course, but the fact the thought it could even put up a fight has even crossed my mind tells you how much more appealing Nissan's supermini is."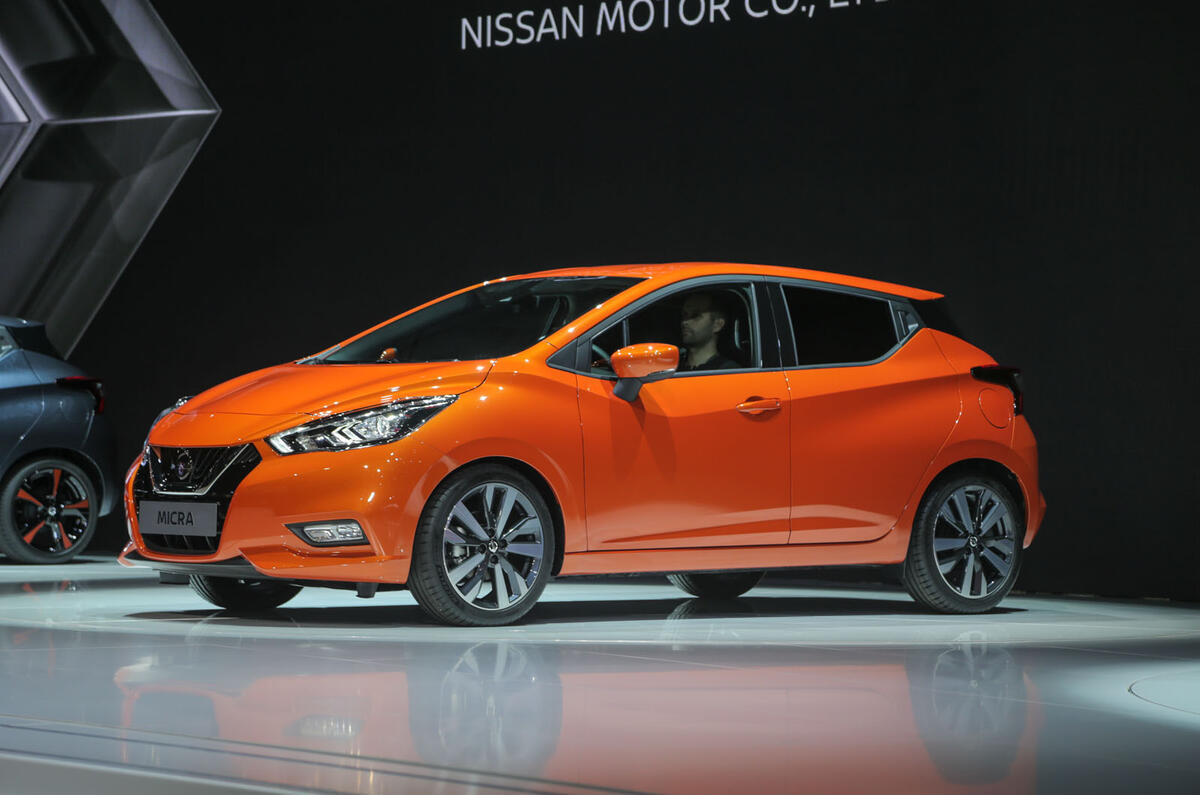 1046 - Matt Prior is in Paris, here's our walkaround video of the Land Rover Discovery - give it a watch and let us know what you think:
1040 - The Mercedes Generation EQ concept has been revealed - get your first look at the electric SUV which will spearhead Mercedes' EV sub-brand here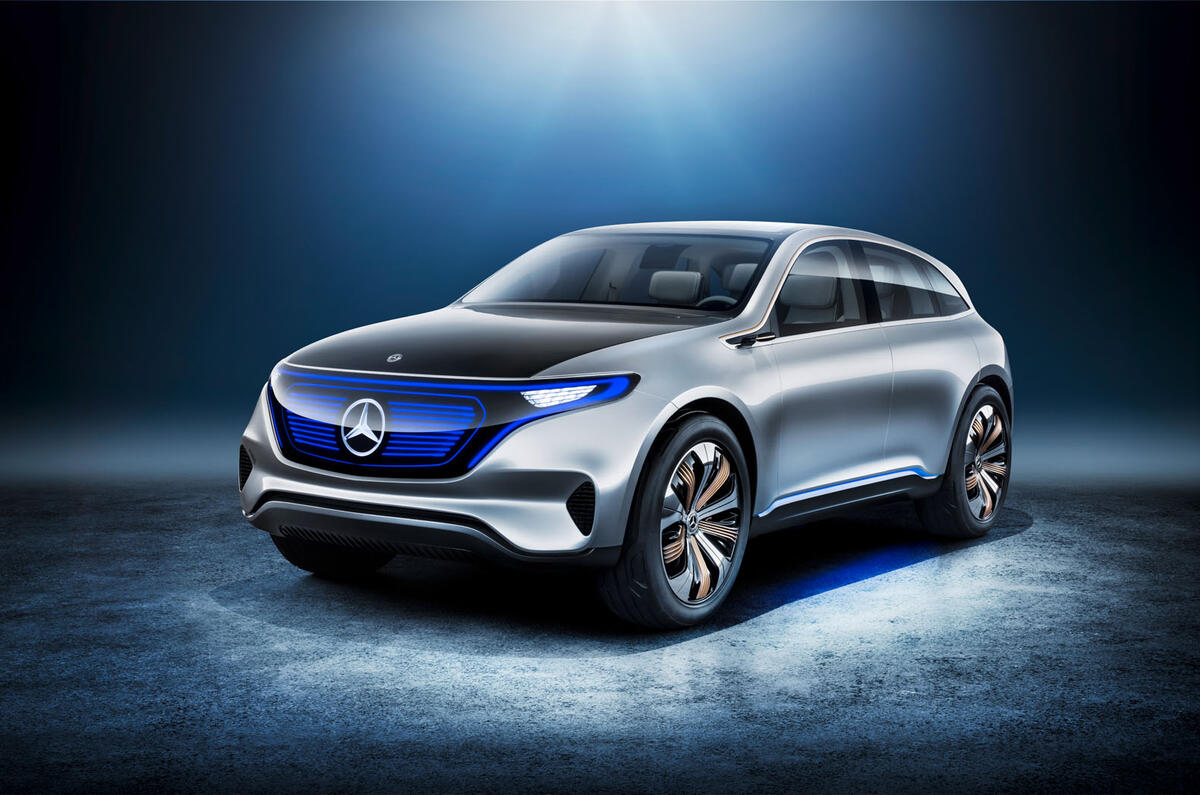 1035 - We couldn't possibly pick favourites, but this is definitely one of the coolest doors at the show.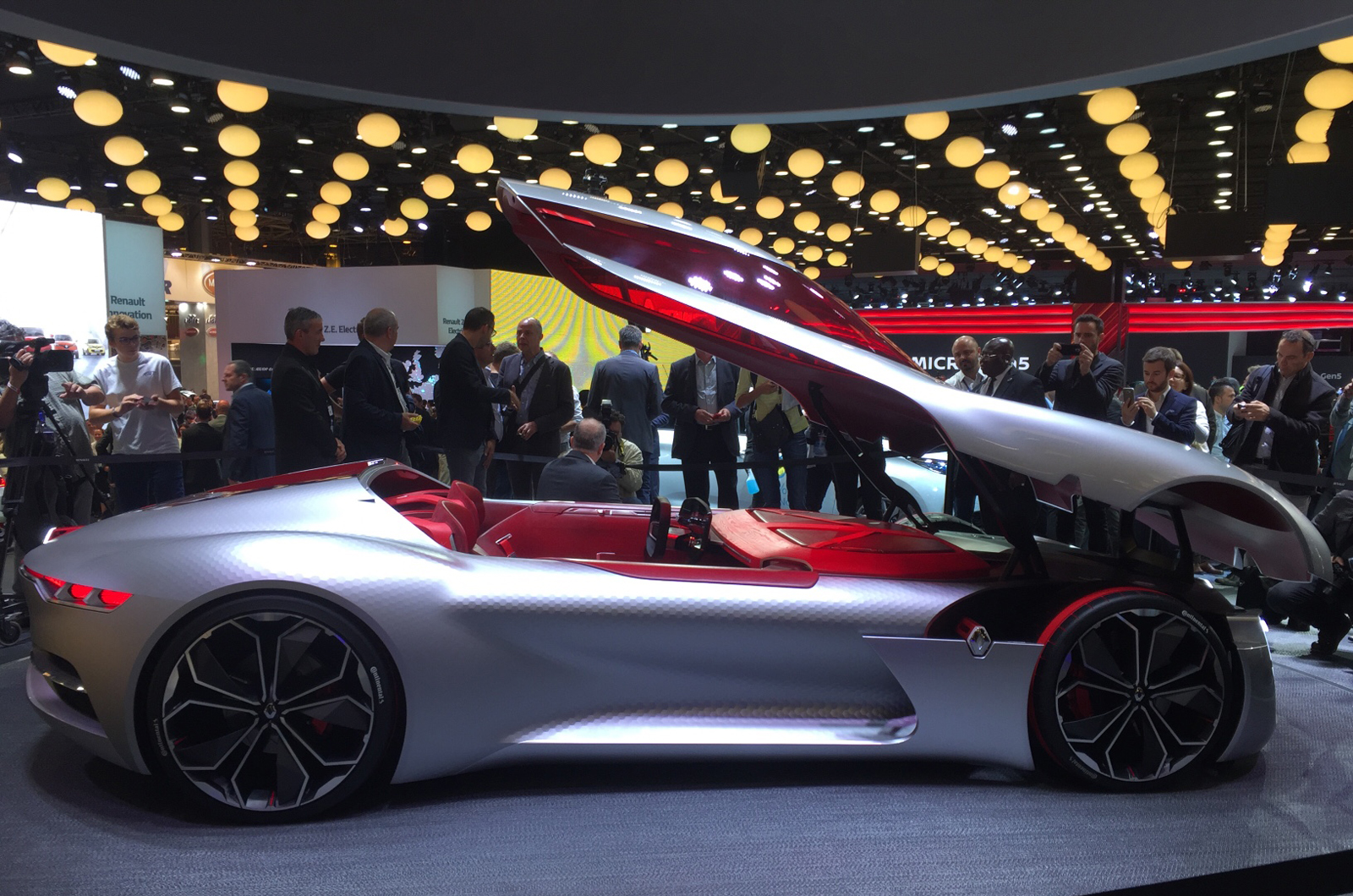 1030 - "There are two Vauxhall SUVs and an Insignia coming next year; the Insignia will continue to be a Buick (and also a Holden). It's still its flagship model despite declining sales."
1026 - "On a 20-year horizon, numbers of diesels and EVs sold in Europe to effectively reverse. The main growth is in EV sales over the next five years. Brexit currency movement has cost Opel €400m. Vauxhall has already increased prices and has another 2.5% on October 1st."
1023 - A few updates from the GM round table, direct from Rachel Burgess: "No RHD for Ampera-E - the numbers didn't stack up. However already realised that was a bit keen and are working on an EV which will include RHD, either a revision of this or a separate car."
1019 - This is Smart's stand, where it's revealed its electric car range based on the Fortwo, Fortwo cabriolet and Forfour - with all that green, what kind of message do you think they're trying to convey?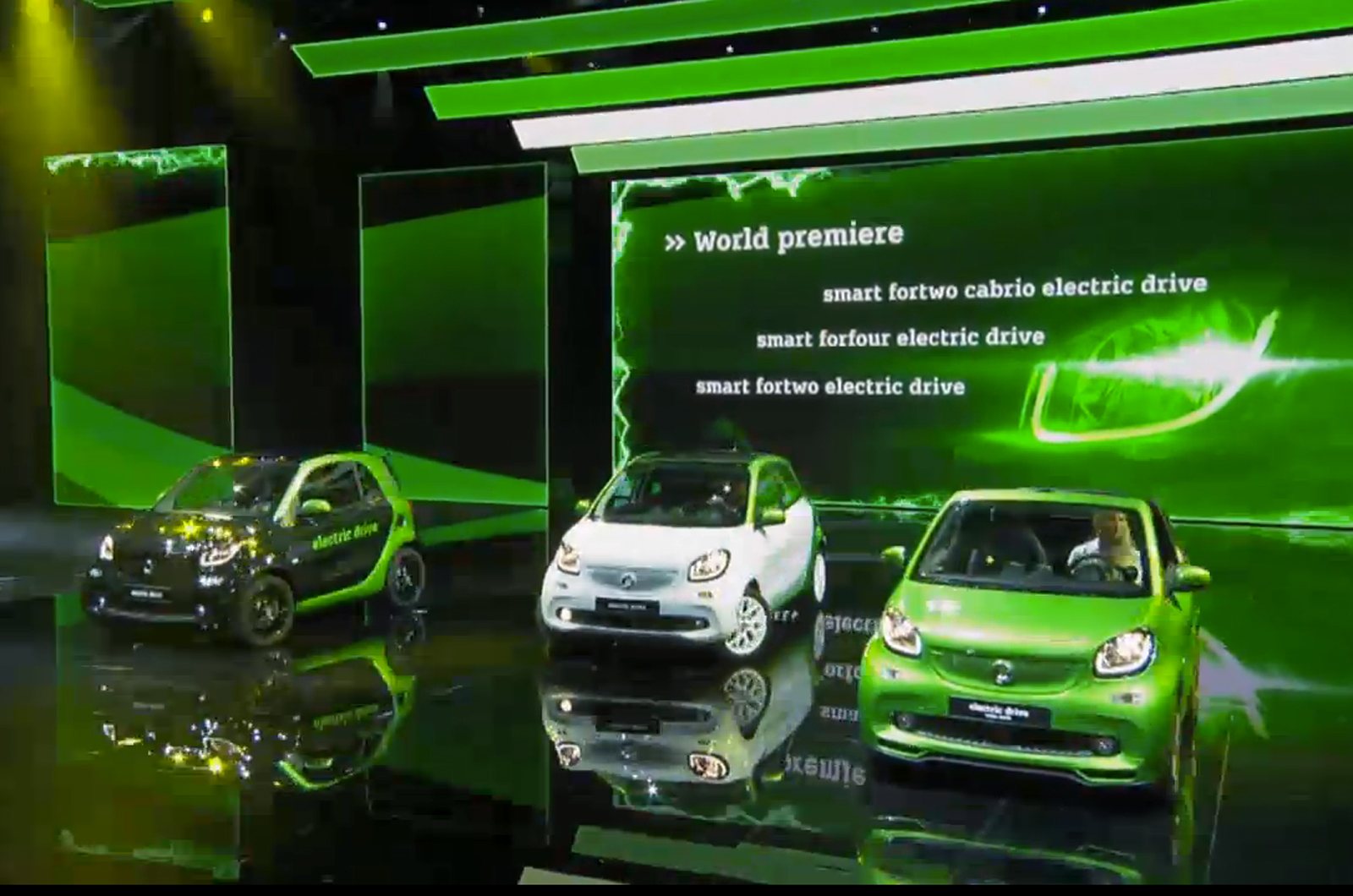 1012 - Jim Holder is hard at work over at Alfa Romeo: "Interview at Alfa, with new boss Reid Bigland combining well with Alfa Romeo's Europe, Middle East and Africa boss Fabrizio Curci to deliver an overview (no specifics) of an unstintingly rational business plan for the future. Both admit it's hard to look beyond the growing and profitable SUV markets for its next steps, but both also acknowledge that Alfa's history means it must be delicately steered into this bold new future.
The so-called Stelvio SUV - a BMW X3 rival - will be revealed at the LA motor show in November before going on sale early in 2017. Neither honcho would confirm it, but reading between the lines the chances are it will get bigger and smaller siblings in time."
1006 - The Volkswagen ID is still impressing our office-based team in the UK, Phill Tromans says: "I really like the look of the Volkswagen ID, and hope the production version keeps as closely as possible to the concept when it arrives in 2020. Golf-sized practicality with zero emissions and funky looks? Colour me interested. But I want the blue tyres to stay."
1001 - Another Renault has been revealed in Paris, this time the Koleos name has been revived, for a large SUV.
0958 - Adding to the EV hype around this year's show is Smart's newly revealed electric drive range. 
0953 - If you're already shouting "NO" at your screen to the last question, you may want to read our first drive of the new Micra - you can find it here.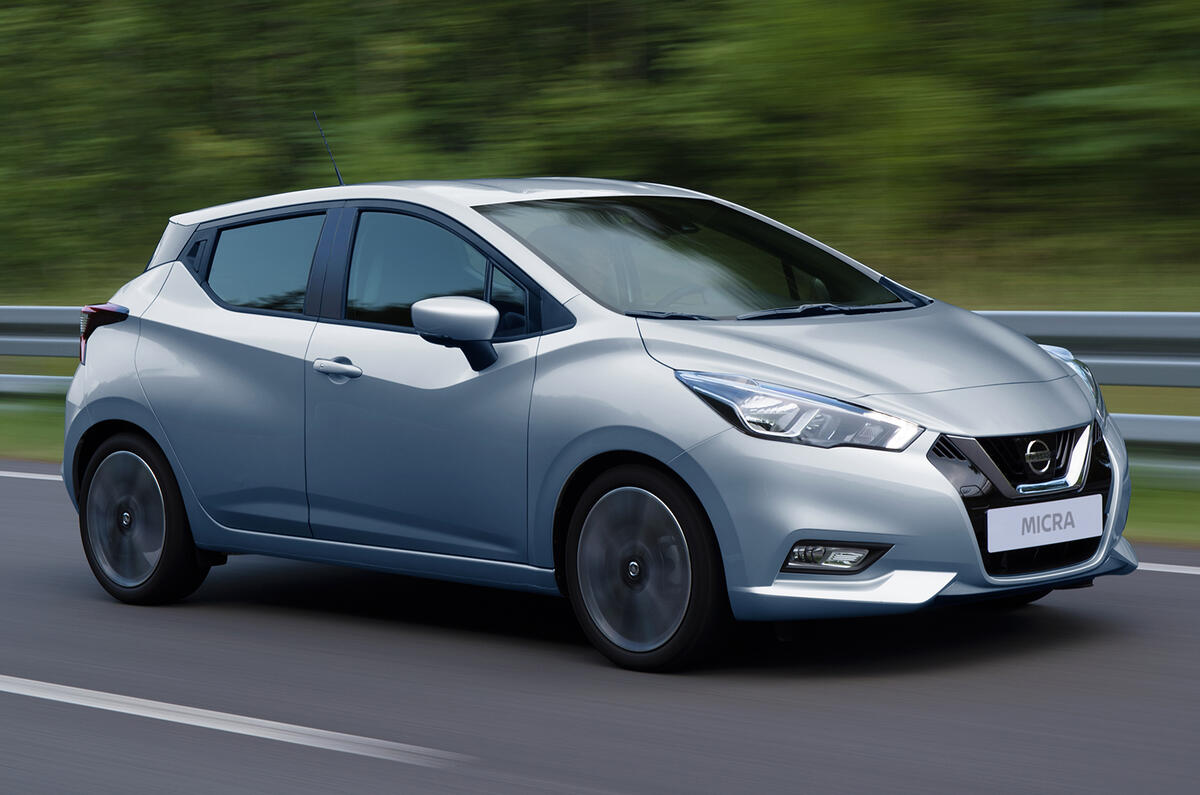 0946 - And the Micra is live, and vastly different from its predecessors - get your first look here. Do you think it has what it takes to de-throne the Ford Fiesta from its top-seller spot?
0942 - We're only a few minutes away from the Nissan Micra's official reveal, so keep an eye out on our Paris news homepage for official pictures and information.
0939 - The Hyundai RN30 concept has certainly made an impression this morning, particularly on Sam Sheehan: "Please, please, please Hyundai don't change the look of the i30N Plus when it's launched next year. The RN30 looks fantastic; it'd be a big shame if it the production model gets dulled down"
0934 - Darren Moss, one of our team in the UK, says: "We've seen so much from Paris already, but I reckon the star of the show was the first car to be unveiled - the Land Rover Discovery. It's such a huge car for the UK, and the fact that it will be built here is a source of pride for everyone involved. And, as editorial director Jim has proven, those seven seats are all usable for adults."
0926 - EVs have definitely been a major theme in this year's show - and one of the cars which started it all, the Renault Zoe, has been overhauled. Have a look at it here. 
0920 - The Mitsubishi GT PHEV concept has been revealed - take a look at the outlandish future model here.
0915 - Volkswagen describes the I.D. as being 'as revolutionary as the Beetle was seven decades ago and the first Golf was 40 years ago', which is one bold claim. The concept is even rear engined and rear wheel drive like the original Beetle. For VW to align the ID with such iconic models shows quite how game changing its expectations are for the model.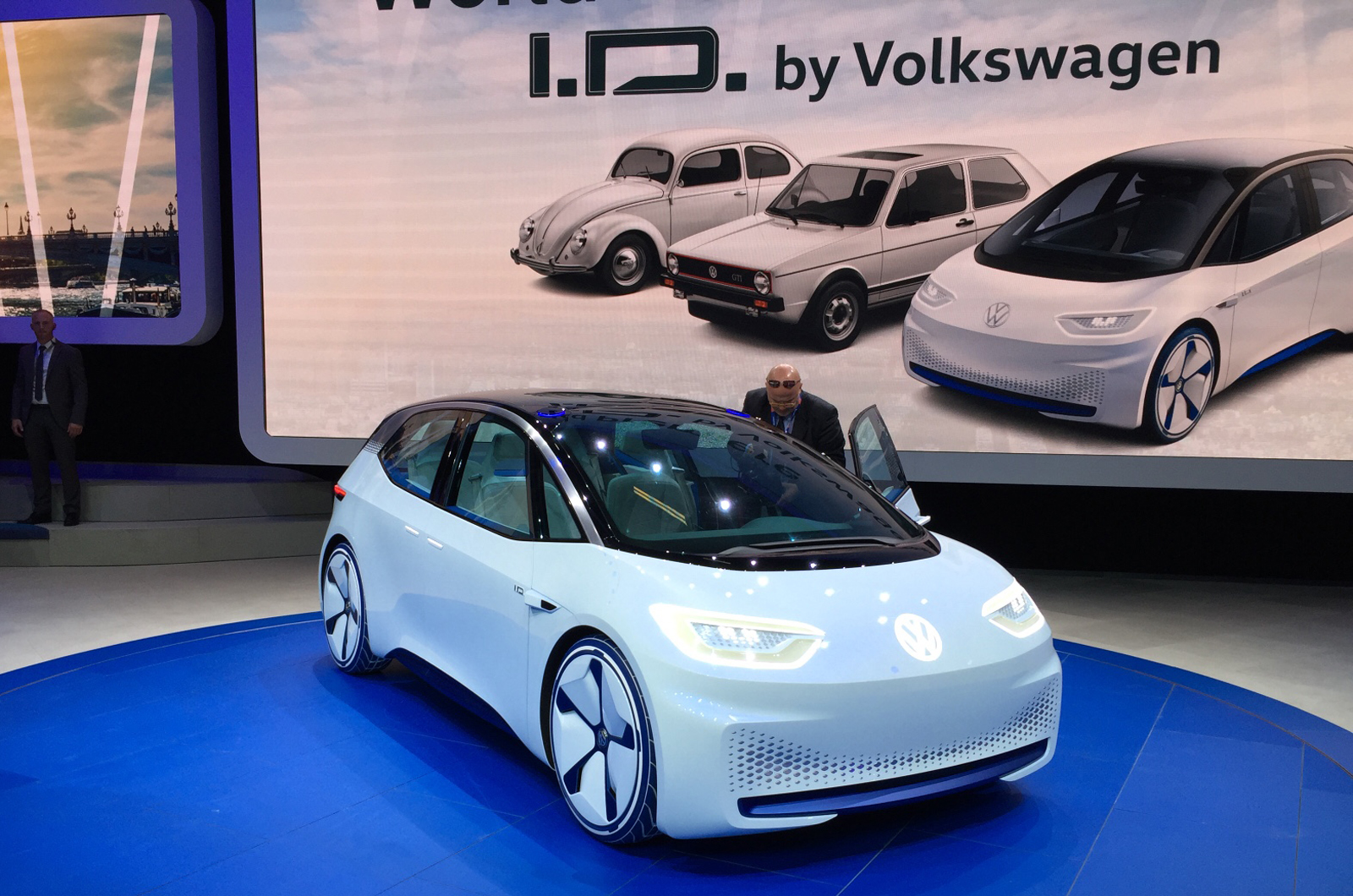 0909 - A little background information - since 1976, the Paris motor show has taken place every two years – the last one took place in 2014. The first show was in 1898, making it the first motor show in history, but there was a hiatus between 1938 and 1946 for the second world war. 
0905 - The Land Rover Discovery is still top of the pack amongst our readers - it's been our most-read story since an Australian Land Rover website leaked official pictures of the car.
0902 - Keep an eye on our homepage for two very different cars - the Ssangyong LIV-2 and Suzuki Ignis, both arriving in the next few minutes.
0859 - The Nürburgring's going to be busy in the next year - both Renault and Honda are chasing front-drive 'Ring records with the Megane RS and Civic Type R. Needless to say we'll be reporting the whole thing, popcorn and notebook in hand.
0855 - Remember, you can keep up with all the action on our Twitter, Facebook and Instagram feeds, so make sure to keep checking us across all of our media to get up-to-the-minute updates. Keep an eye on our homepage too, the reveals are coming in thick and fast!
0851 - Want a pickup truck but don't fancy a Nissan Navara? Renault's just revealed the Alaskan...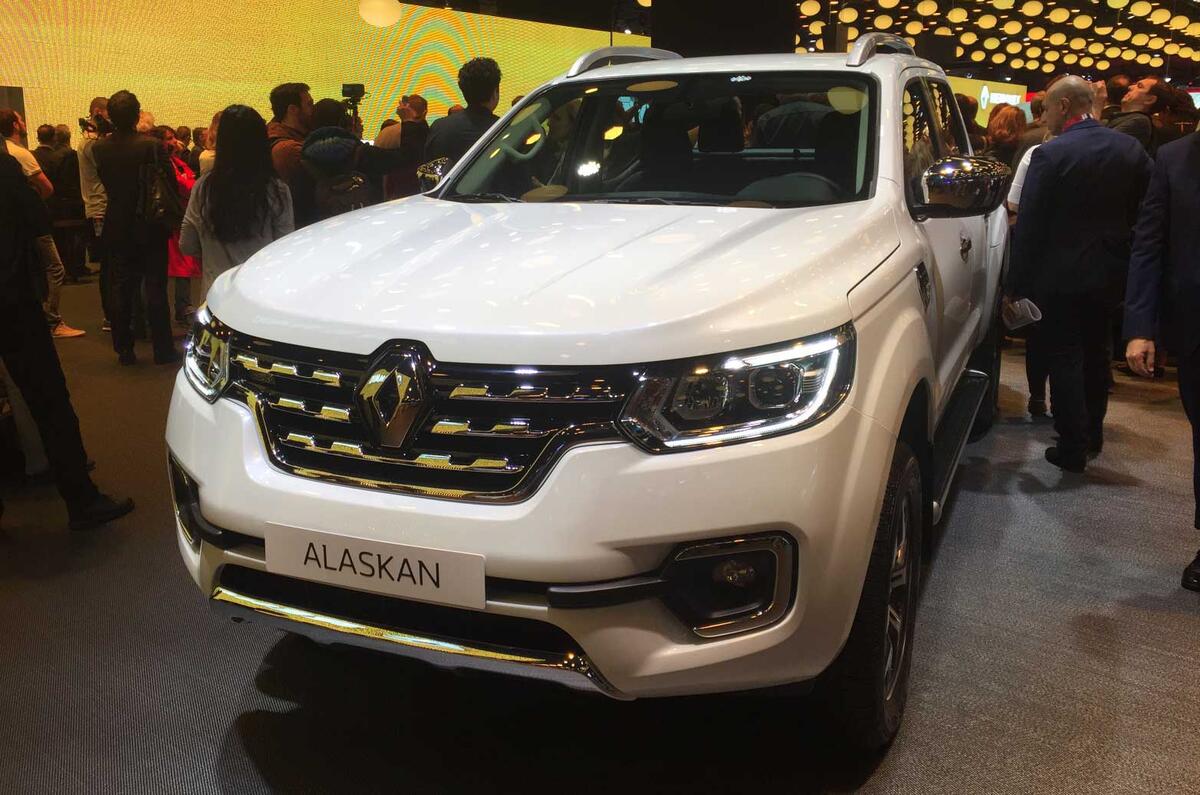 0847 - We don't just want to know our team's opinions on the show cars - tell us yours! What's been your favourite car of the show? Do you miss any of the brands which aren't present? Anything you particularly dislike? Let us know, or share any other Paris motor show opinions you may have at autocar@haymarket.com
0842 - Although that doesn't mean that Renualt has spared any sense of occasion over the Trezor's reveal...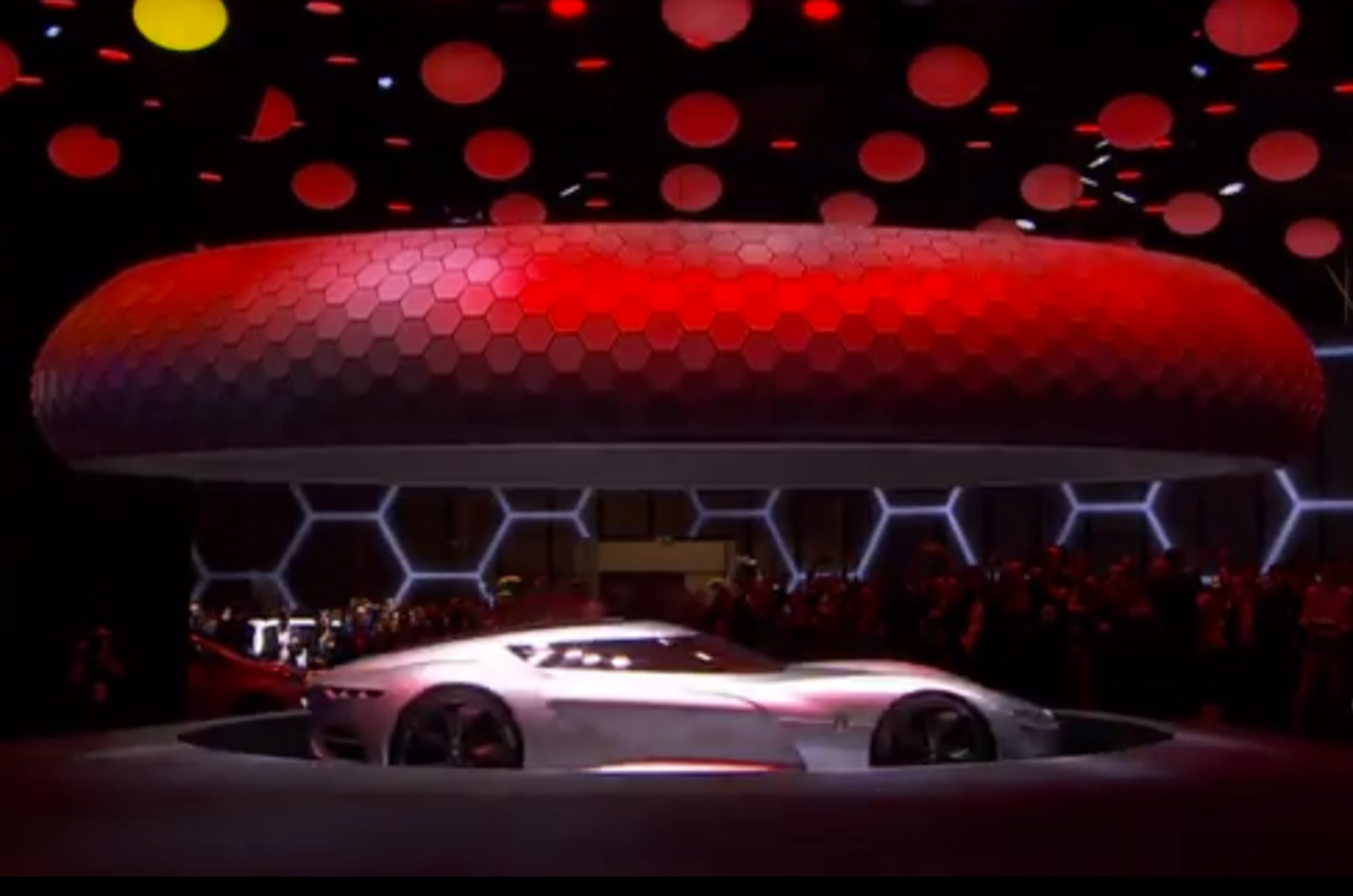 0839 - Meanwhile, Matt Burt's having some thoughts over at Renualt: "The new Renault Trezor concept is head-turning, but feels to me as if the new longer-range Zoe EV is bigger news for customers. I'm not alone in thinking that."
0835 - Andrew Frankel's been having quite a discussion at Mercedes: "Fascinating chat with Mercedes designer Stephan Lamm over by the Vision Mercedes Maybach 6 concept. It seems that Maybach is not yet ready to go it alone with a bespoke production model in the same way that its sister sub brand AMG has been able to develop its own cars. However this does not mean that none of what we can see on then concept will make it into production.
Expect therefore to see future Maybachs wearing that distinctive grille, seen as an essential component of the design language now being developed for the brand. Nor should you dismiss the ultra-slim strip headlamps as mere concept styling. 'We are really close with these headlights, especially those at the rear,' says Lamm.
As for the future of Maybach, anything is possible says Lamm. The Maybach name could be applied to a large coupe, a convertible, an SUV or even a smaller car so long as the core value of ultra luxury is retained."
0832 - It feels like we've writing about it for months (we have) but it's great to see the I.D. concept in the flesh. It must be annoying for the existing EV manufacturers which have paved the way for EVs for VW to get all this attention but it's exciting nonetheless. Here's hoping the brand stays true to its concept design which, I think, looks great.
0830 - Another story fresh from the keyboards of our correspondents - the facelifted Volkswagen e-Golf will make its debut in November of this year.
0826 - Seat's Nissan Juke-sized SUV has been confirmed as being named 'Arona'. The full story is coming soon, so keep an eye on our news homepage for the latest!
0820 - The wraps are off the Renault Trezor concept - you can get your first look at it here. There'll be more info added to our story - and all of our Paris motor show stories - as it becomes available. 
0815 - Rachel Burgess has taken a wander over to the Mercedes stand: "I know our editorial director Jim Holder has flagged it already, but the Maybach concept is head-turning in its gargantuan presence. So far, it's my stand-out from the show. Let's hope it heralds a new era of production Maybachs"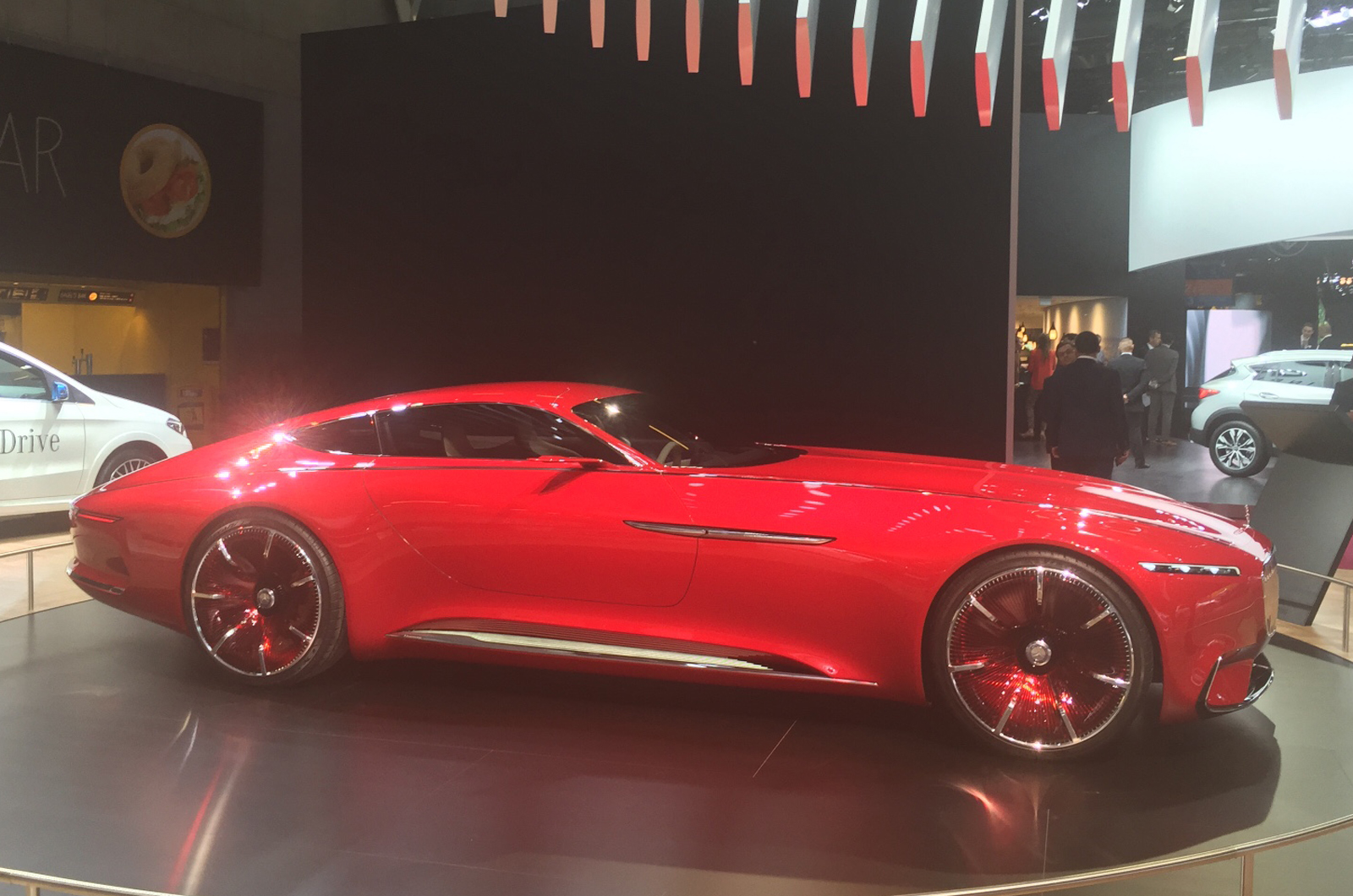 0808 - Stay tuned to Autocar for news on the LaFerrari Aperta - you don't want to miss it. In fact, it's currently running a very close second in our readers' favourite Twitter poll
0805 - At the last Paris motor show, Martin Winterkorn, the former VW Group CEO, warned EU legislators about piling pressure on carmakers to reduce CO2 emissions across the board. We all know what happened next...
0758 - Fresh news about the Honda Civic Type R concept, which, believe it or not, will have a large influence over the production model. 
0753 - The Alfa Romeo Giulia Veloce has taken the lead in our Paris motor show Autocar readers' favourite poll, ahead of the LaFerrari Aperta, Land Rover Discovery and Porsche Panamera. Vote here for your favourite!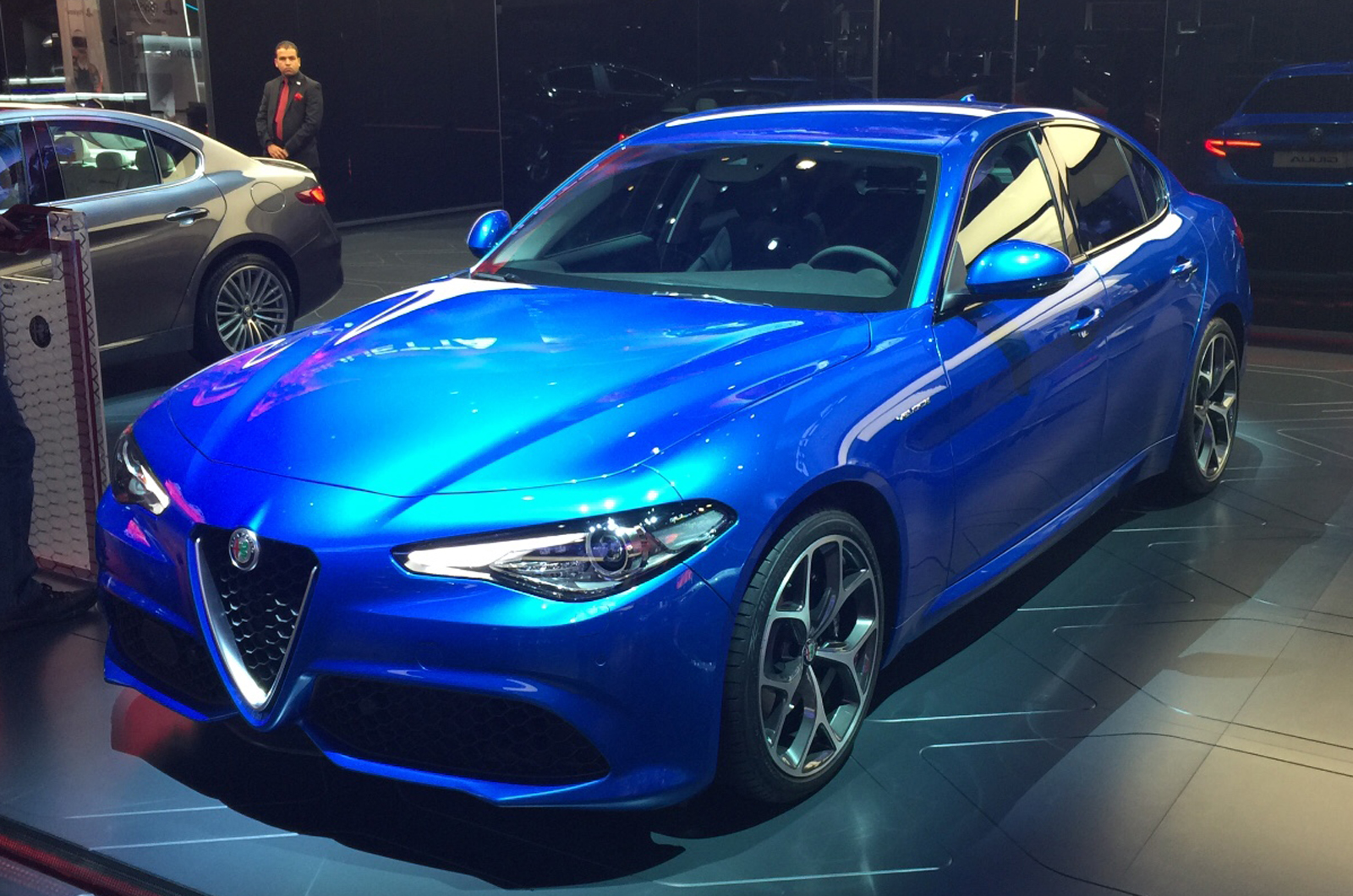 0751 - The last Paris motor show had 1,253,513 visitors, making it the most visited motor show in the world. Global media coverage means that the show's impact is felt all over the world, by millions upon millions of people. In the motoring calendar, despite the absences this year, it's one of the most important days for media and manufacturer alike. 
0746 - We've got a closer look at the Hyundai RN30 concept, complete with demonstrative race suit-clad gentleman.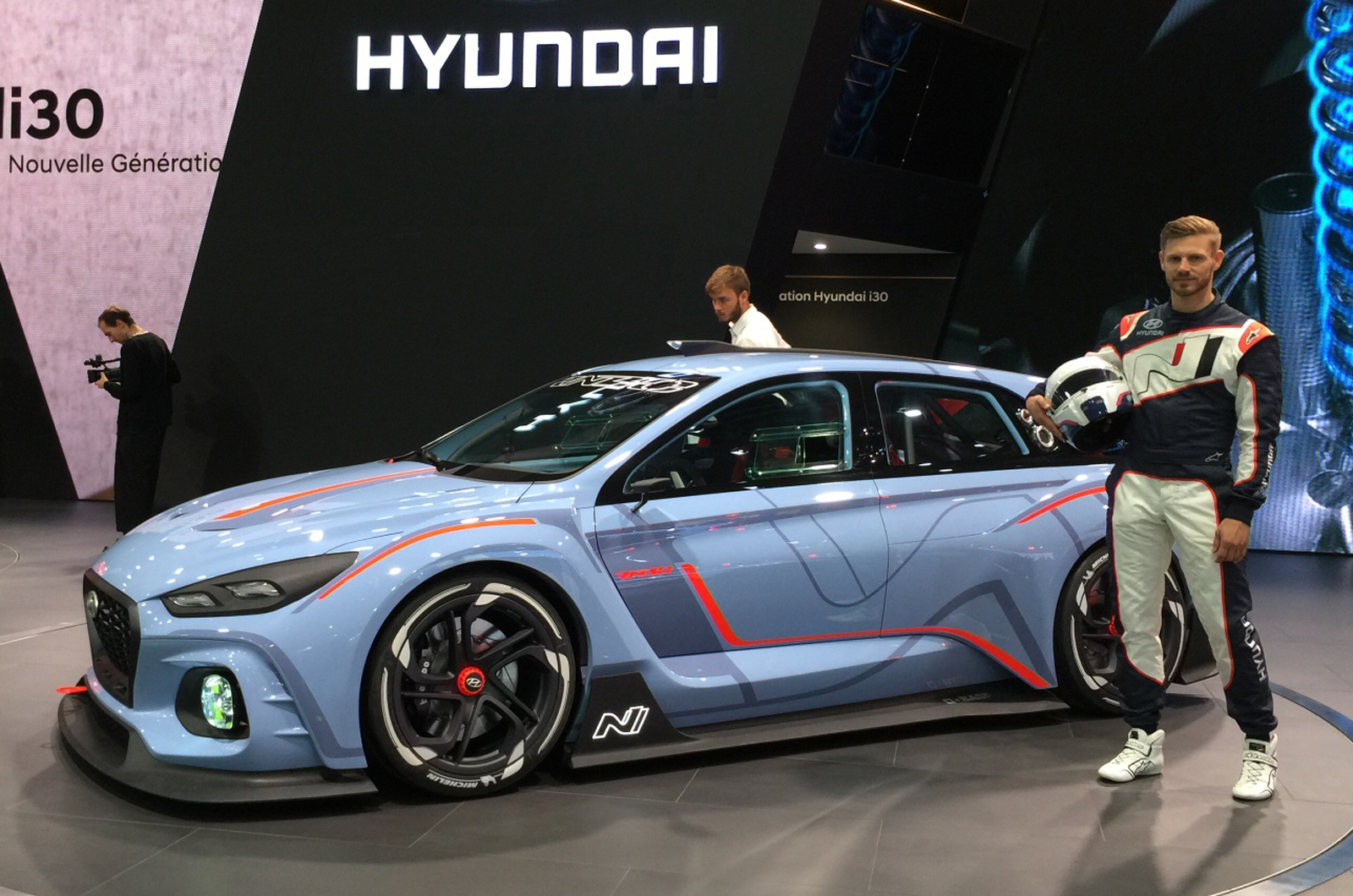 0739 PROMOTED - Seat is taking an innovative approach to its Paris Motor Show stand this year, using new technology to highlight its Barcelona heritage and vision for the future. The new Seat Ateca SUV will also feature prominently, including a new Ateca X-Perience concept. Autocar has partnered with Seat to host a live report featuring regular updates, photos and videos direct from their stand. To take a look, click here.
0734 - Just joining us now? Catch up on the show's biggest car, which was revealed yesterday in the Midlands in front of a Lego replica of Tower Bridge - the Land Rover Discovery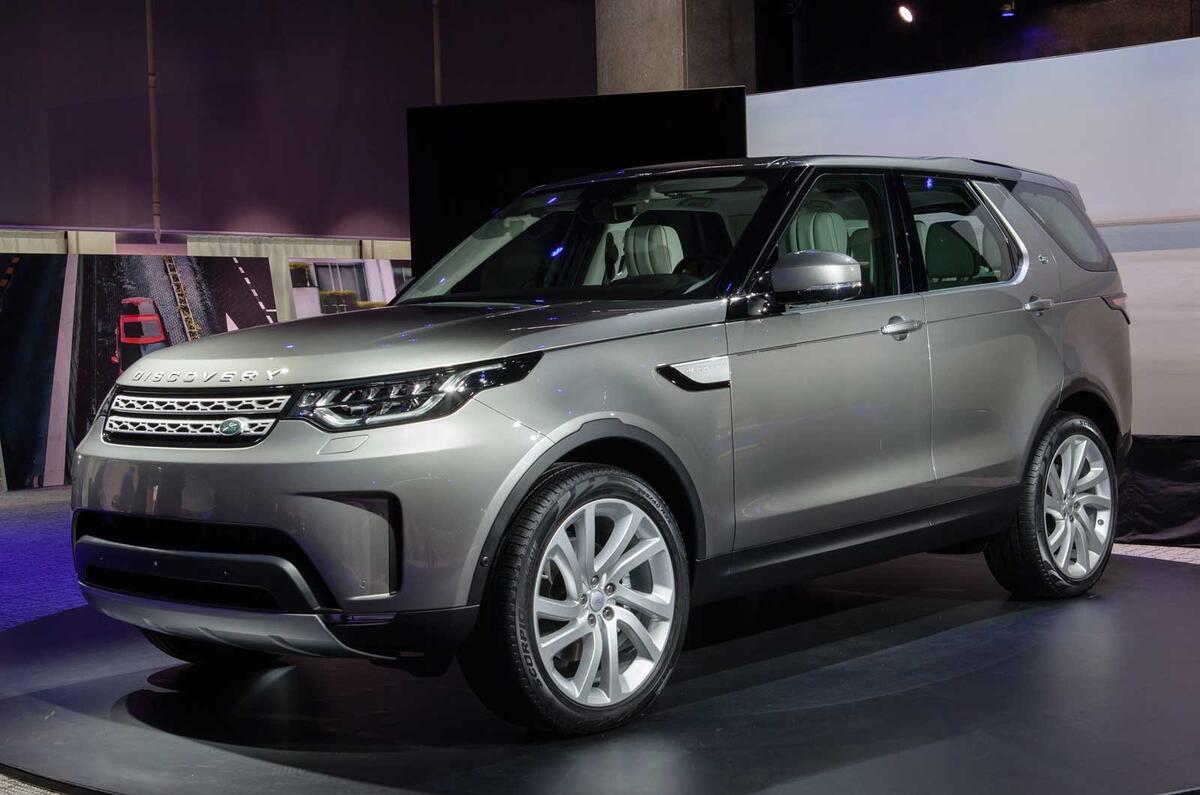 0730 - Richard Bremner's got some brand new information on the Suzuki Ignis: "If you remember the last Suzuki Ignis at all - born 2004, deleted here 2007 - it may not be entirely favourably, it's boxiness and stark interior rarely triggering 'want one' emotions. That should change with this cute newbie, whose appealing proportions, crisp styling, bold colour palette and trio of 'D' pillar indents give it real distinction. The indents reference an even older Suzuki, the rear engine 1977 SC100 Whizz kid carrying the same hallmark.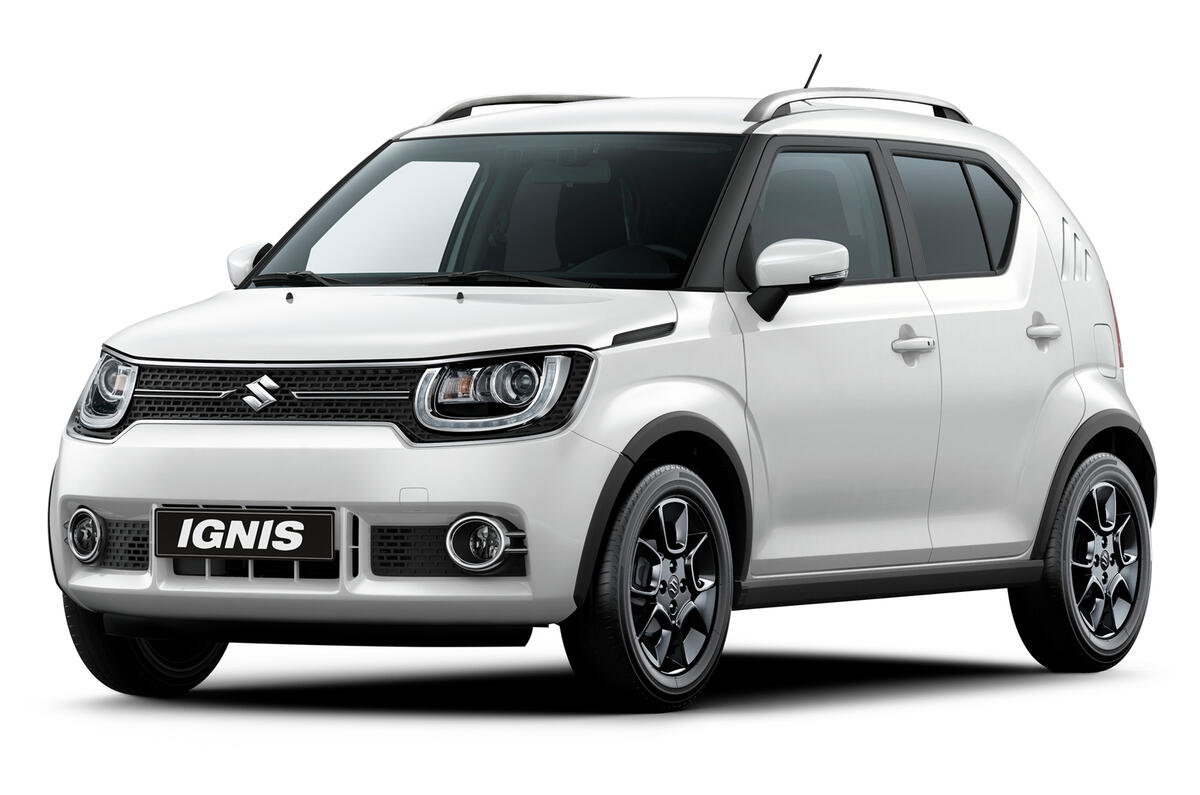 This new Ignis sits above the Celerio, although it isn't quite as big as a supermini. Rear room is good nonetheless. There's only one engine, the familiar 89bhp 1.2 Dualjet, but it can also be has as a mild-hybrid ISG version with unconfirmed Co2 emissions of 'way below 100g/km', says a spokesman. Four-wheel drive is also an option, termed 'auto', it's viscous coupling sending 90percent of the torque to the front axle most of the time. Personalisation options are plentiful, and suit this Ignis's style. Prices start from around  £10,500, and it's on sale from early January. It should do well."
0717 - Hyundai's really stepping up its motorsport game at this Paris motor show, with the Hyundai i20 WRC Challenger being revealed too. 
0711 - How much of the Hyundai RN30's outlandish styling will make it to the production i30 N? Our money is on not very much...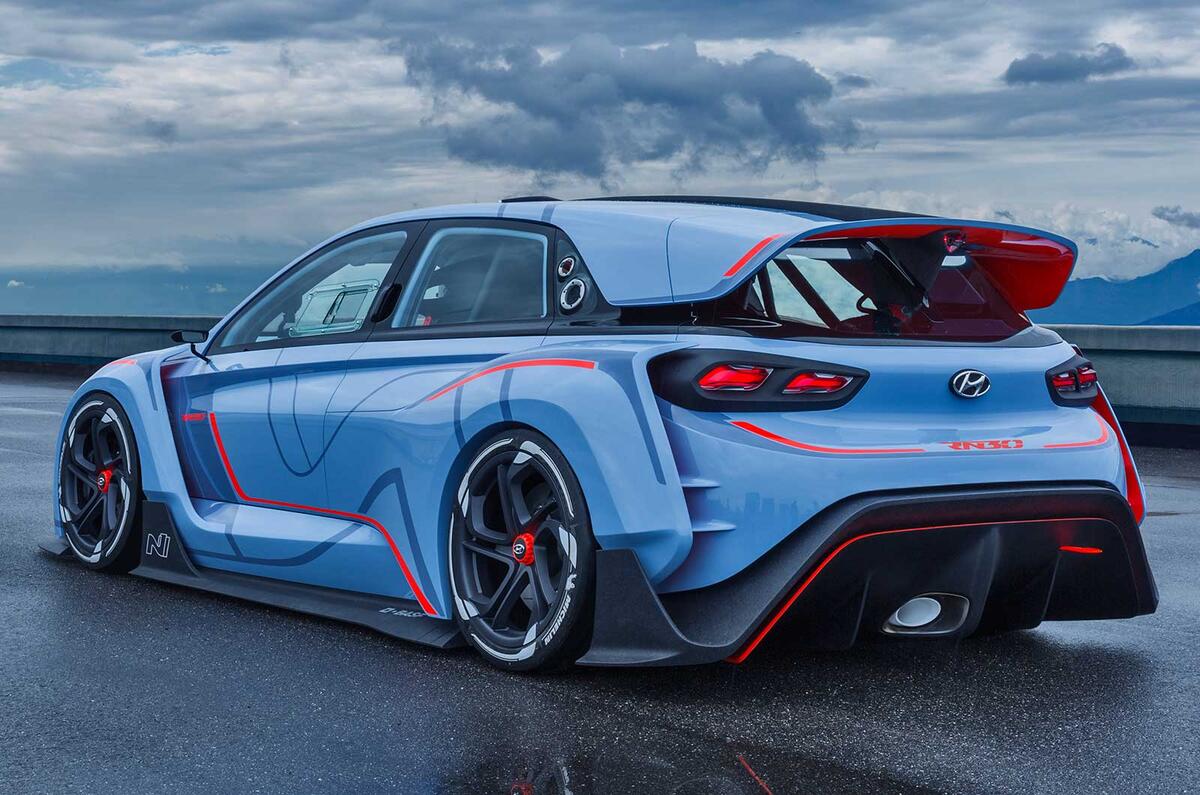 0705 - The latest reveals are coming in thick and fast - the Volkswagen ID being one of the latest. Read more on it here
0656 - Rachel's over at the Smart stand: "Smart has opted for a garish lime green accent colour to signify its new electric line-up. Or you could always go for the tasteful tailor made hot pink one behind..."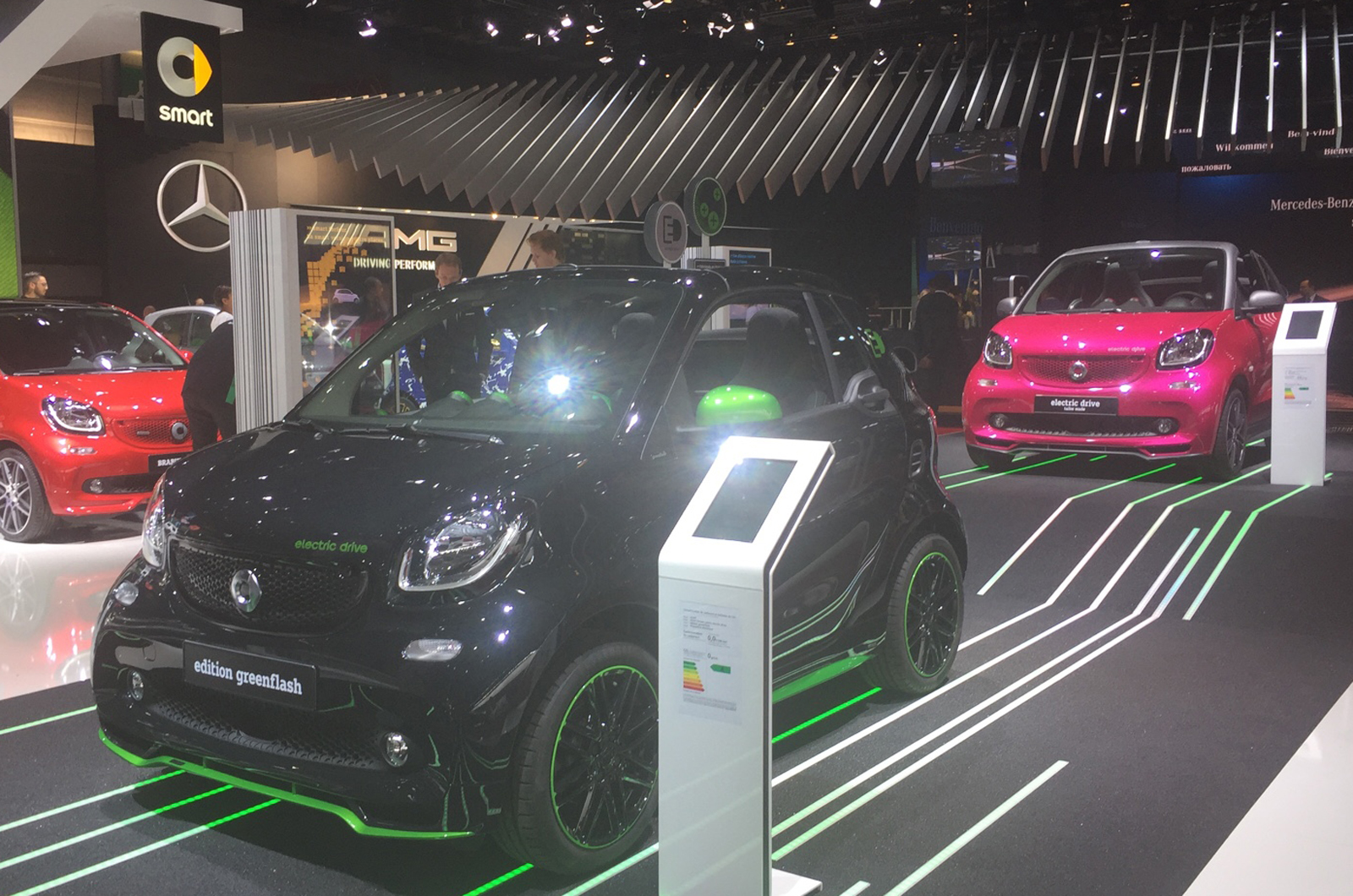 0650 - Jim's enamoured with Citroen's C-Xperience concept: "The Citroen C-Xperience invokes Citroen's past and looks to the future brilliantly. It's low, long and styluses, just like its CX forbear, and Who wouldn't to lounge in the bright, spacious interior?"
0644 - Jim Holder: "Just bumped into former Peugeot boss and now PSA Group's executive vice president of Europe Maxime Picat, who provides a timely reminder that the Paris motor show will attract over one million public visitors in the coming weeks. 'There are less manufacturers here perhaps, but the public reaction will keep this show at the top of the agenda,' he says, dismissing suggestions that the increasing number of absent exhibitors put its top tier status under threat."
0640 - Matt Burt's looking at some of the less well-known exhibitors at the show: "Fascinating cutaway by component supplier Aisin shows all the technical systems they create for auto industry, as indicated by the neon wording."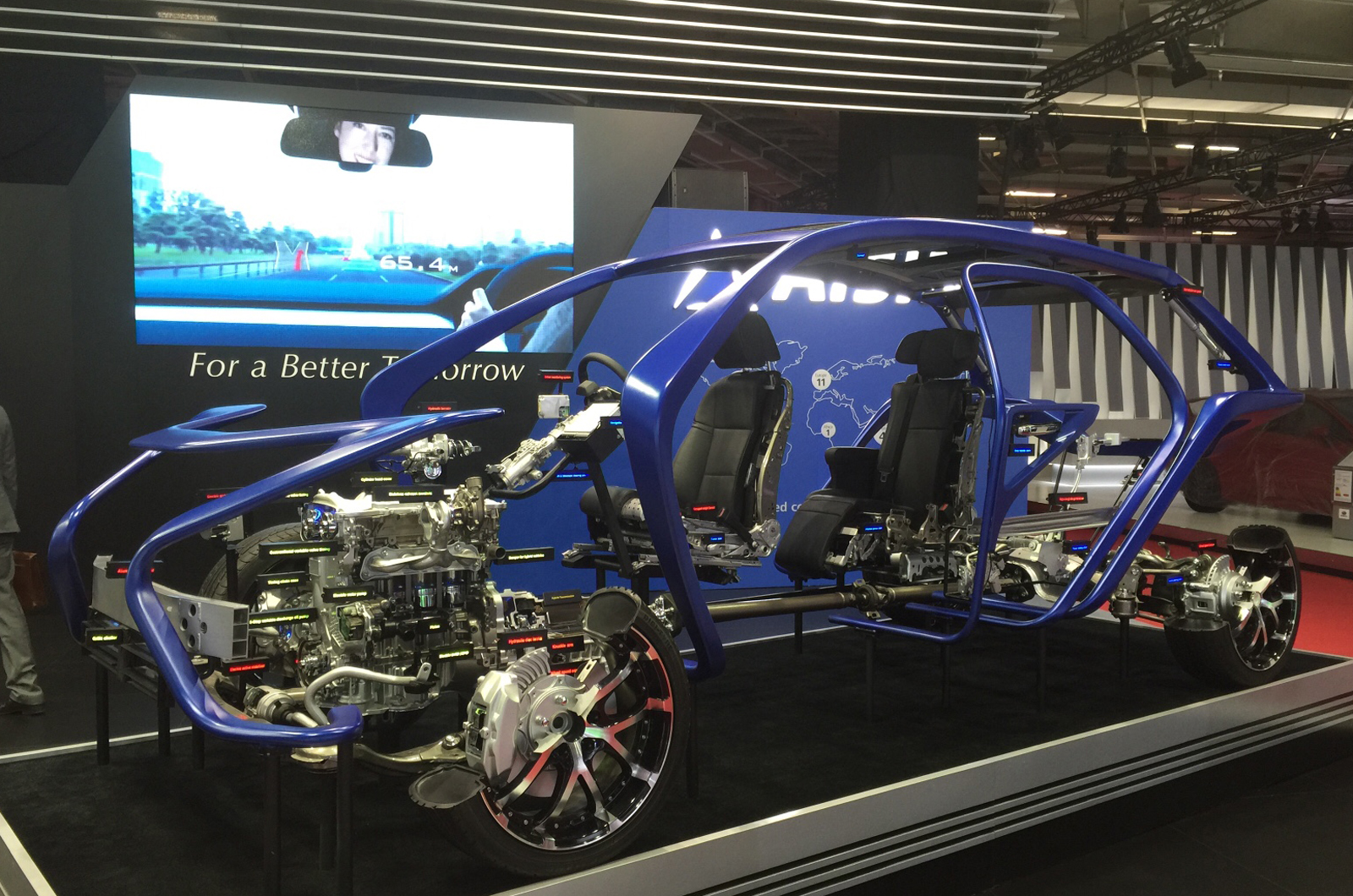 0634 - Jim Holder found Suzuki: "Easy to forget how cars have grown in line with safety protection over the years. To the left, the new Suzuki Ignis, to the right the 1977 Suzuki Cervo - or SC100 as it was called in Europe (or, brilliantly, Whizzkid in UK. Four seat superminis both. But which is more desirable?"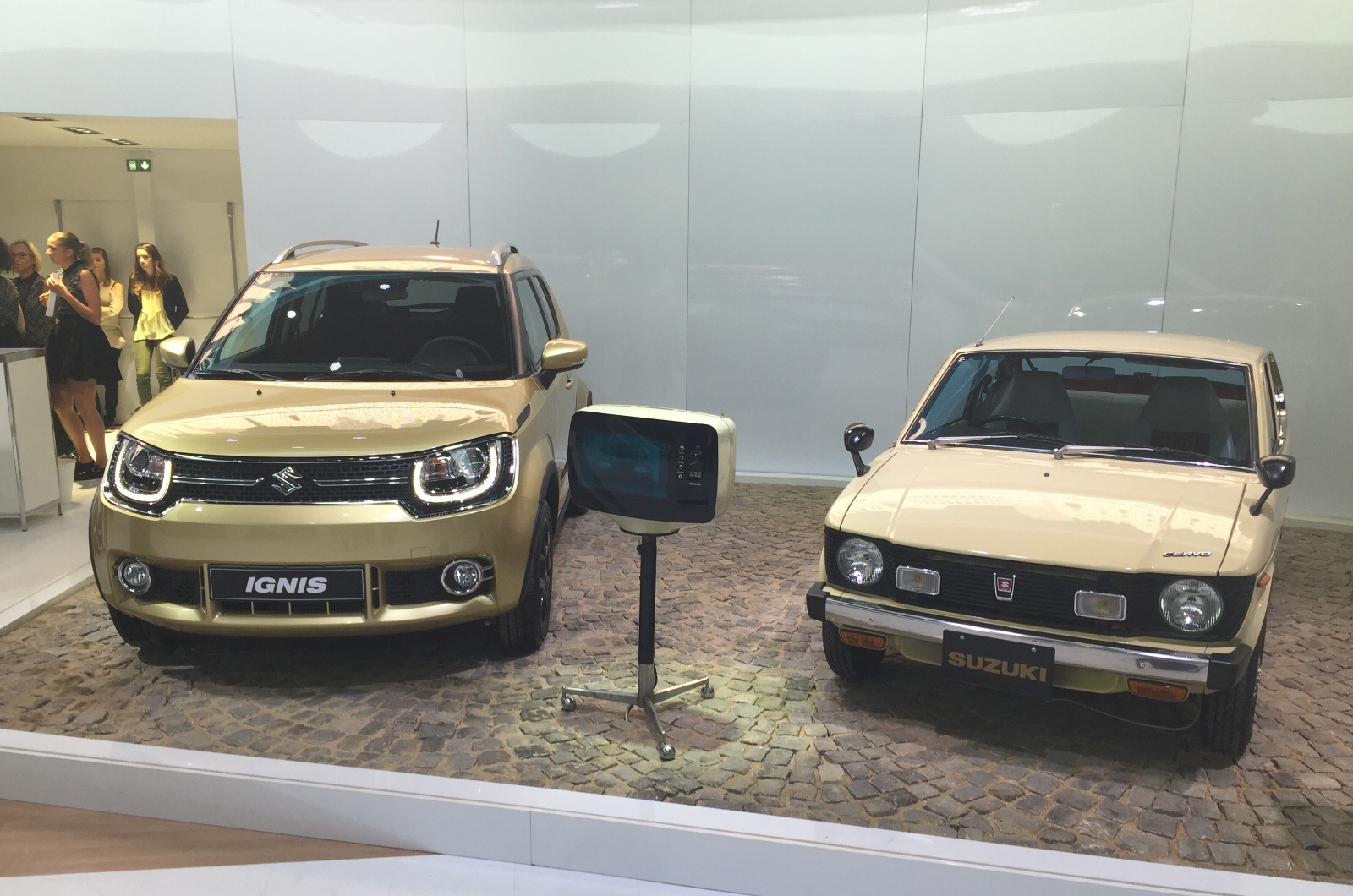 0628 - Rachel's impressed by Renault's tactic of keeping things fresh: "Renault has taken the tactic of leaving covers on all of their cars. SURPRISE! It's an entirely new range. It's not really. Two exciting things coming from the brand today on its home turf: a new Zoe with nearly double the miles range and a sports car design concept. Hopeful that design boss Laurens can der Acker would have worked his magic."
0625 - Matt Burt is getting deep at Volkswagen "Volkswagen is urging us to 'Think New' at this year's Paris motor show. Hollow slogan or firmly held mission statement? Jim Holder's opinion piece on Dieselgate has it nailed, I think."
0622 - Rachel Burgess reserves her most lukewarm praise for the Peugeot 5008: "Opinion was mixed among my peers on the looks of the new 5008. I'm not convinced but it's a definite improvement on the old MPV styling."
0620 - Jim Holder wishes he'd brought his sunglasses for the Skoda stand: "My eyes! My eyes! How to grab attention when you revealed your car weeks ago? Grab the paint pot marked day-glo yellow. Hope they only lift the sheet up sporadically during the day or we'll all have sunspots by the close of play."
0617 - Motor shows offer a reminder of Audi and VW Group's ownership of bike brand Ducati. I think more could be done to emphasise the link between the brands. Perhaps we'll hear more of that today.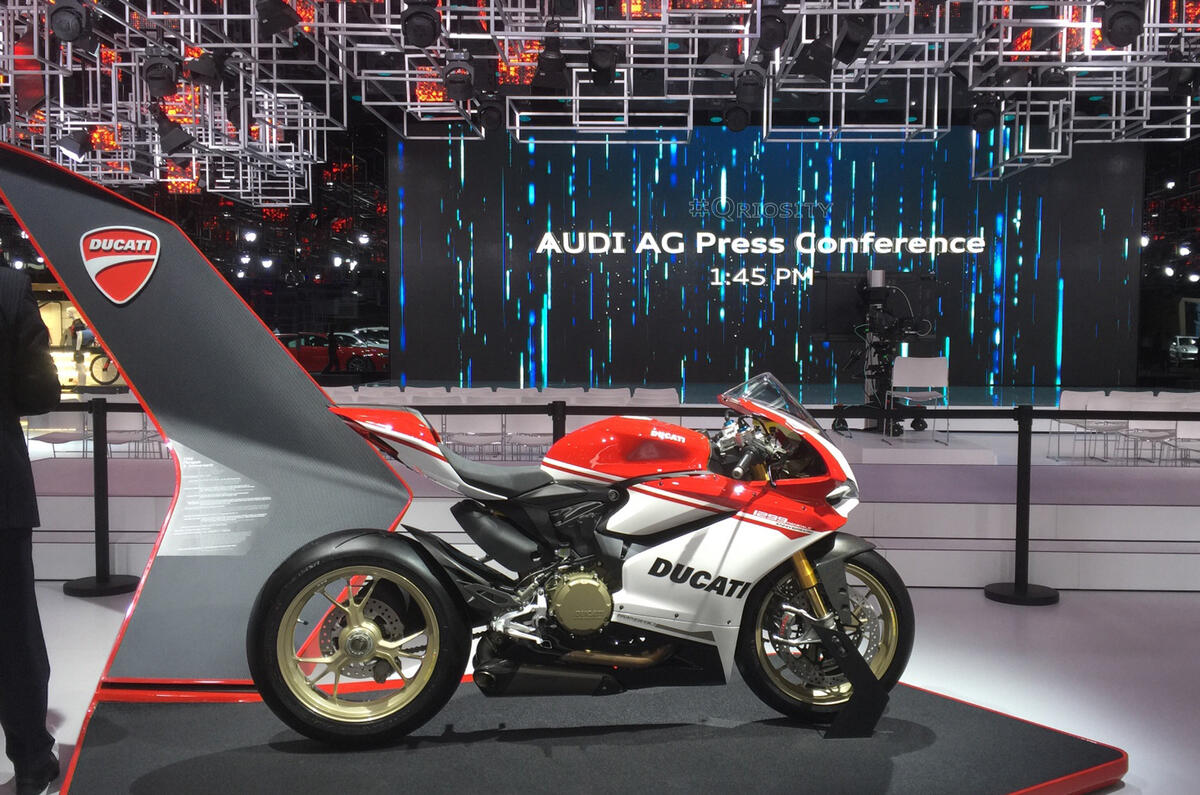 0613 - Rachel's also bemused by the last-minute spruce-up: "You can see Paris is ready for the motor show... #stillcleaning"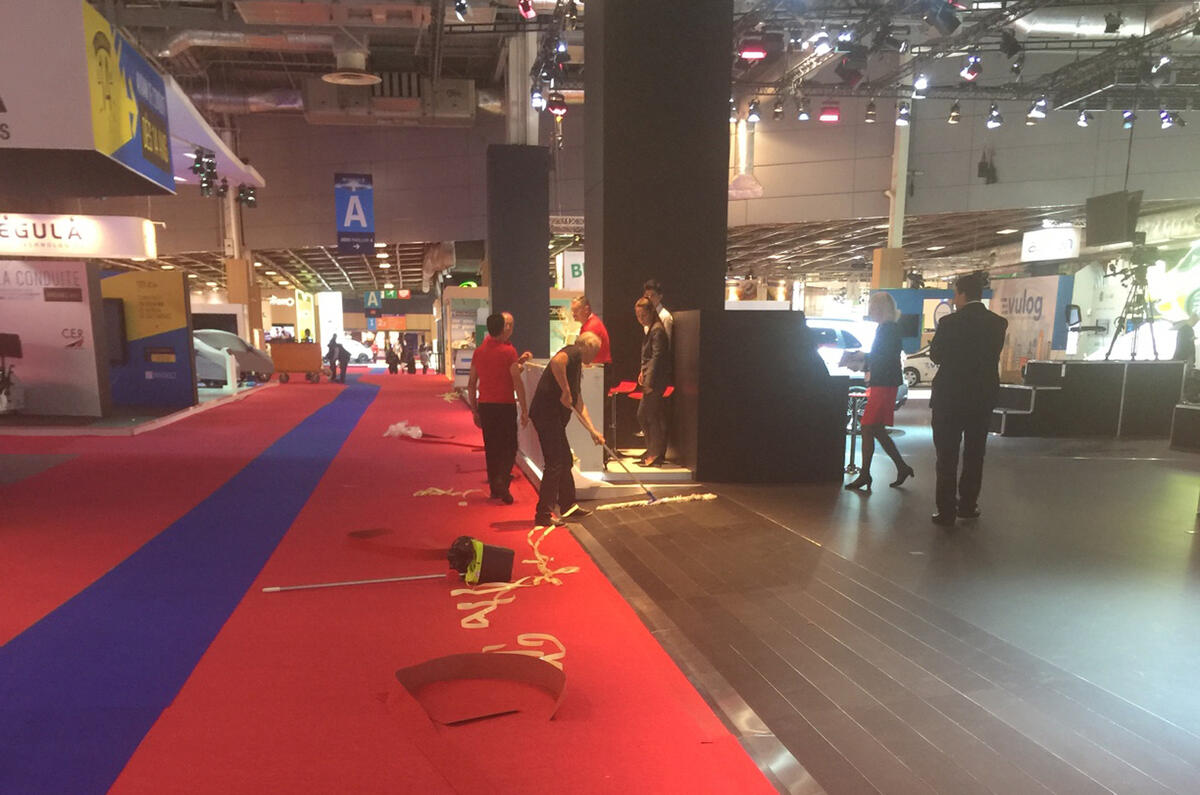 0608 - They may hide them, but we know, says Matt Burt: "Dust sheets with electric plugs sneaking out from under them are a regular sight at motor shows these days, and give the game away a little. Under here is Porsche's star turn - the Panamera Hybrid."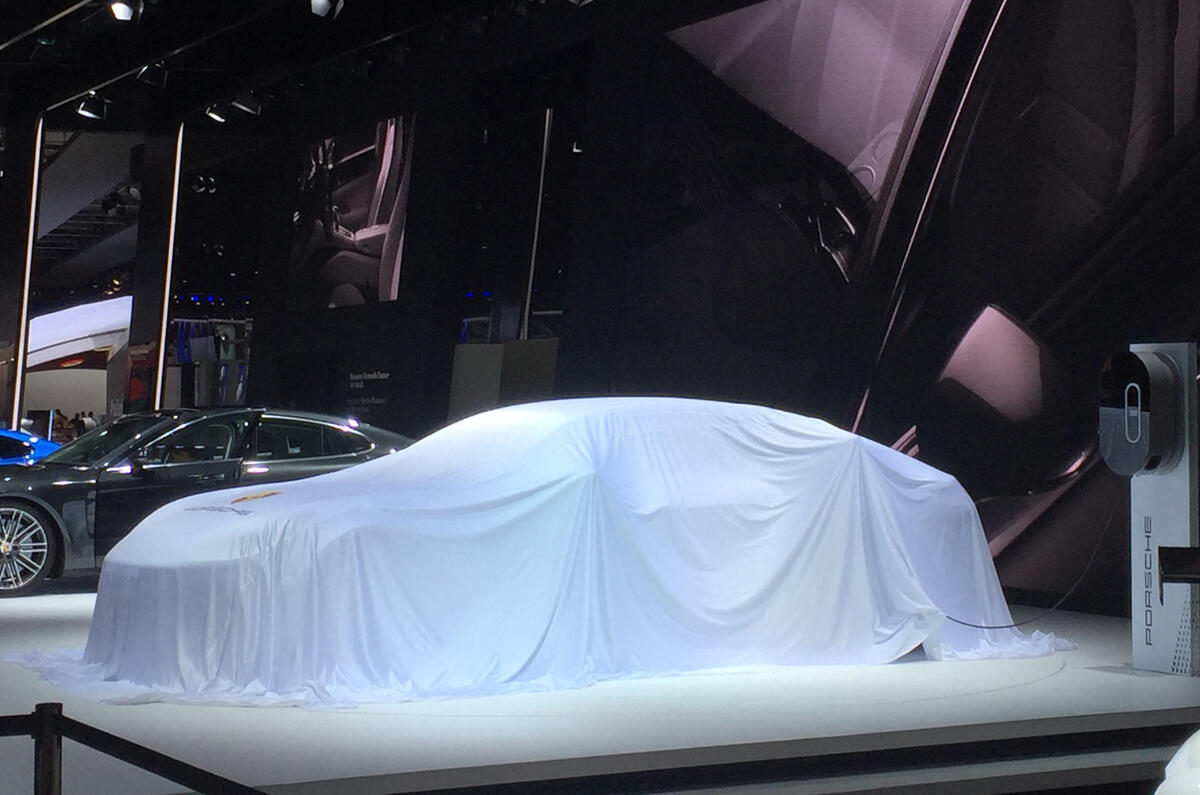 0605 - Rachel's lurking around the Kia stand now: "Same applies to Kia with its Rio. NB matching man does not come with car."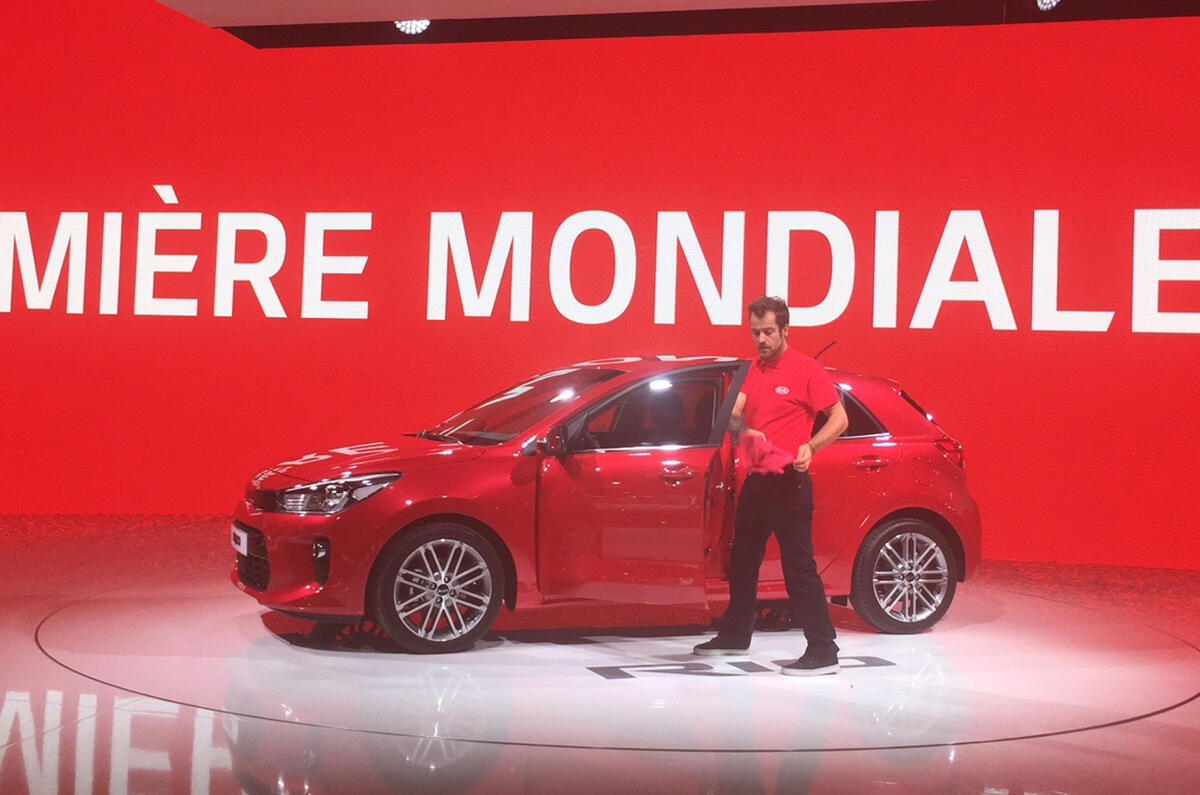 0603 - Matt Burt's feeling smug about his handily-placed hotel: "Reading of my colleague's traffic woes with a knowing nod from past experience. I took the Metro from my hotel near Rue de Bac to Porte de Versaille where the show is located. Simple 10min trip - and more time to sniff around the show stands while they are quiet.
0600 - Meanwhile, The Vision Mercedes-Maybach concept has caught Jim Holder's eye: "It's not strictly a new reveal but this is my first chance to look round the Maybach concept on the (currently empty) Mercedes stand. It's a triumph of a design - big and encoding yet oozing elegance. Can't wait to see what lessons can be applied to production vehicles."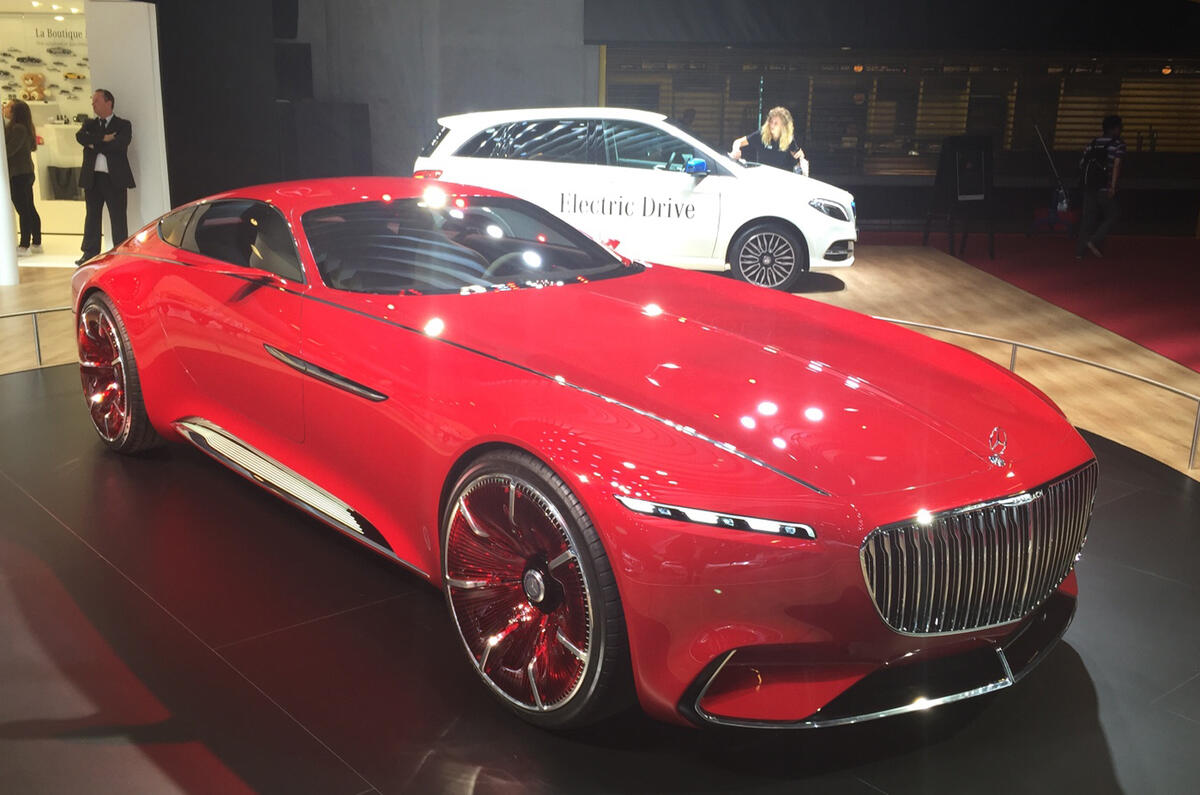 0555 - Another concept gets our news editor's scrutiny: "In a few hours this place will be heaving with people, taking a look at Mitsubishi's futuristic GT concept. It's pretty much been confirmed that it will become a production car, but I suspect one notably toned down..."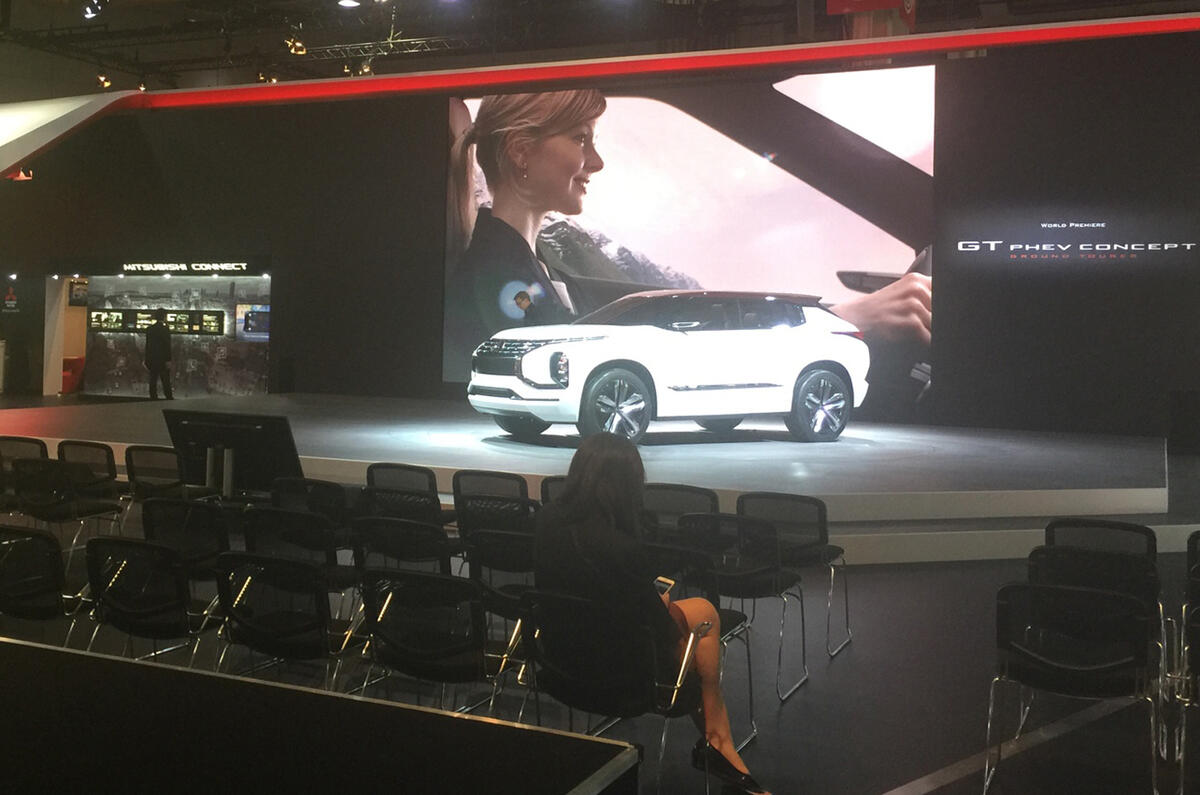 0549 - Rachel's also got plenty to say about the Type R concept, even with its wetsuit cover on: "For now, this is all we can see of the Type R. I can confirm it has an absurd spoiler and red-rimmed alloys."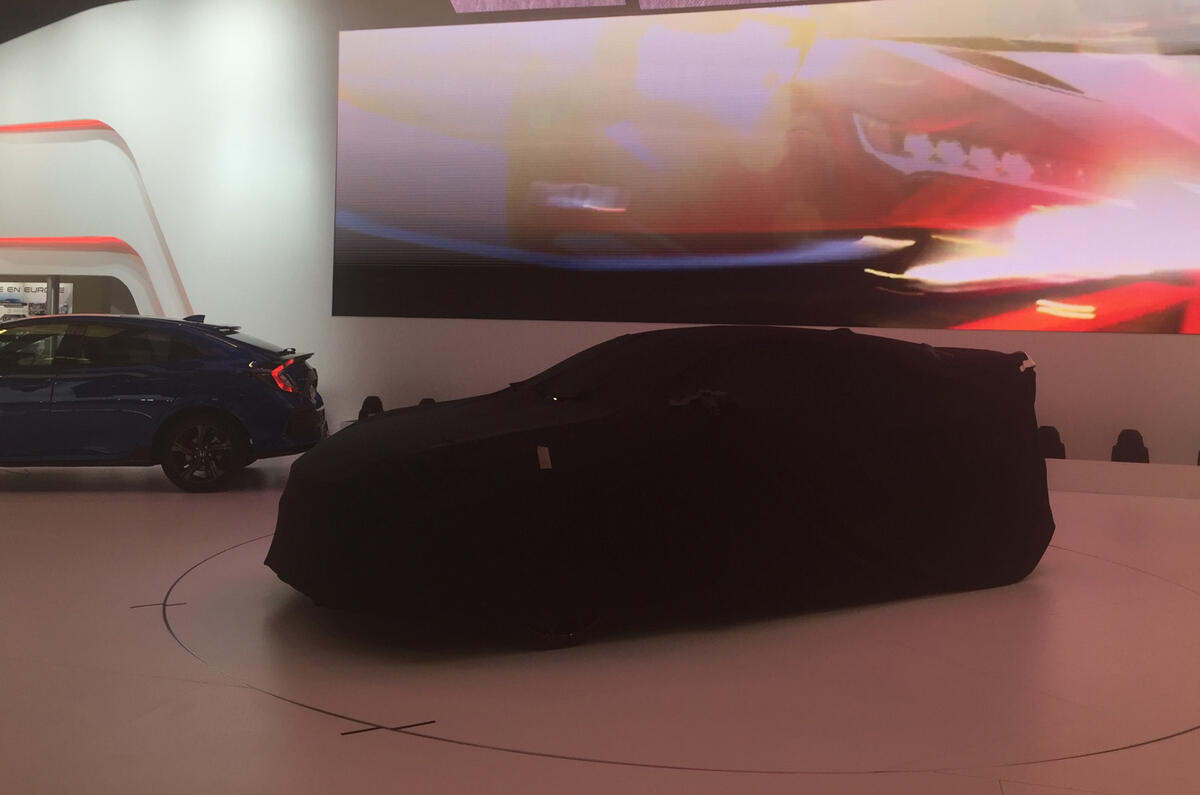 0545 - Meanwhile, Rachel Burgess is eyeing up the new Honda Civic: "Having only seen the new Civic in red before, I'm even less convinced of the design lines in white... but Honda reckons this car will appeal to a younger generation, something its predecessor failed to do."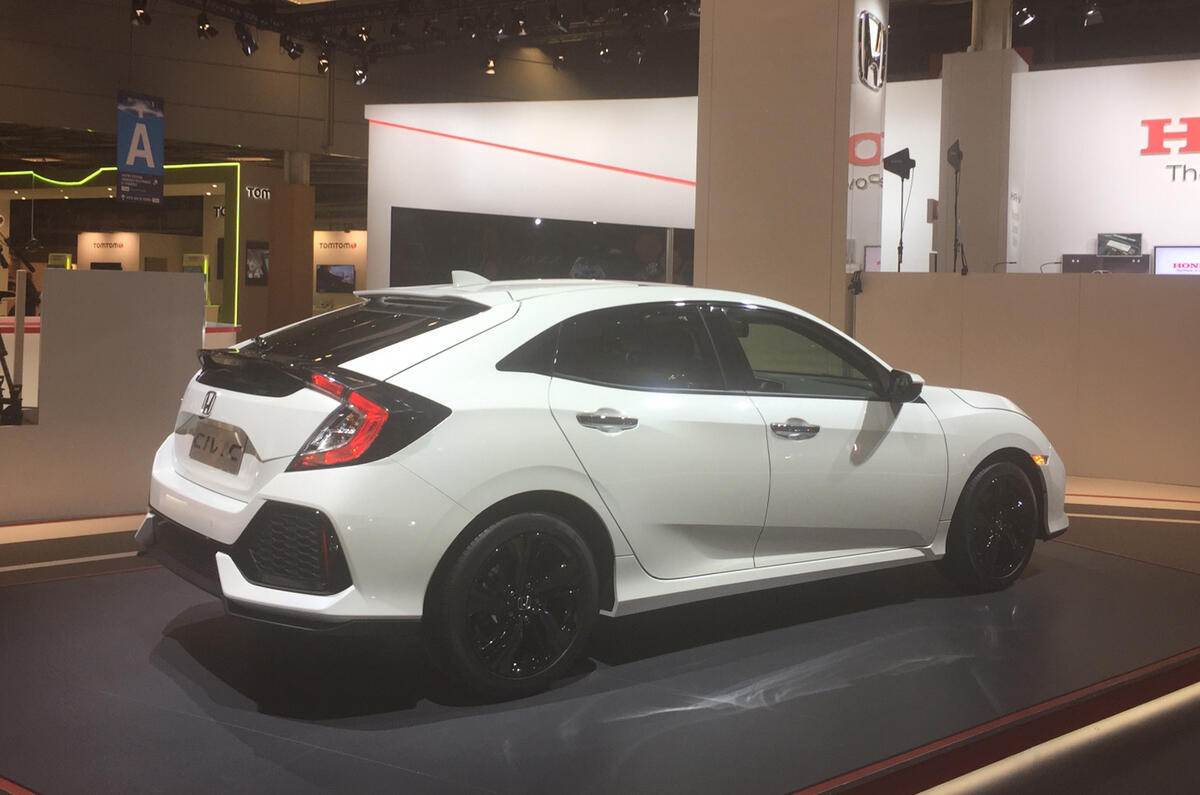 0543 - Jim Holder is experiencing Paris's famous traffic woes - "Even at this time of the morning Paris is gridlocked with traffic. Either we're all motor show bound or they don't know that there's a motor show - including surprise new Civic Type R concept - to see. These folk need to get a shuffle on or we'll have to redirect to Geneva for the rumoured reveal of the Mercedes hypercar next March...
0541 - Our most recent and exciting story is the Honda Civic Type R concept. Get your first look at it here, and let us know your thoughts.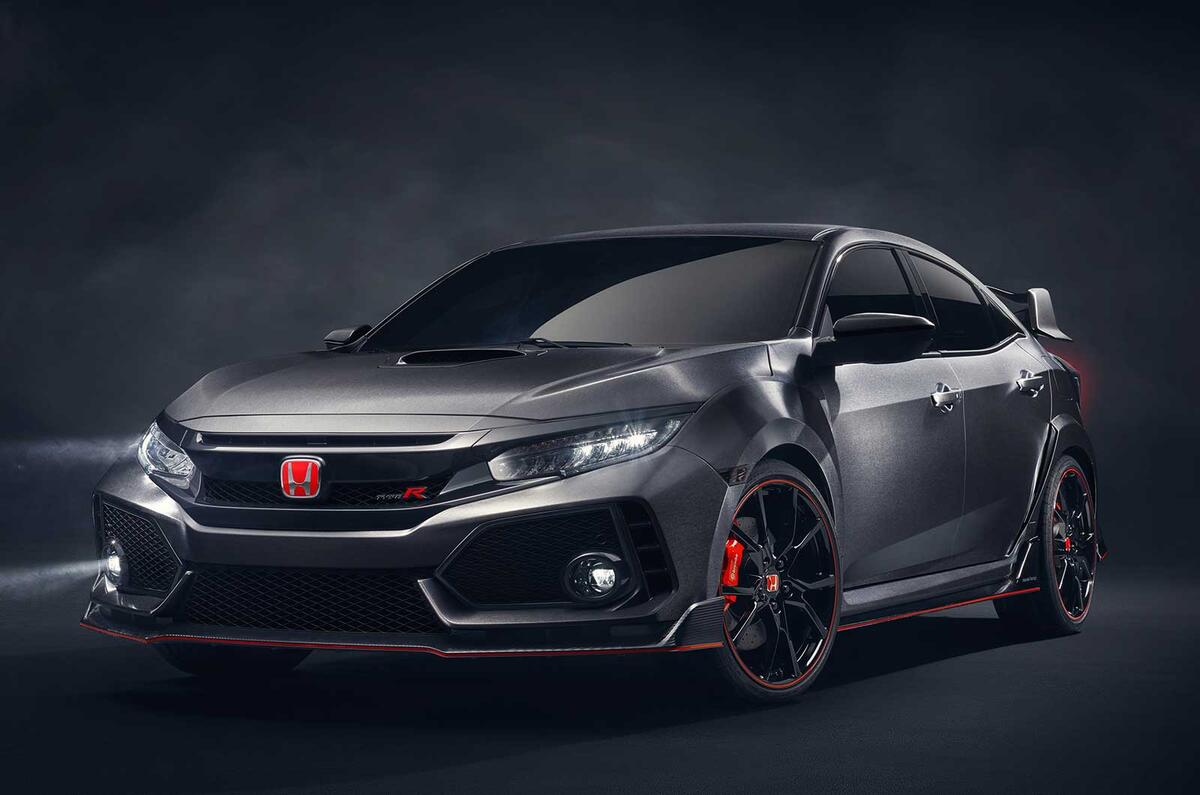 0537 - Ahead of the last Paris motor show we were looking forward to seeing the Mazda MX-5, Ssangyong Tivoli, Suzuki Vitara, Jaguar XE and Land Rover Discovery Sport – now, we've enjoyed all five cars on long term test, so the cars you'll see today and tomorrow could very well be on the Autocar fleet in the coming months. 
0534 - Remember, you can keep up with all the action on our Twitter, Facebook and Instagram feeds, so make sure to keep checking us across all of our media to get up-to-the-minute updates. Keep refreshing this page for all the action too, of course.
0530 - We're back! The UK team is in position for today's events at the Paris motor show, and the team over in Paris will be bringing you the latest very shortly. 
2100 - We're signing off here in the Autocar offices, that rounds things up for the evening before the Paris motor show. We've seen the Land Rover Discovery, Volkswagen ID concept and even had a breaking news story about what promises to be one of the most exciting upcoming Mercedes cars of recent years. Catch us bright and early tomorrow morning for the opening day of the Paris motor show, when the action resumes.
2059 - It's not just Mark who's recognised JLR's Lego effort: "Here's the JLR board getting the Guiness World Record certificate."
2053 - ...As well as their Lego skills: "Want to know how many bricks were in the giant Lego structure of Tower Bridge used to help unveil the new Land Rover Discovery? Of course you do: 5,805,846. Now which poor bugger is going to have to dismantle it?"
2051 - Mark's impressed by Land Rover's claims: "Specifically on the new Discovery, Speth said the new All Terrain Response Control system in the Discovery made the new car "unstoppable" in tough conditions. It also has "best in class towing capability" and a precise on-road drive thanks to its Range Rover Sport-derived suspension."
2046 - Mark Tisshaw's reflecting on tonight's proceedings: "In his speech before the Discovery reveal, JLR boss Ralf Speth said that demand had never been stronger for the company's products. "We make special, iconic vehicles. They are classless."
2040 - ...Although that's not stopping Land Rover from further publicising it: "The Discovery reveal really is everywhere. I've even had a blooming text message about it. How'd they get my number?!"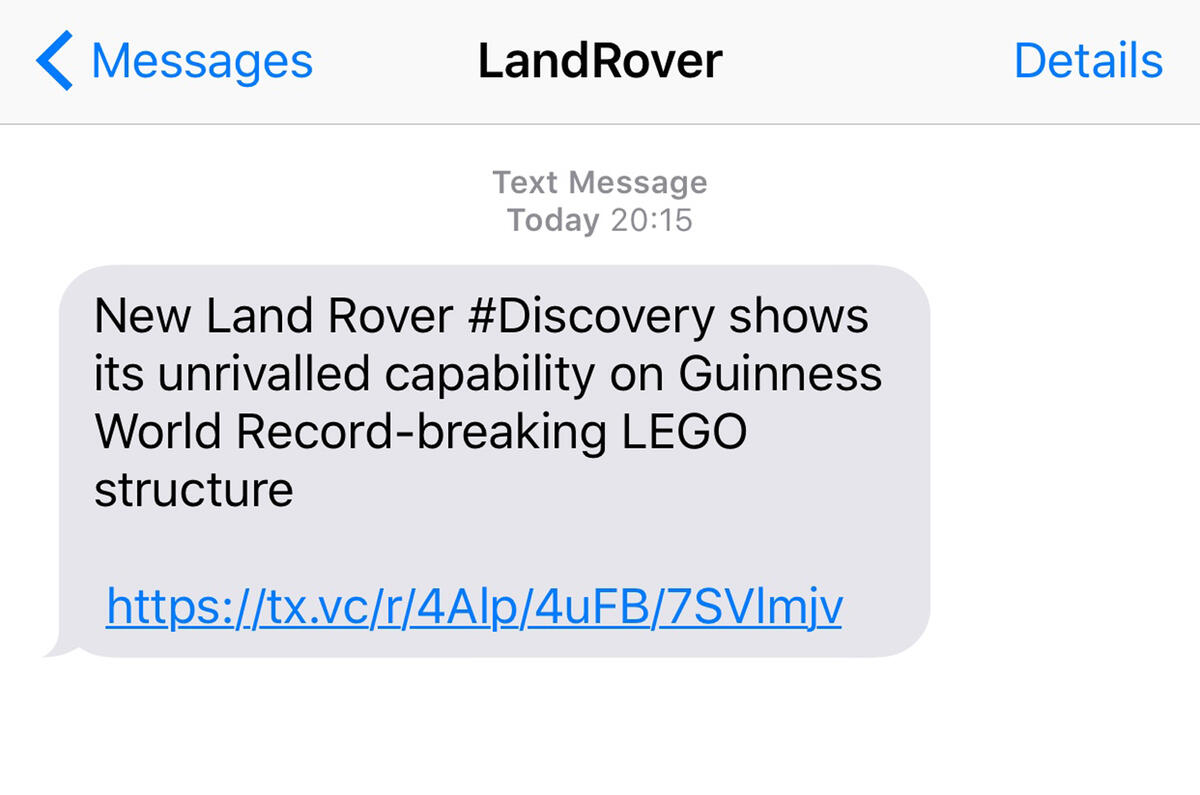 2039 - And the action is done, says Mark Tisshaw at the Land Rover launch: "Well, that was a bit more dramatic than the usual covers off job, wasn't it? Us automotive media might scoff at such dramatic set pieces JLR uses to reveal their cars, but they have vast reach beyond the traditional motoring press. Every other person at the event is a celebrity, and this is exactly the kind of stunt that will get you and your new product onto the lucrative Daily Mail homepage."
2038 - Mark's not impressed by the celebrity guest: "Thought Bear Grylls was tough? He arrived here in a t-shirt, but I've just seen him put a coat on now his part in the discovery reveal is done. And it's not even that cold. Bah."
2036 - Mark Tisshaw: "It's all happening at the new Discovery reveal. Not only has Bear Grylls abseiled out of a helicopter to put the past brick in the world's largest Lego structure (of Tower Bridge), now Sir Ben Ainslie has just towed a full size replica of his Americas Cup boat in the new Discovery. Bit different to a simple covers off job."
2034 - We just can't keep our eyes - or cameras - off the Lamborghini Centenario roadster. 
2032 - Despite this, the Renault design boss has promised that the next concept car in Renault's design cycle will be "a more responsible car" than the Tresor. The next concept is due next year.
2031 - Meanwhile in Paris, Laurens van den Acker has explained why the new Tresor concept has such a dramatic shape: "It is a statement of beauty. I wanted the kind of car I would put my bedroom wall when I was seven years old."
2030 - Jim Holder says even SUVs, especially when concepts, can give hypercars trouble: "The biggest stir is inevitably around the Lambo but intriguingly the Seat Ateca concept runs it second. It feels like Seat may finally blossom with the Ateca, and that there is a hunger for the brand's upward curve to keep momentum"
2029 - Renault design boss Laurens van den Acker has spoken about the challenge of anticipating customer design when it comes to design trends: "What customers say that they need and what they actually buy is often quite different. It is often difficult to know what people really want. For example, if you go to Beijing, with the congestion and smog, you would think the ideal car would be a small EV like a Twizy, but if you ask people on the street there what kind of car they desire, they often say 'the biggest SUV I can afford'."
2028 - Land Rover has brought along Bear Grylls to unveil the new Discovery. He's on message, talking up the toughness and family friendly usability.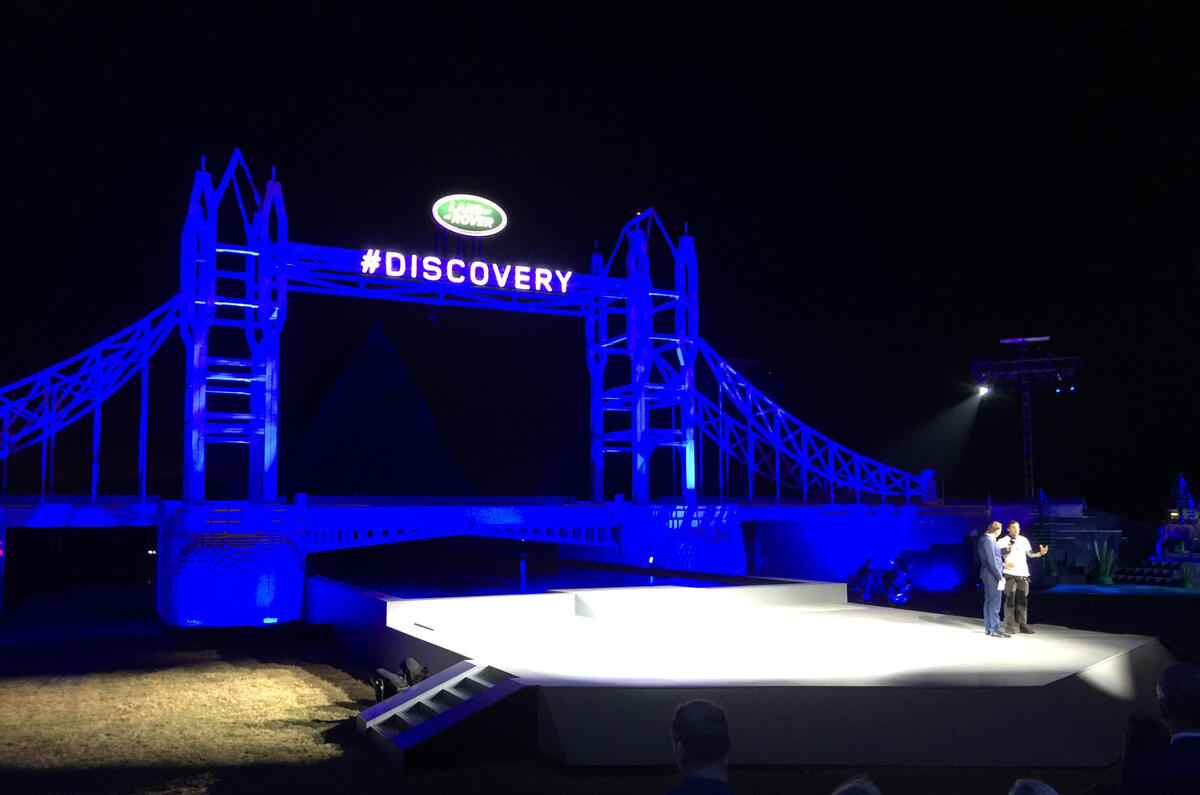 2024 - Of course, all of VW Group's greatest are here tonight - including the Centenario roadster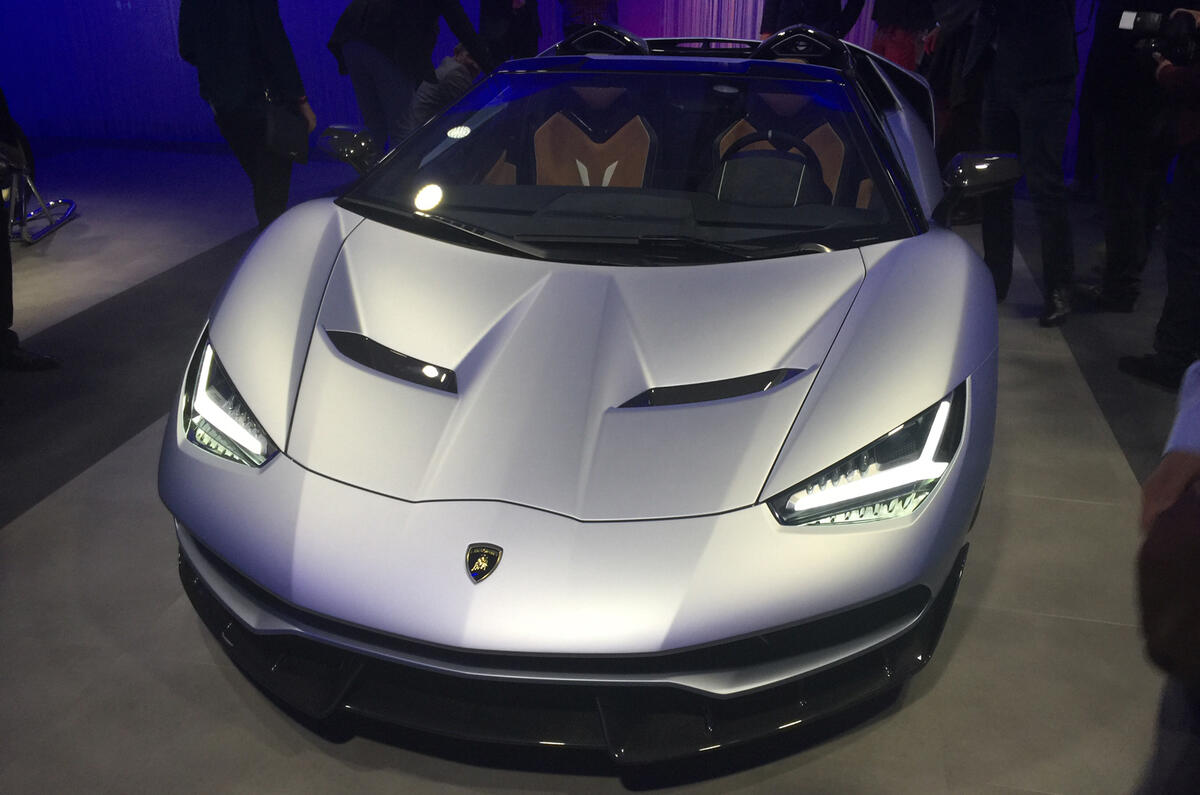 2021 - Land Rover is also showing off its back catalogue of Discovery models tonight, perhaps to emphasise the model remains tough despite its plush new look.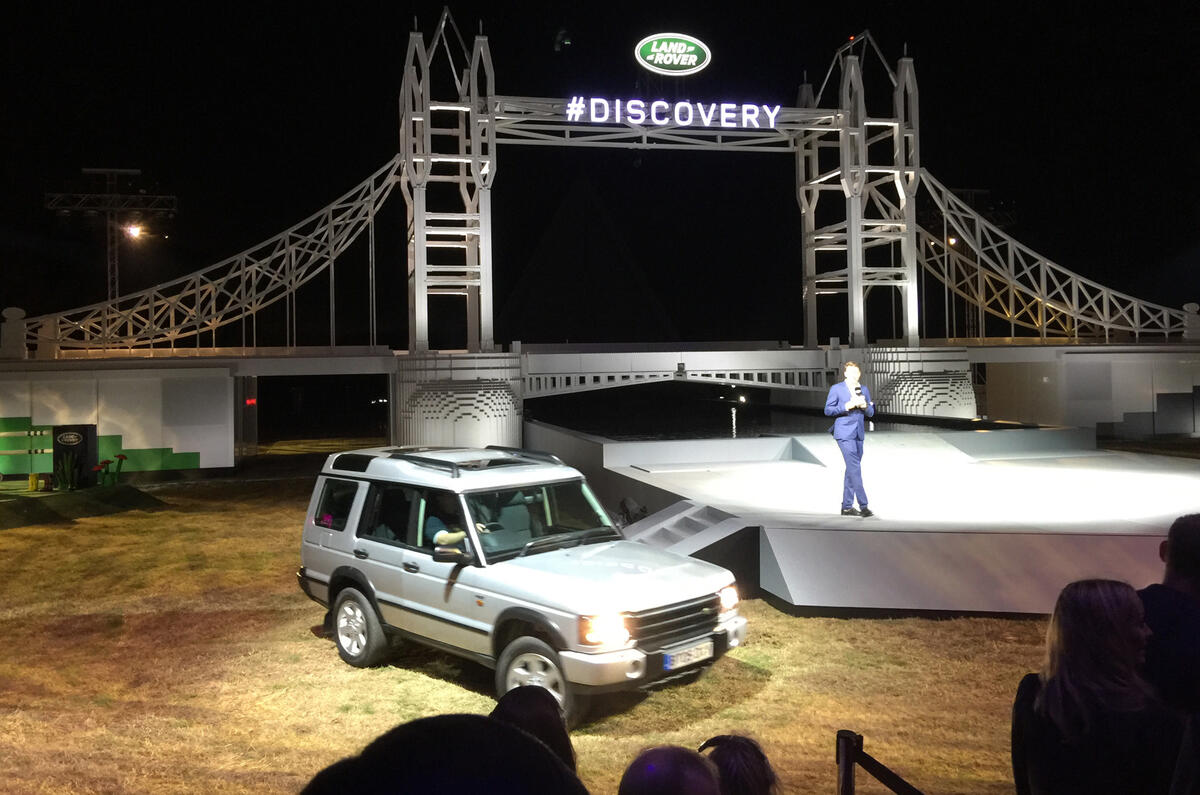 2017 - Speth's word play is keeping Mark Tisshaw entertained too: "JLR boss Ralf Speth, in talking up the tech in the new Discovery, says you can 'stream while driving through a stream'"
2016 - What's been your favourite moment of the show so far? Let us know, or share any other Paris motor show opinions you may have at autocar@haymarket.com
2012 - Matt Burt is being kept entertained at Renault: "Artist and industrial designer Arik Levy is proving good value during the Renault design discussion. Choice quote: "A worm in the ground has an aerodynamic shape, but it moves quite slowly". Quite."
2007 - The Land Rover Discovery has been revealed.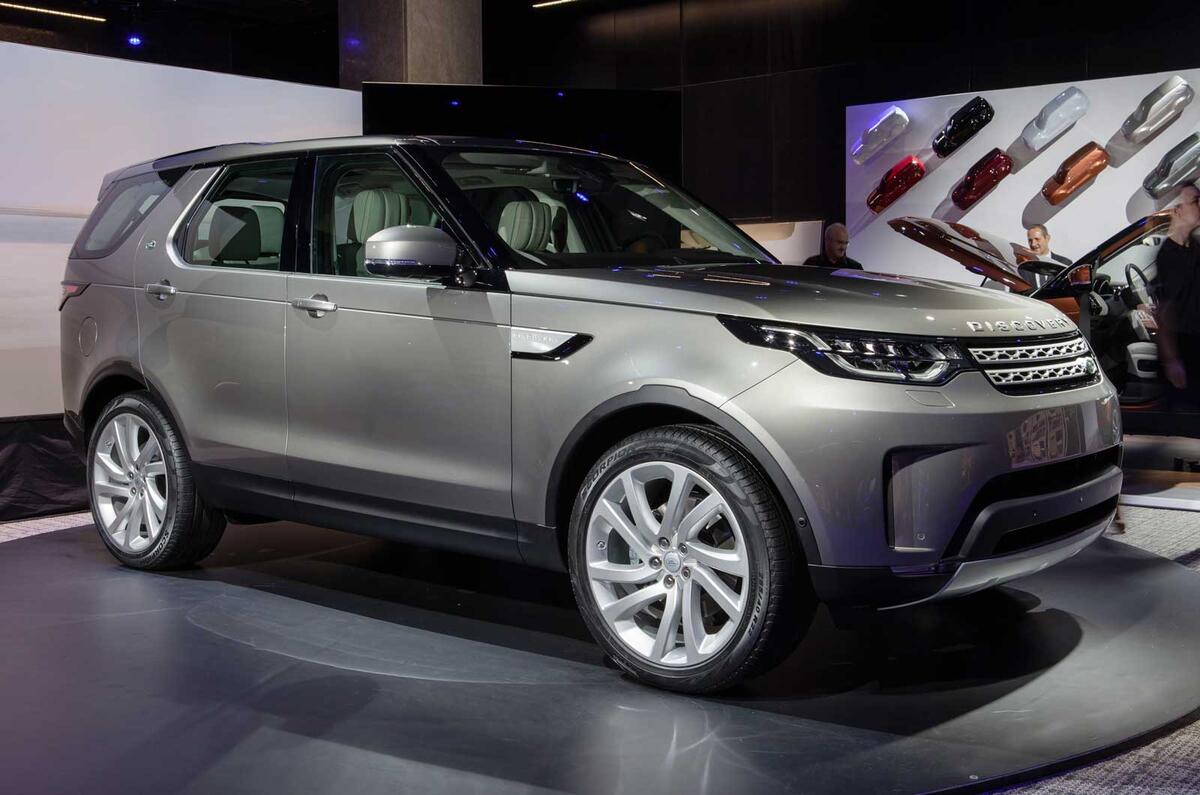 2005 - It's Renault's time to talk design now: "Over at Renault we're now having a deep dive into design philosophy, not just car design, with Laurens van den Acker being joined by two noted designers from other fields - Arik Levy and Sam Baron."
1958 - Mark Tisshaw is reminiscing at Land Rover's historic setting for tonight's events: "Packington Hall is venue for tonight's Discovery reveal, and it's close to the Solihull plant. Series 1 Land Rovers were first proved here and it became a place for proving land rovers thereafter for generations."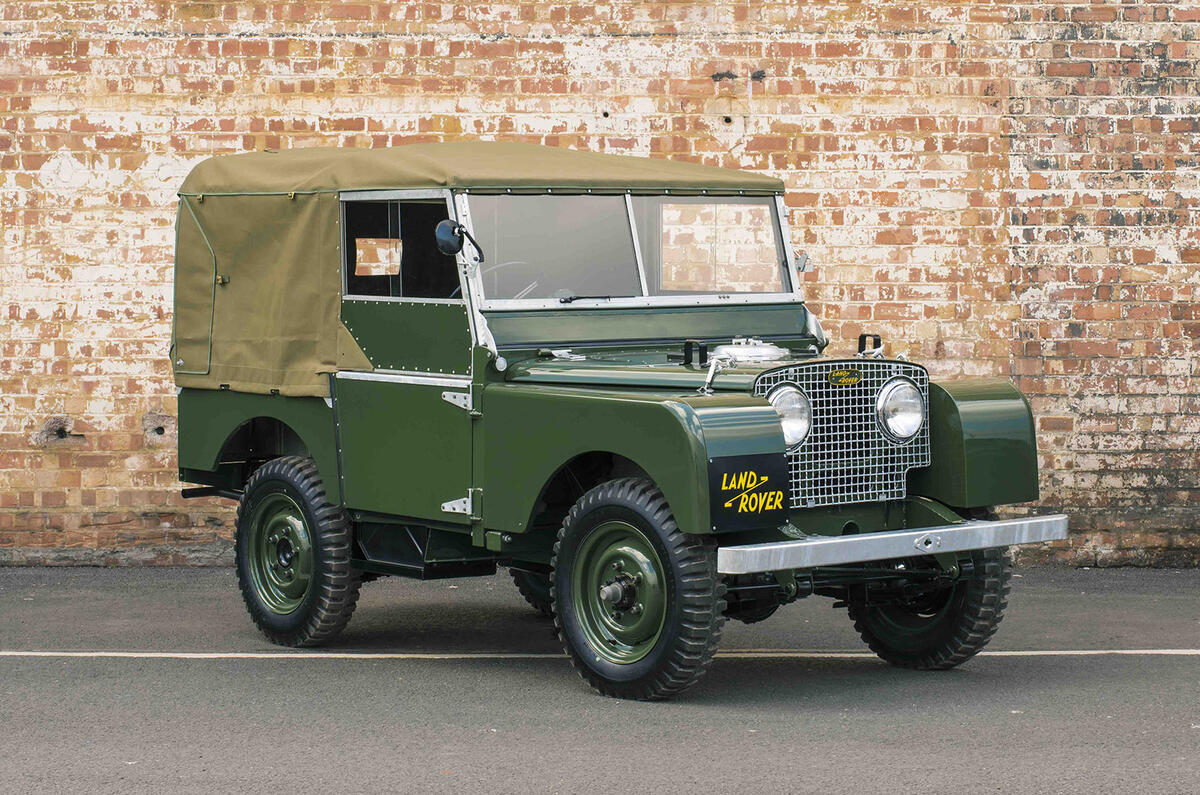 1953 - Renault is employing the latest tech at its design evening: "We've just been treated to a sneak preview of the new Trezor concept via the wonders of Virtual Reality. Several hundred guests each donned Samsung VR headsets at the dinner table to watch a short animation of the car in action."
1950 - "And we have sound. A corporate video to starters, emotional this, sporty that etc. We expect a speech from Jaguar Land Rover boss Ralf Speth on the state of the company, before heading out for the big Discovery reveal. Not long now."
1946 - Things aren't progressing quite so smoothly in the UK at Land Rover: "The Land Rover presentation is underway. But the sound isn't working... Ah."
1943 - Jim Holder: "VW Group's design boss Michael Mauer is giving as design lesson now. Explaining how most decisions are made emotionally and that's why car design must touch people's innermost feelings. 'A product that triggers emotions will always be at an advantage'"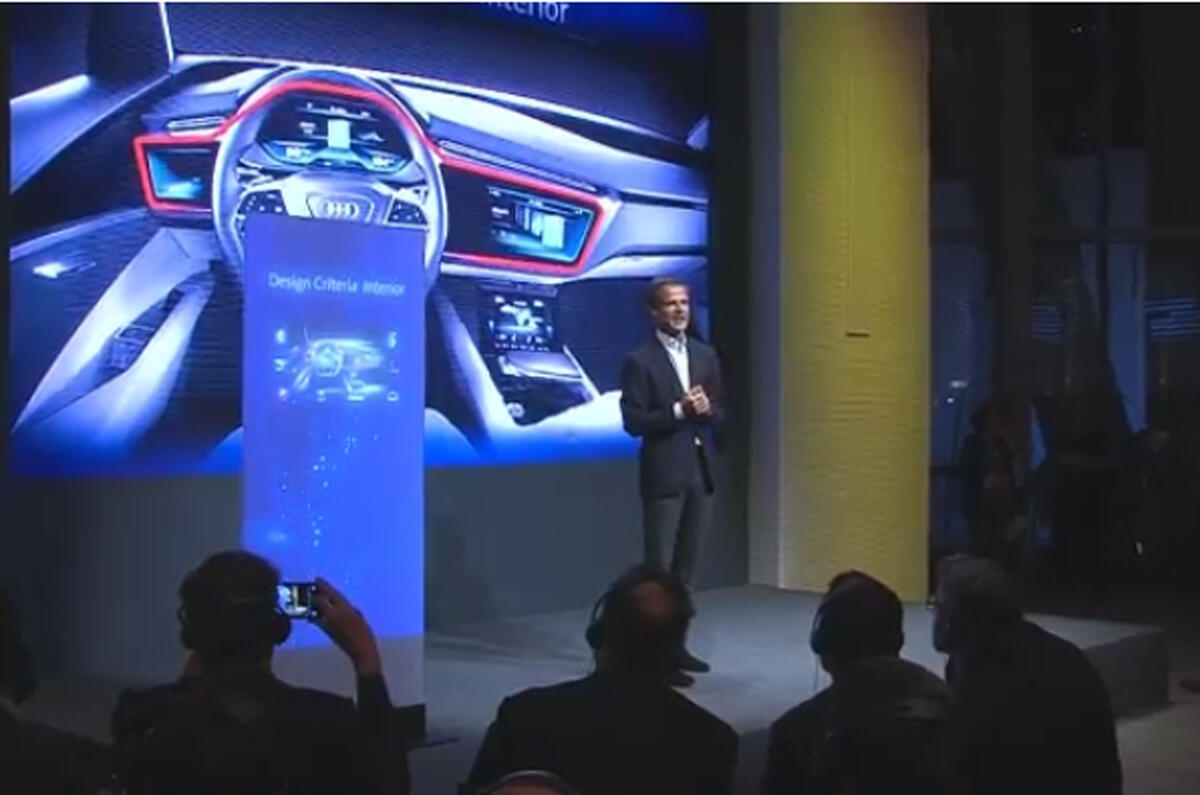 1939 - BREAKING NEWS: A Mercedes-AMG GT C coupe is set to follow in the convertible's footsteps. More on the Autocar news homepage very soon.
1935 - VW is the latest to get a foot in the public mobility door: "New VW brand will be its 13th. Name tbc. Based in Berlin and management is appointed and will move in shortly. Plans will be revealed later but won't be confined to car sharing - Muller suggests VW could even run its own taxi service in the future. An Uber on steroids?"
1930 - Jim Holder is on Matthias Muller's every word: "Matthias Muller is convinced VW won't be left behind - "I recognise that not everything we do will be crowned by success and in some cases we'll fail - but the most important thing is we learn from the mistakes. If we don't do that we'll just be onlookers in a world moving at breathtaking pace'."
1927 - We're just minutes away from the unveiling of the Land Rover Discovery. Stay tuned and keep an eye on our homepage for the big reveal.
1925 - BREAKING NEWS: Mercedes has confirmed development of its new hypercar, designed to take on the AM-RB 001
1920 - Matthias Muller addresses VW's electric future: "Our future will be powered by electricity but powertrain a we have now will play an important role for at least 20 years. We must push on in developing those technologies at the same time as alternative power trains. The transformation required is a gigantic task - but one we must tackle."
1916 - Meanwhile on our Twitter page, the Alfa Romeo Giulia Veloce has taken the lead in our Paris motor show readers' favourite poll - vote here.
1912 - Matt Burt is with the Renault, who take a typically fashionable French approach: "Renault design chief Laurens van den Acker is sporting his trademark trendy trainers at the French make's design evening. Tonight's footwear is white, black and red."
1906 - Volkswagen's getting deep at the VW Group evening: "'Get closer, new perspectives' is theme at VW. Introductory speech all about informality of the conference - is this the birth of a more open, more relaxed VW?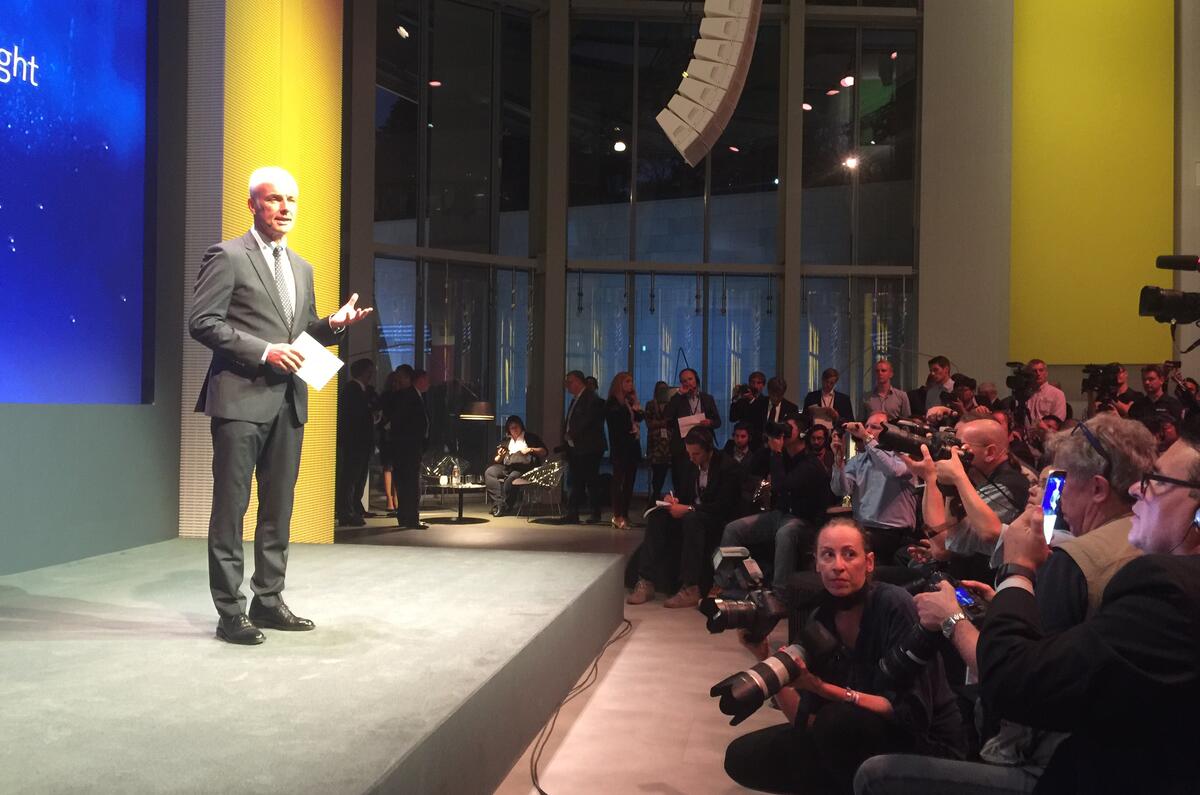 1900 - Mark Tisshaw is enjoying Land Rover's scenery: "Land Rover has erected a replica of Tower Bridge for the Discovery unveil. I don't think the new car is going to be making a quiet entrance... Rule Britannia."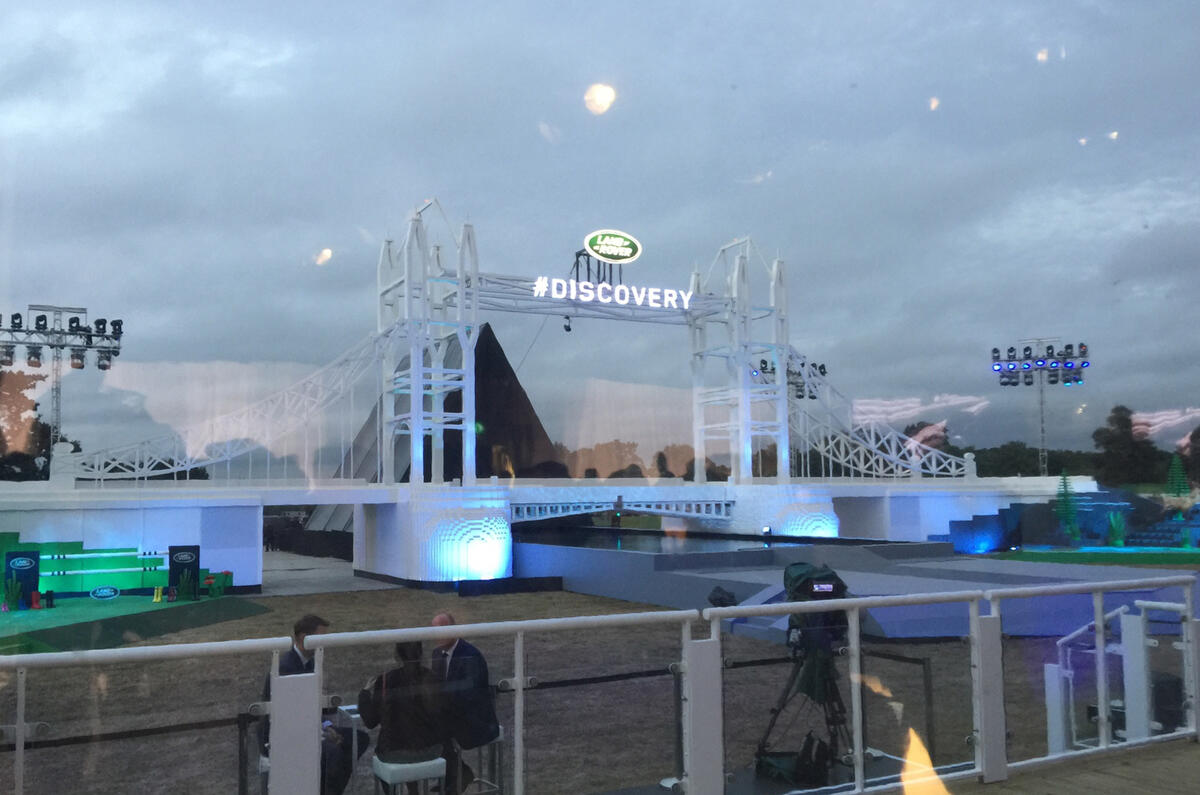 1858 - Jim Holder is with Volkswagen: "Matthias Muller is in the room. Two minute countdown to VW Group night begins. His colleagues have gone suit no tie, but he's resolutely formal - the tie stays on"
1855 - "Oh, and a sign saying 'strictly private'. That'll keep them out."
1854 - Mark's still eyeing the security measures - or lack thereof - at Land Rover: "No such tight security measures at the Land Rover event compared to the VW one. Picket fences and cattle grids are the order of the day here."
1853 - Mark Tisshaw is our man on the ground at Land Rover this evening: "Paris has come to the Midlands tonight, as Land Rover puts on its big reveal for the Discovery at the country house estate, Packington Hall. They must need all that extra space you couldn't source in the centre of Paris for something big... Stay tuned."
1852 - Keep up with all the action on our Facebook, Twitter and Instagram pages; we'll be posting live updates there and here for you to keep up to date. 
1850 - In Paris are Jim Holder, Steve Cropley, Matt Burt, Rachel Burgess, Matt Prior, Hilton Holloway, Mike Duff, Greg Kable, Julian Rendell, Andrew Frankel, Neil Winn and Richard Bremner.
Your team covering Paris from our base in Twickenham are Mark Tisshaw, Darren Moss, Sam Sheehan, Jimi Beckwith, George Hawkins, Hemal Mistry and Phill Tromans.
We've already seen several of the cars from the show through various leaks and reveals throughout the day, including a few pictures of the Land Rover Discovery, Renault Trezor concept and the Volkswagen ID concept. The latest updates on these can be found here. 
Wednesday 28th February 2016, 19.00 BSD (20.00 Paris time) - Welcome to Autocar's live coverage of the Paris motor show. Tonight, tomorrow and Friday, we'll be bringing you all the news, reveals and other action as it unfolds in Paris. 
Below, we run through some of the key cars to look forward to before the Paris doors open tomorrow. Our live blog kicks off this evening, before resuming tomorrow morning with the first press conference scheduled for 6:45am UK time.
The 2016 Paris motor show looks to be one of this year's most significant car events, as some of the industry's biggest and most influential manufacturers reveal all-new models and forward-thinking concepts. They're listed below.
2016 Paris motor show - the key cars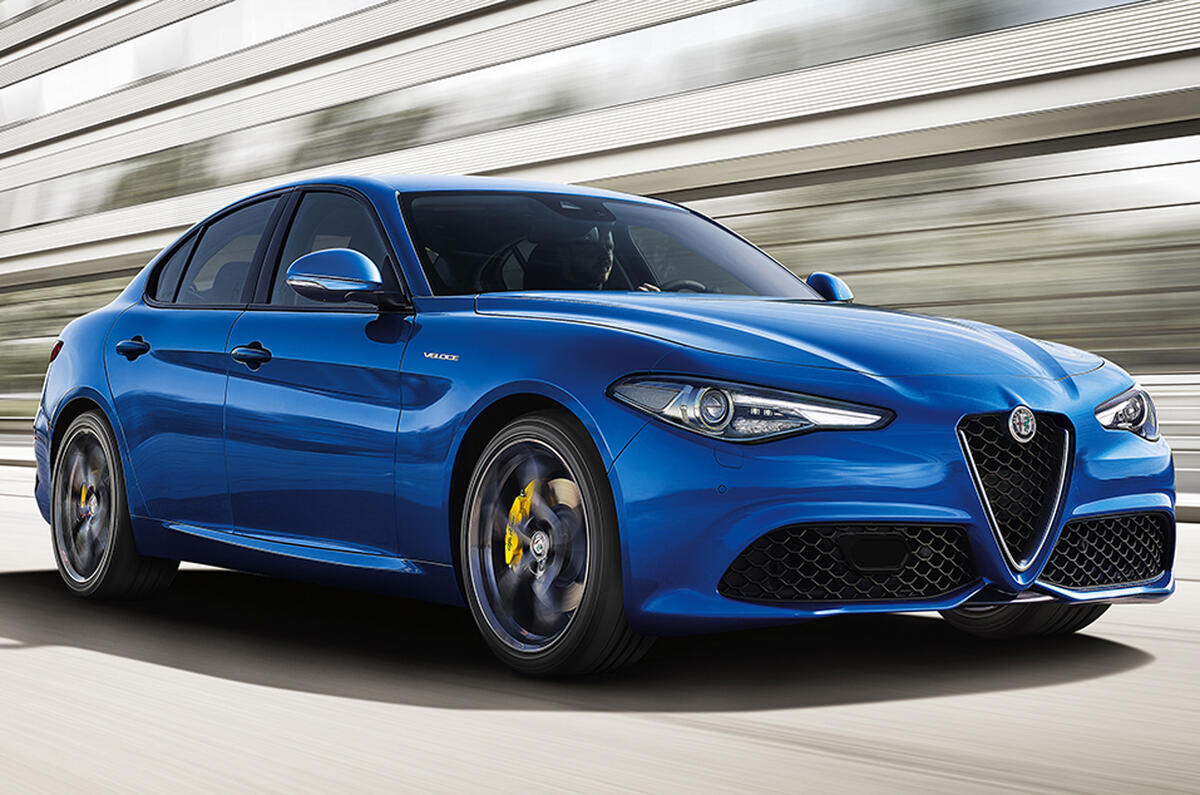 A new warm spec Alfa Romeo Giulia was revealed at the Paris motor show and will, upon release, rival the Audi S4 and BMW 335i, among others. It'll have four-wheel drive as standard, and a choice between one petrol and one diesel engine. It's TBC for the UK right now, but if it reaches British shores, it'll be rear-drive only. 
Audi Q5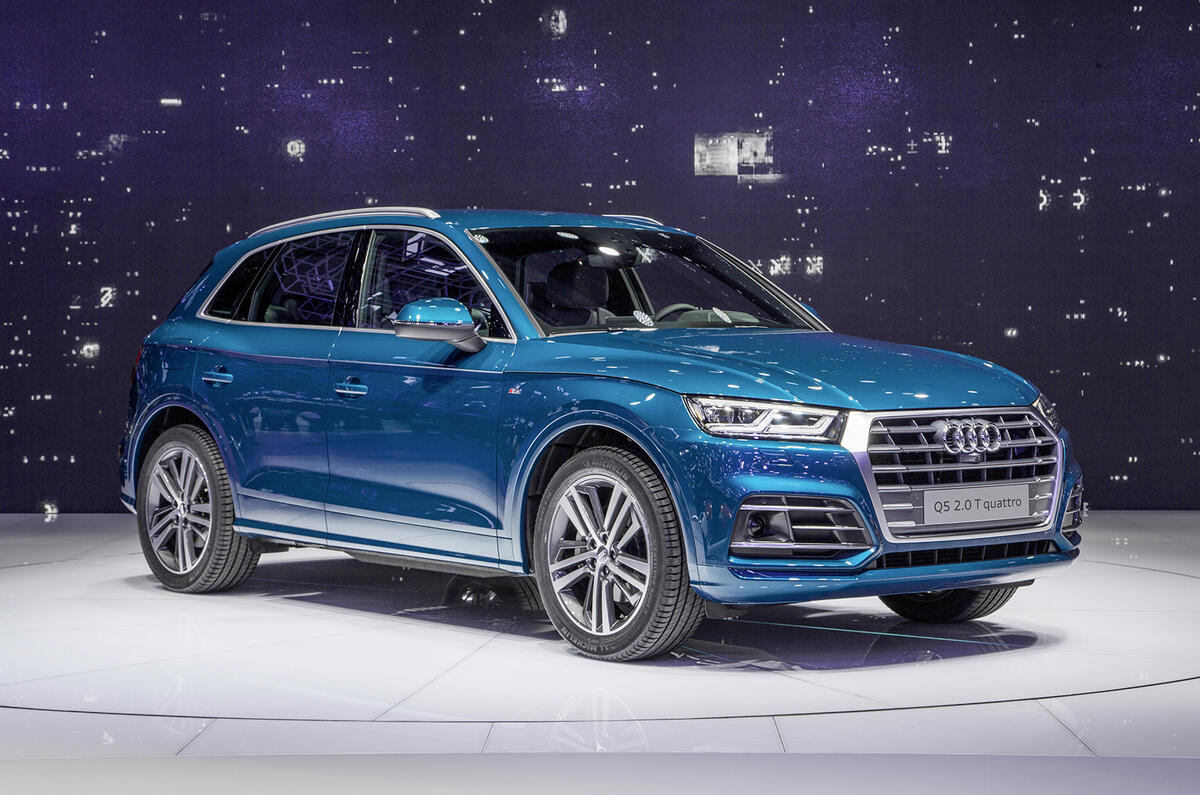 The new Audi Q5 has been revealed in Paris but sales won't kick off until later this year. The all-new model utilises the Volkswagen Group's MLB platform for models with a longitudinal engine layout, shedding as much as 100kg of weight compared to the outgoing model. Expect plenty of in-car technology and sharpened exterior styling.
BMW X2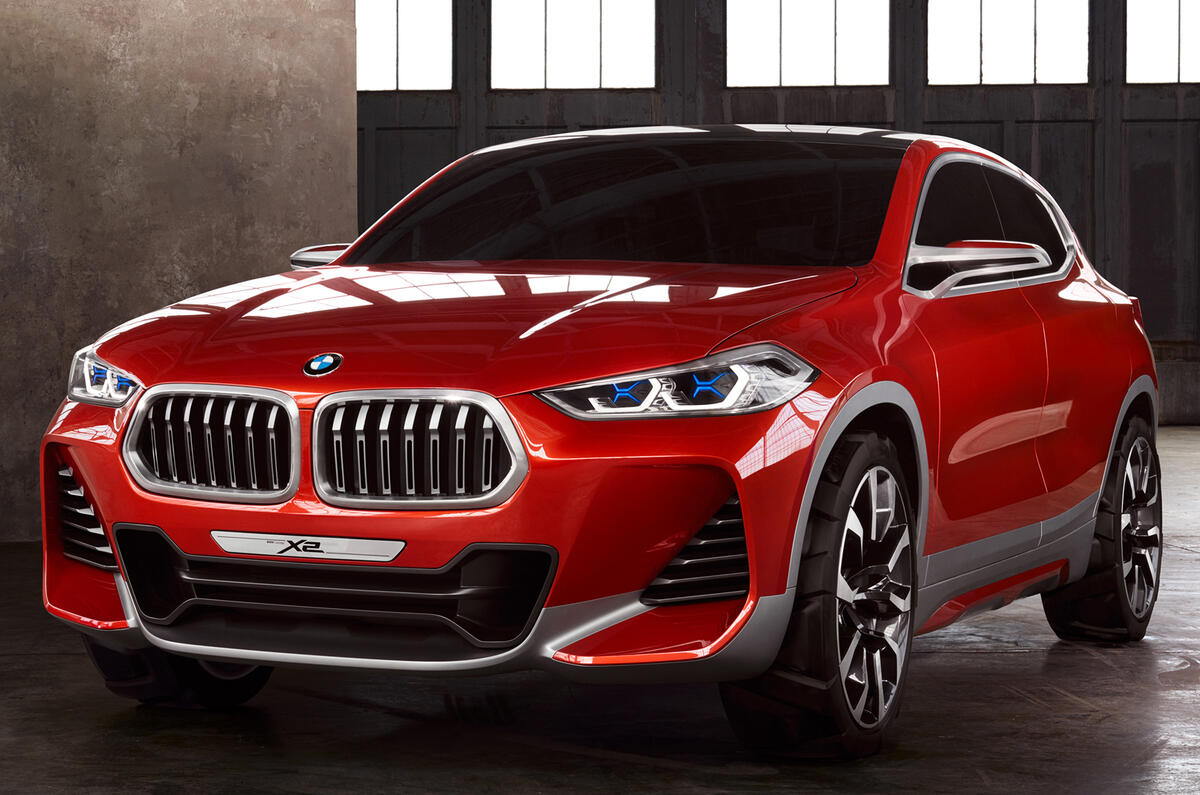 The BMW X2 will go on sale late next year for around £30,000. It will share many parts with its sister car, the X1, but have a more sporting character and will rival the likes of the Range Rover Evoque. In Paris, the car is previewed by a thinly veiled concept.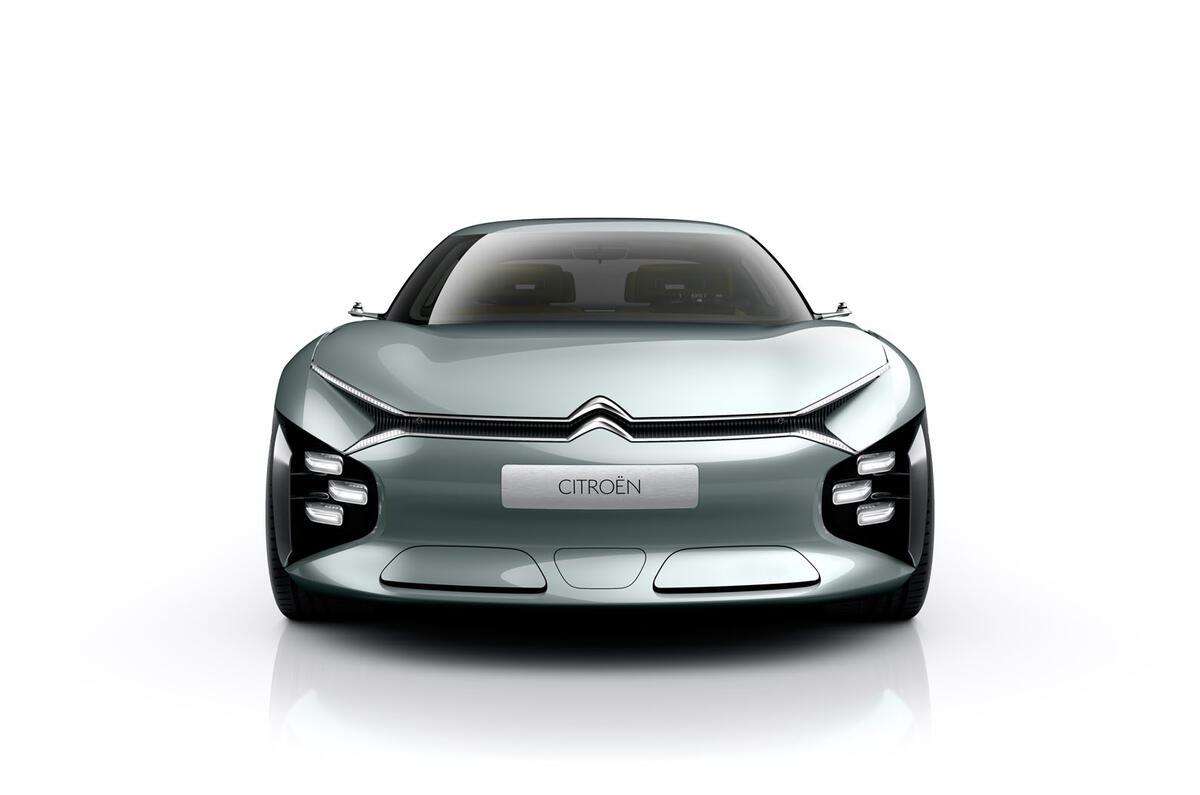 Citroën revealed its new executive saloon concept, called Cxperience, ahead of the show. The concept uses a plug-in hybrid petrol-electric powertrain and features the brand's Advanced Comfort programme and a host of interior technology, and previews future Citroën models, including the design of larger cars.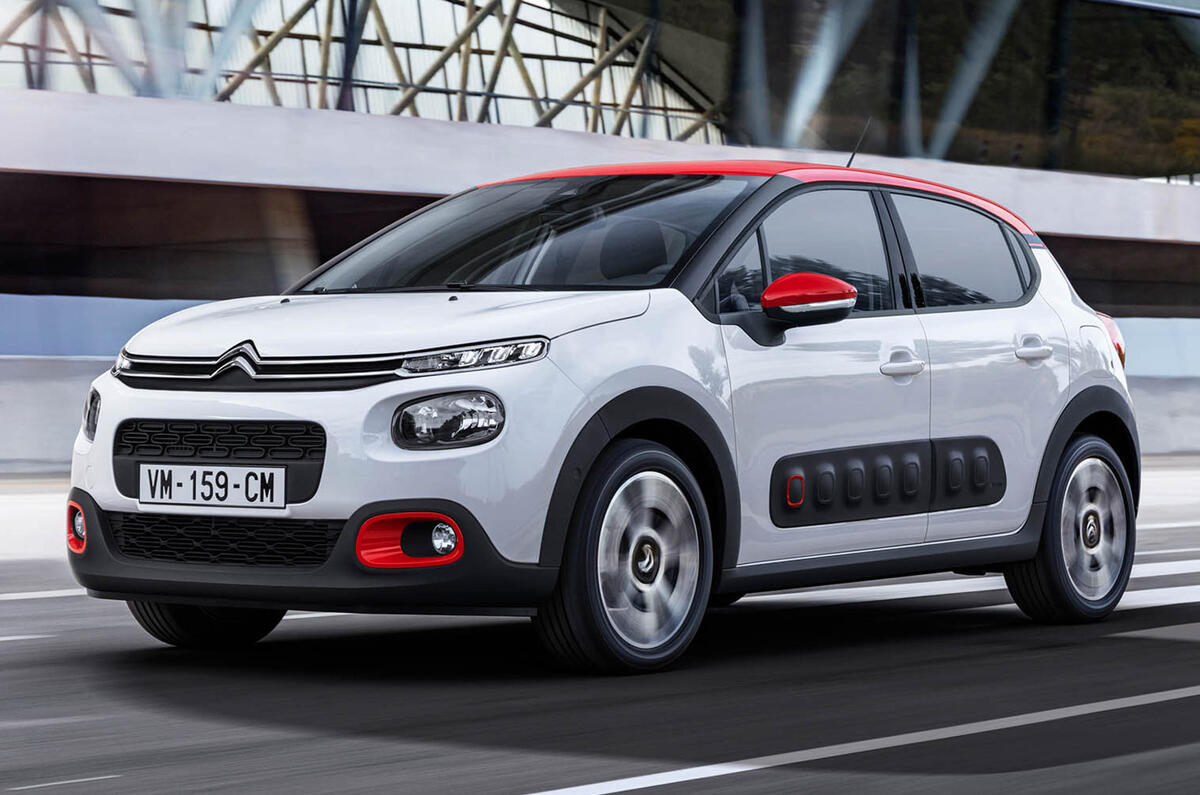 It may have already been revealed, but the Citroën C3 was on display at the Paris motor show, marking the first time we've seen it in the flesh. It brings styling inspired by the C4 Cactus, and goes on sale early next year.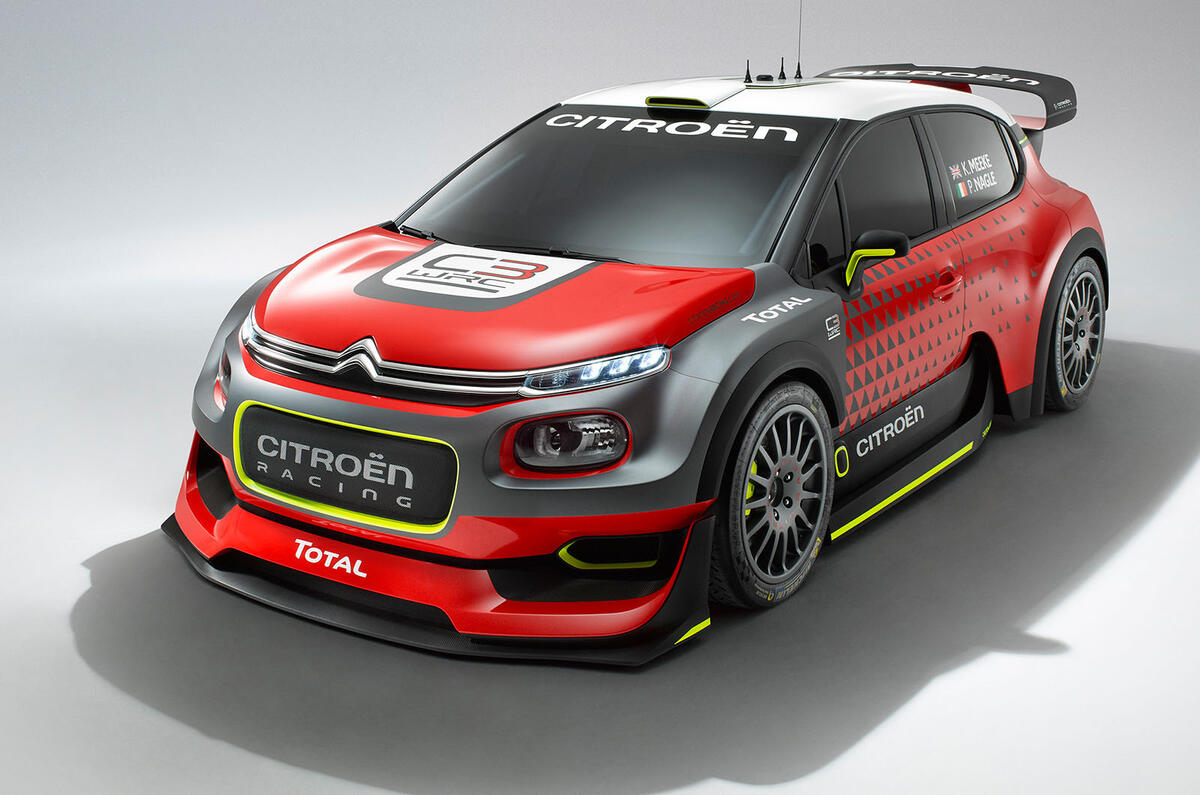 In the run up to next year's FIA World Rally Championship, Citroën has revealed the concept version of its competing car, based on the new C3 supermini. Using its rallying expertise, Citroën will sprinkle the C3 with sporty touches, which will culminate in a Citroën rival to the Ford Fiesta ST.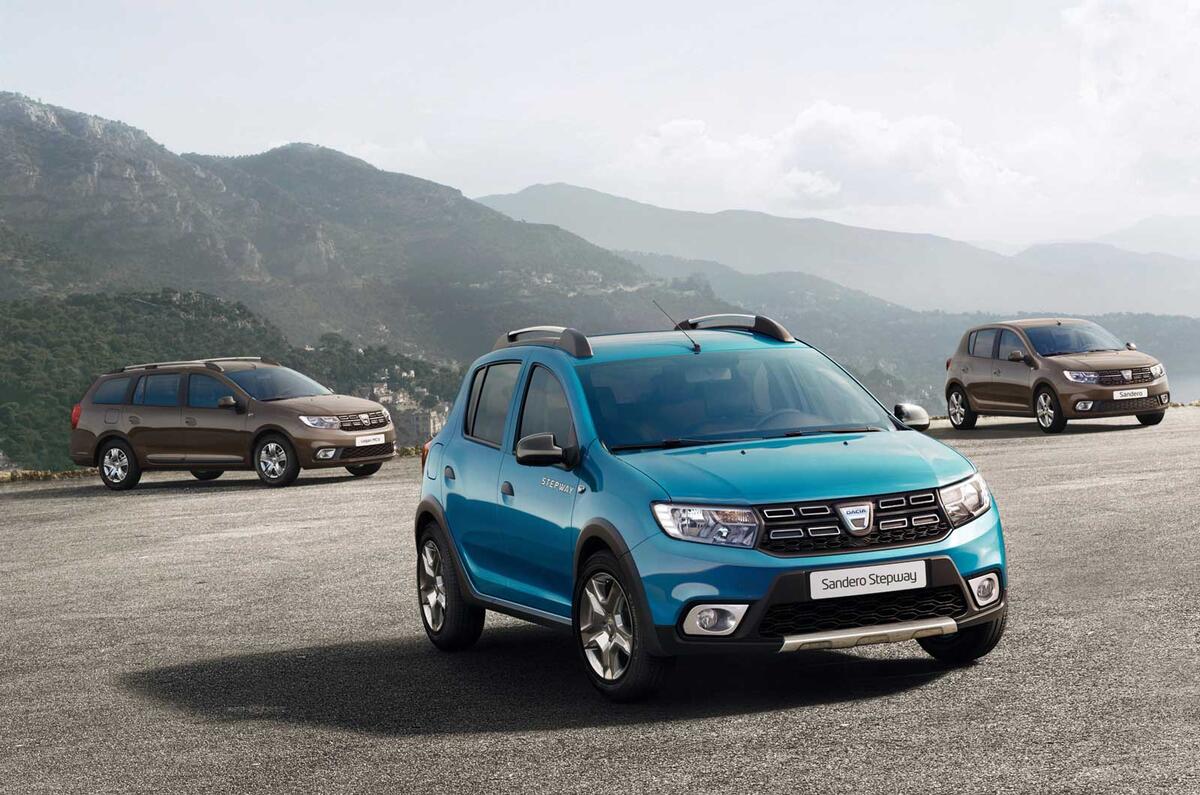 The facelifted Dacia Sandero, Sandero Stepway and Logan MCV were both revealed in Paris, with new headlights incorporating LED daytime running lights, revised grilles and new interior materials and storage areas. Dacia still calls the updated Sandero Europe's most affordable new car, suggesting its £5995 starting price won't be substantially increased.
Ferrari special editions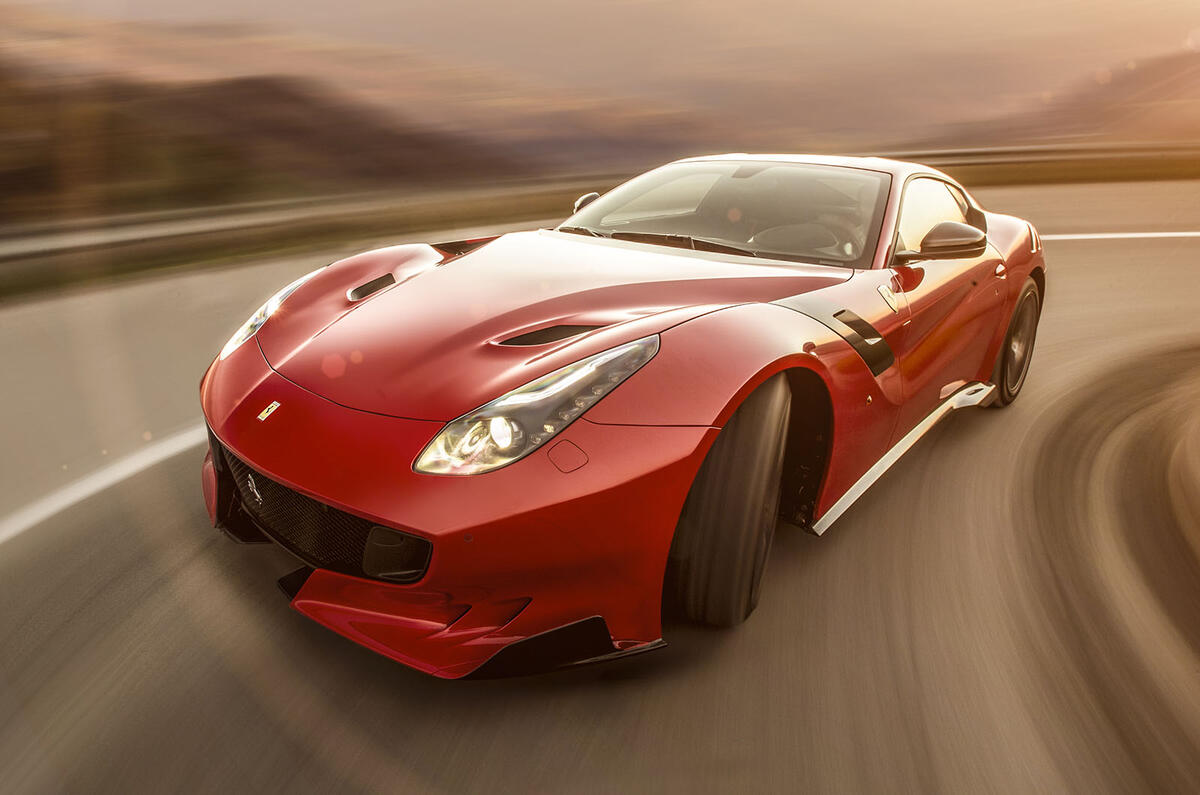 No fewer than 350 special edition Ferraris will be built to celebrate the supercar maker's 70th anniversary; 70 for each model in the Ferrari lineup. 70 cars from Ferrari's history were selected, with each example inspiring one of the special-edition cars for each model. The brand cherry picked a few of its 350 cars to display in the flesh at the show. 
Ferrari GT4C Lusso T
A V8-engined version of the GT4C Lusso made its world debut in Paris. Borrowing the turbocharged unit of the California T, the GT4C Lusso T produces 602bhp and marks a new entry-point into Ferrari's four-seater range.
Ferrari LaFerrari Aperta
Ferrari's LaFerrari Aperta – an open-top version of the discontinued LaFerrari hypercar – made its public debut in Paris. The limited-run drop-top will feature the same 950bhp V12-based powertrain as the original car.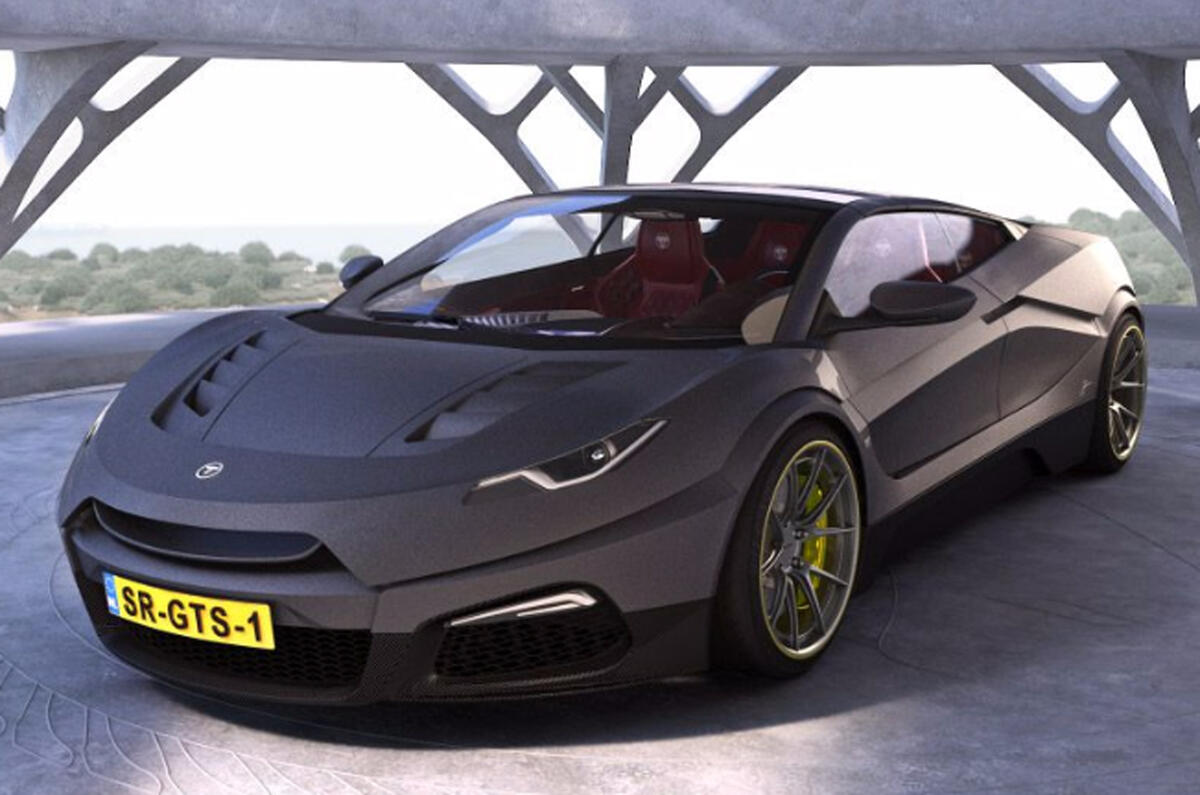 GLM's four-door electric supercar, the G4, is a re-engined Savage Rivale Landyacht GTS. Where before the car had a Corvette-derived V8, it now has an electric powerplant, and joins the leagues of upcoming electric supercars in the pipeline, so it'll have no shortage of competition. 
Honda Civic
The 2017 Civic made its debut in France, although we're already familiar with its design thanks to plenty of spy pictures. The new European model looks almost completely identical to the US-spec car, staying true to the design of the Geneva concept which was longer, wider and lower than the current Civic.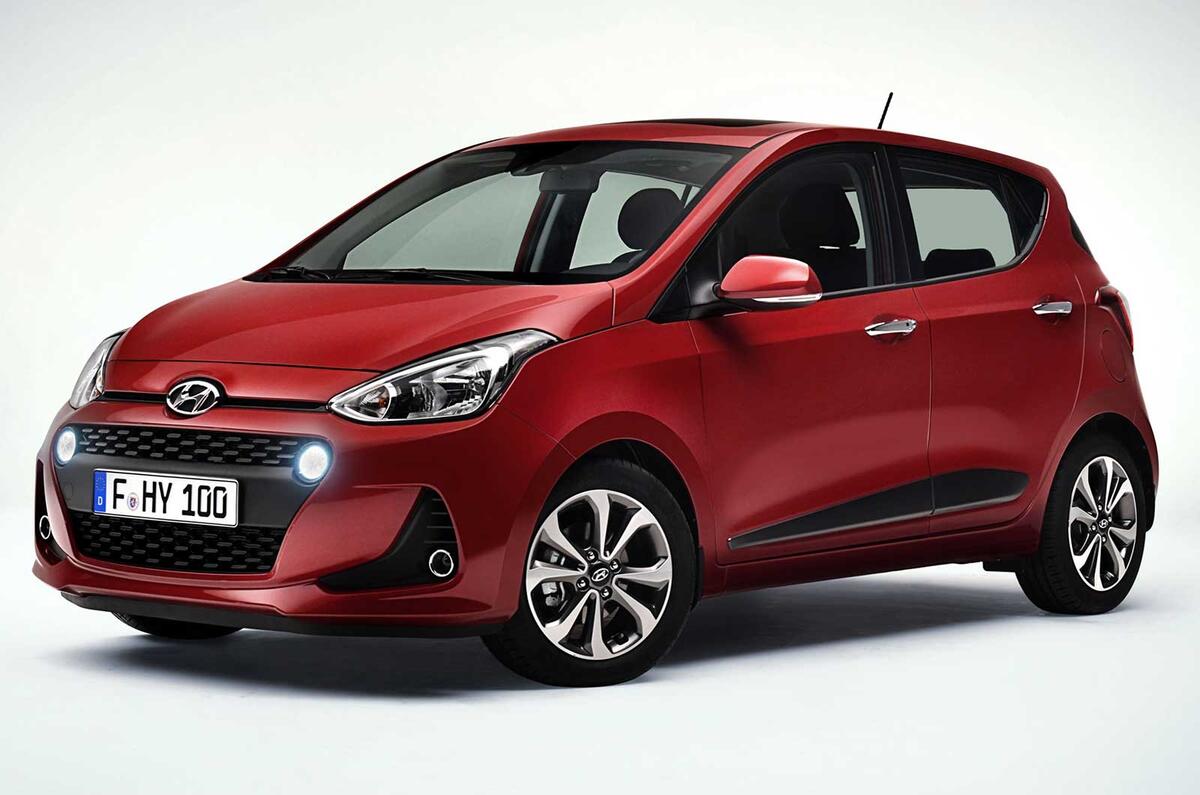 Hyundai's smallest car has been given its mid-life refresh, and made its first public appearance at the Paris motor show. There are only subtle exterior tweaks, while Hyundai has tried to bring the i10's tech up to the standard of rivals, with a 7.0in touchscreen infotainment system.
Hyundai i30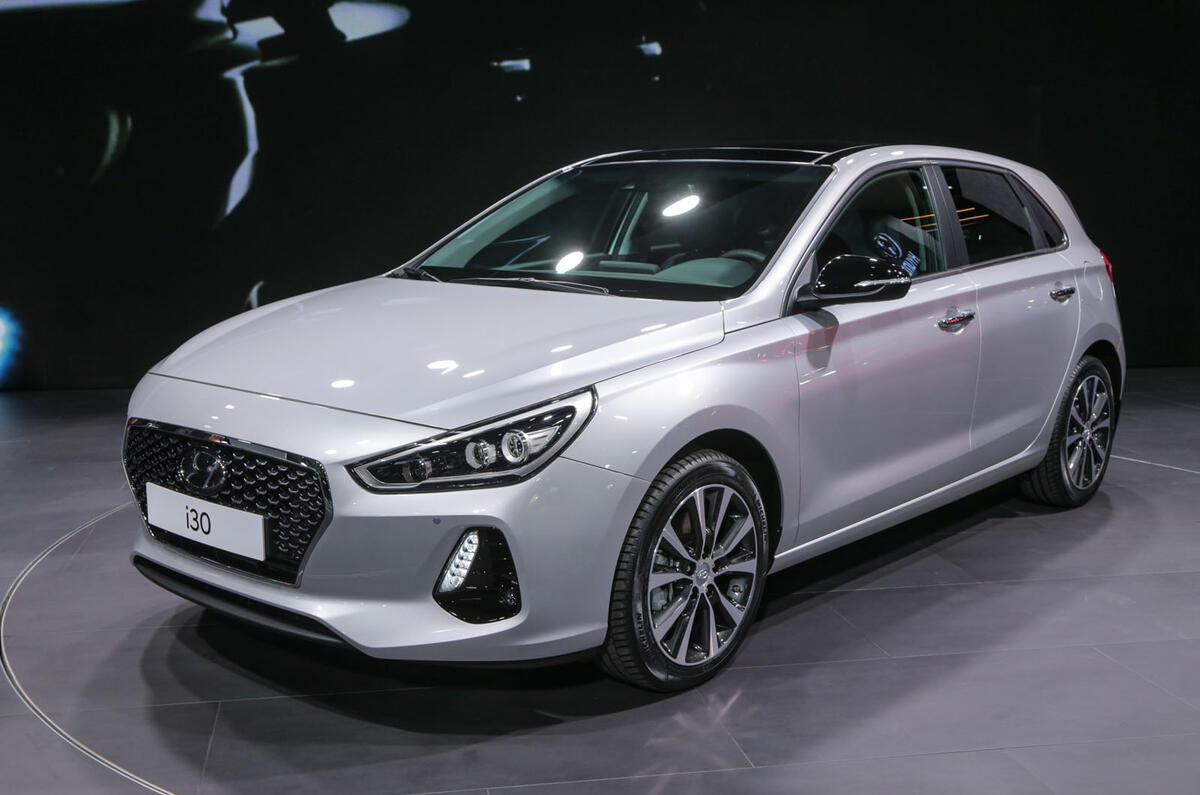 The third-generation Hyundai i30 hatchback launched in Paris before going on sale in 2017. The i30 will no longer be available as a three-door car, but will retain options for a five-door hatchback, estate, and four-door coupé.
Hyundai i30N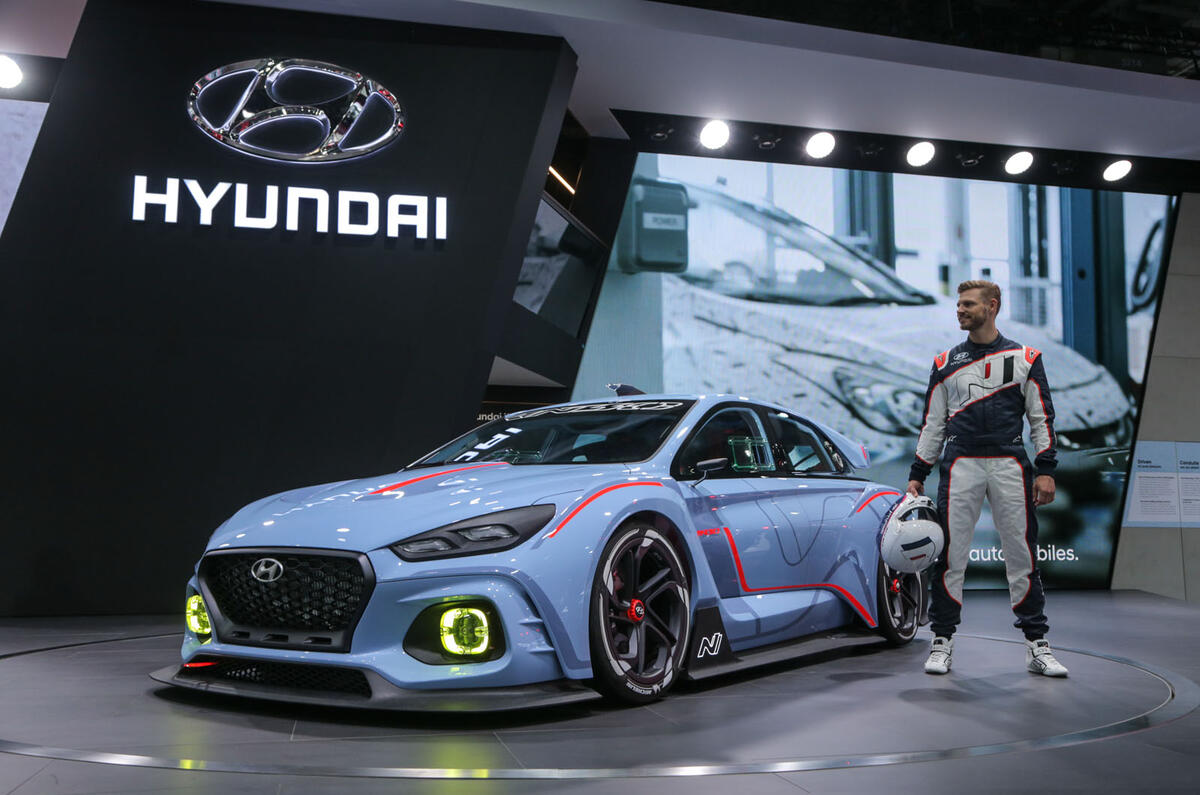 The hot hatch version of the next-gen i30 will also go on sale in 2017 but first a concept version called the RN30 makes its debut in Paris. Powered by a 2.0-litre turbocharged engine, the production hatch the concept previews could have a top speed of 155mph and will be a rival to the likes of the Volkswagen Golf GTI and Ford Focus ST. 
Infiniti engine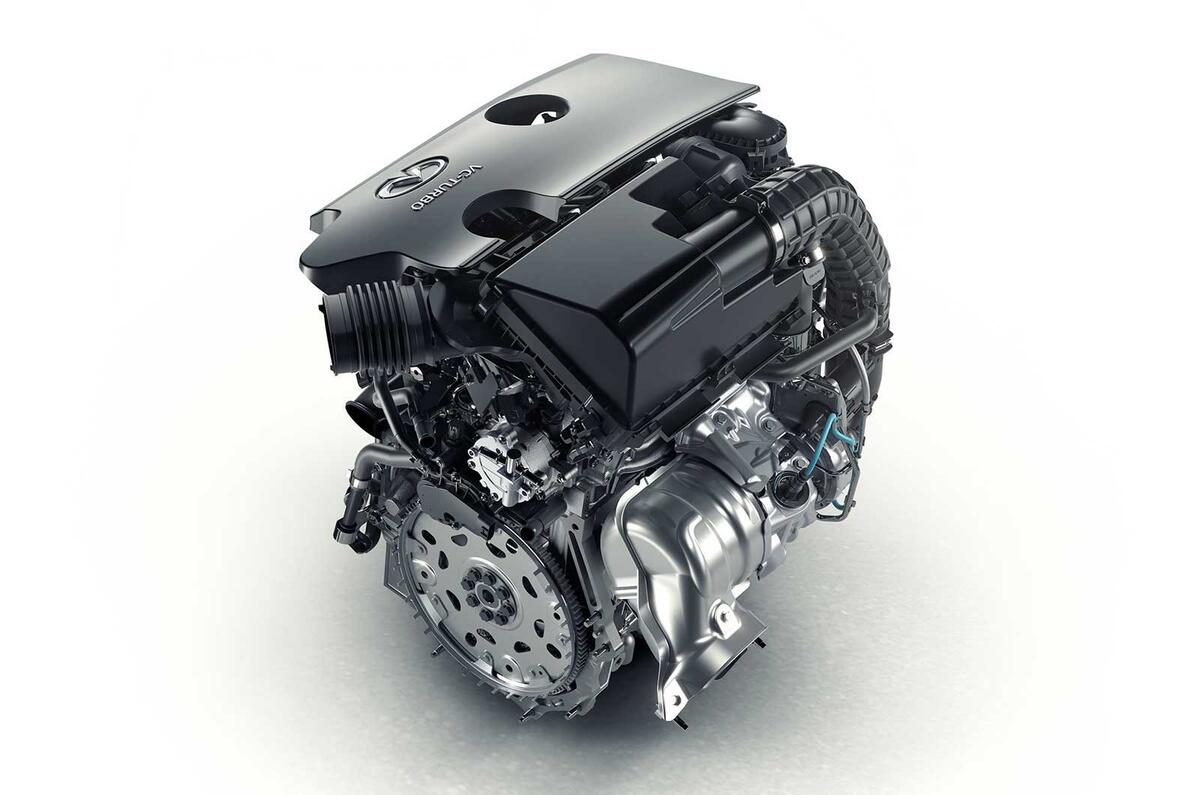 Infiniti's new 2.0-litre petrol engine promises "diesel economy and V6 power and smoothness". The turbocharged unit develops around 270bhp and 288lb ft of torque and is expected to eventually be used in the Q30 hatchback and QX30 crossover, after making its debut in 2018.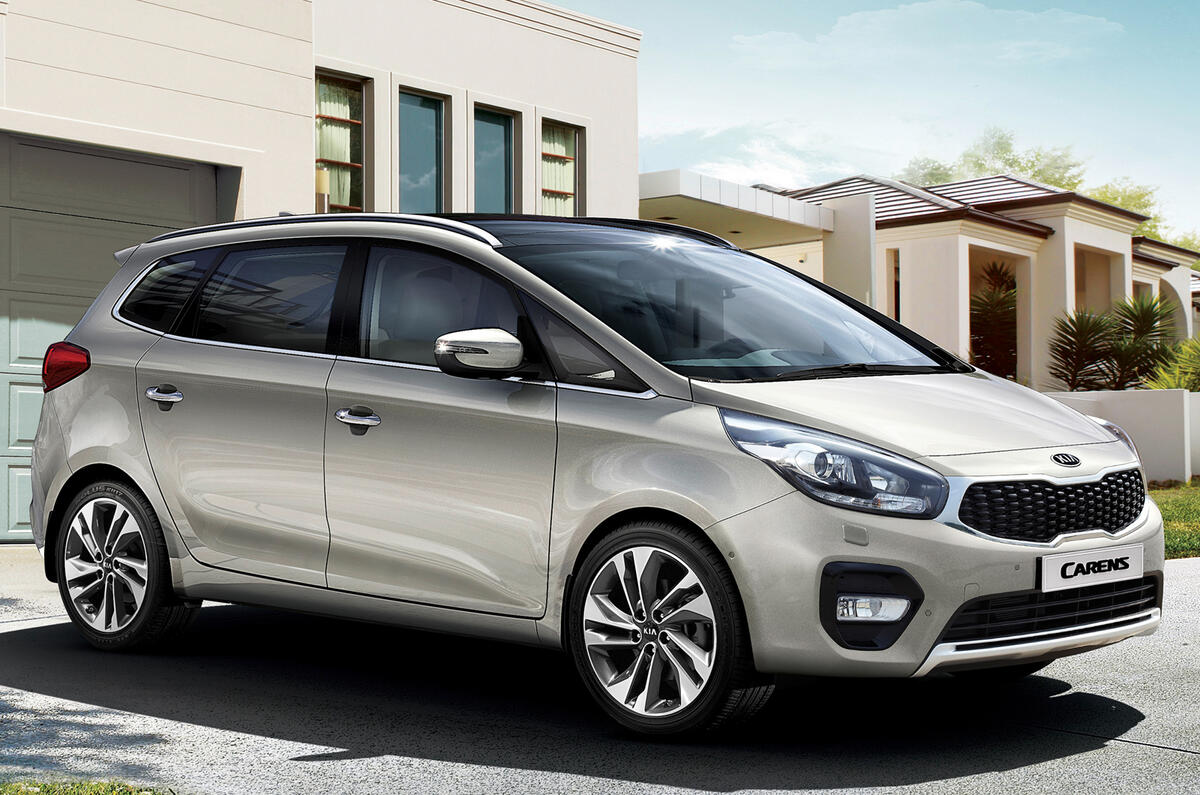 Kia has given the Carens a mild mid-life facelift, and brought the tweaked MPV to Paris for its official debut. As is usual with facelifted models, there are subtle exterior and interior tweaks, while Kia has added more technology to the range, and tweaked the 1.7-litre diesel engine for improved running costs.
The new Kia Rio made its public debut in Paris. The new Kia supermini will be offered as a five-door only model, and recently revealed pictures show a more premium look for the Rio than previous generations. It'll likely get the 1.0-litre turbocharged three-cylinder engine from the Ceed, too, as well as a GT-badged hot hatch variant later down the line.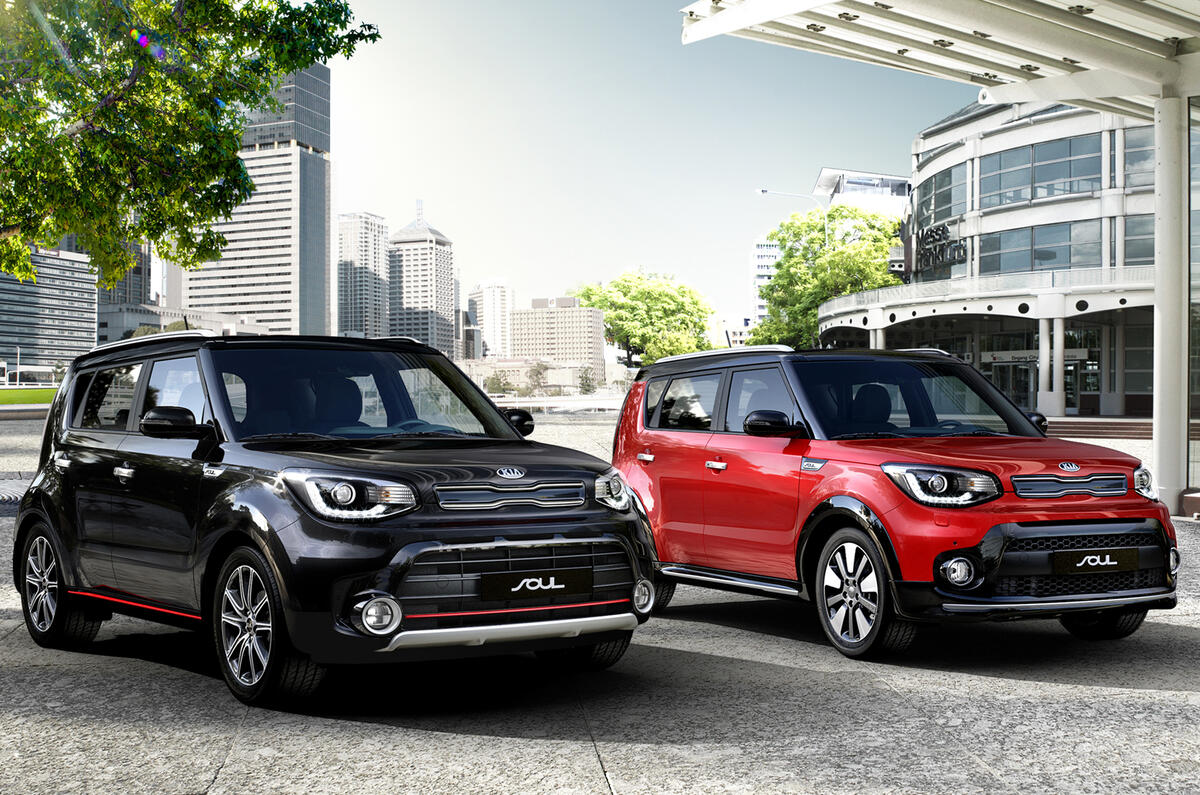 Kia has also given the Soul a once-over in its middle age, but a new range-topping petrol has also been added to the lineup. The T-GDI has the 1.6-litre turbocharged petrol engine from the Ceed GT, so there's 201bhp and 195lb ft on tap. It gets subtle exterior revisions over the standard Soul, but no hot GT badging. 
Land Rover Discovery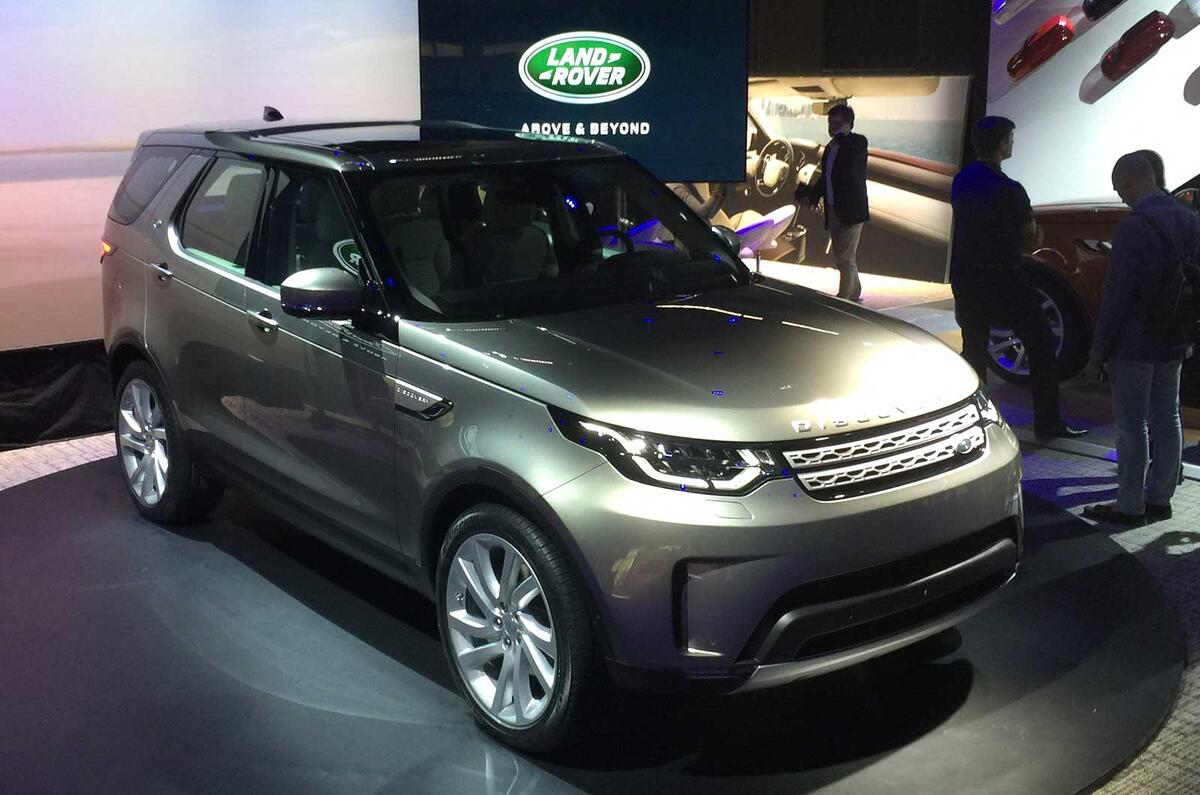 Land Rover's fifth-generation Discovery looks set to adopt the sleeker design of the current Discovery Sport. It will also gain a more luxurious and upmarket cabin that is no less practical than the current model. The 2017 Discovery should also be significantly lighter than the current car thanks to a bonded and riveted aluminium monocoque, as is currently used in the Range Rover and Range Rover Sport models. 
Lexus chose Paris as the show to reveal its concept coupé-crossover, the UX. The car's small dimensions are clearly visible from the image though, which has prompted suspicion that in production form, it will replace the CT 200h hatchback. An interior picture shows the concept's futuristic cabin.
Mercedes AMG-GT Roadster and GT C Roadster
Mercedes has already revealed its new drop-top sports car in pictures, but Paris marked the first time it is shown in the metal. The soft-top gains features from the GT R and produces 547bhp in top-spec.
Mercedes all-electric SUV concept
A Mercedes GLC-based all-electric SUV was shown in Paris. It's labelled as a concept, but is said to give a clear indication as to what the car maker's first purpose built EV will be like. The model will come as the first of four Mercedes EVs due before 2020.
Mercedes-AMG GLC 43 Coupé
AMG's recently revealed performance SUV made its public debut in France, with 362bhp and 382lb ft of torque beneath its coupé-like body.
Mercedes-Benz E-Class All Terrain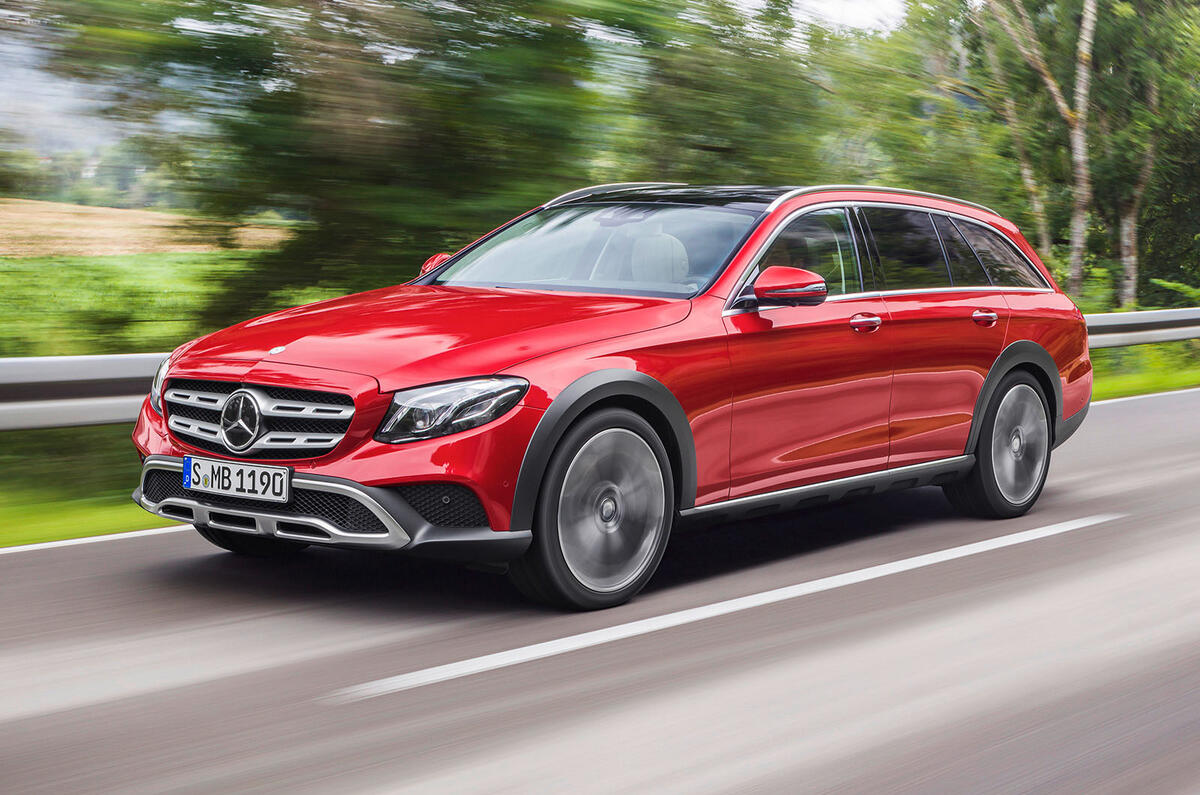 Mercedes brings the fight to the Audi A6 Allroad and Volvo V90 Cross Country with the E-Class All Terrain, which offers an extra 35mm of ground clearance and four-wheel drive. It goes on sale in the spring of 2017, for around £45,000.
Mini Clubman JCW
The Mini Clubman JCW is the flagship amongst the Clubman range, and is powered by a turbocharged 2.0-litre petrol engine that produces 228bhp and 258lb ft of torque — increases of 39bhp and 51lb ft over the next most powerful Clubman, the Cooper S. First shown earlier this month, the hot six-door made its public debut in Paris.
Mitsubishi Ground Tourer Concept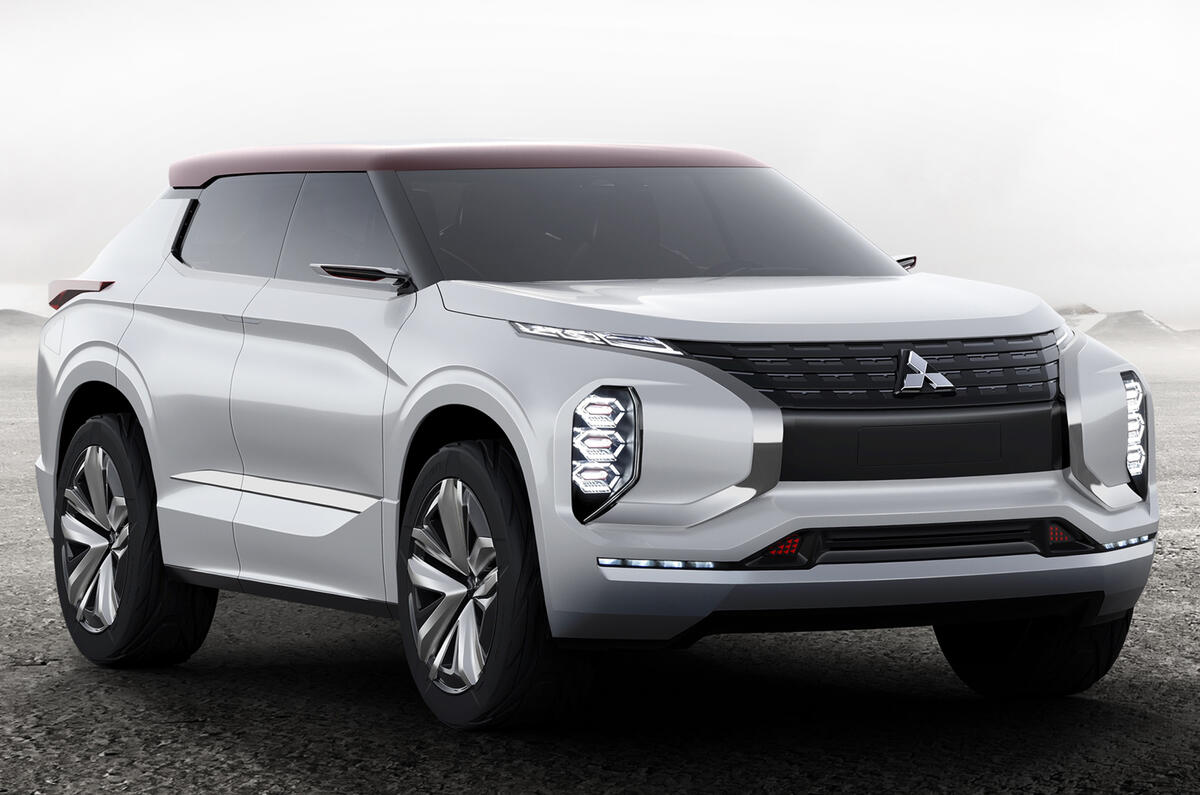 Mitsubishi is joining the coupé crossover crowd this year, as it unveils its swoopy Ground Tourer Concept. Like the Outlander PHEV, it's a plug-in hybrid and bears Mitsubishi's new front-end 'dynamic shield' styling - but at the moment it's a concept only.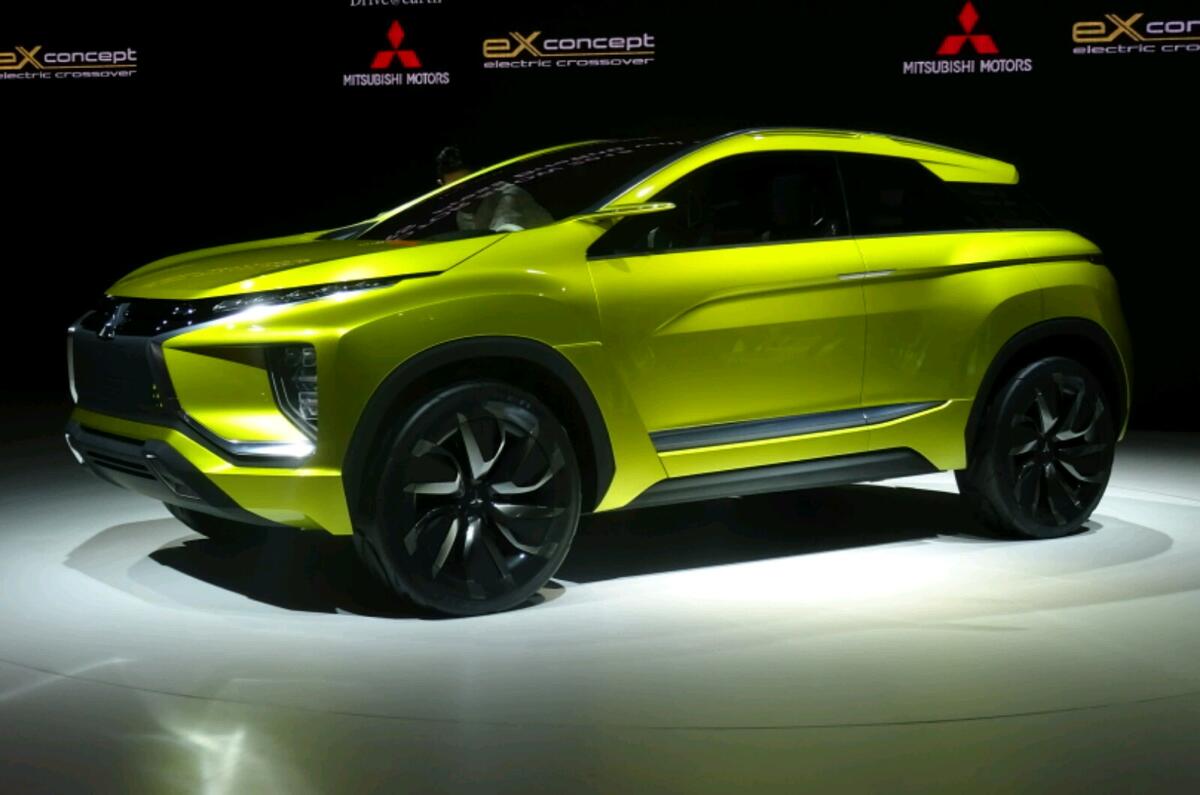 We've already seen the eX at last year's Tokyo motor show, but Mitsubishi brought it to Paris for another outing. It's since been confirmed for production in 2020 as an electric-only rival to the Nissan Juke, so it's got an eXciting (sorry) future already.
Nissan Micra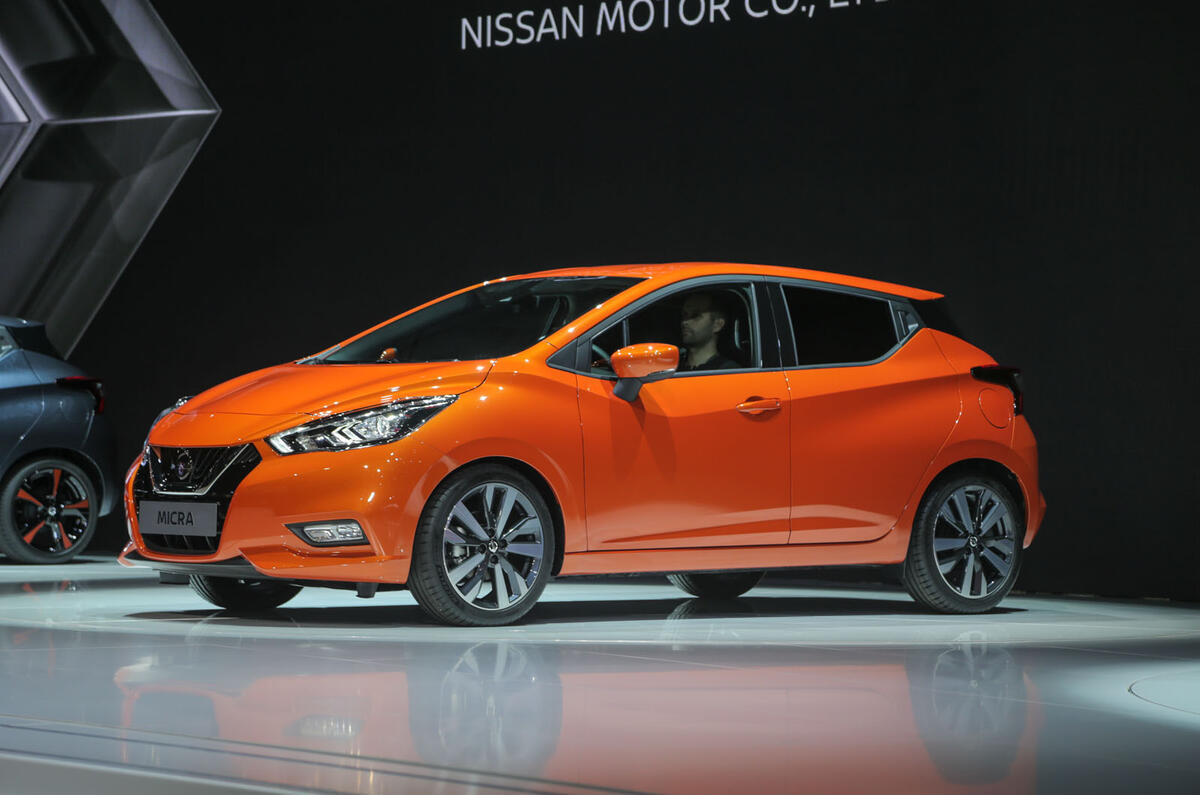 The upcoming Micra steps away from the evolutionary design of its predecessors to sport a radically different exterior. As expected, the new car has been heavily influenced by the Sway concept of the 2015 Geneva motor show and the Pulsar hatchback. European models will be built at Renault's Flins factory in France as part of the Renault-Nissan alliance.
Opel Ampera-e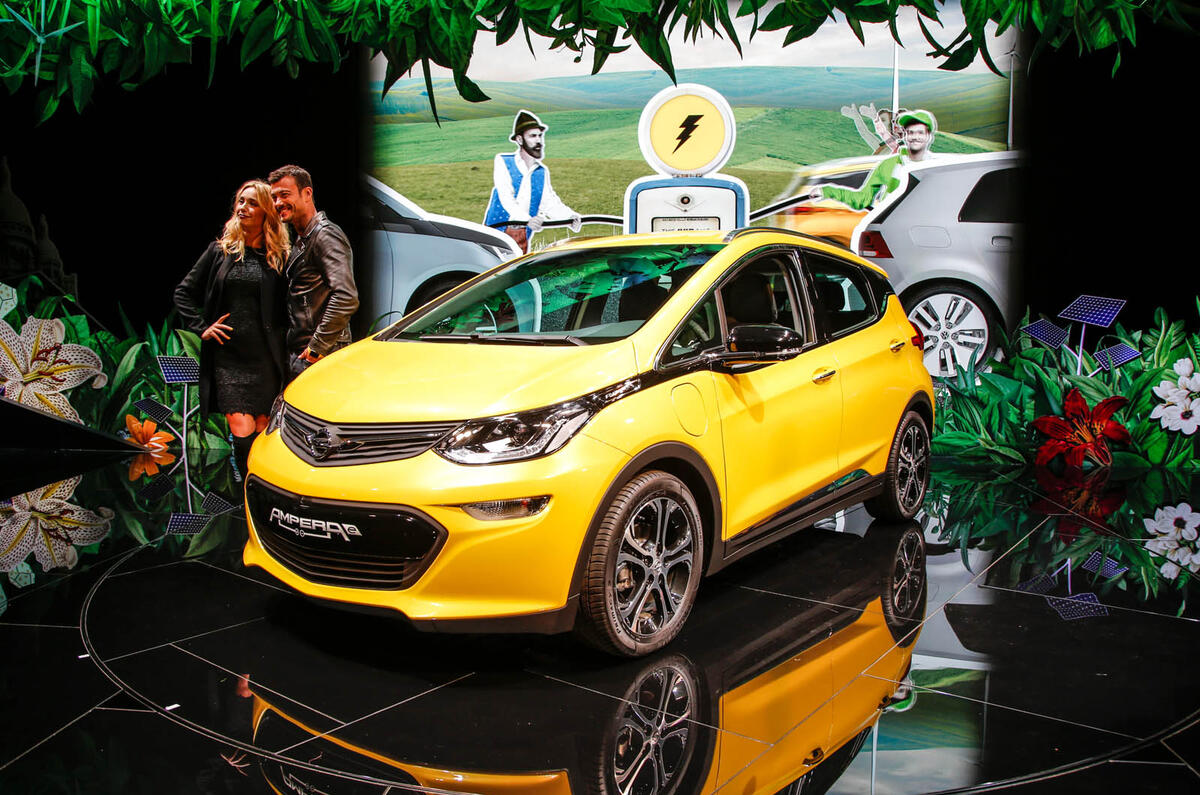 The Chevrolet Bolt, albeit under Opel Ampera-e guise, made its European debut at the Paris motor show. Details of the EV are sparse so far, but we do know that its acceleration rivals performance models in the Opel lineup, although its top speed is 93mph. The Bolt has a range of over 200 miles, so it's fair to expect the same from the Ampera-e.
Peugeot 3008
The new Peugeot 3008 has been transformed into an SUV in an attempt to take advantage of rapidly growing sales in that market. The 2017 model will feature Peugeot's latest i-Cockpit dash technology and gain new 1.2-litre and 1.6-litre petrol engines. Most UK buyers are expected to choose the 118bhp 1.6-litre diesel model, which emits 100g/km of CO2 and is claimed to return more than 70mpg.
Peugeot 3008 DKR
It shares its name and some design features with the new 3008, but underneath, the Peugeot 3008 DKR Dakar Rally challenger is a very different beast. The car uses a 3.0-litre turbocharged diesel V6 engine housed within a spaceframe chassis. It will contest on the sands of South America in January 2017, but first made its public debut in Paris.
Porsche Panamera
Aesthetically, the second-generation Panamera has been treated to some of the iconic styling cues of the 911, with tauter surfacing and a more curved roofline. However, this has not been to the detriment of practicality; headroom has actually increased, as has boot space.
The Panamera has also received a new range of engines including a new turbocharged 2.9-litre V6, 4.0-litre V8 diesel and twin-turbocharged 4.0-litre V8. When the car hits showrooms in early 2017, the initial line-up will comprise of three four-wheel-drive cars: the £88,700 Panamera 4S, £91,788 Panamera 4S Diesel and £113,075 Panamera Turbo.
Renault Trezor concept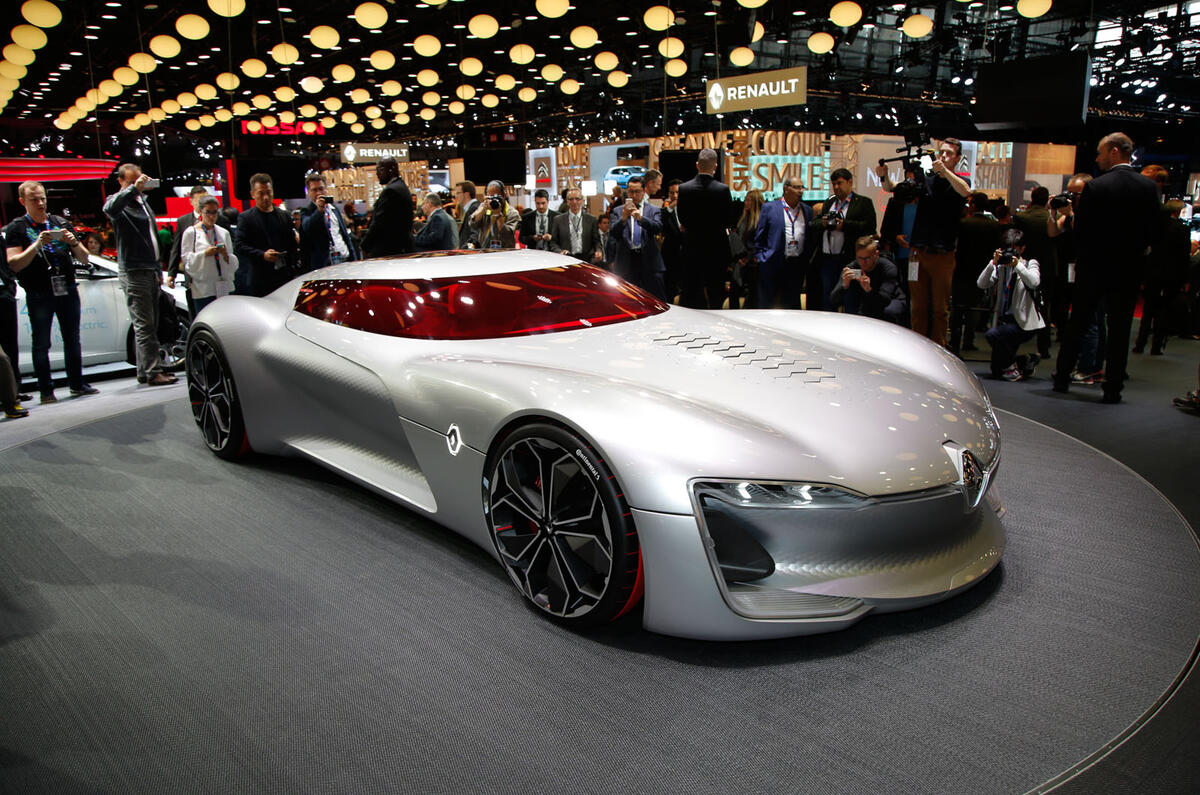 Renault's Trezor concept made its premiere at the Paris motor show, and the car maker has released one picture (above) and a video of the model to tease it. The video confirms it will have an autonomous drive mode, and Renault says the car "Explores the essence and technologies inspiring upcoming models that embody both a vision of how mobility might be in the future". It'll also usher in a new design era for Renault, called the 'Life Flower'.
Renault Alaskan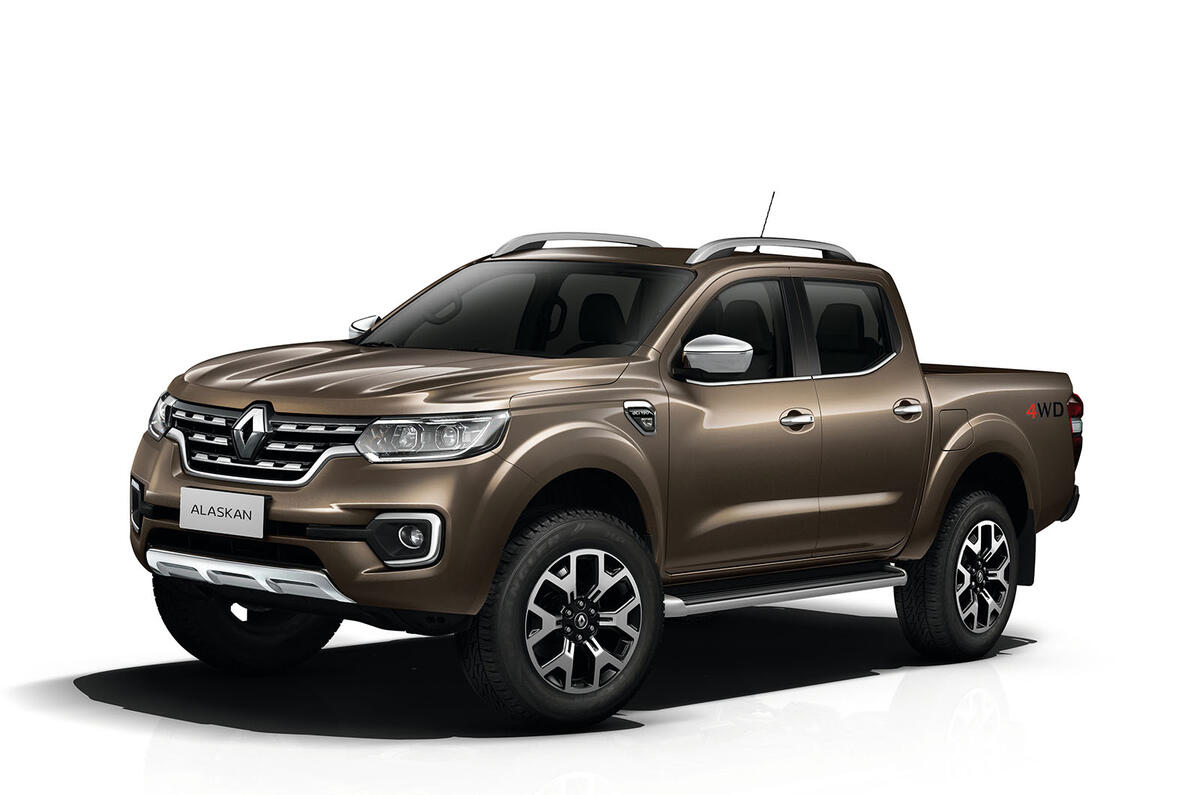 Based on Nissan's NP300 Navara, the Alaskan is Renault's first entry into the lightweight pick-up truck sector. With a ground clearance of 230mm, a towing capacity of 3.5 tonnes - a figure Renault claims is the best in the class – and a powerful 187bhp diesel four-cylinder engine, the Alaskan ought to to appeal to workers and private users alike. The truck is set to go on sale later this year for a price of £22,000.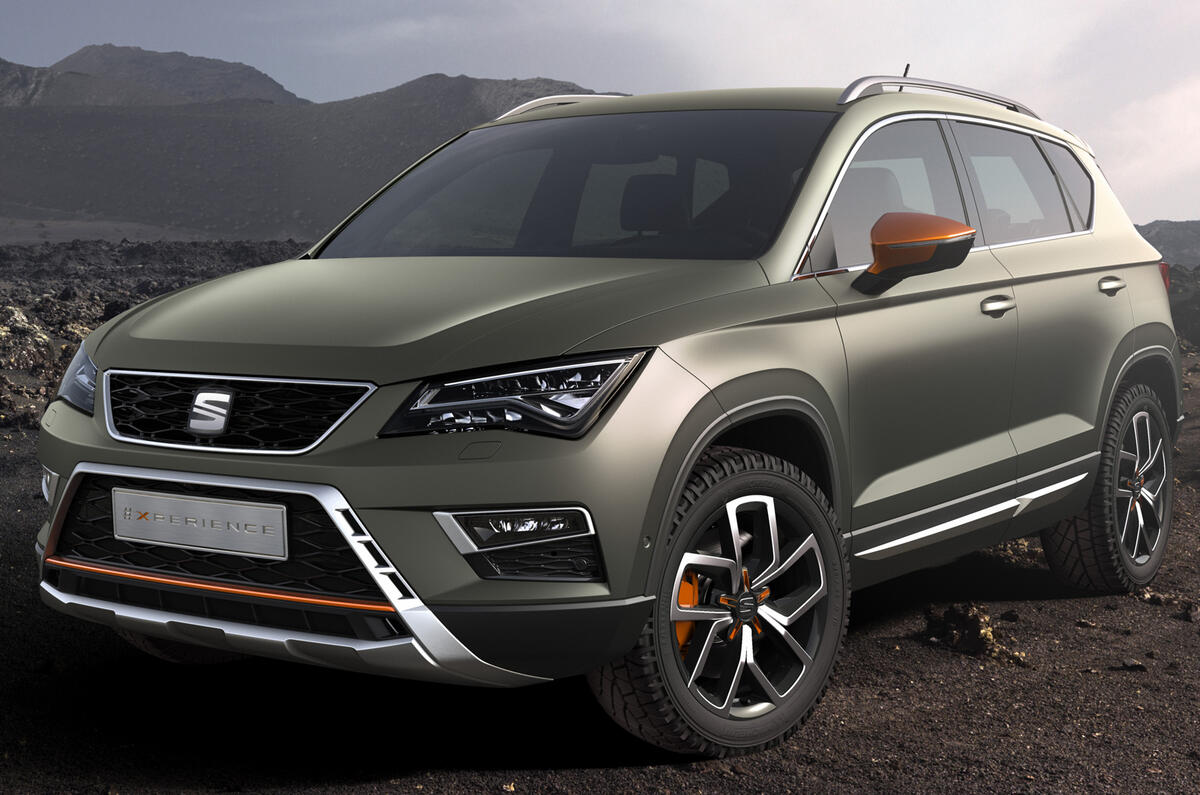 The Seat Ateca X-Perience may only be a concept for Paris at the moment, but we strongly suspect that it previews a production model, which is likely to arrive next year. It's got a 2.0-litre TDI engine, coupled to a Haldex four-wheel drive system and a seven-speed DSG gearbox. It's the outside where most of the changes have been made, though; it's got exclusive 18in wheels with high-profile knobbly tyres, scratch-resistant paint and contrasting exterior trim. 
Skoda Kodiaq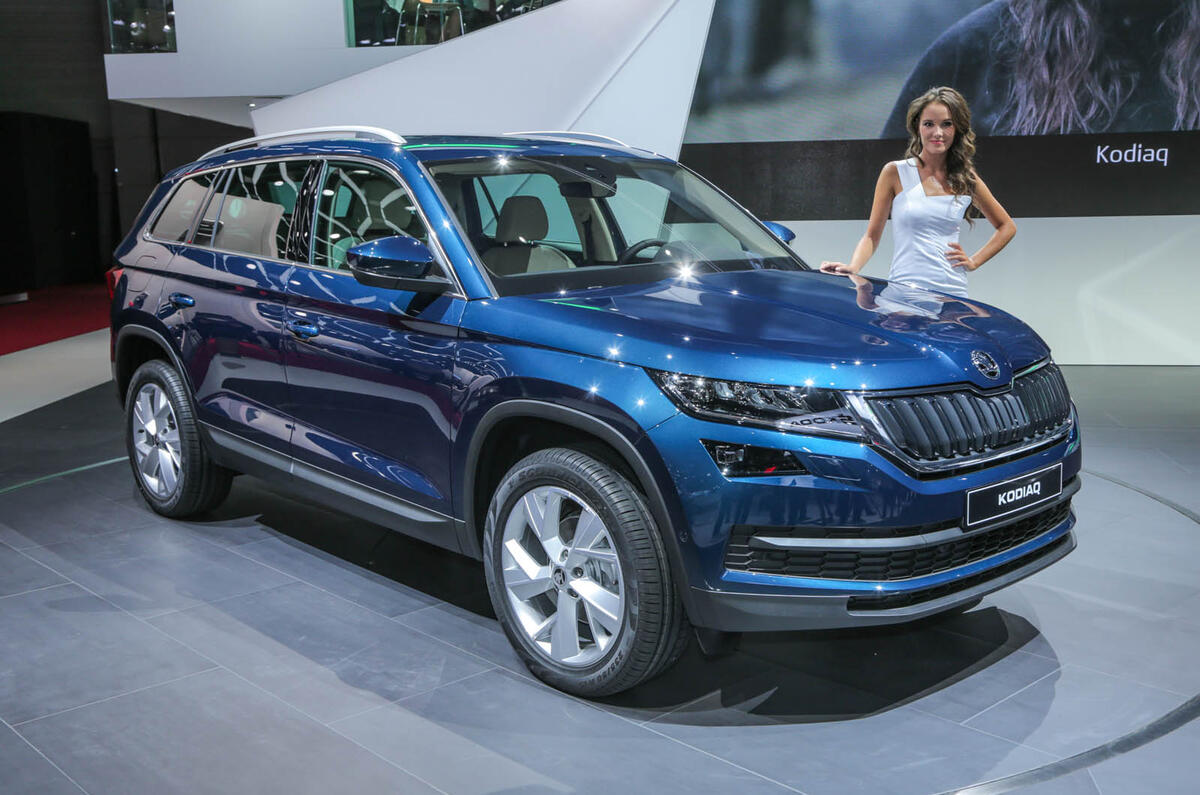 Skoda's new seven-seat SUV could easily become one of the car maker's best-selling models. We've already driven the prototype and have a very good idea of what the car will look like uncamouflaged. It will have a choice of five engines and optional four-wheel-drive.
Ssangyong Rexton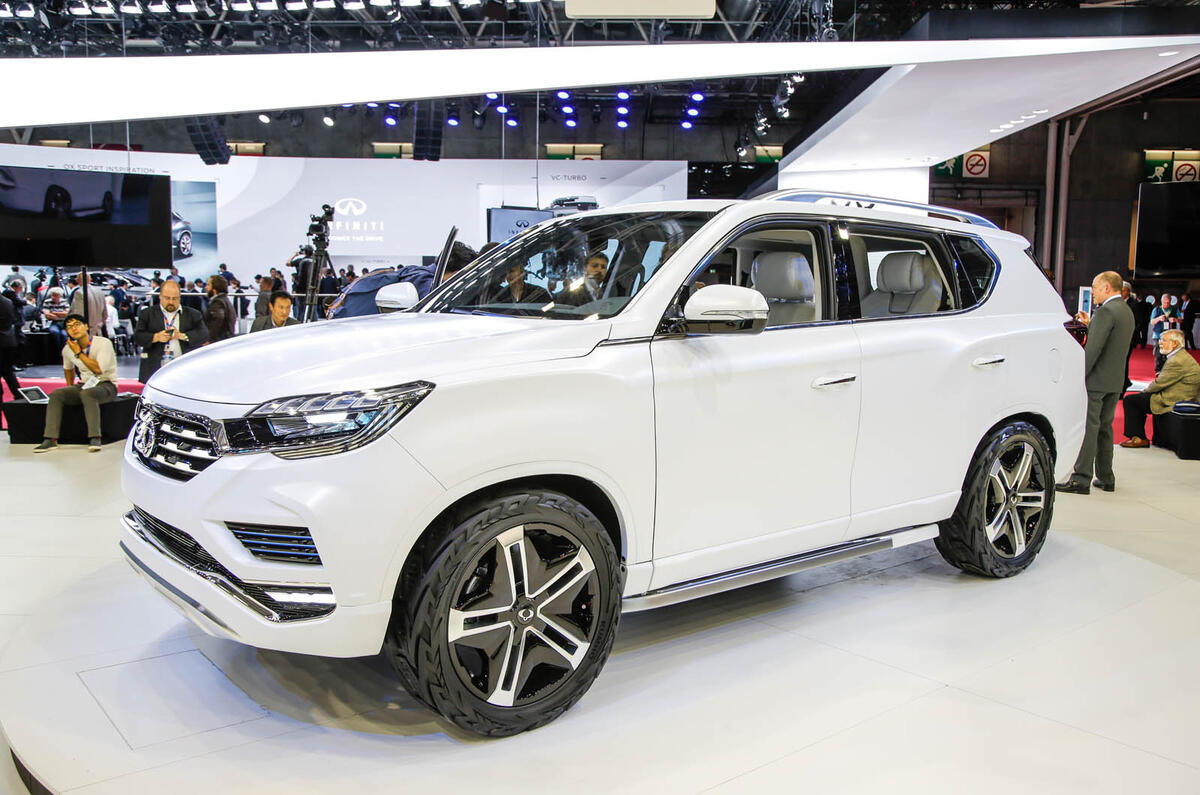 Ssangyong's new car offensive continued at the Paris motor show with a pre-production model that previews the brand's next-generation Rexton SUV. The new car will cost from less than £30,000 and will rival large SUVs across the market, including the Kia Sorento and Hyundai Santa Fe. Two engines are expected to feature: a 2.2-litre diesel and a 2.0-litre turbocharged petrol.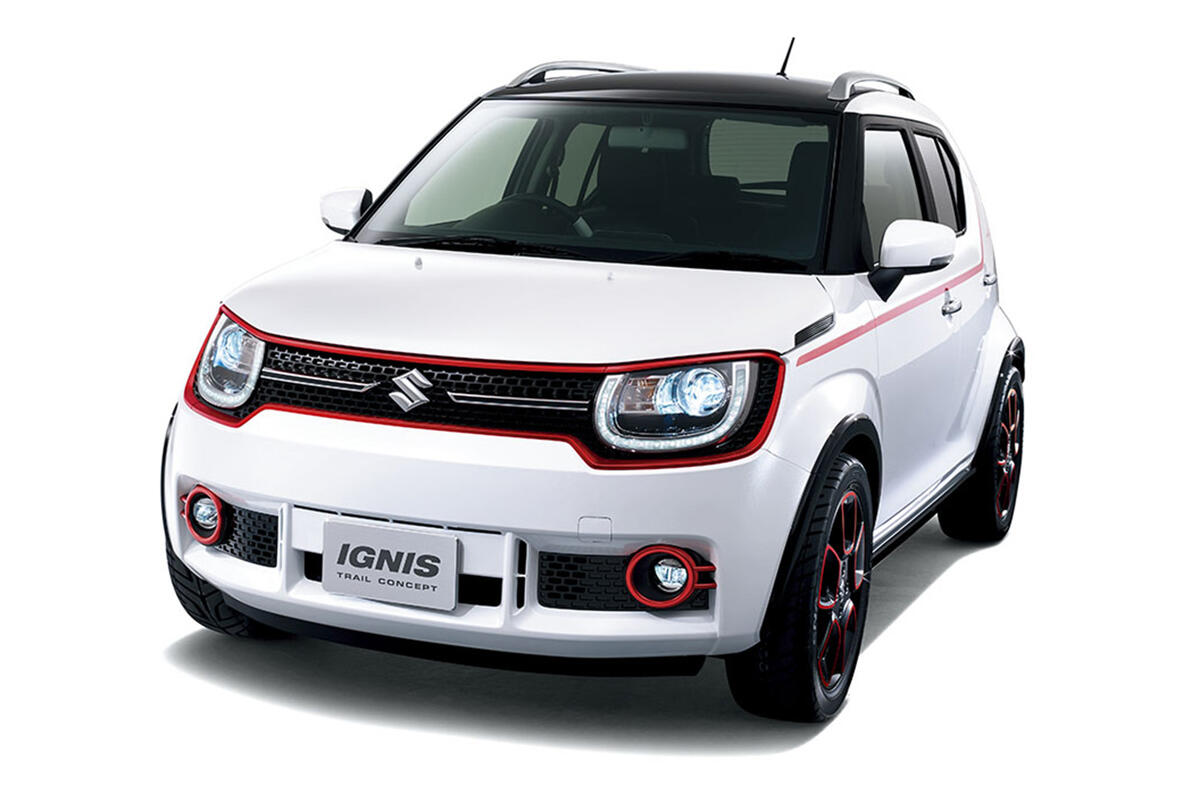 The Suzuki Ignis will return to the UK after a nine year hiatus. The small crossover has made its European debut at the Paris motor show before going on sale in the UK in January 2017. The Ignis will also be available as a hybrid, with a system which Suzuki calls SHVS (Smart Hybrid Vehicle by Suzuki). 
Another Suzuki crossover, the 2017 S-Cross, made its first appearance at Paris, to showcase its revised interior and exterior styling and announce the replacement of its 1.6-litre engine with 1.0-litre and 1.4-litre Boosterjet turbocharged engines. It'll go on sale in the UK in October.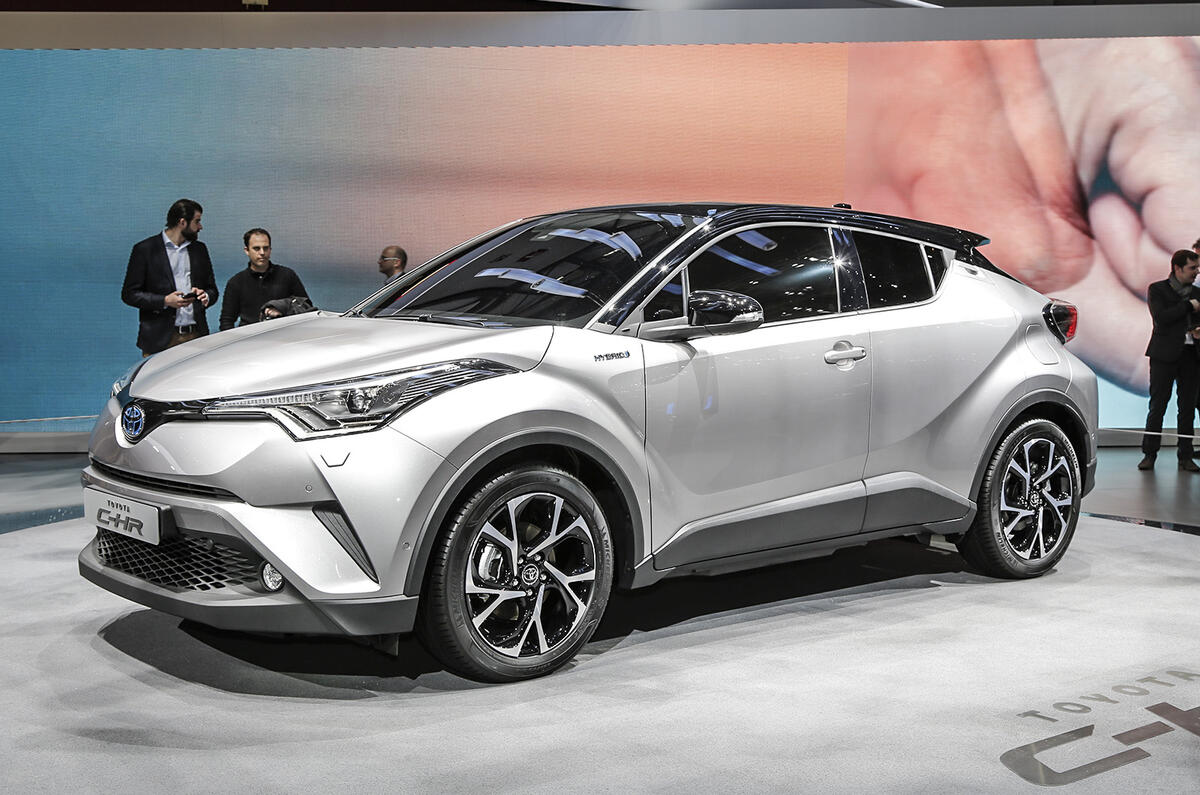 The radically-styled Toyota C-HR arrived at the Paris motor show in final production form. We've already seen the interior and exterior of the car, as well as taken a ride in a prototype C-HR, but the full, production-spec C-HR makes its debut.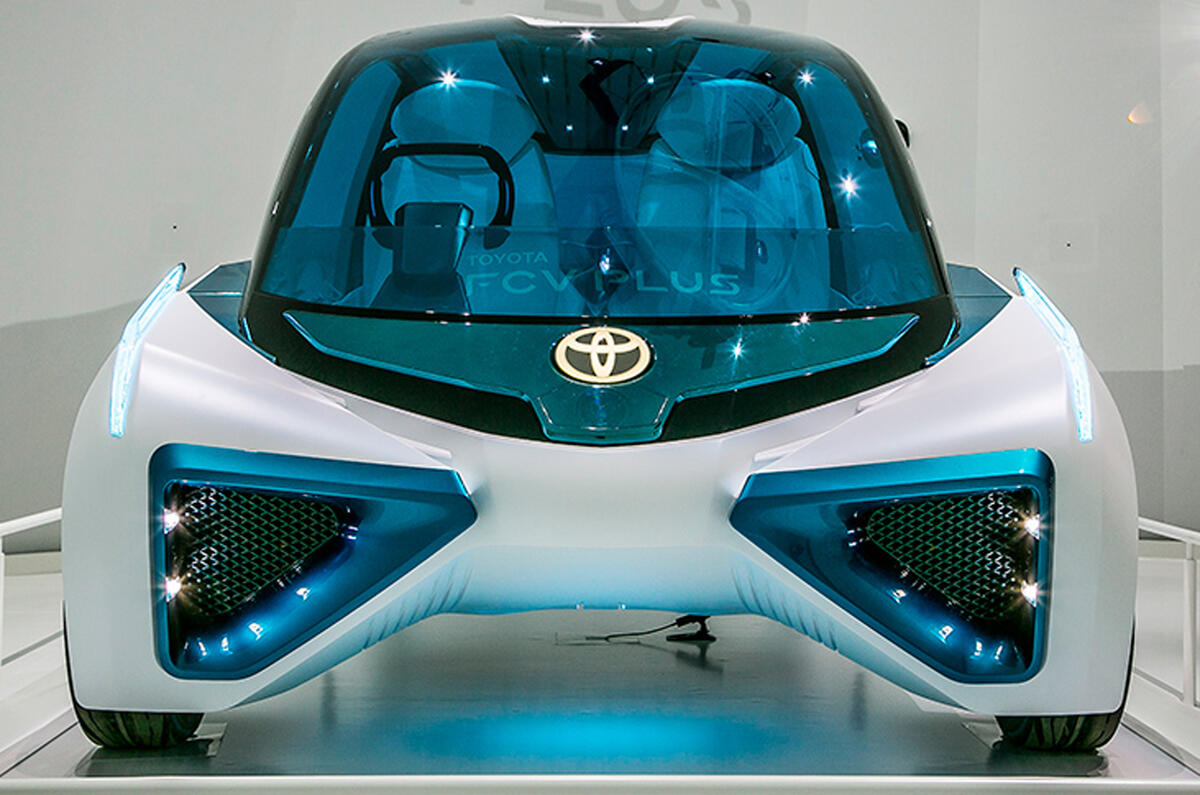 The Toyota FCV Plus concept is a motor show veteran - having made separate debuts at the Tokyo and Paris motor shows. It previews Toyota's utopian vision of how the hydrogen fuel cell vehicle can benefit society, and what they'll look like once they arrive. Toyota says the car is still at least fifteen years off yet, so don't expect to see the FCV Plus on forecourts any time soon. 
Volkswagen ID
The Volkswagen ID has been revealed in concept form along with claims it's capable of up to 373 miles to one charge. It will influence a production model that'll land on roads in 2020.
Volkswagen Tiguan LWB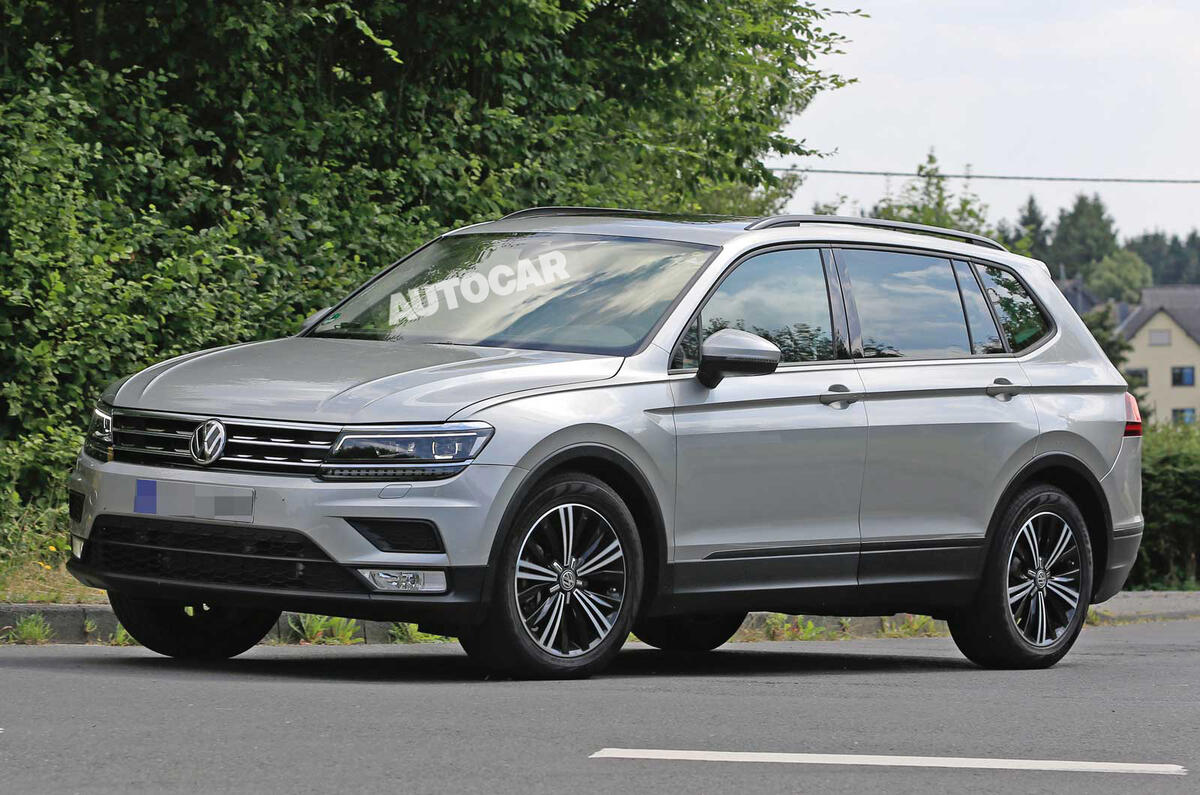 The long-wheelbase version of the Volkswagen Tiguan has been spotted testing recently and made its full debut in Paris. It's expected to come to the UK and is 110mm longer than the standard version of the SUV.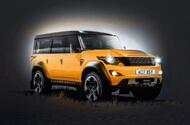 Jaguar Land Rover boss Ralf Speth confirms a Defender mule is in development, and says it looks fantastic
The new Land Rover Defender is already undergoing testing, according to Jaguar Land Rover chief Dr Ralf Speth, who told Autocar he has driven prototypes of the model.
He said the appearance of the car, seen above in an Autocar image, has been decided and looks "fantastic".
With design and engineering now at the stage of development testing on road, the new Defender is expected to arrive in 2018.
It will be based on the aluminium architecture of the new Discovery, Range Rover and Range Rover Sport and could be made in the same plant, in Solihull, although Land Rover now has aluminium plants in several places.
Speth confirmed it won't be related to the Discovery Sport or Evoque models.
He added that it will be "fairly different" from other models in actual body componentry, because a vehicle of this capability has to be very tough indeed.
"There is no question of the new Defender just being an icon. We are working on an authentic successor to the old Defender. The architecture will contain a lot of elements that are different [from other aluminium cars]," said Speth.
He also admitted that "all our vehicles have to make money". Land Rover has previously been reluctant to confirm its next Defender project, with the firm understood to be struggling to justify the cost of a model which is relatively low-volume, yet which needs to offer world-class off-roading abilities and general reliability, something its predecessor is famed for.
Read more about the new Discovery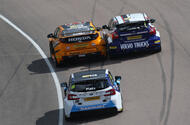 This season of the BTCC is set to come to a close at Brands Hatch this weekend, but after a record-breaking run an eight-way shoot out for the crown has been created
The British Touring Car Championship has broken records this season, with 12 different race winners over the 27 rounds. That level of competitiveness has created an eight-way shoot out for the crown at Brands Hatch this weekend. 
That showdown is due to an increased points system to bump up the tally for a win and reward drivers down to 15th place. That came in to play in 2012 and, since then, there have been two five-way fights for the silverware. This year has topped even those and there will be 110 miles of battling at Brands to determine the destiny of the 2016 trophy.
Realistically, there are five guys in with a shot: leader Sam Tordoff and his WSR BMW 125i team-mate Rob Collard, the factory Honda pairing of Gordon Shedden and Matt Neal, and the Motorbase Performance Ford Focus of Mat Jackson. 
BTCC 2016 (after 27/30 rounds) 
1 - Sam Tordoff - BMW 125i M Sport - 278pts
2 - Gordon Shedden - Honda Civic Type R - 267pts
3 - Matt Neal - Honda Civic Type R - 265pts
4 - Rob Collard WSR - BMW 125i M Sport - 261pts
5 - Mat Jackson - Motorbase Performance Ford Focus - 257pts
6 - Andrew Jordan - Motorbase Performance Ford Focus - 247pts
7 - Colin Turkington - Team BMR Subaru Levorg - 241pts
8 - Jason Plato - Team BMR Subaru Levorg - 220pts
Maximum score at the final meeting: 67 
Tough for Tordoff
Since the NGTC rules began ruling the roost in 2012, the BMW 125i M Sport, the car that will carry the hopes of Tordoff and Collard, has not won at the extended version of the Kent venue: indeed, it is the only circuit on the current BTCC calendar where drivers of the rear-wheel-drive German cars haven't scaled the top step of the podium since it was introduced in 2012.
Not only that, Tordoff will go in to the opening race carrying 75kg of success ballast. That won't be as much of a handicap on the Brands GP loop as it has been at other tracks but it will still have an effect.
There are the extra points to look out for too. The bonus offerings for leading a lap, securing pole and setting fastest laps could have a strong impact. 
If Shedden wins the opening race from pole and sets fastest lap, that would mean he and Tordoff go into race two with only five points separating the pair... 
There is a curve ball in terms of the softer option tyres, but the leading drivers have all successfully cancelled each other out by opting for them in race two.
Honda's gameplan
So while Tordoff will be the hunted, the Honda duo of Shedden and Neal are hunters – and both are pretty good at that.
They will have less weight than Tordoff going in to qualifying – 66kg for Shedden and 57kg for Neal – and both have been winners at Brands. There are two other crucial factors that means smart money could be behind the orange machines.
Both have been in the title showdown before. Shedden has been in the reckoning five times during his BTCC career and claimed the title twice (2012 and 2015). Old hand Neal has been in the climax eight times, and prevailed three times.
But there is more to it than that: they will be looking out for Honda's best interests and will work together to make sure that one of them is in position to collect the title going into the final race.
The pair even started talking about a game plan during the last meeting at Silverstone, but topsy-turvy race results meant that they didn't put it into practice. After race one at Brands, they will. 
That means race one will be vital on a personal basis for the Honda drivers: whoever has the upper hand after the opener could have one hand on the crown.
The chasers
Collard will also be out to help Tordoff, but only when the occasion demands it. The Hampshireman, who turns 48 on Saturday, has had an Indian summer to his career with two wins this year but he has also picked up a qualifying bogey this year. 
His average starting position (from timed qualifying) is 17th. You read that right: he has only started in the top six once, and that was at Donington Park in April. 
It is only some swashbuckling drives that have helped him claw back ground but that could be a step too far at Brands – a circuit that hasn't necessarily been good to him in the past.
Mat Jackson, on the other hand, has had recent triumphs on the 2.4-mile GP track at Brands with a brace last season in the EcoBoost-powered Motorbase Ford Focus. 
He is carrying 39kg to Brands this season though and, while he will be hungry for a maiden title, the odds against him are long.
The outsiders
Three others have a mathematical chance of the crown: Jackson's team-mate Andrew Jordan in the Motorbase Focus, and the Team BMR Subaru pairing of Colin Turkington and Jason Plato. 
All of these will require something disastrous to happen to the top five to make any real headway. Jordan took his second win of the season at Silverstone during the last meeting, but the 31-point deficit to Tordoff will be too much for him to rein in under normal circumstances.
It is remarkable that Turkington and Plato are there at all, with a brand new Subaru Levorg underneath them and a tough baptism. 
The team was even forced to withdraw from the rounds at Thruxton after a fuel rail system fire, so both lost three points-scoring opportunities. 
No driver has won the BTCC after missing a meeting since Gabriele Tarquini for Alfa Romeo back in 1994.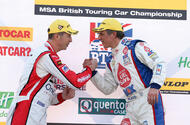 As the BTCC reaches its season-ending finale, we've caught up with two of its most experienced protagonists, Matt Neal and Jason Plato
Between them, British Touring Car Championship benchmarks Matt Neal and Jason Plato have started more than 1100 races in the series – a mighty landmark.
Plato celebrated his 500th start with a victory at the Knockhill circuit in Scotland in August, driving the Subaru Levorg GT, while Neal, driving the Honda Civic Type R, reached 600 in race two at Silverstone two weeks ago.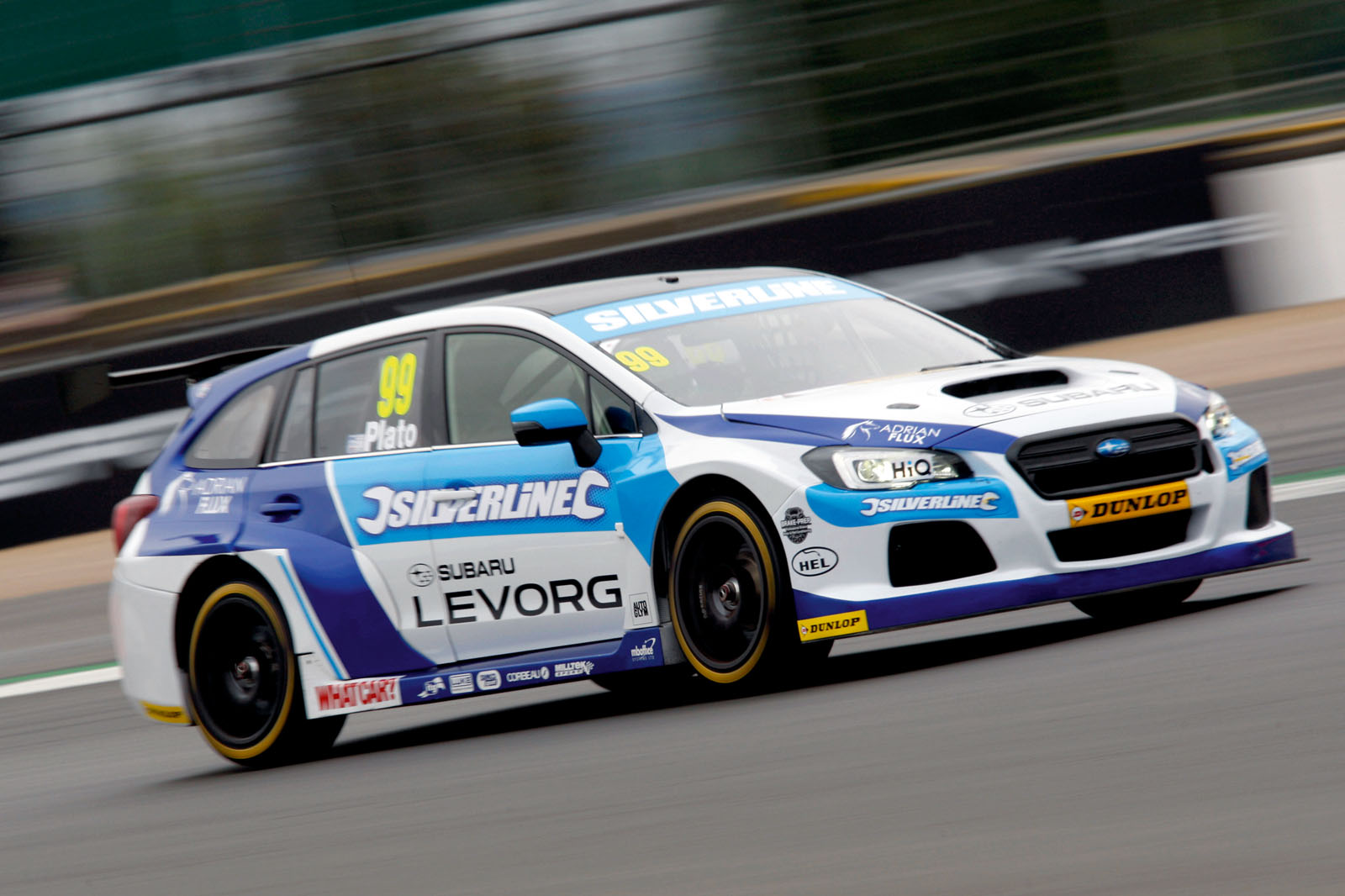 And both men – the grandees of the series in terms of races contested and championship victories – are in the hunt for this year's crown as they head into the final three rounds at Brands Hatch this weekend.
Of course, all statistics can be skewed. For a start, the BTCC only used to comprise eight meetings a season; now there are 30 in a year. It also used to be split into different classes for cars with different engine capacities, but since 1991 there's been a standardised 2.0-litre formula.
Nevertheless, Neal and Plato are still the box-office draws for the fans, and both have been permanent fixtures since Plato rejoined the series full time in 2004 with Seat.
"When you say I have done 600 races, it just makes me feel old," jokes Neal, 49. "It's a nice landmark, a great thing to have, but I'm still looking forward and I have a real shot at this year's title. That's the thing that is preoccupying me right now."
Neal, who has won three races this year and has 59 victories in total to his name, is just 13 points from table-topper Sam Tordoff's BMW 125i M Sport. He is at the very peak of his abilities, despite his 26-year BTCC career. The three-time title winner is as fast as he has ever been.
Plato's shot at a third crown is going to require something special to pull it off. He helped lure Subaru into the championship this season with a brand new Levorg GT programme. Its dynamically advantageous boxer engine has moved the goalposts in terms of car design, and the 48-year-old has been a fixture at the front since the engineers got on top of the car's development at the fourth meeting of the season.
That sluggish start has left Plato 58 points adrift of the series leader, but he has a strong record around the Brands Hatch grand prix circuit, the scene of the showdown.
His only victory of the campaign so far this year came at Knockhill in August, and that was the very race in which he celebrated his 500th start. But for him, that number isn't the way he would like to be judged.
"Before the race, I wasn't really thinking about it, because it's just a number, but what is more important to me is the ratio of podiums to starts that I have had [which stands at 44.1%] and the ratio of wins to starts that I have had [18.7%]. I was on pole for my first ever BTCC race with the Williams Renault team [in 1997], and here I am still at the front."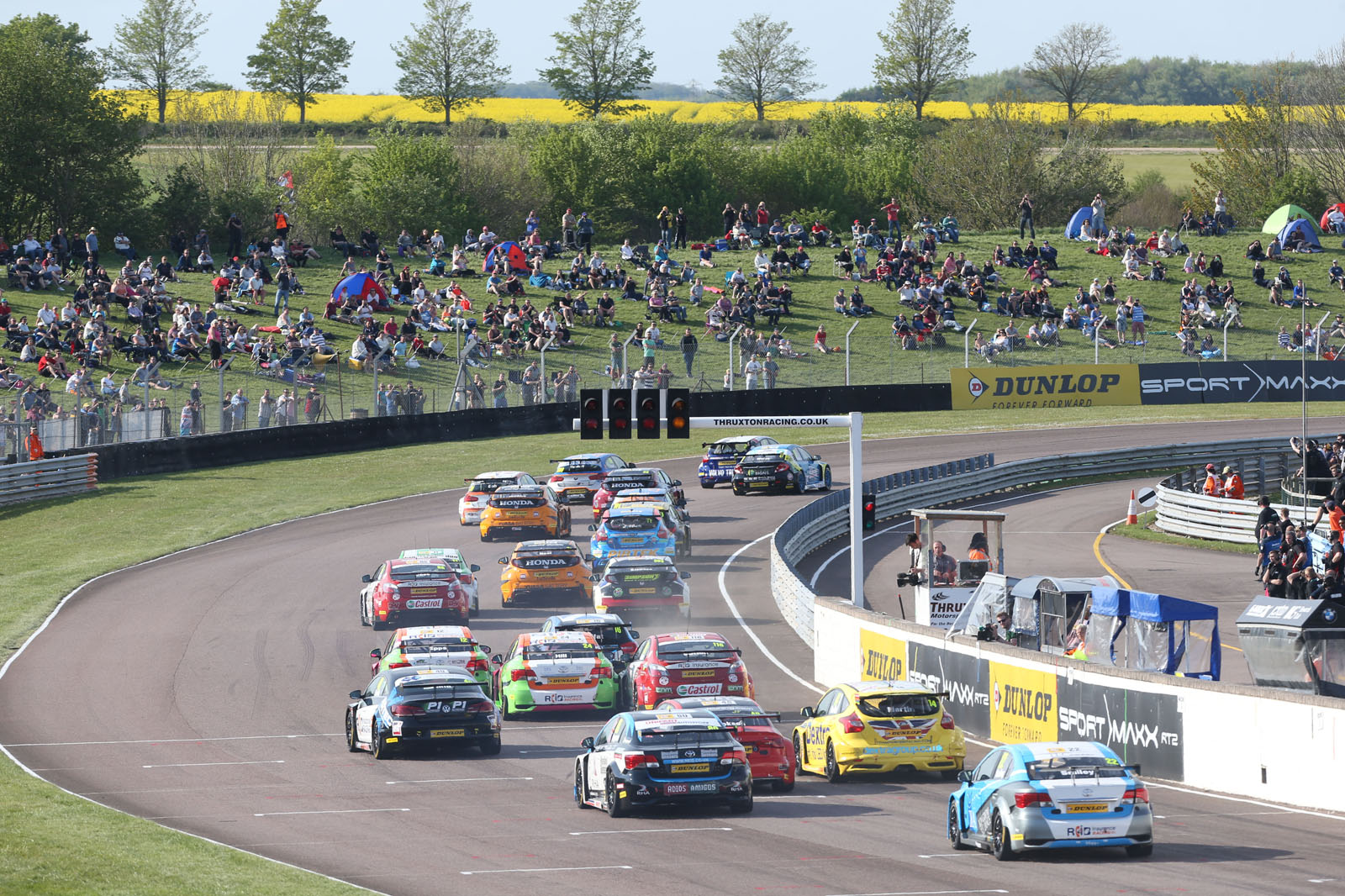 That last comment from Plato is interesting. While there is no doubt that Neal and Plato have been the dominant forces over the past two decades, there has been no love lost between them, with myriad on-track scuffles. They even squared up to each other physically in the pit lane at Rockingham in 2011.
While Plato is the most successful BTCC driver to date with 95 wins, Neal has the upper hand when it comes to championships claimed – which is why Plato is probably keen to highlight the podium and wins ratio, where he clearly outstrips Neal. The needle between the pair is very thinly veiled sometimes…
Both drivers are looking forward to the run-in this season with plenty to play for, and the number of starts that the pair has achieved is something that has been pushed into the background for the time being.
There are questions to be considered by both of them. While the physical demands of driving a touring car aren't as great as they are in many other categories, both are looking to the future.
"Maybe if I win a fourth title this season, it might be time to reflect and think about carrying on," admits Neal. "We are a way off doing that yet. I have a great relationship with Honda and the continuity and the harmony in the team is great, so let's see what it brings. I am only looking forward for now."
Plato is similarly circumspect. "I am still getting a buzz from this, and I am still able to bring plenty to the championship and I am able to run at the front," he says. "I am not slowing down, either on or off track, so for the moment there is no reason to change."
CHAMPIONSHIP TABLE
1 - Sam Tordoff - BMW 125i M Sport - 278 points
2 - Gordon Shedden - Honda Civic Type R - 267 points
3 - Matt Neal - Honda Civic Type R - 265 points
4 - Rob Collard - BMW 125i M Sport - 261 points
5 - Mat Jackson - Ford Focus ST - 257 points
6 - Andrew Jordan - Ford Focus ST - 247 points
7 - Colin Turkington - Subaru Levorg GT - 241 points
8 - Jason Plato - Subaru Levorg GT - 220 points
9 - Adam Morgan - Mercedes-Benz A-Class - 210 points
10 - Tom Ingram - Toyota Avensis - 200 points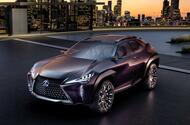 The Lexus UX concept previews the next CT200h, but what goes into making a concept like the UX? We find out from designer Stefan Rasmussen
From receiving a brief to today's Paris motor show, the Lexus UX concept's exterior designer, Stefan Rasmussen, has had 11 months to come up with the striking concept, synonymous with Lexus' leftfield design ethic. 
The brief was to design a C-segment SUV (which we expect is the next CT200h replacement), which sat below the NX but also use a broader design approach of how Lexus models could look in the future. No pressure then.
Rasmussen, clad in bright (blue) trainers so famously worn by car designers, tells me how he wanted to create "a car for urban areas" which looked "strong in the city".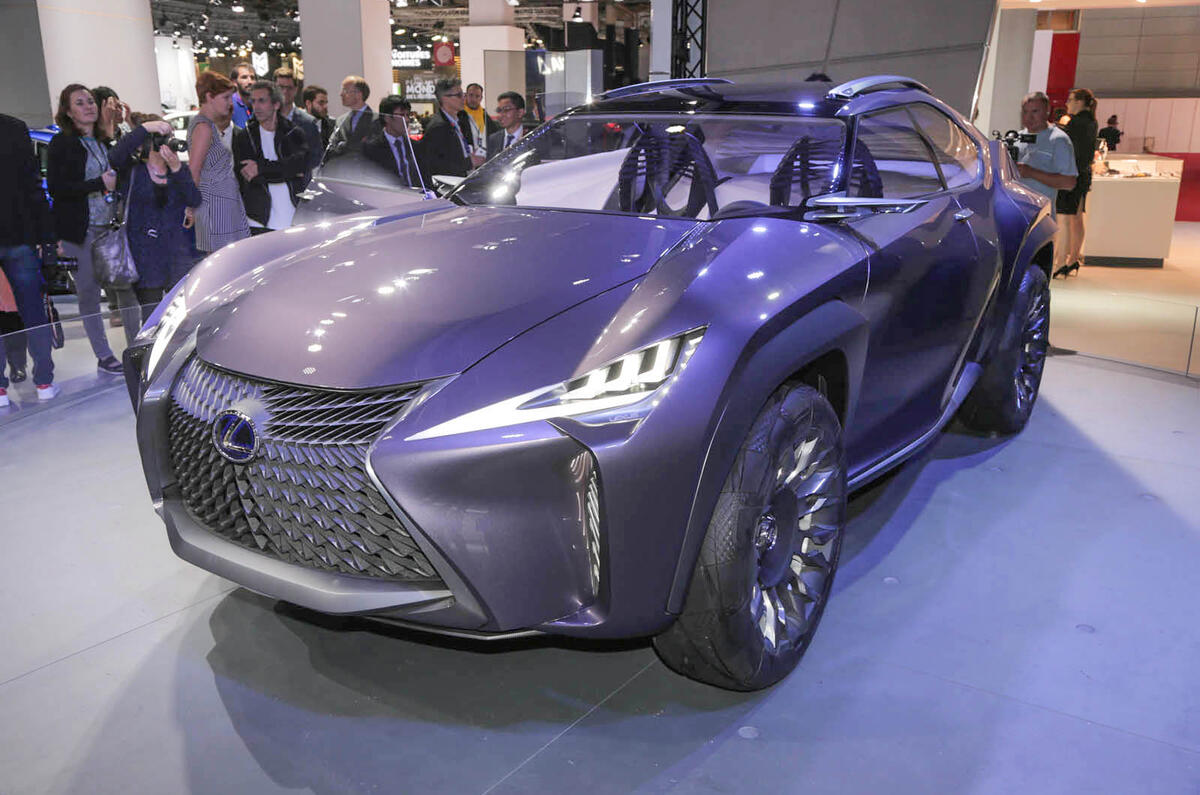 The first two months were spent sketching. He avoids looking at other cars, and instead looks to other things, for example, contrasts in city landscape for inspiration. 
"There were also a lot of conversations with colour and trim departments," he explains to ensure the exterior and interior were linked. 
Next up is creating the physical models. While plenty of companies only work in digital these days, Rasmussen set about creating a very small model to create the sculpture of the car, alongside a digital model, before going on to build a ¼-sized model.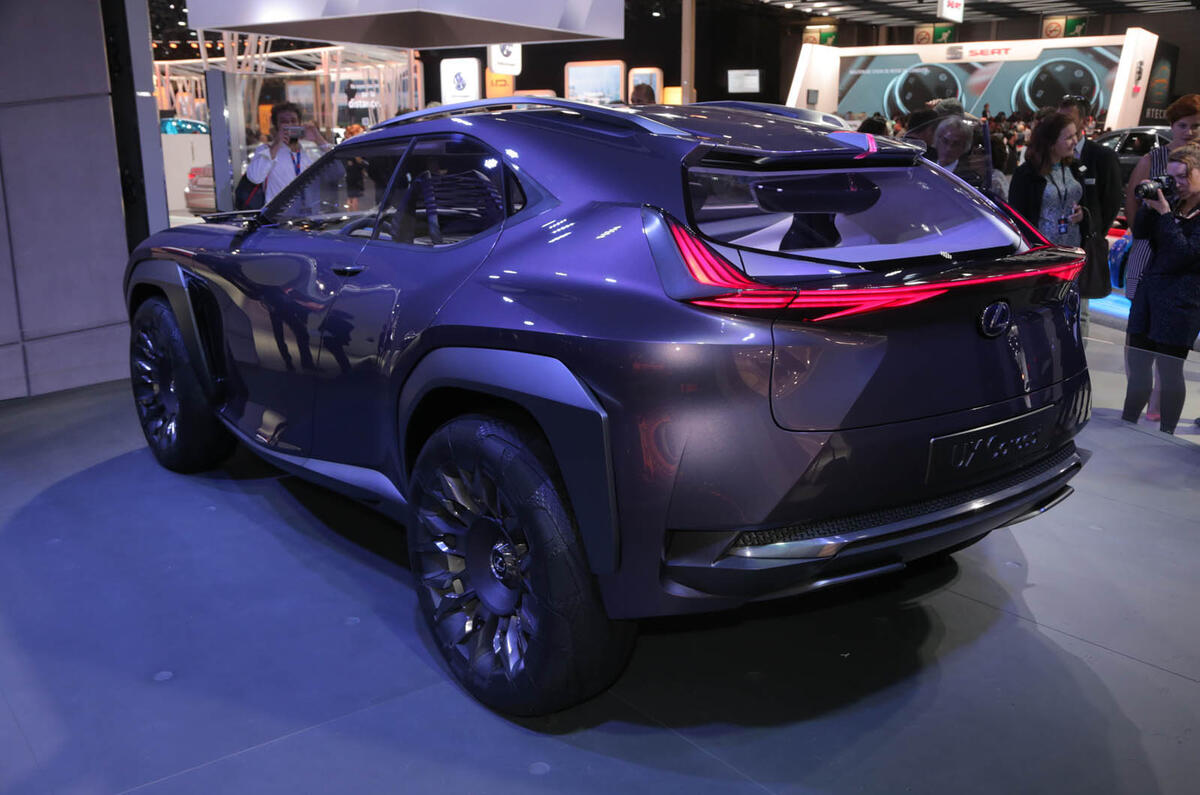 Then the big job – five months of sculpting in clay full size. "We work intensely with the modelling team," Rasmussen said.
Once happy with this model, it is scanned so that everything is translated to data – this is the stage when you make sure the interior works effectively with the exterior design. This scanning allows for so-called 'alias modelling'. Not au fait with modern CAD techniques, Rasmussen explains to me this is when the car is built in a 3D programme, all of which takes around a month.
And then the final stage, the technical programme. This was lengthy, Rasmussen says, because so many different materials and techniques were involved – carbon in the shell, seats coated in aluminium, 3D printing and a bodyshell made of four different layers.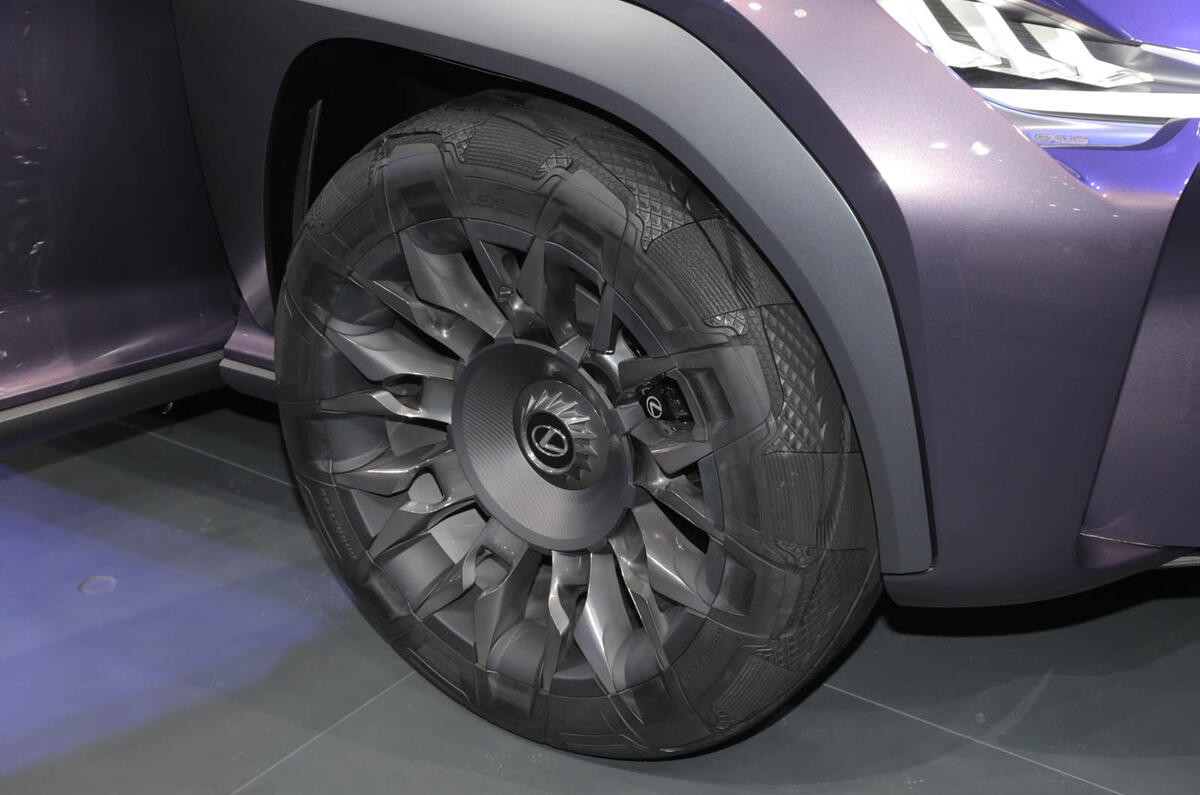 And then finally, the big reveal at Paris motor show. "We're making design as daring as possible. This sentiment – pushing design – is what made Lexus successful," says Rasmussen.
I ask him whether he's going on holiday now, but he announces he's already working on the next Lexus project. Watch this space.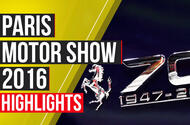 These are 14 of the most important cars to land at the 2016 Paris show - an event that's already proven to be one of the best yet
The Paris Motor Show is under way and we've put everything you need to see together in this mega highlights video from he Mondial de l'automobile 2016.
Less than 24 hours in and this year's event has already cemented itself as one of the biggest ever. Volkswagen has unveiled its first EV, the new Land Rover Discovery is here and Nissan has broken convention with its new Micra.
View those cars and more in our video below.
Which is your favourite car of Paris 2016?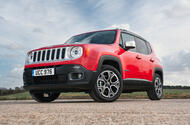 Buoyed by the success of the Renegade crossover, the go-anywhere brand is plotting an even smaller new model
Jeep could build a smaller SUV to slot into its range below the Renegade, company boss Mike Manley has confirmed at the Paris motor show.
The success of the Renegade has encouraged the company to weigh up a B-segment rival to cars such as the Nissan Juke and Ford Ecosport.
Manley said: "I'm pretty confident that it is going to be a viable segment for us in the future."
He wouldn't be drawn on a date when such a vehicle might appear and said: "The reality is that we have to go through all of the usual business planning processes first."
Jeep's offering in the class would "still have to be capable" and possess the brand's go-anywhere DNA. That poses a challenge when it comes to developing a smaller vehicle, said Manley: "When you think of some of the elements that make a vehicle capable, such as ground clearance, the geography of the vehicle makes it more difficult. 
"You have to be very careful in terms of the geometry of the vehicle, plus the kind of four-wheel-drive system that you employ."
There are existing reports of a B-segment SUV being planned by Jeep India, although it isn't clear if is a project aimed mainly at the local market.
That vehicle, apparently codenamed 526 and less than four metres long, is likely to be follow the rugged design cues of the Renegade and will be the most affordable SUV in Jeep India's range.
It is to be built in the Fiat plant in Ranjangaon, India, which is one of the production sites for the new Jeep Compass.
Almost 10,000 cars affected by concerns over corrosion to catch mechanism
Kia is recalling almost 10,000 Sedona MPVs over fears that their bonnet catch mechanisms could fail.
Some 9955 models built between June 2005 and April 2014 are affected. The recall will check the secondary bonnet catch, which could remain open if affected by surface corrosion.
Kia said it was not aware of any UK vehicles suffering a failure or being involved in any accident as a result the problem.
All registered keepers will be contacted by mail through the Driver and Vehicle Standards Agency to arrange the 20-minute repair at no cost.
Phill Tromans
Those disappointed with the look of the new Q5 won't have long to wait, because radical design from Audi is just around the corner
Polite people will call it evolutionary, while those who are less polite will question whether the new ideas bank at Audi is empty - but whichever way you go, it's hard to argue that the all-new Q5 looks all-new, or to argue that it won't sell by the bucketload (whether it be regardless of that or a result of it).
One leading designer from a rival firm described the pressure put on design teams to create sure-fire winners as "potentially crippling". His theory is that success stifles innovation, as it gives senior managers more pressure to keep the ball rolling. Change too much and fail and the results and ramifications are clear for all to see.
"We're asked to design cars that sell," he said. "If you are asked to redesign a car that is selling well, then they also tell you not to screw it up - although not perhaps in that language. At that point the pressure to stick to what you know is huge."
Apply that theory to Audi and it rings true - although I should stress that I've no idea if it really is true. The compnay is mega-successful in sales and profit terms and one of the engine rooms of the Volkswagen Group's profit margins, and you can understand why designers and bosses would be loathe to fiddle with a successful formula like the Q5. The result? Evolutionary new cars such as the one revealed today.
The good news is that change is coming under the stewdarship of new head of design Marc Lichte. His Prologue concept showed enough to suggest we should be hopeful - excited, even - that greater change is finally on the way.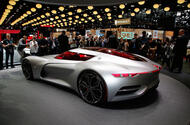 Who doesn't love a concept? Tesla's Elon Musk, it turns out, and anyone who'd like to buy some of the coolest cars ever displayed at motor shows
Concepts, concepts, concepts. A walk around a motor show usually reveals about half a dozen you'd gladly invite to sit on your driveway. Mmm, the Renault Trezor. Cor, the Hyundai RN30. Even hey, the Lexus UX: what a cool, funky-looking crossover/SUV/urban rufty-tufty-probably-hybrid thing. Would love to have one. It's like a modern, cooler Isuzu Vehicross.
Except that, d'oh, of course, you can't buy any of the above. You might, one day, perhaps, be able to buy something that is slightly, at a stretch, derived from one of these concepts. But if you want a car that looks as cool as a UX or a Trezor? Well, tough. It's a practice Elon Musk, founder of Tesla motors and occasional lander of space rockets on seaborne barges, describes as "lame".
I take his point, because if you went to most trade shows and discovered that all of the newest and most desirable products on display were ones you were completely unable to buy, you'd be pretty cross about it. "Hey bud, look at this new phone. You'll be able to buy a worse-looking one, which won't have half of these features, in four years' time." "Yay!" 
I know, I get it. Concept cars are worth doing because they show future trends, they educate designers and engineers, they apparently get customers used to design directions. And of course they're expensive to make, often impractical and have technology that doesn't necessarily work. So of course you can't buy one. But it remains a huge frustration to me, that the cars you want the most when you go to a motor show are the ones that are least likely to ever become attainable.
Mini's flagship estate brings the fight to the Audi S3 Sportback with four-wheel drive and a 0-62mph time of 6.3sec
The Mini Clubman JCW has been revealed, and is making its debut at the Paris motor show. 
The Clubman JCW is the flagship amongst the Clubman range, and is powered by a turbocharged 2.0-litre petrol engine that produces 228bhp and 258lb ft of torque — increases of 39bhp and 51lb ft over the next most powerful Clubman, the Cooper S.
Read about this year's Paris motor show here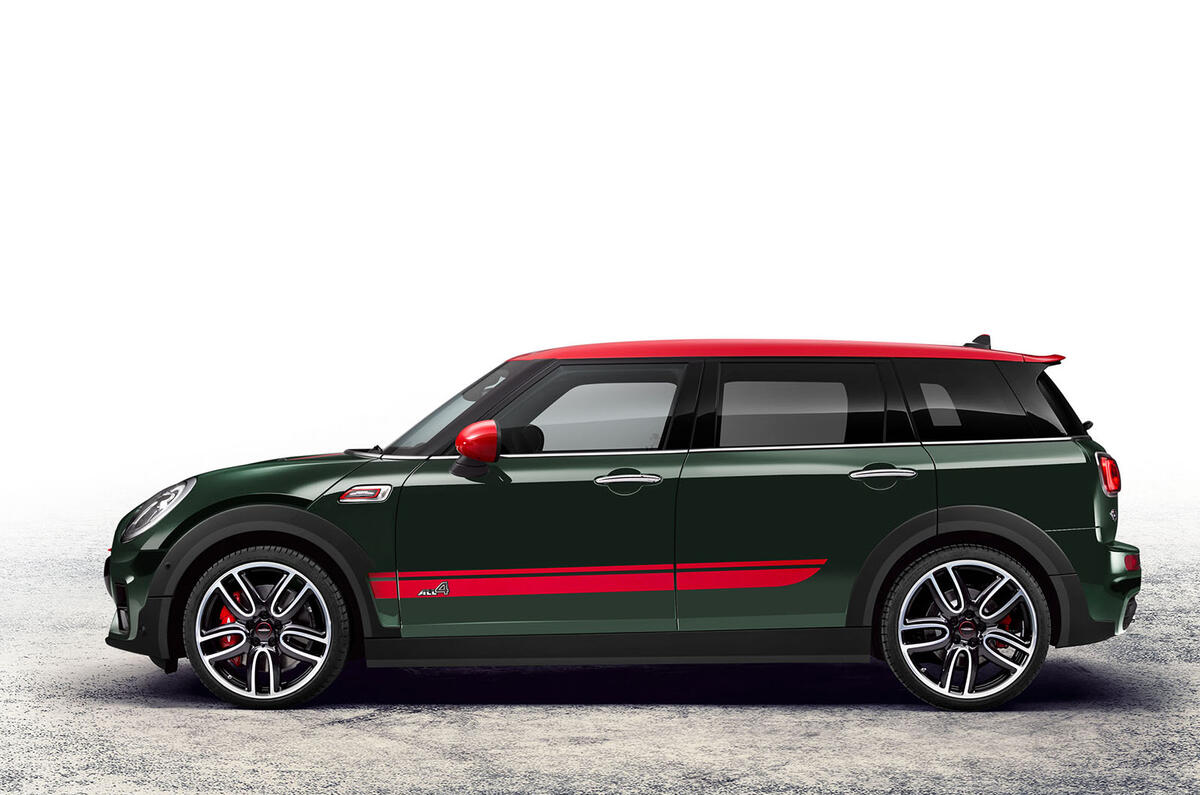 Mini claims a 6.3sec 0-62mph time and a top speed of 148mph. This sprint time puts it directly between the Audi A3 Sportback 2.0 TFSI Sport (0-62mph in 6.9sec) and S3 Sportback (5.3sec). It's slower than both, though. The 2.0 TFSI has a top speed of 151mph and the S3's is a governed 155mph.
The Clubman JCW benefits from Mini's All4 four-wheel drive system, as well as upgraded suspension, braking, cooling and exhaust systems. The turbocharger has been tweaked, too, and is made from a material that can withstand extreme heat.
These exterior changes comprise more aggressive and aerodynamically beneficial front and rear bumpers, as well as a rear wing. The Clubman JCW also gets exclusive 18in wheels, while inside, an Alcantara headliner and sports seats have been fitted.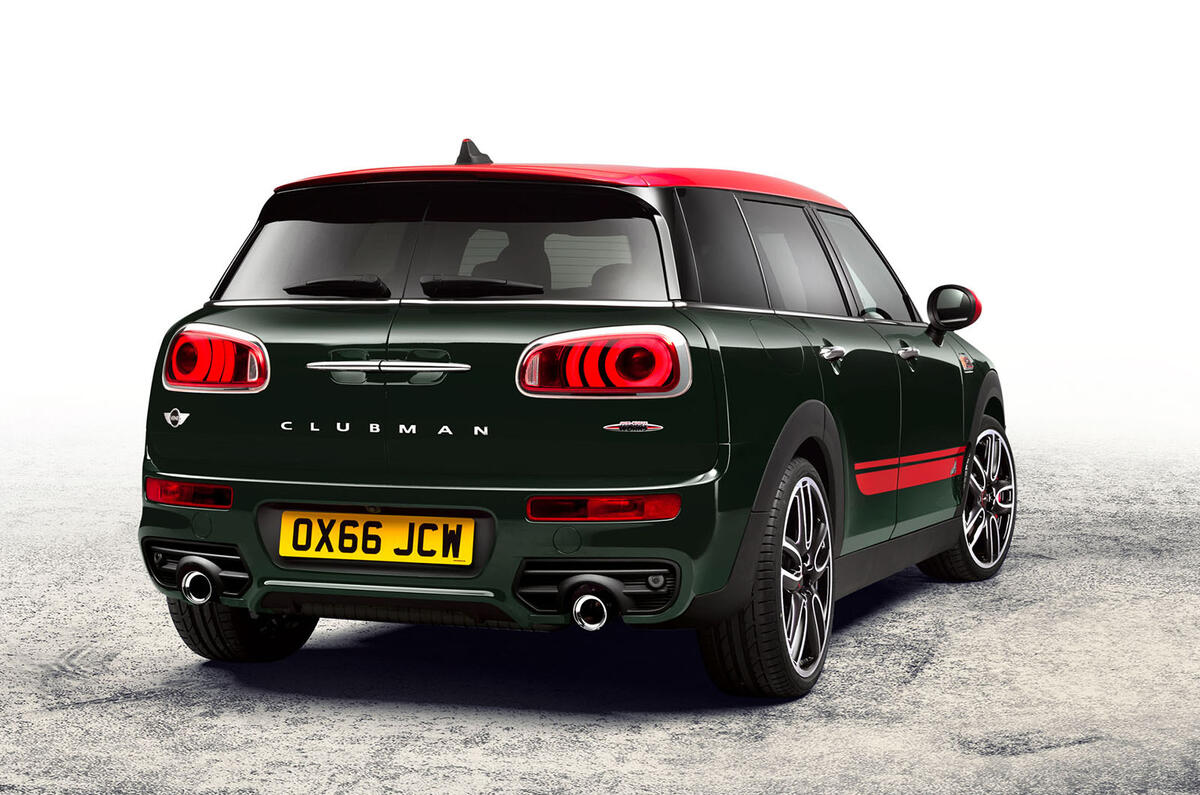 The Clubman JCW is priced between the two A3 variants, at £29,345 in manual form, or £30,945 when fitted with an eight-speed automatic gearbox. 
UK deliveries are expected to get under way in December.
Keep up with all the latest Paris motor show news, with all the latest reveals and details here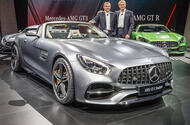 Drop-top range-topper is called the AMG GT C; it produces 547bhp, 78bhp more than the GT Roadster
The new 196mph Mercedes-AMG GT Roadster has been revealed at the Paris motor show.
Mirroring the strategy taken with the GT Coupé launched in the UK last year, the GT Roadster will be sold in two distinct versions when UK sales get underway later this year: the 469bhp GT Roadster and the more comprehensively equipped 547bhp GT C Roadster.
Read about this year's Paris motor show here
Pricing is yet to be revealed, although Mercedes-AMG officials suggest the GT Roadster will be pitched around £10,000 above respective GT Coupé models. This should see the standard GT Roadster priced at close to £107,000, with the more powerful and comprehensively equipped GT C Roadster likely to nudge £120,000. Deliveries are not expected to begin until April 2017.
Sporting the styling updates unveiled on the 577bhp GT R back in June, the GT Roadster features AMG's distinctive new 300 SL Panamericana inspired grille, which receives an altered shape and vertical chrome bars instead of the earlier blade treatment seen on the GT Coupé.  
To ensure more efficient cooling of the engine and improved aerodynamic properties, the GT Roadster also adopts the active air management system that was first seen on the GT R. It uses a series of vertical louvres within the grille, which automatically open and close depending on the temperature of the engine to either enhance cooling or smooth airflow.
Further visual changes over the GT Coupé include a more defined splitter element in the lower section of the front bumper, larger air ducts and more defined sills underneath the doors.
At the rear, the two GT Roadster models differ in width due to the adoption of differing rear bumpers. The standard GT Roadster uses the same bumpers as the existing GT Coupé, while the GT C Roadster uses the 57mm wider bodywork of the GT R.  This allows the latter to run larger 20in rear wheels with 305/30 profile rubber as standard in place of the 19in rims and 295/35 tyres of the former.
As with its predecessor, the SLS Roadster produced between 2011 and 2014, the GT Roadster features an automatic fabric roof. The three-layer structure, which comes in either black, red or beige, is supported by a frame made from aluminium, magnesium and steel. It opens and closes in a claimed 11sec at speeds up to 31mph, folding and stowing over the rear bulkhead behind the two-seat cabin.  
Offsetting the loss of a fixed roof structure is a stiffened the aluminium body structure with thicker sill elements, an additional dashboard support and a new aluminium crossmember supporting a fixed roll over bars.  
Significantly, the GT Roadster packs greater reserves than the GT Coupé to counteract the higher kerb weight brought on by its electrically powered fabric roof and the structural stiffening measures required to accommodate it.
The third model in the GT line-up shares its twin-charged 4.0-litre V8 petrol engine with AMG's headlining coupé. But while the 90-deg unit delivers 456bhp in the GT Coupé and 502bhp in the GT S Coupé, its output has risen a respective 13bhp and 47bhp, giving the GT Roadster 469bhp and the GT C Roadster a heady 549bhp.
Torque is also up, extending by 22lb ft in both the GT Roadster and GT C Roadster to 464lb ft and 501lb ft respectively.
In comparison, the twin-turbocharged 3.8-litre horizontally opposed six-cylinder powered Porsche 911 S Turbo Cabriolet kicks out 571bhp and 516lb ft.
Together with the increase in power and torque, the GT Roadster also receives altered gear ratios for its seven-speed Speedshift dual clutch transaxle. AMG says the new open top features a higher first and lower seventh gears, as well as a lower final drive than the existing GT Coupé.  
The rear-wheel drive GT Roadster offers four driving modes as standard via a so-called Dynamic Select controller: Comfort, Sport, Sport Plus and Individual. The more performance focused GT C Roadster adds a fifth mode: Race.
With a power-to-weight ratio of 294bhp per tonne, the 1595kg GT Roadster is claimed to hit 62mph in 4.0sec and run to a top speed of 188mph. With 331bhp per tonne, the more powerful 1660kg GT C Roadster is claimed to outrun the GT S Coupé to the tune of 0.1sec and 3mph, with an official 0-62mph time of 3.7sec and 196mph top speed.
Corresponding fuel consumptions are put at 30.0mpg and 24.8mpg for CO2 emission ratings of 219g/km and 259g/km.
AMG explains the 65kg weight difference between the GT Roadster and GT C Roadster due to the latter receiving a higher level of standard features. Included is the rear-wheel steering system first unveiled on the GT R. It steers the rear wheels in the opposite direction to those up front at speeds up to 62mph to enhance agility and reduce the amount of steering input that is required to turn into corners. Once the speed exceeds 62mph, the rear wheels then turn in the same direction as those at the front in a move that is claimed to enhance longitudinal stability without any reduction in overall steering response.
As with the GT Coupé, the two GT Roadster models feature differing suspension set-ups. The standard GT Roadster model receives a so-called sports suspension with fixed rate damping, with the GT C Roadster boasting AMG Ride Control with adaptive damping.
Although Mercedes-AMG refuses to comment, German dealer sources confirm the altered styling, more powerful engine and altered gearbox ratios of the GT Roadster models will feature in a facelifted version of the GT Coupé.
Keep up with all the latest Paris motor show news, with all the latest reveals and details here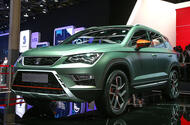 Seat's off-roading variant of its new Ateca SUV has been revealed at the Paris motor show
The Seat Ateca X-Perience has made its public debut at the Paris motor show.
The four-wheel-drive range-topper is the off-roading version of the Spanish firm's recently launched compact SUV, which is set to go on sale next year. 
Read about this year's Paris motor show here
Seat has equipped the exterior of the Ateca X-Perience with exclusive 18in wheels and high-profile tyres, black wheel arch trim, metallic trim on the lower areas of the doors and green scratch-resistant paint with orange highlights. There are also rear bumper-mounted mud flaps, chromed roof rails and more rugged lower bumpers both front and rear. 
Under the bonnet is the 190bhp, 295lb ft 2.0-litre TDI engine, which is coupled to a seven-speed DSG dual-clutch automatic gearbox and a Haldex clutch and four-wheel drive system that splits the torque between the front and rear wheels, a set-up that's similar to that of the top-spec Ateca Xcellence. Like other serious off-road SUVs, the Ateca is equipped with hill descent control. 
Inside, the colour scheme matches the exterior, with the use of green and orange highlights along with brown trim. Suede leather sports seats, a revised gear lever and rubber floor mats feature, while underneath a sump guard protects the car from off-road obstacles. 
The X-Perience name is given to all of Seat's more rugged models, such as the Leon X-Perience, although it's not yet known if more models will be added to the all-terrain sub-brand. 
Seat couldn't say how many Atecas are expected to be sold in X-Perience form, but it expects around 17% of all Ateca sales to be of models equipped with four-wheel drive. So far, the current range-topping Ateca Excellence represents 66% of sales, and it's expected that the X-Perience will have a similar level of specification to Xcellence trim. 
Despite the car's current concept labelling, the Ateca X-Perience is expected to go on sale at the top of the Ateca range, priced at around £1000 over the range-topping Xcellence trim, which starts at £23,905 when equipped with the 1.4 TSI engine.
Matthias Rabe, Seat's research and development vice president, said: "The X-Perience is an exercise to show the Ateca family's possibilities and potential in the future." 
With the Ateca X-Perience we can go beyond that which we already have in the series. It's for the customer that wants to go further, taking it to the extreme, for weekend adventures and, of course, off-road."
Keep up with all the latest Paris motor show news, with all the latest reveals and details here
A plug-in hybrid petrol-electric drivetrain powers Citroën's Cxperience concept; there's up to 300bhp on tap
Citroen has revealed a new executive saloon concept, called Cxperience, which uses a plug-in hybrid petrol-electric powertrain and features the brand's Advanced Comfort programme and a host of interior technology.
The company says the concept showcases future Citroëns and demonstrates how the styling of recent smaller cars, such as the C4 Cactus and new C3, can be used on larger models.
Read about this year's Paris motor show here
The Cxperience is 4.85m long (a similar length to the C6 saloon), just 1.37m high and has a 3m wheelbase. It has short overhangs and 22in wheels with a five-spoke design. 
Exterior highlights include adjustable air intakes on the front bumper, an aerodynamic concave rear window and rear-hinged doors giving easy access for passengers. 
Inside, a 19in rectangular display controls vehicle functions and has a split-screen function to allow, for example, a passenger to watch a film on two-thirds of the screen while the driver uses the remaining third for navigation.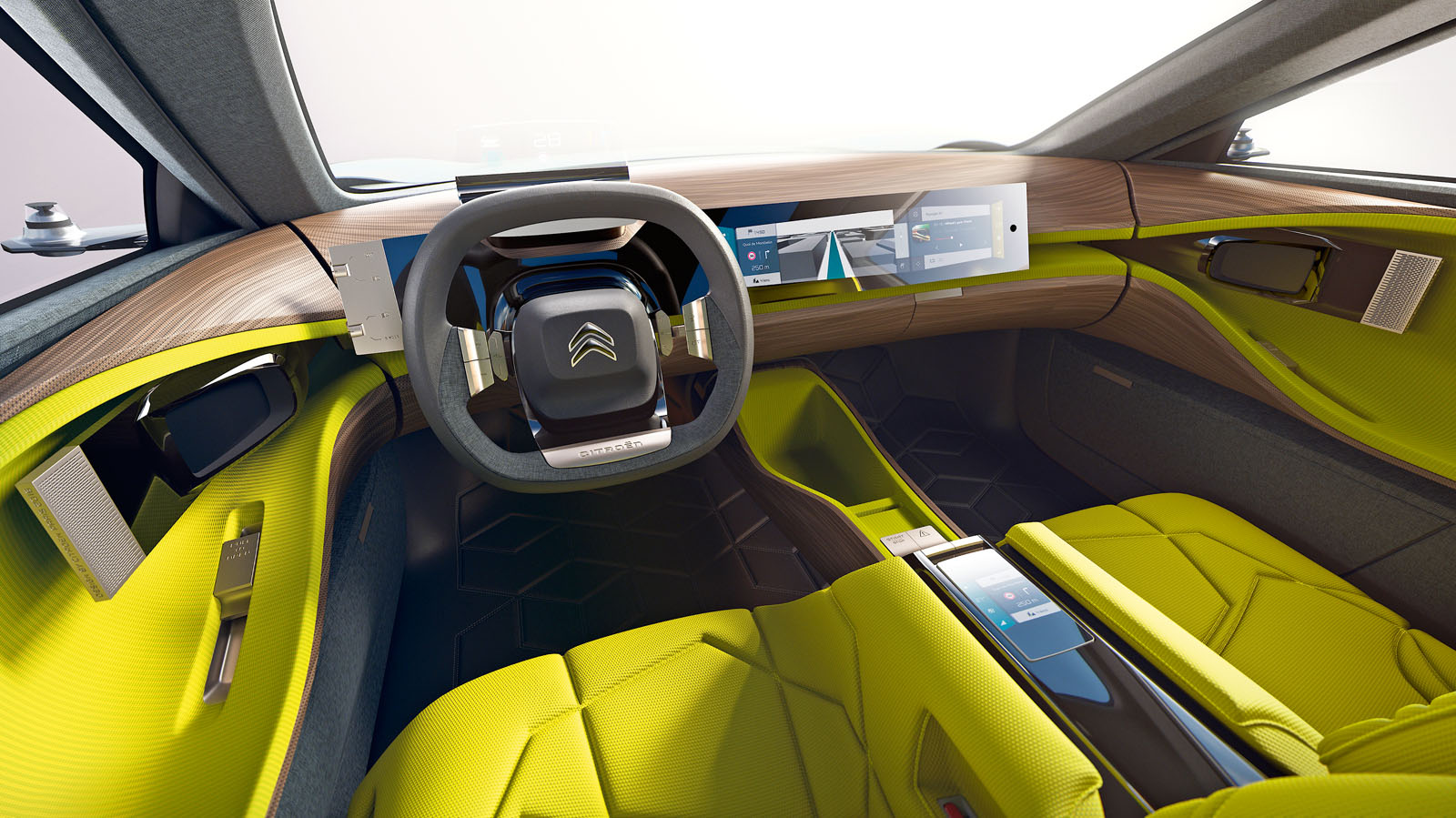 Door-mounted cameras replace the exterior mirrors and send pictures to small digital screens on the inner door panels. Along with front and rear cameras, the driver gets a 360deg view around the car. The concept also features the ConnectedCAM camera, which was first seen on the new C3 and records the road ahead. 
Citroën's Advanced Comfort programme was revealed exclusively to Autocar earlier this year. It includes an overhaul of the brand's suspension system and also focuses on filtering out external noise and vibration and addressing seat comfort.
The Cxperience's petrol engine and electric motor produce up to 300bhp. Driven in all-electric mode in the city, it has a claimed range of 37 miles.
The concept uses an eight-speed automatic gearbox mounted transversely between the petrol engine and electric motor, and a compact battery positioned under the cabin to deliver electric power to the rear axle. This layout means both passenger space and boot capacity are maintained, according to Citroën.
Keep up with all the latest Paris motor show news, with all the latest reveals and details here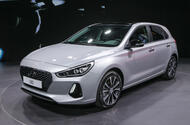 'Redefined' Hyundai i30 will offer three petrol units and one diesel unit from launch, first cars will arrive at the start of 2017
Hyundai has revealed its all-new, third-generation Hyundai i30. The five-door hatchback will go on sale in the UK early next year.
The firm claims it has completely "redefined" the i30, and even borrows some lines from Volkswagen's history in referring to it as "the people's car", which is "accessible, appealing in design and great to drive". 
Read about this year's Paris motor show here
The i30 will become a family of vehicles, topped by a long-awaited, high-performance N hot hatchback version, which will be Hyundai's first attempt at such a car and also the first driver's car to come from the company's development centre at the Nurburgring.
Read more: Hyundai RN30 concept previews i30N at the Paris motor show
Hyundai also revealed that the car was benchmarked against every model in its segment, picking out the attributes of competitors that it wanted to focus and improve on.
The new i30 features a new look, with Hyundai aiming to make its cars more stylish and desirable as its growth in Europe continues. It claims the number one reason for purchase of the previous i30 was design, and Peter Schreyer, the man behind Kia's revitalisation, now oversees the firm's designs as it seeks to give its cars greater visual appeal.
The car sports Hyundai's new 'Cascading Grille' at the front, which will be introduced across all of its models from the i10 to Santa Fe in the future.
The car has been developed in Europe and is built on a a completely overhauled version of the existing architecture. It uses MacPherson struts at the front and multi-link suspension as standard at the rear, with 'performance-orientated' dampers. Hyundai claims the i30 has "very agile and responsive handling", as well as a "dynamic ride". The steering has been made faster and directness has been increased by a claimed 10%, and the brakes have also been beefed up.
Axel Honisch, general manager of Hyundai Technical Centre Europe, said: "It's a good balance between ride and handling. The ride comfort was at a good level from before, we aim to increase the dynamism, gain some more agility and make it more fun to drive."
Read more: the Hyundai i30 will spawn a family of models
The body is made of 53% advanced high-strength steel, which is manufactured by Hyundai itself and double the amount of the material used in the previous model. As a result the body-in-white is some 28kg lighter than that of its predecessor and rigidity has been increased by 22%.
The new i30 is 4340mm long, 1795mm wide, and 1455mm high, with a wheelbase of 2650mm. This means it's marginally longer and wider than the current model, but also lower, while the wheelbase remains the same. It weighs 1316kg in its lightest form, which is slightly more than the 1306kg of the current i30 despite the lighter body, although equipment levels have increased.
Hyundai is offering the i30 with three petrol engines and one diesel from launch, including a new 138bhp, 178lb ft 1.4-litre turbocharged petrol engine. Also in the petrol range is a base non-turbocharged 99bhp 1.4 petrol and a turbocharged 118bhp 1.0 three-cylinder unit.
The diesel is a 1.6-litre turbo with 94bhp, 108bhp or 131bhp. Emissions of CO2 are as low as 89g/km in the most frugal version of the i30. Transmissions include a standard six-speed manual, and an optional seven-speed dual-clutch automatic on the two most potent diesels and the turbo 1.4 petrol.
The turbo 1.4 petrol provides power for the fastest-accelerating version of the i30, with a 0-62mph time of 8.9sec and a top speed of 130mph.
Later in 2017 comes the performance N version, with a 2.0-litre turbocharged petrol engine with more than 260bhp and a top speed of around 155mph. This model is understood to be called RN30, as indicated by a trademark application made by Hyundai last month.
Hyundai has equipped the i30's interior with reduced switchgear and an optional 8in 'floating' touchscreen atop the centre console (a 5in screen is standard) to control infotainment and other functions. The new car is compatible with both Apple CarPlay and Android Auto for smartphone integration, there's a wireless charging mat for smartphones and the TomTom-sourced navigation system comes with a seven-year subscription to TomTom Live, which offers real-time traffic updates among other functions.
Interior space is claimed to be class-leading, with the feeling of roominess being further enhanced by an optional panoramic sunroof which can tilt or slide open. Boot space is rated at 395 litres, rising to a maximum of 1301 litres with the rear seats folded.
Hyundai has also fitted an extensive suite of safety features to the new i30. Included are autonomous emergency braking and radar cruise control systems and a system that scans for danger when reversing out of places with reduced rear visibility.
Prices have yet to be announced, but expect a small increase over the £15,295 of the current base model. 
Read our review of a Hyundai i30 pre-production prototype here.
Keep up with all the latest Paris motor show news, with all the latest reveals and details here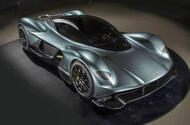 Aston Martin AM-RB 001 could set a new benchmark for hypercars
Aston Martin and Mercedes-Benz are to produce ground-breaking 1000bhp hypercars, so don't think Ferrari and McLaren will just sit back and relax

Think the hypercar is getting exciting again with the news that both Mercedes-Benz and Aston Martin are developing near 1000bhp monsters to follow in the footsteps of the likes of the LaFerrari, McLaren P1 and Porsche 918 Spyder? Well, it's just possible that you ain't seen nothing yet.

The fact is, at the moment at least, demand for these cars is so high that they sell out almost as soon as they are announced. Ferrari's 200 LaFerrari Apertas were snapped up instantly,while the 150 Aston Martin AM-RB001s are not only sold out but many times oversubscribed, meaning there remains a glut of gazillionaires happy to spend more than a million on a car but currently unable to get their hands on one. This is the kind of demand that brands in a position to charge that amount for its cars will find had to ignore.

However, that's only one reason I think the hypercar market is about to go into overdrive. The other reason is Formula One. Consider this: Mercedes-Benz is the most successful manufacturer in F1 at present and it's been very clear about the fact that it will use the entire powertrain of its current F1 car in its new hypercar (imagined below).
The team it usurped at the top of the F1 tree was Red Bull, whose technical supremo Adrian Newey is designing the Aston Martin and whose technologies are core to its apparently unprecedented dynamic potential. Now consider who's left: McLaren and Ferrari, historically the two most successful F1 teams of all time who, as it happens, also have the longest and most illustrious histories in hypercar production. So given that the market is there, do you think they're just going to sit back and let their rivals steal their thunder on the road in the same way as they have recently done on track?
Of course, the McLaren P1 is not long passed and the LaFerrari is still making headlines, but it seems the Aston-Red Bull and Mercedes hypercars are about to move the game onto yet another level. So if it turns out that well-laid plans in both Woking and Maranello to replace their hypercars at some distant point in the future are even as you read being fast-tracked to the top of the to-do lists I, for one, would not be in the least bit surprised.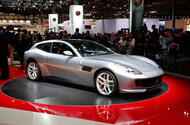 The engine of the California T has been integrated into the Ferrari GTC4 Lusso T, creating a new entry-point into Ferrari's four-seater range
The Ferrari GTC4 Lusso T is a GTC4 Lusso derivative that uses a modified version of the 3.8-litre V8 engine found in the California T.
In the new V8 model the engine's power has been increased to 602bhp and torque to 560lb ft, which is 72bhp less but 47lb ft more than the standard V12 GTC4 Lusso.
Read about this year's Paris motor show here
As well as being the first time the Italian car maker has offered a choice of two engines in a model, the GTC4 Lusso will also be the first time that rear-wheel-drive is offered alongside the four-wheel-drive set-up, as found in the current GTC4 Lusso.
A Ferrari spokesman said that the model would also be 80kg lighter than the standard GTC4 Lusso, largely due to the absence of a four-wheel-drive system. This brings its kerbweight down to 1840kg, and the lighter unit means 46% of the car's weight sits over the nose, compared with 47% for the V12.
The GTC4 Lusso T's dynamic control systems have also been adjusted, with new settings for the car's four-wheel-steering and Side Slip Control (SSC3). Its engine also uses Variable Boost Management to eliminate turbo lag and offer variable torque curves from third to seventh gears, making for more linear acceleration.
No other performance figures have been released, but the V8 will almost certainly add a few 10ths to the V12 model's 3.4sec 0-62mph time and fall short of its 208mph top speed.
It will become the entry-level model in the GTC4 range, priced below the V12, which costs from £240,340.
Keep up with all the latest Paris motor show news, with all the latest reveals and details here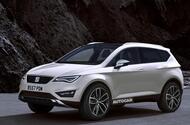 Speaking at the Paris motor show, where Seat confirmed production of its new Nissan Juke rival, Luca de Meo says VW Group hardware means the car should be among the best small SUVs
The launch of the all-new Seat Ibiza small hatchback and Seat Arona SUV next year will be game-changing for the brand, chief executive Luca de Meo believes.
The all-new Ibiza will launch next summer and be the first Volkswagen Group car to utilise the MQB A0 platform that will eventually underpin all of the group's supermini-sized hatches, saloons and SUVs. As such, Seat will get access not only to the new platform first but also the complimentary powertrain, hardware and infotainment systems.
"Seat will have the best, or close to the best, car in the segment," said de Meo. "The platform gives us access to the latest engines, dynamics tuning, safety equipment, infotainment - the list is long.
"That's a good story for Seat to tell. The Ibiza has long been the backbone of our brand and now we can truly say we have the best foundation in the group and segment."
The Seat Arona small SUV will be based on the same underpinnings as the new Ibiza and launch next autumn as a rival to the Nissan Juke. Although de Meo would not be drawn on specifics, he said the Arona would be styled closely to the larger Seat Ateca SUV that recently launched as a Nissan Qashqai rival.
"When I park our four cars alongside each other, I see a family," he said. "When you have 1-2% market coverage like us, you need consistency, not individual models that nobody recognises across our brands.
"Like the Ateca, the Arona is entering a segment that is red hot. We have the right ingredients for another success."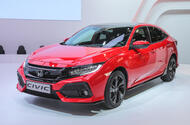 Making its official debut at the Paris motor show, the Civic has two new turbo petrol units and a hybrid is likely too
The 2017 Honda Civic has been revealed, and will go on sale in the UK early next year.
The 10th-generation Civic has been created to "fight back", according to Civic project boss Mitsuru Kiraya, who said at the Civic's launch that the current car is "too conservative for younger buyers". He added: "Markets have changed since this generation, while rivals have improved their offerings."
Read about this year's Paris motor show here
The new Honda Civic Type R has been revealed at the Paris motor show - read more here
The five-door hatchback will be followed by a new Civic Tourer estate and Type R hot hatch. However, the saloon and three-door variants, built primarily for the US market, won't be offered in the UK. The current estate accounts for 20% of Civic sales and the Type R, a halo product for the brand, makes up 4%.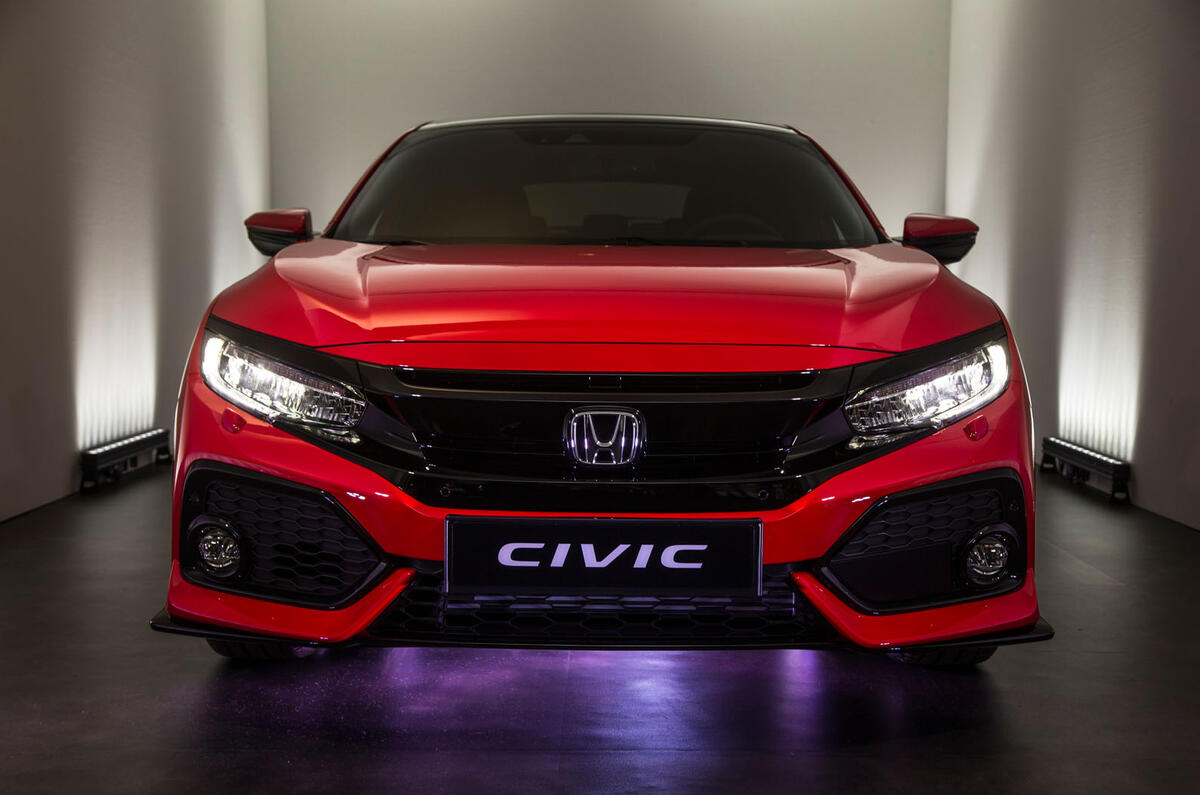 Civic built in Britain
Like its predecessor, the new Civic will be built at Honda's Swindon plant. The factory is the new global production hub for the Civic, with Honda confirming a £200 million investment in new production technologies and processes.
Previously, Swindon exported the hatch to Europe only. Now it will produce 40% of its Civic output for North America, 40% for Europe and 20% for the UK market.
These new processes include what Honda describes as a "high-efficiency joining technique", where the entire inner frame is assembled first, followed by the outer frame and then the joints. This defies the conventional method of starting with body frame assembly.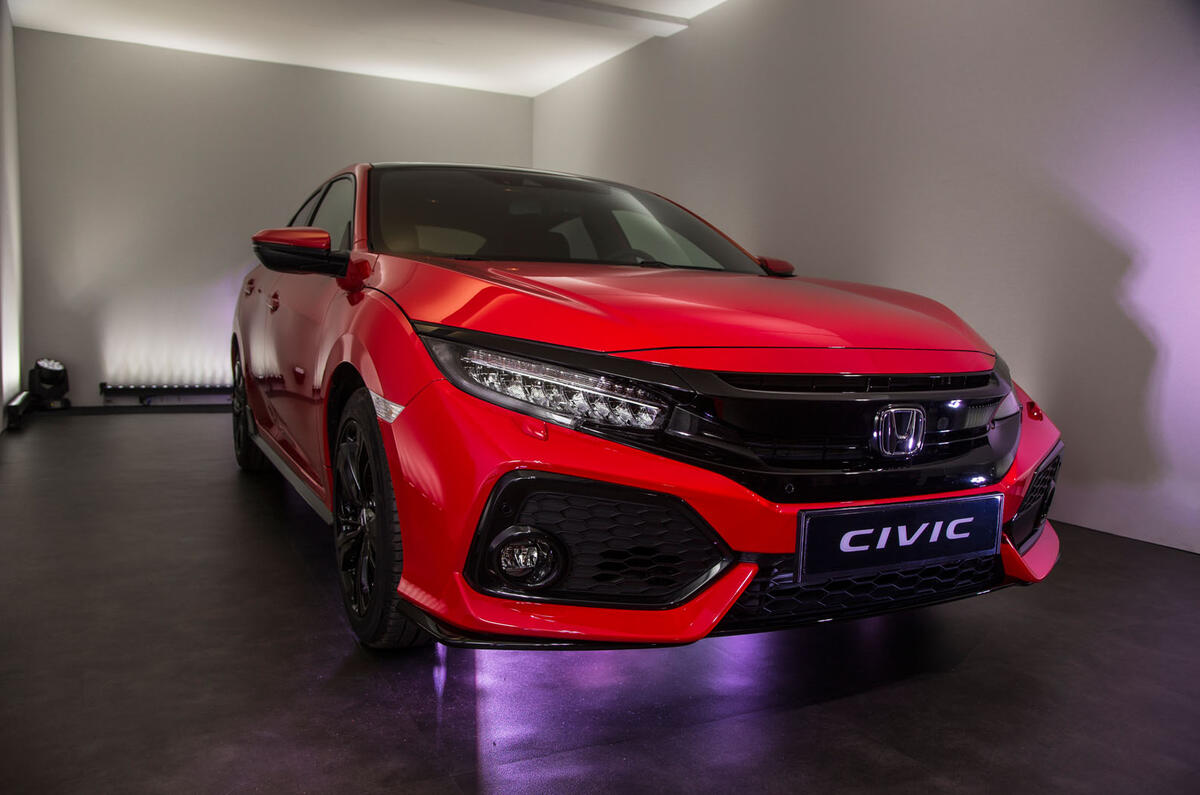 Honda says the method contributes to the overall stiffness of the body. It claims the new Civic has 52% greater torsional stiffness than its predecessor while being 16kg lighter.
This is achieved with the new 'unibody' platform that uses front and rear bulkhead rings, which encircle the interior cabin space, as well as cross braces in front of the engine bay and between the bases of the A and B-pillars to create further platform rigidity.
The hatchback is 4497mm long, 1800mm wide and 1421mm tall, with a wheelbase of 2700mm. This makes it 130mm longer, 30mm wider and 20mm lower than the previous generation, with a 30mm longer wheelbase.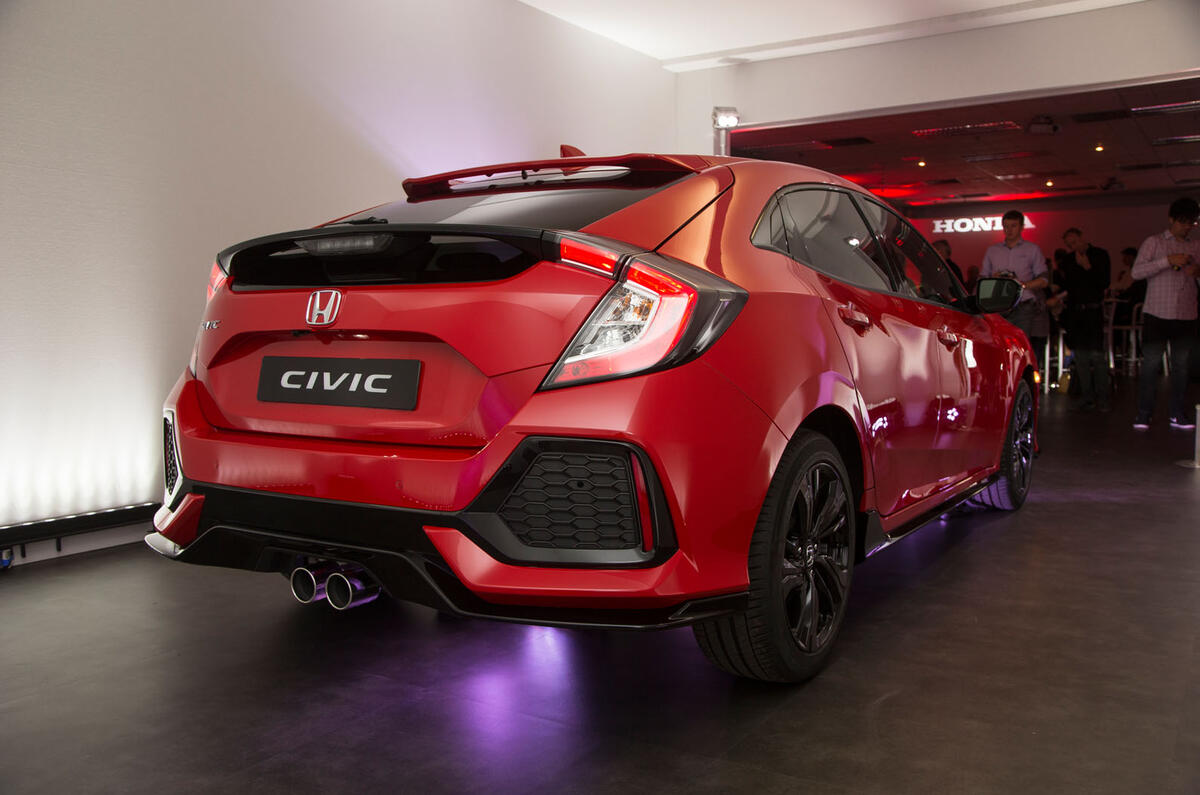 New turbo engines for Civic
Honda is offering two new turbocharged petrol engines: a 1.0-litre triple with 127bhp and a 1.5-litre four-cylinder unit with 180bhp. Both are available with a six-speed manual gearbox or a CVT auto.
The existing 118bhp 1.6-litre diesel option, which currently makes up 50% of UK sales, will be carried over but tuned to improve its power output and CO2 emissions.
A hybrid is also likely to arrive during the car's lifecycle with Kiraya confirming to Autocar that the new platform can accommodate such a powertrain. However, an all-electric Civic is not possible with this platform. "The platform was designed to have the possibility to incorporate electrification for hybrid," he said. "Full electric is not considered for this platform, just hybrid."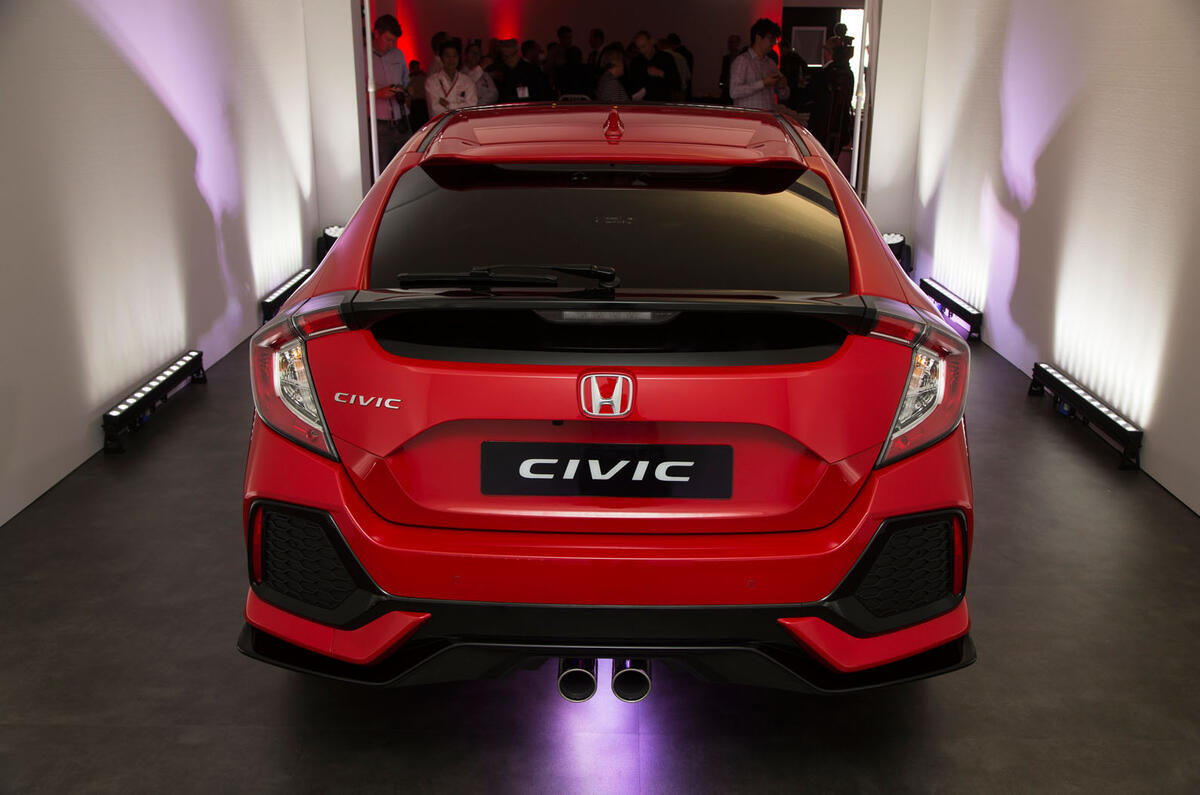 Honda has aimed for a simple and sleek cabin design, which incorporates a 7.0in touchscreen display on which you can access its second-generation Connect infotainment and connectivity systems, which integrate with both Apple CarPlay and Android Auto. There is also optional Garmin satellite navigation with free map updates for five years and different audio options, including a four-speaker, 160W system, an eight-speaker, 180W unit and a premium system with 11 speakers.
Interior space has improved, thanks to the longer wheelbase. Rear leg room has increased by a claimed 95mm and there's more shoulder room in the front and rear. Boot space remains the same as before, at 478 litres, which is considerably more than the 360 litres of its Volkswagen Golf rival. Honda has ditched its socalled Magic Seats and instead reverted to a more traditional 60/40 rear seat split.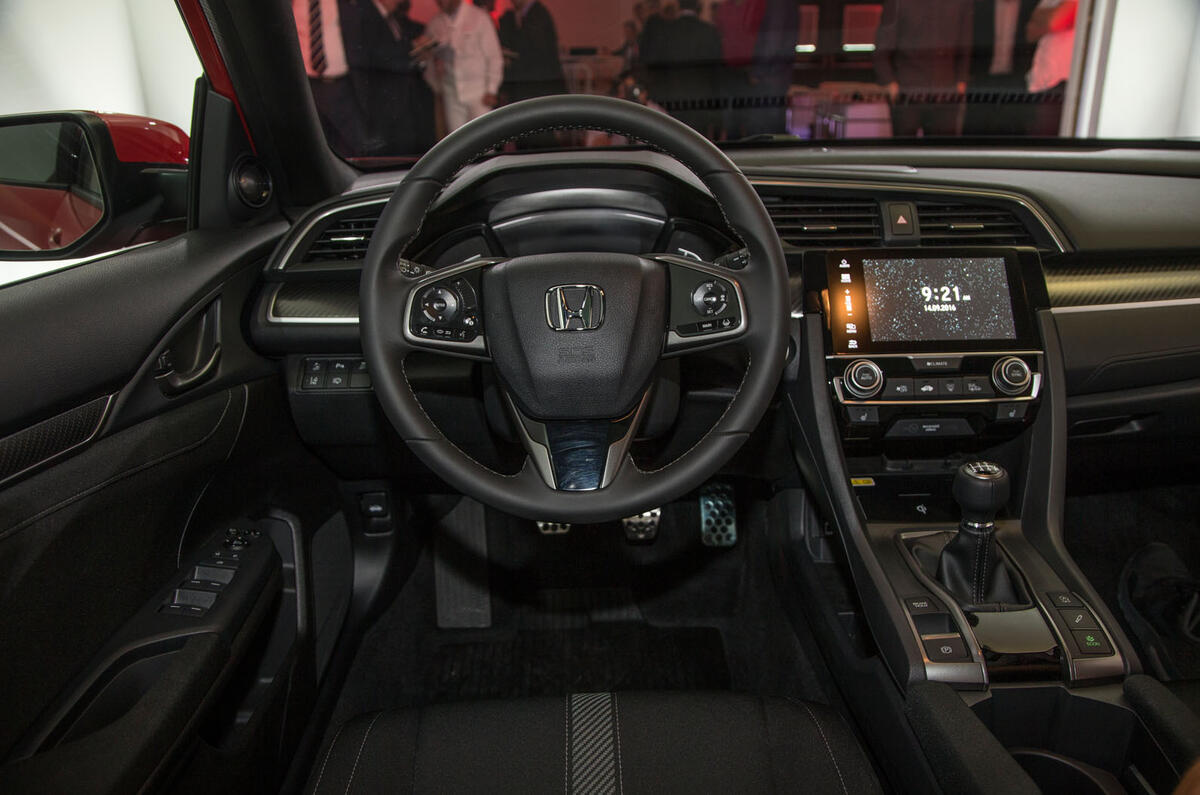 The Civic will have a host of safety systems fitted to all four trim levels. These include a Collision Mitigation Braking System, Forward Collision Warning, Lane Keeping Assist System, adaptive cruise control, traffic sign recognition and blindspot information.
Prices have yet to be announced, but expect a small increase over the £18,360 of the current entry-level model.
New Civic: a passenger ride in the car
We had a brief passenger ride in the American-spec Civic at Honda's test track at its Swindon factory, amid a backdrop of endless new Civics waiting to be transported.
Our car was fitted with the all-new four-cylinder 1.5-litre turbo engine, driven by engineering project boss David McDonald. 
While our time was very limited with the car, it set a good precedent for what's to come, with impressive ride and refinement.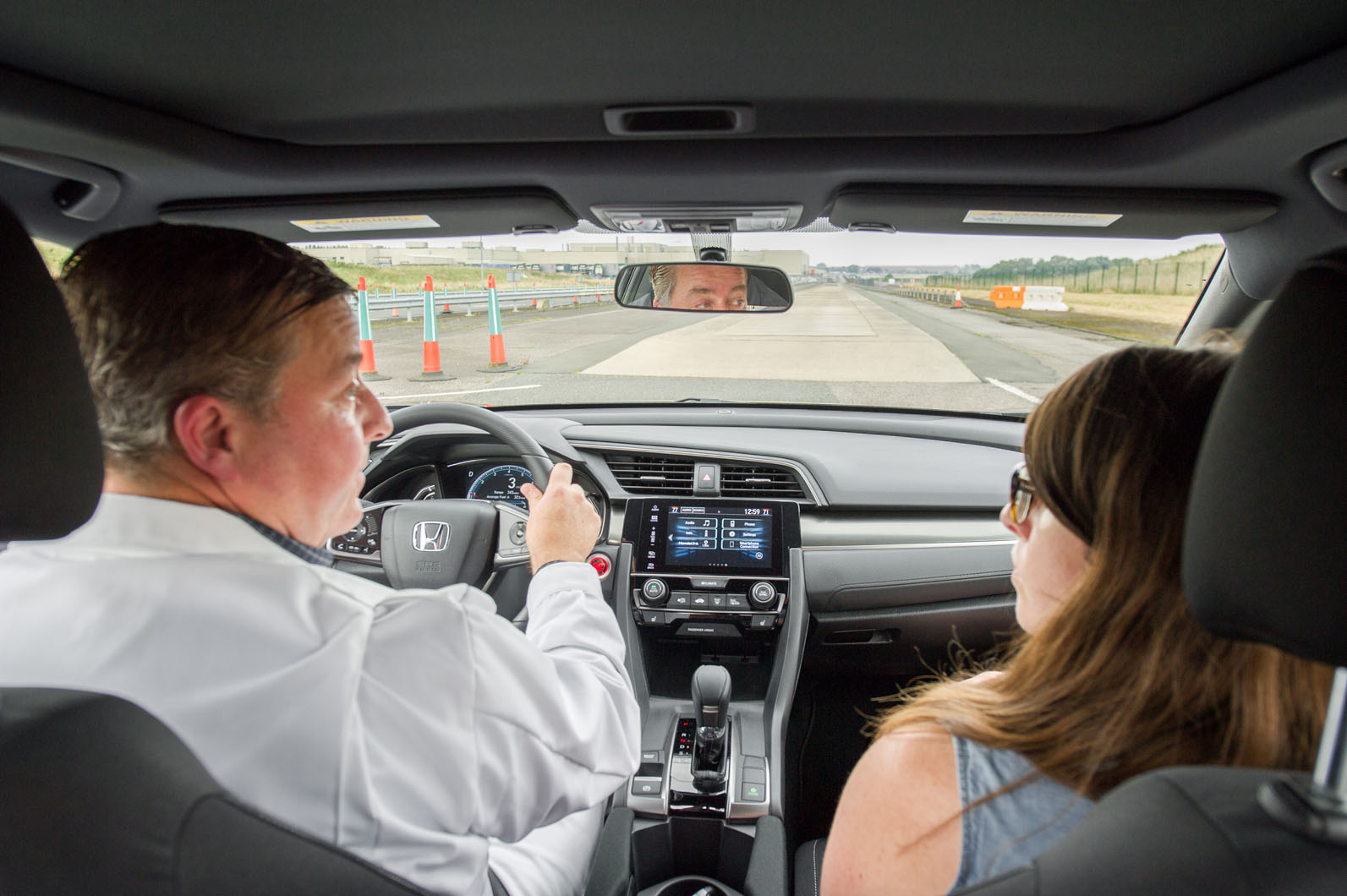 The one tight corner was taken too slowly to gain any real judgement of handling, but the straight to 80mph proved it was more than capable of replacing its 1.8-litre predecessor in the speed stakes. Optioned with the CVT 'box, it did struggle to change up quickly at the lower end, so we expect to prefer the six-speed manual once we get behind the wheel of the car.
The interior is also greatly improved - with cleaner lines and, notably, a far less antiquated touchscreen than the current generation. It was also the base spec, built primarily for the US market, so we expect UK buyers to fare even better.
Keep up with all the latest Paris motor show news, with all the latest reveals and details here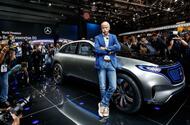 Dr Dieter Zetsche head of Mercedes-Benz Cars
Pilot scheme is part of strategy that includes a new subdivision, created to work on future electric mobility

Mercedes-Benz is working on an "Airbnb for cars", a scheme that will enable owners of vehicles not in use to rent them to others.

Mercedes and Smart owners can sign up to the peer-to-peer car sharing scheme online, enter dates when their car is not in use – for example, when they're on holiday – and other users can book time to use the car.

"Your car will be equipped with a box that connects it to an online platform," explained Dr Dieter Zetsche, head of Mercedes-Benz Cars, to an audience at the Paris motor show. "Then you create your car's [online] platform. It's like Airbnb for cars. You enter your free dates and give thousands of members the ability to rent, unlock and drive your car, all with their smartphone."

The idea is currently being trialled in San Francisco in collaboration with start-up firm Getaround. Mercedes is also developing its own programme in Germany that will launch later this year.

The venture is part of a new strategy at Mercedes that is looking to the future of electric mobility. The company has created a new subdivision called CASE (Connected, Autonomous, Shared, Electric), which focuses on combining future technologies including connectivity, autonomous driving, car sharing and electrification.

Announced alongside the reveal of the Generation EQ electric vehicle, CASE will be a legally separate entity comprising a team specially created to develop strategies for future electric mobility.

Dr Dieter Zetsche, the head of Mercedes-Benz Cars and CEO of Daimler AG, said that CASE was based on the four pillars that made up its name, and it would help Mercedes transform cars from products into "the ultimate platform".
"That's a fundamental change in perspective," he said. "Each of these [pillars] has the power to turn our entire industry upside down, but the true revolution is in combining them, in a comprehensive and seamless package."
Dr Zetsche explained how future cars could use the sensors and cameras required by autonomous technologies to also spot empty parking spaces and broadcast that information to other road users.
A video played during the presentation showed a car user who was going on holiday being driven autonomously to the airport; the car automatically found a free parking space and checked the owner in for their flight. While the owner is away, the car is available to rent via a car-sharing scheme, and when the owner returns, the car refuels itself and meets the owner on time at the airport terminal door, even if the return flight has been delayed.
"Sharing is a megatrend of our time," said Dr Zetsche.  "When it comes to in-world mobility, sharing really opens a world of opportunities."
Mercedes has been involved with similar schemes for some time, including car sharing scheme Car2Go and mobility app Moovel, and it is in the process of merging its MyTaxi scheme with another taxi app, Hail-O.
"Altogether, this is a broad level of expertise in shared mobility that no other car manufacturer has. It's also a very effective way to get more customers into EVs. The next big step, with huge potential, is peer-to-peer car sharing.  Cars sit parked for nearly 23 hours a day on average. Why not use this extra time to earn some extra money for their owners?" Dr Zetsche said.
Phill Tromans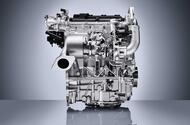 Infiniti variable compression engine
Infiniti has brought its QX Sport Inspiration concept, an innovative variable compression engine, and the new Q50 sports saloon to Paris

A "revolutionary" Infiniti petrol engine that offers V6 power and diesel economy has been launched in Paris.

The new 2.0-litre turbochared engine uses variable compression to offer a wide breadth of performance to suit different driving conditions. Infiniti says by continually adjusting the engine's compression ratio, the unit can offer the high fuel economy and torque of a diesel or the power of a larger capacity petrol.

The engine is able to offer any compression ratio between 8:1 (for maximum performance) and 14:1 (for maximum efficiency). Peak power output is 268bhp and torque 288lb ft.

Infiniti hasn't confirmed what model this new unit will be introduced in, but its arrival in Paris suggests it'll make production next year.
Infiniti Q50 facelift and QX Sport Inspiration
Alongside its new engine, Infiniti also showed its 2017 Q50 ahead of sales commencing later this year, as well as its QX Sport Inspiration, which returned to the spotlight for the first time since Beijing.
The Q50 has been lightly updated for the next model year, with a new twin-turbocharged 3.0-litre V6 engine delivering 300bhp and 295lb ft the biggest change added to the European line-up.
The QX Sport Inspiration arrives as the influencer for a new medium-sized global SUV — a replacement for the ageing QX50 that will arrive sometime in 2018.
More models
Infiniti intends to roll out ever greater levels of driver assistance and autonomy on its full range of vehicles between now and the end of decade. Brand sources claim that Infiniti has long led the industry in driver assistance, being the first to launch Lane Keep Assist (in 2001) and Lane Departure Warning (in 2004), as well as the autonomy-friendly 'steer by wire' set-up in 2014.
Infiniti's new model roll-out started last year with the Q30 hatchback and QX30 compact. A new SUV, autonomous tech and an advanced new V6 engine are set to lead brand's global growth. The first production site for these cars was the Nissan plant in Sunderland, but a new factory in Mexico — a joint venture between Daimler and Infiniti — will begin producing the Q30 and QX30 next year for tariff-free export to the US.
The US and China are seen as the two biggest potential premium markets for Infiniti, so the new Q60 coupé, which goes into production in August, is expected to give the brand a significant boost. It's a more sophisticated and luxury-orientated replacement for the current Q60, which dates back to 2007 and is based on the brand's well-regarded but ageing Front Mid-Ship rear-wheel drive platform.
The rear-wheel-drive Q60 will be offered with the brand new twin-turbo 3.0-litre V6 engine, which produces 300bhp and 295lb. All-wheel drive will also be available as an option.
Shiro Nakamura, the Nissan group's chief creative officer, said earlier this year that new Infiniti models under development will have a design emphasis on surface treatments that make the cars' skins "look like worked metal". Much of the inspiration comes from the golden age of the 'Italian Carrozzeria' — the classic design houses of the 1950s and 1960s.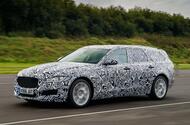 Estate version of XF will arrive next year; first model in expanded range will share engines with saloon
The Jaguar XF Sportbrake will make production next year, and Jaguar has released a picture showing what it will look like.
The image was displayed at the Paris motor show today and shows the Sportbrake with camouflaged bodywork. The front of the new model looks identical to the saloon, while the boxy rear should significantly increase the XF's boot space and rear head room.
The XF Sportbrake will be built upon the same aluminium architecture as the saloon, and it'll also share engines with its sibling, meaning a 2.0-litre diesel will be the base unit, with 3.0-litre V6 petrol and diesel engines sitting above this in the range.
A 2.0-litre petrol engine, as launched recently along with a new wave of Ingenium units, will also be included with both variants of the XF. The photographed Sportbrake is running with this unit, suggesting it will be available in the model from launch.
Power outputs for the engines range from 161bhp to 375bhp. Drive is sent to the rear wheels as standard through a six-speed manual gearbox in lower models, with an eight-speed automatic offered as an option or as standard on the most potent units.
The saloon's optional four-wheel drive system will likely also be offered on the estate.
Expect the XF Sportbrake to be slightly more expensive than the saloon, which costs from £32,300. The XF Sportbrake will go head-to-head with the BMW 5 Series Touring and Mercedes E-Class Estate, which are priced from £33,315 and £40,430 respectively.
No arrival date has yet been set for the XF Sportbrake, but summer 2017 has been mooted, suggesting a Geneva motor show debut in March is likely.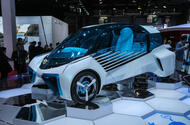 Toyota's hydrogen concept car previews Toyota's vision for the future of Fuel Cell Vehicles
The Toyota FCV Plus concept car is on display at the Paris motor show, after making its international debut at the Tokyo motor show earlier this year.
The FCV Plus previews Toyota's vision of the future of the car, using compressed hydrogen as its fuel source. When the car isn't in use for transport, it can be used as a generator to make electricity for the driver's home; it can also be used away from the home, and when not in use, it puts energy back into the grid. 
Read about this year's Paris motor show here
The car's overriding ethos, according to Toyota, is "how future hydrogen cars can make a positive contribution to society". 
There's a motor for each wheel on the FCV Plus, with the fuel cell stack between the front wheels and the hydrogen tank between the back wheels. Toyota says the car won't reach production for at least 15 years. By the time the FCV Plus does reach production, Toyota expects the hydrogen powertrain to be around half the size of that currently used in the Mirai FCV. 
At 3800mm long, the FCV Plus is slightly smaller than a Yaris, but bigger than an Aygo. It's a little wider and taller than both of these models, at 1750mm across and 1540mm tall. The design is as advanced as you'd expect, with a blue glasshouse dominating the exterior and white bodywork covering the lower third of the car, as well as some of the roof. In true concept car fashion, the rear wheels are covered over.
Inside, there's seating for four in a thoroughly futuristic cabin that features a honeycomb-design structure with no dashboard; there's simply a minimalist steering wheel rising on a tall stalk from the front of the car. 
The FCV Plus was first shown to the public at the Tokyo motor show last year, alongside the S-FR compact sports car. 
Keep up with all the latest Paris motor show news, with all the latest reveals and details here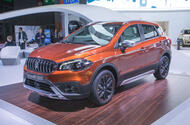 Revised Suzuki S-Cross will go on sale in October with styling updates and new engines
The facelifted Suzuki S-Cross crossover has been revealed at the Paris motor show.
As well as styling revisions, the S-Cross has a revised engine line-up, improved specification and extra features. The entry price is now £14,999, up from £14,000 for the current 1.6-litre petrol model. It will go on sale in the UK on 17 October.
The 1.6-litre petrol engine is absent from the new S-Cross and has been replaced by turbocharged 1.0-litre three-cylinder and 1.4-litre four-cylinder Boosterjet units, which promise improved CO2 emissions and fuel consumption. The 1.4-litre Boosterjet was introduced in the Vitara earlier this year, and the 1.0 version is also available in the Baleno.
The 109bhp 1.0-litre engine has 9% more torque than the outgoing 1.6, up to 125lb ft. It also reduces emissions by 11% to 113g/km when used with a manual gearbox and improves fuel consumption by 10%.
The 1.4-litre unit generates 138bhp and 162lb ft, which is 41% more torque than the outgoing 1.6-litre engine. A 1.6-litre diesel unit is also available.
The S-Cross's design has been updated by way of a new front end that Suzuki describes as being more distinctive and upright, while new headlights sharpen the look and are said to operate more efficiently. New LED tail-lights keep the back end up to date and the new car rides higher than the current model, with 180mm of ground clearance compared to 165mm.
Inside, the soft-touch dashboard has been redesigned and the SZ4 and SZ-T models have a new design of seat fabric.
Three grades of S-Cross will be available: SZ4, SZ-T and SZ5. All have seven airbags and ESP as standard, as well as a DAB, air conditioning and cruise control with a speed limiter.
The SZ-T model, which is aimed primarily at fleet users, adds features such as 17in alloys, a rear parking camera with front and rear parking sensors, dual-zone air conditioning and front foglights.
The range-topping SZ5 features radar brake support, heated leather seats and a panoramic sunroof.
Suzuki's Allgrip four-wheel drive system is available on the top two grades and with all-three engine choices.
Phill Tromans
Keep up with all the latest Paris motor show news, with all the latest reveals and details here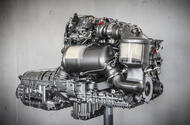 Mercedes' latest range of diesel engines is its cleanest yet
In the wake of the Volkswagen emissions scandal, diesel's image has been tarnished. But Mercedes believes the fuel will be useful for many years

Mercedes-Benz boss Dieter Zetsche believes it would be "absolutely stupid" for diesel-powered cars to be allowed to die out in the wake of the emissions scandal, Autocar has learned in Paris.

"As we are proving with our new family of diesel engines, these can be as clean as gasoline engines with an on-going built-in advantage of around 15% lower CO2 emissions," he said.

"This continues to be a key issue even though at this moment in time everyone is talking about NOx. We are seeing a highly emotional, political and illogical kind of discussion, but when you look at the facts and the technological potential, it would be absolutely stupid to forego the potential that diesel provides."

Nor, said Zetsche, is demand for diesel showing any sign of abating among premium brands untouched by the Dieselgate saga. He said, somewhat caustically: "Beyond the politicians and media, the customer has some relevance in markets as well and neither BMW nor Mercedes-Benz has seen one basis point change in the take rate for diesel in Europe over the last year. We are convinced that we will continue to offer from both a customer benefit and an environmental point of view a good choice of diesel engines on an on-going basis."

When asked how long he envisaged diesel engines surviving, Zetsche replied: "Exactly as long as gasoline engines."

Zetsche also confirmed that, despite the warm reception afforded to the Vision Mercedes-Maybach 6 concept car, there are no plans for Maybach to produce stand-alone vehicles of its own in the same way as its sister sub-brand AMG has been able to do. "We were there before and found out that volumes for a stand-alone Maybach are pretty limited," he said. "Redefined as a sub-brand with increased integration with the mother brand Mercedes-Benz yet still sufficiently differentiated to provide exclusivity has proven to be an absolute formula for success."

As evidence of this, Zetsche cited that, two years after its introduction, Mercedes still sells 500 Maybachs every month in China alone, every one selling for a premium "which is pretty unheard of".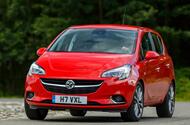 Vauxhall's marketing boss says Brexit has cost the company £346 million; the price of most models is to increase from 1 October
Vauxhall is set to increase prices of most models in the UK by 2.5% on the 1 October, matching an increase made in the aftermath of Brexit.
General Motors Europe has suffered as the value of the pound slipped against the euro, with the UK being its largest national market. Tina Müller, Opel's chief marketing officer, said Brexit has in effect cost the company £346 million already.
"It will be the trend across the industry," Müller told journalists at the Paris motor show. "I think we are leading here but we know that everybody else will follow."
Despite GME's predictions for a decline in the British market, sales remain strong at the moment, with a Vauxhall spokesman confirming that the brand is currently leading September retail sales for cars.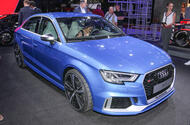 394bhp RS3 saloon is the first vehicle released under the rebranded Audi Sport banner
The Audi RS3 saloon has been shown at the Paris motor show, alongside a racing version called the RS3 LMS.
Based on the standard A3, the RS3 is the first vehicle released by Audi's rebranded Audi Sport division, formerly Audi Quattro GmbH. It's the first of eight Audi Sport vehicles that will be released over the next 18 months.
Power comes from a lightweight, five-cylinder, 2.5-litre engine most recently used in the TT RS. This engine produces 394bhp, meaning this new car has 32bhp more than the previous generation RS3 hatchback. Torque figures rise by 11lb ft to 354, sent to all four wheels through a seven-speed dual-clutch transmission. All of that means acceleration stats of 4.1sec to 62mph, and a top speed electronically halted at 150mph.
The RS3 sits 25mm lower than the A3, and reigns back its extra performance with 370mm front brake discs and eight-piston calipers behind 19in wheels. Carbon ceramic discs are on the options list. The front track has been widened by 20mm the rear by 14mm.
Visually, the RS3 has beefedup bodywork to cope with the wider track, and plenty of RS-specific details, including a quattro logo at the bottom of the grille surround and an aerodynamic blade across the bottom of the bumper that funnels air through the wheel arches. The boot lid has a fixed spoiler and a diffuser below it on the bumper. The RS3 comes only in Nardo grey or Catalunya red, with a black leather interior and RS logos on the backrests. A flat-bottomed steering wheel adds to the sporty feel, and illuminated door sills add some pizazz when the doors are open.
The Audi Drive Select handling system allows drivers to choose from different modes for the car, from Comfort to Auto to Dynamic. This affects the set up of the steering, gearbox, engine management and exhaust flaps, which control how noisy the exhaust is. RS Sport Suspension Plus, with adaptive damper control, is available as an option.
An RS setting on the digital dashboard shows the tachometer large in the centre, with information about tyre pressures, torque and G-forces, as well as coloured prompts to shift when in manual transmission mode.
The RS3 will go on sale from summer 2017.
RS3 LMS
The RS3 LMS racing car will make its debut on tracks around the world from 2017, and opens up the customer racing market for Audi Sport to an even broader base.
The brand is particularly targeting the relatively new TCR (touring car racing) category of motorsport, which forms the basis for series being founded across the globe. Audi believes it has even more potential than the GT3 category, in which Audi has had considerable success with its R8 LMS.
The RS3 LMS costs from 99,000 Euros (£85,300) plus VAT for a Clubsport version, and 129,000 Euros (£111,000) for a TCR model.
Phill Tromans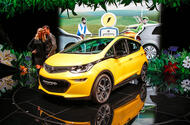 The Opel Ampera-e won't be produced in right-hand-drive form
The Opel Ampera-e hasn't been developed for right-hand-drive markets; Vauxhall says an EV model will come here in the future, but why we have to wait remains a mystery

The increased globalisation of the car industry means that "no plans for right-hand drive" has become a less-used excuse in recent years. Yet it still gets the occasional airing, including – perplexingly – when it comes to the new Opel Ampera-e.

The Opel version of the US's Chevrolet Bolt is set to go on sale across Europe next spring with a claimed range that makes the Nissan Leaf look like a glorified golf kart. The problem for British would-be buyers is that we're not going to get it, because GM has refused to sanction right-hand drive production.

Normally we get told that left-hand-drive-only models are denied to us by either tiny potential sales or deep-rooted engineering problems. Some of Mercedes' 4Matic all-wheel drive systems are incompatible with a right-hand drive steering box, for example, and there's rarely a case to be made for moving the steering wheel on a hypercar that's only going to sell in tiny numbers.

However, that's not the case with the Ampera-e. The thing is basically a battery pack on wheels, so it's hard to see that its compact electrical motor is any obstruction to putting the steering column down the right of the car. Additionally, by the modest standards of the EV market, the UK has always bought well enough. Vauxhall shifted 1350 of the first-generation Ampera in Britain, with the steering wheel on the correct side, making us its third-biggest market in Europe. 

Yet with GM anticipating that we'll see a rush to electrification over the next five years, the company is already reconsidering the decision to effectively exclude a third of the world's car markets from its bright new future. Opel's marketing boss Tina Müller said in Paris that the company is committed to bringing a right-hand-drive EV to the market, either as an evolution of the Ampera-e or as a separate model.

So, the hole is going to be filled in. It just seems odd that it's there in the first place.



Opel Ampera-e won't come to the UK, but parent company GM is already developing a future EV for right-hand-drive markets
GM won't be producing a right-hand drive version of the Opel Ampera-e, but it has confirmed that a right-hand-drive electric car is under development for the future.
The official line regarding the Ampera-e is that the numbers just didn't stack up.
"When the Chevrolet Bolt [which the Ampera-e is based on] was developed years ago, I think the whole electro-mobility market at the time was very tiny and niche," Tina Muller, Opel's marketing boss, told us at the Paris motor show. "The first focus was on the majority of the markets and the US and most of Europe are obviously left-hand [drive]."
The good news for anybody looking to combine a Vauxhall badge with electro-fuelled propulsion is that the company has already reconsidered its decision to exclude Britain, with Muller confirming that a right-hand drive electric model is under development.
"Now we realise that electro-mobility will become bigger and bigger and that's why we need to do a second step, one that will include right-hand drive," she said, "I can't tell you exactly when it will hit the market, but for sure it's part of our plans."
She refused to confirm whether this will be a RHD version of the Ampera-E or a separate EV model, but regardless, it looks like the UK is going to have to wait for it.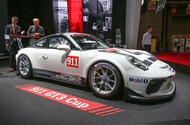 478bhp racing model will take to the track next year in Formula 1 support series; it uses the 4.0-litre flat-six engine of the 911 GT3 RS
The Porsche 911 GT3 Cup has arrived at the Paris motor show ahead of its racing debut next year.
The racing model is based on the refreshed 991 generation 911 and uses the naturally aspirated 4.0-litre flat-six engine of the GT3 RS, but power is rated at 478bhp, which is 15bhp less than the RS.
The change in output is due to the racing model's adjusted setup, which includes more durable parts designed to survive the harsh world of racing and reduce maintenance costs.
New to the engine is a valve drive with rigidly mounted rocker arms and a central oil feed, while a tougher crankshaft with significantly increased rigidity has also been installed.
The arrival of the new 4.0-litre unit in Porsche's racing model signals the end of the much-loved Mezger engine era.
The new 911 GT3 Cup car sits on 18in racing wheels with centre-lock nuts, wrapped in slicks that are 270mm wide at the front and 310mm wide at the back.
Built upon the 991's aluminium-steel composite structure, the new 911 GT3 Cup weighs 1200kg, which is 295kg lighter than even a GT3 RS.
The car will first race in the 2017 Porsche Mobil 1 Supercup, which is a support series to Formula 1, as well as the German and North American Porsche Carrera Cup championships.
In 2018, the car will be introduced into other global series, including the Porsche Carrera Cup GB.
The car is priced from 189,900 euros excluding tax, so in Britain, will cost about £196,500 once VAT is added.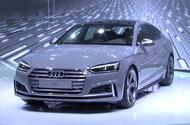 Four-door version of the new Audi A5 range offers more cabin space; sales start this autumn
The 2017 Audi A5 Sportback has made its world debut at the Paris motor show.
Cabin space
The new four-door model offers more cabin space than its coupé equivalent while sharing the same line-up of engines.
The cabin space of the new A5 Sportback is 17mm longer than the old car's. The more practical body shape offers passengers 11mm of extra shoulder space and rear knee room has grown by 24mm.
The Sportback's boot space is up by 15 litres to 480 litres. With the rear seats down – they're arranged in a 40/20/40 layout – luggage capacity grows to 1300 litres.
Engines and gearbox
Like the coupé, the Sportback gets 2.0-litre TFSI petrol and 2.0-litre TDI diesel turbocharged four-cylinder units in various states of tune and the range is topped by a 282bhp 3.0-litre six-cylinder TDI diesel.
The A5 Sportback is offered with the choice of a six-speed manual or eight-speed S tronic dual-clutch automatic gearbox.
As with the coupé, a performance-focused S5 model is available with a 3.0-litre TFSI petrol unit that produces 349bhp. A g-tron model that can run on natural gas is offered on the European continent, but not in the UK due to a lack of refuelling infrastructure.
Chassis
The model has front-wheel drive as standard, but quattro four-wheel drive is offered as an option and comes as standard on the 282bhp 3.0-litre and S5 variants. Those two models also get optional sport differentials to further boost traction.
The entry-level car sits on 17in wheels, with 18in wheels available for higher-spec models. Top-of-the-range A5s and the S5 get 19in wheels.
As standard, the A5 Sportback features variable suspension that uses continuous damping control technology. The system works in tandem with the car's four driving modes: Comfort, Auto, Dynamic and Efficiency.
Technology
As with the coupé, the A5 Sportback gives buyers the choice of an optional Virtual Cockpit system, which includes a 12.3in high-definition digital instrument panel, as well as the latest evolution of Audi's MMI (Multi Media Interface) Plus infotainment system. This uses an 8.3in monitor, touch-sensitive rotary controller and LTE connectivity for up to three years free of charge via a SIM card permanently installed in the car.
There's also optional Apple CarPlay and Android Auto compatibility, a wireless smartphone charging pad and a Bang & Olufsen sound system.
Driver assist programmes include collision avoidance auto braking, adaptive cruise control that can bring the car to a halt, traffic jam assist, park assist, cross-traffic assist rear, exit warning, turn assist, collision avoidance assist and camera-based recognition of traffic signs.
Pricing and on-sale date
Audi is yet to confirm the car's pricing, but a small increase is expected over the outgoing model, which starts at £30,035. Order books will open this autumn.
Rivals will include the Mercedes-Benz CLA-Class and BMW 4 Series Gran Coupé.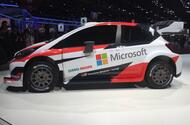 Toyota Yaris WRC
After a 17-year absence from the World Rally Championship, Toyota has unveiled its Yaris WRC challenger - with Microsoft as major sponsor

Toyota has officially launched its return to the World Rally Championship, showing off the Yaris WRC and new Microsoft livery at the Paris motor show.

Microsoft will serves as a technology partner for the team, which is competing as the Toyota Gazoo Racing WRC.

The manufacturer's president and CEO, Akio Toyoda, drew back the covers on the 2017 challenger and was joined on stage by rally team principal Tommi Makinen, who won four WRC titles driving with Mitsubishi.

"It's been 17 years since we last competed in the WRC, so you could say we are well rested. But now we are back" said Akio Toyoda.

Toyota hopes that by competing in WRC once again, it can learn lessons that will feed back to its road car projects. The collaboration with Microsoft will include the development of a data analysis platform, as well as a cloud-based information-sharing system to allow team members to share content more efficiently.

Toyota and Microsoft will also work together to enhance communication with fans. The two companies have previously collaborated on Toyota Connected, a product development project that collects and analyses large amounts of date to improve products and customer service, and on systems that support the testing of autonomous driving technology.

The Yaris WRC effort will also be supported by partners Michelin, DMG Mori and Panasonic.

The 2017 World Rally Championship starts in Monte Carlo in January. A change in regulations means that 2017 cars will have more power and more aerodynamic freedom, which organisers hope will bring more excitement.

Phill Tromans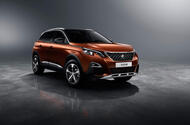 Peugeot 3008
As part of PSA's Push to Pass strategy, the 3008, 5008 and 508 models are set to get plug-in hybrid variants; 208 and 2008 are to get fully electric variants

Peugeot will introduce three plug-in hybrids and two electric cars by 2021, according to brand boss Jean-Philippe Imparato. 

As part of the PSA Group's broader Push to Pass strategy, Imparato confirmed that the plug-in hybrids are the 3008, 5008 and 508, while fully electric models would be the 208 and 2008.

This arrangement is largely decided by the cars' two respective platforms, with the larger EMP2 able to accommodate plug-in hybrids while the smaller CMP architecture allows for all-electric. 

Imparato added that the 3008 plug-in hybrid would offer 60km of electric range.

However, he maintained that traditional engined cars remain "very important", because they are more suited to the current situation. He also highlighted the importance of total cost of ownership figures, where diesel remains popular for buyers, with 50% of sales attributed to business. That figure is more than 70% in the U.K.

Addressing demand for hybrids and electric, Imparato said: "Peugeot will be ready in 2019/2020."

Talking at the Paris Motor Show, where the French manufacturer's new 5008 is being displayed for the first time, Imparato said the model had the design and robustness of an SUV but with the functionality of an MPV (as it was previously).

He added: "You must drive this SUV as if it was a 508. That's the message."

Read more: Peugeot 3008 plug-in hybrid to lead brand's electric push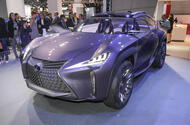 Design concept likely to influence CT 200h replacement, which will be a sub-RX and NX SUV
The Lexus UX concept has made its world debut at the Paris motor show, offering a glimpse of Lexus's future design direction.
The concept is expected to influence a production SUV model that will replace the CT 200h hatchback in Lexus's future line-up.
The UX concept has been designed by Lexus's European design centre, ED2. On the outside, it has muscular wheel arches with sharp, angular lines on its five-door body.
"This UX concept is all about anticipation and Lexus' unparalleled knowledge in the SUV market," said Dr Johan Van Zyl, President and CEO of Toyota and Lexus in Europe. "We are ready for the next chapter of a bolder [looking] Lexus SUV – the UX concept."
The striking-looking concept's two rear doors curve out with the swollen wheel arches, and the door handles are all housed in the car's middle due to the rear-hinged back doors.
At the back, there's a coupé-like roofline and sharp tail-lights with LED internals. The overall body looks smaller than that of the Lexus NX and RX, supporting information from sources that it previews a production car that'll sit below them.
Mounted on the front of the doors are rear-facing cameras, which link to interior rear view screens.
Lexus describes the cabin as featuring "imaginative technologies for an immersive driver experience", and says that the interior mixes traditional craftsmanship with high-tech manufacturing techniques.
The seats use Lexus's Kinetic Seat Concept technology, which uses spider web-like fabric that makes them both light and slim.
The concept also gets dual-screen infotainment with HMI technology, a wrap-around dash and striking colour scheme.
While Lexus hasn't revealed what powers its UX concept, there appear to be steering-wheel mounted shift paddles and gear selector buttons on the centre console, suggesting this model features a combustion engine of some sort.
A pair of rear tailpipe surrounds add weight to this suggestion, but given recent trends in the motor industry, it seems highly likely the concept would also use some kind of electrified power.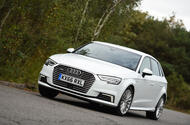 First UK drive finds the facelifted A3 Sportback e-tron remains a first-rate plug-in hybrid that is packed with tech if a little short on driver appeal The Audi A3 Sportback e-tron is the plug-in hybrid offering within the updated Audi A3 range. The entire line-up has had a nip here and a tuck here and here, while this Sportback e-tron model specifically has benefited from an injection of tech on the inside and a tweaked appearance externally, although it remains mechanically unchanged.That means it still carries a 1.4-litre petrol engine and electric motor in the front, driving through a six-speed dual-clutch automatic transmission, while under the rear seats lives an 8.8kWh lithium ion battery. All that equates to a claimed - and extremely optimistic - official combined consumption figure of 166.2mpg and just 38g/km of CO2 emissions. This will be music to the ears of business buyers hoping to run a plush hatchback with low, tax-friendly monthly bills.However, as with many hybrid options in the class – the Volkswagen Golf GTE and BMW 330e included – there are some drawbacks to the e-tron. Aside from its higher list price versus mainstream diesel A3s, it also has to lug around the extra weight of its electric motor and battery, which in turn impacts on its dynamic ability. Furthermore, fuel economy is typically never as jaw-dropping as the official figures suggest, and the electric-only range is often more limited, too.Even so, the e-tron looks to have an enticing blend of performance, economy and practicality. Audi claims a total power output of 201bhp and a 0-62mph time of 7.6sec, which put it in line with the likes of the Volkswagen Golf GTD.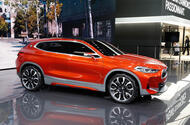 The BMW Concept X2 previews the bold look of a future production SUV model that'll rival the Range Rover Evoque
The BMW Concept X2 has been revealed at the Paris motor show, previewing the bold exterior appearance to be adopted by a production version of the new SUV that is planned to go on sale during the second quarter of 2018 at a starting price of around £30,000.
First alluded to by the German car maker in a teaser photograph issued to the media this week, the X2 is a sister model to the recently introduced second-generation X1, alongside which it will be built at BMW's Regensburg factory in Germany.
The high riding five-door, known at BMW under the internal codename F49, is set to  become the sixth dedicated SUV model to join the BMW line-up and the second to be based on the company's versatile UKL platform – the same structure set to underpin the upcoming second-generation Mini Countryman, with which the new BMW is also heavily related.
Following a formula that has proven highly successful for BMW in recent years, the X2 has been conceived as a sporting alternative to the X1, in much the same way the X4 provides a more dynamic take on the X3 and the X6 active as a more performance orientated option to the X5.
The positioning is reflected in the styling of the new X model, which BMW design boss, Karim Habib, describes as "combining the fast moving body language and low slung proportions of a coupe with the robust construction of an X model." 
Sporting a brawnier look than the comparatively X1, the Concept X2 receives a distinctive looking front end dominated by a heavily structured bumper with a large central air duct and oversized air curtains on the outer edges.
It is combined with a uniquely shaped kidney grille that widens from top to bottom and is bordered by a heavy swathe of brushed aluminium. Meanwhile, an impression of technical precision is provided by angular laser light headlamps with intricate graphics that mimic BMW's traditional twin Corona ring design with blue design highlights.
Further back, BMW's latest production based concept boasts a heavily profiled bonnet as well as  greater rake to its windscreen, lower roofline and more angled tailgate than the X1 - elements that succeed in providing it with a far more sporting profile than its more practical sibling.   
Pronounced fenders and large wheelhouses filled with 21 inch wheels shod with heavily treaded tyres add visual muscle to the flanks, which are otherwise dominated by a prominent swage line that provides the Concept X2 with a defined shoulder within its doors. Typical concept car flourishes include flamboyantly styled sills finished in structured grey and red plastic cladding and distinctive exterior mirrors.
The shallow glasshouse of the new BMW tapers quite dramatically towards the rear, ending with a modern interpretation of the German car maker's classic Hofmeister kink within the C-pillar. As with the grille, the side window graphic is framed in a border of brushed aluminium.
At the rear, there is a prominent spoiler atop the tailgate, uniquely styled tail lamps and high mounted bumper – the latter of which provides its luggage compartment with an unusually high loading lip.
Although many of the more detailed styling touches of the Concept X2 are expected to be toned down before it reaches production, key elements such as its sporting silhouette and five door layout are set to be retained in a move that will see the new BMW compete directly with other style led SUV offerings, including the five-door Range Rover Evoque and Audi's upcoming Q4.
Dimensionally, the X2 mirrors the measurements of the X1, which stretches to 4439mm in length, 1821 in width and 1598mm in height.
As with its more practical sibling, it will be offered with a range of transversely mounted turbocharged four-cylinder petrol and diesel engines.
Included in the launch line-up will one petrol variant in the form of the X2 xDrive20i, which is set to run a turbocharged 2.0-litre engine delivering 189bhp. It will be joined by three diesels all powered by BMW's widely used turbocharged 2.0-litre diesel: the X2 xdrive18d with 148bhp, the X2 xDrive20d with 187bhp and the X2 xDrive25d with 227bhp.
Also planned is a sporting M-Performance model using a more heavily tuned version of the X2 xDrive20i's turbocharged 2.0-litre four-cylinder developing in the region of 300bhp.
Gearbox choices will include a standard six-speed manual or optional six-speed automatic along with the choice of either rear- or four-wheel drive in combination with selected engines.
Speaking to Autocar, BMW head of design Karim Habib said: "we are not over promising with the design of this concept. It is close to how the production version of the X2 will look. The faster windscreen is a key element in providing it with a more sporting profile. It will be carried over to the production car."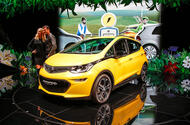 The Chevrolet Bolt, GM's first all-electric vehicle since the EV1 of 1996, will be rebadged as the Opel Ampera-e for the European market
The Opel Ampera-e has made its debut at the Paris motor show with claims it has a 310-mile range.
Opel Ampera-e breaks cover at Paris motor show
Although the Ampera-e is a rebadged Chevrolet Bolt, the car won't be sold under Opel's UK sister brand Vauxhall, as a right-hand drive version of the car has already been ruled out.
The Ampera-e uses a 60kWh battery, co-developed with LG Chem, that comprises 288 lithium ion cells (pictured bottom). The car's electric powertrain produces 201bhp and 266lb ft of torque, enabling it to sprint from 0-30mph in just 3.2sec, placing it in league with GM Europe's OPC (Opel) and VXR (Vauxhall) performance models.
Unlike those performance models, however, the Ampera-e has a top speed of 93.2mph; 50mph down on the Corsa OPC.
Particularly impressive is the car's 50-75mph time, which Opel says is just 4.5sec, making the Ampera-e a significant 5.2sec quicker than a Ford Focus ST TDCi.
Opel claims that the electric model can regain 150km of range in 30mins at any highway charging point. "It is a real electric car ready for everyday use," said Opel CEO Karl-Thomas Neumann. "Our model offensive at Opel is underway with 20 new models due before 2020, and Opel is back defining the future."
Executive chief engineer at GM, Pam Fletcher, added "The Ampera-e has been built from the battery up. The battery is a critical piece and it allows the Ampera-e to travel without any compromise. This is a nickel-rich battery."
Feltcher said that the new electric car comes with an eight-year and 160,000km (99,419 miles) warranty for the car and the battery.
Regenerative technology
The Ampera-e can regenerate energy while running. When coasting, the car's electric motor acts like a generator and recharges the batteries. A Low mode enhances recuperation, and a Regen on Demand adjusts the powertrain for maximum energy recuperation.
Opel claims the resulting drag torque is so strong in this mode that drivers needn't use the brake pedal to reduce speed in normal traffic situations.
The Ampera-e is now a small hatchback where its predecessor, the Ampera, was more akin to a family saloon in profile. Unlike the Ampera, it will not feature range extender technology, instead being a battery EV; the first GM has made since the ill-fated EV1 of the late 90s.
Ampera-e won't get to Britain
The new model, which is due to be launched in European markets next year, won't make it to the UK, despite the growing popularity of EVs here, because of its all-new, bespoke underpinnings.
"[The new underpinnings were] the only way to get the packaging advantage,' said Adams, before suggesting the Ampera-e could well be one of several GM EVs to come from it. Adams wouldn't be drawn further, other than to say that "this is just the beginning, and there are opportunities." Among those might be a crossover, the range potential of the Ampera's battery pack, or still more efficient versions of it, making a heavier, less aerodynamic vehicle possible while retaining a decent range.
GM Europe design boss Mark Adams told Autocar that these underpinnings were developed for a European model from the start. "We had early engagement - we make use of global models where they make sense," he said. But the structure was developed for left-hand-drive markets only, and to adapt it to a right-hand-drive version would incur significant costs.
Vauxhall said it is building a business case to encourage the development of a universal platform in the future, confirming right-hand-drive Ampera-es won't be produced before the current model's production life ends.
"Vauxhall is committed to having a future EV presence in its range," said Rory Harvey, Vauxhall's chairman and managing director. "The technology that underpins the new Ampera-e is of great interest to us, and we will be evaluating left-hand-drive cars from next spring and demonstrating them to clients.
"The fact that the Ampera-e is not an eco-luxury or second car for customers broadens its appeal greatly, but it's obviously vital that the car we sell in our market is right-hand-drive, and that won't be available in the current generation."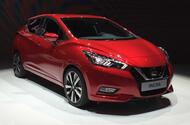 Nissan hasn't just reinvented the Micra – it's also added the kind of style and quality that will have other car makers, including Ford, worried
The new Nissan Micra - revealed at the Paris motor show today - must stand as one of the most substantial reinventions of a car in recent times.
It is unrecognisable from its admittedly wholly unremarkable predecessor and a step-change from what has gone before for this once practical, once cute and seemingly once completely lost model. If nothing else, it proves that having no respect for what has gone before can be a good thing.
Intriguingly, Nissan has draped its stand in Micras of all kinds of colours and customisation options. The appearance of the latter is sometimes a warning sign that the design itself isn't quite up to scratch, but here the unadorned models allay all concerns. This is a car with an underlying design pizzazz that rivals the likes of the Ford Fiesta.
That rings true inside, too, where the budget fixtures and fittings of the outgoing model appear banished from the moment you step in. Of course, we have high-spec models to pore over here in Paris, but in terms of content, quality and desirability the Micra appears to be top notch. It's practical for the class, too, with the rear cabin and boot space looking to meet Nissan's bold claims for their competitiveness on size.
No question, Nissan has a contender in the supermini class again, which is a bit of a relief when you consider that it doesn't have an unblemished record either in this class or with the equally mundane Pulsar.
Now it's over to Ford, which is expected to reveal its new Fiesta later this year, prior to putting it on sale in 2017. If I was looking for a car in this class I'd be rubbing my hands with glee - the Micra's arrival adds not only quality to the class but also competition, which means better deals all round. And then there's the prospect of a Nismo version of the Micra down the road. Could Nissan crown the car's comeback with a Fiesta ST rival? There would be no greater accolade than that.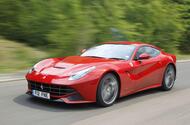 Ferrari F12 Berlinetta
Output could close in on the 769bhp of the F12tdf; hybrid tech won't be integrated until 2020

The replacement for the Ferrari F12 Berlinetta is likely to make its global debut at the Geneva motor show next year with a naturally aspirated V12 engine, Autocar has learned in Paris.

Essentially a development of the existing car, its power output will be raised from the current 730bhp to close to the 769bhp already seen in the hardcore F12tdf.

That should help the 2017 car trim the current F12's 3.1sec 0-62mph time, and to improve agility the power hike could be joined by Ferrari's 'virtual short wheelbase' active rear steering system, borrowed from the F12tdf.

The car could also gain the dual-screen infotainment set-up, first seen on the new GT4C Lusso, along with a range of cabin updates.

With the additional features, expect pricing to increase; the current model starts at £241,073.

Next-generation

Earlier suggestions that the F12's successor would receive hybrid technology have now lost momentum. The new generation of hybrid assisted V12 Ferraris is not likely to be seen until an all-new flagship is launched around 2020.

Electric technology for this model will trace its roots back to the hybrid LaFerrari, and power could therefore be significantly higher than the current F12's, with more than 800bhp plausible.

Additional reporting by Sam Sheehan



Audi's Mercedes-Benz GLC and BMW X3 rival will go on sale early next year, with looks and tech borrowed from the larger Q7
The new Audi Q5 has been revealed at the Paris motor show, and will go on sale in the UK early next year.
Audi's second-generation BMW X3 and Mercedes-Benz GLC rival has been spotted in various stages of development since 2015. Underneath, it's closely related to the latest A4 saloon, and has been engineered from scratch to reduce weight. The result is that some versions of this new Q5 will be as much as 90kg lighter than the first-generation Q5, which went on sale in 2008. 
Weight-saving tech
Key to that weight loss is the adoption of VW Group's MLB platform - already used by the A4 and the larger Q7. The new Q5 is close to the old model in size, but incorporates better packaging to improve interior space. The new Q5 is also one of the most aerodnamic cars in this class, and Audi is promising 'exceptionally' low wind noise and very little vibrations in the cabin.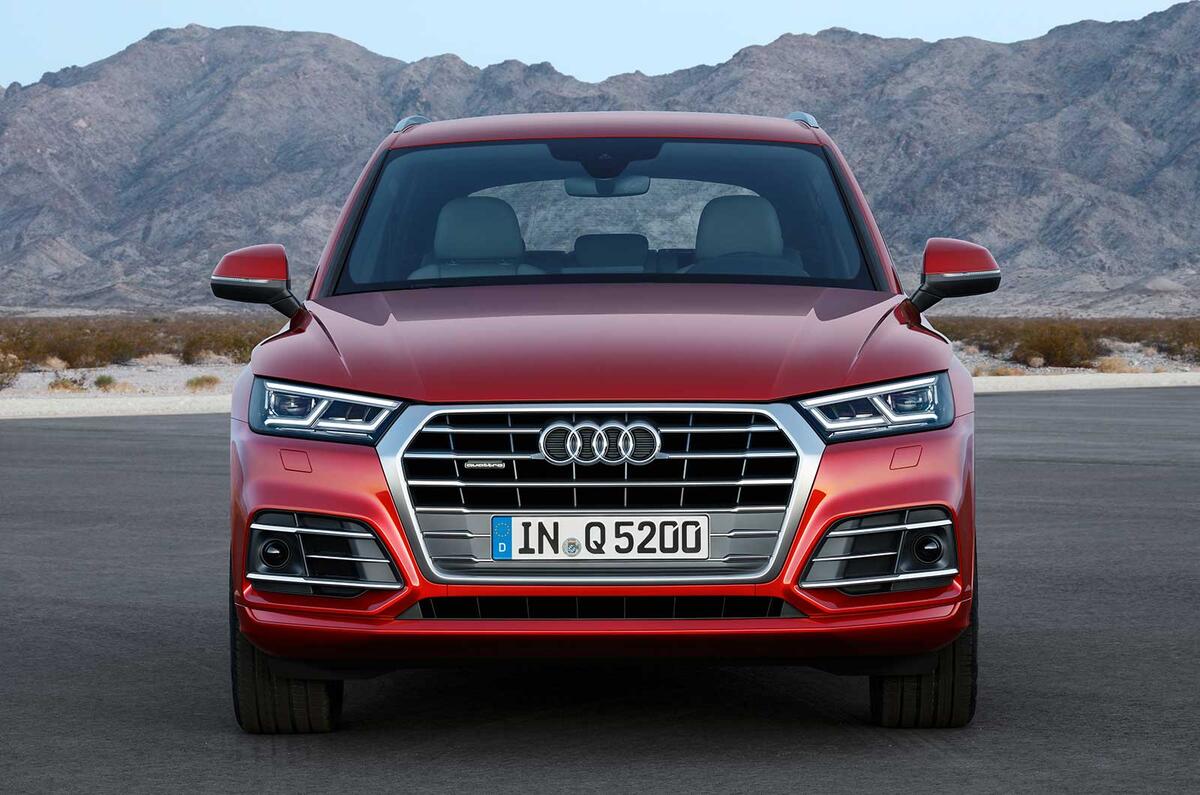 The exterior of the Q5 has been given a more rugged appearance than the current car, in order to amplify the car's off-road credentials. Clear influences from the Q7 and smaller Q2 can be seen, particularly around the front of the car. Its headlights come as either LED or high-resolution Matrix LED depending on specification, and Audi's dynamic turn signals also feature.
Inside the five-seat cabin, buyers will be able to opt for Audi's 12.3in Virtual Cockpit display - already in use on a wide variety of models - as well as two different infotainment screens. A 7.0in free-standing screen will feature on the standard car, while range-topping models will get a larger 8.3in screen. The system is controlled via a rotary dial and touch pad. Top-end versions also include haptic feedback. A newly developed head-up display is on the options list, and can project relevant information directly onto the windscreen.
Engines
The new Q5 will come with a range of four-cylinder and V6 petrol and diesel options, with most engines carried over from the A4. The V6 motors are part of a new generation of enignes jointly developed between Audi and Porsche. Also planned is a plug-in hybrid version of the Q5, to satisfy the growing demand for hybrid SUVs. That model will feature a 2.0-litre four-cylinder petrol engine working in combination with an electric motor - it's said to have an all-electric range of up to 31 miles, as previewed by the Audi Allroad Shooting Brake concept car.
At launch, five options will be available. Those include a 2.0-litre TDI diesel in 148bhp, 161bhp and 187bhp forms, a 2.0-litre petrol with 249bhp - which is said to return 41.5mpg and emit 154g/km - and a 3.0-litre diesel with 282bhp.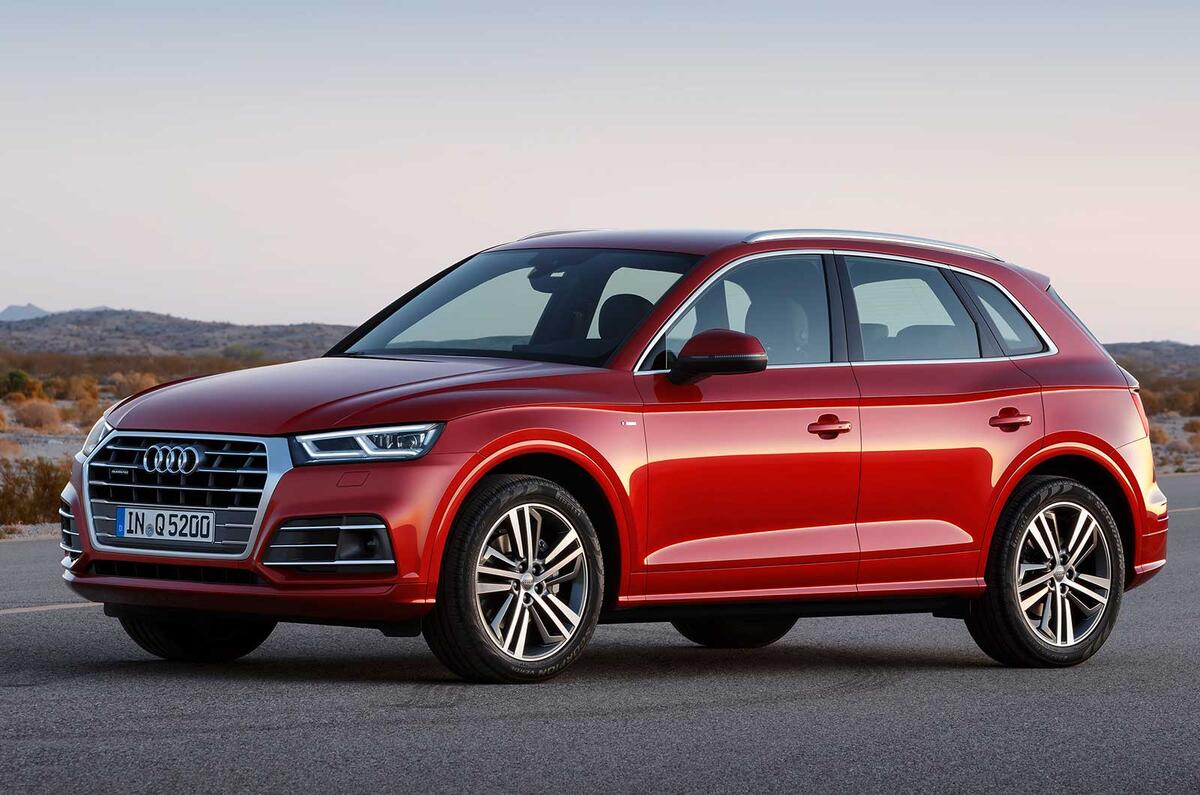 Audi also wants to offer buyers more performance-oriented options. Both SQ5 and RS Q5 versions of the car will be made, with the former getting around 325bhp from its 3.0-litre V6 diesel engine, and the latter getting close to 500bhp from a twin-turbocharged version of the same engine. Some versions can be specified with Audi's 'ultra' technology, which disengages the rear axle when it's not needed, boosting efficiency. Torque vectoring features in all versions of the Q5, while a sports differential can be optioned for the V6 diesel.
Buyers will be able to choose between front and four-wheel drive, and between six-speed manual, seven-speed dual-clutch automatic and eight-speed torque-converter automatic gearboxes.
The new Q5 is underpinned by new five-link front and rear suspension, with steel springs and adjustable dampers, in a setup largely borrowed from the A4. Optional air suspension will also be offered - including a self-leveling feature borrowed from the Q7 - in a bid to improve its ride and enhance its towing ability. As standard, drivers can choose from seven different driving modes via Audi's Drive Select system, with two new modes for offroad driving.
Equipment and pricing
Buyers will be able to choose from 14 exterior colours, and five new trim levels - sport, design, S line, design selection an S line exterior package. Those packages also include elements to distinguish the car's exterior, such as contrasting grey elements to empahises the car's rugged nature on design line models. Standard equipment includes a new multi-function steering wheel, while the options list includes a heated wheel, and massage functions for the seats. Optional ambient lighting can light the car with 30 different colours. The standard car sits on 17in alloy wheels, but alloys of up to 21in can be offered.
While the previous Audi Q5 was already praised for its big boot, Audi has inceased space in the new model to a maximum of 610 litres with all five seats in place, and 1550 litres with them folded away. Loading heavy items is helped by a sensor-activated boot, and the car's air suspension can be lowered.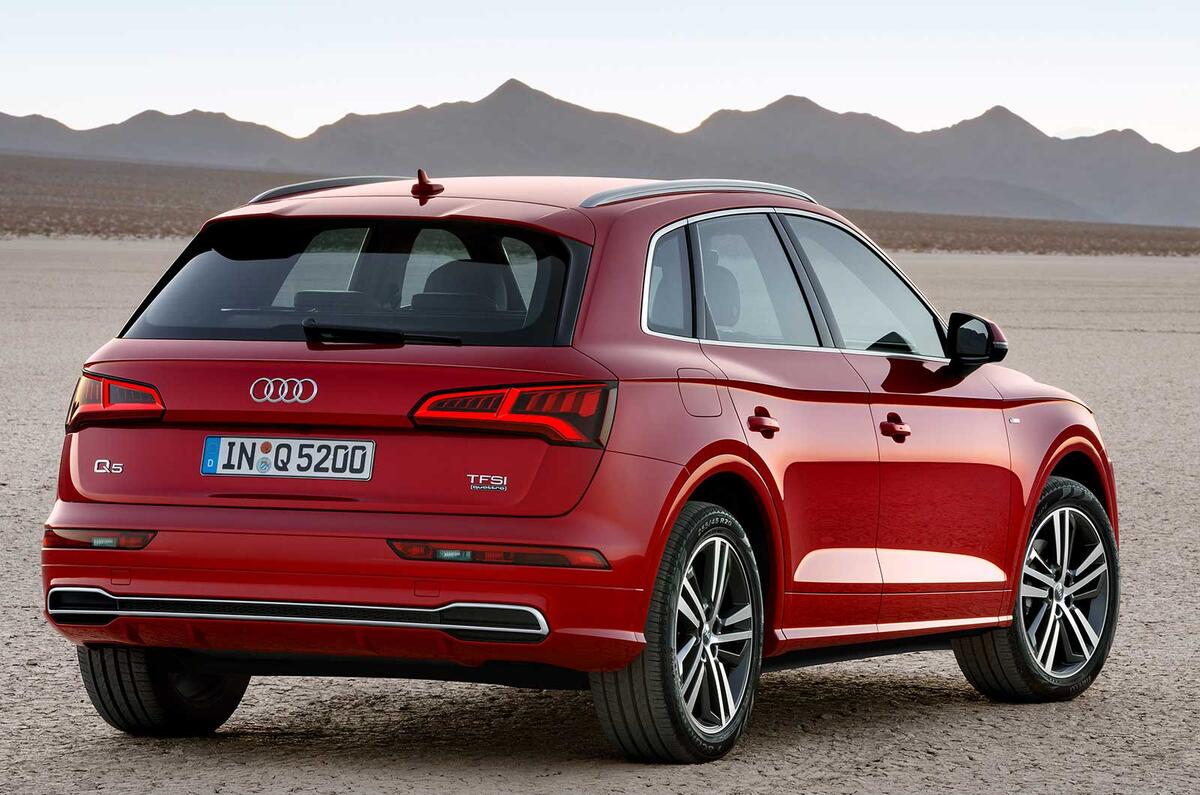 In terms of safety technology, Audi customers can opt for three packages, dubbed Tour, City and Parking. Functions include adaptive cruise control with traffic jam assistance, lane assistance, cross traffic alert, autonomous emergency braking and parking assistance.
It's too early to say how much the new Q5 will cost when it arrives in UK showrooms, but a significant premium over today's car - which starts from £32,580 - is expected. The base price of the car in Germany will be €45,100, or around £38,880.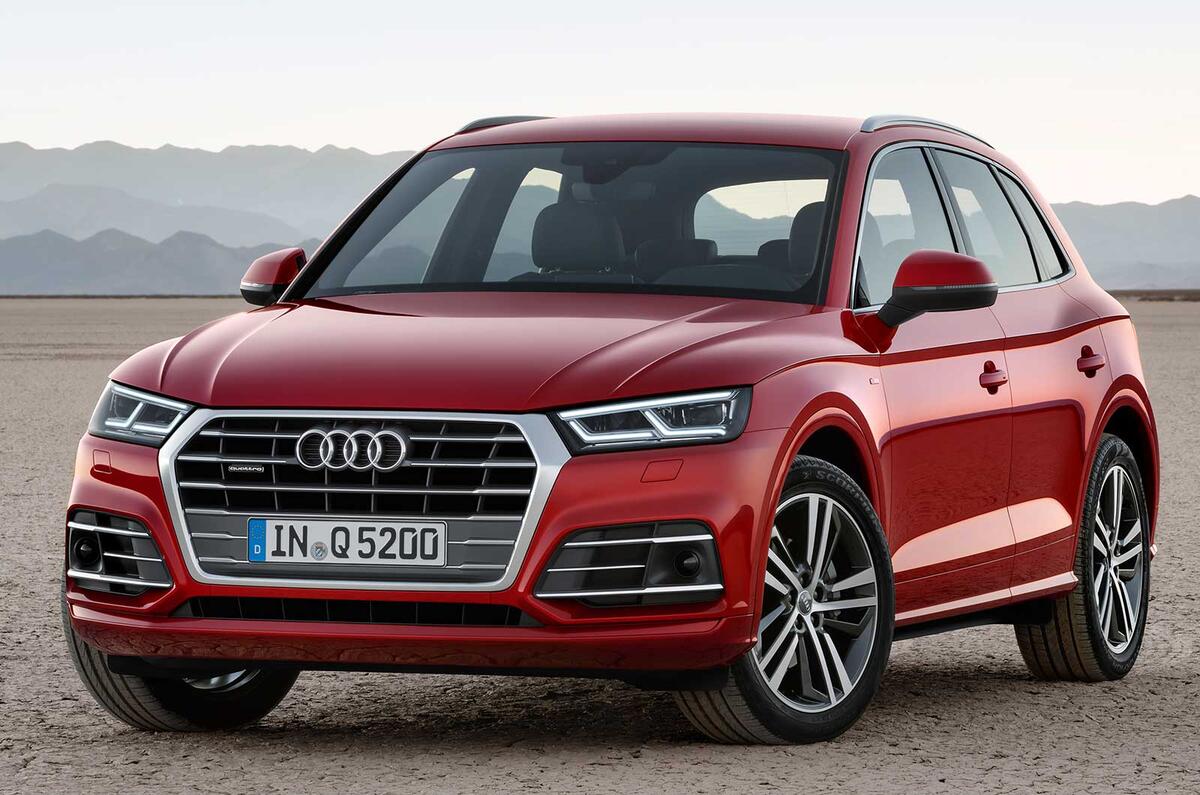 Speaking at the new car's debut in Paris, Audi boss Rupert Stadler said: "The first Audi Q5 was for many years the world's best-selling SUV in this class. It was no easy task to design its successor, but that is precisely why it is so exciting. 
"With the new Q5, we are setting the bar a notch higher. Among the great innovations are the quattro drive system with ultra technology, highly efficient engines, the air suspension with damper control and a comprehensive line-up of infotainment and assistance systems."
The Q5 will be built at Audi's newly constructed factory in Mexico.